Choosing the right hotels during the travel can increase your satisfaction with the trip and in best cases also add memorable experiences. I love searching for great and special hotels. A few years ago, I came across Relais&Châteaux hotel chain uniting more than 550 exceptional hotels in the world that share gorgeous design and fantastic food. The first hotel of this chain where I stayed was 5-star superior Hotel Bülow Palais Dresden, which I truly enjoyed. So, I was really happy being invited by the hotel of this chain for a second time. This time it was 5-star hotel Relais & Châteaux Hotel Quadrille in Gdynia, Poland. I must say I just loved my stay and this hotel chain even more than before.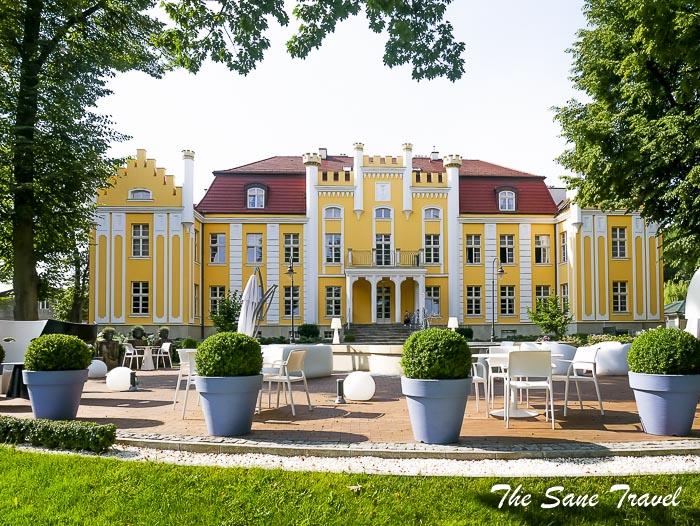 Location
5-star hotel Relais & Châteaux Hotel Quadrille is located in Gdynia's Orlowo district some 10 minutes' walk from Gdynia Orlowo train station, so it's accessible by public transport. Spacious parking lot allows enough space for visitors' cars. While staying there you can easily visit all three nearby cities Gdynia, Sopot, and Gdansk. All together locals call them the Tricity. In the same time, you are away from hustle and bustle of the city life.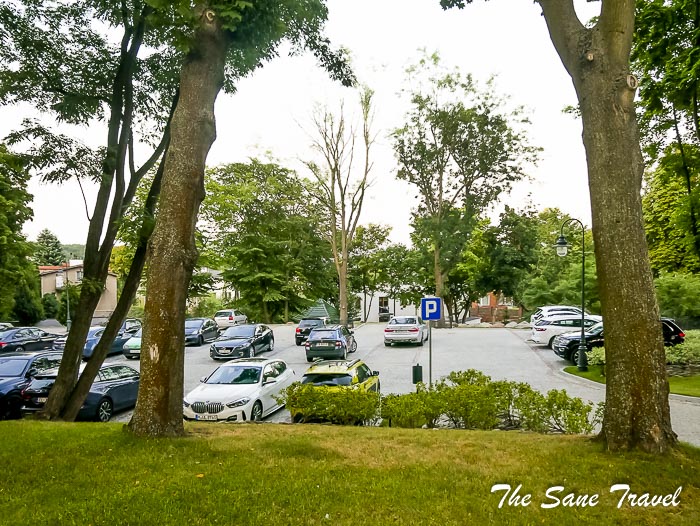 Address: Folwarczna 2, 81-547 Gdynia.
Property
The property consists of grounds with stunning park, renovated palace, business hotel building and underground spa next to the underground corridor joining two buildings. 12 luxury rooms are located in the Palace building and 20 business rooms are in Business hotel building. I love places with history and Quadrille definitely has it. People have lived there already in the middle ages and the property has had many noble owners since then. In the middle of the 19th century, Wilhelm von Brauchitsh bought the estate and started a makeover of the palace and park. You can still see a coat of arms of his family above the park entrance of the palace. When current owners obtained the property in the early 21st century it was not in the best condition. It took hard work and lots of creativity to make it look like it is now. A hotel was opened there in 2015.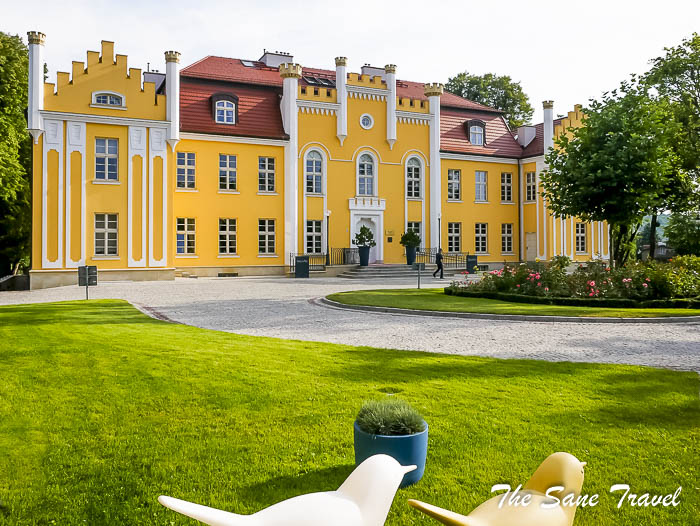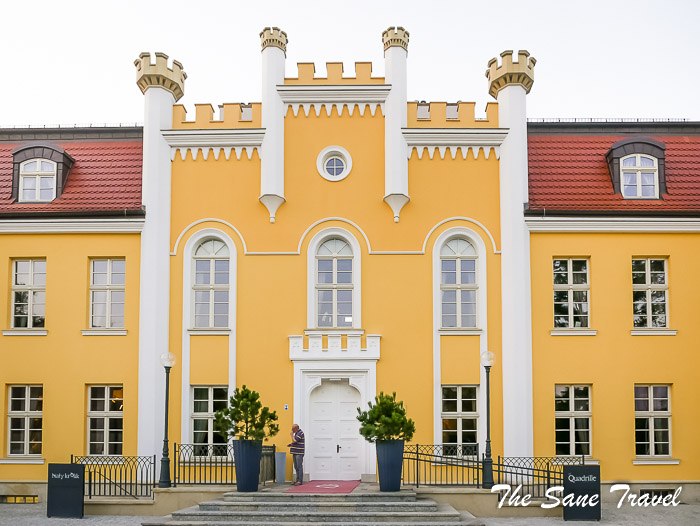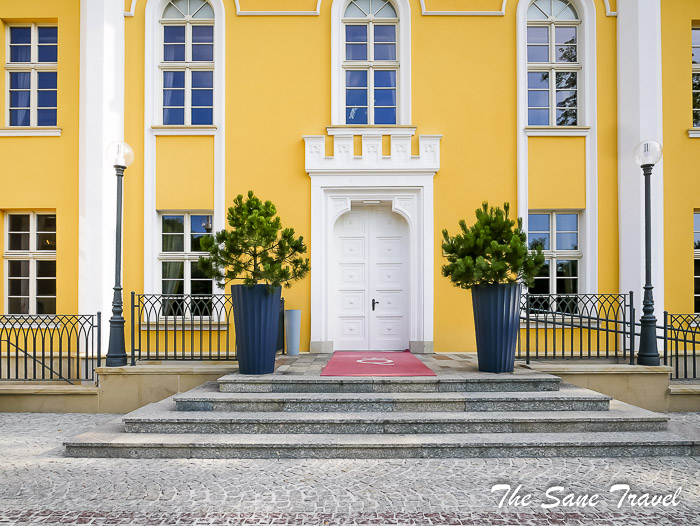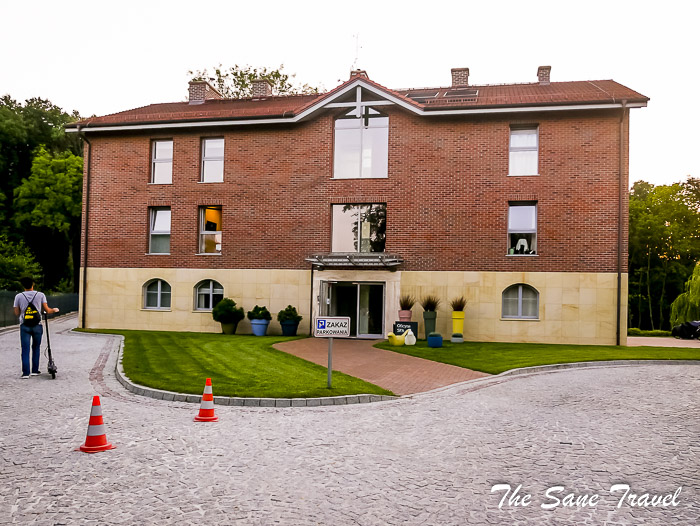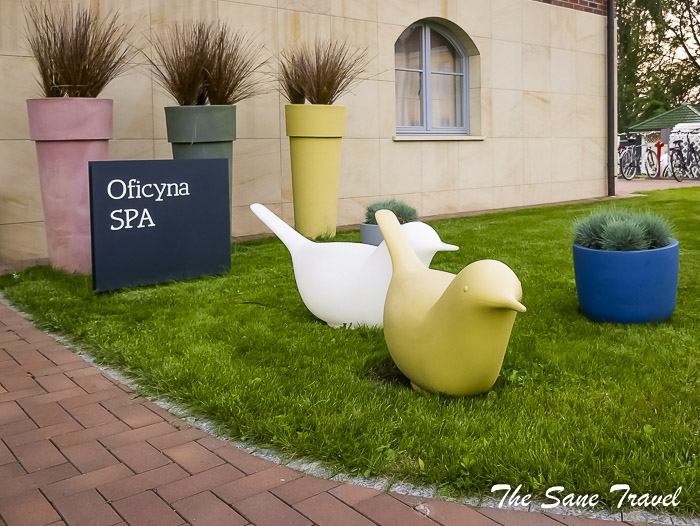 In my opinion, it's definitely the place for adults who never fully grow up and especially for those who are in love with Alice in Wonderland book by Lewis Carrol and mouth-watering food. The name of the hotel is originated from the quadrille dance that was fashionable in Europe in the late 18th and 19th century. The dance was performed by four couples in a rectangular formation.
Hotel design
The interiors were designed with special attention to detail and the architect used the principle of uniqueness and originality so that each of the spaces was a separate world, but at the same time creating a harmonious and consistent sense of community. As a result, the interior of the magical and unique Quadrille hotel enables the guests to immerse in another reality.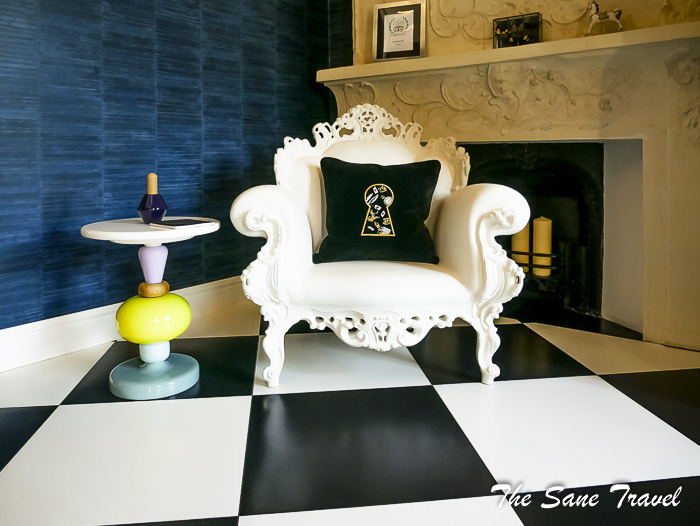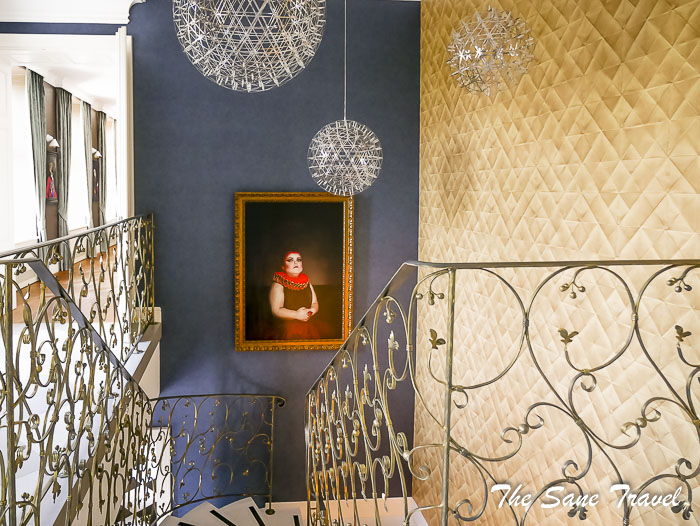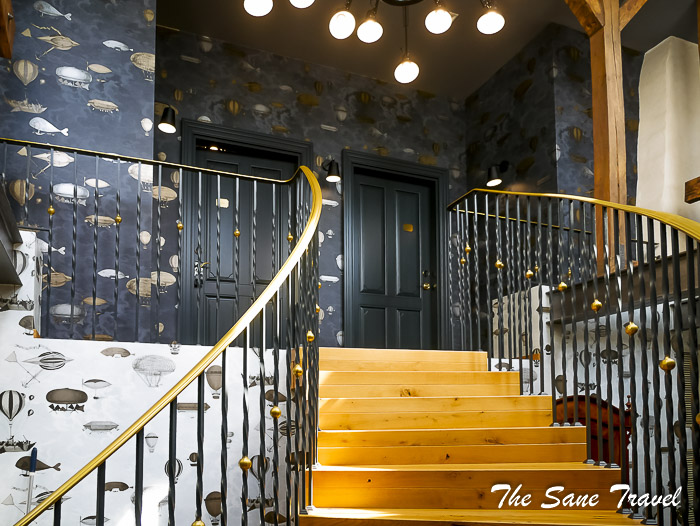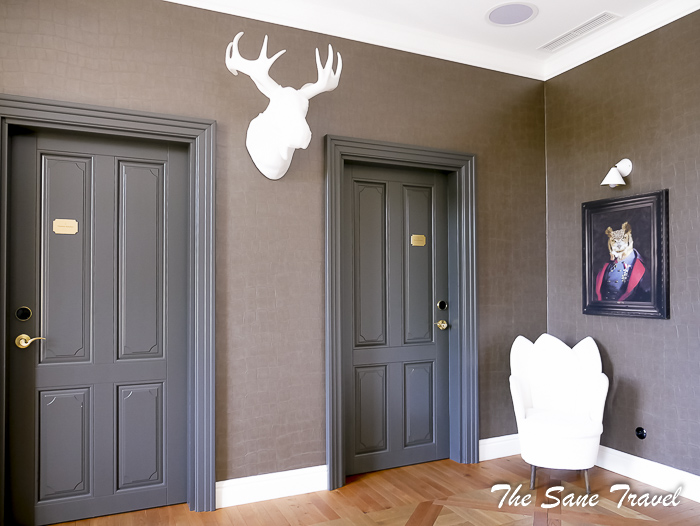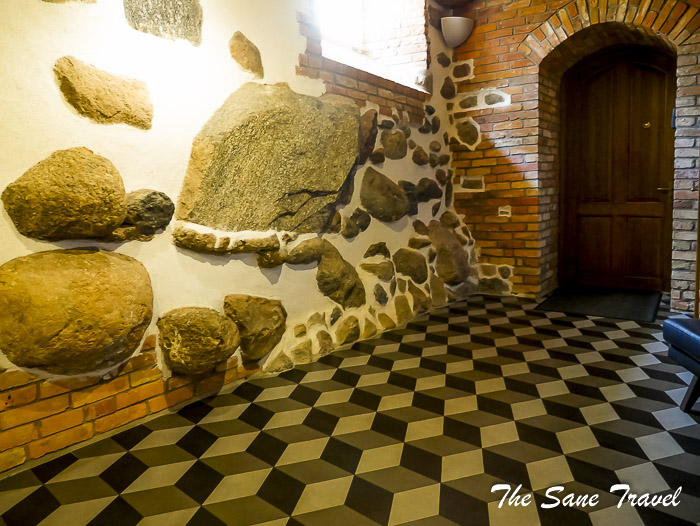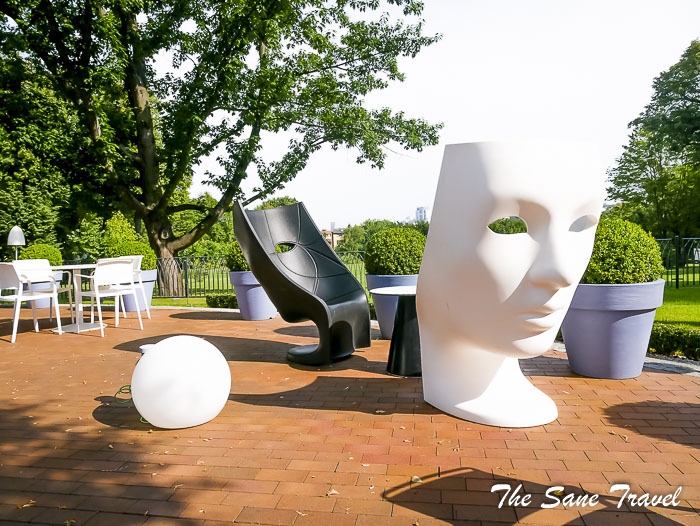 Park
It's not so often that hotels have their own grounds and park. This one is an exception. The hotel has a park covering 2 hectares. The park is really well looked after. In every season you can find something blooming there. The park has a pond and paths for nice walks. During my visit, the flowerbed of roses was in full bloom even in other places roses did not bloom anymore. They must have the best gardener ever.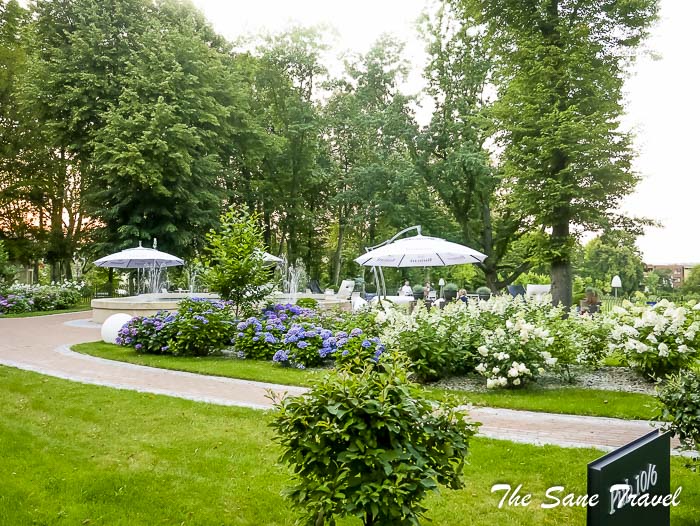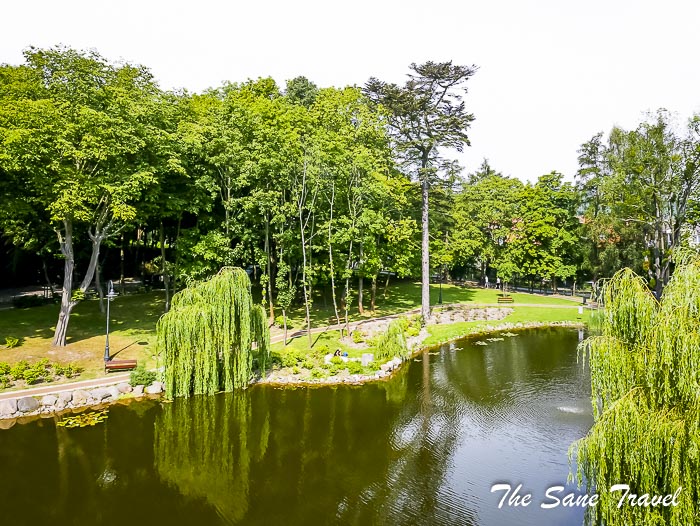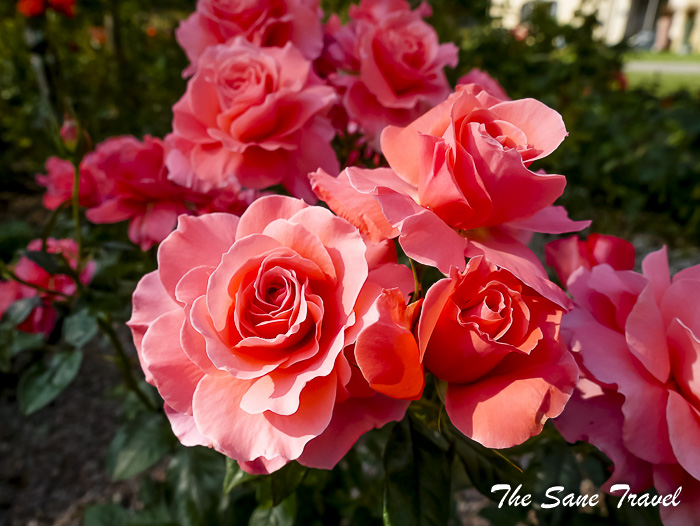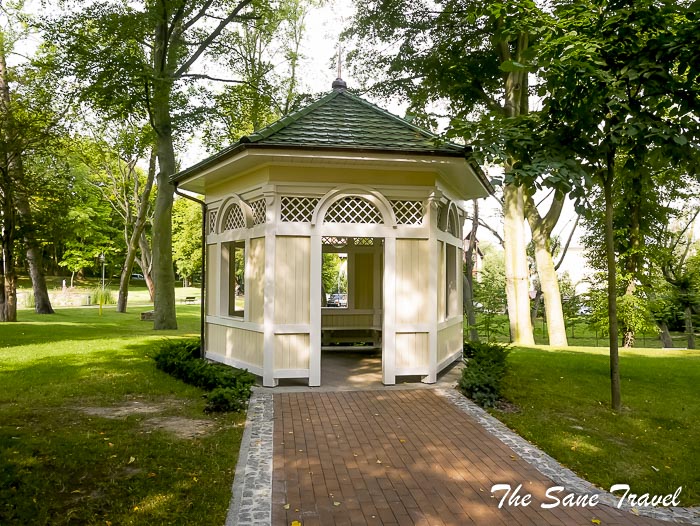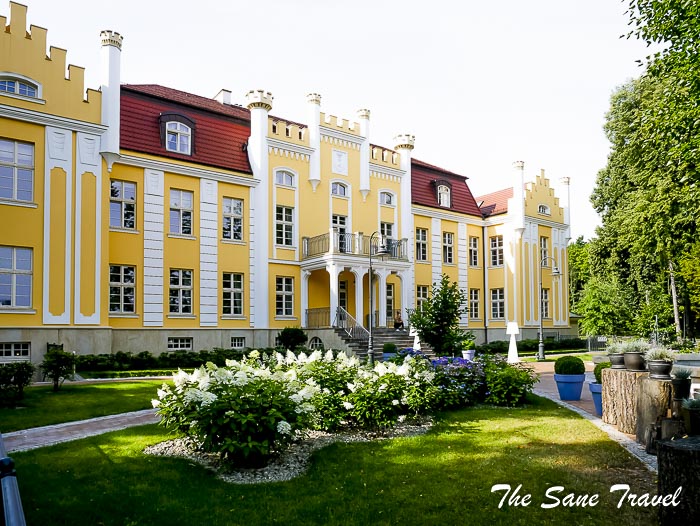 Reception
The entrance hall has an amazing black-and-white floor as a reference to the game of chess played by the main characters of the Alice in Wonderland novel. Reception is located in the main building and greets you with old style furniture, open space and tapestries of bookshelves with books in the background. Checking in is smooth and quick.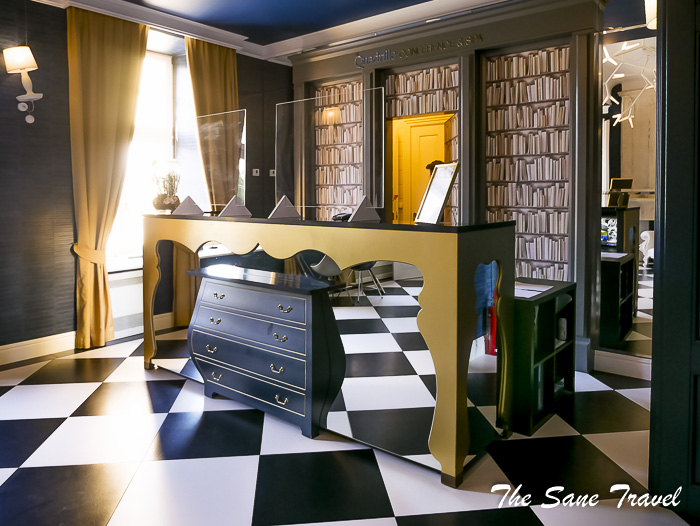 Sitting room
Sitting room with bright designer's furniture is located on the first floor and offers a great view of the park from the balcony.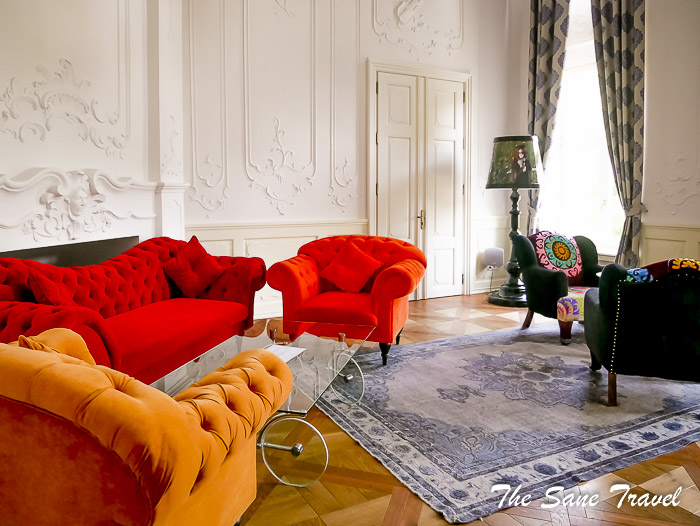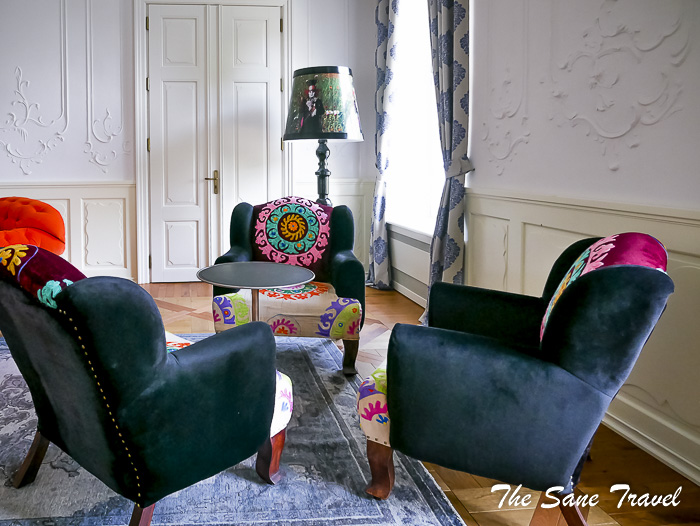 Rooms
You can choose from 12 different themed luxury rooms in the palace. I saw two of them. Number 8: double deluxe William Shakespeare. It has a light feeling with painted ceiling and bath located in the open space.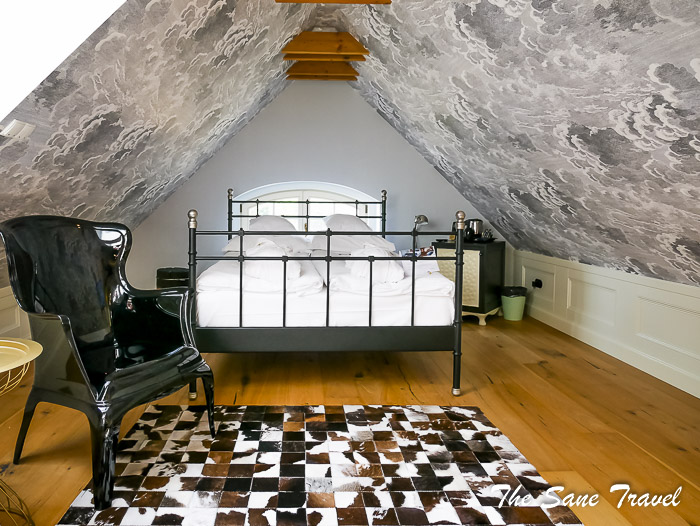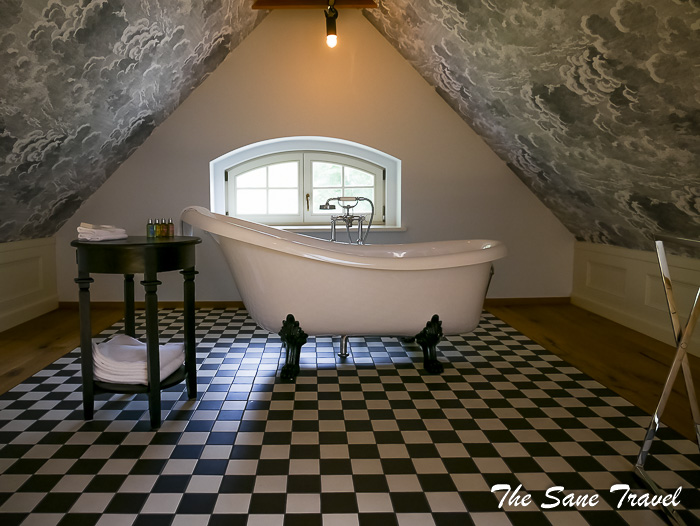 Another one was number 10: single deluxe Jane Austen more intimate with the golden colour scheme.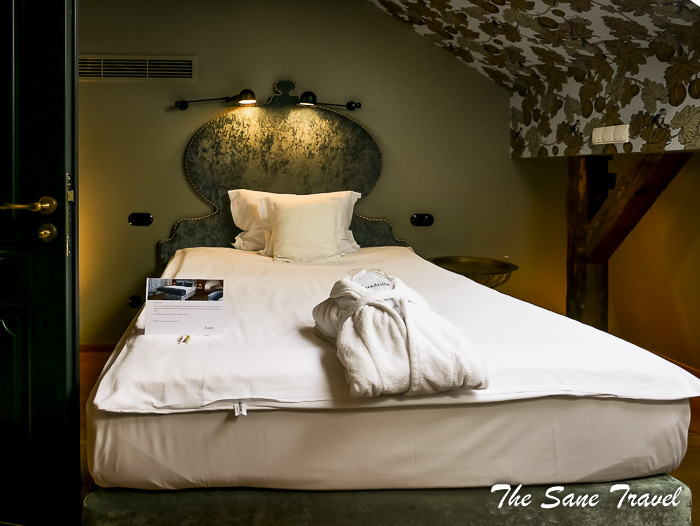 I stayed in the twin business room in the business hotel building. The room is made of quality materials and its size is 20 square meters. My conservative mind missed nightstands next to the beds but otherwise, I felt comfortable in the room. The room was equipped with a TV, air-conditioning and a private bathroom.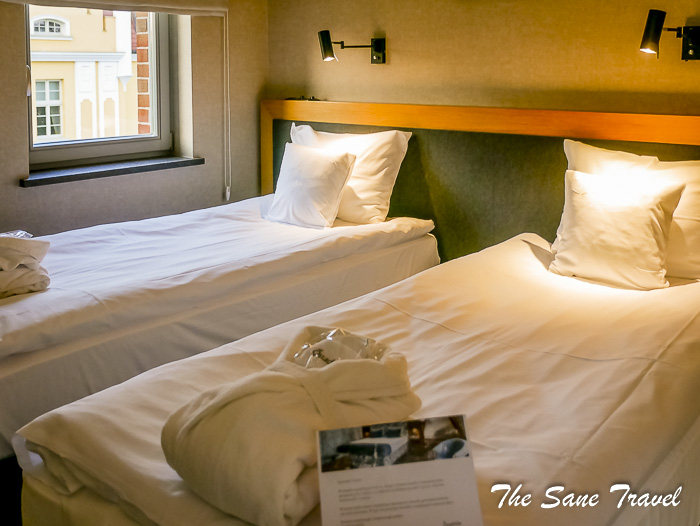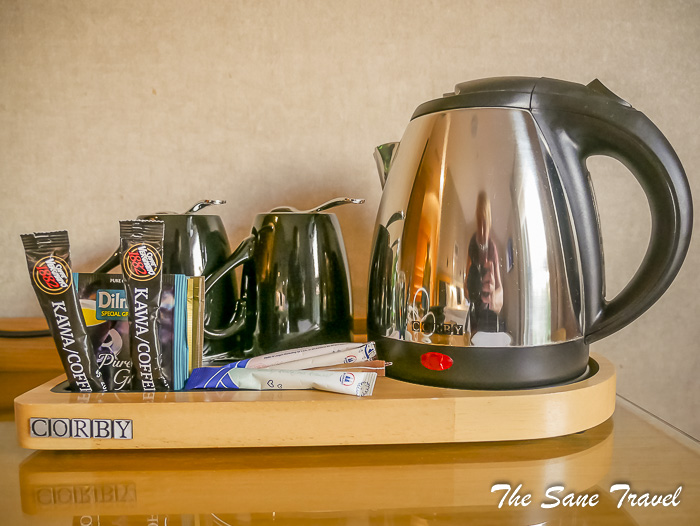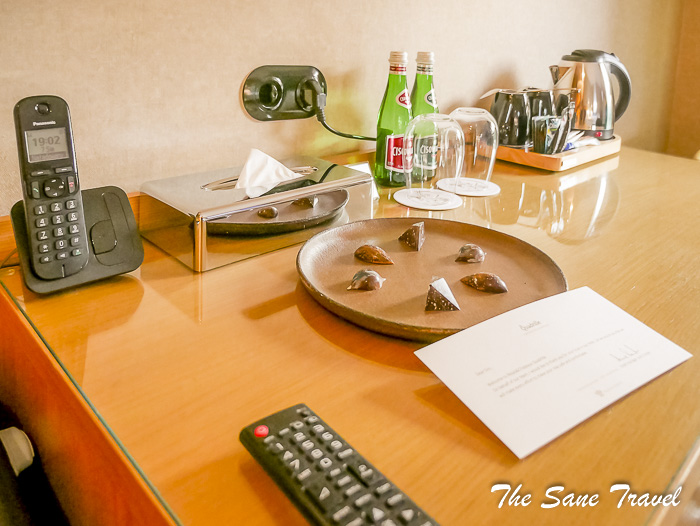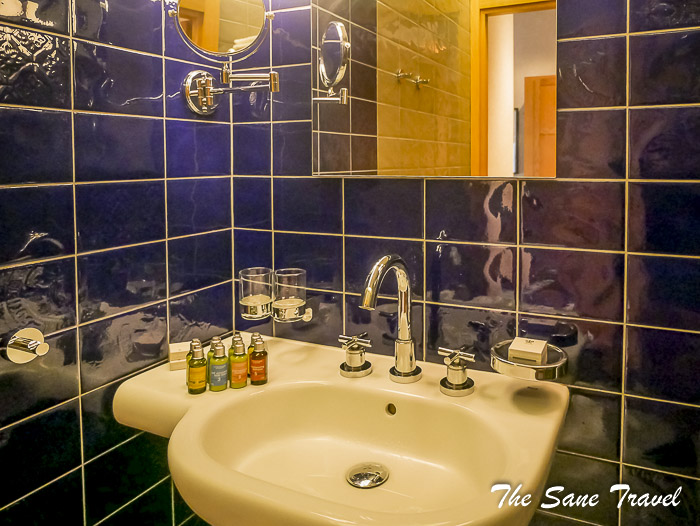 I very much appreciated high-speed Wi-Fi. It was also nice to have L'Occitane toiletries with hair conditioner being my favourite. A bathrobe and slippers were provided for my convenience. The good thing is that both buildings of the hotel are joined with an underground corridor so you can't get wet or cold when proceeding to your breakfast or dinner in the palace building.
Food
Even if you don't stay at the hotel, you have to dine there. Weather was great and I had dinner in the open area next to the palace building. The White Rabbit specialities include recipes based on local products prepared by local chefs. I had quail stuffed with liver pâté with seasonal beetroot glazed with elderberries and campfire potato. I must say it was really mouth-watering.
Breakfast is served in White Rabbit restaurant. You have a wide choice of cold and hot dishes and morning coffee.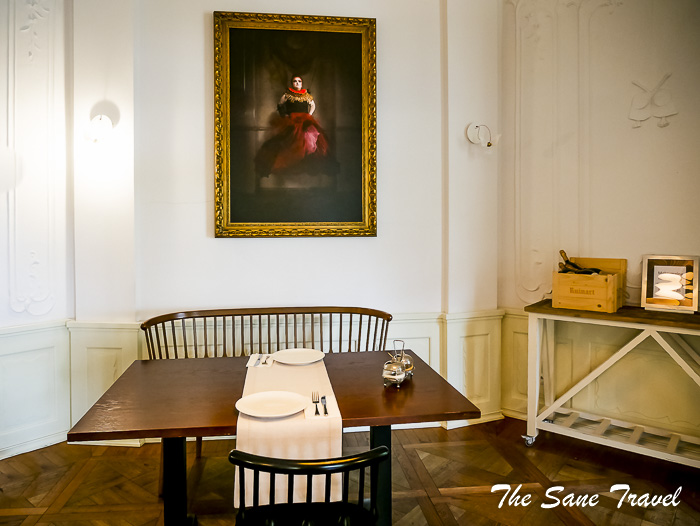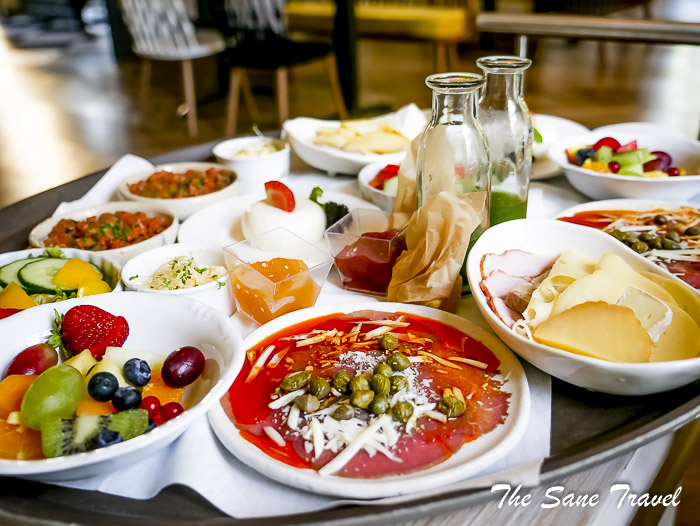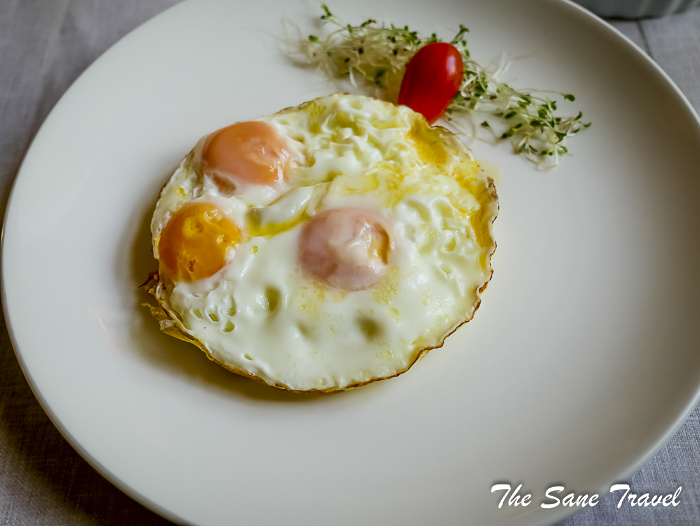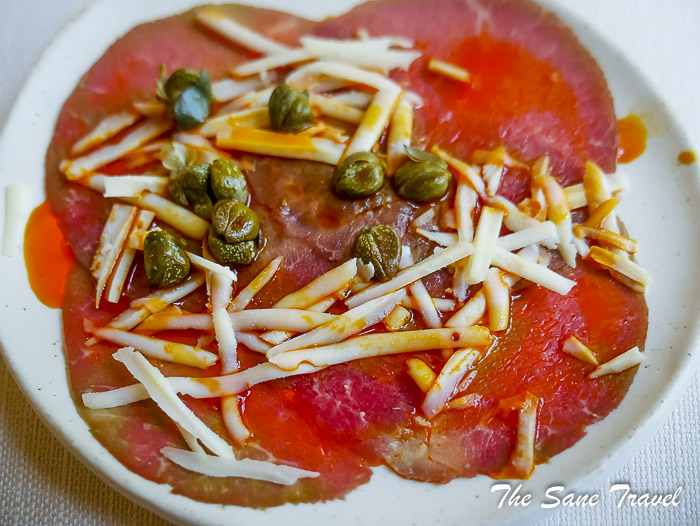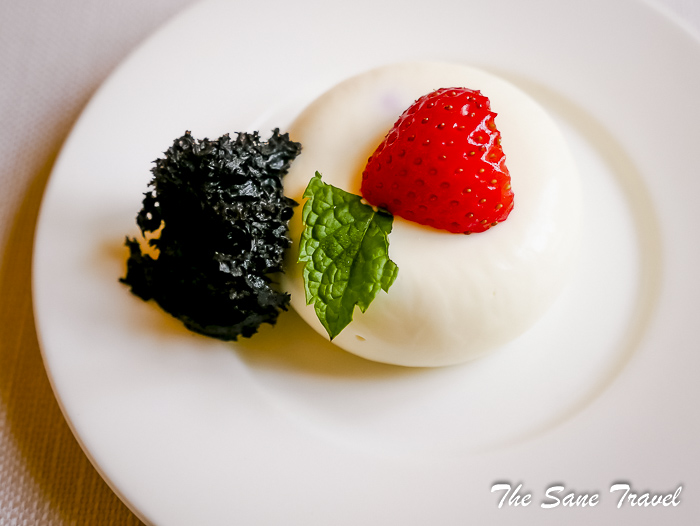 Rabbits springing out of illusionist's hats are watching your happy face from above.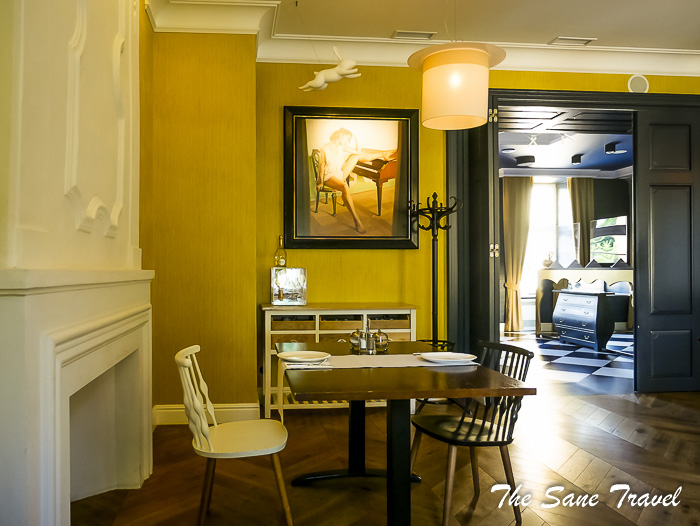 Pub 10/6 is located in the underground area of the Palace where you can have a drink or two in a relaxing atmosphere.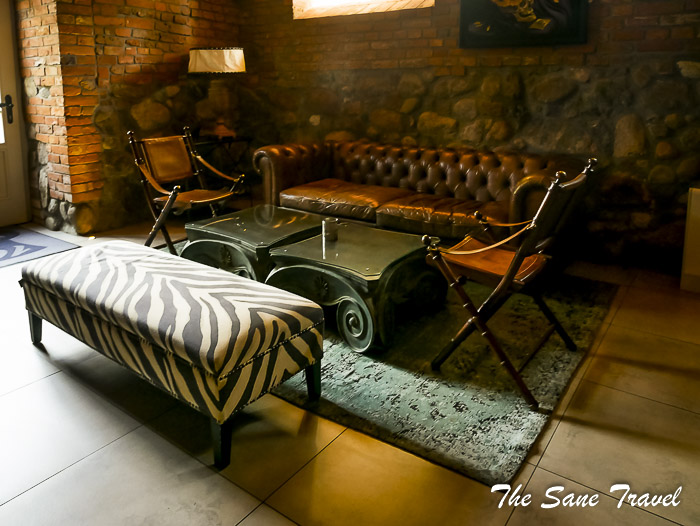 Spa Area
I did not try body or face treatments, but I learnt that they use Comfort Zone brand for body treatments and facial treatments based on the
Forlle'd
quality.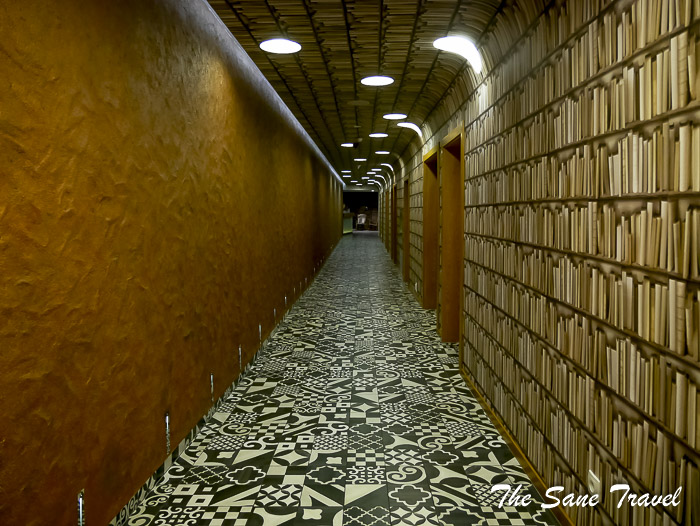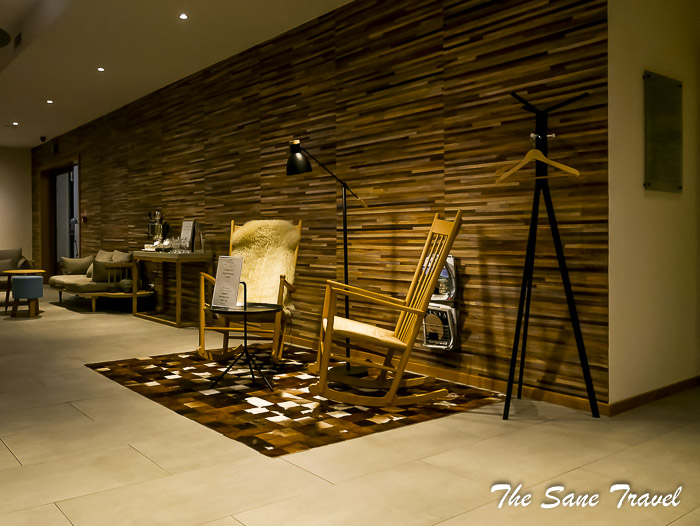 I went swimming in a swimming pool and enjoyed my experience.
Special feature
Hotel owners sisters Mrs Anna Gorska and Mrs Martyna Gorska-Popielarz are greeting you in many places in hotel looking at you from the paintings on the walls.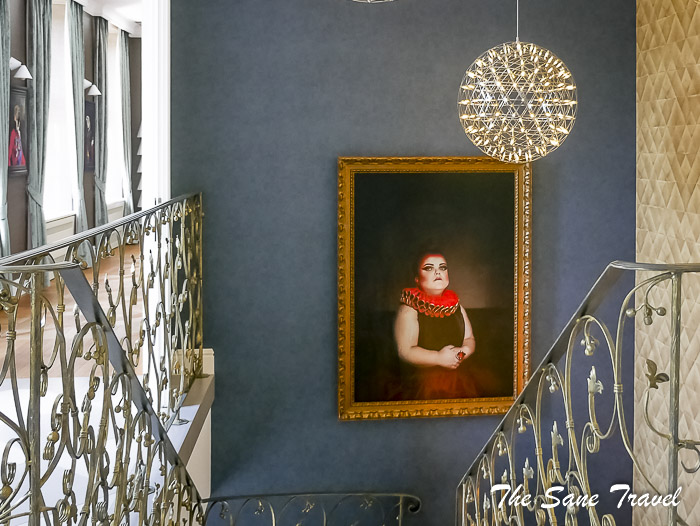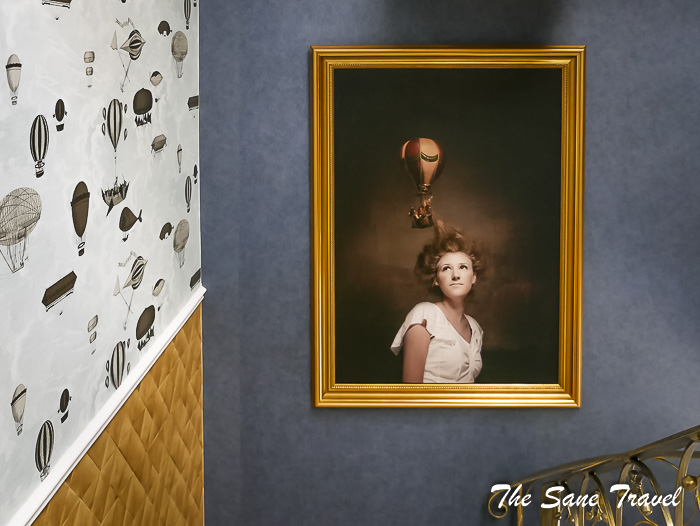 In fact, those portraits were initially photos made by Sylwia Markis during a photo session before palace renovation. Sylwia is known for emanating unusual beauty in her photos. She often collaborates with famous Polish stylist Katarzyna Konieczka which was also the case this time.
Practical information
To book your stay at 5-star Relais & Châteaux Hotel Quadrille just click
this reservations link
. Please keep in mind that this hotel is adults only and no pets are allowed.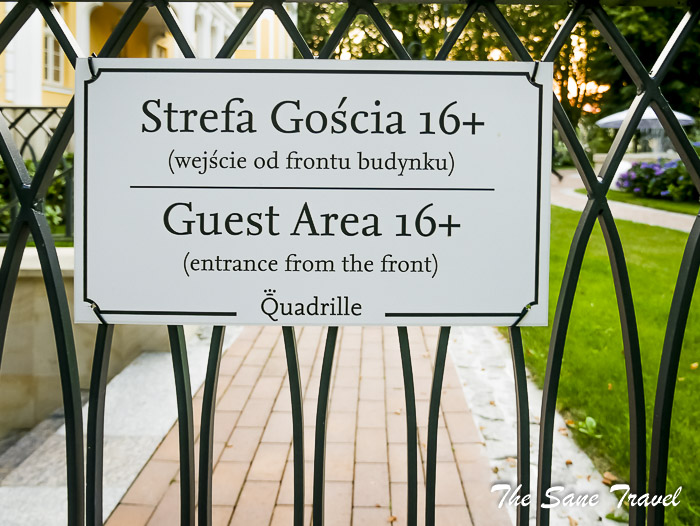 Be prepared to book well in advance if you want to stay in a specific room in the Palace.
Time of stay: Two nights in summer 2020.
Price per night: Business double rooms start from 85 euros per night. Luxury double rooms in the palace start from 125 euros per night. Breakfast is 16 euros per person.
My rating: 5/5.
Disclaimer: I was kindly invited to be a guest by Relais & Châteaux Hotel Quadrille. As always, all opinions and thoughts are my own. I had a great time and I wish you the same! Happy travels!
Like it? Pin it!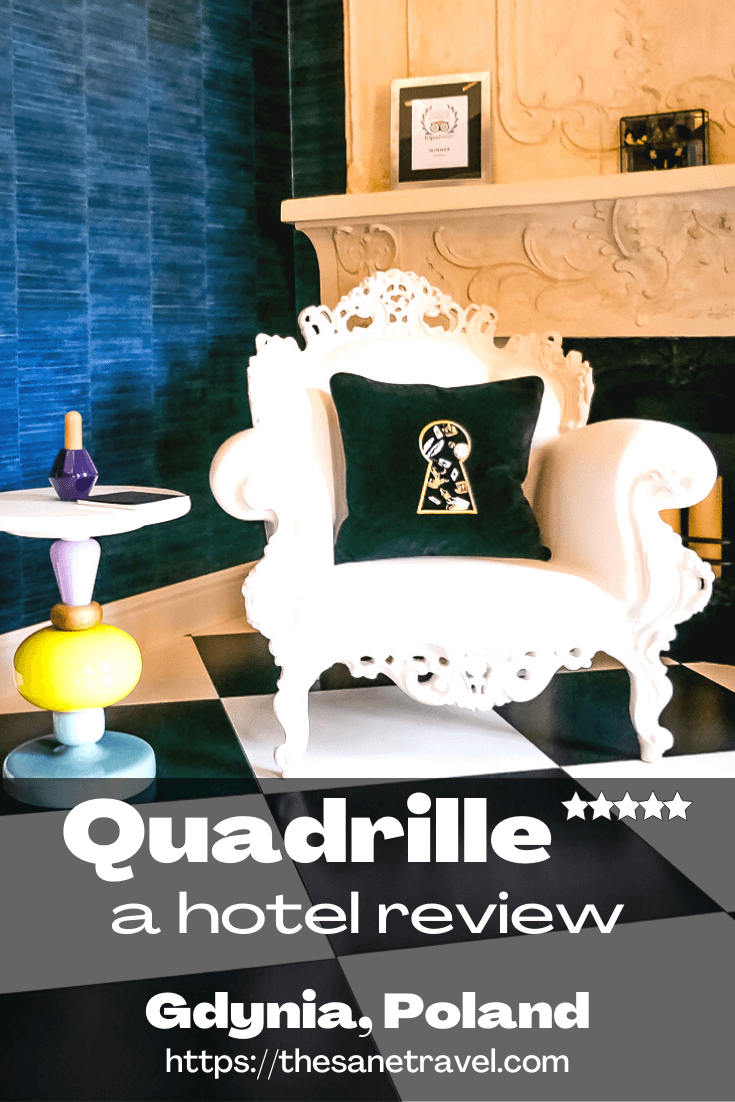 What did you think? Have you been to Quadrille hotel? Or perhaps you're thinking of visiting in the near future? Either way, I'd love to hear from you so please add your comments below.
Posted by Anita on August 21, 2020
Author: Anita Sane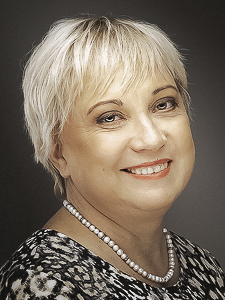 About the author
Anita is a part-time traveller, passionate photographer and a retired career woman from Latvia, travelling mostly solo for more than 15 years. She is a skilled travel planner who plans and executes her travels by herself. Anita wants to show you how to travel the world and open your mind to new experiences. Follow her on Facebook, Instagram, Pinterest, Twitter and Bloglovin.