In Stockholm, one of the most fascinating sightseeing trips is probably underground. Surprised? The Stockholm subway system is said to be the world's longest art exhibit, stretching for 110 kilometers. Traveling by subway is like traveling through an exciting story that extends from the artistic beginnings of the 1950s to art experiments of today. Let's explore together the seven beautiful stations on the newest, Blue line of the Stockholm metro. Here is some background information beforehand.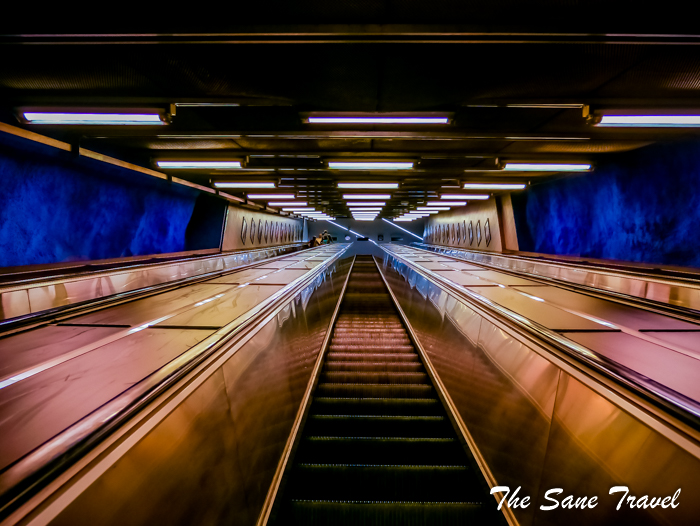 How did it all start?
The first line of the Stockholm metro was opened in 1950. Right from the early stages of planning, a group of artists has been involved in the process. They wanted to make underground travel an experience, not just commuting. After all, people need more than just walls of rock to look at and be inspired by. All in all, some 150 artists have contributed to the Metro's permanent exhibition, and an additional few hundred have added temporary art features.
Sculptures, mosaics and paintings can be found in over 90 of the 100 metro stations in fantastic rock chambers.Features include a lush garden, a bubbling spring, a water-lily pond and an extract from Strindberg's Occult Diary. Stockholm public transportation invests about 1 million euros a year into protecting and developing the artwork.
Exploring the Blue Line
<p">The third and final branch, the Blue Line, was opened in 1975, with two lines running northwest from the city center. Several stations are left with crude bedrock exposed. The Blue line has 2 line numbers and 20 stations: 19 subterranean and one elevated. The track is 25,5 kilometers long.
We go on T11 line from Kungsträdgården to Akalla. Without stops, it's a 22 minute journey of almost 16 kilometers. But we are going to make stops, aren't we? If you start from the Central railway station, go one station back to our starting point, Kungsträdgården, or start with exploring T-Centralen first, you decide. We are going to skip some stations, so watch out!
Stations
1) Kungsträdgården
The final destination of lines 10 and 11, it was opened in 1977 as station number 91. It features relics from buildings that were pulled down when central Stockholm was redeveloped during the 1950s and 1960s. You can admire sculptures, pillars, vegetation, and painted arches. Artist: Ulrik Samuelson.
2) T-Centralen
Swedish for "The T-Central", T being an abbreviation for "tunnelbana": underground, subway. T-Centralen is the heart of the Stockholm metro system, the only station where all three lines meet. T-Centralen consists of two stations: the first for Line 1 and Line 2, the second for Line 3. So this second one is part of the Blue line we are exploring and was opened in 1975. Pictures show the easily recognizable blue color that dominates the station. There are painted blue vines, flowers and silhouettes of workers on blue and white background on the ceiling. Artist: Per Olof Ultvedt.
3) Rådhuset (Court House)
This underground station is named after Rådhuset (The Court House) right above it, and was opened in 1975. Like some other stations on the Stockholm metro, it features organic architecture, leaving the bedrock exposed, as if based on natural cave systems. Behold a grotto the colour of sandstone, with imaginative "architectural finds" from different periods in Kungsholmen's history. Artist: Sigvard Olsson.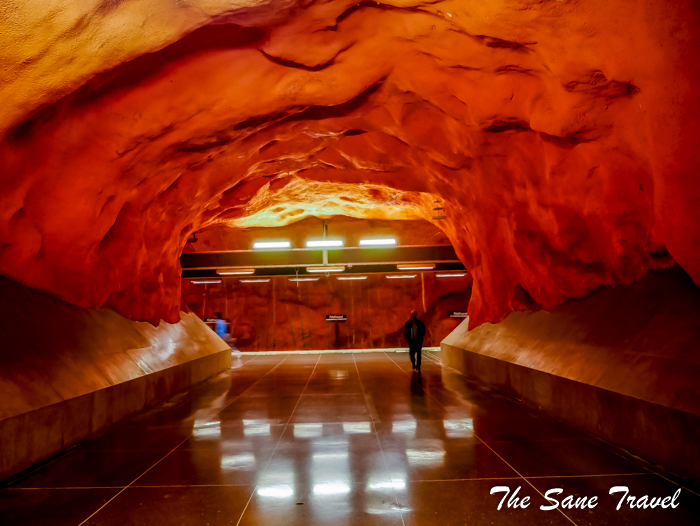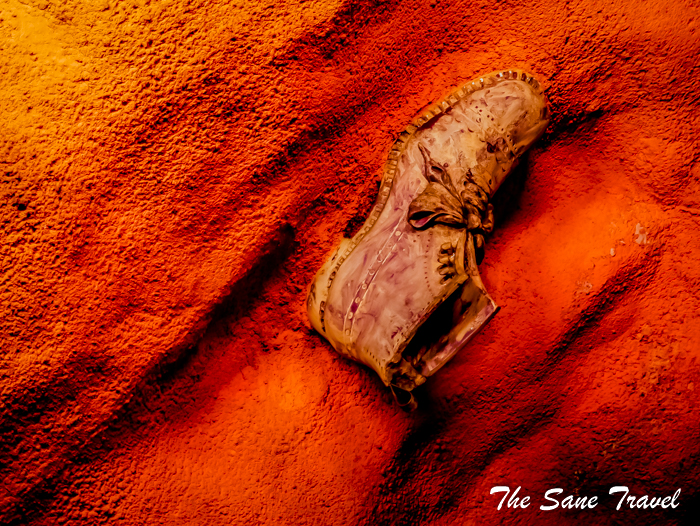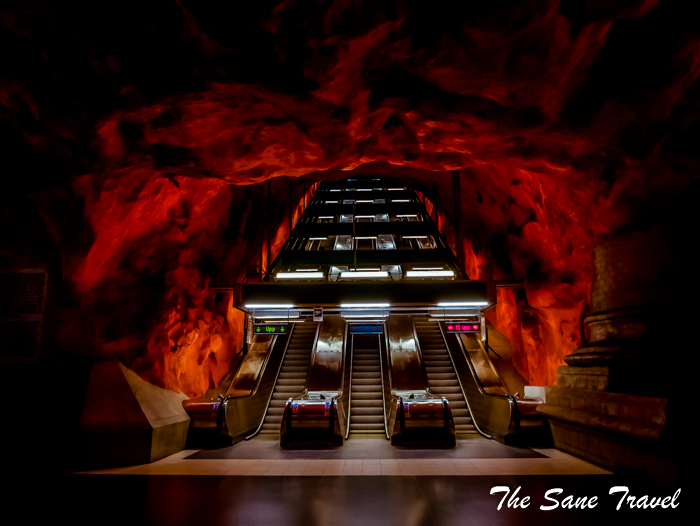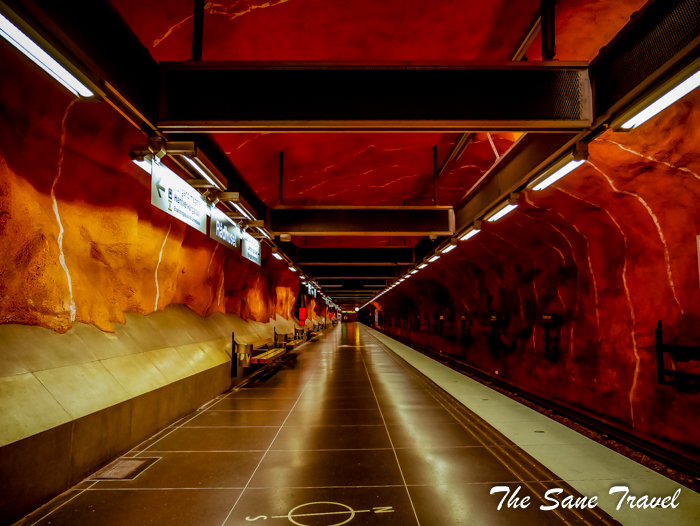 4) Solna centrum
The station is about 5 kilometres away from central Stockholm. It's close to Råsunda Stadium and was opened in 1975. Solna centrum is one of my favorites because of the striking cadmium red color that dominates it. You can explore red and green grottos with painted motifs from Sweden in the 70's; countryside, environmental pollution, the Hagalund district, among others. Artists: Karl-Olov Björk and Anders Åberg.
5) Näckrosen
The station was opened in 1975 and is located deep underground."Näckrosen" means "the water lily," and that's one theme of the artwork, as seen below. The station's south entrance also serves Gamla Filmstaden, Sweden's original "Hollywood" - an area of studios where lots of early Swedish films were made. Have you noticed the water lilies on the ceiling, in the mid-platform passage? Artist: Lizzie Olsson-Arle.
6) Hallonbergen
The station was opened in 1975. The interior is covered with art intended to mimic kids' paintings. More artwork adorns the space between the platforms. Enlarged children's drawings, figures and texts on white. Artists: Elis Eriksson and Gösta Wallmark.
7) Akalla
The station was opened in 1977, and is the final stop on Line 11 of the Blue Line. As part of Art in the Stockholm Metro project, the station features an ochre colored grotto. The work includes ceramic pictures illustrating ideals, daily life, leisure and work of people. Artist: Birgit Ståhl-Nyberg.

Practical information
A one way trip without stops takes 22 minutes. Allow 10 minutes for each stop to catch the next train. If you are pressed for time, I recommend exploring the following stations: Kungsträdgården, T-centralen, Rådhuset, Solna Centrum. A single cash ticket price is 25 SEK (2,64 euros). A day travel card costs 115 SEK (12,13 Euros).
Have you visited Stockholm metro? What are your favorite stations? Share your experience in the comments section!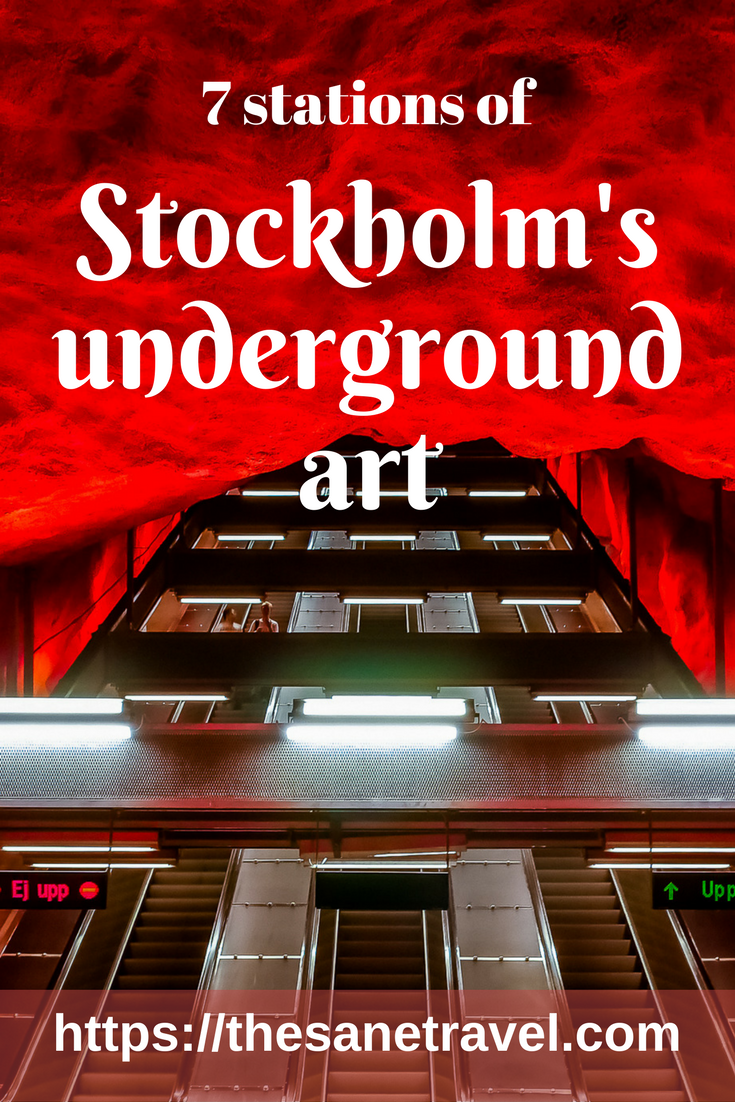 Published by Anita on July 25, 2016

Traveled July 2016
Author: Anita Sane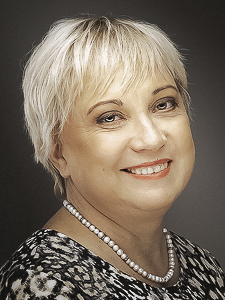 About the author
Anita is a part-time traveler, passionate photographer, and a retired career woman from Latvia, traveling mostly solo for more than 15 years. She is a skilled travel planner planning and executing her travels by herself. Anita wants to show you how to travel the world and open your mind to new experiences. Follow her also on Facebook, Instagram, Pinterest, Twitter, and Bloglovin.