If you are heading to Kenya or to some other country in East Africa for the first time and want to feel the best this country has to offer, you have to learn about Serena hotel chain. The Serena is the leading luxury hotel group with a collection of 35 luxury resorts, safari lodges and hotels located in Kenya, Tanzania, Rwanda, Uganda and Mozambique and also in Pakistan, Afghanistan and Tajikistan. Their selection of luxury resorts, safari lodges and hotels includes some of the most exotic and enchanting destinations in these parts of the world. The Serena service guarantees unmatched luxury, ample amenities and warmth of personal attention. Nairobi Serena Hotel has received the title of Kenya's Leading Business Hotel in 2016.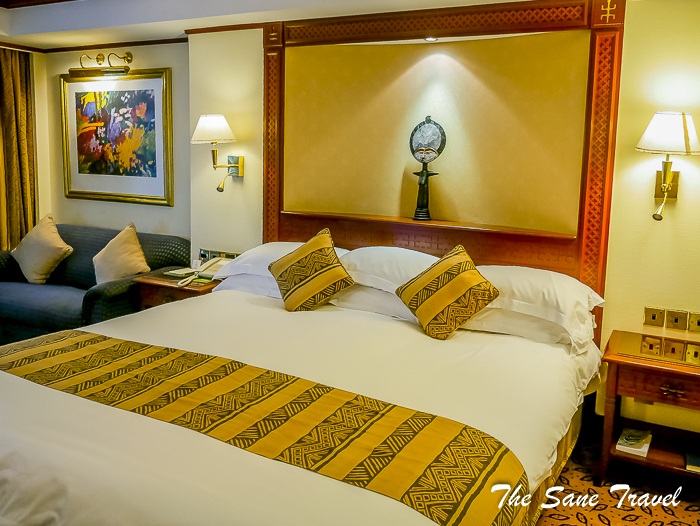 I had a great opportunity to use their services three times while in Kenya and I must say that it's the best thing that happened to me in this country. So let's start from the very beginning with my Serena Nairobi experience. This hotel belongs to The Leading Hotels of the World that have just 375 members. I arrived there in the late afternoon, quite tired after a long road trip getting back from Masai Mara. So I was looking for an opportunity to relax and recharge before leaving early next morning for my next safari experience with Serena.
Location: Nairobi Serena Hotel enjoys a convenient location in the city centre, next to Central Park, a five minute walk from the Central Business District and a 30-minute drive from Jomo Kenyatta International Airport. After stepping out of my vehicle, I was greeted by a hotel staff member who took care of my luggage. The first thing that I noticed at the entrance was the great care for the security of hotel guests. Security staff carefully checked me and my luggage before letting me enter the hotel, for the safety of me and others.
Reception: The check-in procedure was a surprise for me. I was asked to sit down on a comfortable sofa and to show my passport. All the check-in procedure was done for me, without me getting off the sofa.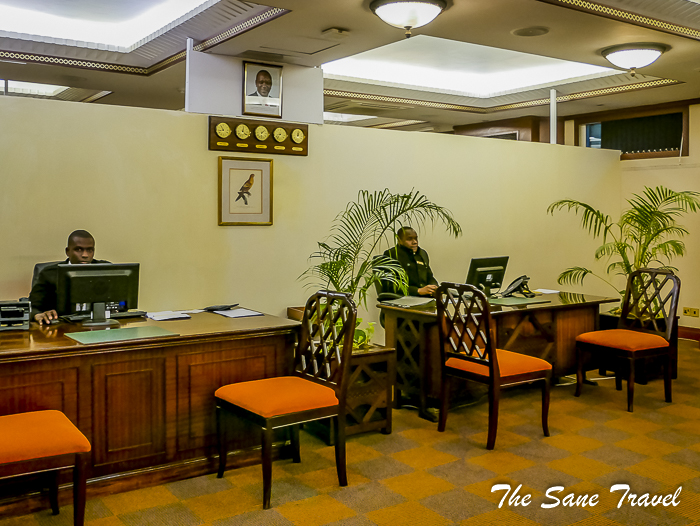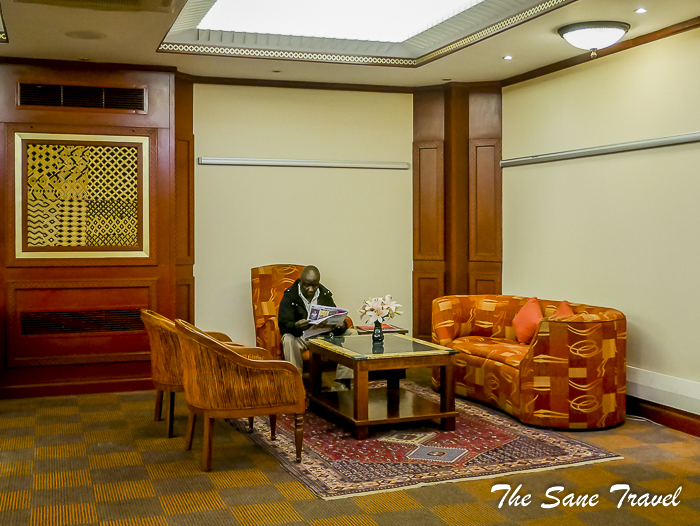 So in a few minutes I was escorted to my room, quite unusually located on the ground floor.
Hotel design: Serena has a philosophy of integrating local art and culture into the design of each hotel; therefore, numerous artists have been invited to create decorations for the communal areas of Serena Nairobi.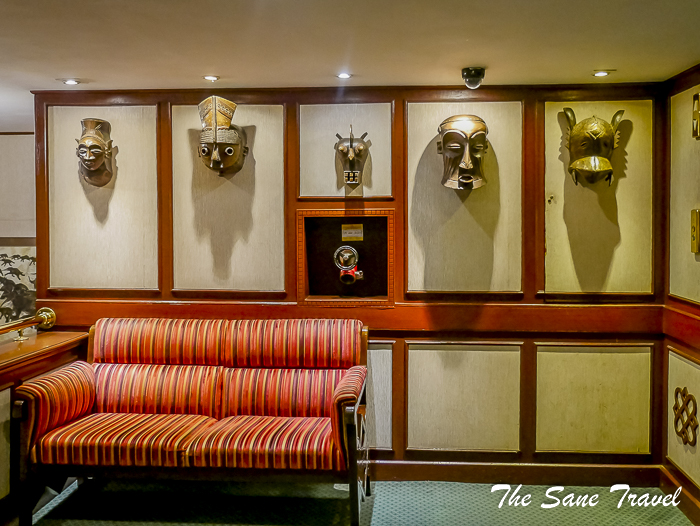 The room: I was really pleasantly surprised that having a room on the ground floor meant that I have a private veranda, with a small garden and a sun-lounging area all for myself. Something like this is possible only on the ground floor. I very much enjoyed my welcome gift with fruits, snacks and a bottle of red wine by "Tall Horses" with a picture of a giraffe on the bottle. It was a good start for my relaxation.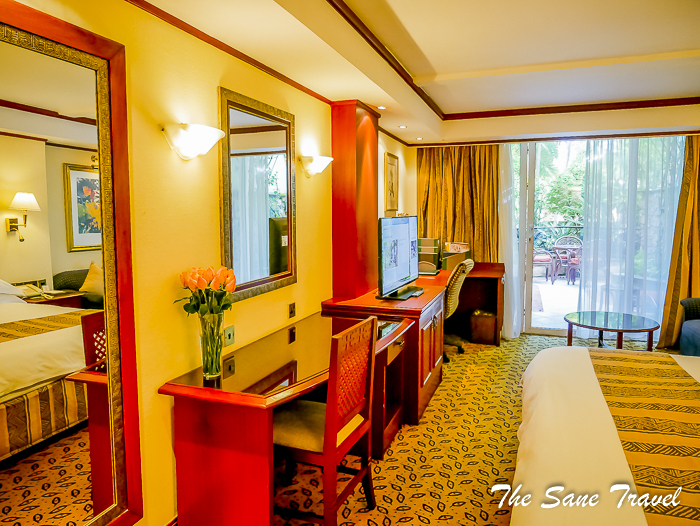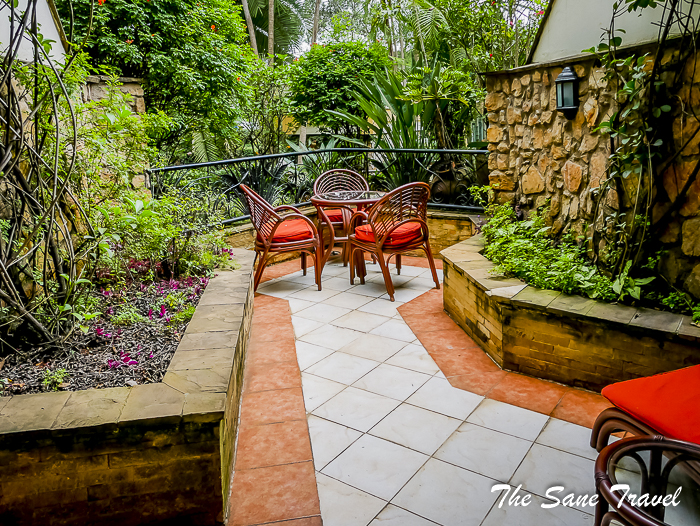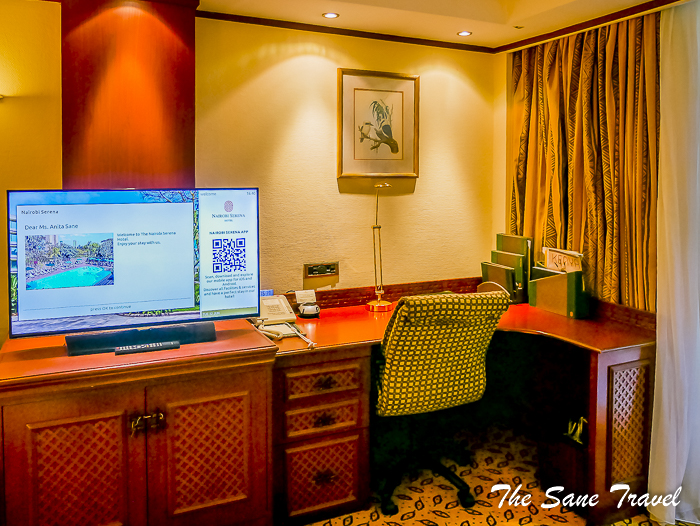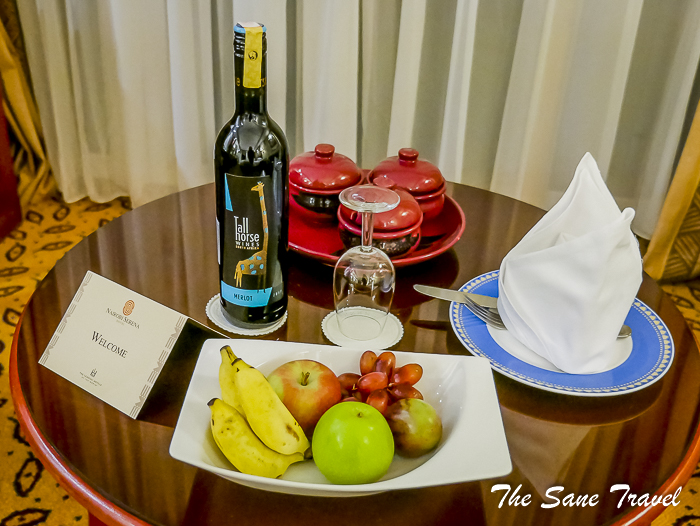 The elegant and spacious room was decorated with warm colours and wooden furniture. I especially liked the fresh roses on the table as a final touch. A room was equipped with a TV, air-conditioning and a private bathroom. I very much appreciated high-speed Wi-Fi. I also appreciated Elemis toiletries with their hair conditioner being my favourite. As a coffee lover, I really enjoyed the opportunity to have coffee in my room from a capsule coffee machine. A bathrobe and slippers were provided for my convenience. A fully stocked mini bar with free beverages made me not feel thirsty again. Also you don't need to worry about finding a mobile charger in your luggage. Just choose a right one from the desk.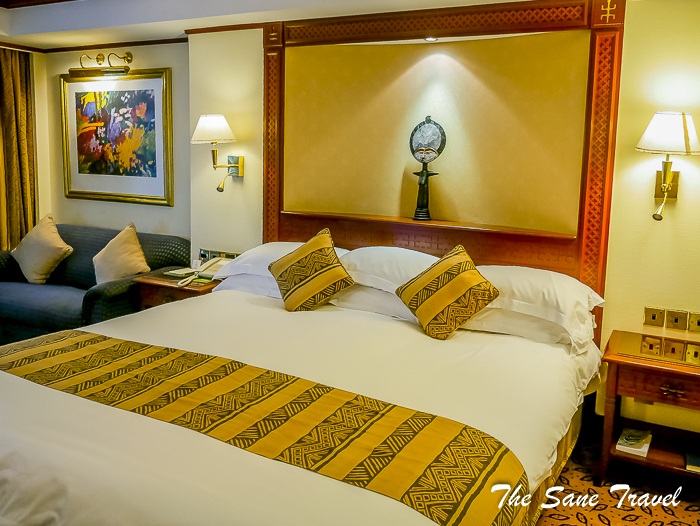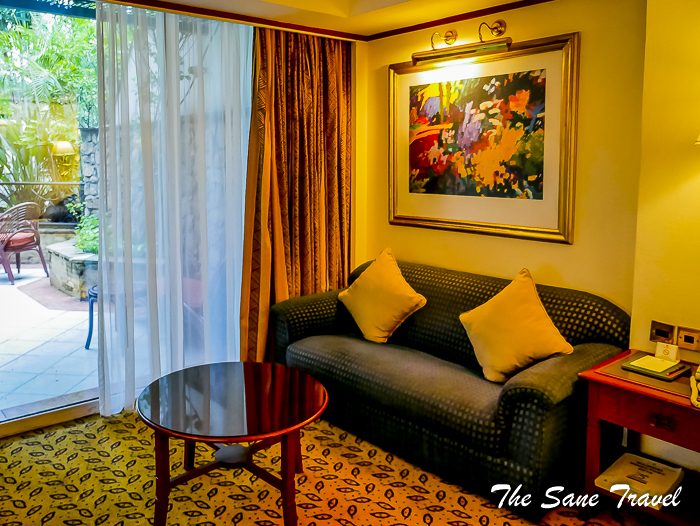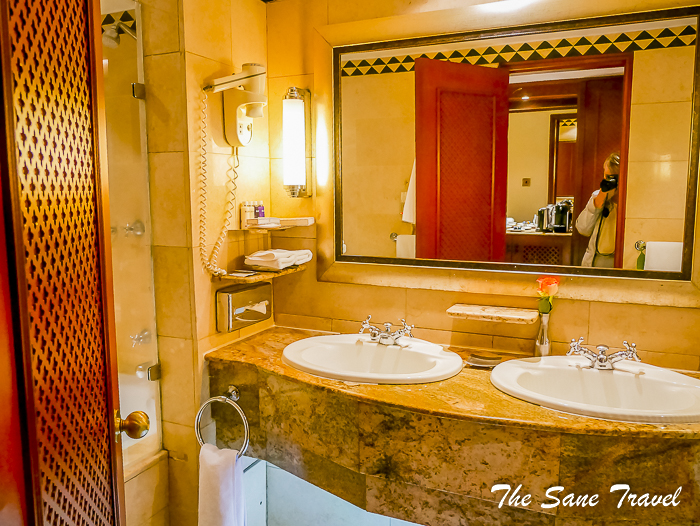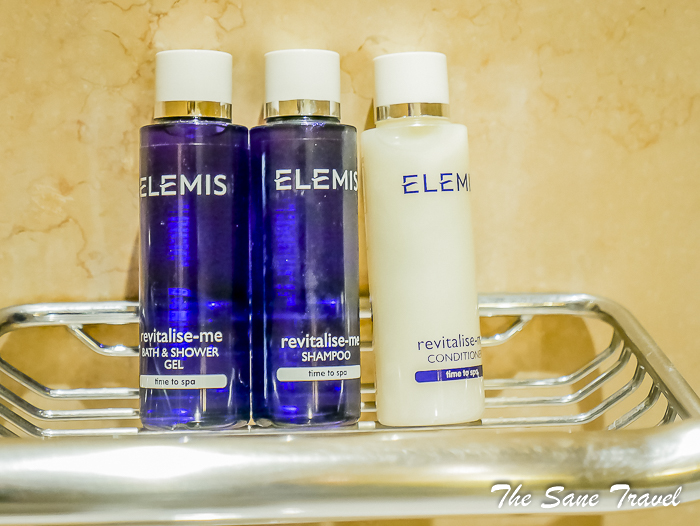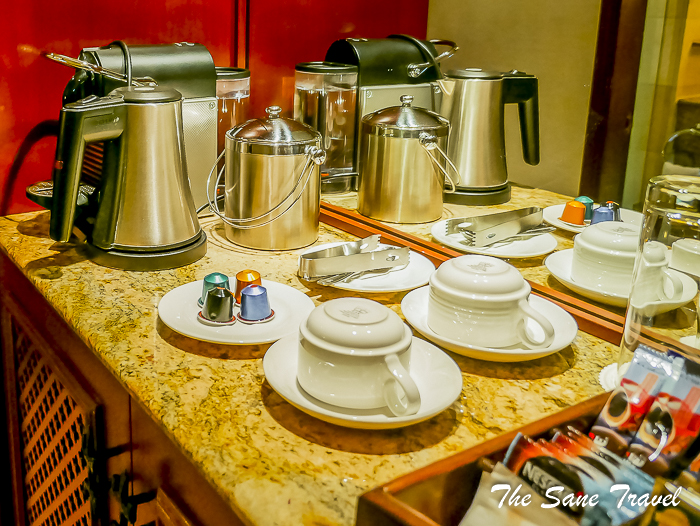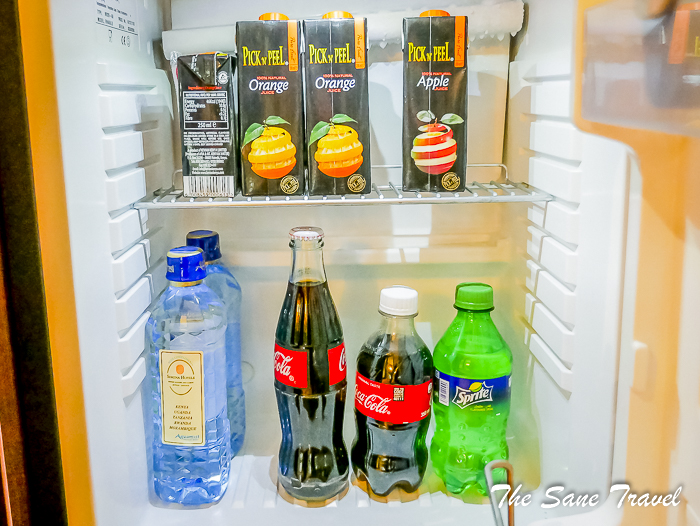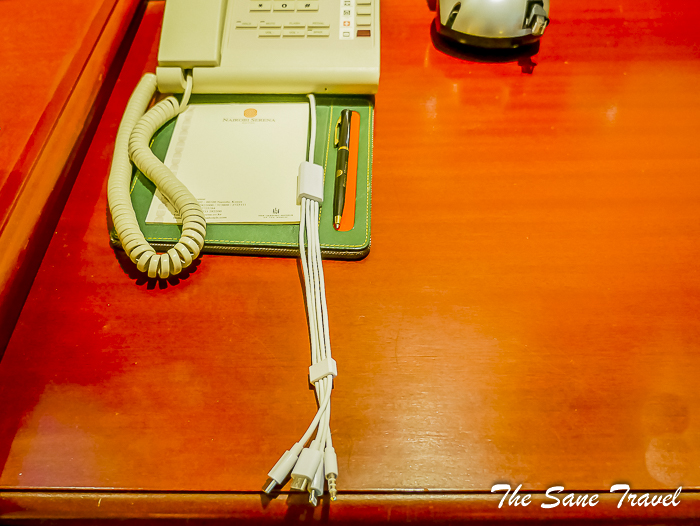 Spa and swimming pool: Soon after the check in I was heading to the Maisha Health Club and Spa open air swimming pool located next to the hotel building and beautifully surrounded by palm trees. I was impressed by the temperature of the water. It was heated to 30 degrees when the outside temperature was not more than 24. So I could stay in the water as long as I wanted to, without getting cold. It was my great pleasure after my tiresome day. I felt quite refreshed after my pool experience.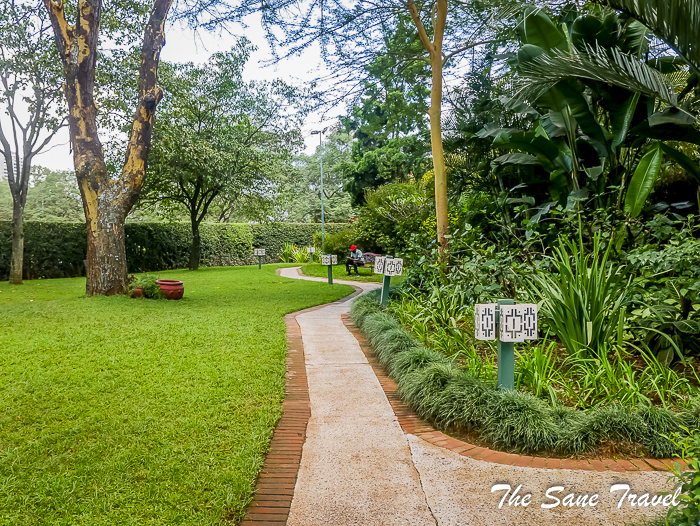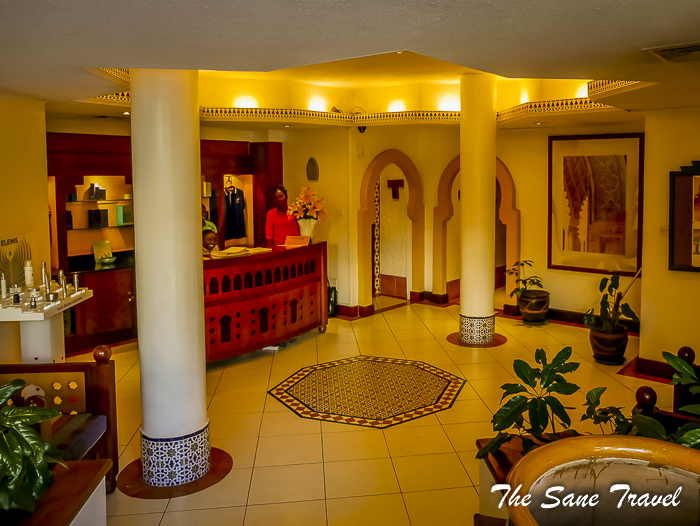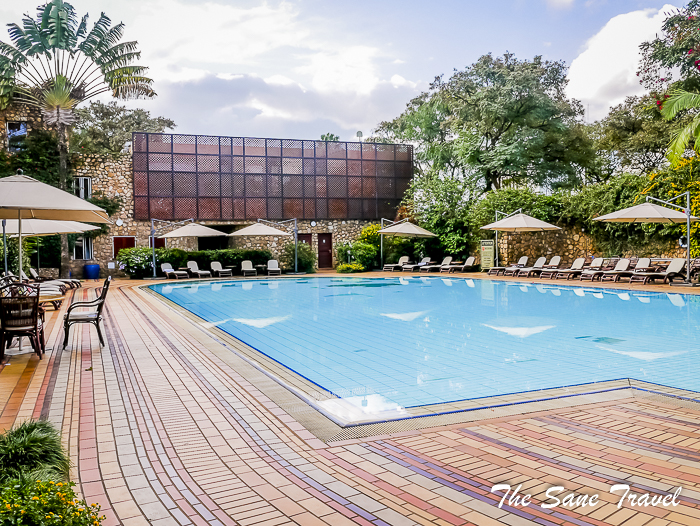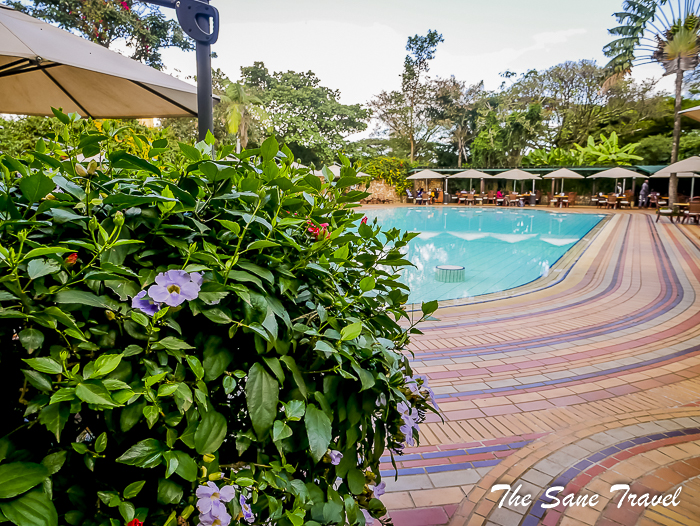 In such good weather most guests of the hotel chose to have their meal at the outdoor restaurant tables located near the swimming pool.
Dining: Offering a range of dining options, the hotel is especially well known for its Mandhari fine dining restaurant, rated one of Kenya's best. Mandhari offers a diverse menu that has been designed to showcase the talent of the Chef and local, regional and international dishes. The menu is supported by a great choice of wines from their own wine cellar.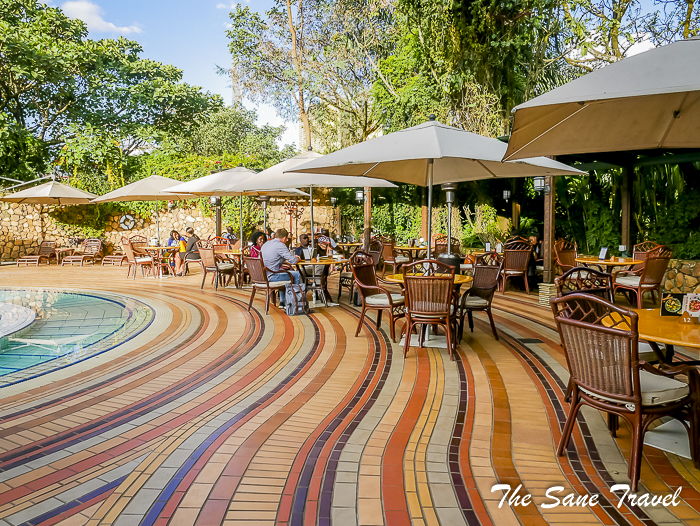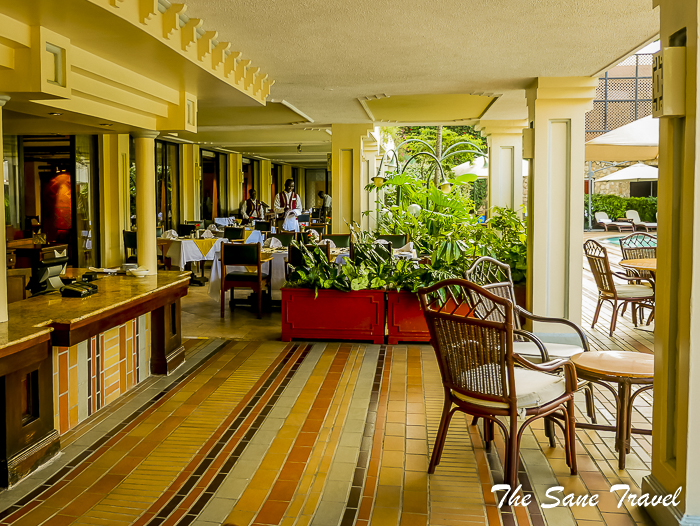 Shopping: You can do some of your souvenir and other shopping right in the shops located in the hotel, so take your time and make your choices.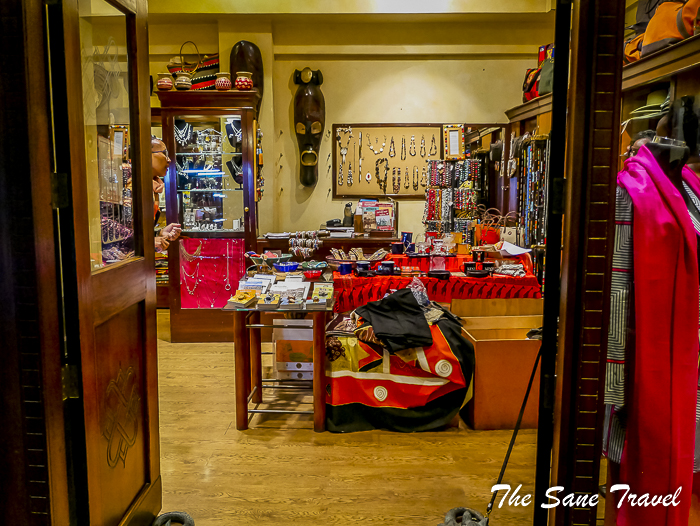 After a great relaxation session in the pool, I got back to my hotel room for a great night's sleep in luxury bedding and on most comfortable pillows. I had to get up early to travel to Amboseli, so I ordered a packed breakfast as I am not hungry very early in the morning. I received a very orderly packed breakfast box with juice, yoghurt, pastries, cheese and fruit that I could enjoy on the train for my Serena Amboseli lodge and safari experience.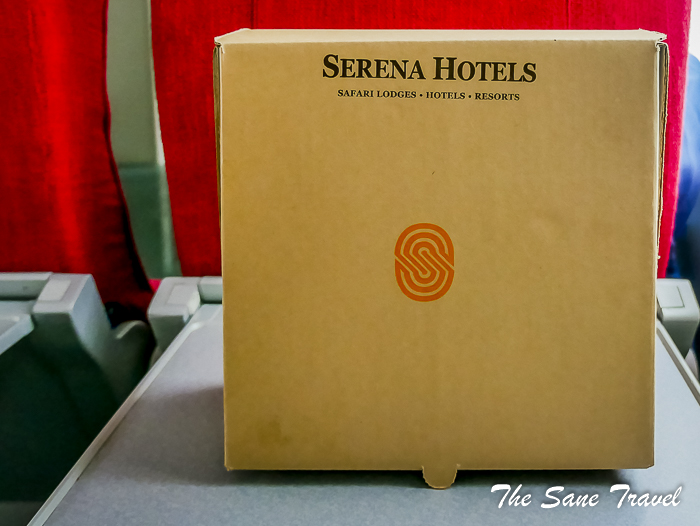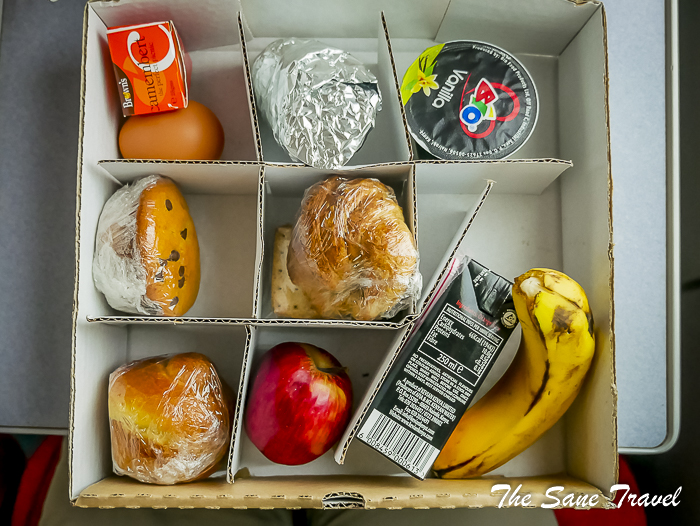 Time of stay: One night in June 2018.
Price per night: Room prices starting from 215 USD per night.
Conclusion: My memories of the luxury Serena Nairobi experience will stay with me for a long time. I highly recommend staying at Serena Nairobi hotel when you travel to the capital of Kenya.
Disclaimer: I was kindly invited by Serena Nairobi hotel. As always, all opinions and thoughts are my own. I had a great time and I wish you the same! Happy travels!
To book your stay at Serena Nairobi hotel just click this reservation link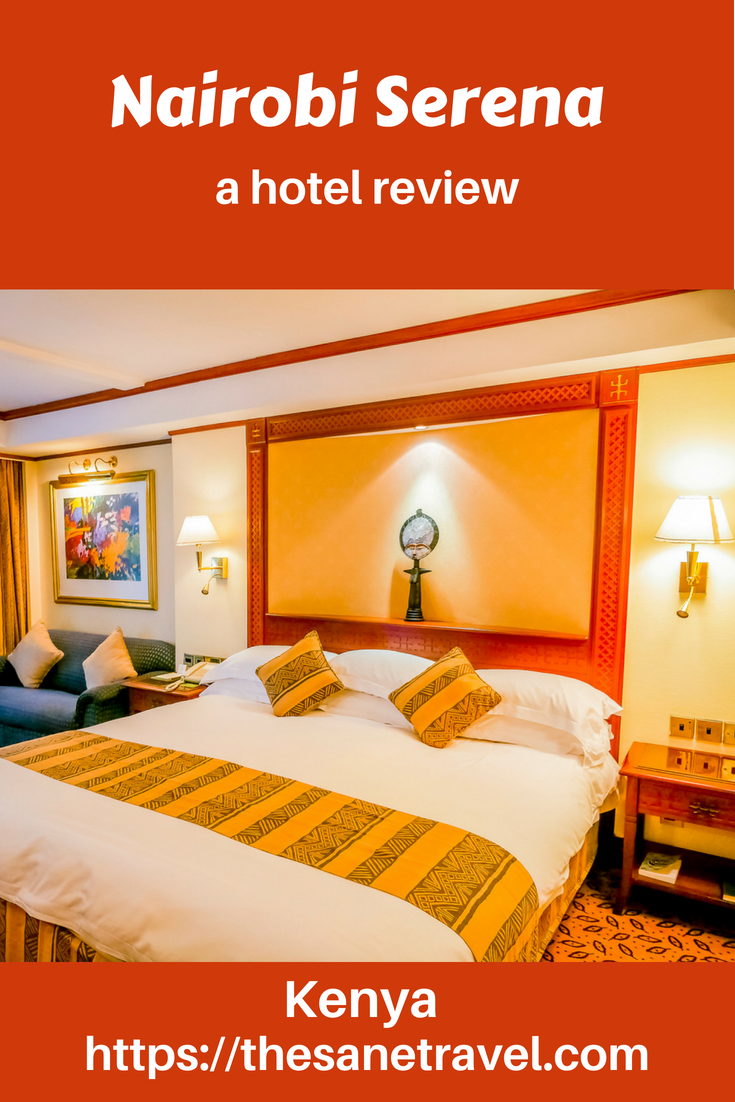 Come back to my website in a few weeks to learn about my other Serena Kenya experiences.
Published by Anita on June 23, 2018
Author:Anita Sane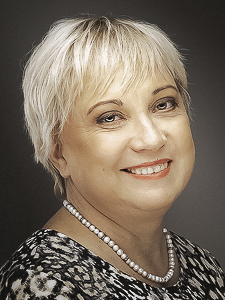 About the author
Anita is a part-time traveller, passionate photographer and a retired career woman from Latvia, travelling mostly solo for more than 15 years. She is a skilled travel planner who plans and executes her travels by herself. Anita wants to show you how to travel the world and open your mind to new experiences. Follow her on Facebook, Instagram, Pinterest, Twitter and Bloglovin.