Are you going to Argentina any time soon? Do you love wildlife? If the answer is yes, include Puerto Madryn in your itinerary. This place is well known for the nearby Valdes Peninsula, which is designated a UNESCO World Heritage site. There are also large colonies of Magellanic penguins in this area. However, the biggest attraction is whales. You can see whales from May to December and penguins from September to April, so October and November are ideal for wildlife watching around Puerto Madryn. Here is my three-day road trip plan for it!
Day one. Driving distance 360 kilometres.
Valdes Peninsula and whale watching tour
The Valdes Peninsula in Patagonia is a UNESCO Heritage site of global significance for the conservation of marine mammals. It is home to an important breeding population of the endangered southern right whale as well as populations of southern elephant seals and southern sea lions.
Let's go! First, you drive about 45 kilometres (27.9 mi.) from Puerto Madryn to the checkpoint of the protected area, where you buy entrance tickets for each person and the car. Then continue your way some 20 kilometres (12.4 mi.) more to the tourist information centre. Stop there to get valuable advice and a map of the area.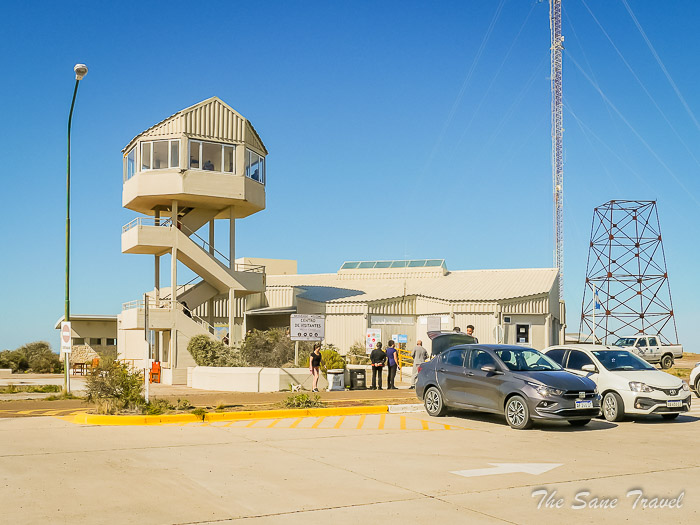 If you love to sleep until late morning, I suggest just doing only a part of the peninsula in a clockwise direction to Valdes, Punta Delgada and Puerto Piramides.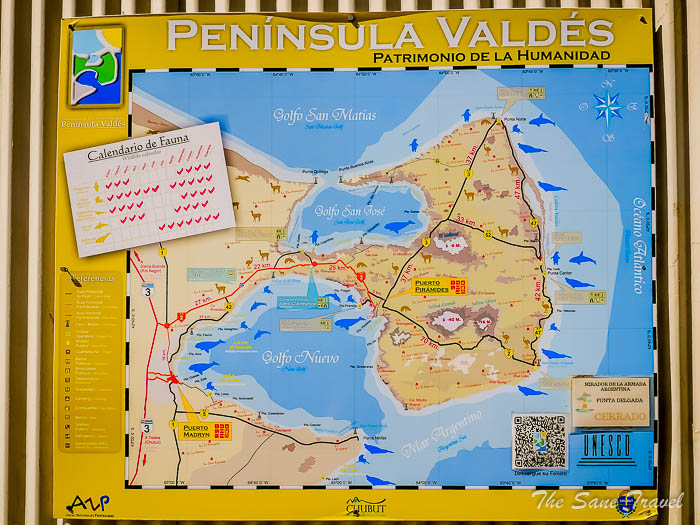 When you turn left from the road to Puerto Piramides, you will continue the trip on a gravel road until you get to Puerto Piramides where the road is paved.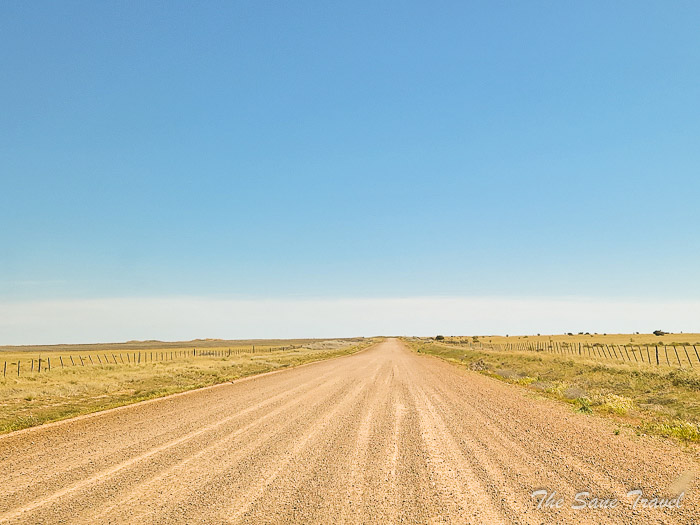 So be prepared for a slow drive with uninspiring scenery around you until you reach your next stop, Valdes. Located on the ocean coast, Valdes is a place where you can watch penguins and sea lions. To be honest, I was quite disappointed because I did not see many animals and the viewing points were at a great distance from visitors.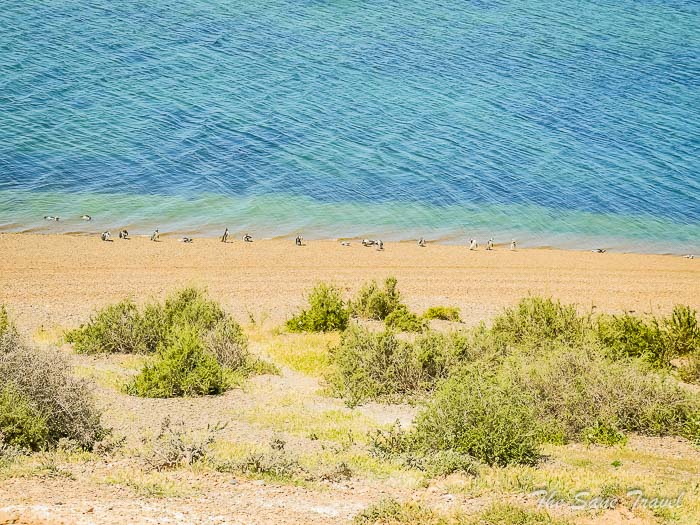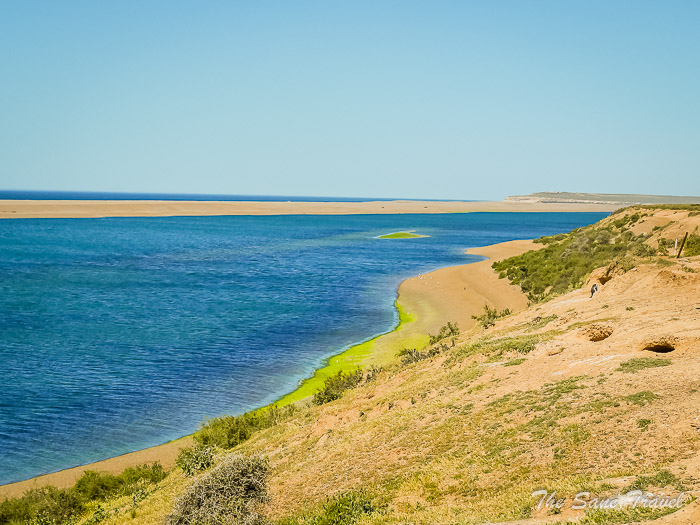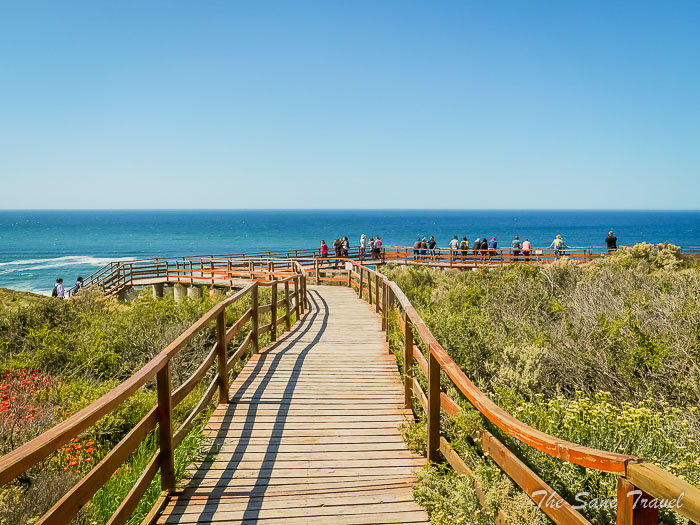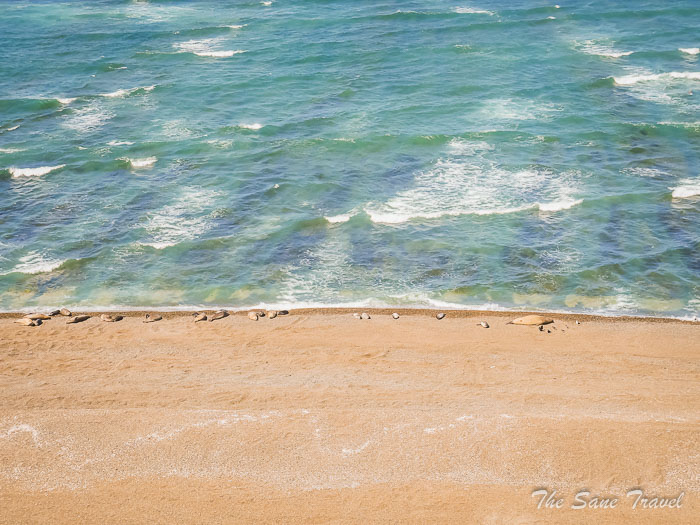 I understood that you could also see whales, but I did not spot any due to low tide. You can have lunch in Valdes, but I did not like the taste of the food and it was quite pricey, so bring your own food if possible.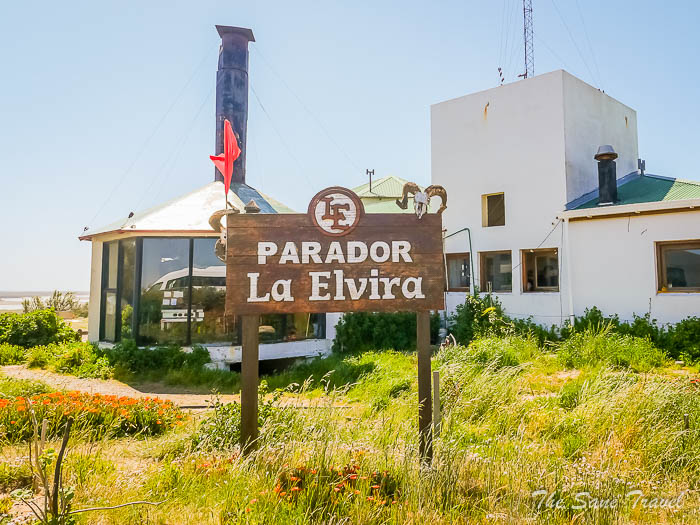 Then continue your way to Punta Delgada, enjoying lovely views of the coastline. Unfortunately, Ponta Delgada is privately owned and I did not see any signs of how to access it. Then turn right and drive in the direction of Puerto Piramides. You will see some lamas on your way and a few farms.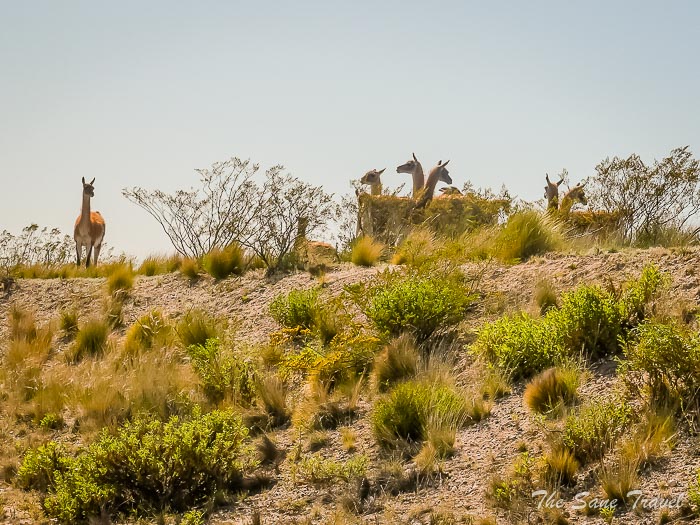 I was hoping to get close to at least one of two salt lakes in this area, but they were fenced off.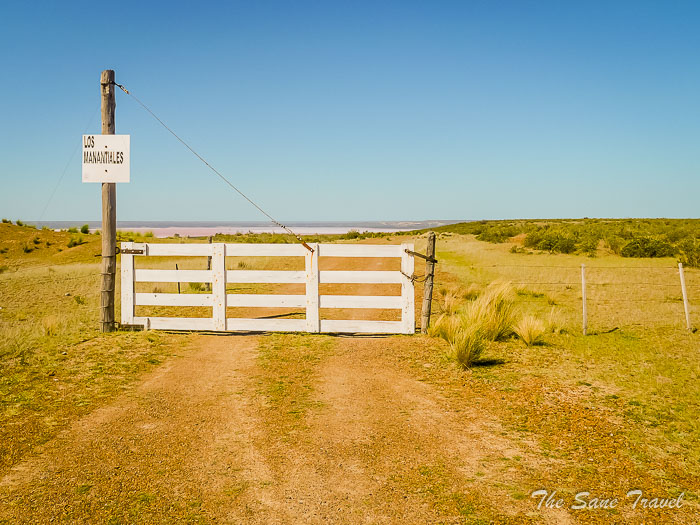 Anyway, I could not hang around for too long because I had to be on time for a whale-watching tour from Puerto Piramides starting at 6 p.m. I arrived quite early and had enough time to change my reservation note for a tour ticket, walk around, and have something to drink.
Whale watching tour
I decided to accept my apartment owner's advice and choose Punta Ballena Jorge Schmid Company. Located in Puerto Piramides, this company has more than 46 years in the business. The company offers bilingual certified guides and is equipped with boats with ecological engines and state-of-the-art instruments specially designed for these types of operations. It allows visitors to have an unforgettable experience, i.e., whale watching in their natural habitat. The best time to see whales is September, October, November and December.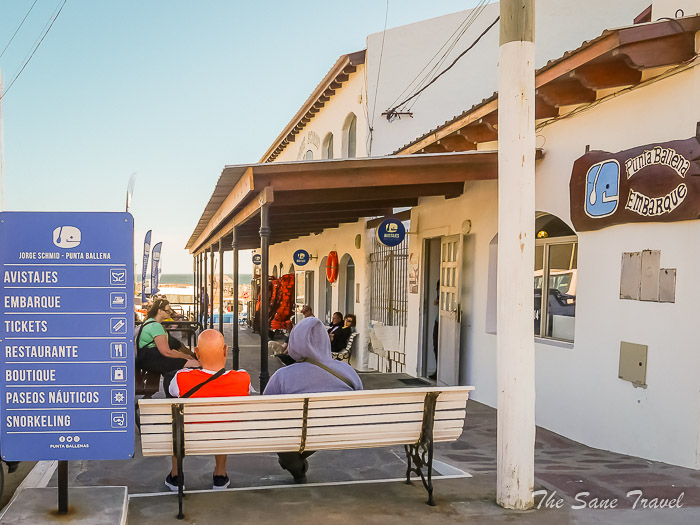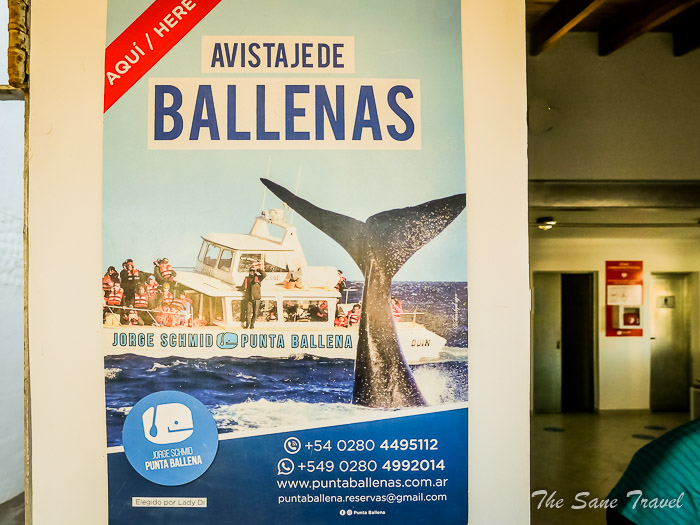 Address: 2º Bajada al Mar, U9121 Puerto Piramides, Chubut
Southern right whales have stocky, black bodies, often with a white belly and chin patches and a large head covered in callosities. They have broad, paddle-shaped flippers and range in length between 13 and 17 metres (43 to 56 ft.) and weigh up to 80 tons (176,000 pounds). Southern right whales are distributed throughout the Southern Hemisphere. These whales migrate between high-latitude feeding areas in the austral summer and low-latitude breeding grounds in the austral winter. From May to December, whales come to the coasts of the Golfo Nuevo. They choose the tranquillity of these waters to mate, give birth and then raise their calves.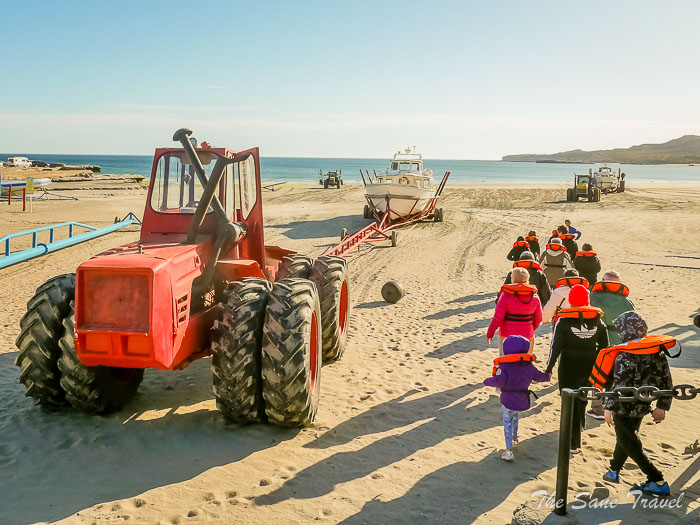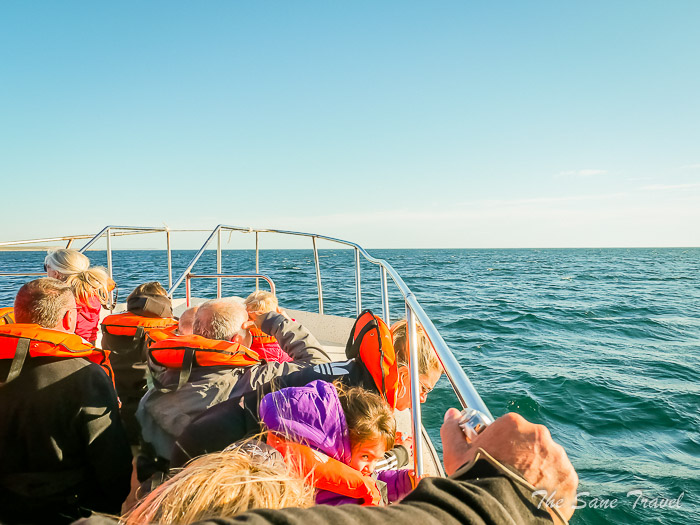 Yes, I saw whales on this tour and quite many of them. It was a real blast. It was also amazing to watch the scenery in the sunset light.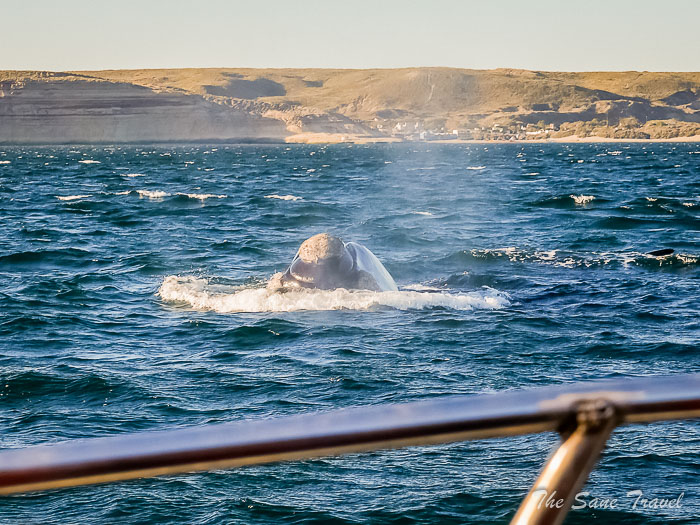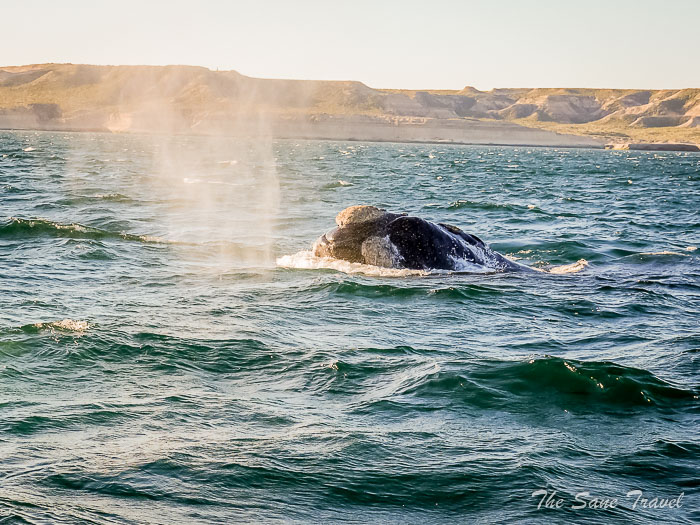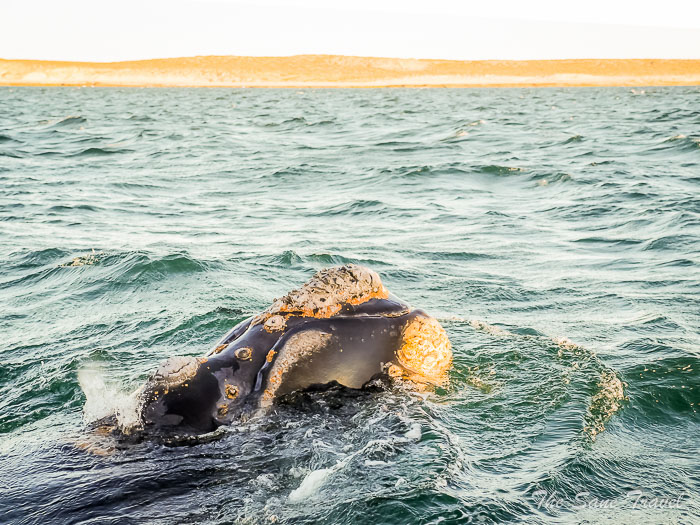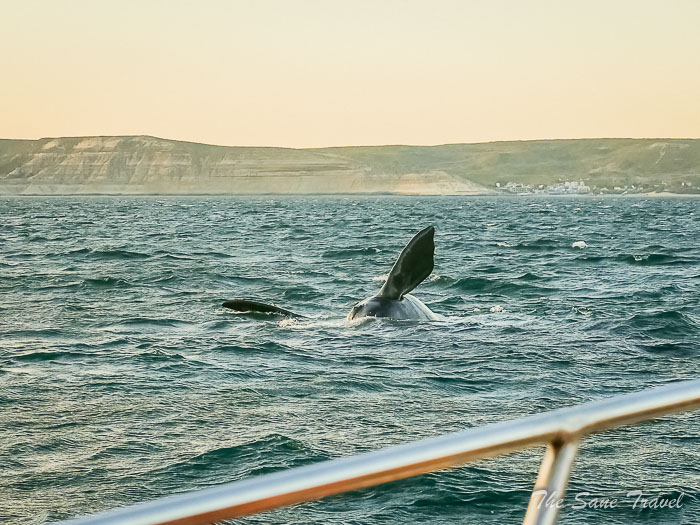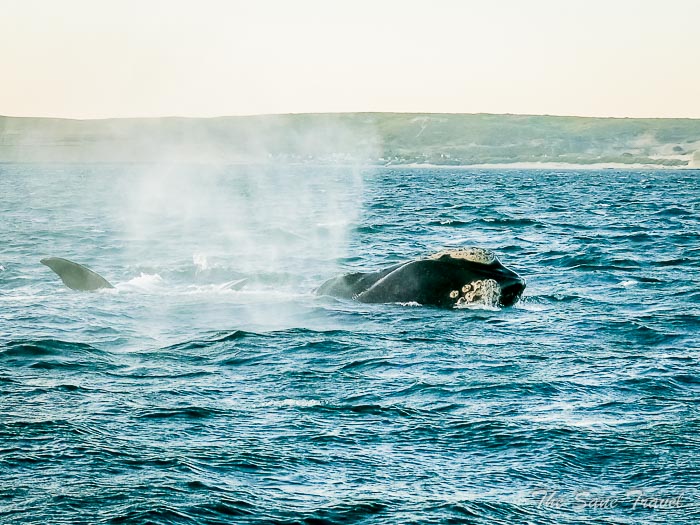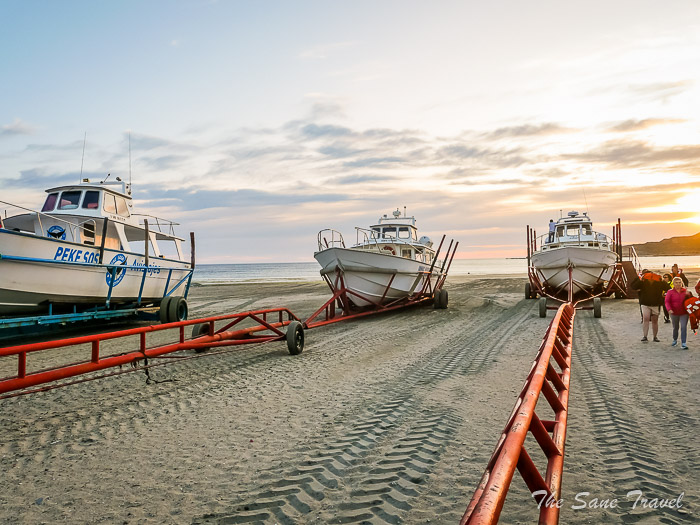 It was already dark when I returned to my apartment in Puerto Madryn. It was a long day full of impressions.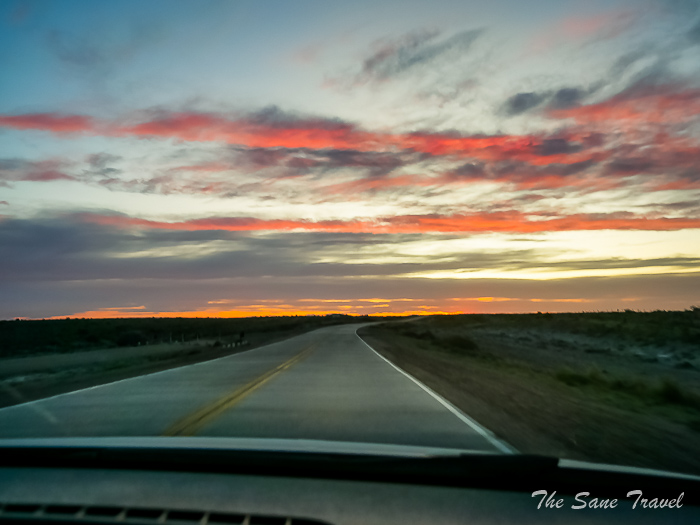 Day two. Driving distance 314 kilometres.
Punta Tombo Nature Reserve and Gaiman town
As I wanted to see Magellanic penguins up close, day two was devoted to visiting the Punta Tombo Nature Reserve, where they spend time from September to April. Magellanic penguins are seabirds living both on land and in the sea. They reproduce and incubate the eggs on land and return to the sea to feed and migrate along the coast. Their chicks are born and change their feathers on land. From September to April, these flightless birds come to the land to mate and give birth, and you'll see them eating, sleeping, mating and caring for their young.
To get to Punta Tombo by car from Puerto Madryn, follow road No. 3 southwards, then turn left to road 75, then to road one and finally turn to the gravel access road to Punta Tombo. The total distance is about 190 kilometres (118 mi.) one way and takes about three hours to get there.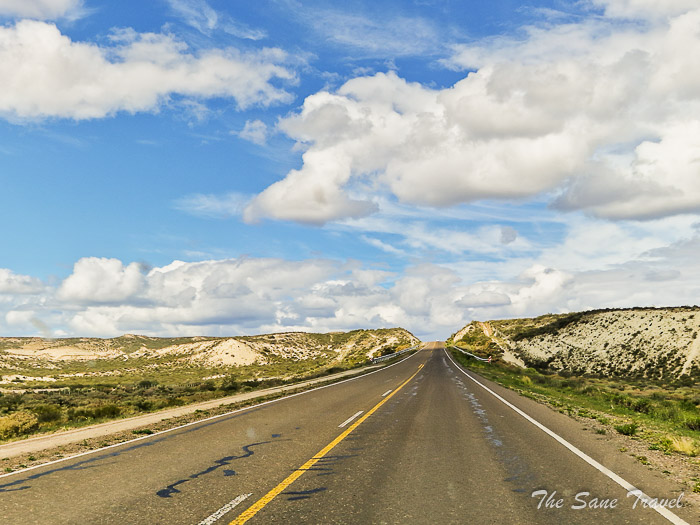 The last 20 kilometres (12.4 mi.) are unpaved. The first thing you will see on arrival is a parking lot. Park your car and go to the ticket office, visitor centre and restaurant. Buy a ticket, visit the visitor centre and have lunch in the restaurant.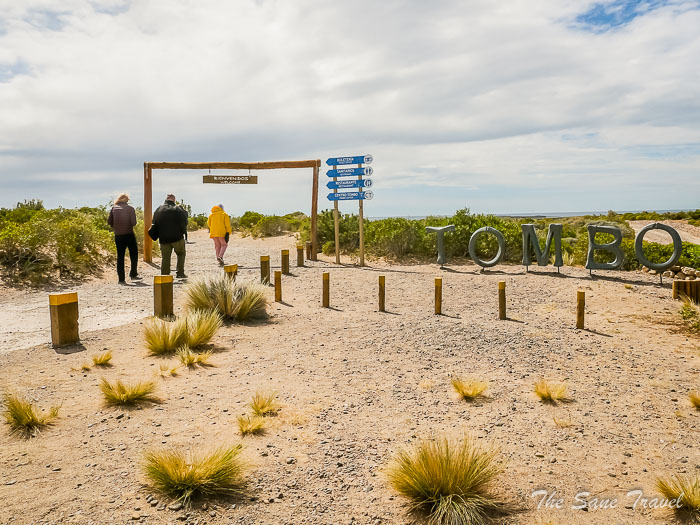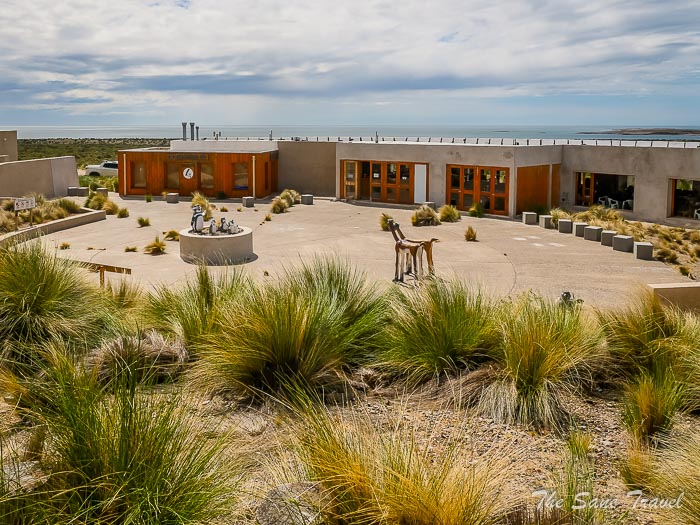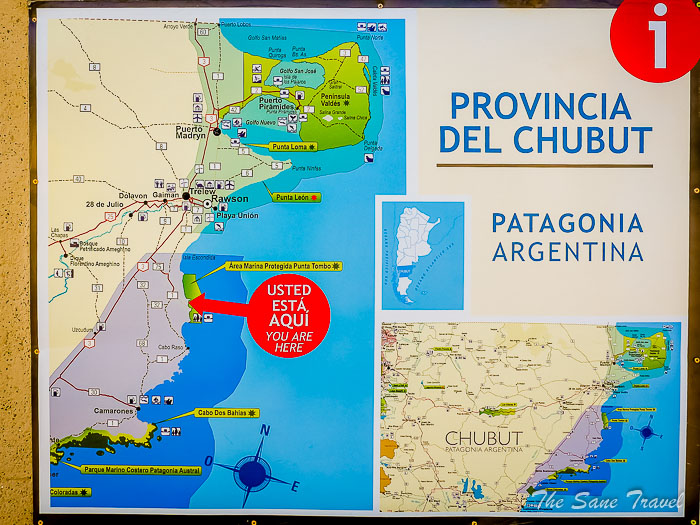 Afterwards, return to your car and drive about one kilometre (0.62 mi.) downhill to the Reserve entrance.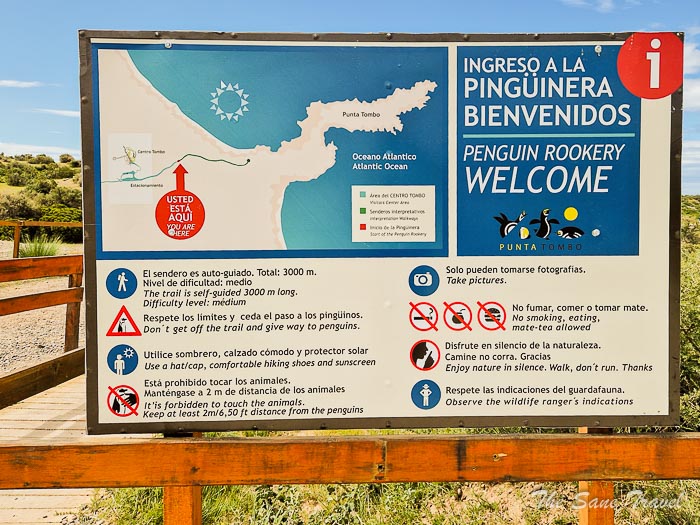 Follow a 1.3-kilometre-long (0.80 mi.) boardwalk and enjoy watching the daily life of these adorable creatures.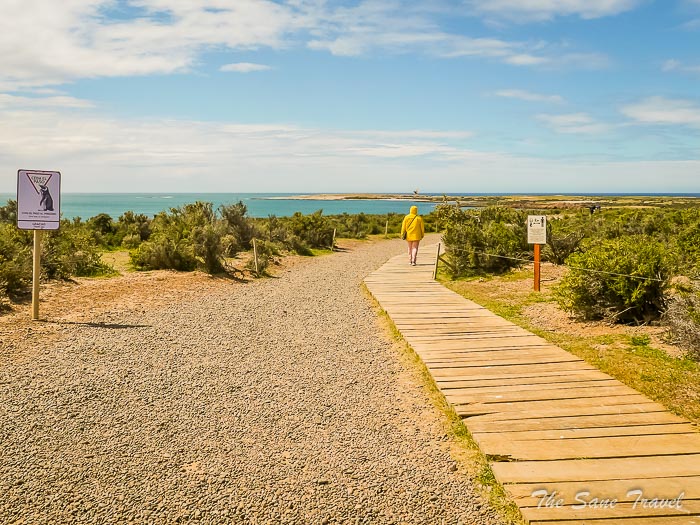 It is just fascinating to be in the middle of all this.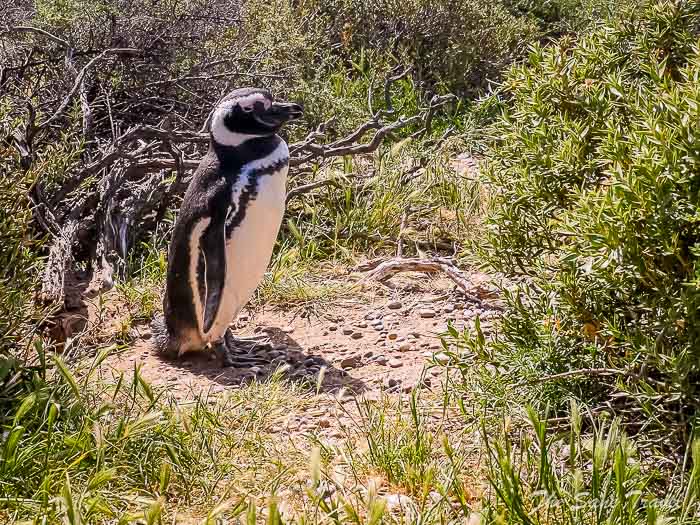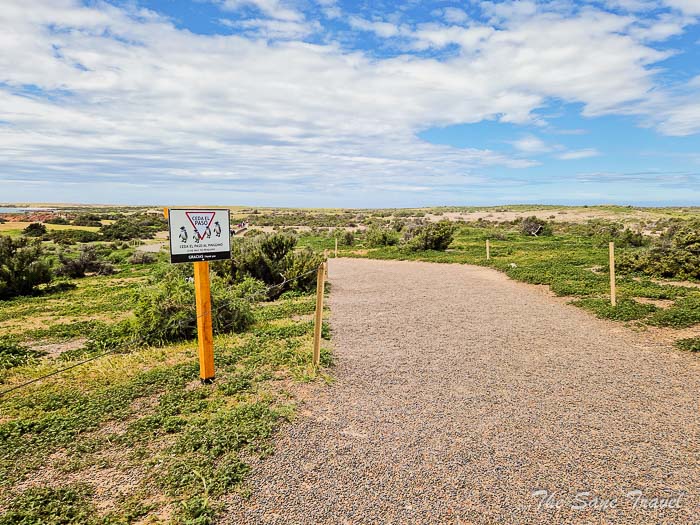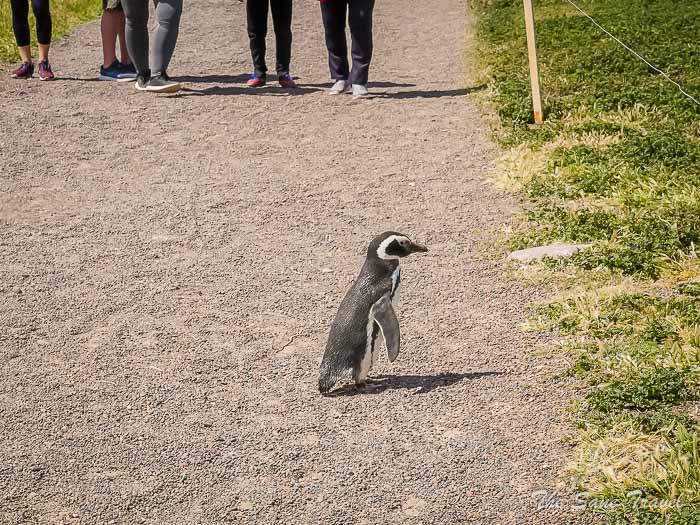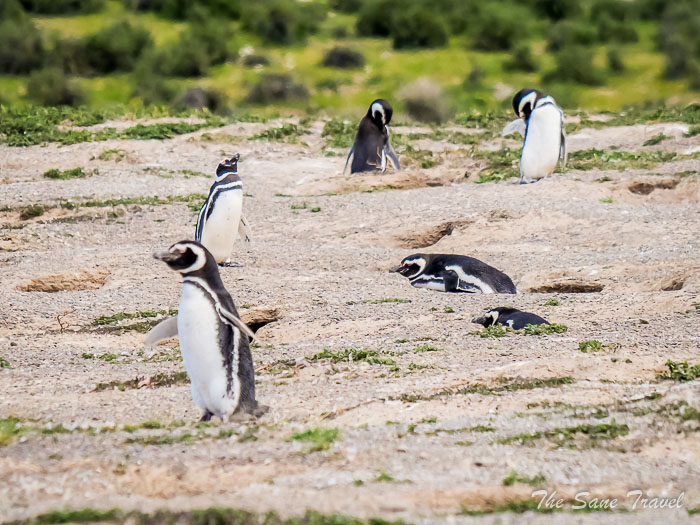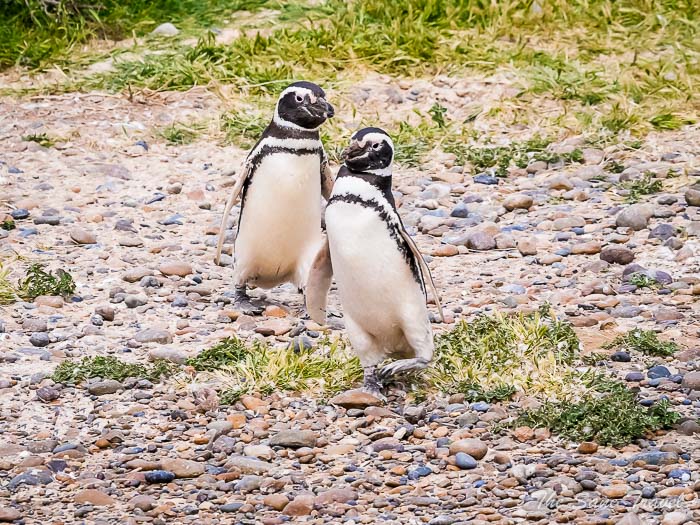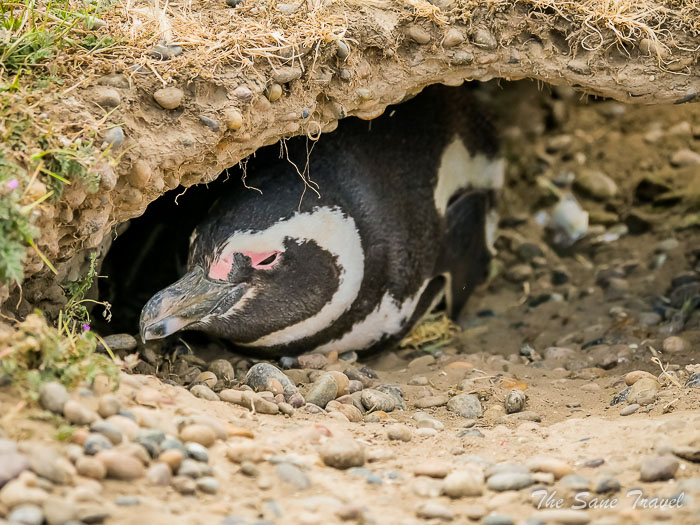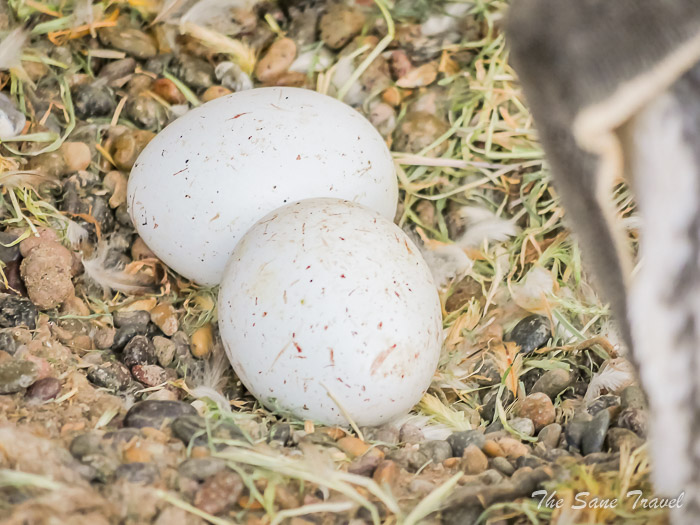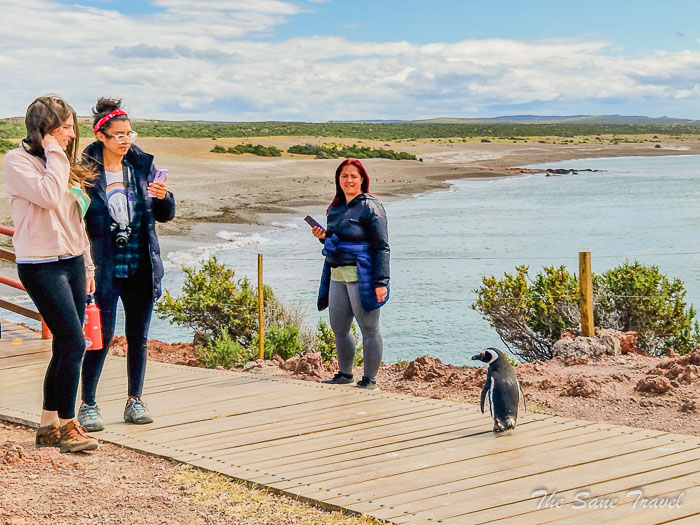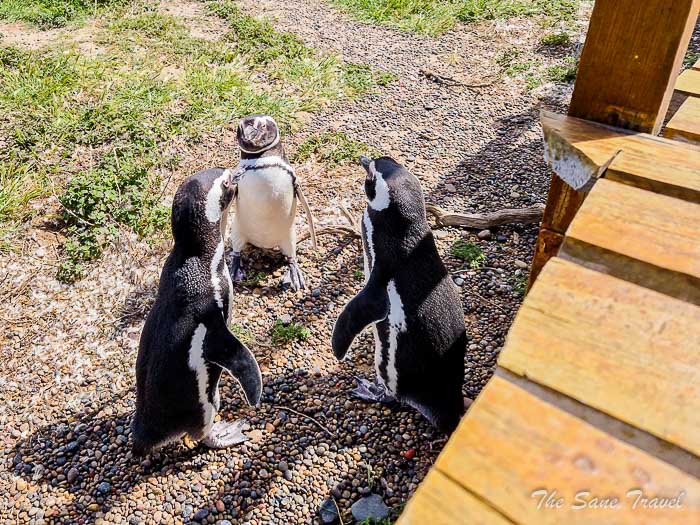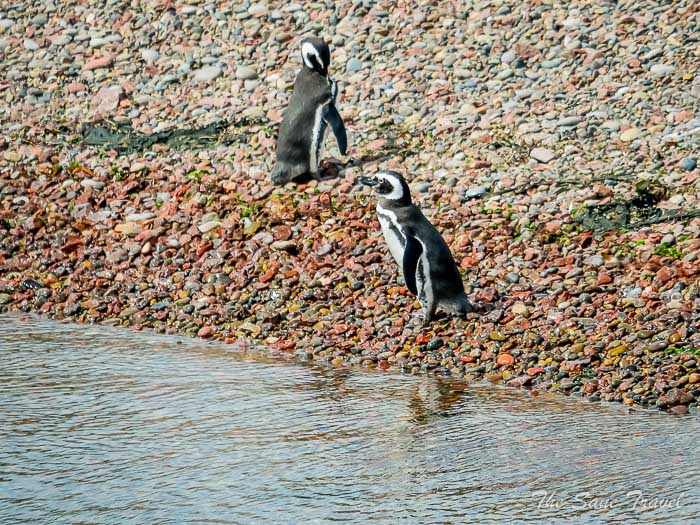 On your way back, you can visit the former Welsh town Gaiman not far from Trelew. It has some historic buildings and you can have Welsh tea in their restaurants. To be honest, I was not really impressed because a few old houses were scattered around the town, which made the place look rather bland.
Day three. Driving distance 57 kilometres.
Before a trip, learn a bit about the tide time chart and plan your itinerary accordingly. Let me explain a bit more. On day three, I wanted to see sea lions at Punta Loma Nature Reserve. The low tide time is the best when to see sea lions since the water level has decreased considerably and, thus, they can lie in the sand. I also wanted to see whales from the coast at El Doradillo Beach. For whales, tides work the opposite. They come closer to the shore when the tide is high and the water in the bay is deeper. So check the tide charts and make your decisions wisely. Since the tide was low in the morning, I started my day by seeing sea lions.
Punta Loma Nature Reserve
The Punta Loma Nature Reserve, with its sea lion colony, is located 17 kilometres (10.5 mi.) from Puerto Madryn. Use google maps, it is quite straightforward. The Reserve can be visited throughout the year. Watch sea lions from the cliff and take a short walk around.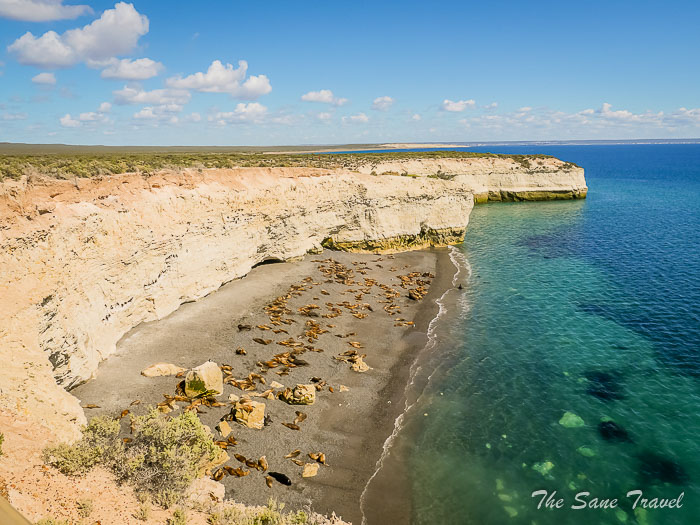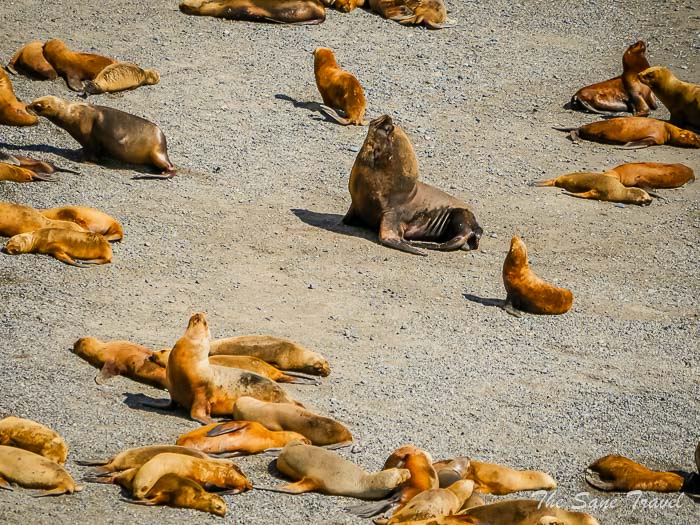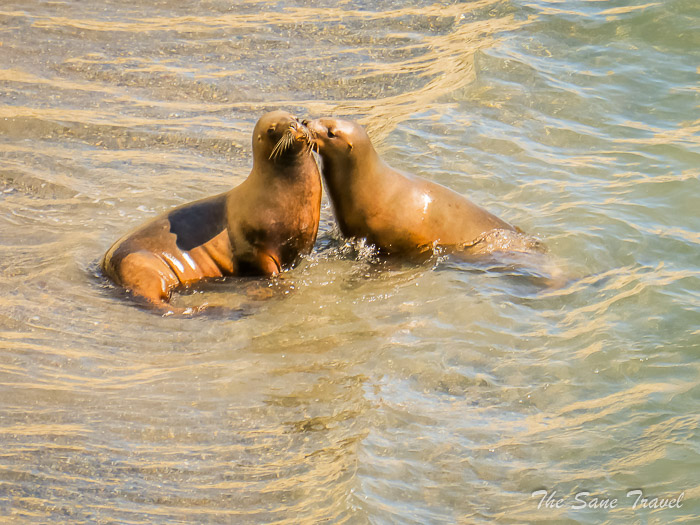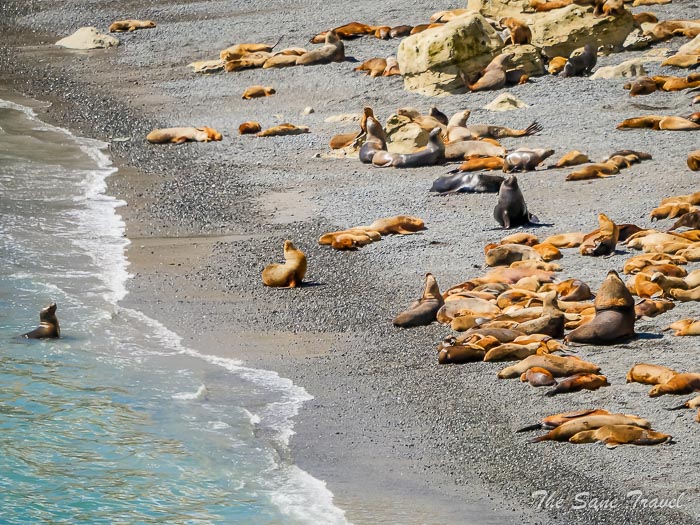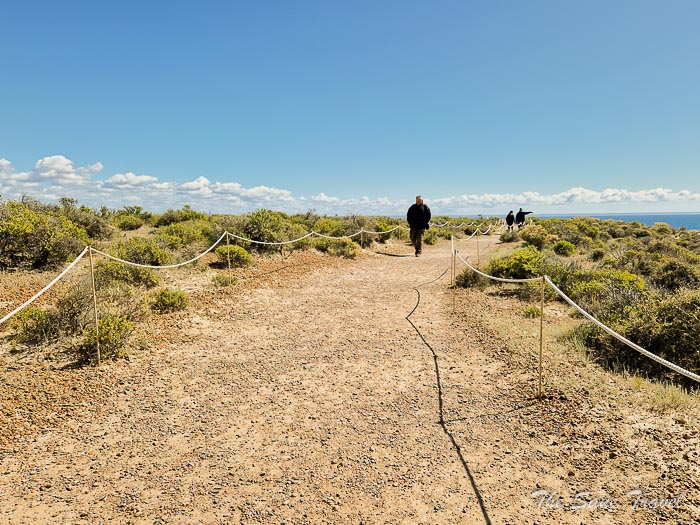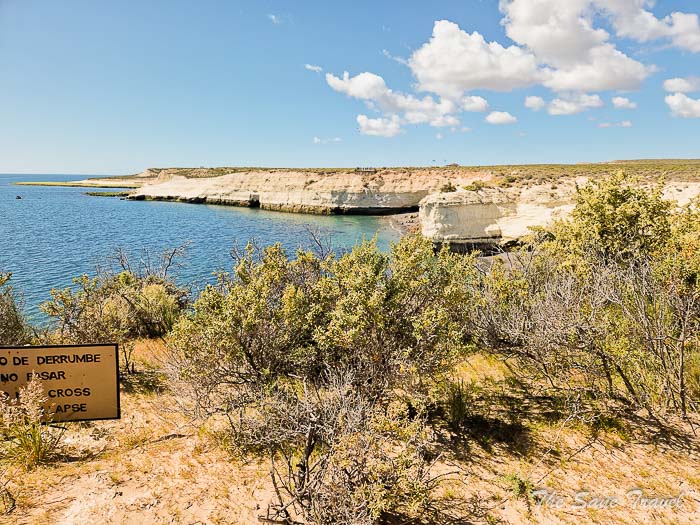 On your way back, stop at Playa Punta Este to enjoy stunning views of Puerto Madryn.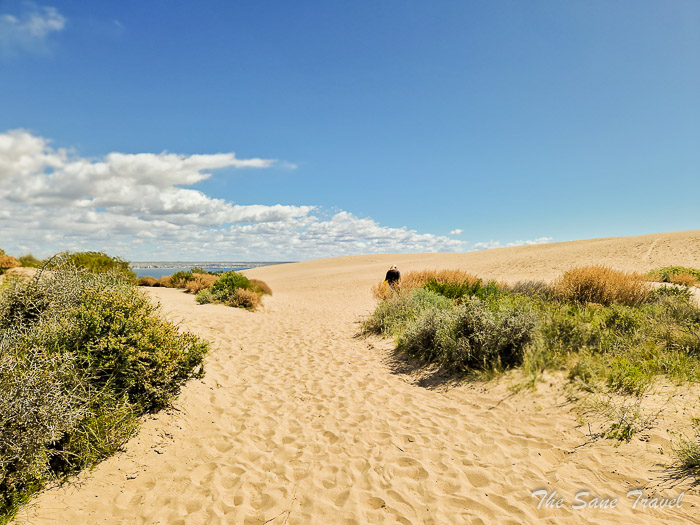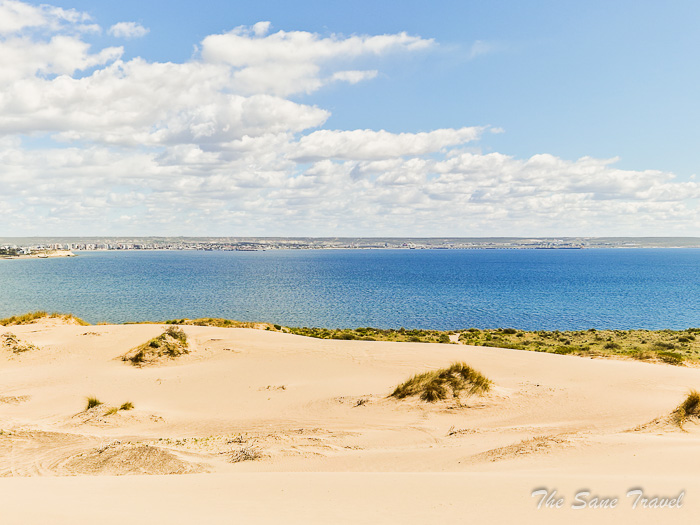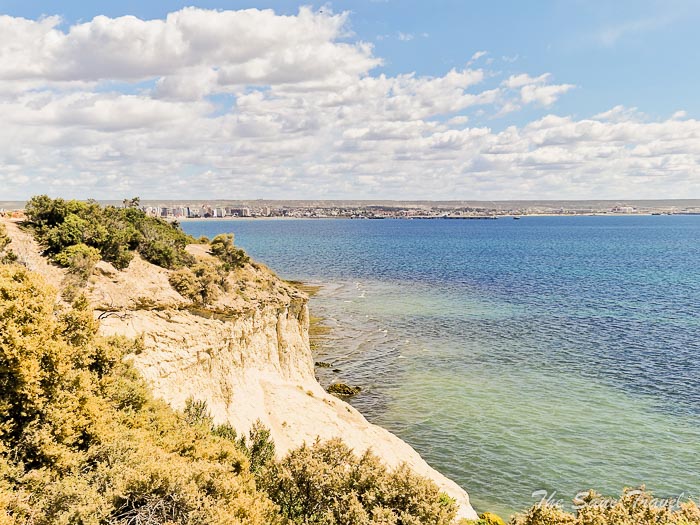 Then go back to the city and take a right to get to the uphill road leading you to the Punta Cuevas Landing Museum. This small cape of Golfo Nuevo has some natural caves. It is here that the first Welsh colony, freshly landed from the sailing ship Mimosa, is said to have settled in 1865. A small museum commemorates this event.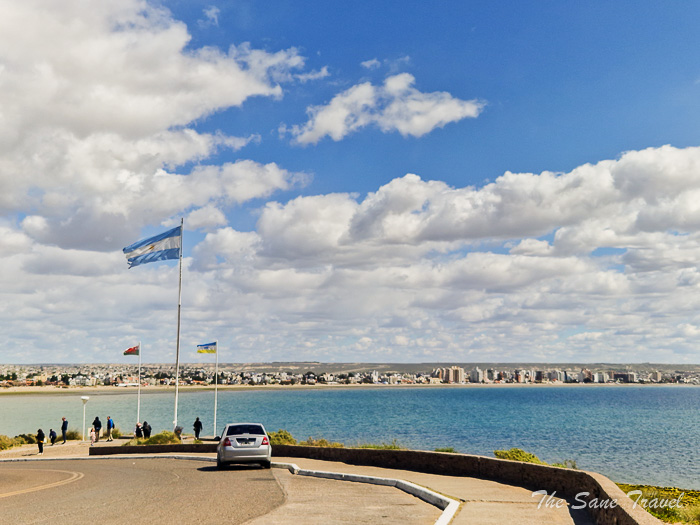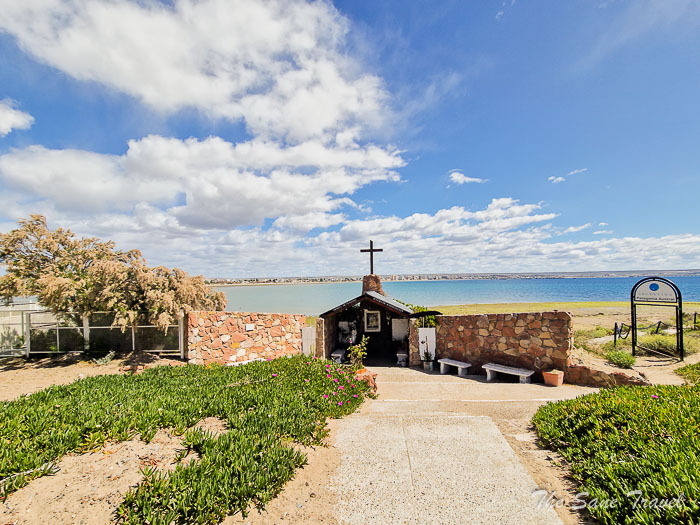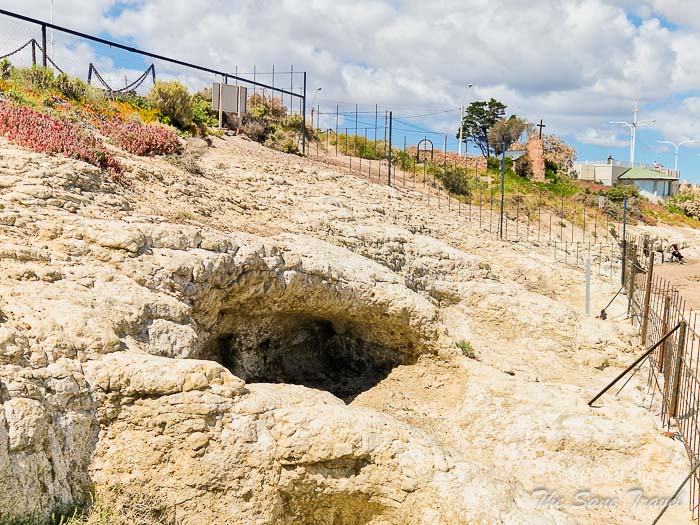 Continue your way to Sara Beach family style restaurant for lunch.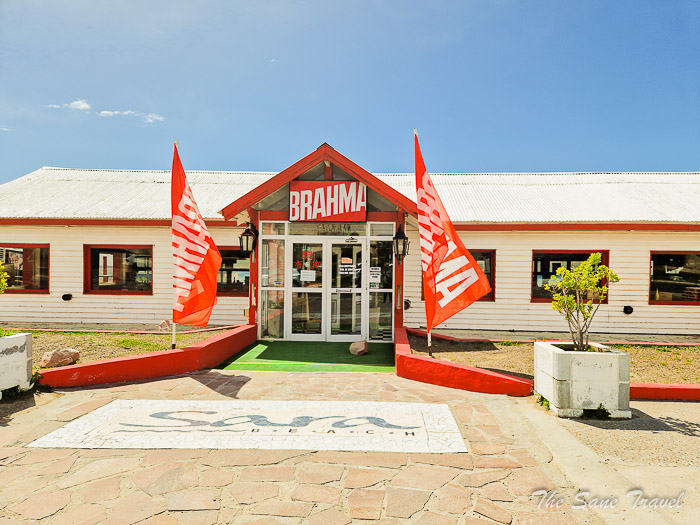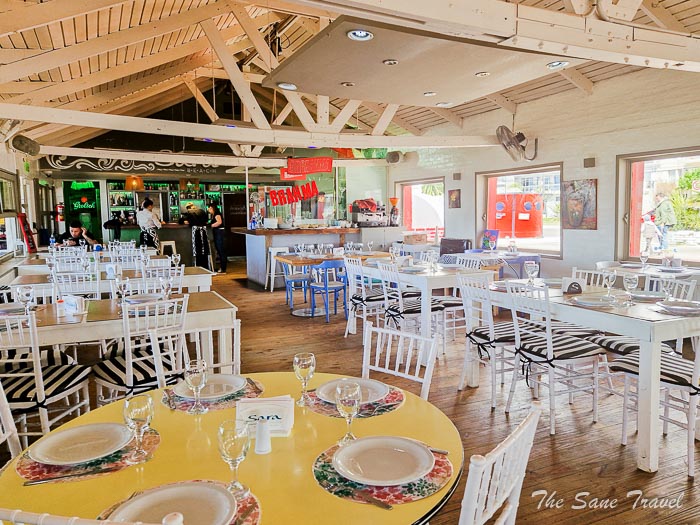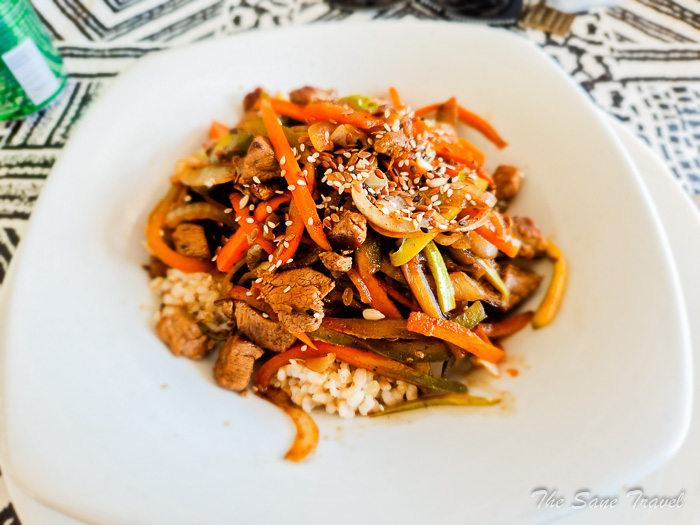 Address: Bv. Almte Brown 1855, Puerto Madryn, Chubut.
After lunch, get to the city centre and walk Puerto Madryn cruise ship pier.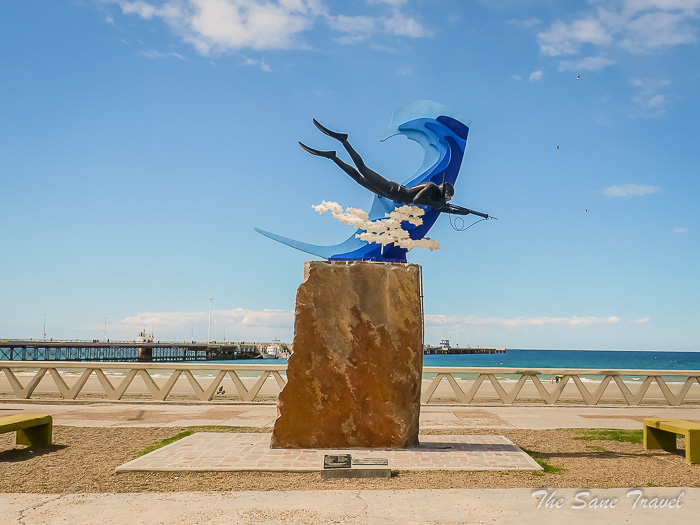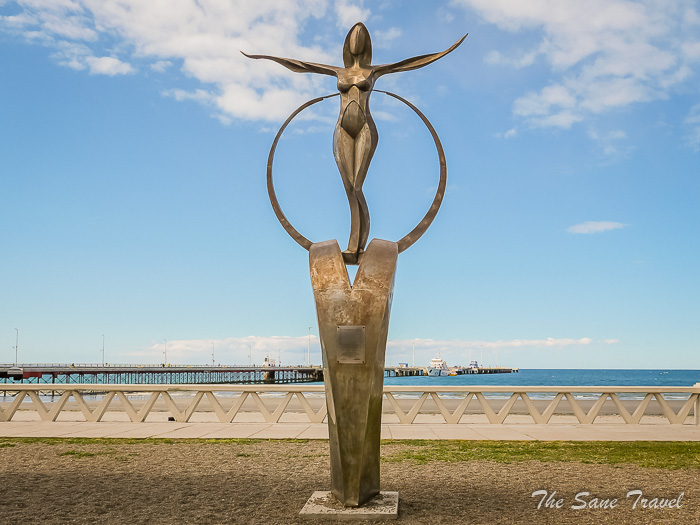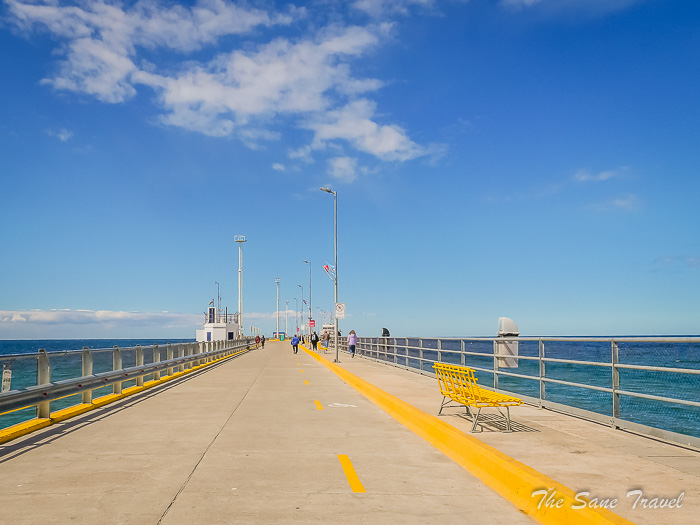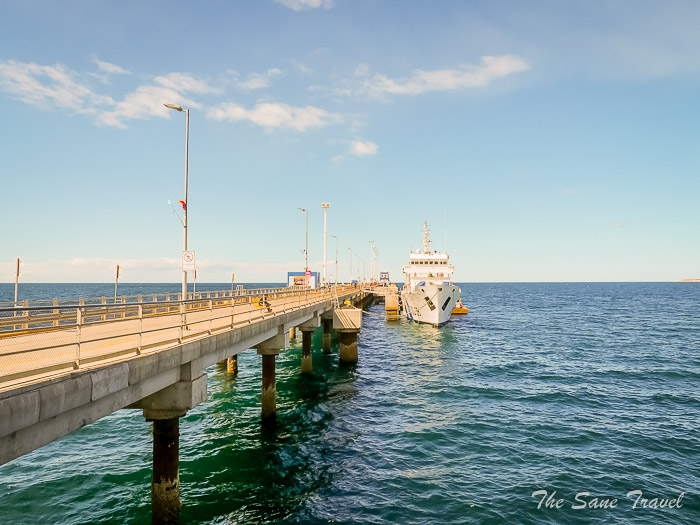 Then make your way to El Doradillo Beach to see whales from the shore, just 30 minutes away from the city. Even though it was not a full high tide, I saw many whales. Bring binoculars to have a closer look.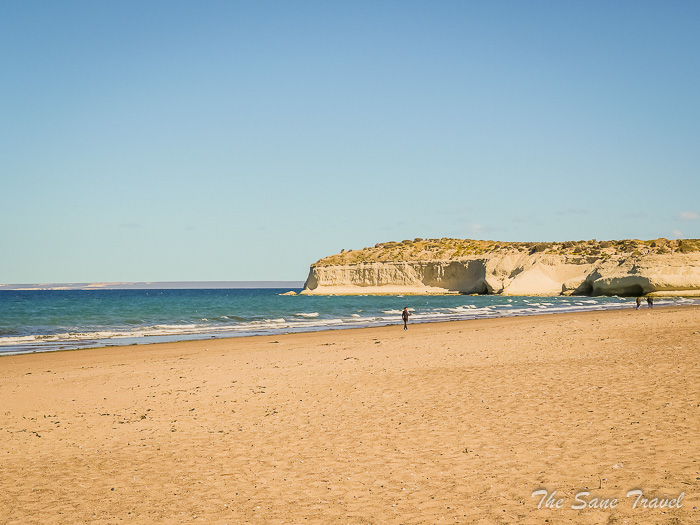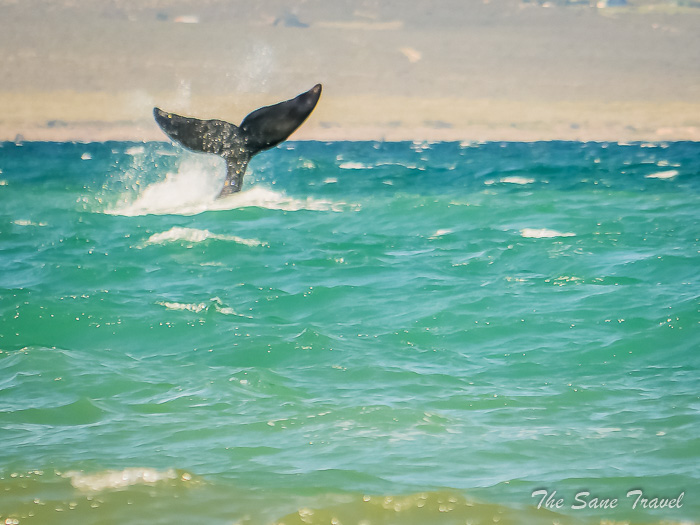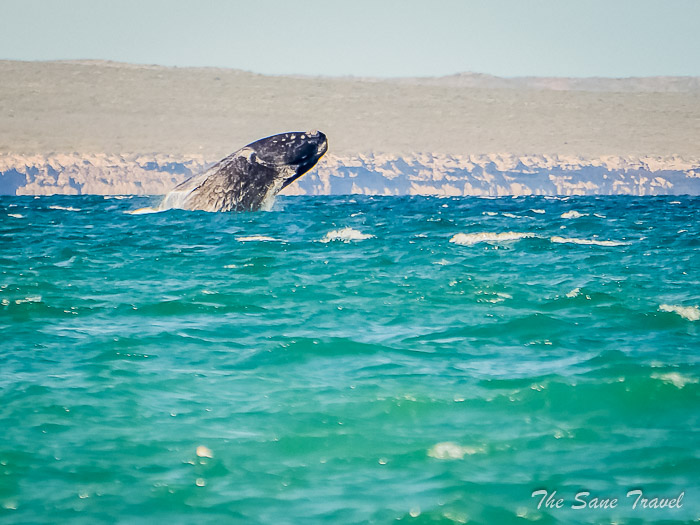 Where to stay?
I recommend staying in Puerto Madryn because it is easier to plan your travel in both directions from the city. I stayed three nights at the recently opened CQ Mitre Experiencia CQ apartment. The apartment is spacious, clean and well-equipped, located just 200 metres (656 ft.) from the city centre and the main beaches. The apartment hotel provides warmth and comfort, making your stay in Puerto Madryn pleasant. You can find it on booking com, but I recommend booking on their website. Even if the website is in Spanish, it is easy to understand and make your booking.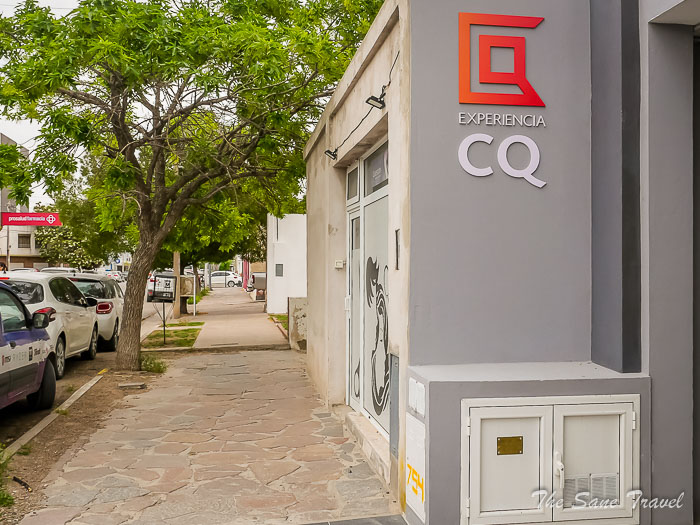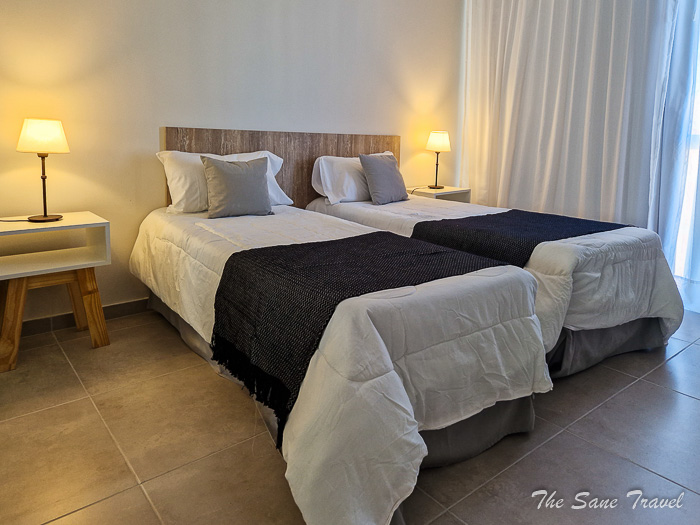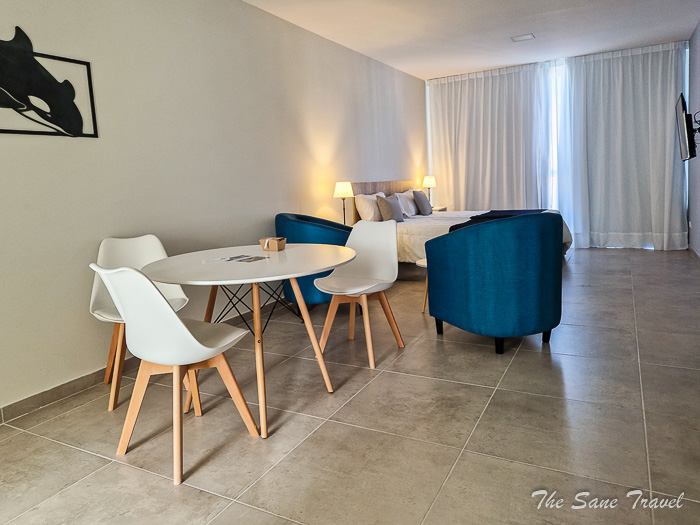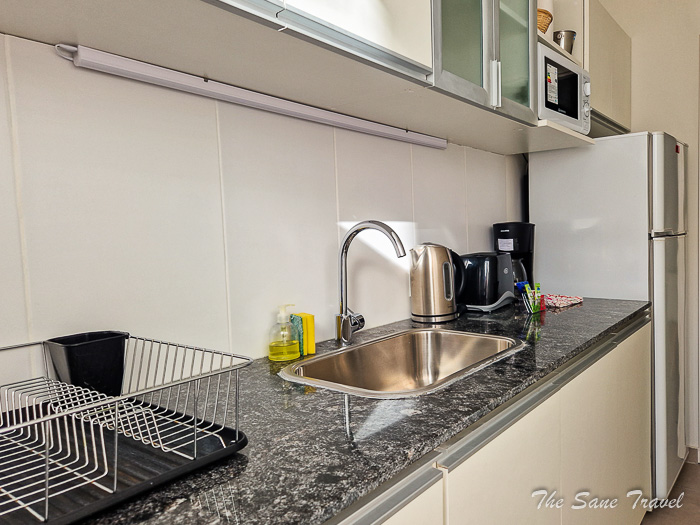 Practical driving information
I recommend Centauro rent a car for its friendliness and excellent customer service. Always take the opportunity to put gas in your vehicle, as fuel stations in this area are scarce. To get to the sites of this itinerary, you will have to drive on gravel roads in some places. Although gravel is a robust surface and appears stable, it is actually difficult to drive on. Do not exceed 60 km/h and slow down when approaching the ongoing traffic since gravel clippings might damage your vehicle.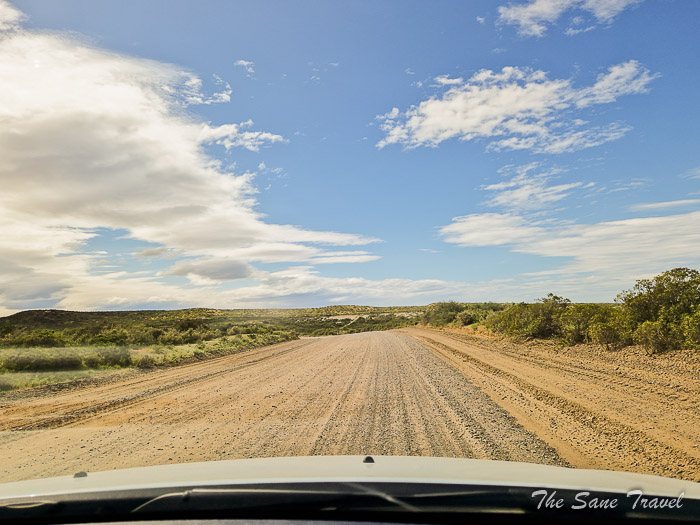 Although rains are rare on the coast, be aware that they make driving on clay soil especially dangerous. Take into account that within the Protected Natural Areas, the cell phone signal is very weak and non-existent in some areas.
Like it? Pin it!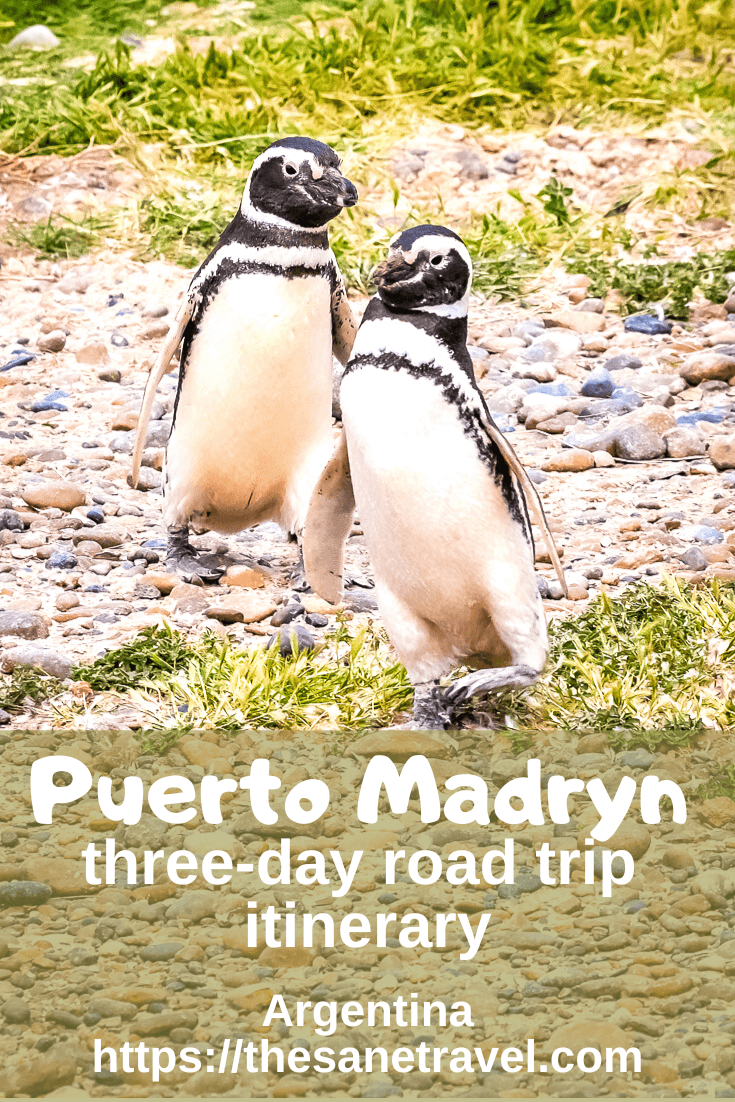 What did you think? Have you visited Puerto Madryn? I'd love to hear from you so please add your comment below.
Published by Anita on December 02, 2022
Author: Anita Sane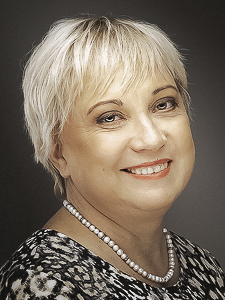 About the author
Anita is a part-time traveller, passionate photographer and a retired career woman from Latvia, travelling mostly solo for more than 15 years. She is a skilled travel planner who plans and executes her travels by herself. Anita wants to show you how to travel the world and open your mind to new experiences. Follow her on Facebook, Instagram, Pinterest, Twitter and Bloglovin.