The area of Montjuic hill overlooking the Barcelona harbour is a must see for every visitor of the city. There are so many things to see there, including musical Fountains of Montjuic, Montjuic Castle, Miro museum, cable car and funicular rides, walks in the park, among others. Just some 400 metres away from the Fountains, there is the Poble Espanyol or Spanish village. It was built in 1929, so already 90 years ago, for the Barcelona International Exhibition. It was initially supposed to stay there just for the time of the exhibition, but it was so good that they decided to keep it so it's there to this day. Some visitors complain that the 14 euros entrance fee is too steep and the shops inside are overpriced, so the question is, to go or not to go. Is it worth to choose this among many other things to do in Barcelona? Have a look over my shoulder watching my experience there and decide for yourself!
The buildings of the village are full-size replicas of 117 historic buildings from different parts of Spain, including the entrance gate. In a few minutes, you can move through several cities and even regions of Spain to discover the best of Spanish architecture. This is the magic of the Poble Espanyol. Poble Espanyol's buildings are organised into four geographical areas of Spain: Mediterranean, South, Centre, and North. But let us start from the entrance.
Entrance gate, the Puerta de San Vicente
The entrance gate is a replica of the Puerta de San Vicente, the gate of a walled medieval town, Avila, part of UNESCO heritage. Its walls were built from the 11th to 14th century. The entrance is guarded by two human giants by sculptor Ramon Aumede, beautifully dressed in costumes of the early 20th century.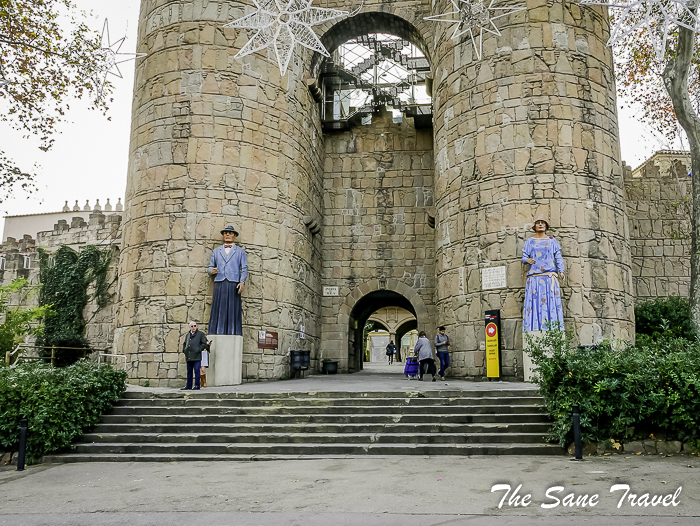 After they check your ticket and you get in, you will see info signs in front of you. There is an opportunity to get an audio guide for an additional fee to enrich your visit.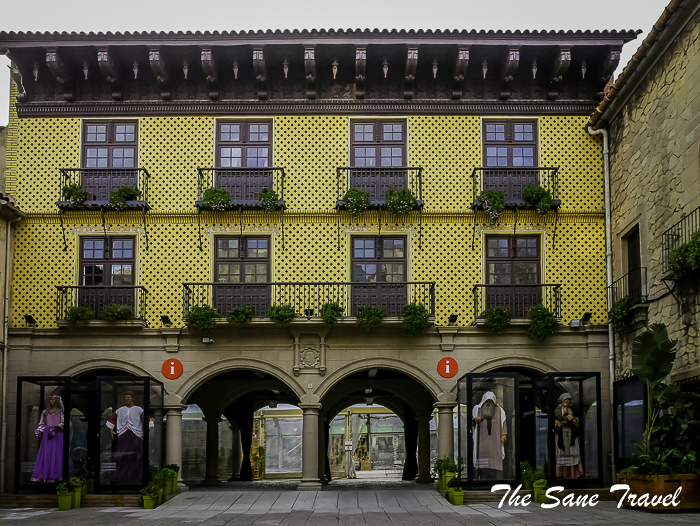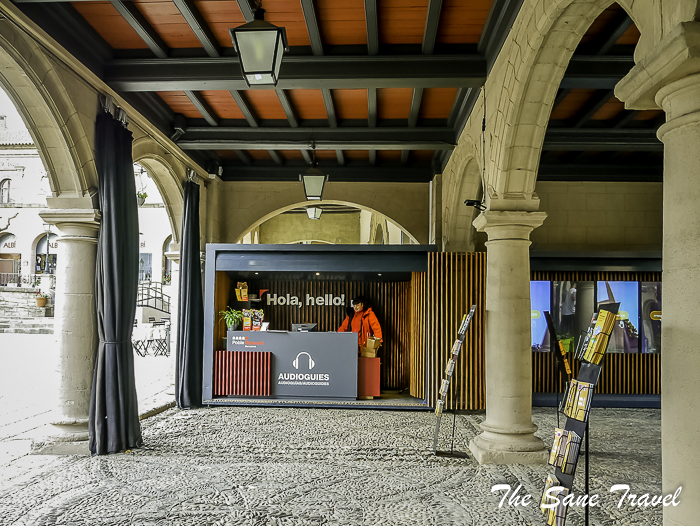 Then you are ready to start your exploration. I turned to the street on my left surrounded by buildings showing the best architecture of Spain.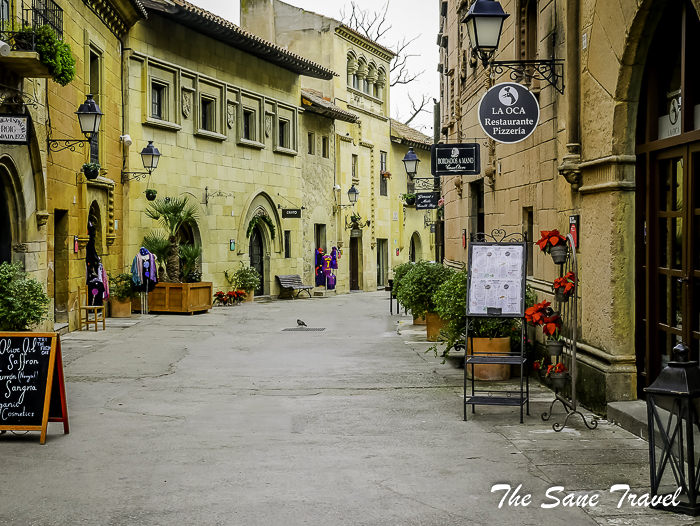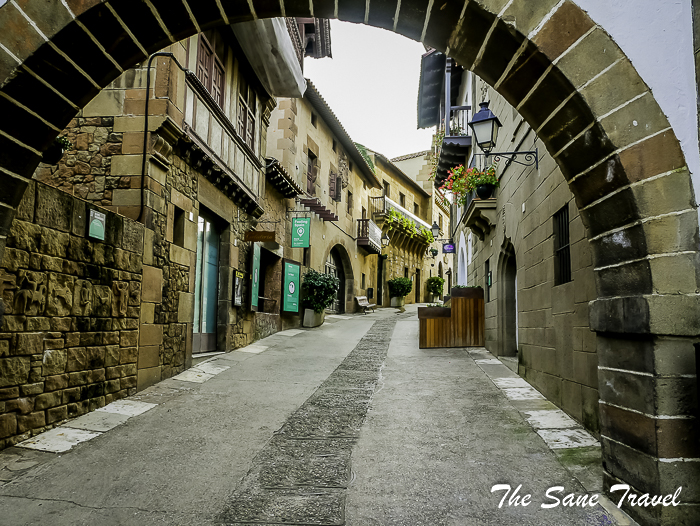 As I was visiting on a Sunday morning in January, the street was empty and felt a bit like Palle alone in the world. By the way, do you know this book by Danish writer Jens Sigsgaard? After a short walk that goes a little bit uphill, you reach
The Monastery of Sant Miquel
This neo-Romanesque monastery combines elements from several Catalan monasteries, from the 11th and 12th centuries.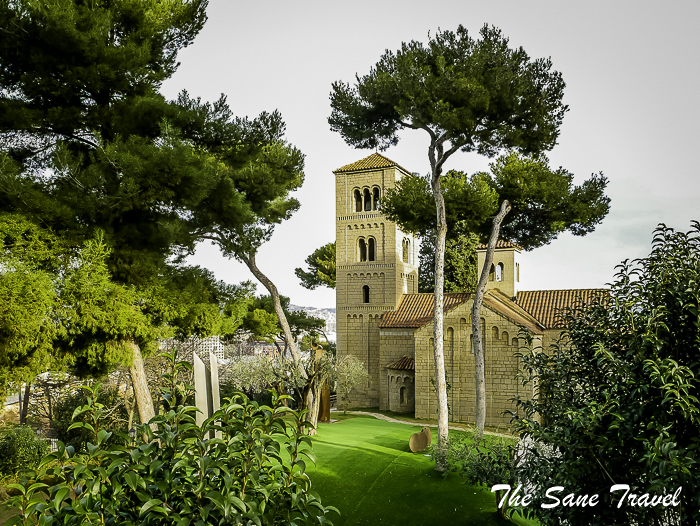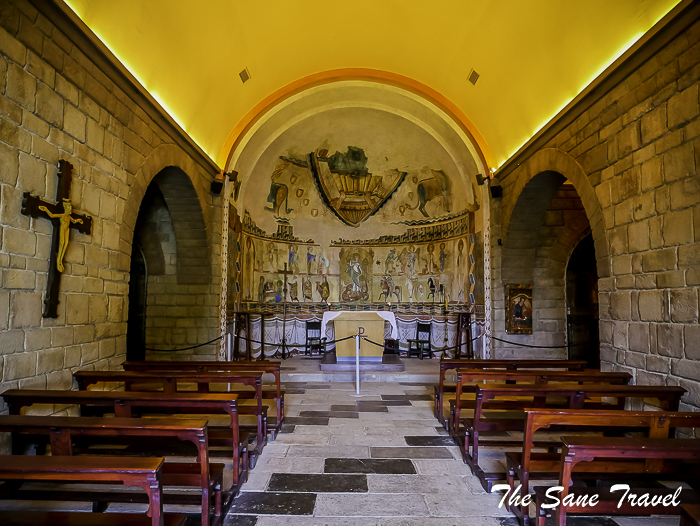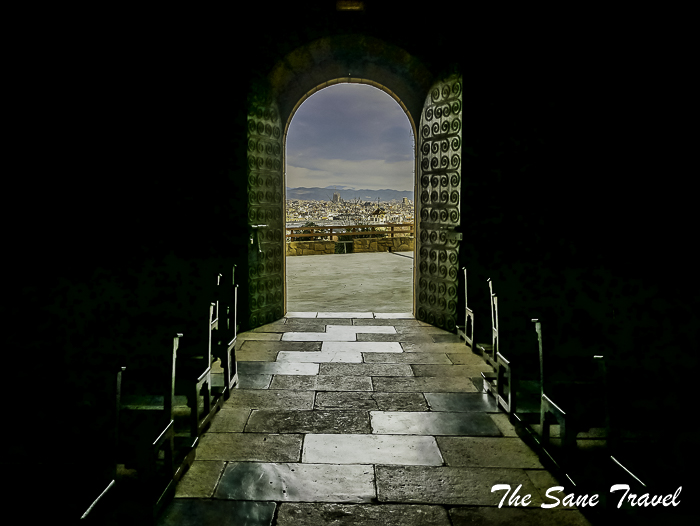 The frescoes that cover the interior were painted by a painter from Malaga Rafael Padilla and are inspired by Romanesque paintings from different parts of Catalonia, including Sant Quirze de Pedret. This is also a place with the best views over Barcelona. Take a moment to enjoy.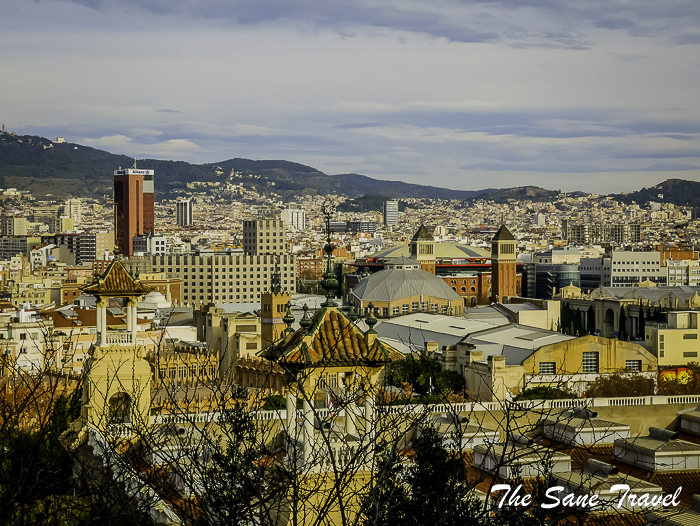 Then take the right turn behind the monastery and follow the street leading to the highest tower of the village.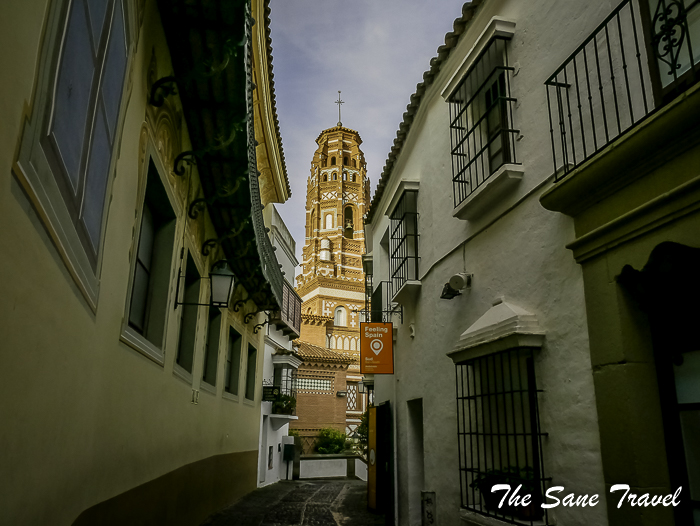 Just a short while before reaching it, notice a bright blue doorway on your left leading to
The Fran Daurel Museum
It was opened in 2011 and houses a valuable private collection of paintings, sculptures, ceramics, tapestries and graphic artwork by leading masters of contemporary art of Spain including Pablo Picasso, Salvador Dali and Joan Miro.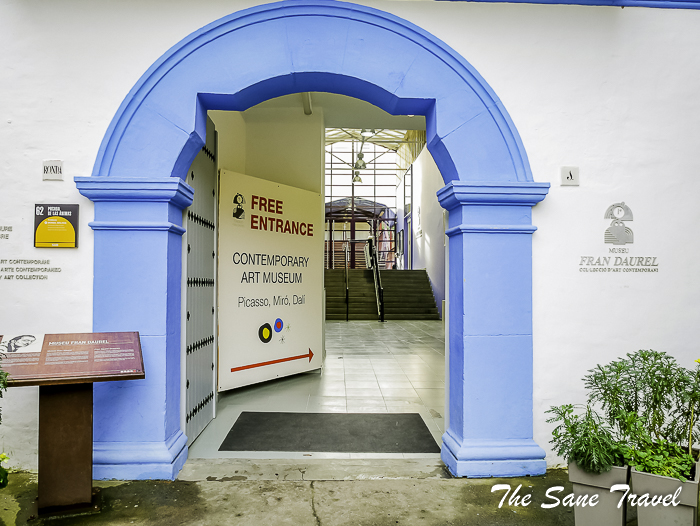 I was pleasantly surprised by the tastefully designed exposition and masterpieces represented there. As the museum is free with your entrance ticket, just come in and enjoy.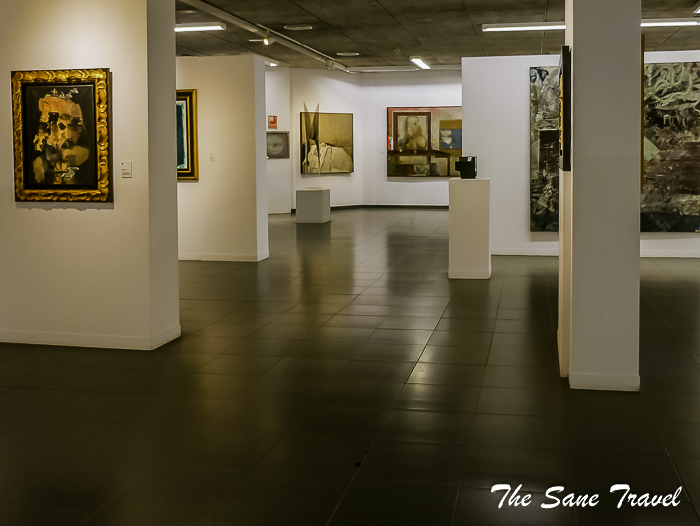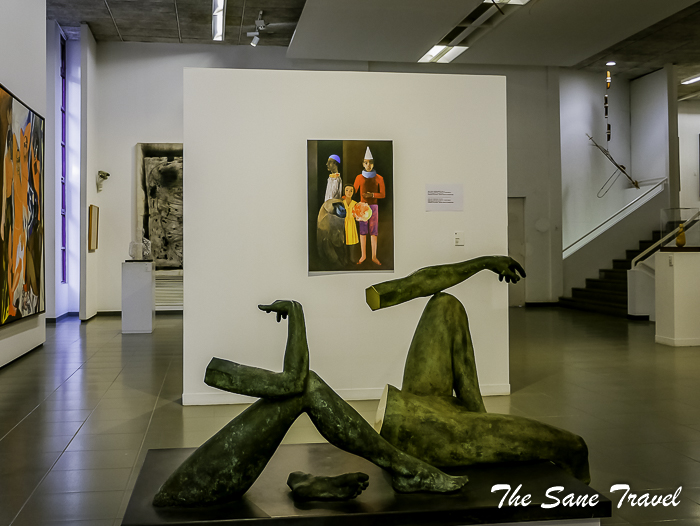 When exiting Museum, just turn left and the tower visible from every place of Poble Espanyol is next to you. It is a copy of Terre de Utebo.
Torre de Utebo
The tower of the church of Our Lady of the Assumption. The original can be found in Utebo town in Zaragoza province, also called Saragossa in English, in northern Spain. The original tower was built in two phases: the first part in the 16th century in Gothic-Mudejar style and the second in the 18th century in Baroque style. The Mudejar style is a combination of Christian and Muslim religions expressed in the language of architecture. You can clearly see the difference between Mudejar and Baroque parts when admiring this stunning building.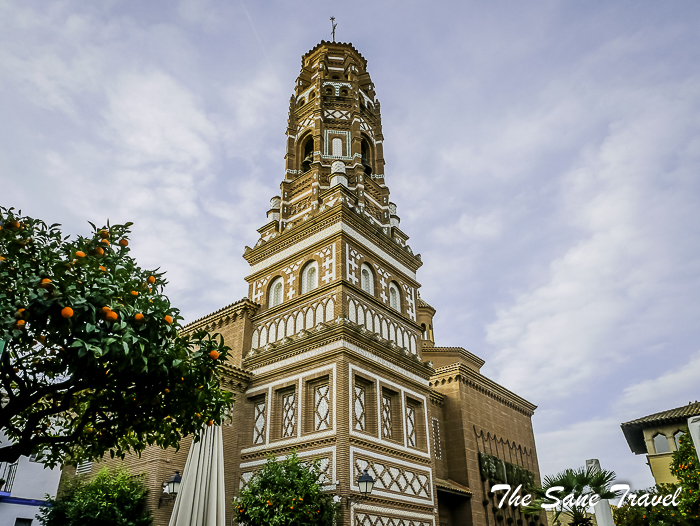 I think now you're ready to watch a real Fiesta housed in the copy of
Church of the Carmelites Alcaniz
The original is from the Teruel province of Spain.
In 2018 Poble Espanyol museum opened a new "Fiesta" space which is a multimedia show highlighting Spain's most popular and famous cultural festivals, celebrations and landscapes. It's very engaging and colourful. It's free of charge with your entrance ticket.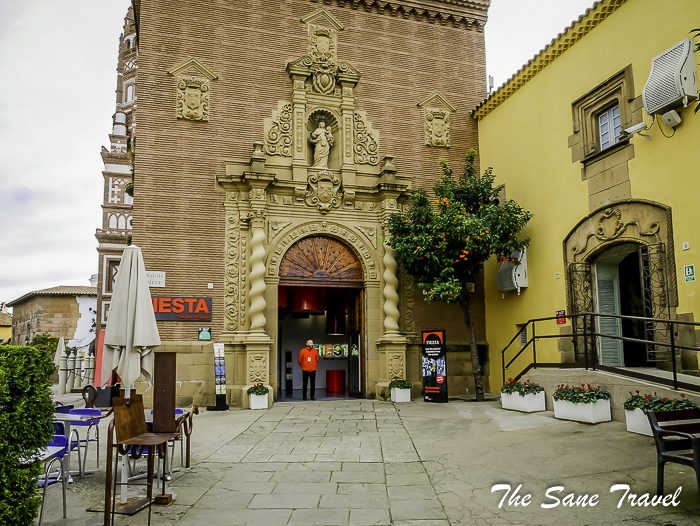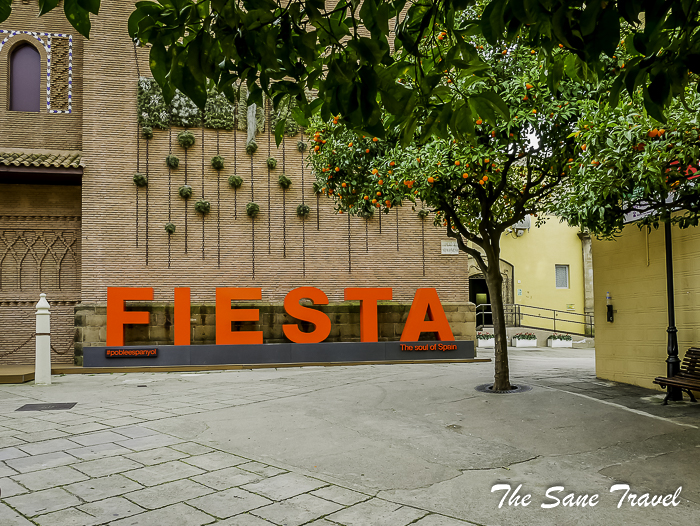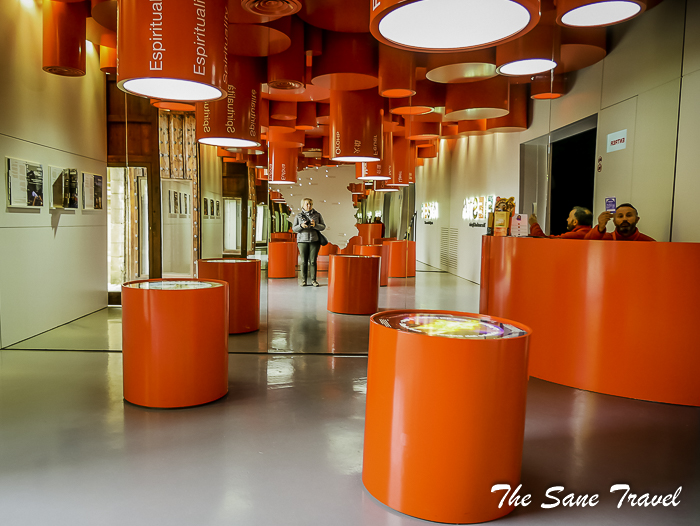 After watching Fiesta, if you are in Poble Espanyol at a more lively time than me, enjoy visiting shops and workshops of craftsmen, but in any case, do not forget to have a coffee with some handmade sweets. When returning to the city after your Poble Espanyol visit you must also try the best tapas in Barcelona.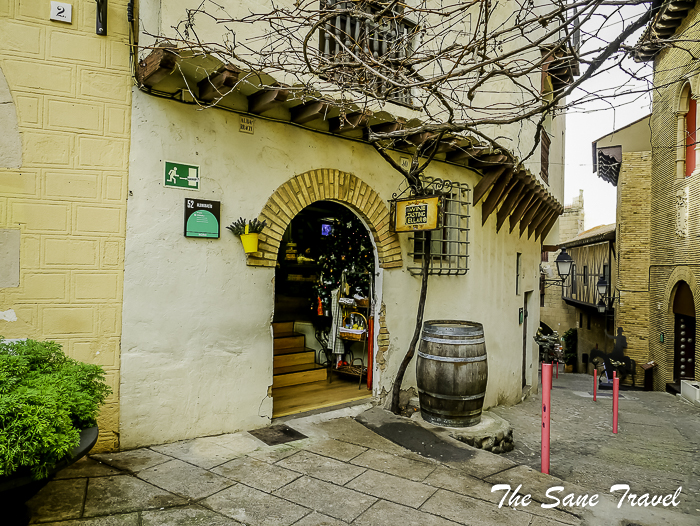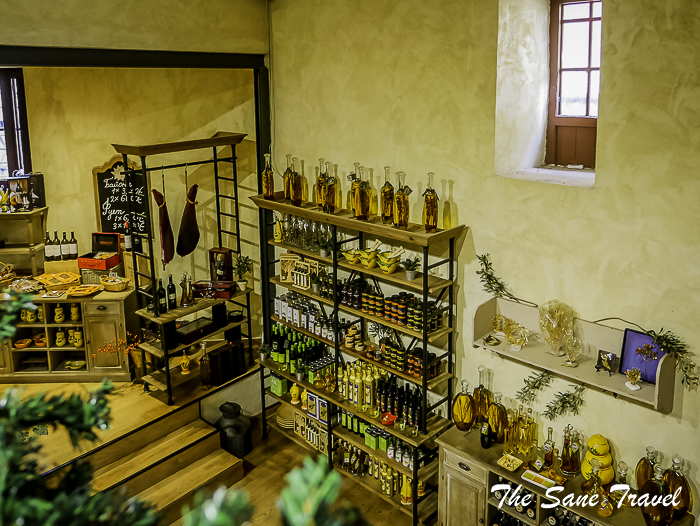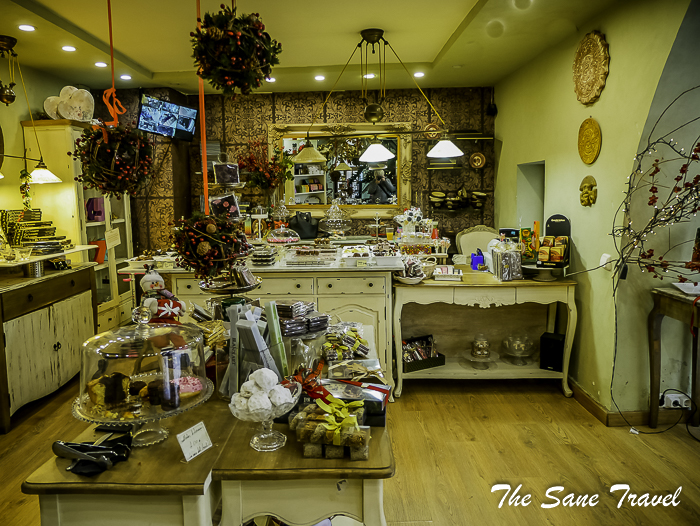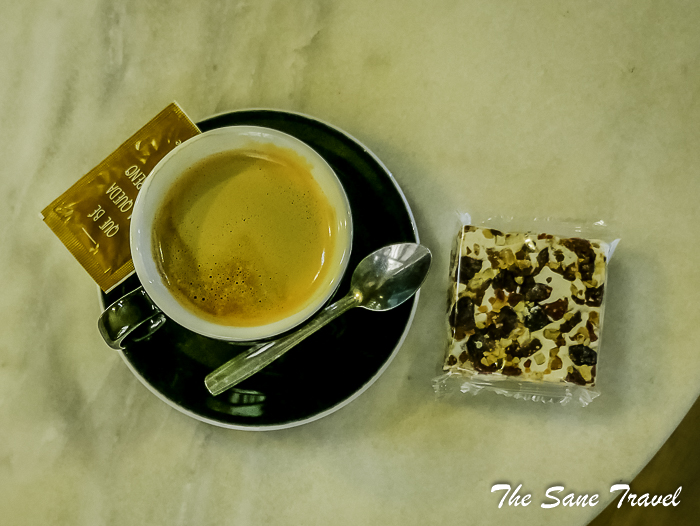 Conclude your visit walking through
Plaza Mayor
As in all Spanish towns, this is a large public space, inherited from the Greek agora or Roman forum. This Plaza Mayor was inspired by the one in Riaza town of Segovia province.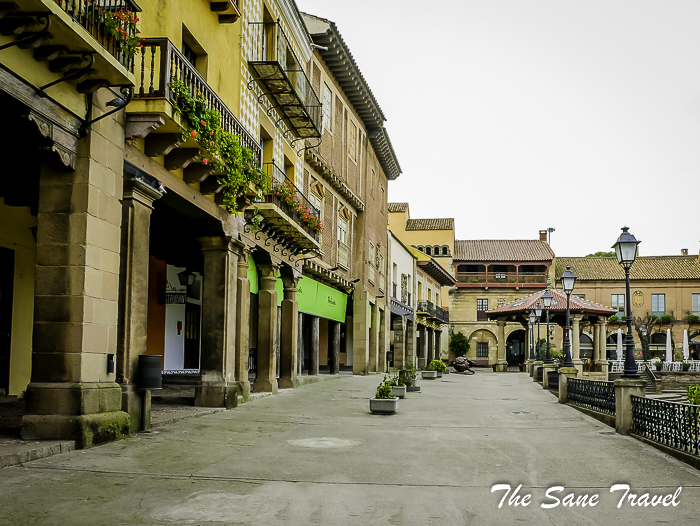 Of course, those are only glimpses of what Poble Espanyol can offer but I hope you got an idea.
Practical information
Poble Espanyol is located approximately 400 metres away from the Fountains of Montjuïc. The closest Metro station is Espanya. The museum is open 365 days a year from 9 am but shops and workshops from 10 am. The entrance fee is 14 euros, online 12,60 euros. The cost of renting an audio guide is €3.50. A 20€ deposit will be required for the audio guide. There are luggage lockers available to make your visit more comfortable. Ask for information.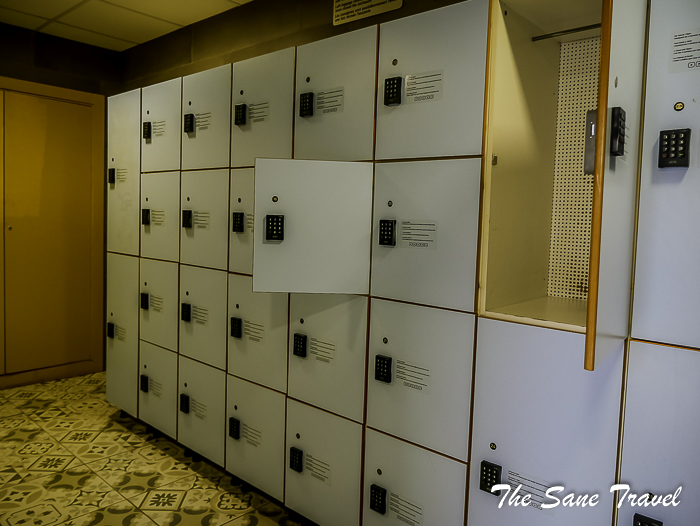 Where to stay? If you want to spend time in the Montjuic hill area and also visit Montserrat, I would recommend staying at four stars Ayre Hotel Gran Via.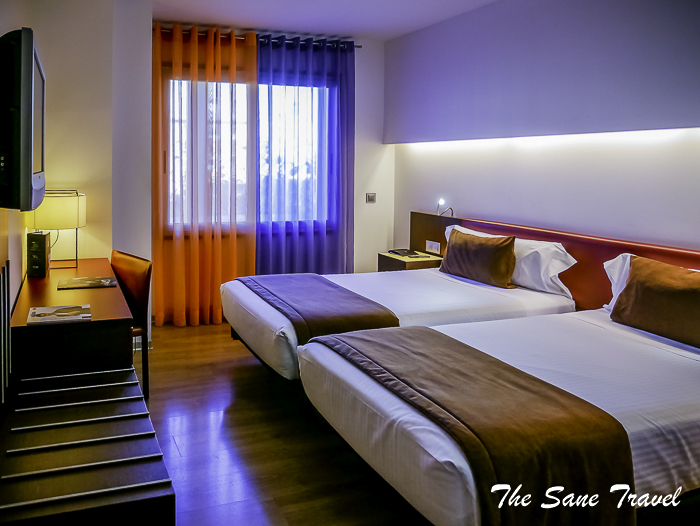 So what would be your decision: paying 14 euros and visiting Poble Espanyol or not?
Like it? Pin it!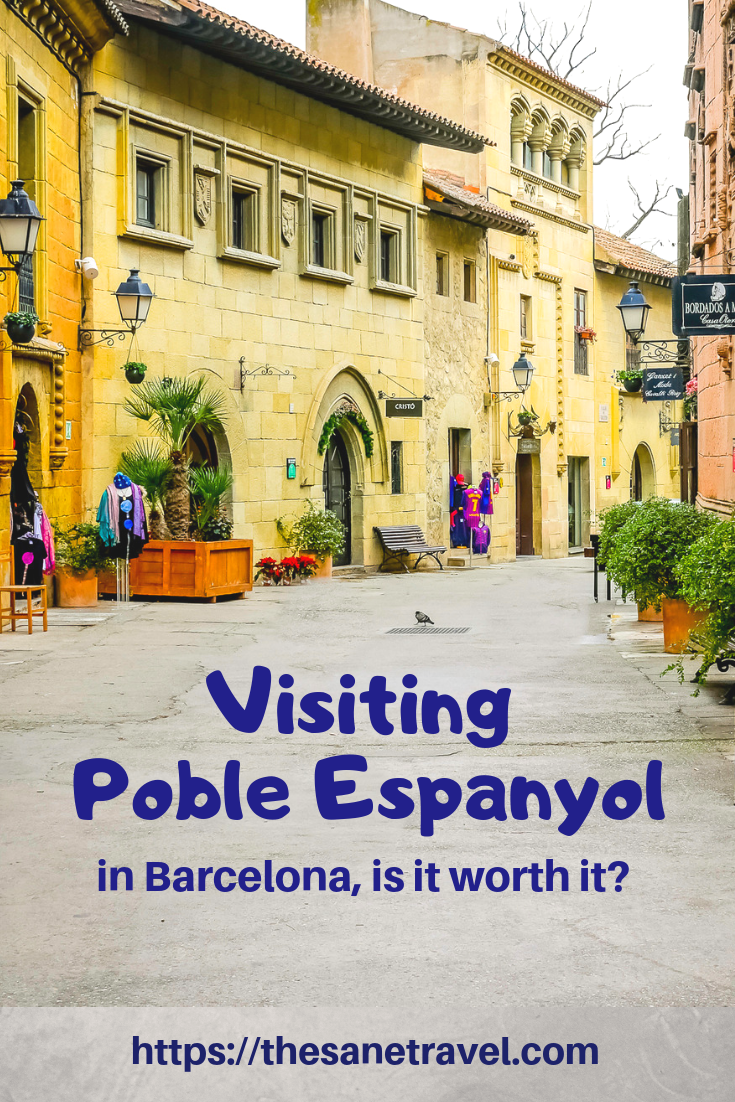 Ready to explore more of the city? Check 37 things to do in Barcelona!
What did you think? Have you been to Poble Espanyol? Or perhaps you're thinking of visiting there in the near future? Either way, I'd love to hear from you so please add your comments below.
Published by Anita on February 09, 2019
Author: Anita Sāne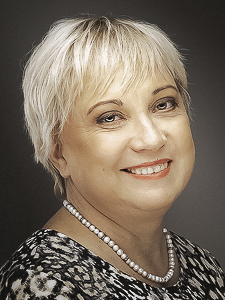 About the author
Anita is a part-time traveller, passionate photographer and a retired career woman from Latvia, travelling mostly solo for more than 15 years. She is a skilled travel planner who plans and executes her travels by herself. Anita wants to show you how to travel the world and open your mind to new experiences. Follow her on Facebook, Instagram, Pinterest, Twitter and Bloglovin.