Hua Shan Mountain is one of the most beautiful mountains in China. It is very popular among tourists because it is easy to reach. There are several ways of various complexity to visit the mountain. One of the meanings of the Hua hieroglyph (华) is "flowery". Situated in Haying City, Mt. Hua Shan stands 120 kilometres (75 miles) away from Xian. It is famous for its natural vista of steep and narrow paths, precipitous crags and a high mountain range. Its five peaks are impressive attractions and each has its own distinctive charms. East Peak is the best place to enjoy the sunrise; South Peak has the highest altitude; West Peak is the most elegant; North Peak is famous as the Cloud Terrace Peak and Middle Peak is also called Jade Lady Peak. Mt. Hua Shan is also one of the five sacred mountains in China. The Mountain is home to several influential Taoist temples, where many emperors of past dynasties took part in Taoist activities and sacrificed to the god of the mountain, making it a holy land of Taoism.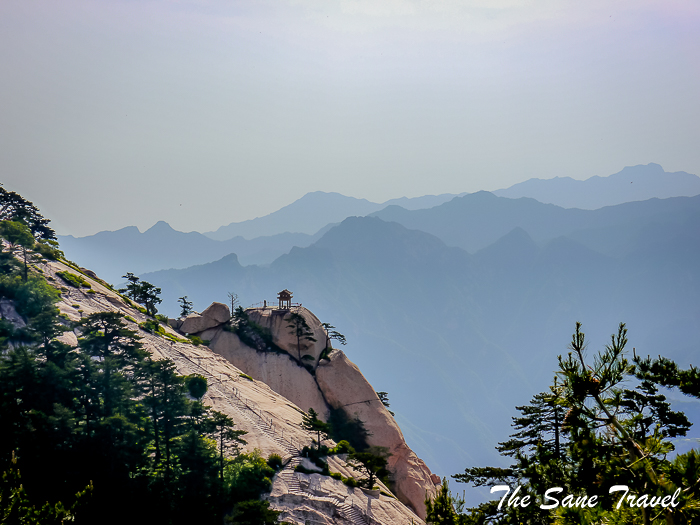 A myth about the world's most dangerous hike
When searching the Internet about Hua Shan, sooner or later you will find stories about the world's most dangerous hike there. I can't say if it's true or not but the one thing I witnessed myself is that this small piece of the trail is up to you to take or not to take when hiking Hua Shan. To me it's like a side attraction if you are looking for your dose of adrenalin. Actually Hua Shan has a well-known public trail used by anyone brave enough to give it a try, regardless of their physical ability or previous climbing experience. As you will see for yourself, the pictures show normal people in comfortable clothes with no equipment and no special shoes. These people are mostly what you would call 'pedestrians', i.e. average people who probably have very little experience with dangerous climbs. In other words, people like you and me. If you want, you can step up the difficulty of your hike by choosing to climb the mountain and get back on foot, not using cable cars. More information about it will follow.
When to go and what to bring
The best time for a visit is April to October but it is also doable at some other time of the year when the weather is not so pleasant. It could be cold at the peak, so if you want to see the sunrise, be sure to have sufficiently warm clothing. In summer, it may rain, so take a simple rain gear along. Sport shoes with soft and flat soles are the best for climbing. It is a good idea to take along a pair of nylon gloves to grasp the iron chains. A map of Mt. Hua Shan can make your visit enjoyable.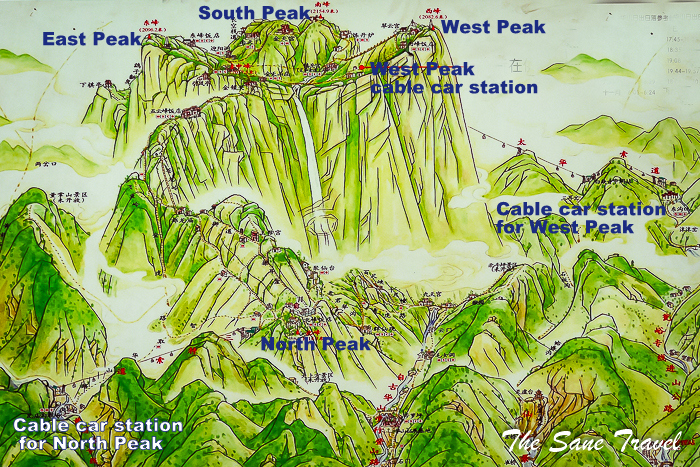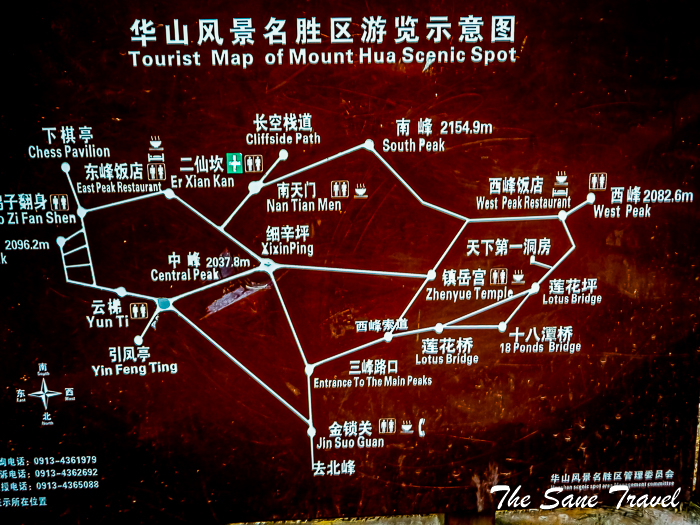 Be sure to check the weather forecast, so you will not get trapped by bad weather. Don't forget your camera to take pictures of the magnificent mountain. In addition, if you plan to climb at night, be sure you have enough phone and camera battery power for the many beautiful attractions waiting for you in the daytime. It is important to take enough food and water. Two to three bottles of water are enough. Take some high-calorie food, but not dry food that might make you thirsty. You can buy water and food at the stalls along the route, but it is more expensive. Not surprisingly, the higher you climb, the more the food and water cost. The reference food price on the mountain is as follows: a bottle of water, CNY 10; a bowl of instant noodles, CNY 25.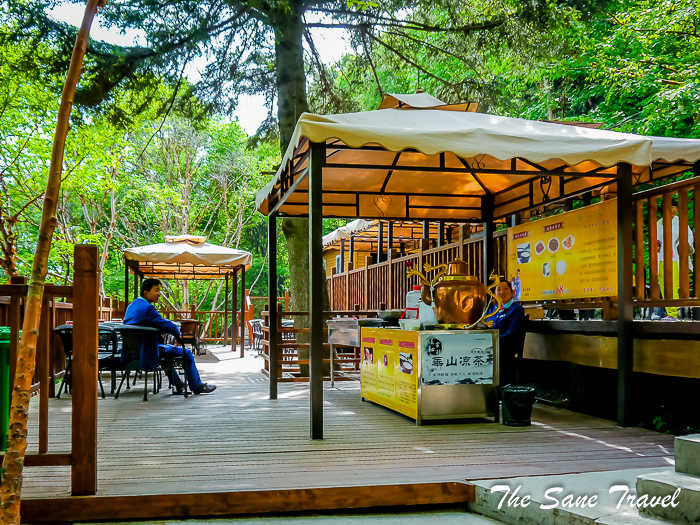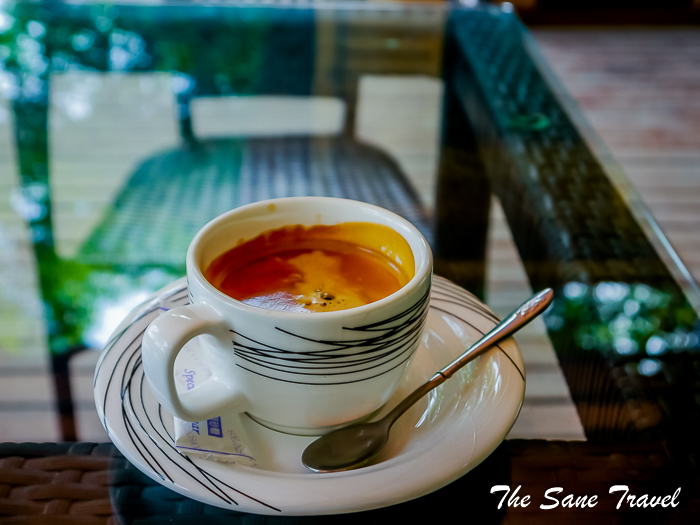 How to reach Hua Shan from Xian
I took a regular tourist bus in the afternoon from the east square of Xian Railway Station to the foot of Hua Shan Mountain. Buses operate between 06:30 and 19:00. A trip takes 1,5 hours or so. After changing buses, I arrived at the East Gate of Hua Shan, which is the ticket office.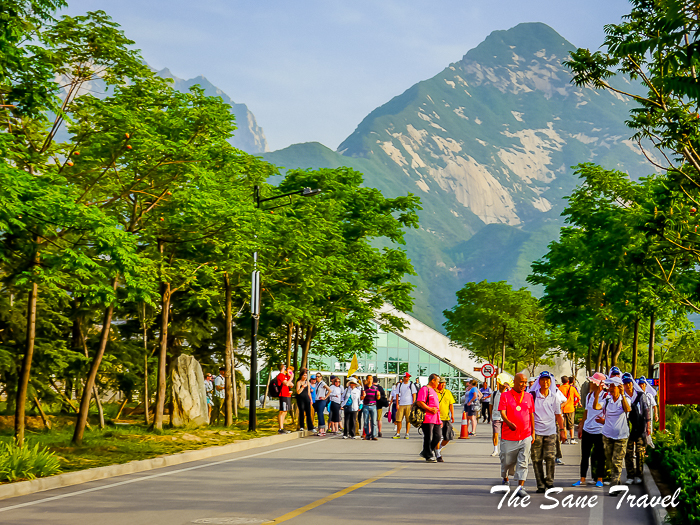 I bought the entrance tickets here, and then boarded a bus that departs to the mountain itself. There is an about 8 kilometre (5 miles) long concrete road leading up to Wamiaogou where you can take a cable car directly to the North Peak.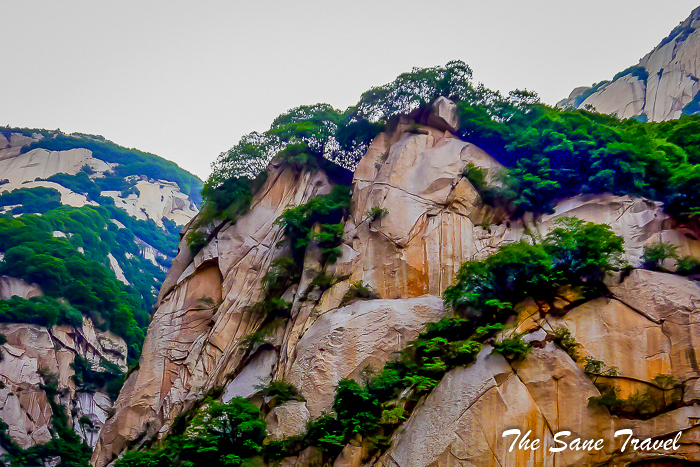 In the late afternoon when I arrived, there were no lines to the cable car. The top station is located on the east cliff of North Peak. The whole ride is more than 1,500 meters (0.9miles) long and takes seven or eight minutes. As there is information on the Internet that the bus from Xian Railway Station is out of operation, you can check other options of how to get to Hua Shan:
1. There are high speed trains running from Xian North Railway Station to Hua Shan North Station, taking 30-40 minutes. On arrival, take the free green minibuses outside the station to the mountain.
2. A normal train from Xian Railway Station to Hua Shan Station takes 1.5-2 hours. On arrival, take bus 608 to Bao Lian Deng Square, aka Hua Shan Shengtai Square, located near the entrance of the mountain.
When planning your way back, keep in mind that the last bus back to Xian leaves at 7 p.m., so be sure you're back in the village if you want to return to Xian without taking an expensive taxi.
Staying overnight in Hua Shan to see the sunrise
When arriving at North Peak, I started to look for a hotel. One was close to the cable car station. I asked to show the room available. It was pretty basic with even no running water and the price was not cheap. Only later I understood that the price is for the exclusivity to stay at the mountain, not for the level of the room and the service. So I continued to the next hotel which was even more basic but a bit cheaper. I decided to stay there because it was already dark and I didn't want to walk in the dark. So don't count on too much luxury, the amenities of the hotels at the mountain are pretty basic. No 5 star hotels there! Pictured a night view to the North Peak.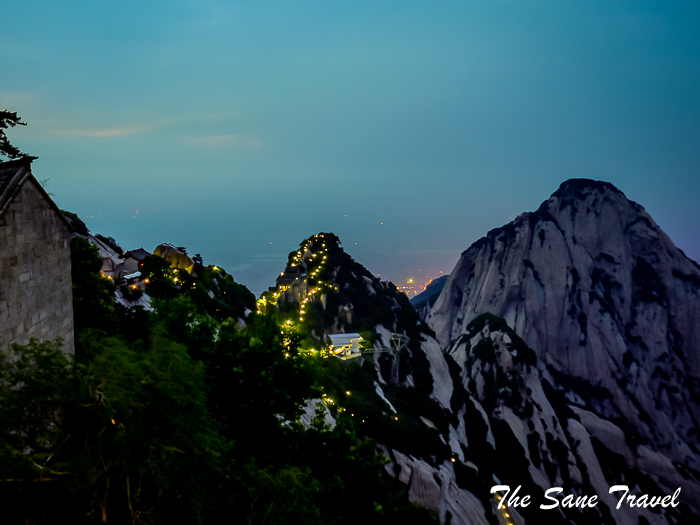 My task was to get up in time to watch the sunrise, which I did. I walked a little bit further from the hotel before the sun came out. I didn't reach East Peak, considered the best place to watch the sunrise, but my sunrise was a spectacular and memorable experience anyway.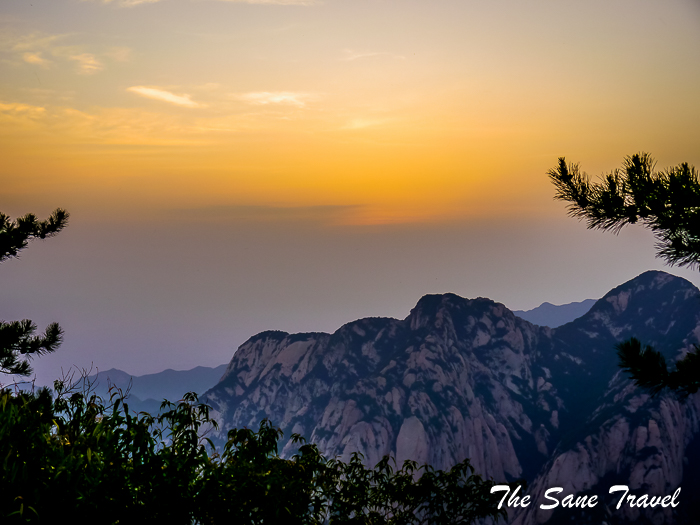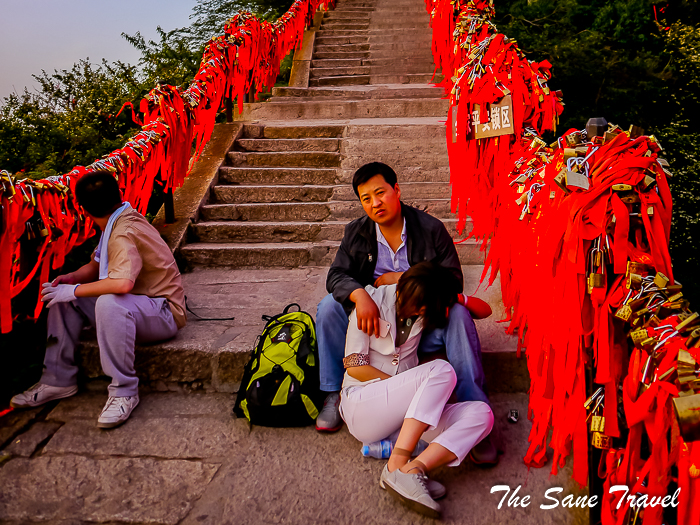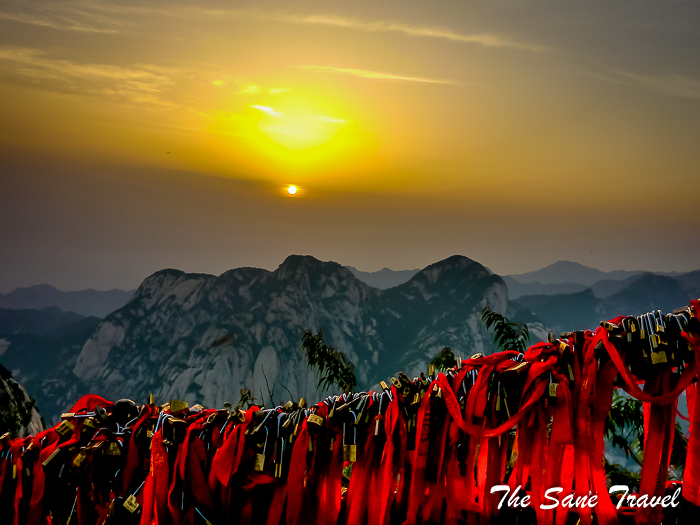 Here is the approximate time for the sunrise:
Spring: 05:00 – 06:00, Summer: 04:30 – 05:20, Autumn: 05:00 – 05:20, Winter: 05:30 – 06:00
Hiking Hua Shan
After watching the sunrise, I started my hike to see all the beauty of Hua Shan peaks. I spent some time admiring the views and the breathtaking landscape of East Peak. The temple on the top of the peak is known as the Playing Chess Pavilion. Who can concentrate on chess with a view like that?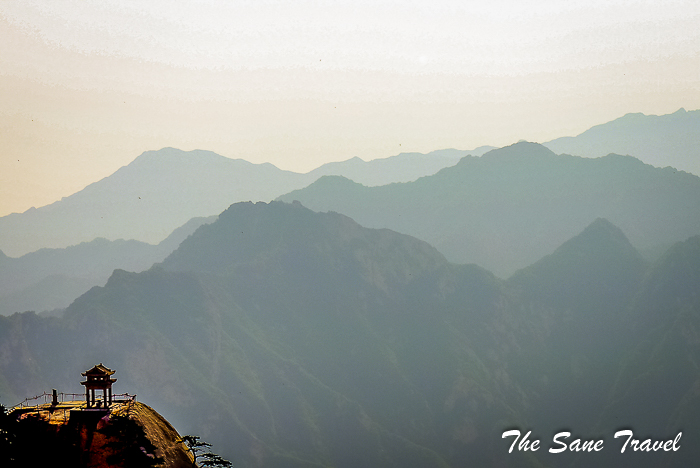 Then I continued hiking for about 1.5 hours to South Peak. First I got to Nantian Gate, then to the famous 'Plank Road in the Sky' which is seen as a highly dangerous path in Hua Shan. Well, it's you and you alone who decide whether to take this fearsome path. It is 40 meters long, 0.3 meters wide plank road built along the surface of a vertical cliff. Iron stakes are nailed to the cliff, and wire ropes link the stakes together. Narrow planks are placed on the stakes for you to move steps. Above the plank road, there are other lines of wire rope fixed on the surface of the cliff. You can move steps while holding the rope. It usually takes about 30 to 45 minutes to finish the plank road. To be honest, I didn't try that but watched others who did.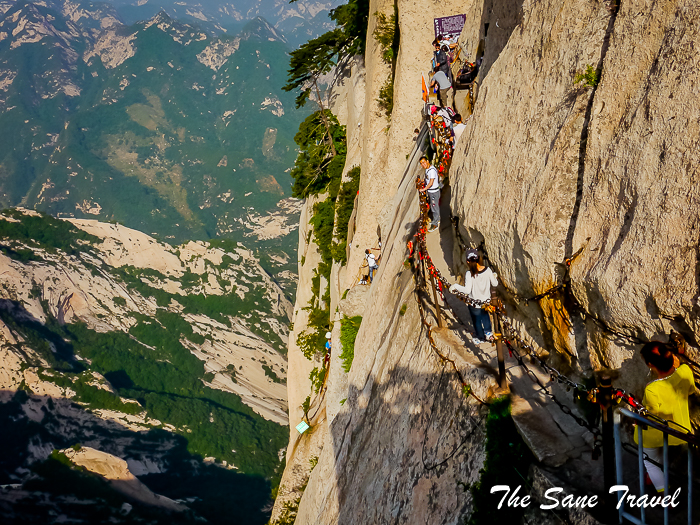 Then it was only about 30 minutes of walking to South Peak, the highest spot of Mount Hua. From South Peak, you can see the other four lower peaks.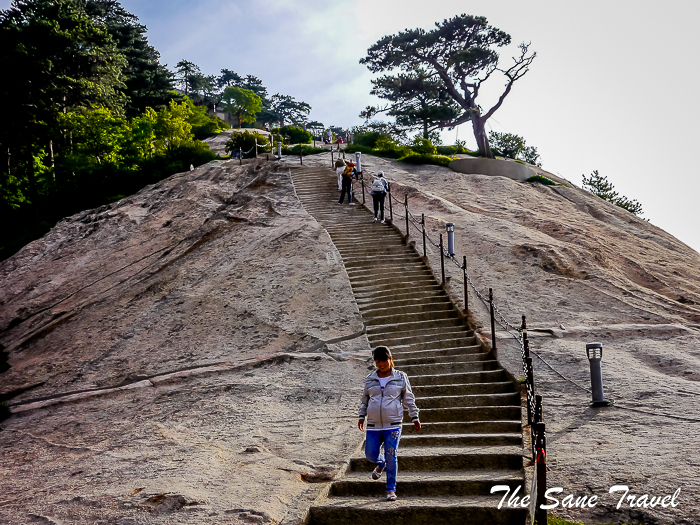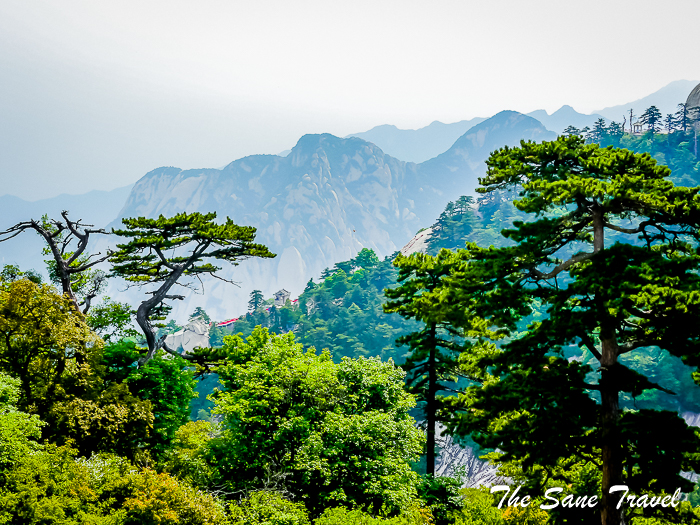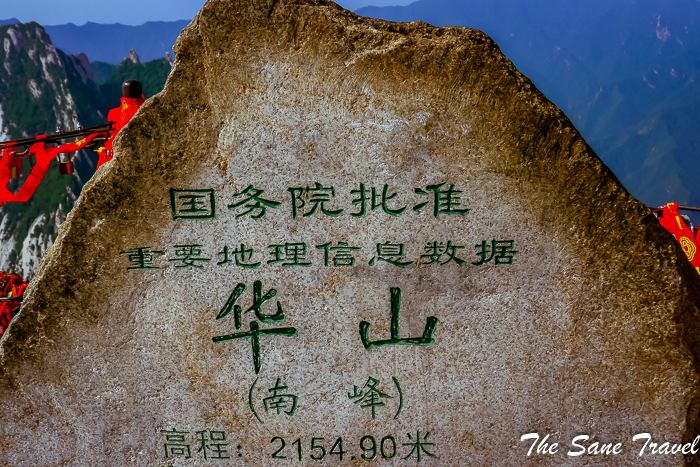 Then I took the last hiking about 40 minutes to West Peak. West Peak is also called Lotus Peak because of its unique shape. This peak is formed by a huge rock. Hence it's very steep.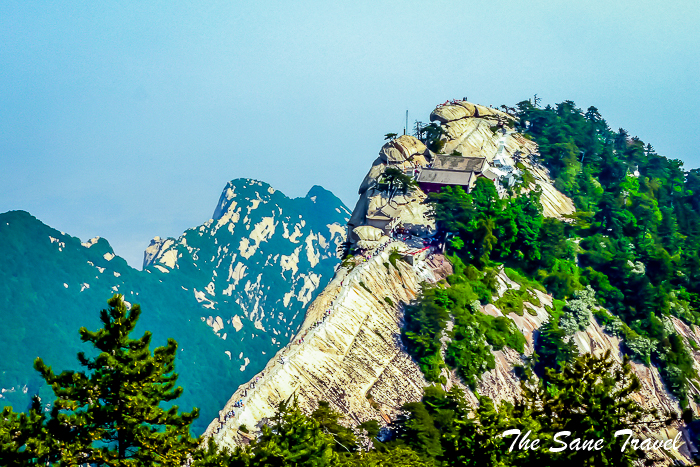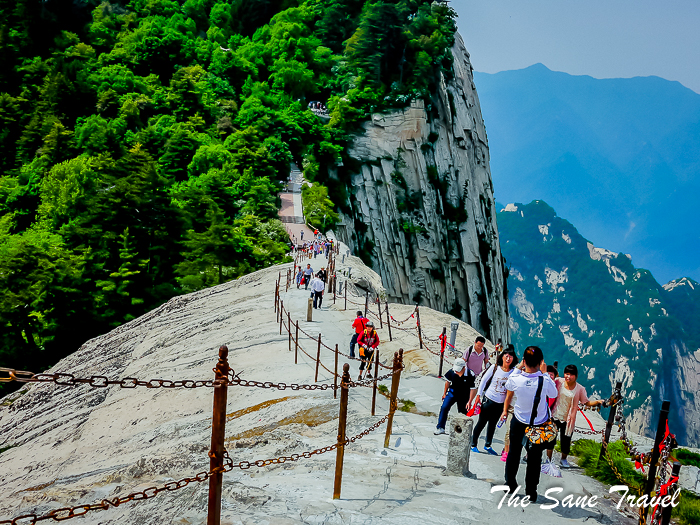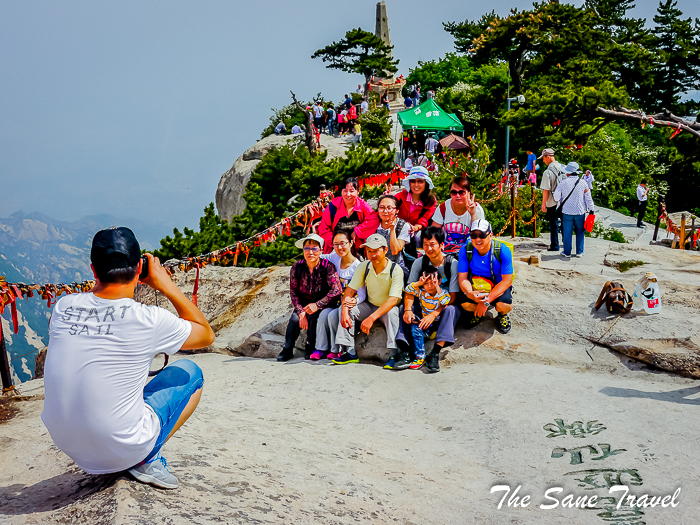 From there, I took a cableway down to the foot of Mount Hua. I was at the lower cable station a bit past eleven in the morning. As my day started quite early, it means that the entire hike took about 5 hours.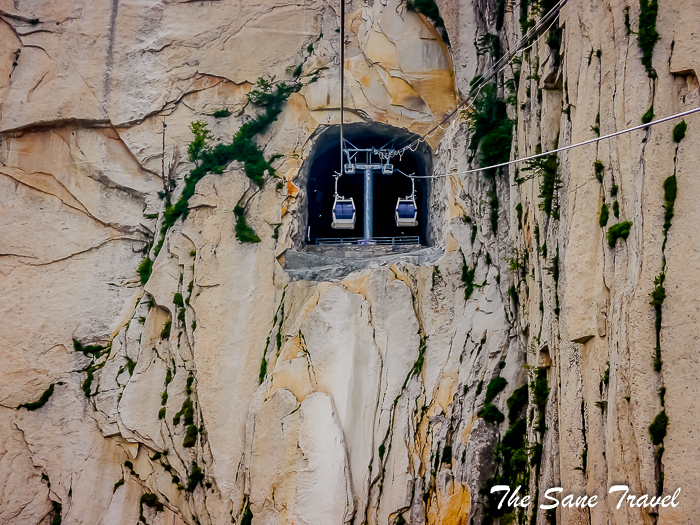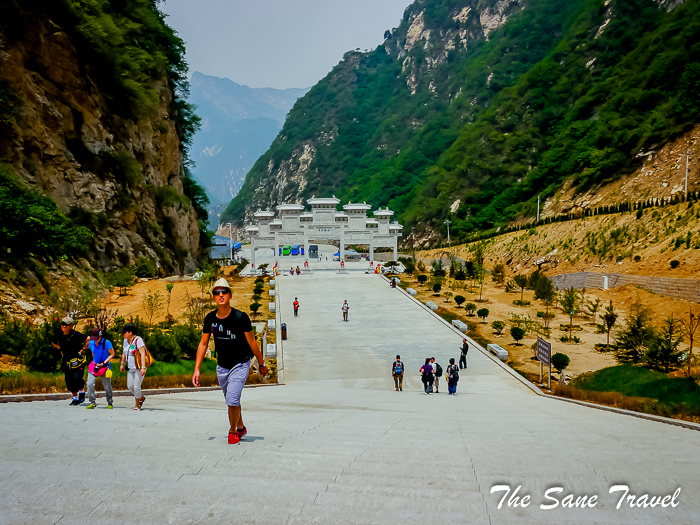 When visiting Hua Shan, you can follow my way or choose other alternatives:
A traditional route is walking-ascending and cable-car-descending. By taking this route, visitors can experience not only its danger, but also its major meaningful scenic spots. At the foot of the mountain, you can start your trip by visiting the Jade Spring Temple. After that, you can walk to the Memorial Archway in about 15 minutes, and then shortly you will get to Five Dragon Bridge, next to which is the ticket office. Passing through the ticket office, you will see scenic spots one by one.
You can also ascend to West Peak by cable car and do the hike in the opposite direction. From East Gate visitor's centre, take a shuttle to the West cable car station. This cable car line starts from Donggoukou to West Peak with a stop at White Sparrow Temple. The whole ride is about 4,200 meters (2.6 miles) long and takes about 20 minutes. It is easier to get to South and East Peaks from West Peak compared with North Peak.
Costs
It must be mentioned that visiting Hua Shan is not cheap, as many other attractions in China.
Entrance ticket: 180 yuan
Bus to/from West cable car station: 40 yuan
West cable car: 140 yuan
North Cable car: 80 yuan
Bus to/from North cable car station: 20 yuan
Total: 460 yuan (or about 75 USD)
Even though I visited Hua Shan a few years ago, my memories are still very bright, and so I recommend you to experience it by yourself when visiting Xian. Here is how to book your train tickets to Xian. When planning your trip to China you might find helpful my tips for solo travel in China. You can find them by clicking this link.
Have you been to Hua Shan or done other mountain hikes in China? Share your experience in the comments section!
Like it? Pin it!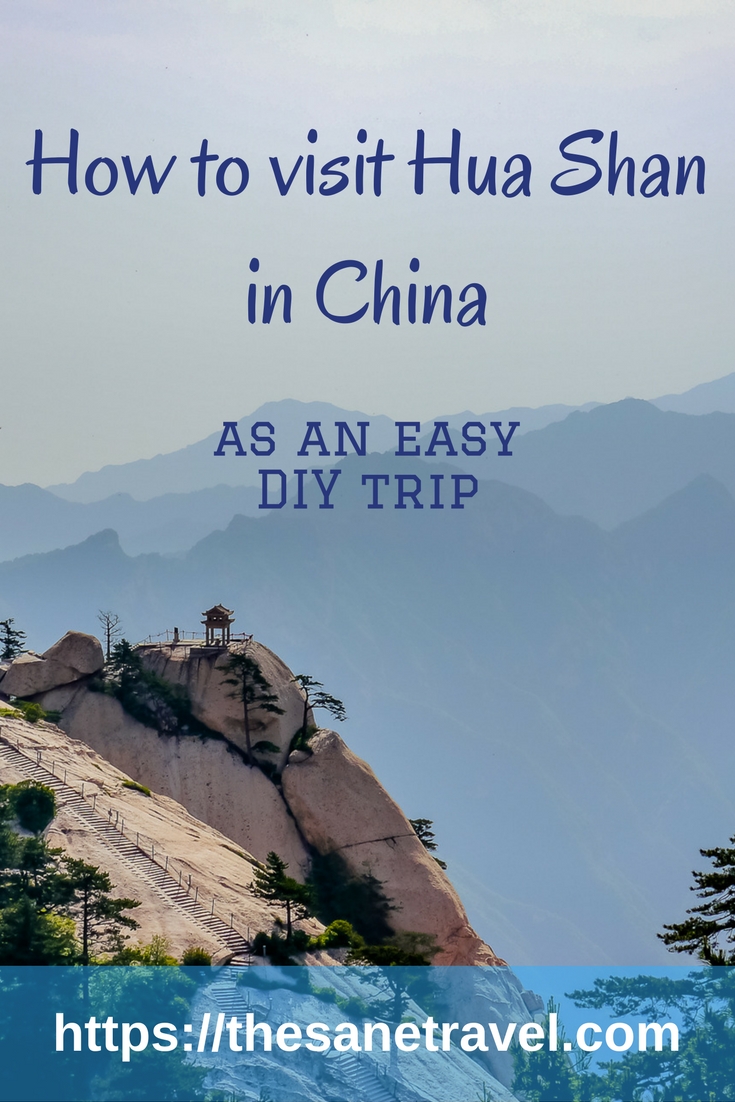 Published by Anita on June 18, 2017
Author: Anita Sāne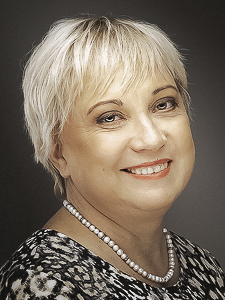 About the author
Anita is a part-time traveler, passionate photographer, and a retired career woman from Latvia, traveling mostly solo for more than 15 years. She is a skilled travel planner planning and executing her travels by herself. Anita wants to show you how to travel the world and open your mind to new experiences. Follow her also on Facebook, Instagram, Pinterest, Twitter, and Bloglovin.

{module Sign for my blog news! (2)}