When planning your visit to Western France, make sure to include Saint-Malo on your trip! Built on a rock standing in a naturally defensive position at the mouth of the River Rance, Saint-Malo is a city whose roots go back thousands of years. Nicknamed the Corsair City, it has a long-time connection with explorers and sailors. Jacques Cartier, a Breton explorer who claimed what is now Canada for France, grew up in Saint-Malo. Today's city got its name from a Welsh monk by the name of Maclou (Maclovius). Maclovius was one of the many Celts who came over to Brittany during the late Roman era from Britain. In the 17th century, the port of Saint-Malo had become rich from transatlantic trade.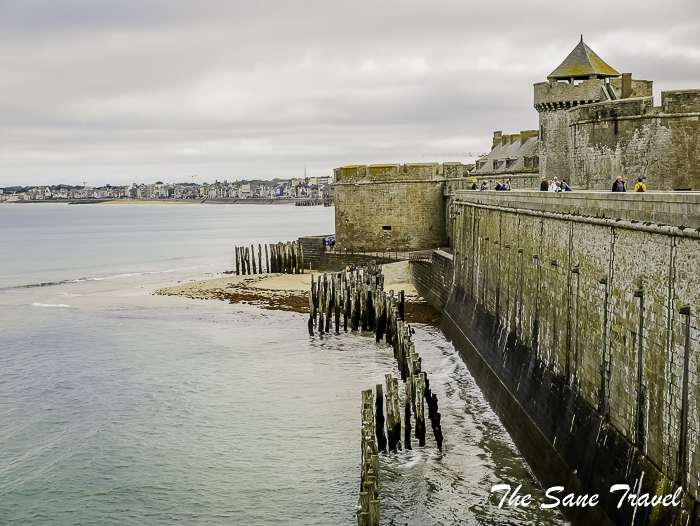 Goods brought back from Newfoundland and India allowed ship owners to build large mansions called "malouinières." Saint-Malo has several districts, the most popular being Intra Muros or 'inside the walls'. A large part of the old city was reduced to rubble during WW2. After the war, the old city centre was rebuilt in the same style, saving its historic skyline. With the suburbs included, the metropolitan area's population is more than 150,000; it can increase to up to 200,000 in the summer tourist season.
So what to do in Saint-Malo in a day? Here you are!
1 Visit the tourist office at the entrance of Intra Muros
Ask for advice for your visit, get a map and check the boat trips schedule to Dinard if you have not done it earlier. You can also take a tourist train ride from there.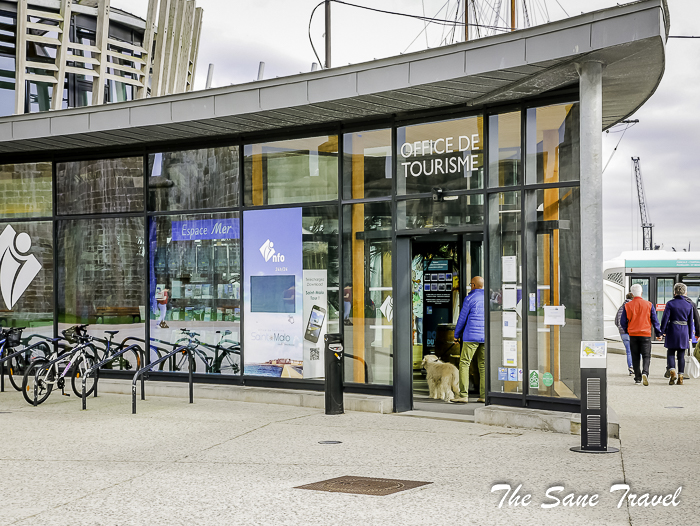 2 Walk ramparts
A walk around the ramparts of Saint-Malo is about 2 kilometres long. It takes about an hour to complete the walk. The walkways on top of the ramparts give excellent views over the beaches, the sea, the river mouth, and the harbour. There are steps up to the ramparts at each city gate and by the castle. Most of the current ramparts were built by the engineer-architect Garangeau in the 18th century. It is possible to climb on the ramparts from several stairs or ramps located at each gate.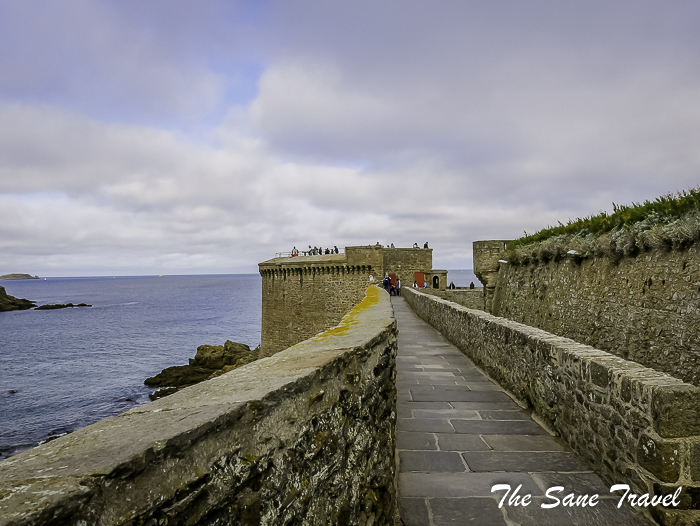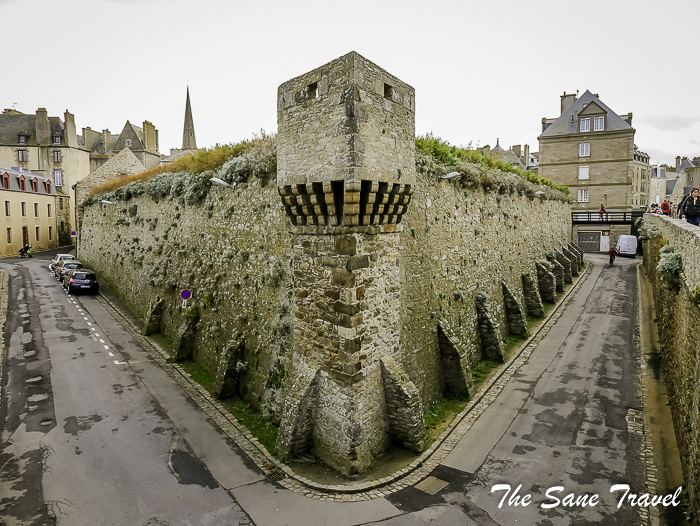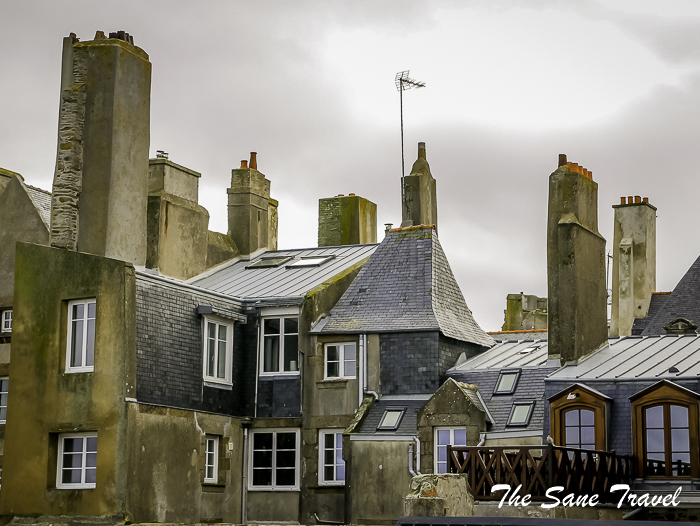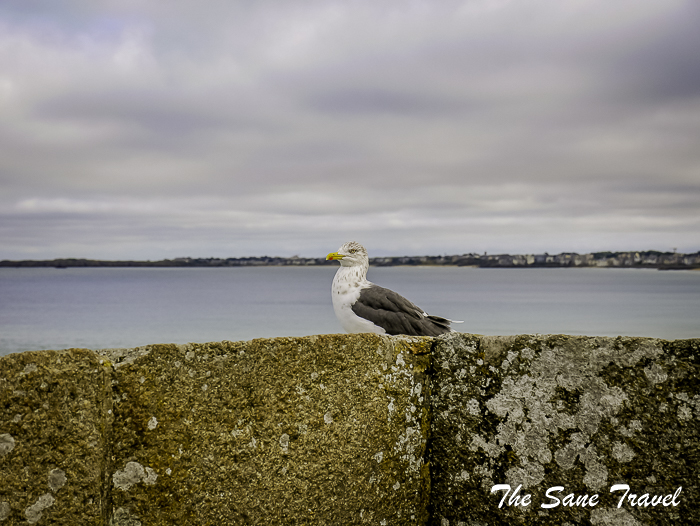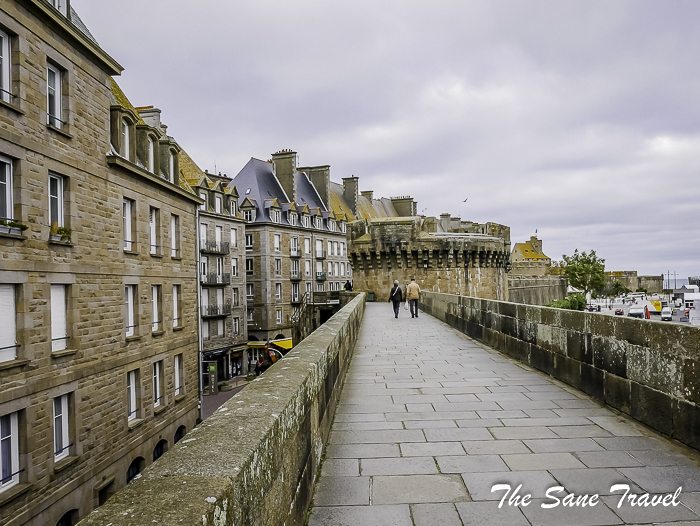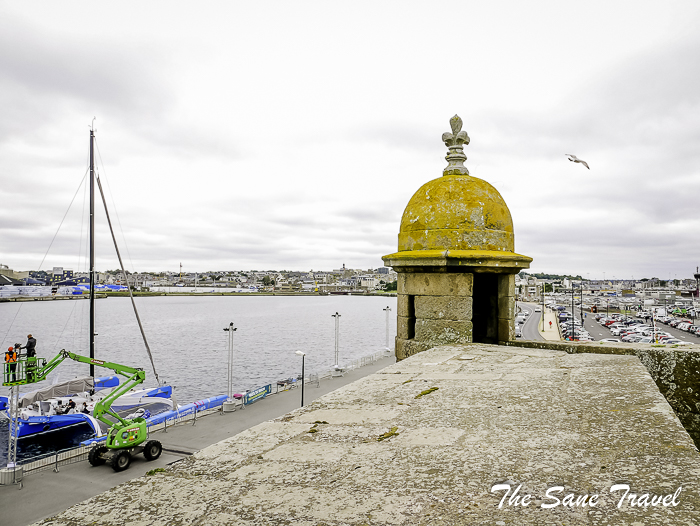 3 Notice two islands during your rampart walk
While walking, notice two islands named Grand Bé and Petit Bé. The Grand Bé houses the tomb of writer and politician Chateaubriand, who was born in Saint-Malo in 1768, and the Petit Bé is distinguished by its 17th century fort. The Fort is a part of a defensive belt to protect Saint-Malo from English and Dutch ships. These two little islands can be reached on foot at low tide.
4 Learn about corsairs at the statue of René Dugyay-Trouin
Corsairs (French: corsaire) were "legitimated pirates" working for the King of France attacking the ships of France's enemies. A Corsair was ordered to attack only the ships of enemy countries, respecting those of neutral nations and his own country. Seized vessels and goods were sold, with the corsair captain entitled to a part of the revenue. Many Breton families were corsairs and ship owners from father to son. One of the best known French corsairs was René Dugyay-Trouin, born in Saint-Malo in 1673. He captured more than 300 merchant ships and 16 warships. Louis XV made him lieutenant-general of the naval armies. You'll come across his statue while walking around the ramparts of Saint-Malo, near the quay Saint-Louis.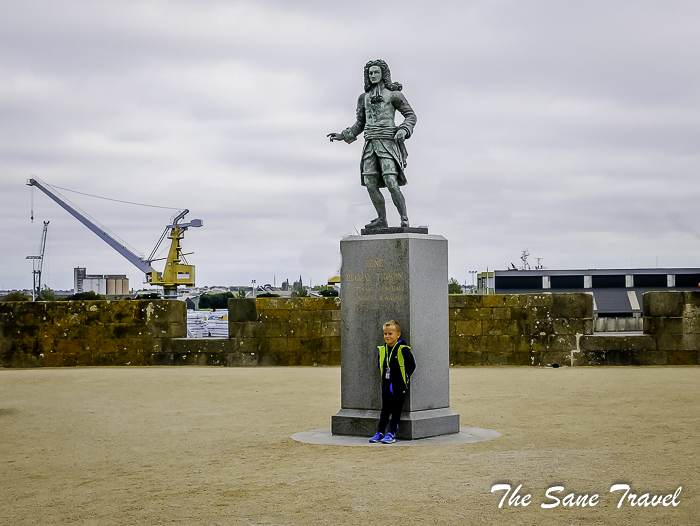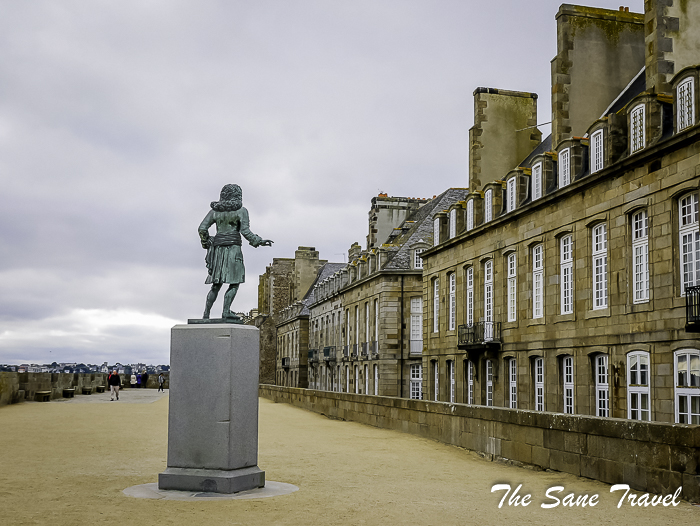 5 Admire Citadel of Saint-Malo
The entire citadel consists of four towers, the oldest of which is the tower of La Generale, built at the end of the 15th century. The last two towers were finished much later. They are all powerful open bastions, on top of which artillery weapons were placed. During World War II, this architectural complex was badly damaged. After the restoration two towers are open for tourist visits.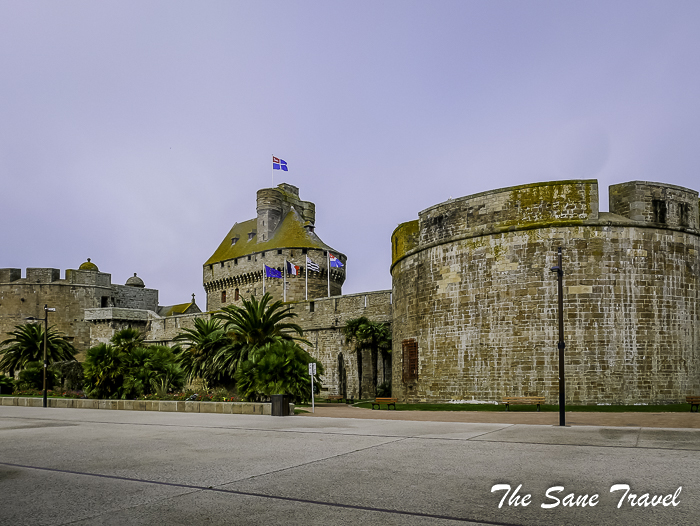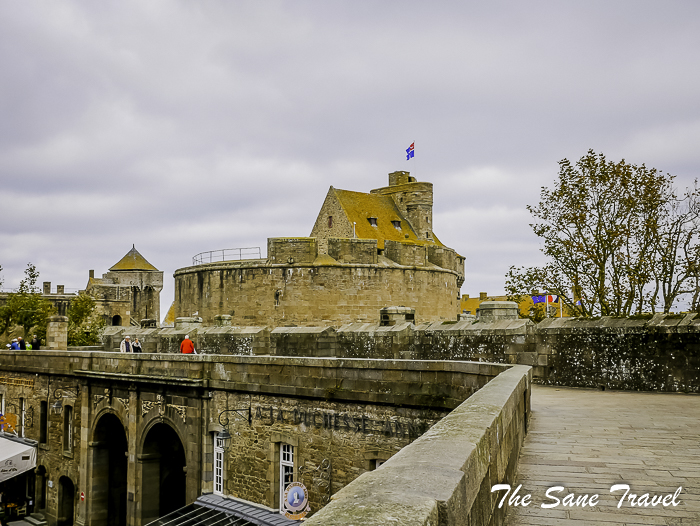 6 Do not miss the magnificent Cathedral
You can step off and on the wall using the stairs at any gate so choose yours to visit the Saint-Malo Cathedral, more precisely St Vincent of Saragosse Cathedral (Cathédrale Saint-Vincent-de-Saragosse de Saint-Malo). It was built in Romanesque style at the turn of the 12th century. Transformations from Romanesque to Gothic to High Gothic and even Renaissance styles can be found there. In 1944 during a battle for the city, the cathedral was bombed and the choir section collapsed. It took over 20 years to make the repairs.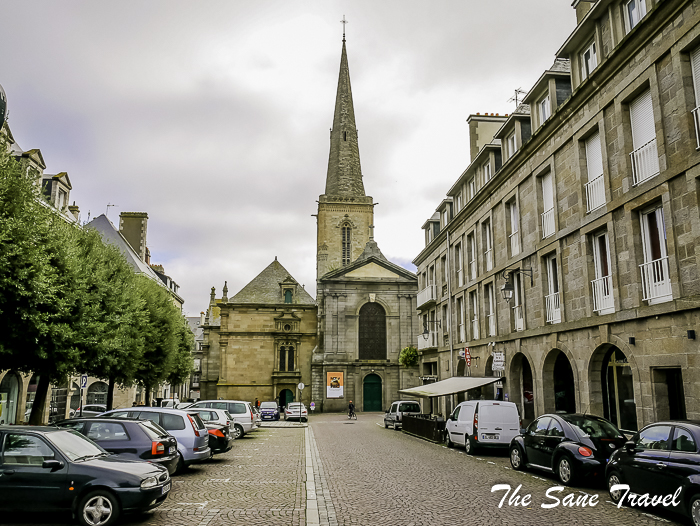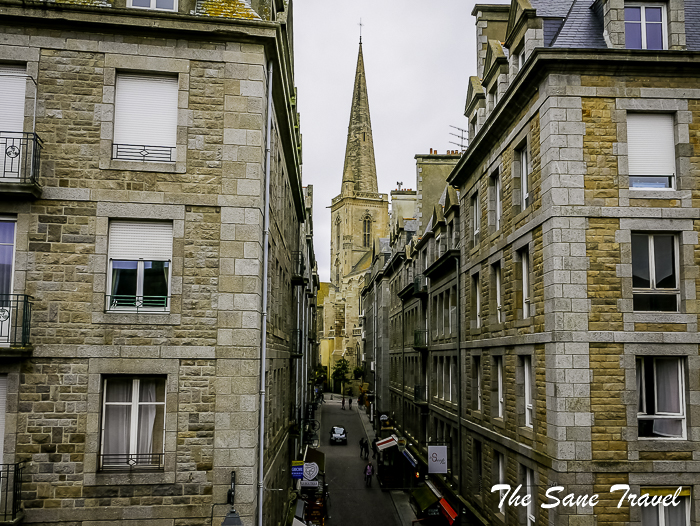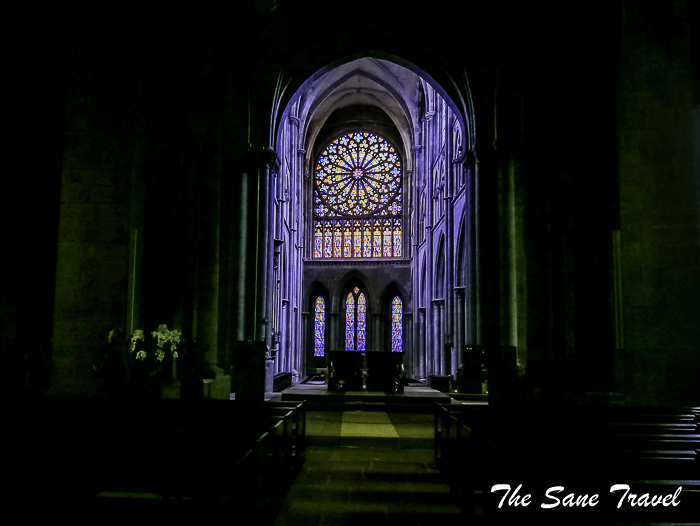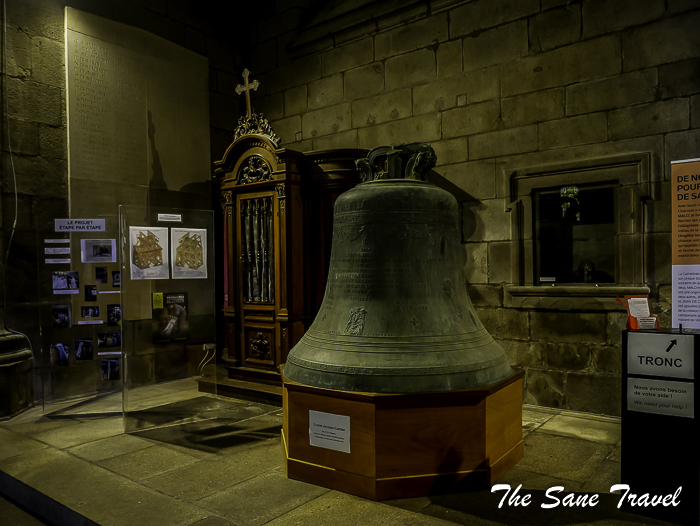 When visiting the Cathedral, look for the burial place of the most famous citizen of Saint-Malo Jacques Cartier. He was born in Saint-Malo in 1491. Cartier set out his first voyage of discovery in 1534 to the New World, where he was to establish "New France" on the North American continent, now a part of Quebec. The museum la Maison du Québec in the old town is dedicated to the discovery of Quebec.
7 Ride a boat to Dinard
In the summertime, there are many different boat rides available from Saint-Malo including trips to Cap Frehel, Dinan, and Chausey Islands among others.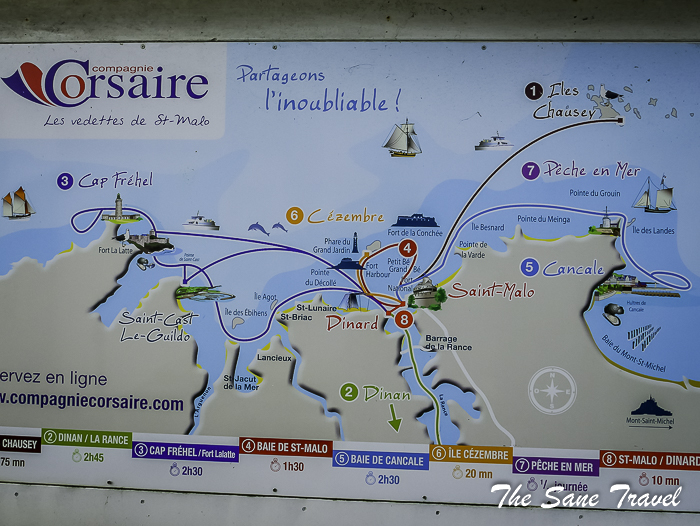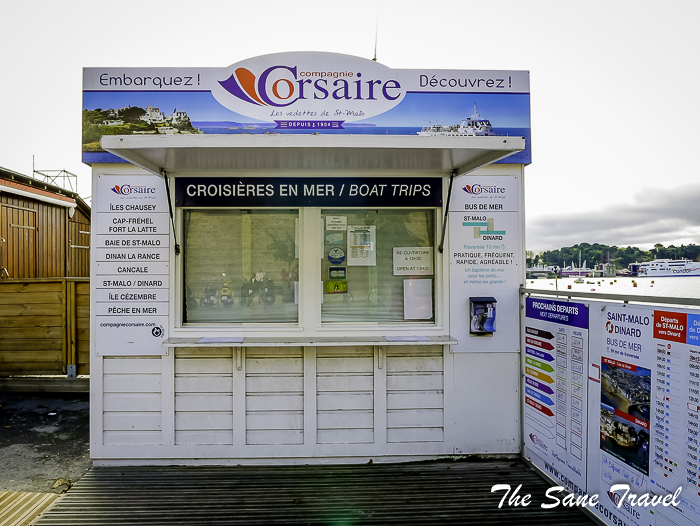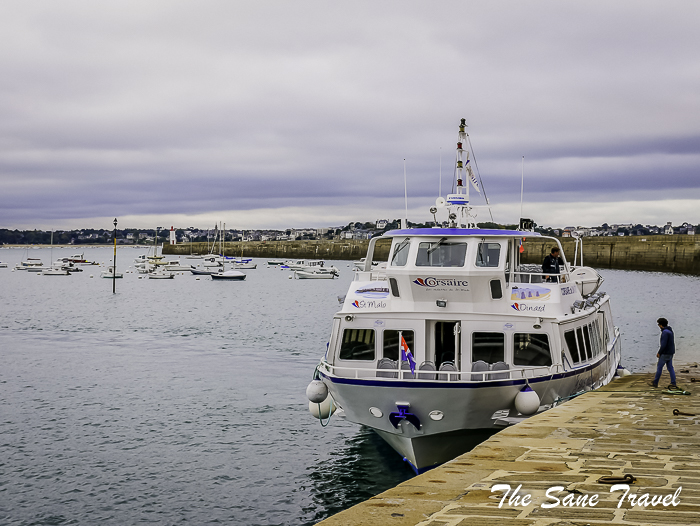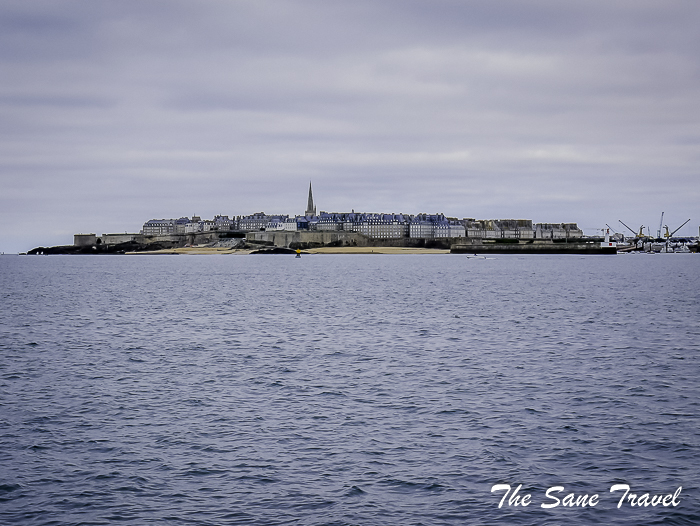 If you are short on time or visiting offseason, then just take a ten minute boat ride to Dinard to have a look of the historic beach town and take pictures of St Malo from the water. As boats do not depart very often, check the schedule in the tourist office or on the Internet in advance to make your plan for the visit accordingly. Dinard is located across the Rance River Estuary from Saint-Malo. Dinard is affected by the warm Gulf Stream so it has an unexpectedly mild climate for the region. Initially, Dinard was a fishing village but at the end of the 19th century, it became a beach resort where the rich and famous of the time built their luxury houses. At that time Dinard was number one seaside resort of France. As a result of that popularity, Dinard now has lots of awesome villas and houses. Resort popularity has now passed and other resorts in France are more popular but regardless of the stunning beach, awesome architecture and lots of shopping opportunities make Dinard pleasant and well known.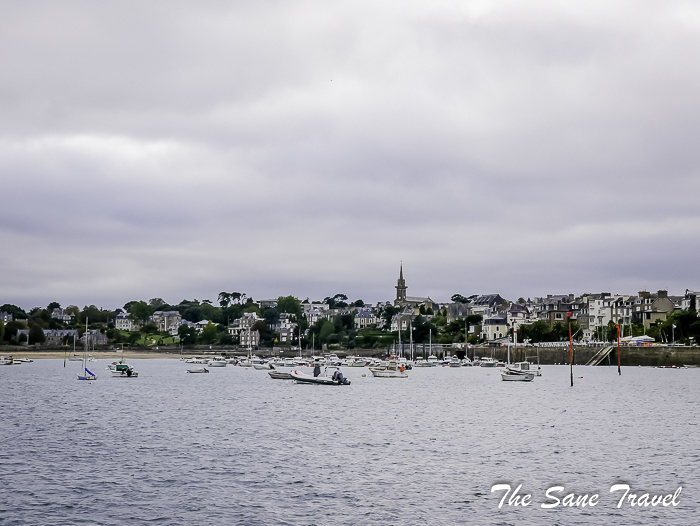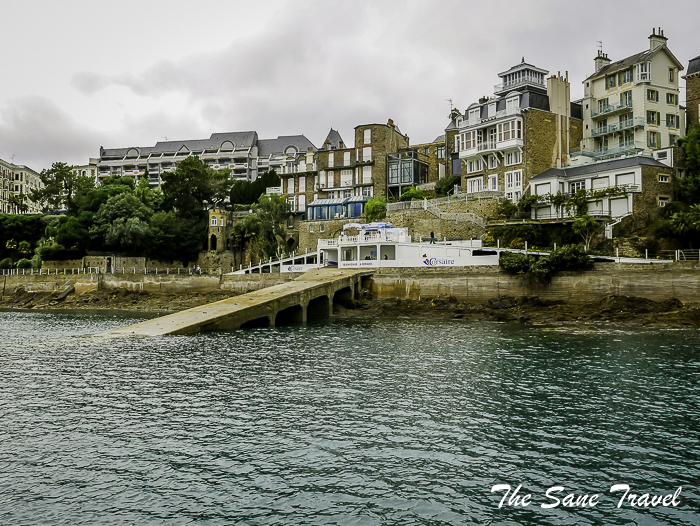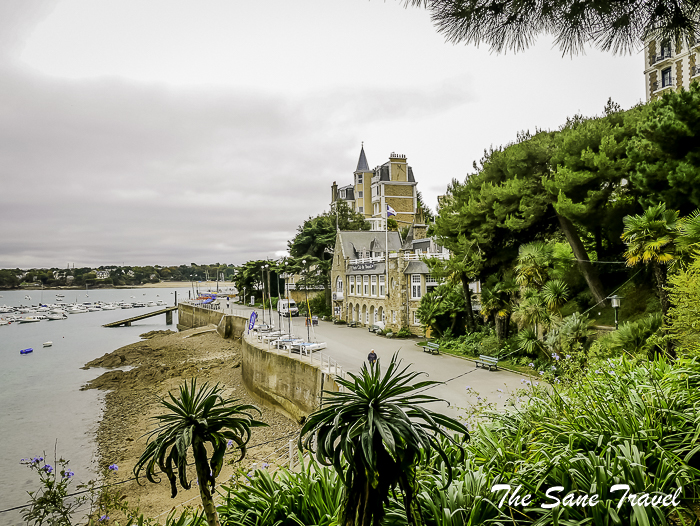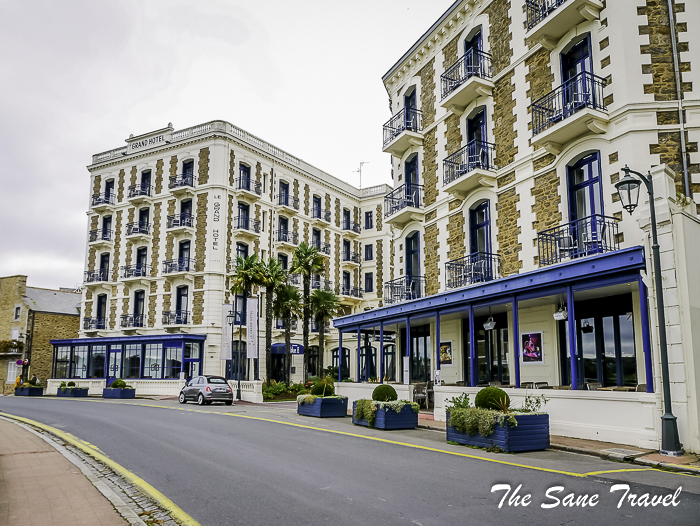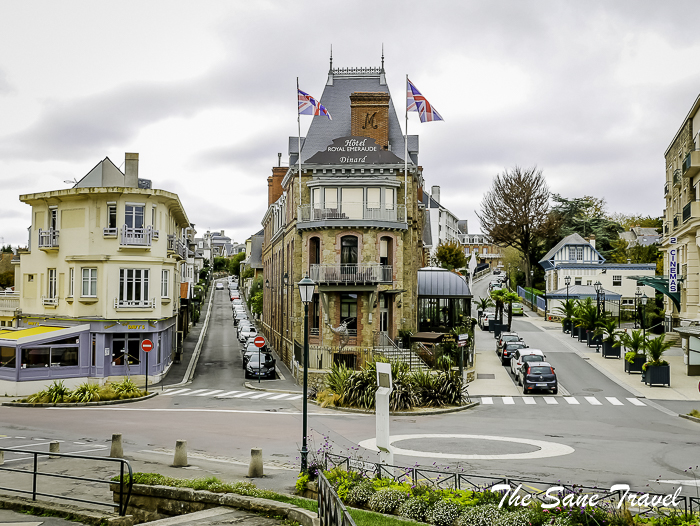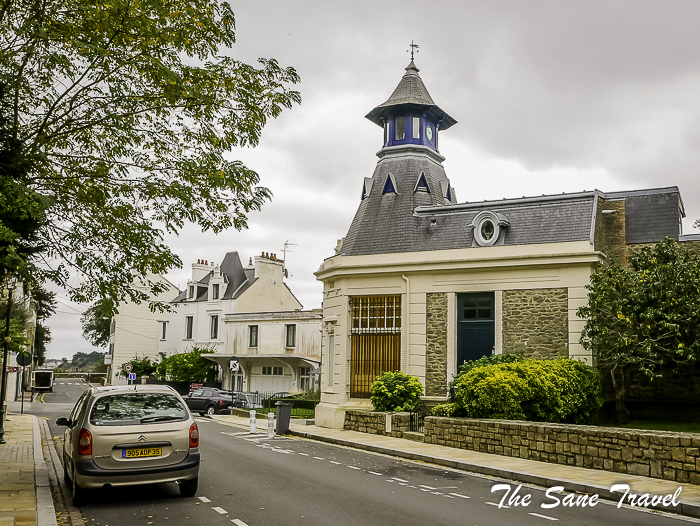 So plan your time to visit this beautiful place.
Practical information
How to get to Saint-Malo. If you come to from Portsmouth, England by Brittany Ferries you are in Saint-Malo right away. If you travel around France there is a convenient train connection to the city from Rennes.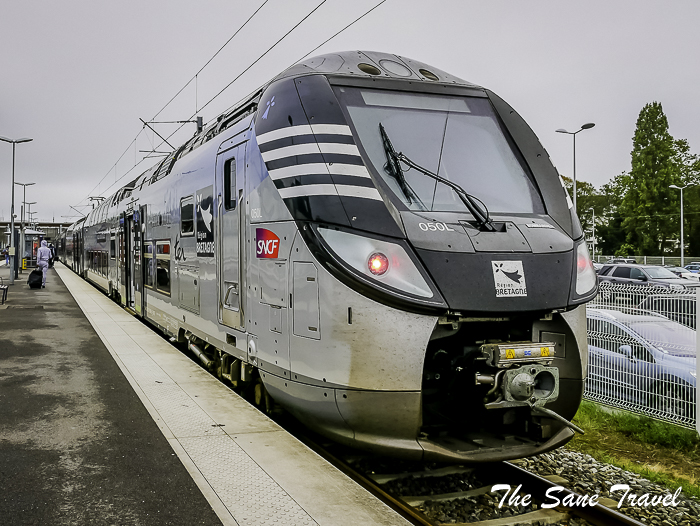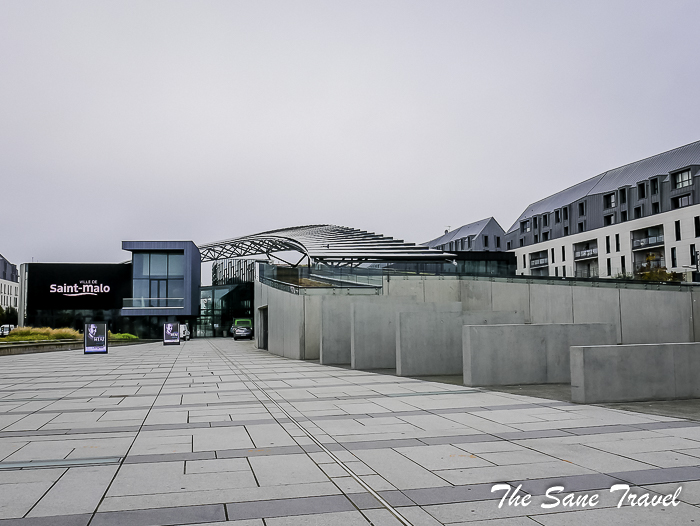 You can also come by bus. Bus and railway stations are next to each other and some 15 minutes' walk to the city Intra Muros gate.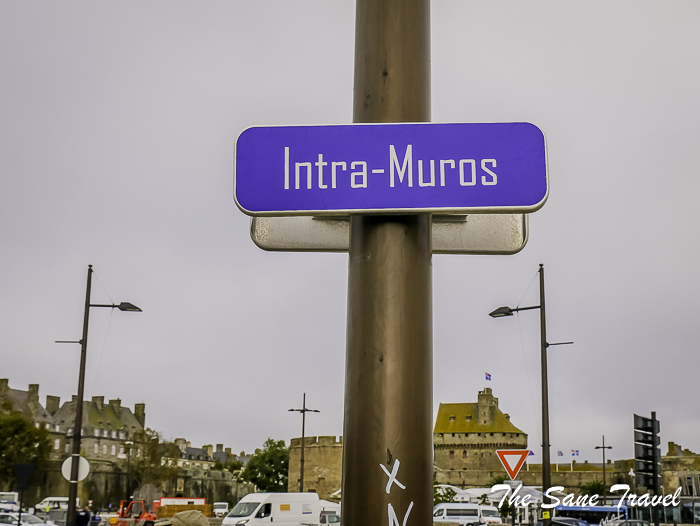 Be aware that there are no luggage storage options at the railway station or in the tourist information centre.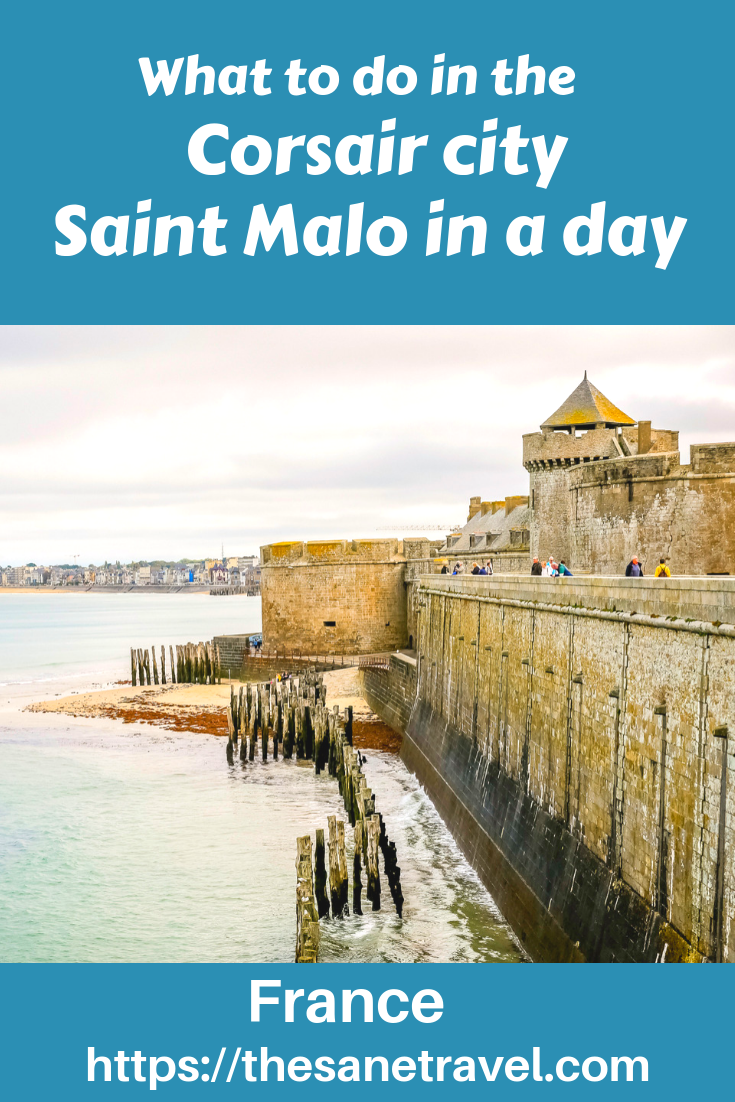 Want to explore more of Brittany? Consider including Dinan in your itinerary! What did you think? Have you been to Saint-Malo? Or perhaps you're thinking of visiting there in the near future? Either way, I'd love to hear from you so please add your comments below.
Published by Anita on November 10, 2018
Author: Anita Sāne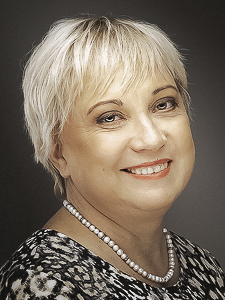 About the author
Anita is a part-time traveler, passionate photographer, and a retired career woman from Latvia, traveling mostly solo for more than 15 years. She is a skilled travel planner planning and executing her travels by herself. Anita wants to show you how to travel the world and open your mind to new experiences. Follow her also on Facebook, Instagram, Pinterest, Twitter, and Bloglovin.

{module Sign for my blog news! (2)}