When planning a trip to Colombia, I knew for sure that visiting one of the most beautiful villages of Colombia Barichara and walking Camino Real to Guane would be on my list. Camino Real means Royal Road in English and had some special attraction and a mysterious feel to me. I can say in advance that I was not disappointed even though the name of the road has nothing to do with royals actually.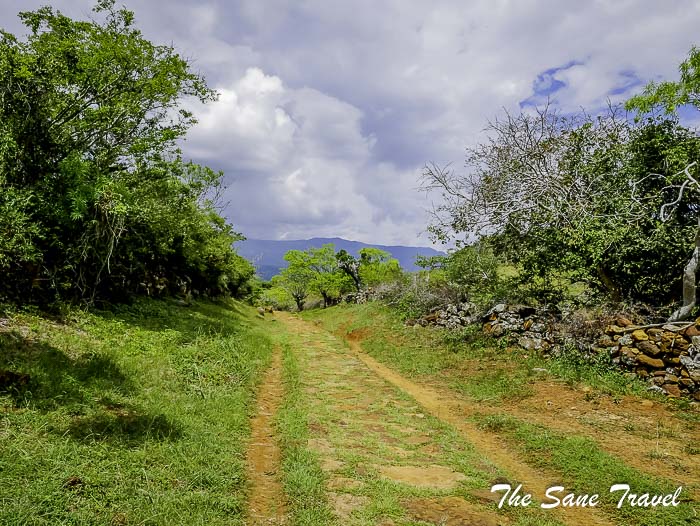 Barichara, the beginning of the Camino Real
Founded in 1741, Barichara translates from the native Guane language as "a place of rest with blossoming trees". Perched on the edge of the imposing canyon of the Suarez River, Barichara is one of the country's most beautiful and best preserved heritage towns. There are 17 towns on the heritage town list of Colombia, including Villa de Leyva that I also visited during my Colombia trip. The streets of Barichara are made of cobblestones and the whitewashed colonial houses have been kept in their original state.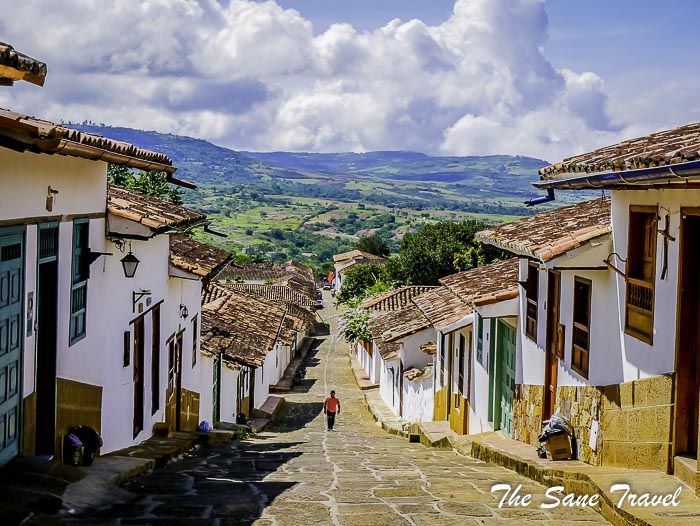 Many Colombian movies were filmed there. I was really surprised by the beauty of the houses and how well maintained they were. Shops and artisan workshops are colourful and inviting. There you can find different handcrafted goods, including baskets, clothes, bags, shoes, dreamcatchers, and others. They all are great souvenirs you can take back home. Blossoming shrubs added the final touch to the idyllic picture. Do not forget the stunning Barichara cathedral.
What is Camino Real anyway?
The story goes that Camino Real is an ancient path built by the indigenous Guane people. To my disappointment, the Royal Road, or "Camino Real", has nothing to do with royalty. It was constructed in its current shape about 150 years ago, almost 50 years after Colombia became a republic, by the well-known German immigrant Geo von Lengerke. He was a controversial German who fled his home country after killing a man in a duel. He ended up creating a neo-feudal system on his estate near Barichara. Camino Real road between Barichara and Guane was declared a national monument in 1977 and restored in 1988. Since then, it became a tourist attraction for many people visiting Barichara.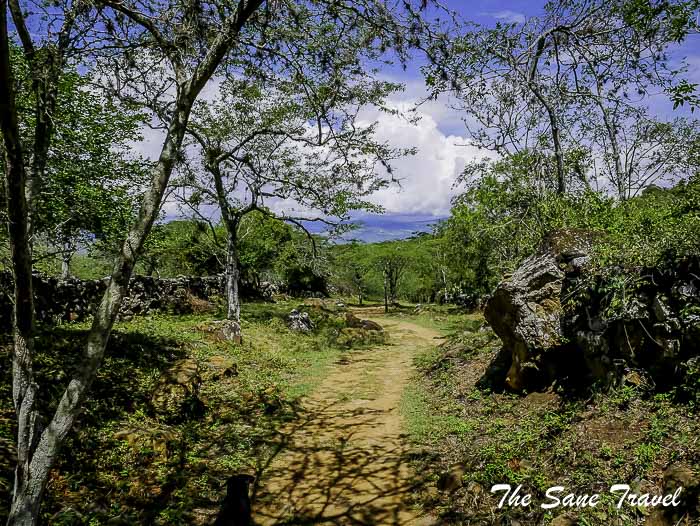 Walking Camino Real
We stayed at the Hotel Alto Del Viento on the outskirts of Barichara, so we walked through the town first to get to the beginning of Camino Real trail next to the San Antonio chapel. The trail is 5 to 10 kilometres long, according to different sources. My Google map says that it's 7,4 kilometres, so you can decide which distance feels right for you. Some say that it's an easy walk. Yes, it goes mostly downhill and therefore can be considered easy. On the other hand, the stones covering the footpath are very uneven, making your walk not very pleasant. Anyway, the stunning views of the Suarez Canyon make all your efforts worth it.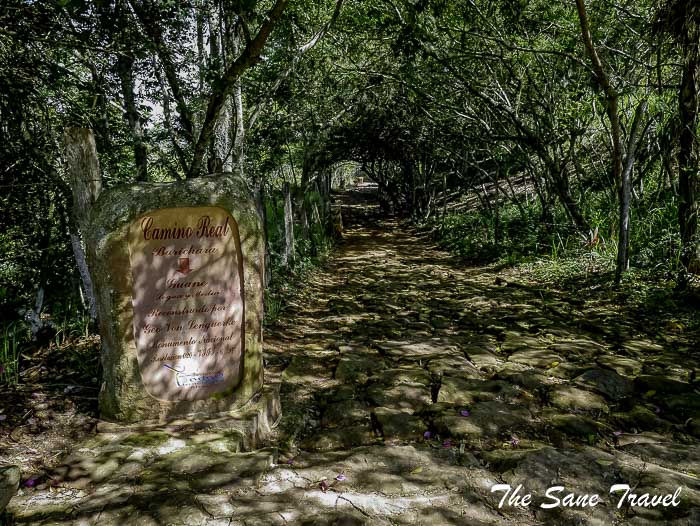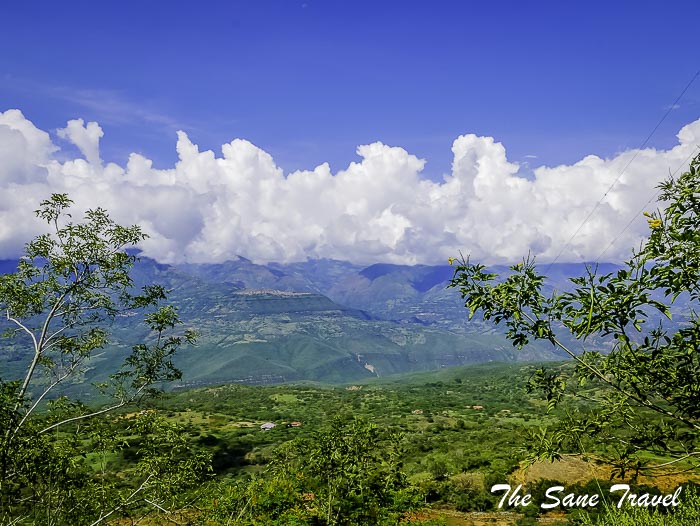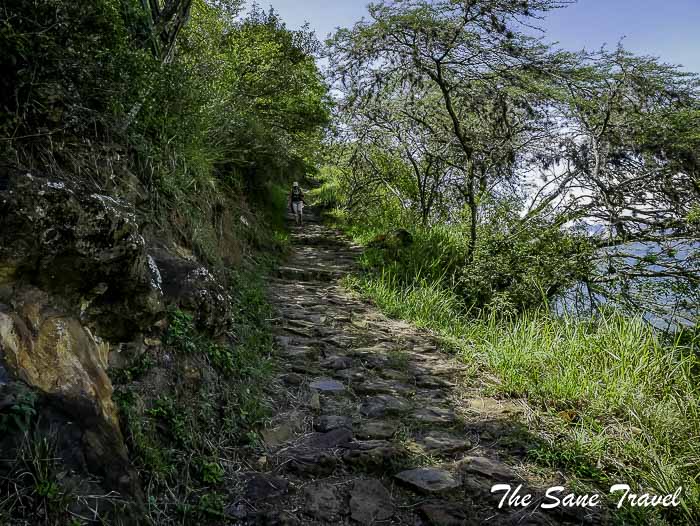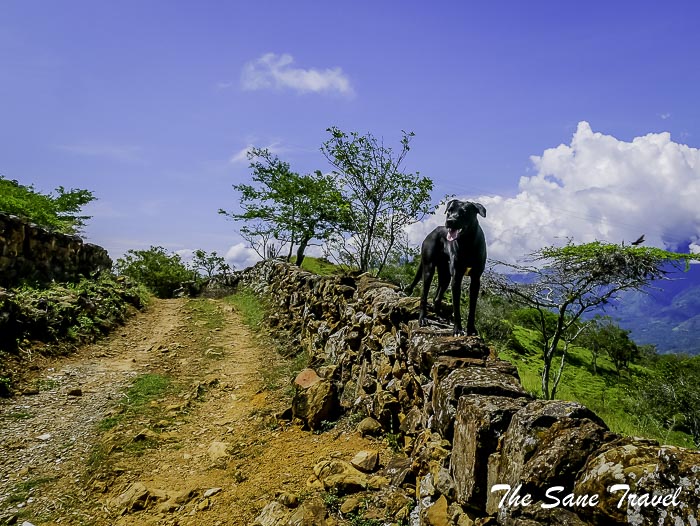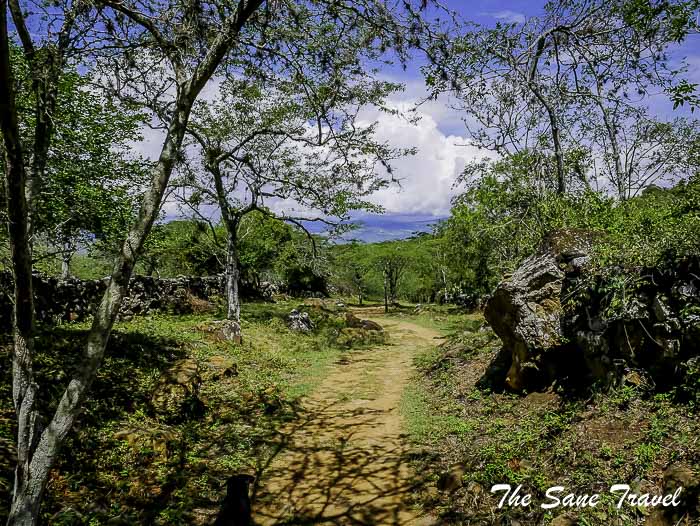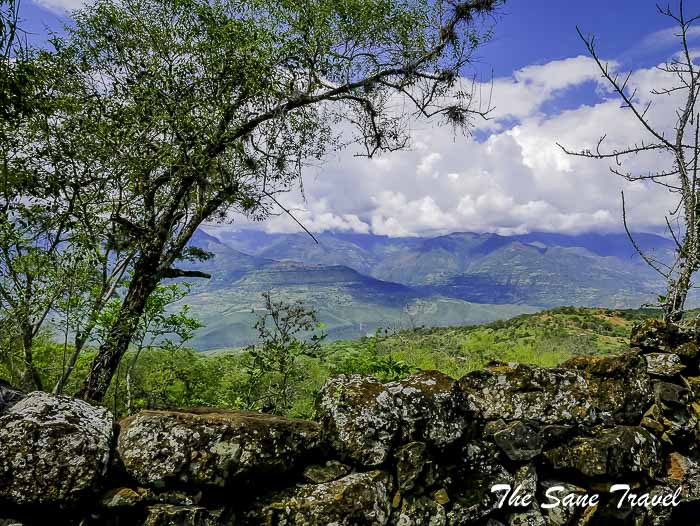 We had a travel companion, a local dog who followed us for about half of the trail and then decided to go back home.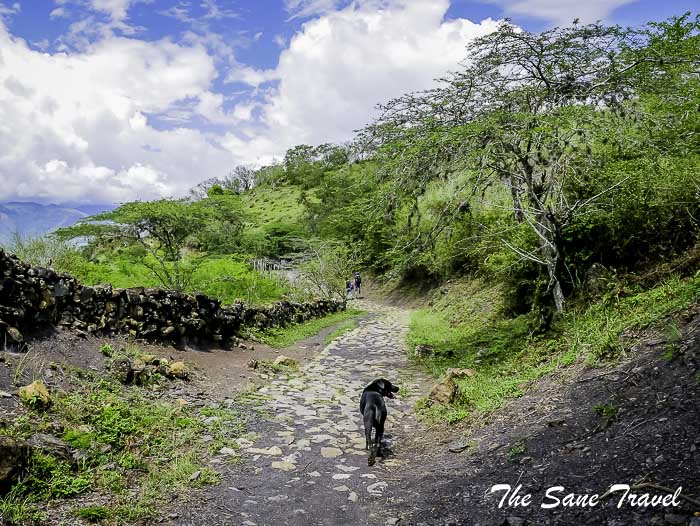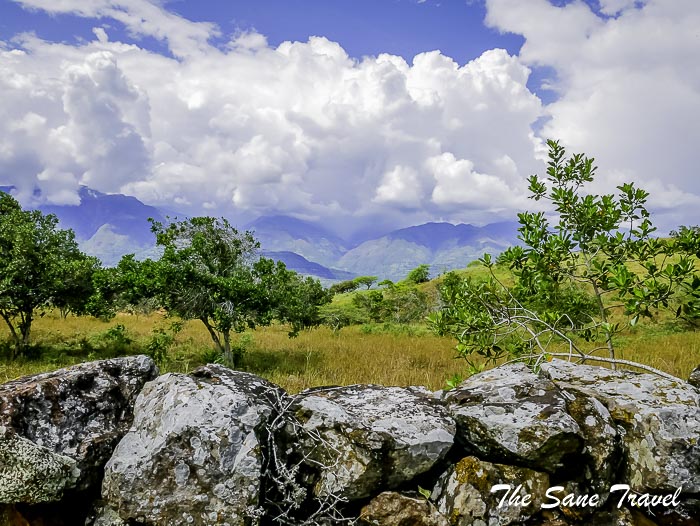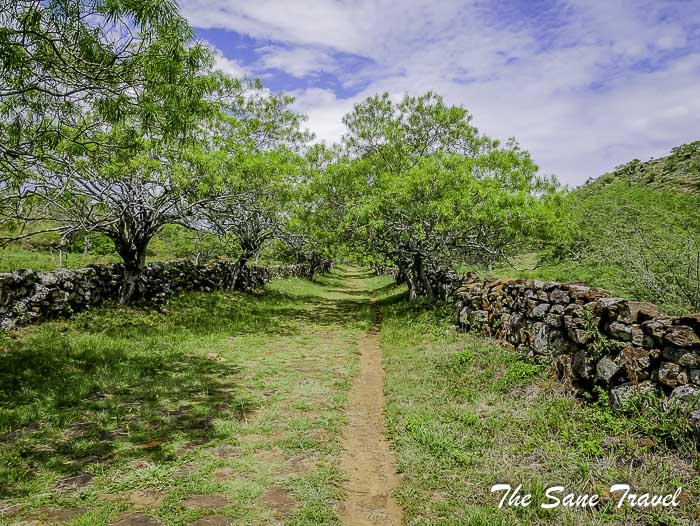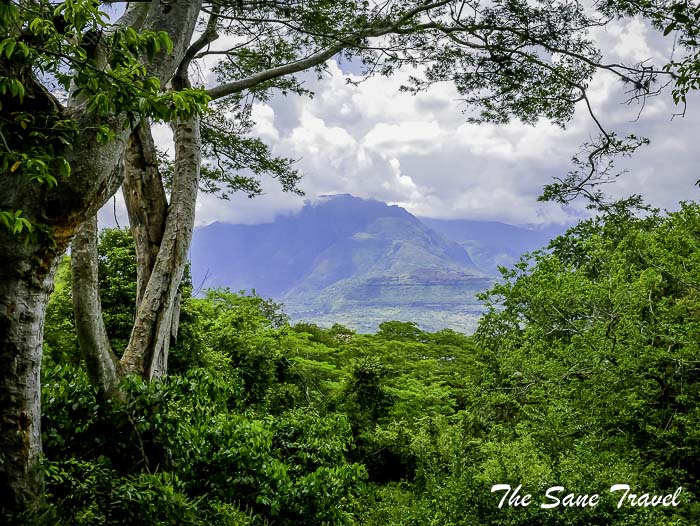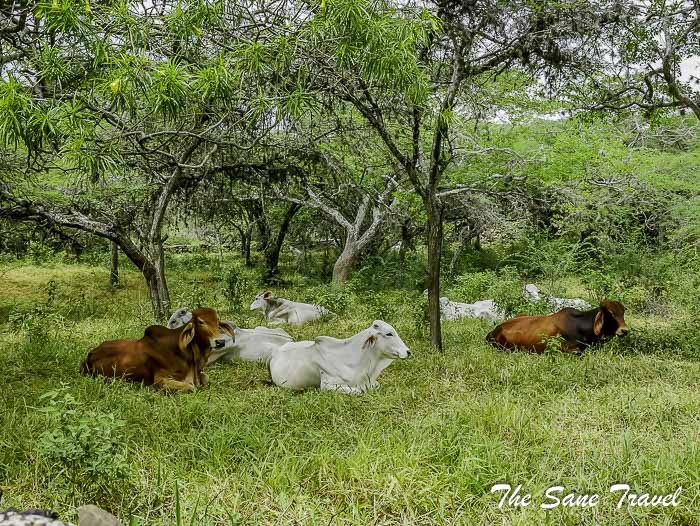 We also saw many trees covered with Spanish moss hanging down.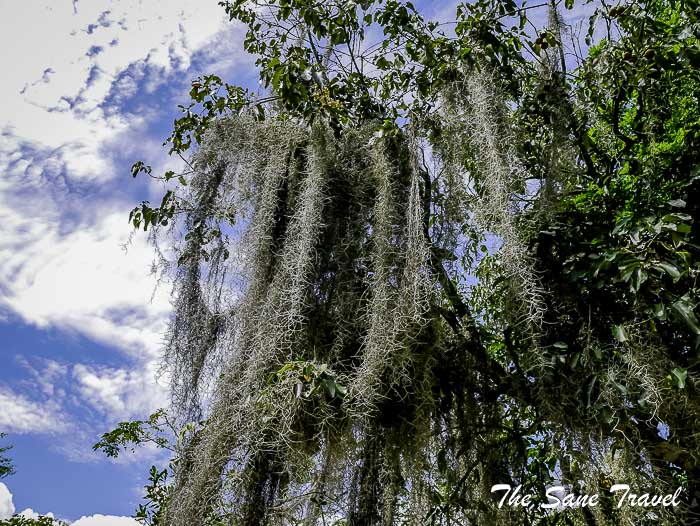 After more than two hours of slow pace walking, we reached Guane. With a population of less than 1000, Guane is a tiny town so it was easy to find our way around. The houses in the town were all whitewashed colonial style, like in Barichara, and there was a nice church in town. It's much smaller than Barichara and felt quite empty.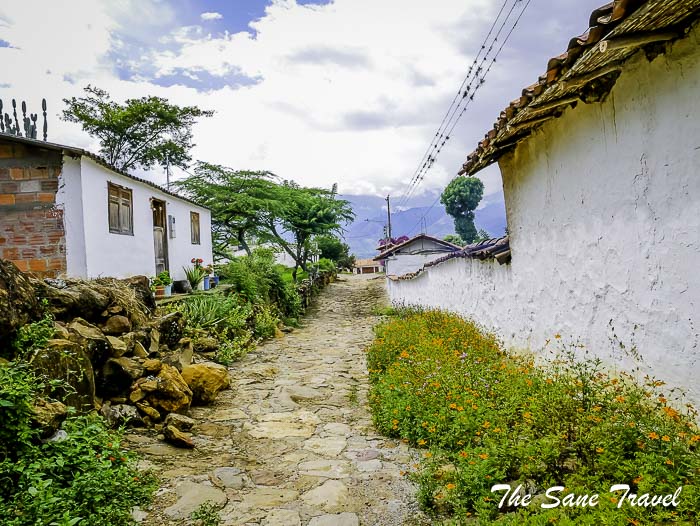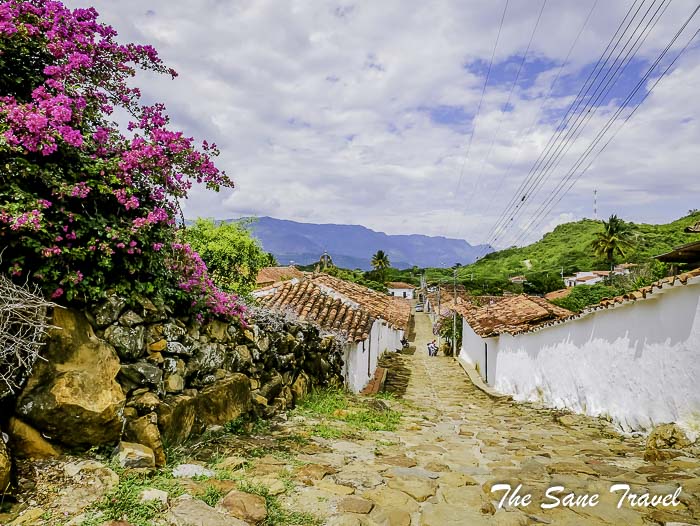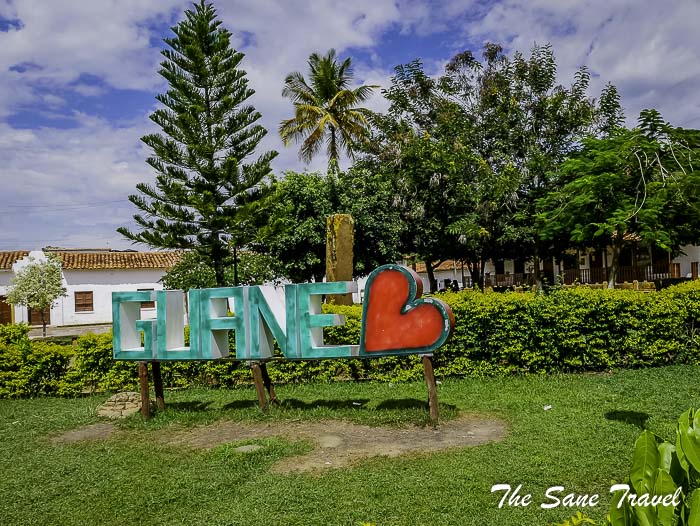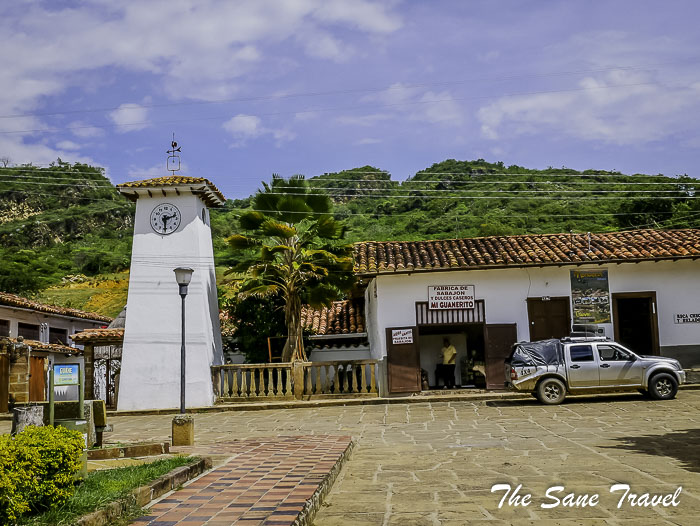 So we went back to Barichara quite soon.
Practical information about walking Camino Real
Wear your best walking shoes because of the uneven path surface. It is advisable to do the walk early in the morning, to avoid the sun and high temperatures later in the day. If you do it later, be prepared for the intense heat and wear extra UV protection. The route starts in the upper-western part of Barichara in the Simon Bolivar roundabout, next to the San Antonio chapel. You will see the sign at the beginning, and then it goes downhill. Better bring your own bottle of water since you'll probably won't buy any until you make it to Guane.
Restaurante La Brasa Misifu in Barichara
As we felt quite hungry after our walk, the first thing we were looking for after getting back to Barichara was a restaurant. We were lucky to find Restaurante La Brasa Misifu near the central square. The restaurant has a covered space and also a thatched-roof, open-air eatery. We had fish, which was really tasty, but I do not remember its name anymore.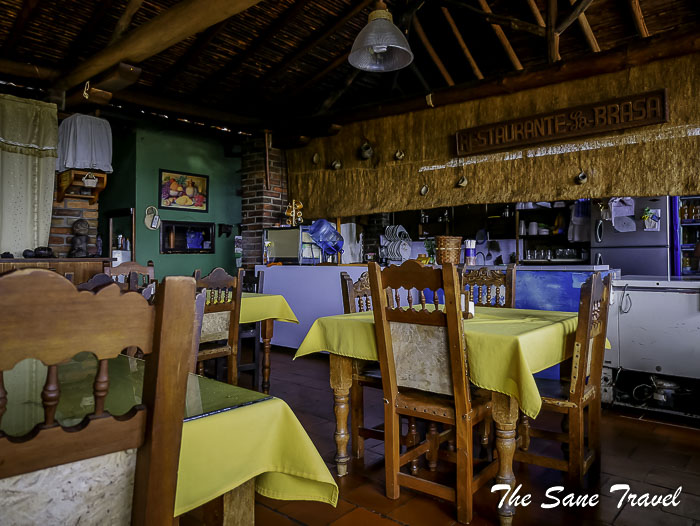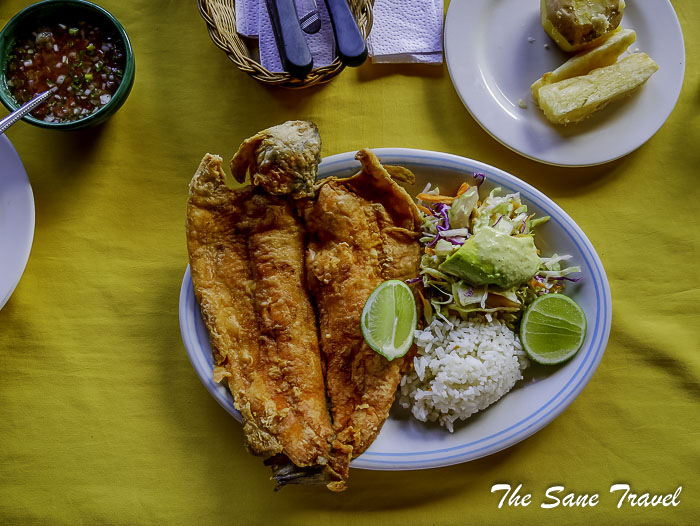 The restaurant is popular among the locals and serves many local dishes, including cabrito, roast goat kid.
Address: Carrera 6 No. 6-31 between Calles 6 & 7.
Then we took a tuk-tuk to get back to our hotel, Alto Del Viento, to collect our belongings. We had to make ourselves ready to go from Barichara bus station on the central square back to San Gil for the next destination of our journey.
Hotel Alto del Viento
The hotel is located on the outskirts of the town but a tuk-tuk allows reaching it easily. We found this 4-star hotel with 12 rooms quite interesting. It forms a square with the garden in the middle. Our room had no glass windows, just shutters. All the rooms including ours have a wardrobe and a private bathroom. The hotel has free Wi-Fi throughout the property, a sunny terrace with a swimming pool, and a lounge. The panoramic view from the terrace is incomparable. You can admire Barichara town at its best, the Suarez river canyon and the Yariguíes mountain range in the background. The public space of the hotel is decorated with different pieces of local art, which adds a special touch to the place. We had a great à la carte breakfast on the terrace in the morning.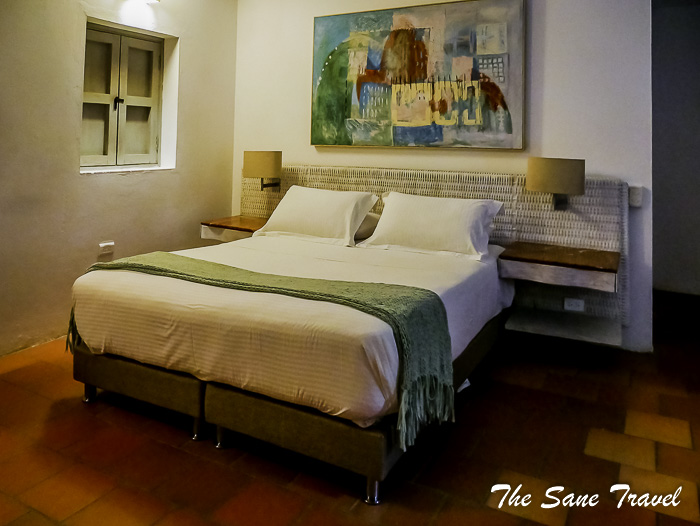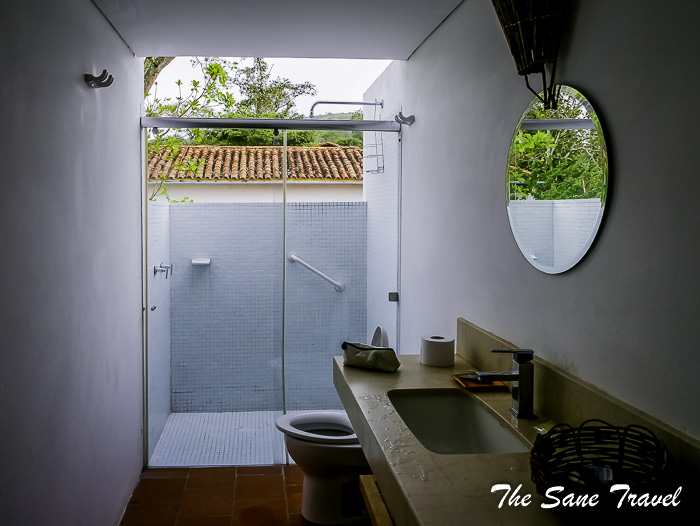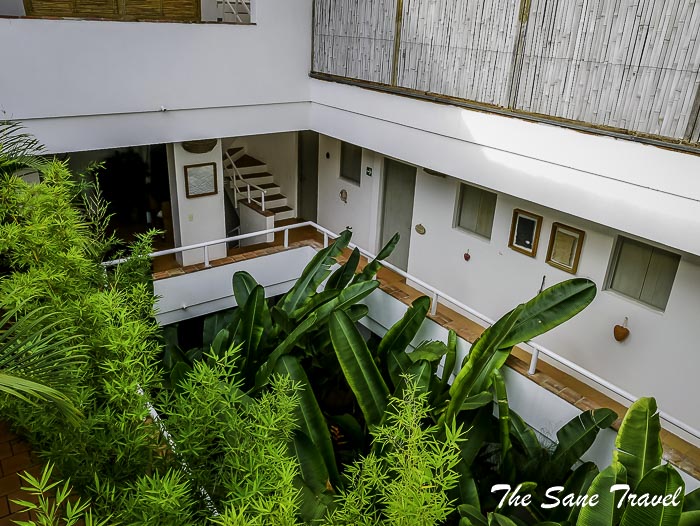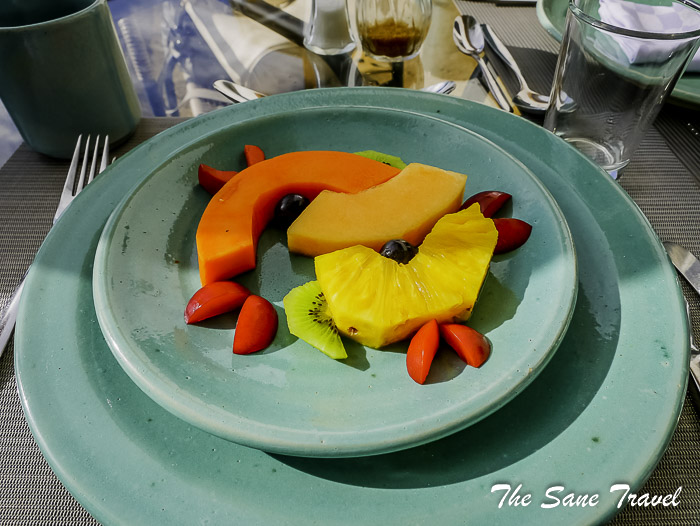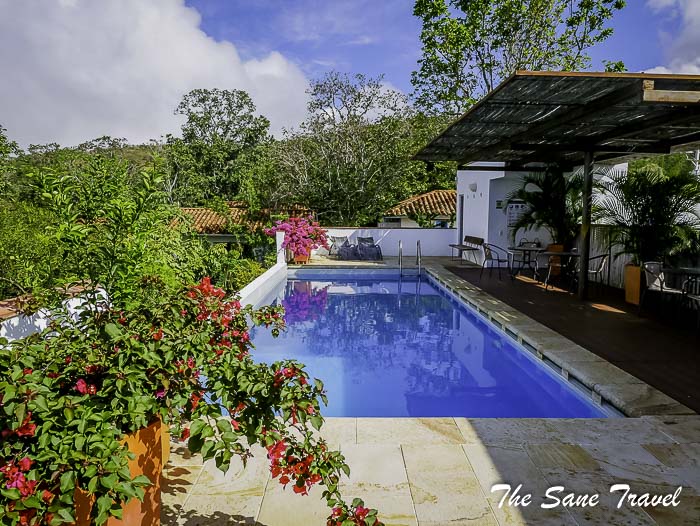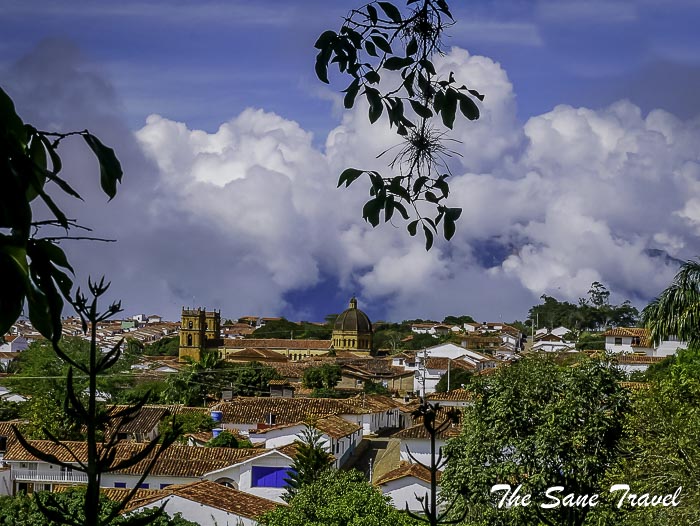 How to get to Barichara
San Gil is 24 km away from the Barichara. San Gil is located on the road between Bogotá and Bucaramanga, hence there are frequent buses to towns along this axis. From San Gil, it is easy to reach Barichara by local bus. The bus takes 40 minutes and runs every half an hour or so from the local bus station located on the corner of Carrera 11 and Calle 15. If, like us, you arrive at the bus terminal San Gil instead of the local bus station, don't worry. Even though it's about 2,5 kilometres from the local bus station, there are buses going to Barichara from there too. Just find a Barichara ticket window, buy your ticket and go.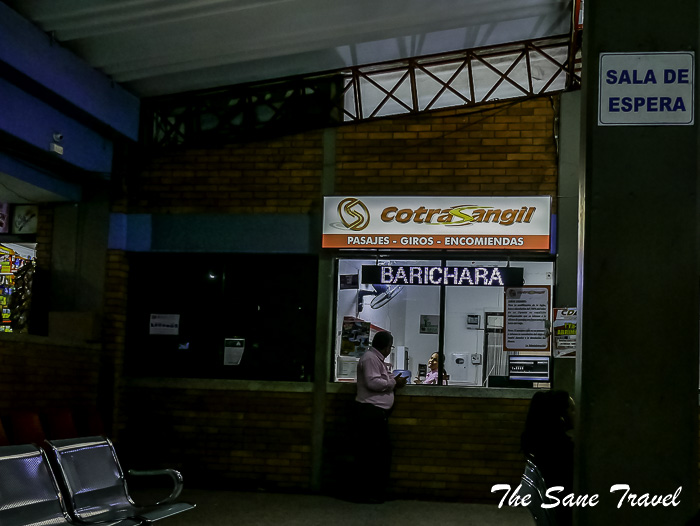 Like it? Pin it!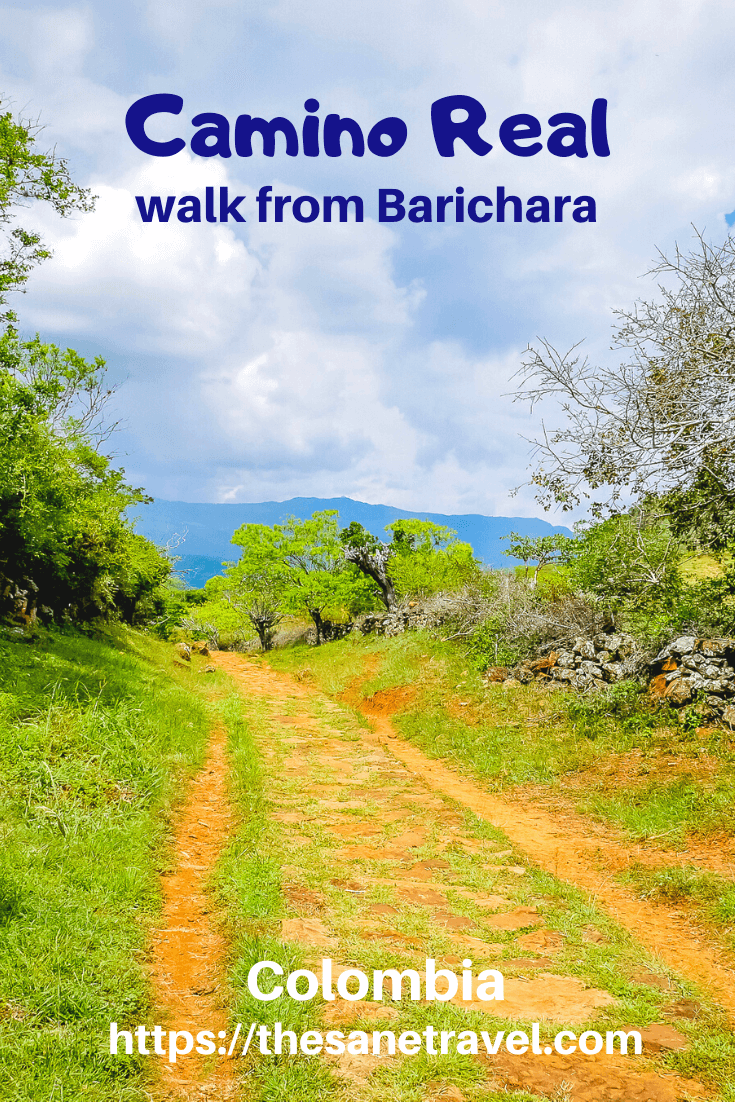 What did you think? Have you been to Barichara? Or perhaps you're thinking of visiting in the near future? Either way, I'd love to hear from you so please add your comments below.
Published by Anita on December 20, 2019
Author: Anita Sane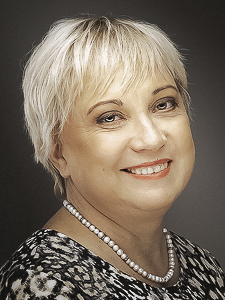 About the author
Anita is a part-time traveller, passionate photographer and a retired career woman from Latvia, travelling mostly solo for more than 15 years. She is a skilled travel planner who plans and executes her travels by herself. Anita wants to show you how to travel the world and open your mind to new experiences. Follow her on Facebook, Instagram, Pinterest, Twitter and Bloglovin.