Périgord Noir is a must-see destination in New Aquitaine, France. In all seasons, enjoy its stunning nature and hundreds of cultural sites to visit. At the heart of the valleys of Vézère and Dordogne, Périgord invites you to stroll and dream. Check this 48 hour road trip itinerary with some of the best sights of Perigord Noir, starting from the capital of Perigord, Perigueux. Among other things, the itinerary includes a visit to 4 out the of 150 most beautiful villages of France.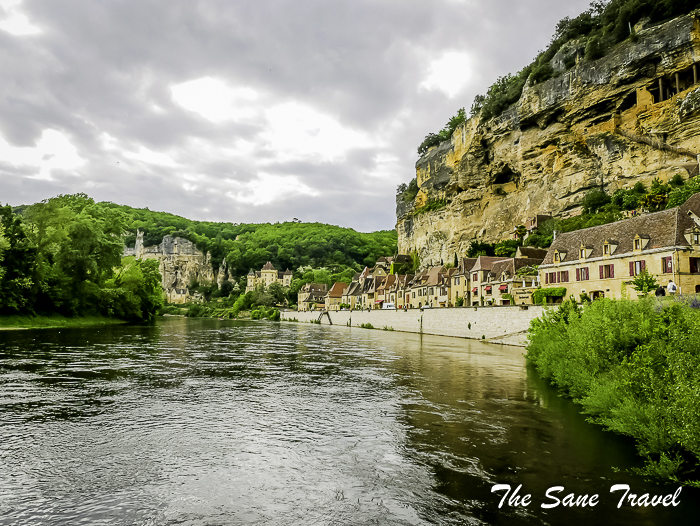 1 day
The first day at a glance: Perigueux-Montignac- Saint Amand de Coly- International Centre of Cave Art in Lascaux- Saint Leon sur Vezere- Montignac village walk- Dinner and night at hotel restaurant de Bouilhac.
There is just one English guided tour per day of International Centre of Cave Art in Lascaux in low season, so the first day itinerary is built around this time. Book your ticket in advance to make sure you see it.
Start your morning picking up a rented car from Europcar office in Perigueux. Drive to Saint Amand de Coly near Montignac.
8.20-9.30 Perigueux- Saint Amand de Coly 70 kilometres 1 hour 10 minutes
9.30-11.00 Visit Saint Amand de Coly village
Visit Saint Amand de Coly village
Saint-Amand-de-Coly has comfortably settled between wooded valleys of the Vézère river. The village is included in the list of 150 most beautiful villages of France. It is named after Saint Amand who was a hermit living in a cave in the hillside in the 6th century. Its 12th century abbey, considered as the most beautiful fortified church of Périgord, watches over the houses of the village, made of this sarladaise stone in an awesome contrast to ocher tones and grey.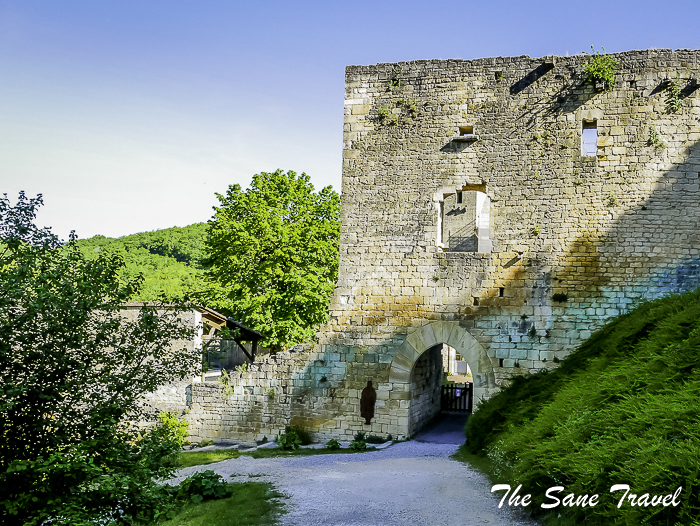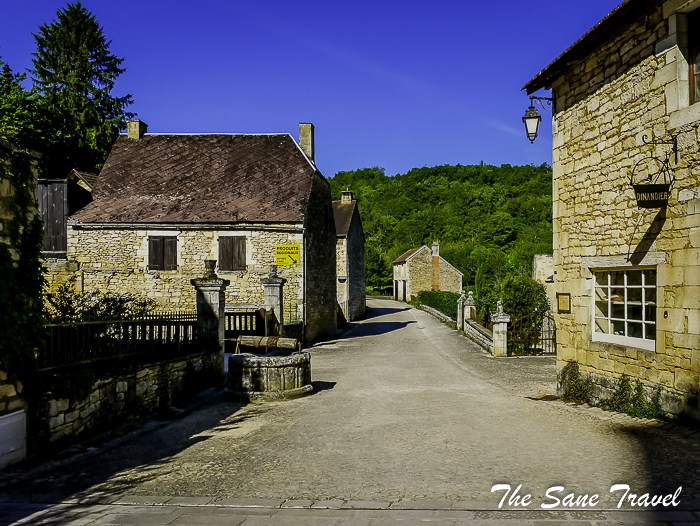 11.00-11.15 drive from Saint Amand de Coly to International Centre of Cave Art in Lascaux
11.30-13.30 Tour of International Centre of Cave Art in Lascaux
Tour of International Centre of Cave Art in Lascaux
In 1940, four teenagers discovered the cave with prehistoric drawings next to Montignac village. In 1963, for preservation reasons, it was closed for visitors. In 1979 Lascaux cave was included in UNESCO heritage list. In 2016, a replica representing the whole of the original cave was opened to the public. Inside the replica, the atmosphere is like a real cave. It is cool and dark. Visitors can appreciate the splendour of the works in an authentic atmosphere. Guided groups of no more than 32 visitors ensure that each visitor's experience is as personalised as possible.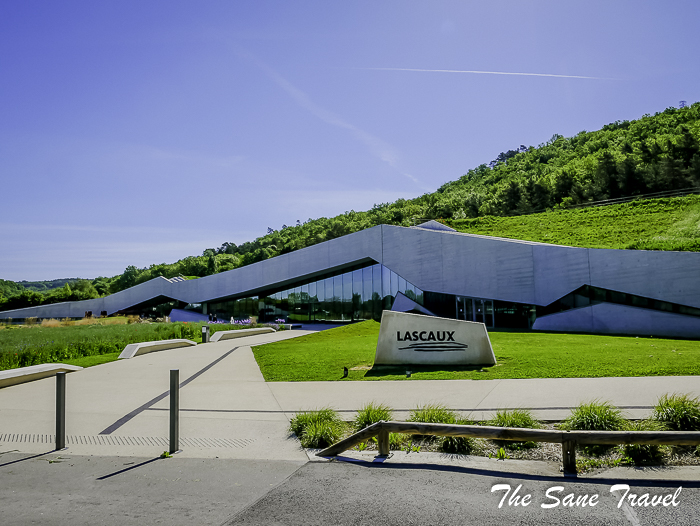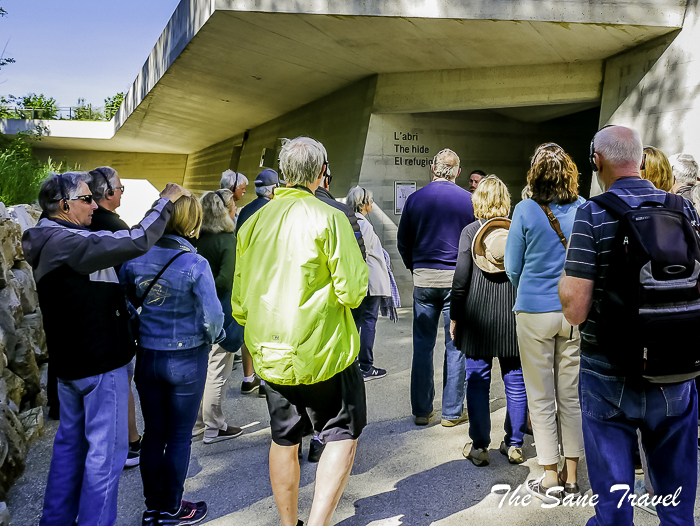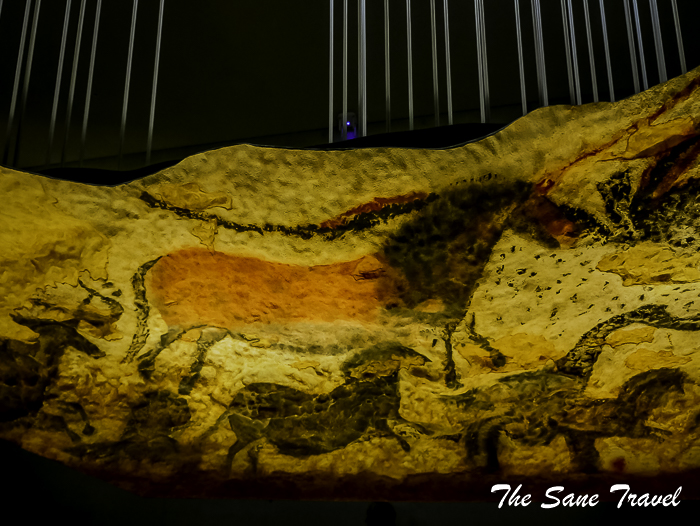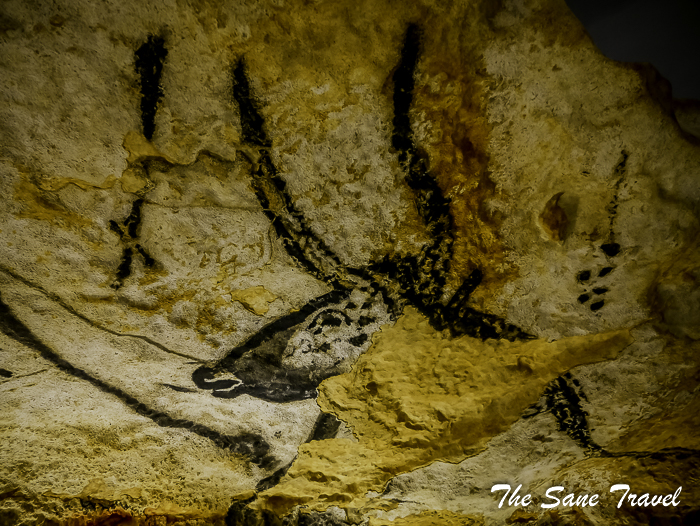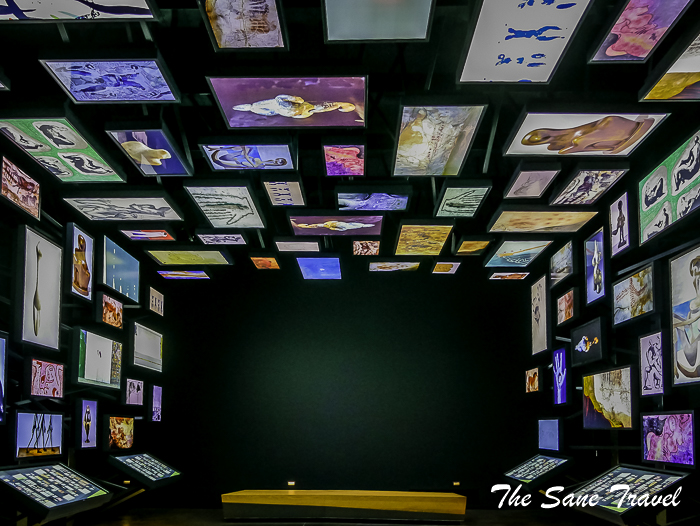 13.30-13.45 Drive from International Centre of Cave Art in Lascaux to Saint Leon sur Vezere 12 kilometres 15 minutes
13.45-16.00 Saint Leon sur Vezere lunch and walk
Saint Leon sur Vezere lunch and walk
This flourishing old port on the Vézère is part of a typical Périgord landscape. Well guarded by its castles - the Manoir de la Salle, at the entrance of the village; Clérans Castle, over the river; and the castle of Chabans, the flagship of the Jor coast - the village hosts the annual festival, Musical Périgord Noir, in the beautiful Romanesque church of the twelfth century.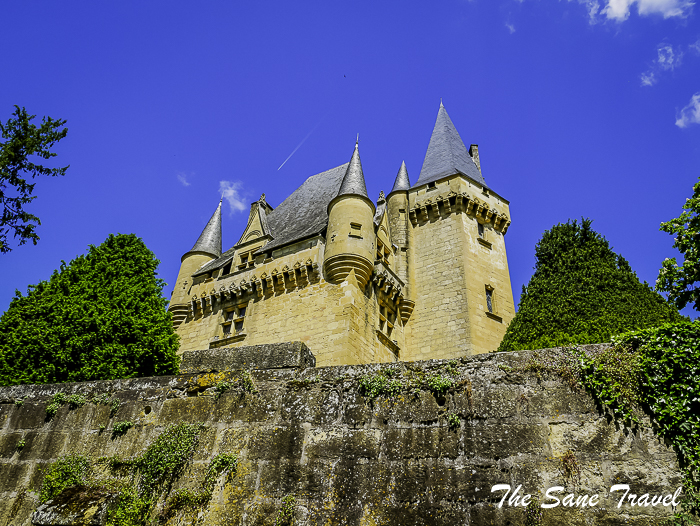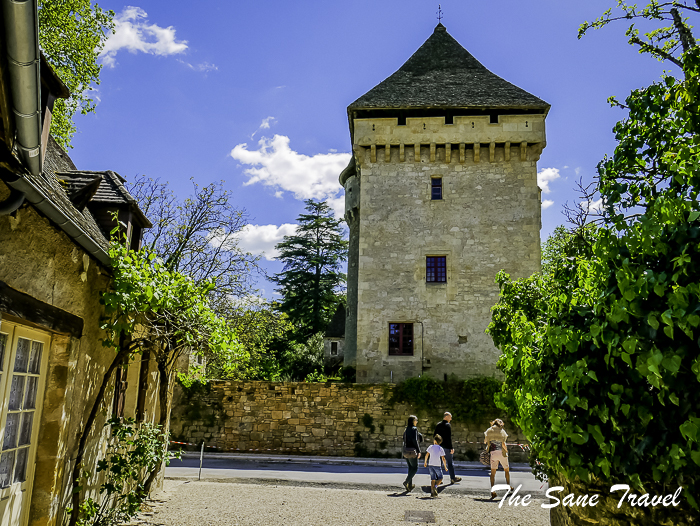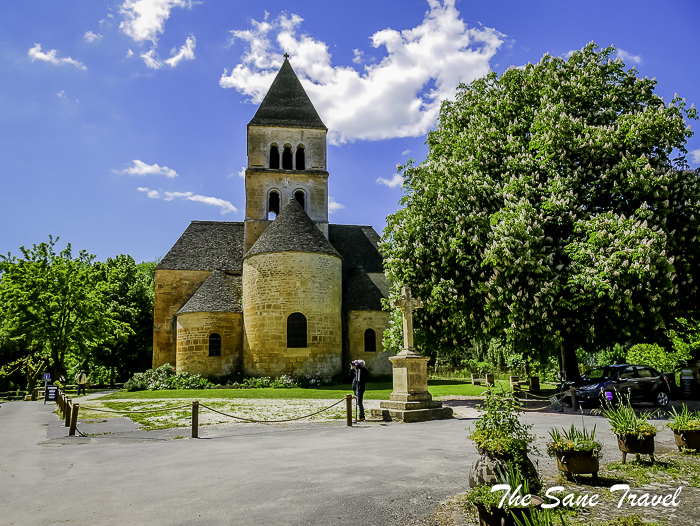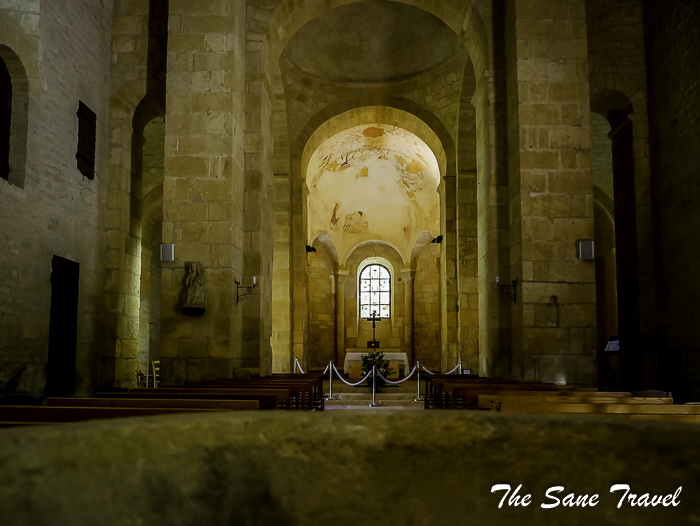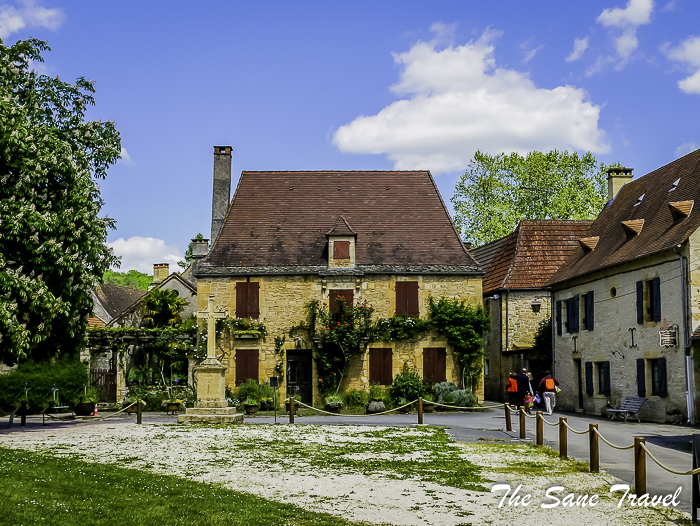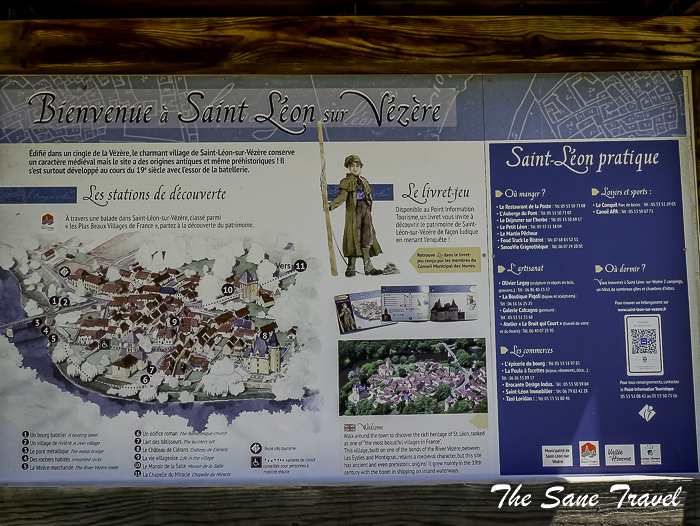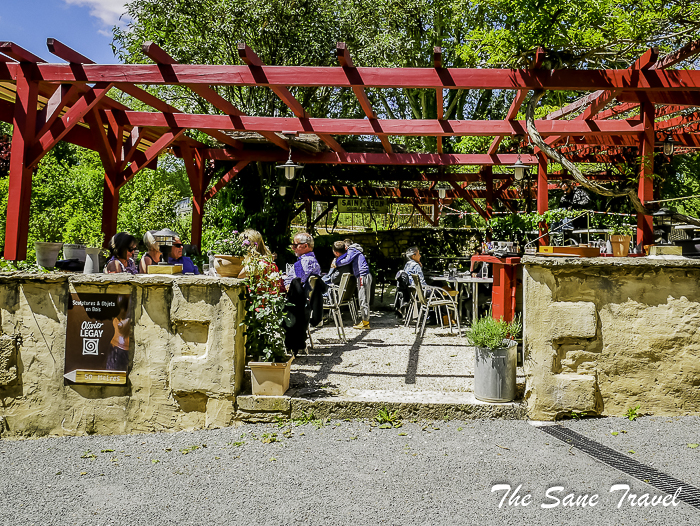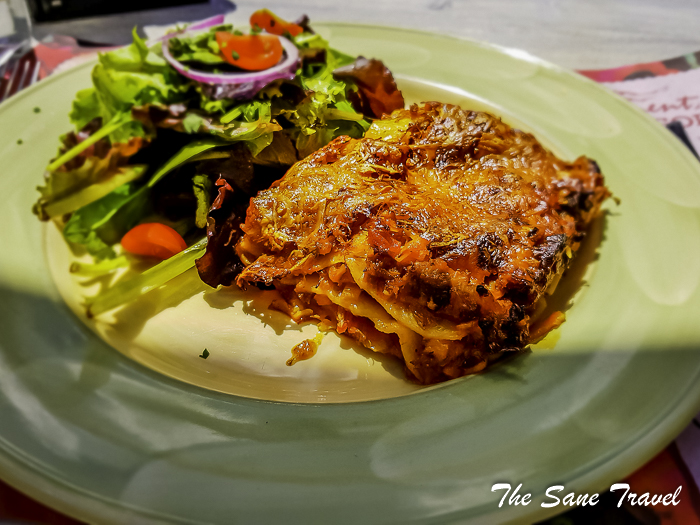 16.00- 16.20 Saint Leon sur Vezere - Montignac 12 kilometres 15 minutes
16.20-17.00 Check in hotel restaurant de Bouilhac
17.00-18.30 Montignac village walk

Montignac village walk
Starting at the tourist office, housed in the ancient Hopital of St Jean l'Evangeliste. Then check the Couvent des Clarisses built in the 18th century, and admire great views across the river at houses with an upper floor that sticks out over the lower floor. Continue your walk to reach the castle on a small hill. The views over the castle and the town below are superb. The main road in Montignac is Rue de la Pègerie, full of 14th century buildings that were once busy shops and homes to wealthy merchants. Head back down to the town and the Place de l'eglise to see the church. Near to the church is the lovely Place d'Armes that has some very nice houses dating from the 14-18th centuries.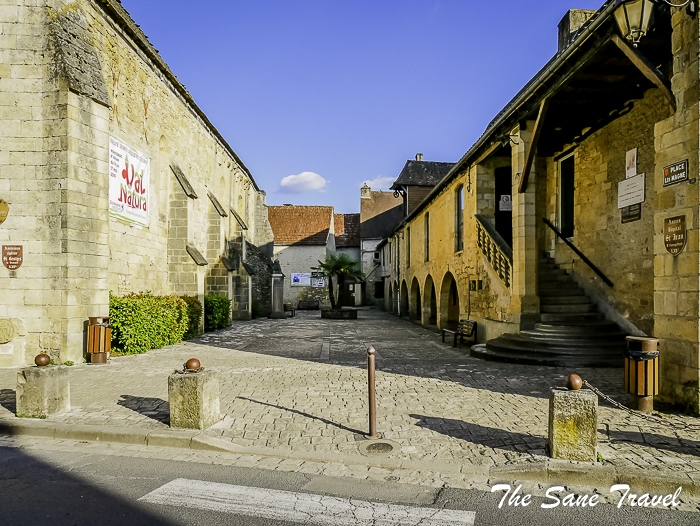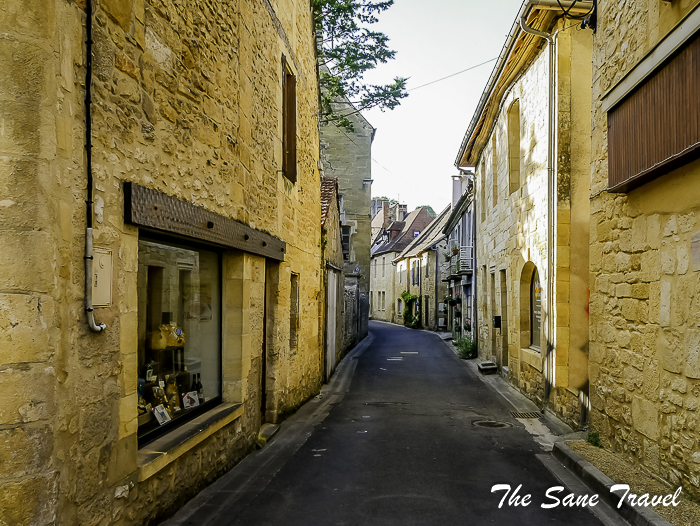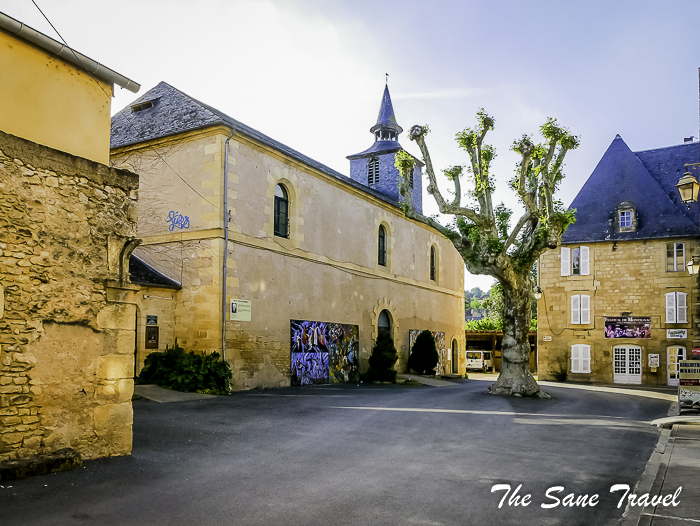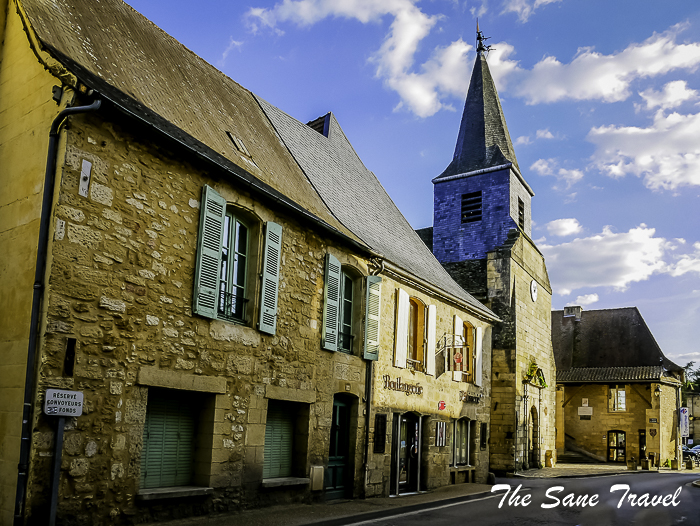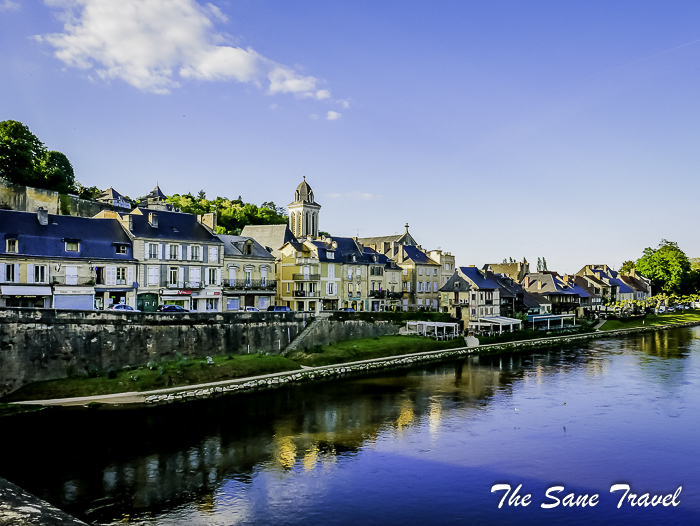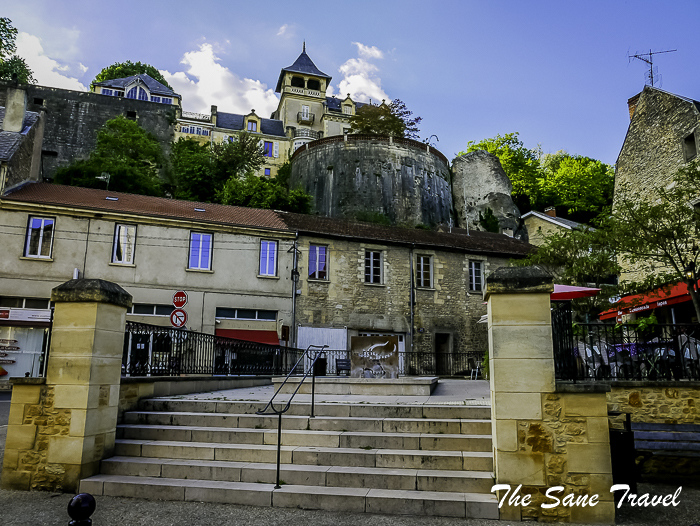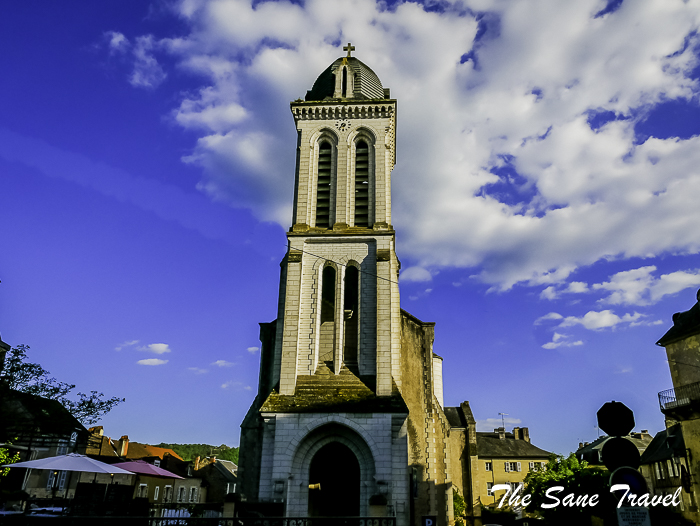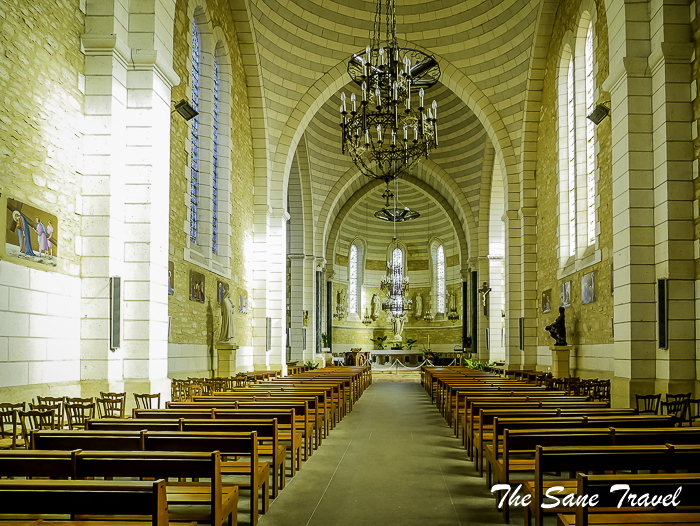 From 19.00 dinner and leisure time
Overnight at Hotel restaurant de Bouilhac
The 17th-century 4 star Hotel de Bouilhac is conveniently located in the heart of the village of Montignac close to the Lascaux Caves. This historic monument has been renovated and arranged to make you spend unforgettable moments there. By the way, rooms have names, not numbers.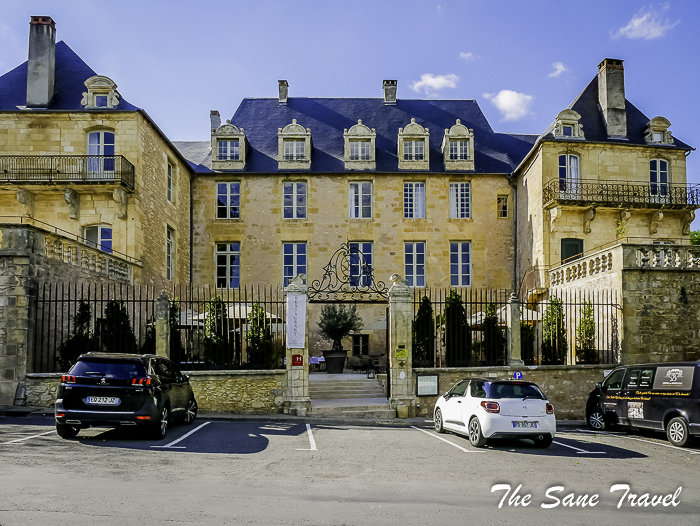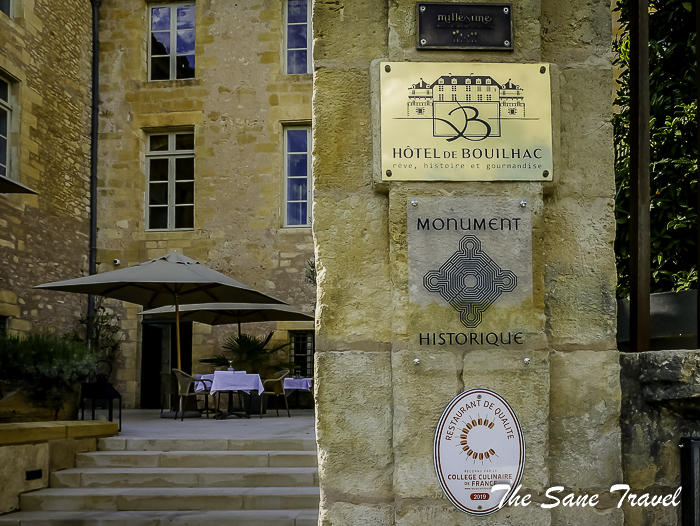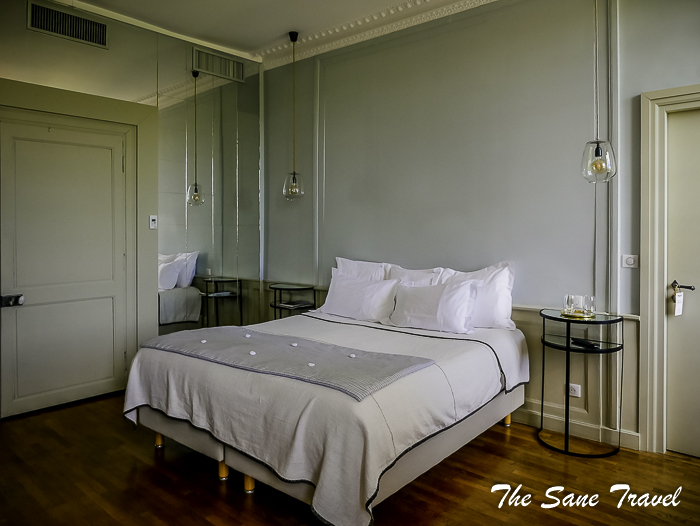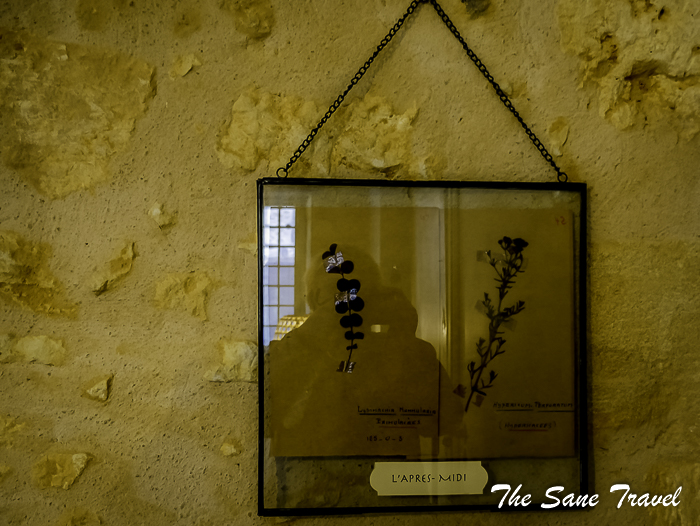 The Chef, Christophe Maury, welcomes you to the "Restaurant de Bouilhac" with its gourmet dishes, prepared with local quality products. They are an invitation to discover Périgord gastronomy. A tasty and daring cuisine, evolving with the seasons.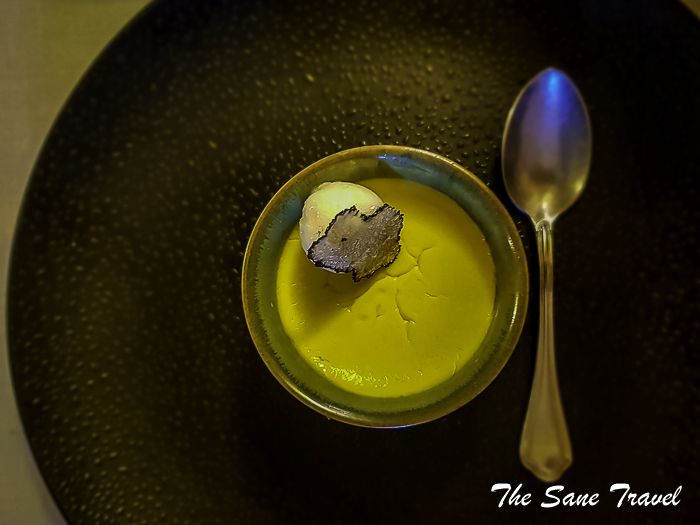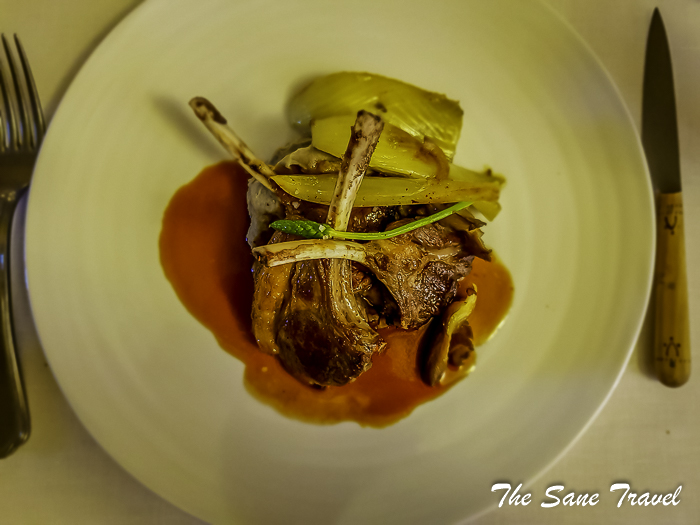 The breakfast room is just extraordinary. I felt like a member of a noble family when having my morning coffee and croissant.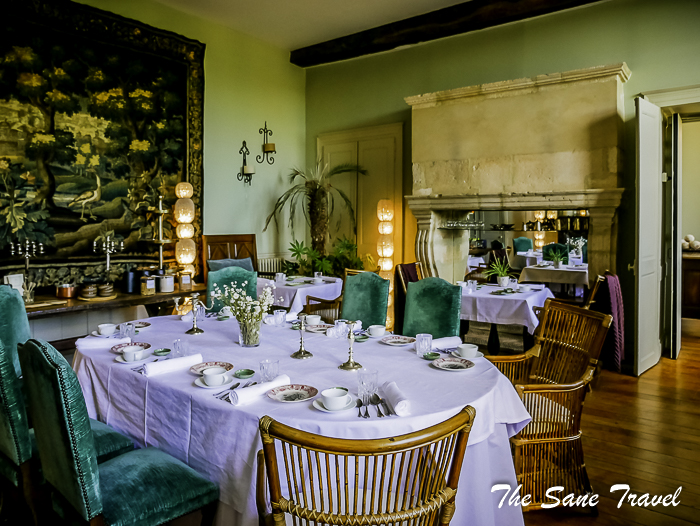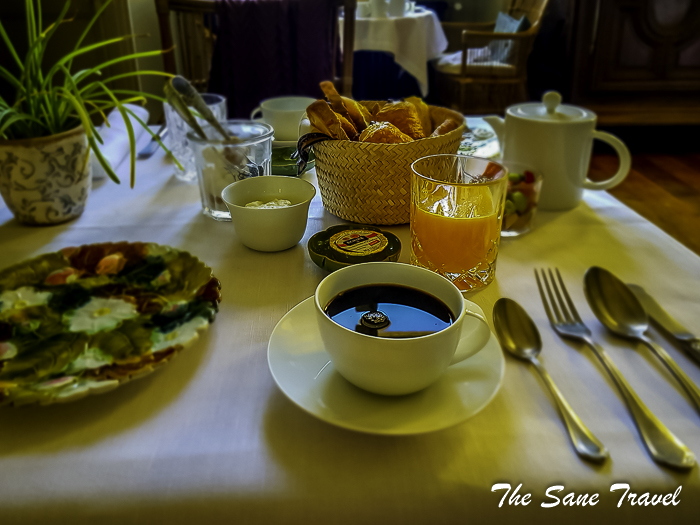 Day 2
The second day at a glance: Sarlat la Caneda - Les Jardins de Marqueyssac - Domme village - La Roque Gageac - Dinner and night at Hotel restaurant, La Belle Etoile.
9.00-9.30 After breakfast, drive to Sarlat la Caneda, less than 30 kilometres away
9.30-12.00 Self guided walking tour of Sarlat la Caneda
12.00-12.20 drive from Sarlat la Caneda to Les Jardins de Marqueyssac
12.20-15.30 Lunch at Restaurant & Salon de thé. Visit and walk Les Jardins de Marqueyssac
Les Jardins de Marqueyssac
Before your visit, have lunch at Restaurant & Salon de thé, open from April to November.
Then take your time admiring the gardens, opened to the public in 1997. The Gardens of Marqueyssac, located at the edge of a rocky spur that rises 130 metres above the Dordogne River, is one of the most spectacular sites in Périgord Noir. From the top of the cliff, visitors can admire landscapes and villages located on either side of one of the most beautiful rivers in Europe. The Italian style atmosphere, the elegance of 150,000 hand-trimmed boxwoods, the reminder of a 19th century naturalist, the beauty of the unobstructed views towards the horizon, it has it all. Marqueyssac offers 15 hectares of parkland and gardens and 6 km of paths. It has something to offer to each visitor: a romantic walk, a botanical journey, an exciting hike full of surprises or an educational adventure for those who love to learn.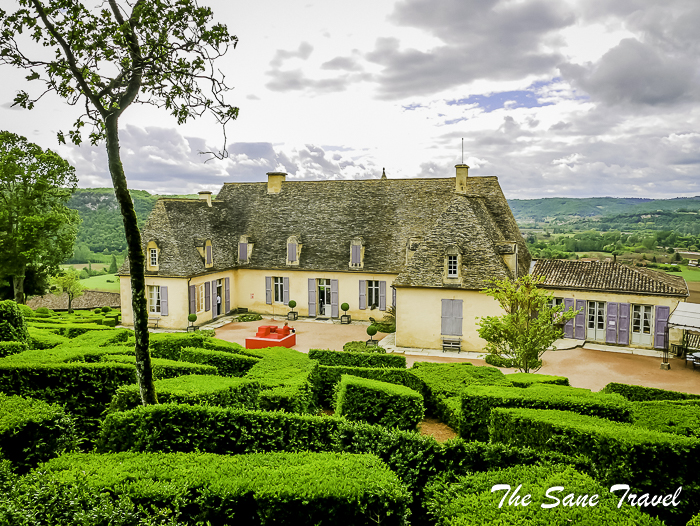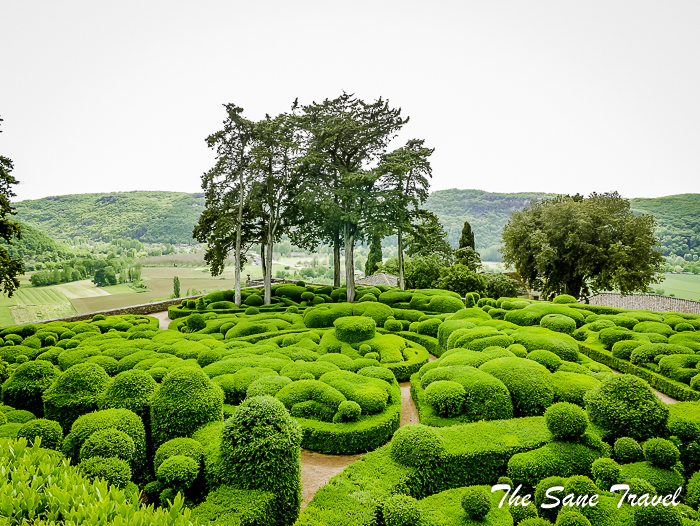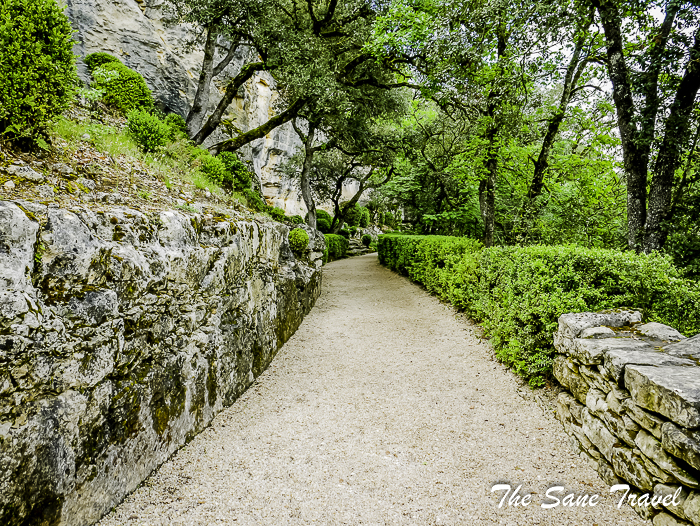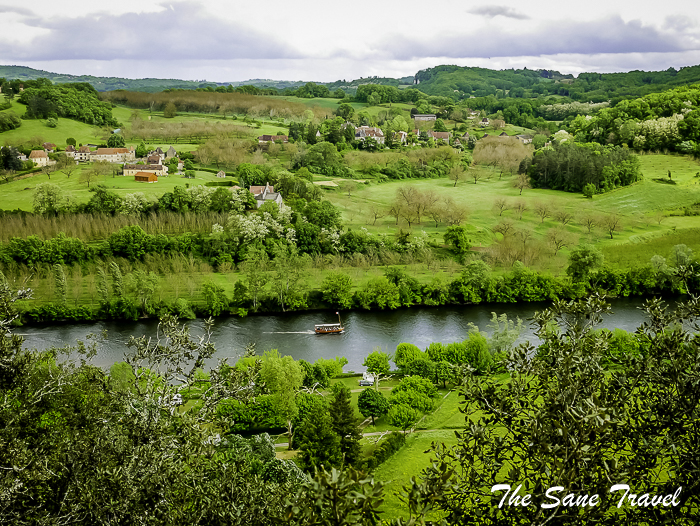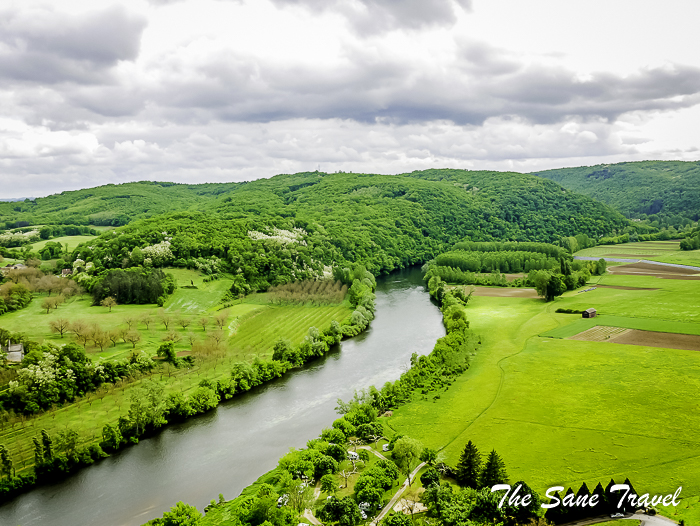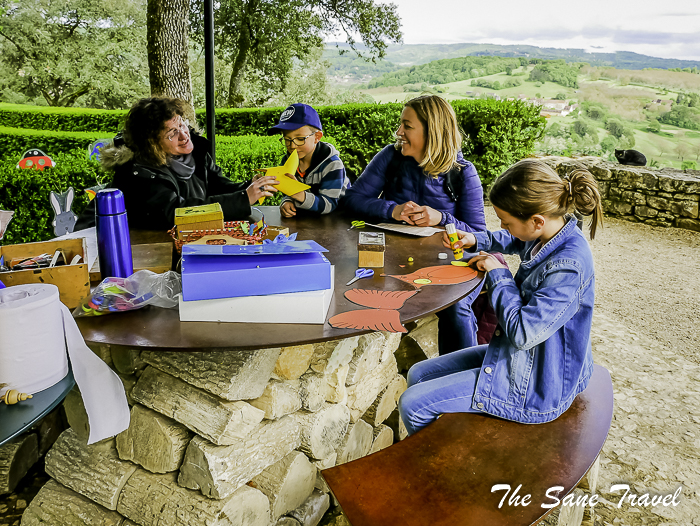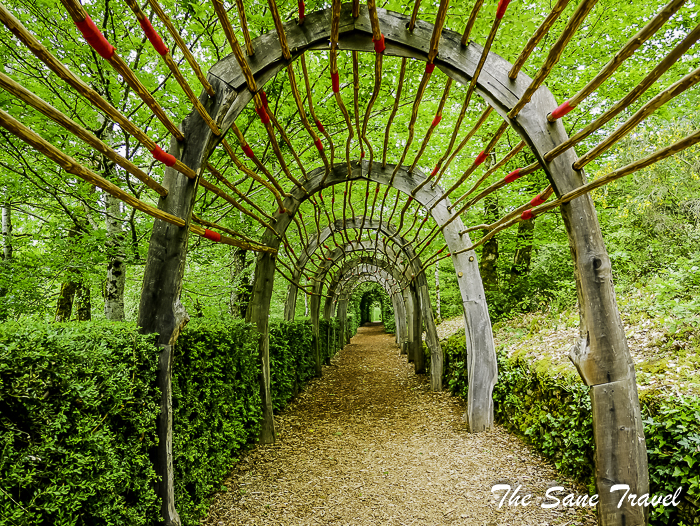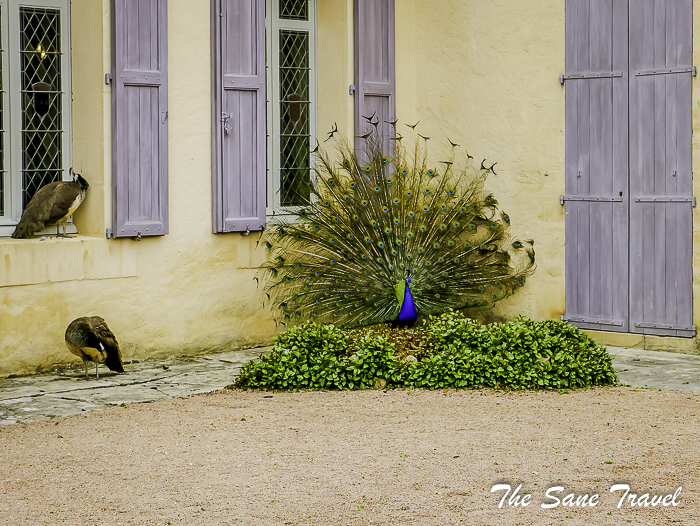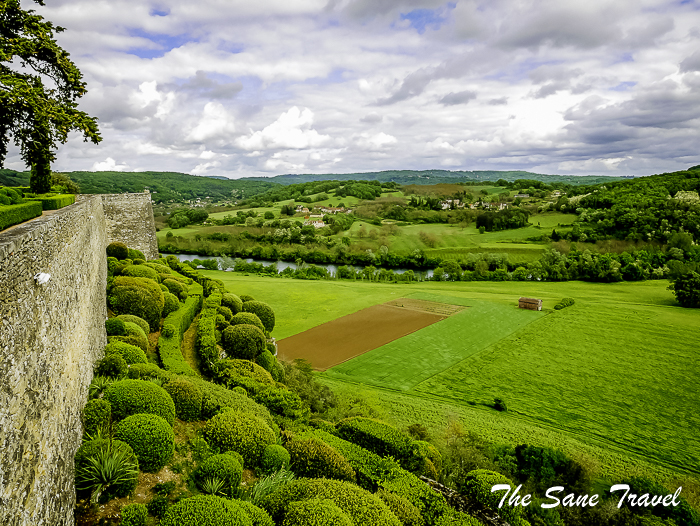 And yes, don't forget the dinosaur. This enormous carnosaur looks really impressive. It is 7.5 metres long, 2.5 metres tall and about 150 million years old.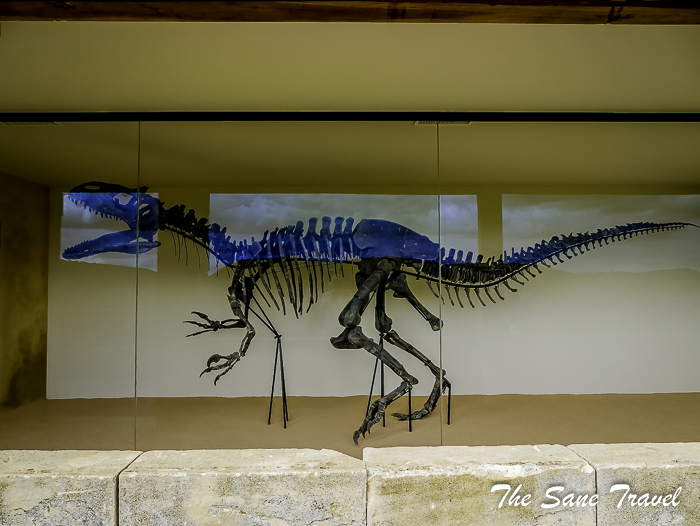 15.30-15.50 drive to Domme, 10 kilometres
15.50-17.50 visit to Domme village
Domme village
Domme is perched on a high cliff that allows you to enjoy an exceptional view of the Dordogne valley and other beautiful villages nearby. Domme retains part of its original fortified walls and three of the original gates have survived. The Porte des Tours, with its round towers, is perhaps the most impressive, but the Porte de la Combe and the Porte del Bos are also pretty and are reached by walking down the really lovely streets, lined with houses and cottages in the lovely honey-coloured stone, distinctive to this region. Also, this village is included in the list of 150 most beautiful villages of France. Children will like the little tourist train, the Domme Express.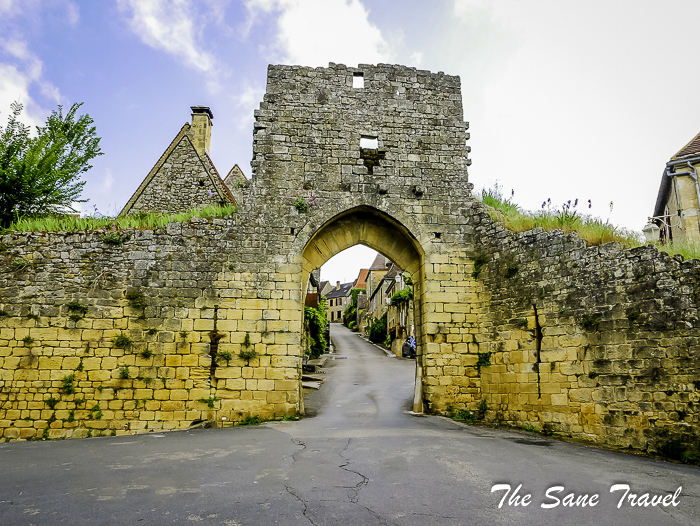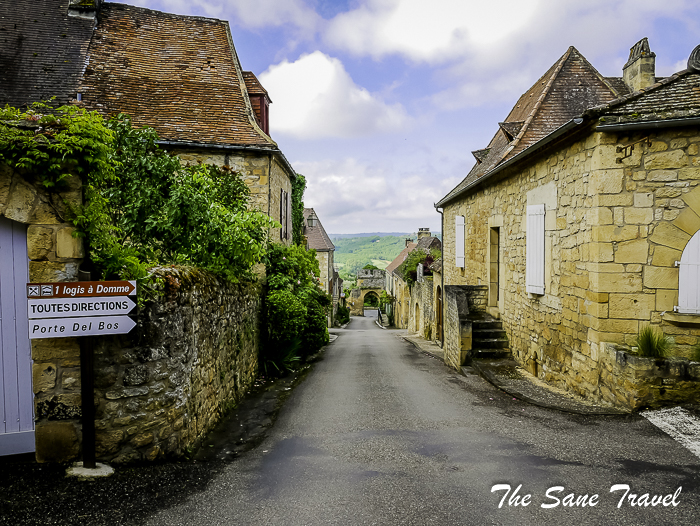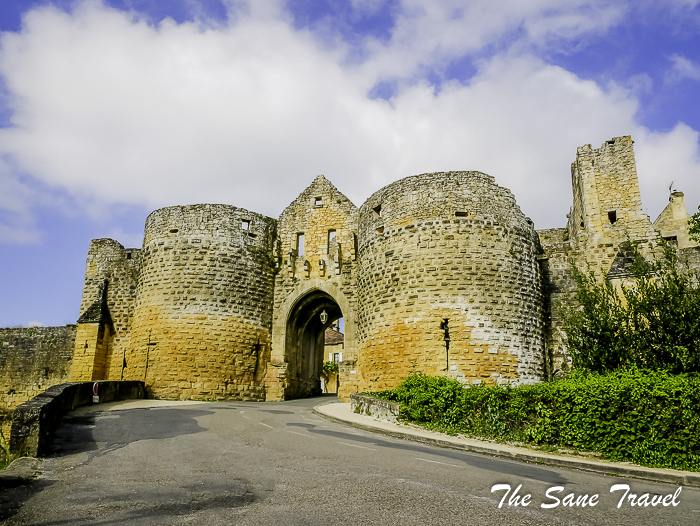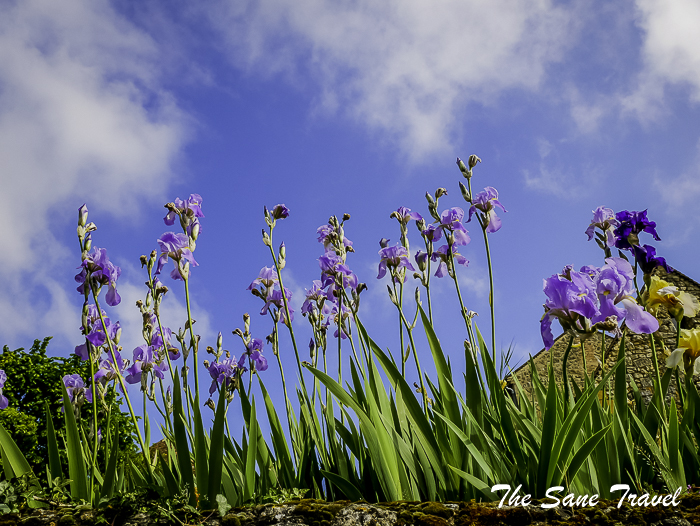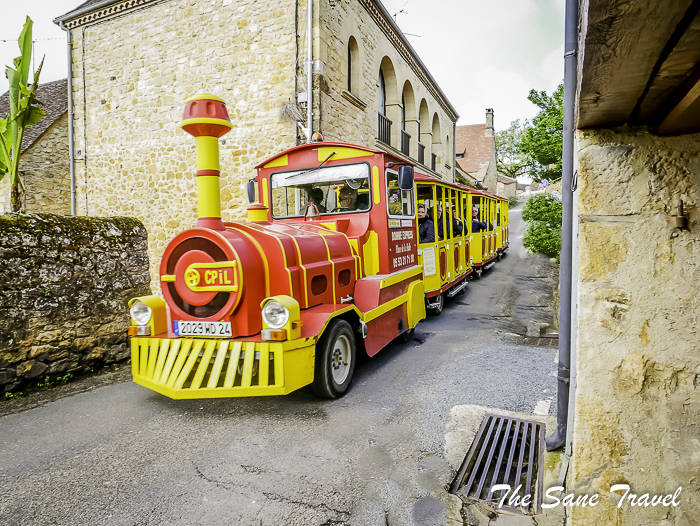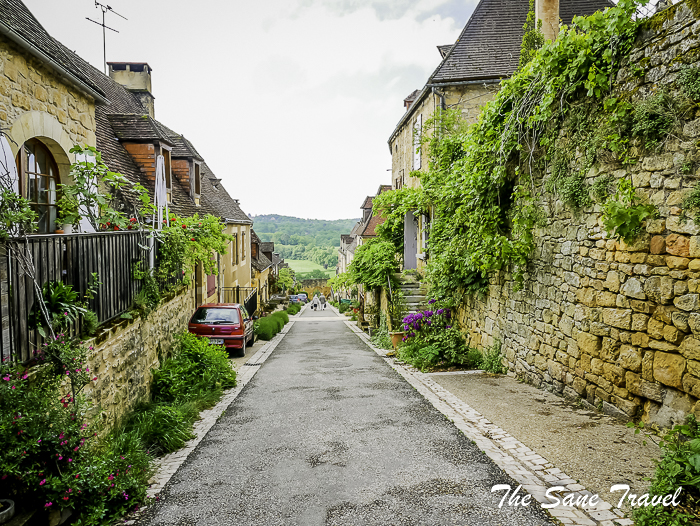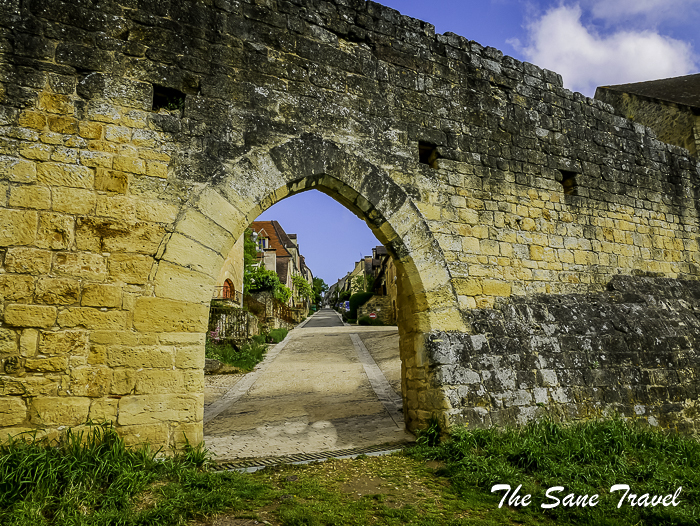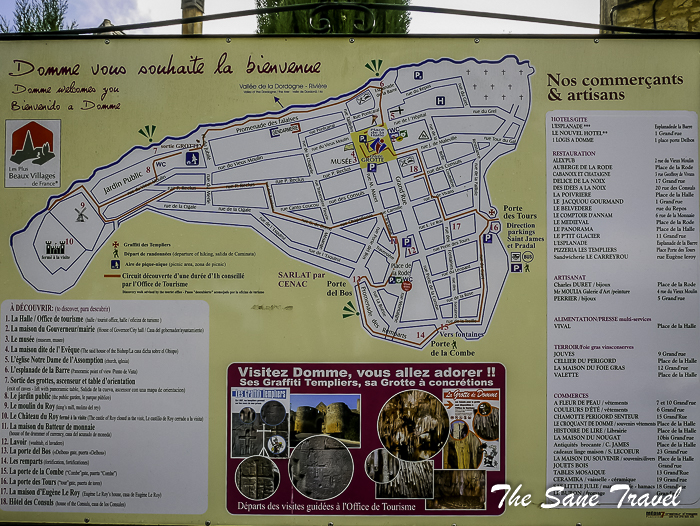 Maybe you will be luckier than me and the caves under Domme will be open at the time of your visit. The entrance to Grotte de Domme is at the main square.
17.50-18.00 Drive to La Roque Gageac
18.00-19.30 Check in Hotel restaurant la Belle Etoile and leisurely walk around La Roque Gageac
La Roque Gageac
La Roque-Gageac has a magnificent location. A row of riverside houses, squeezed between the Dordogne river and the overhanging cliffs behind, makes it very picturesque. As you follow the uphill path, first you pass an impressive Renaissance style manor house, the 15th century Manoir de Tarde, with a large tower overlooking the village, then you reach the caves. They were developed as a fort from the 12th century onwards. If you decide to stay there longer, take a boat ride to explore the river.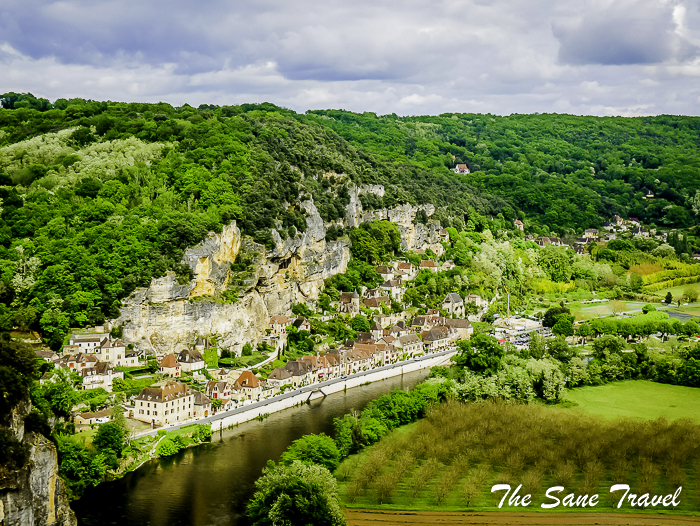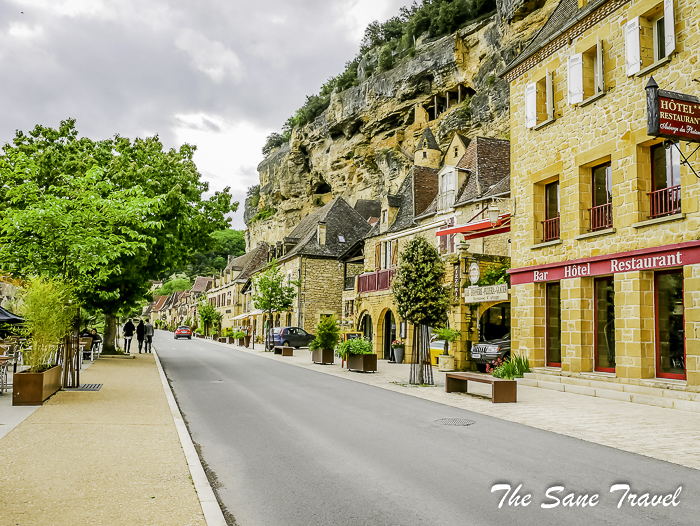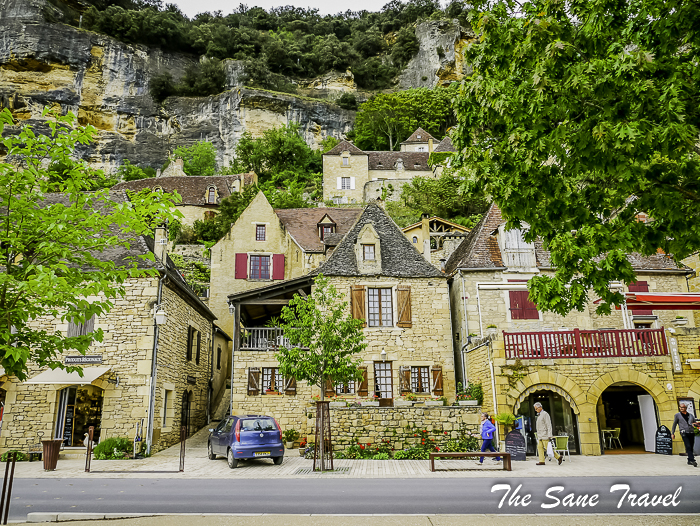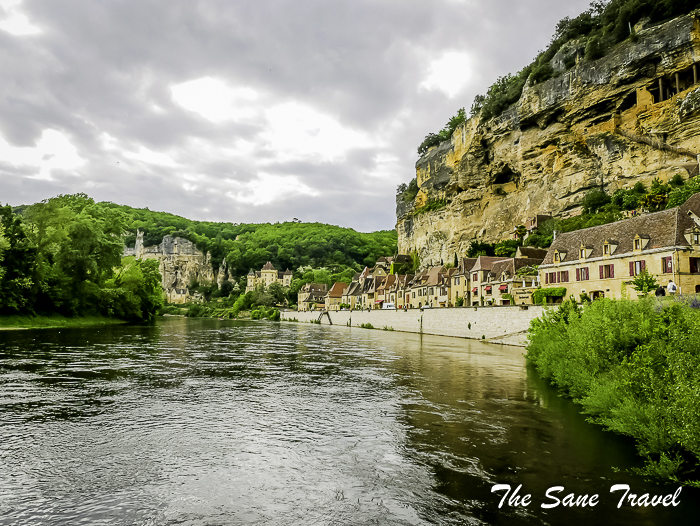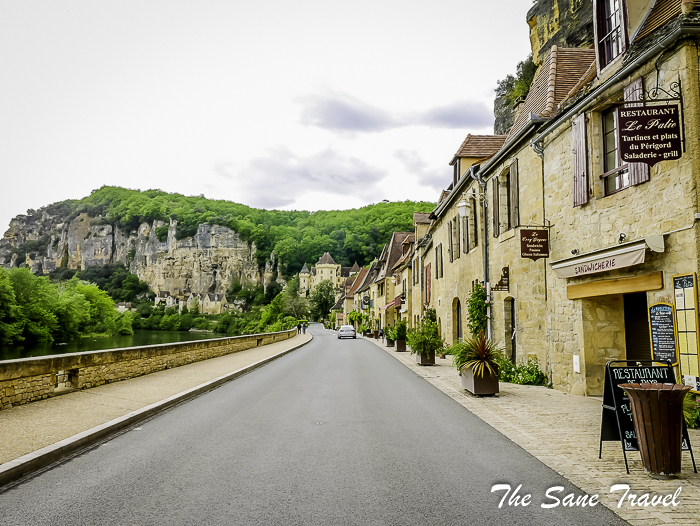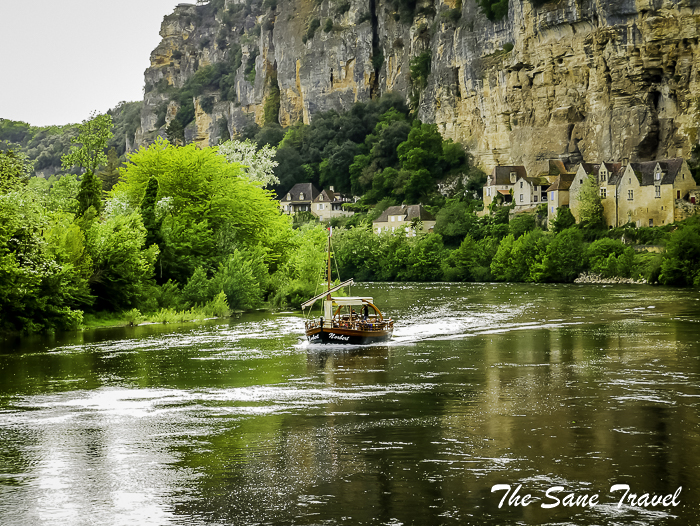 from19.30 dinner and overnight at Hotel restaurant, La Belle Etoile
The hotel restaurant, La Belle Etoile
Hotel Restaurant Logis La Belle Etoile is an old family establishment in one of the most beautiful villages in France. It has magnificent views over the River Dordogne, a terrace, and air conditioned bedrooms with free Wifi. Most of the rooms have a river view. I loved the interiors of public areas and the nice cosy feel of the place.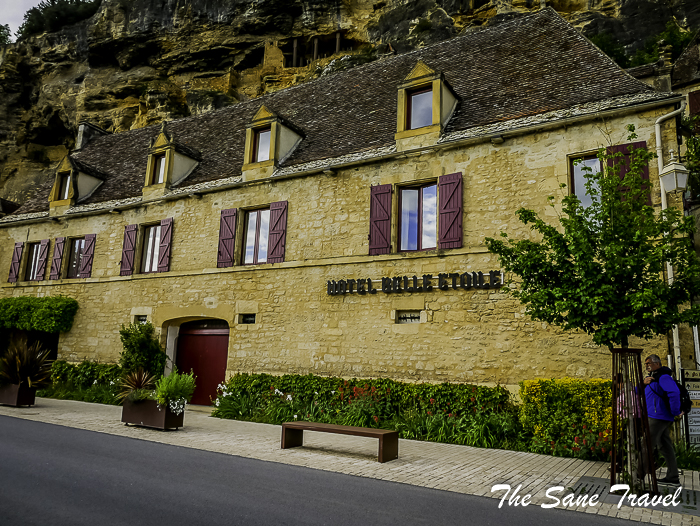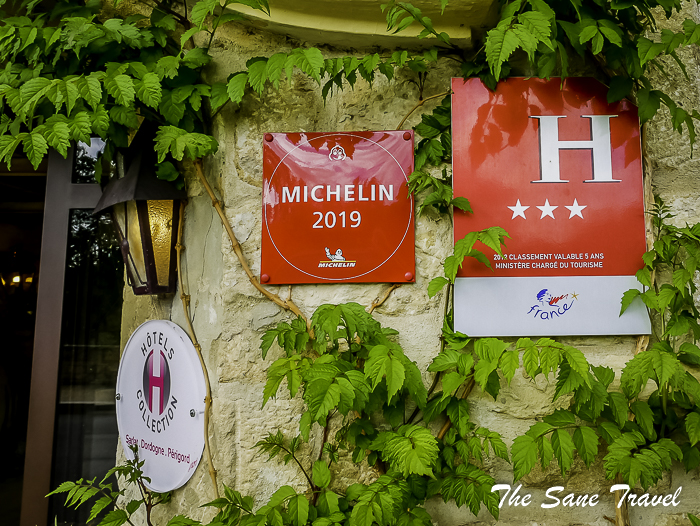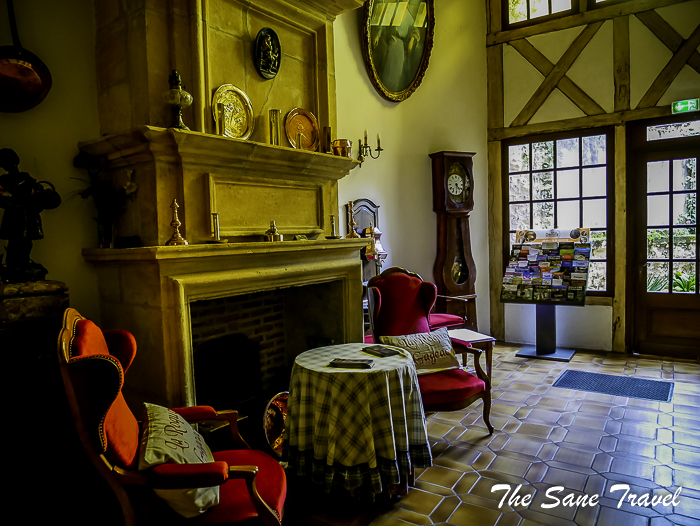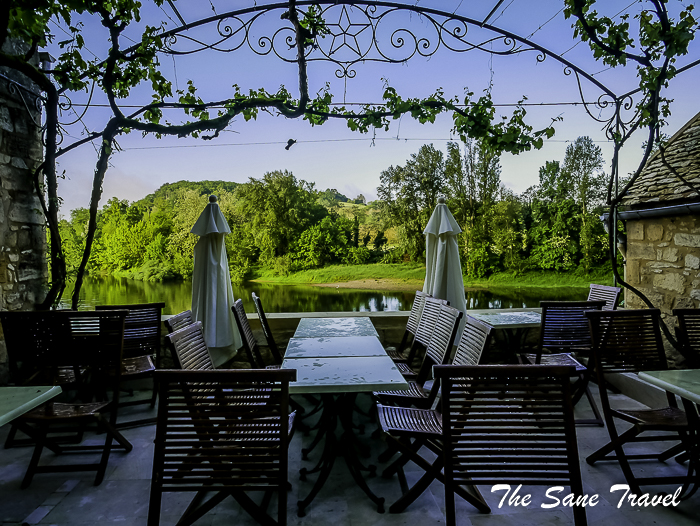 This is an ideal opportunity to discover the best local products of the Périgord, a region famous for its gastronomic specialities. The cuisine is of a very high standard and has received Michelin acknowledgement for that. It offers the best of the Périgord's renowned traditional specialities, with a distinct innovative touch. The restaurant is closed on Mondays.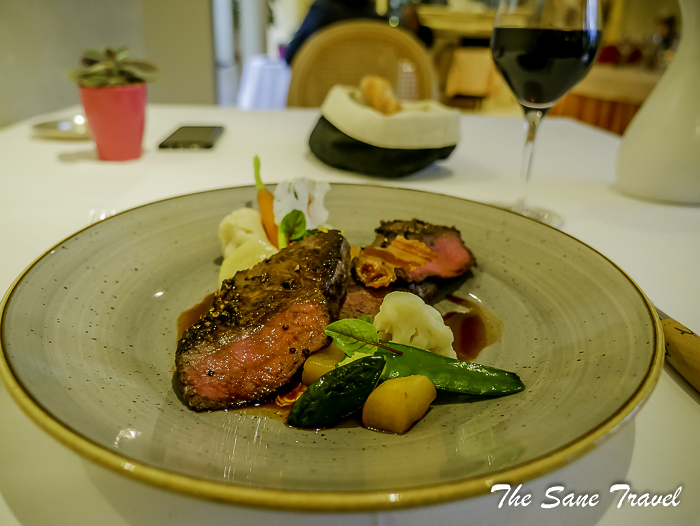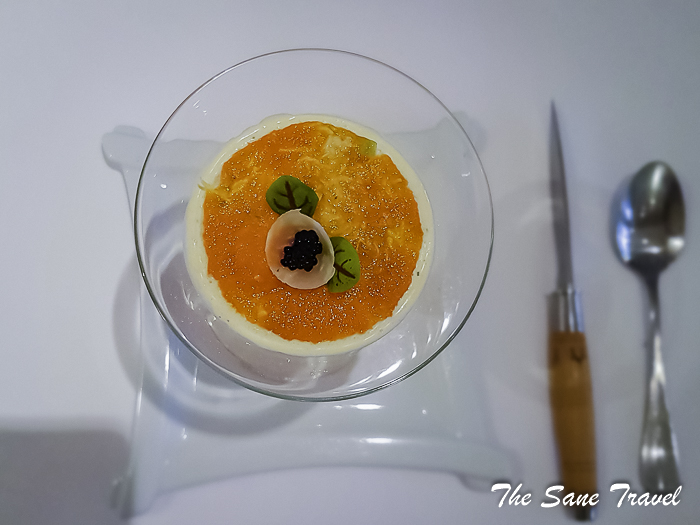 Practical tips
The villages included in the list of the "Most beautiful villages in France" are definitely places to avoid in peak tourist periods, unless you really want to see them and have no other time to do so. If this is the case, make sure to choose a weekday, not a weekend. The same is true for Sarlat. I visited it in early May and did not see crowds of people in any of the villages so it might be a good time for a visit. Sarlat was quite busy but not crowded even at that time.
Looking where to travel next in France? Check what Nice has to offer!
Disclaimer: This article is based on my press trip experience to Perigord, Dordogne. I was kindly invited by the Comite Departemental Tourisme Dordogne. As always, all opinions and thoughts are my own. I had a great time and I wish you the same! Happy travels!
Like it? Pin it!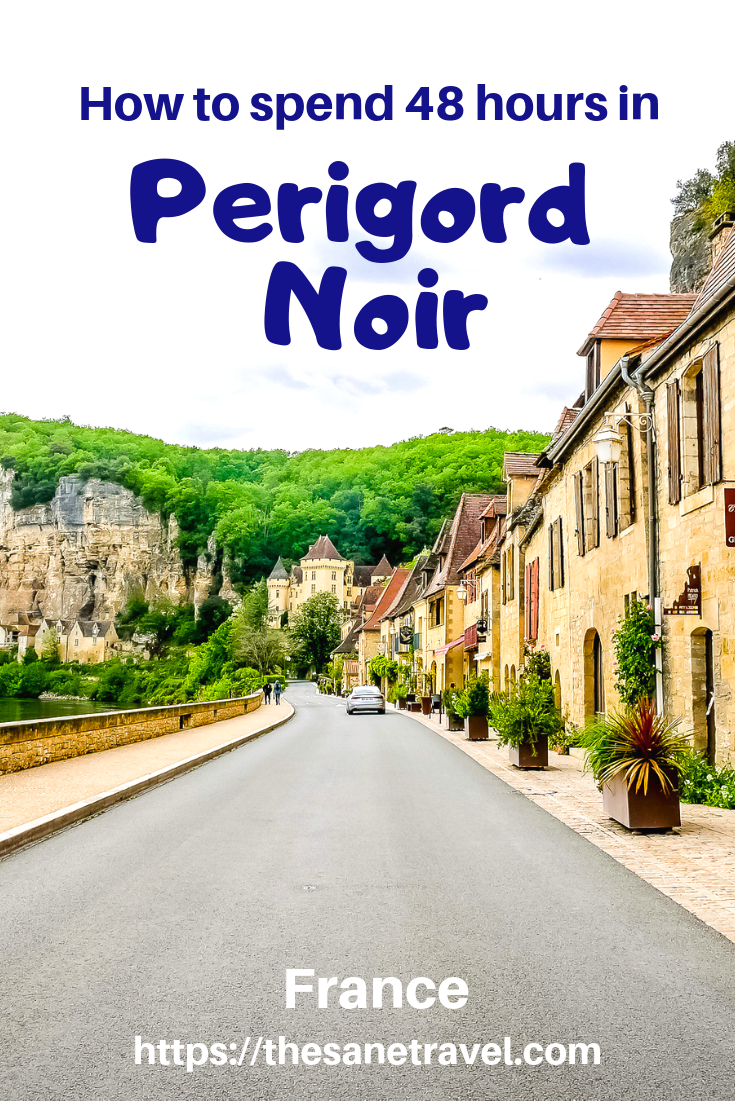 What did you think? Have you been to Perigord Noir? Or perhaps you're thinking of visiting there in the near future? Either way, I'd love to hear from you so please add your comments below.
Published by Anita on June 6, 2019
Author: Anita Sāne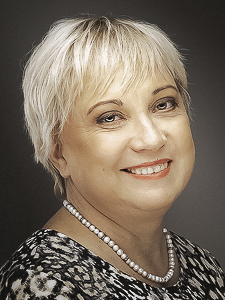 About the author
Anita is a part-time traveler, passionate photographer, and a retired career woman from Latvia, traveling mostly solo for more than 15 years. She is a skilled travel planner planning and executing her travels by herself. Anita wants to show you how to travel the world and open your mind to new experiences. Follow her also on Facebook, Instagram, Pinterest, Twitter, and Bloglovin.