When you visit Crete in Greece, hiking Samaria Gorge may become your once-in-a-lifetime experience. Even if it is often advertised as a day tour for almost everyone, keep in mind that you will have to walk almost 14 kilometres on a rough and rocky gorge terrain and cross a river several times all by yourself. Do not forget that you will have to walk additional 3 kilometres from the exit of the park to the ferry stop if you are not lucky to catch a local bus. With that in mind, check my first-hand experience before making your decisions about this hike.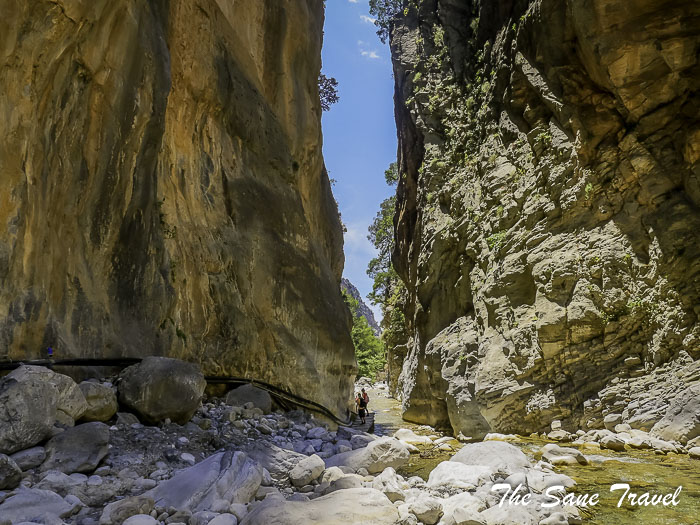 About Samaria Gorge
The Samaria Gorge National Park is located in southwest Crete. The entrance to the gorge is at Xyloskalo, 1,230 metres above sea level, and runs down to the seaside village of Agia Roumeli on the southern coast of Crete at the Libyan Sea. The gorge's width ranges from 150 metres at its widest point to 3 metres at its narrowest point, which is also the most famous part of the gorge, known as "the Gates", where its walls soar up to a height of about 100 metres. The river Tarraios, named after the ancient city of Tarra, runs the entire length of the gorge.
Samaria Gorge hike
The average time spent walking through the Samaria Gorge is 4-6 hours or even more on a rough, rocky footpath along the riverbed. It is mostly downhill and quite steep at the beginning. The trail starts among the White Mountains and winds down into a deep gorge.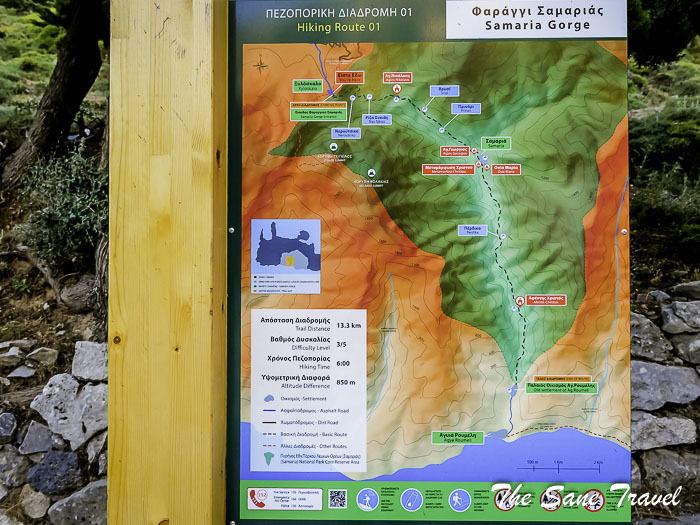 Hikers are rewarded with stunning views all the way.
An early start from Chania
I took a tour from Chania departing from the town at 6 a.m. I arrived at the entrance to the gorge an hour later and spent some time at a local cafe drinking coffee and buying some food.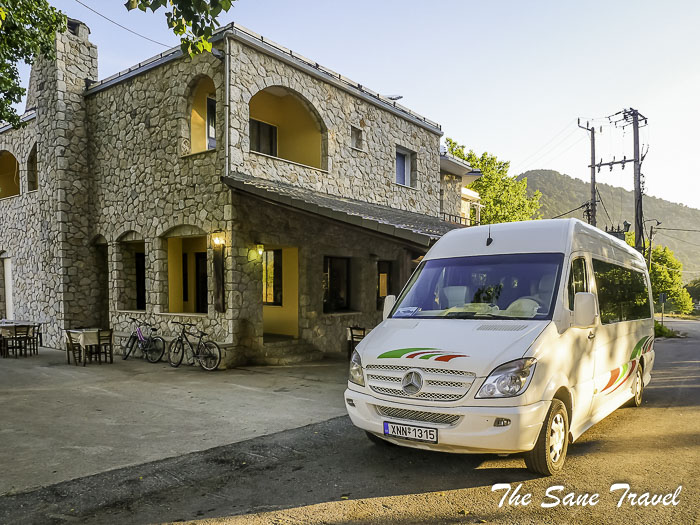 The place was not exactly cheap. I paid 2.5 euros for a small cup of instant coffee I usually do not drink. After our experienced guide had given us a clear time schedule for the walk, we started to hike at 7:20 a.m.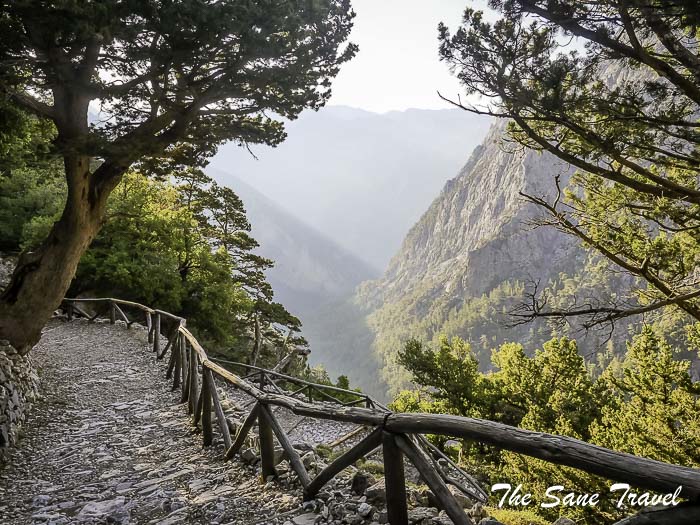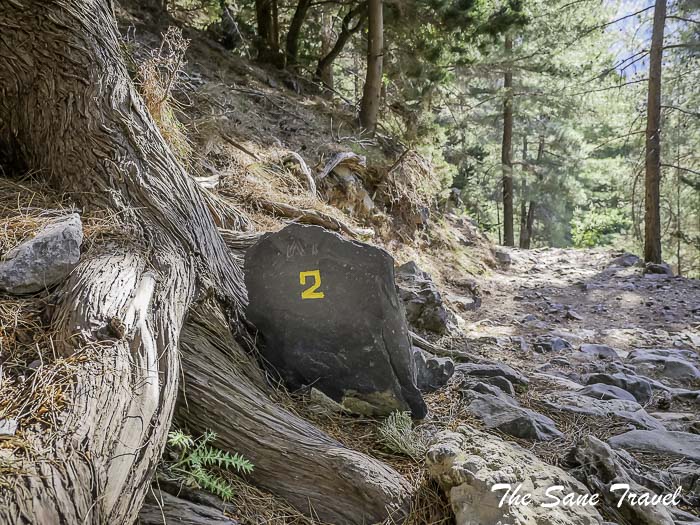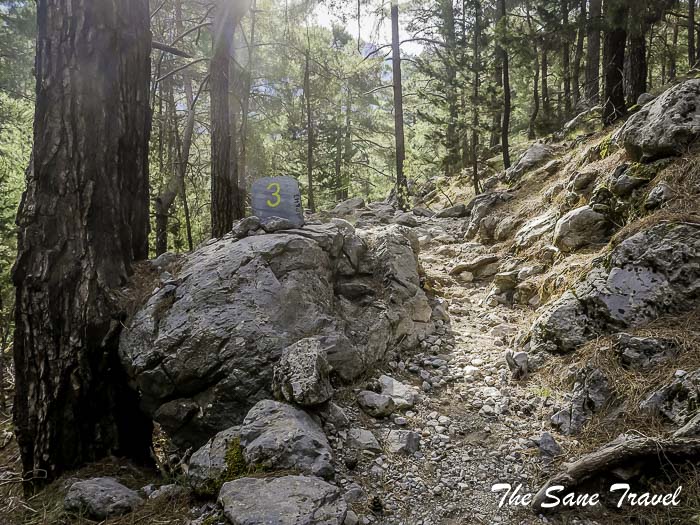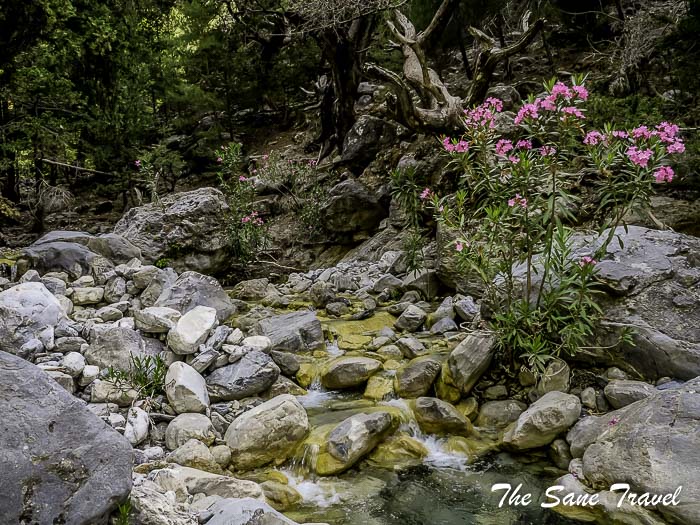 Agios Nikolaos
Our first designated stop was Agios Nikolaos located about 3.7 kilometres from the park entrance. This part of the hike was quite steep and was going down almost all the time. I had to watch my step most of the time because of the rocky and uneven surface. I arrived at Agios Nikolaus at 9 p.m. for a short break before heading to our next stop at an abandoned Samaria Village.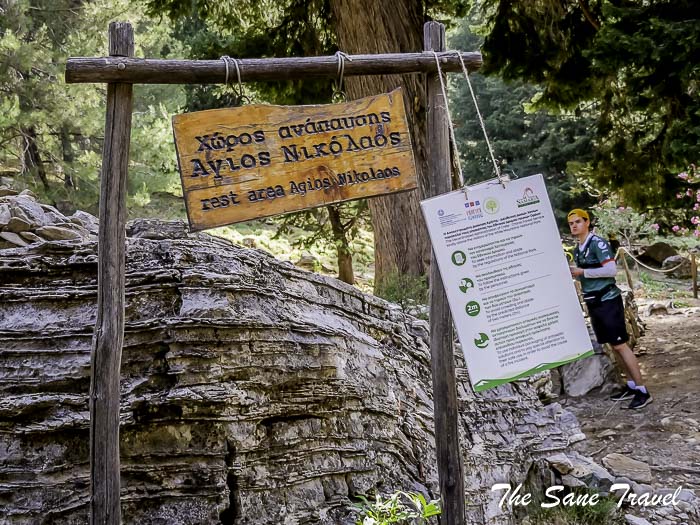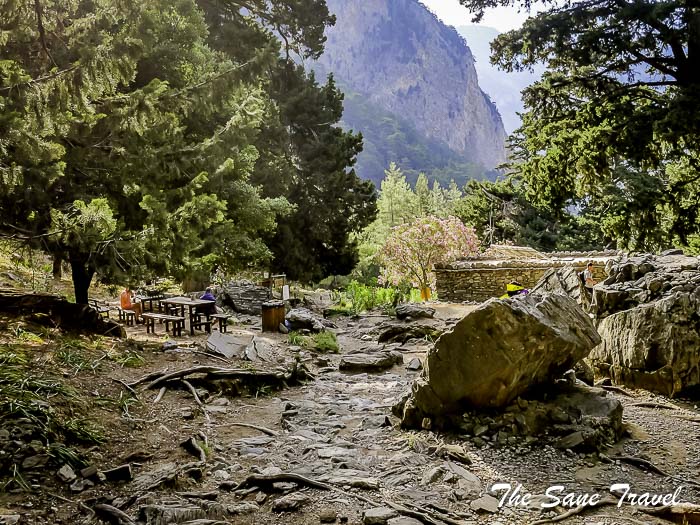 The next part of the hike to Samaria Village was approximately 3–4 kilometres. It looked different from the first part. Now the trail was leading through a dry riverbed or next to it.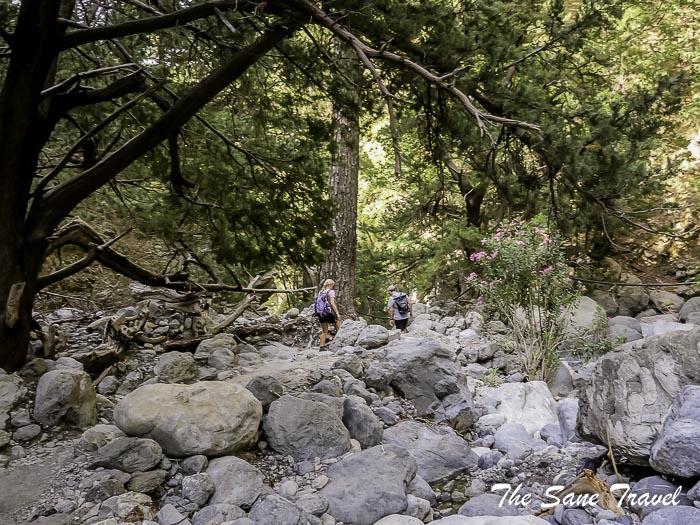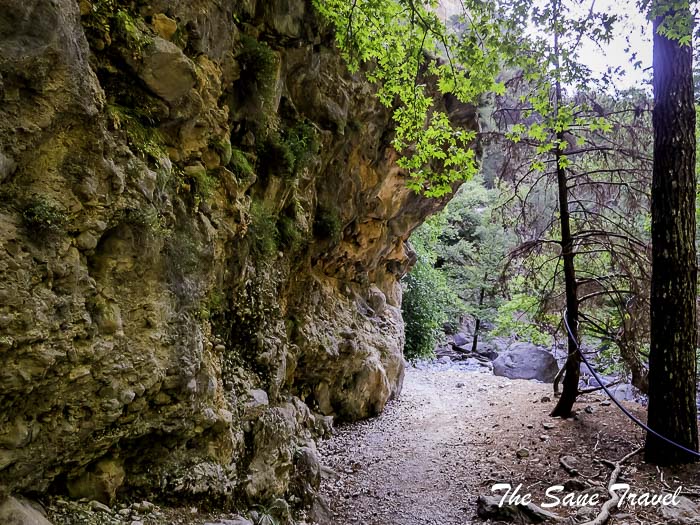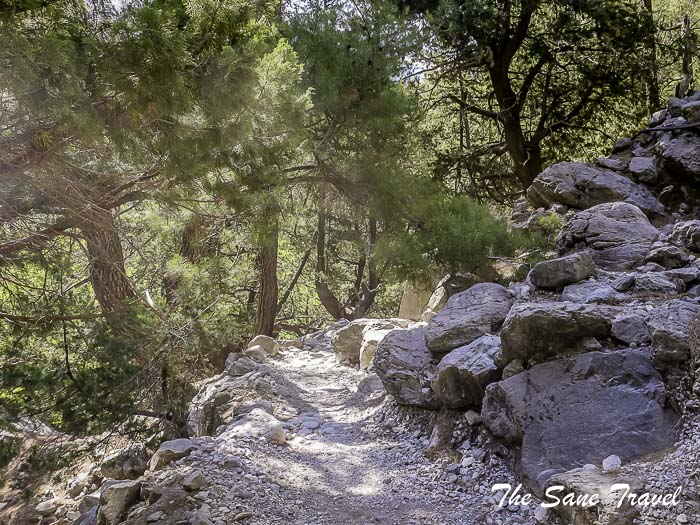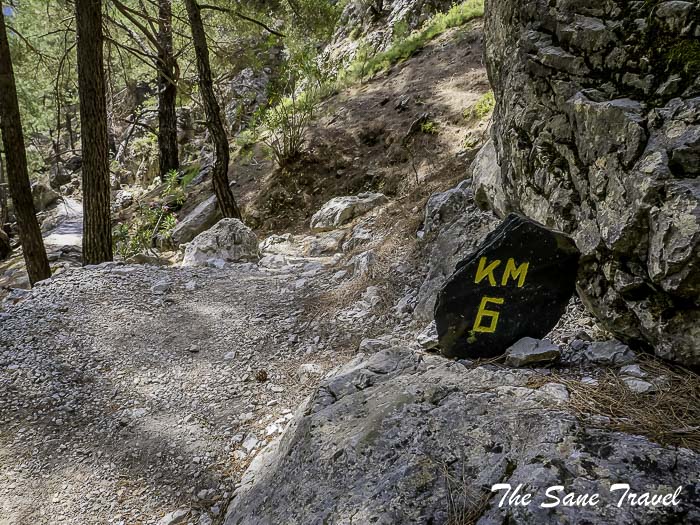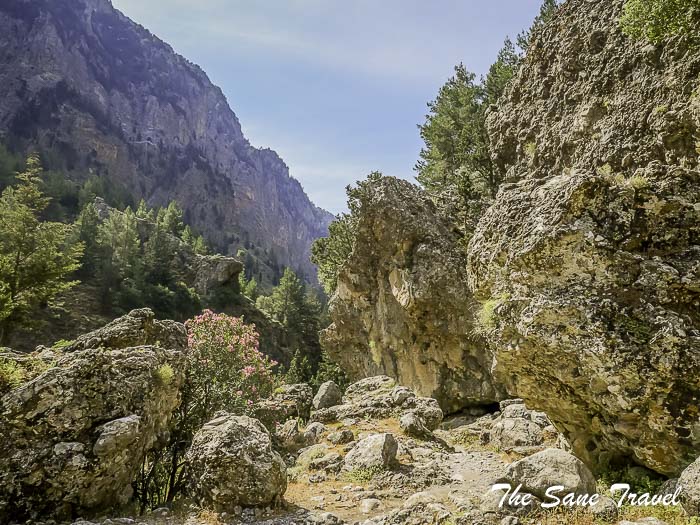 Samaria
I arrived at Samaria at 10:30 a.m. for another short break. Samaria is a place where an abandoned village is located. It was abandoned some time ago to discontinue the presence of people in National Park and better preserve Agrimi, Cretan Capricorn, an endemic animal living in this area.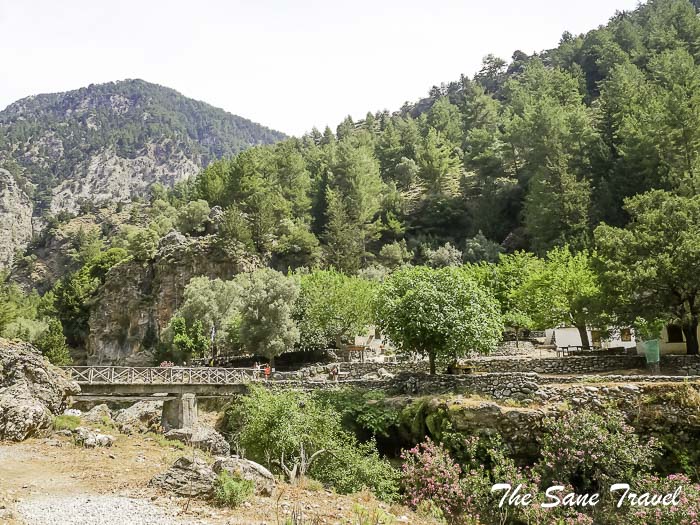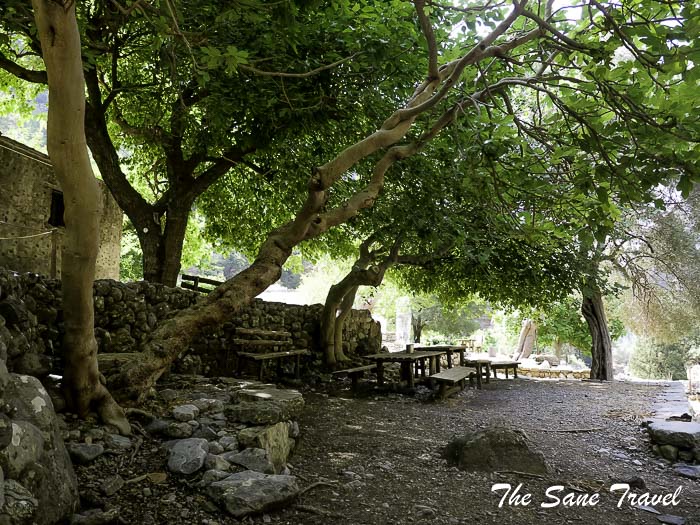 Unfortunately, I did not see any of them during my walk. The locals, however, say that the biggest chance to spot them is in Samaria. After Samaria the landscape is getting more dramatic with higher cliff walls towering on both sides of the trail. The riverbed is getting filled with more water and hikers have to cross it several times by walking on stones or using primitive bridges.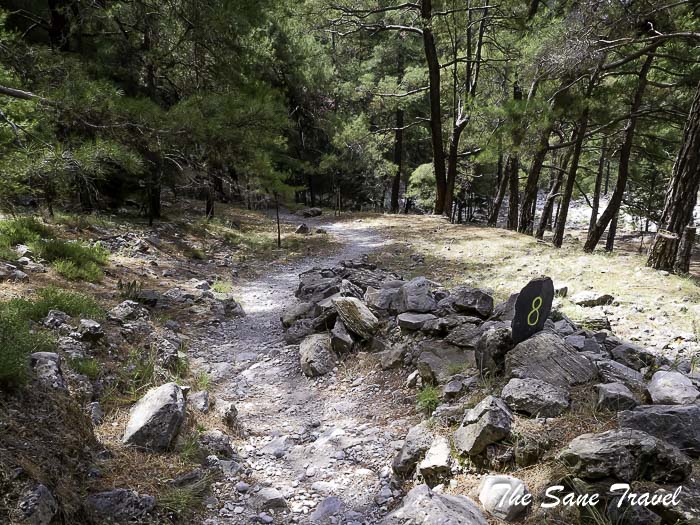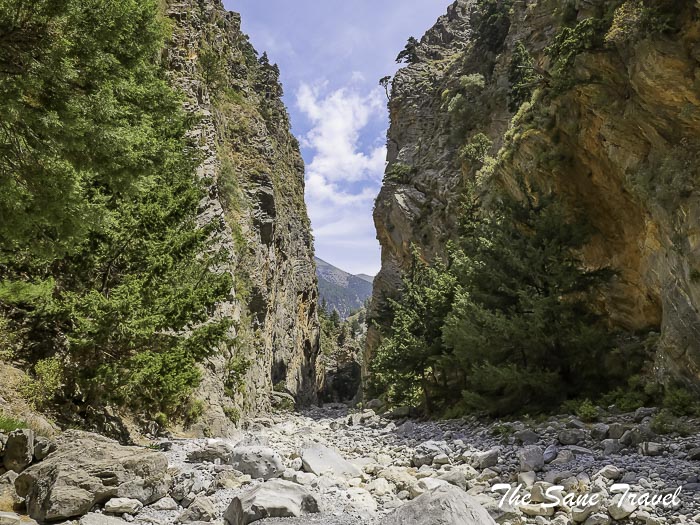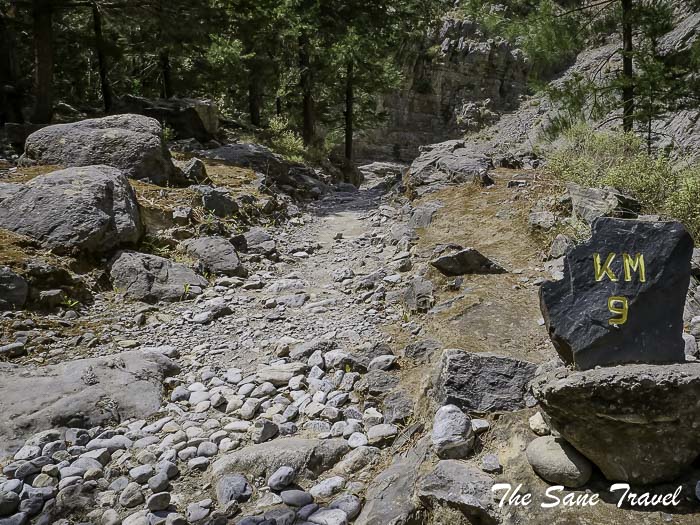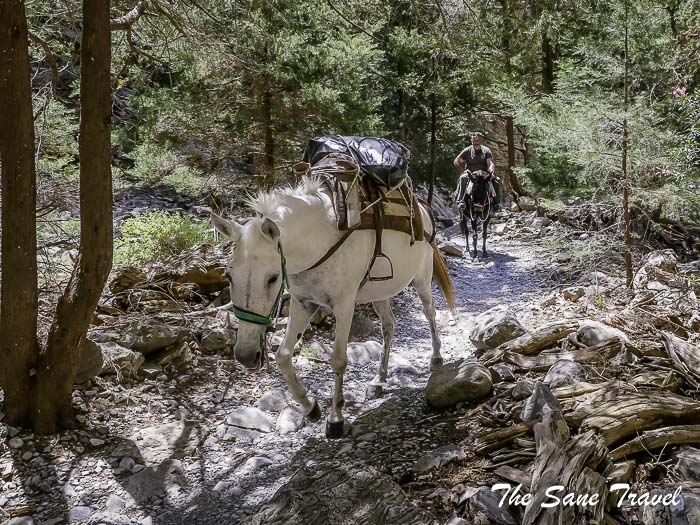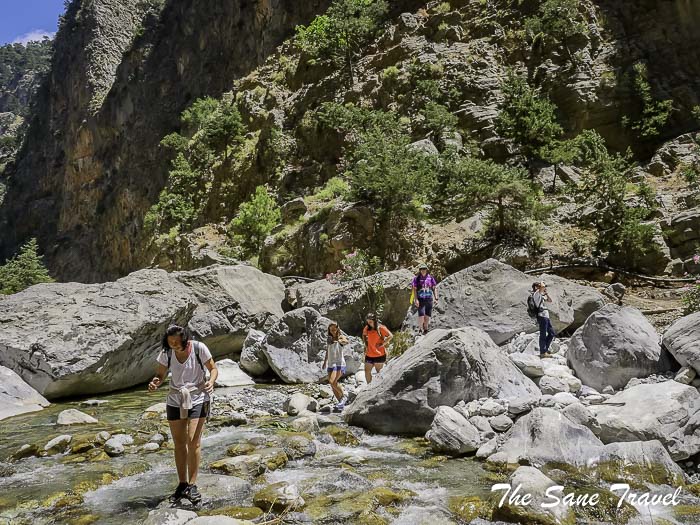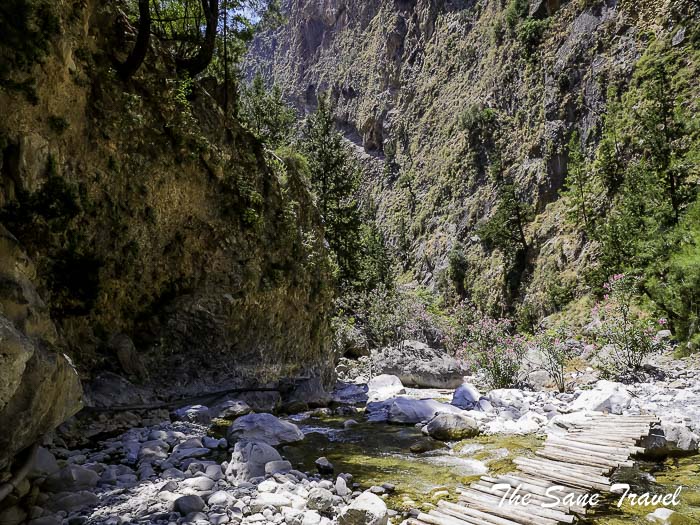 Samaria to Christos part of the trail is 3.3 kilometres long.
Iron Gate
The next rest area before Iron gate is Christos. I left Christos rest area at about 1:20 p.m. ready to enter the incredible Iron Gate, the most photographed place of the Samaria Gorge, being just 3 metres wide at its narrowest point, with the gorge walls towering 100 metres above hikers. Some say they are even higher.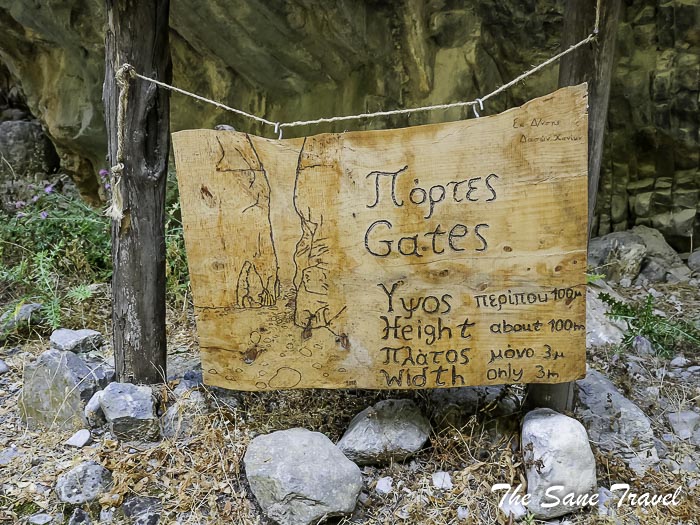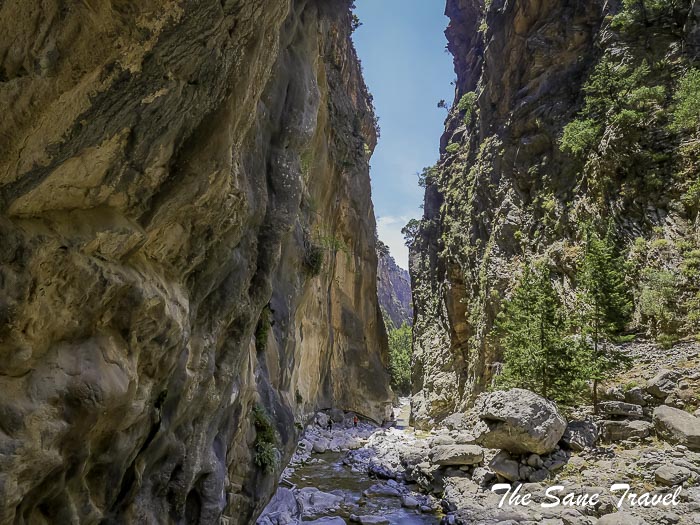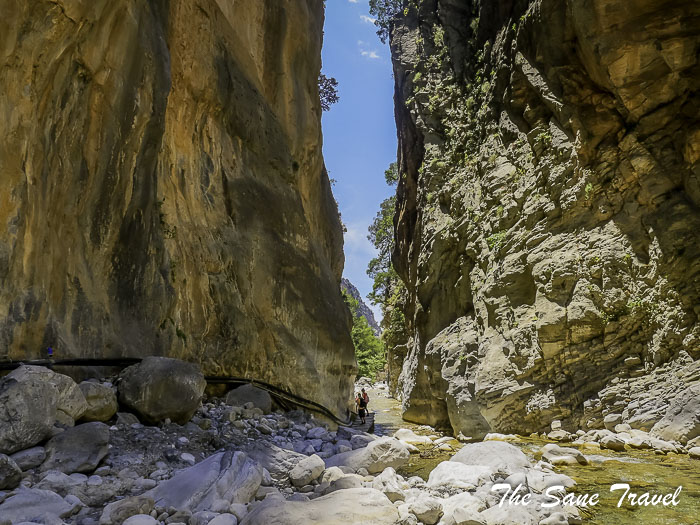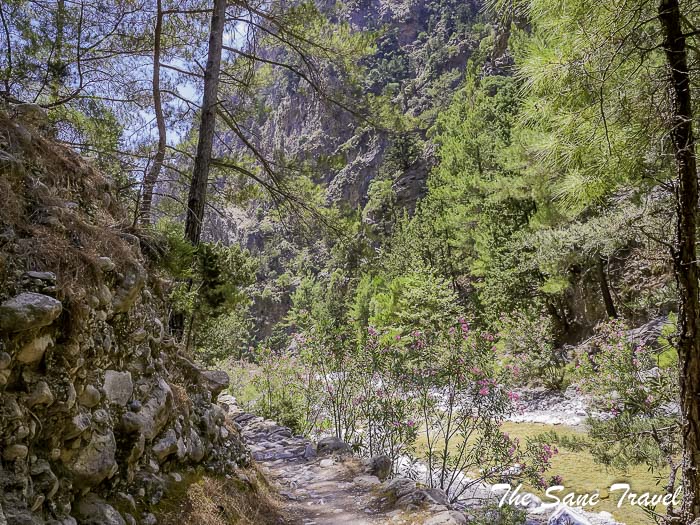 The last part of the hike to the exit of the park from Christos is 2.8 kilometres. I reached the exit at 2:00 p.m.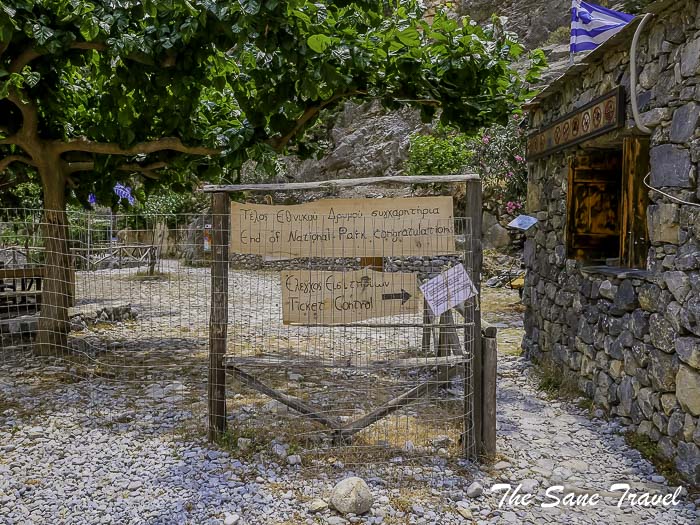 Bus to Agia Roumeli Village
As I was quite tired after the walk, I was happy to catch a local bus from the exit of the park to Agia Roumeli Village. If you miss the bus, you will have to walk 3 kilometres to the village.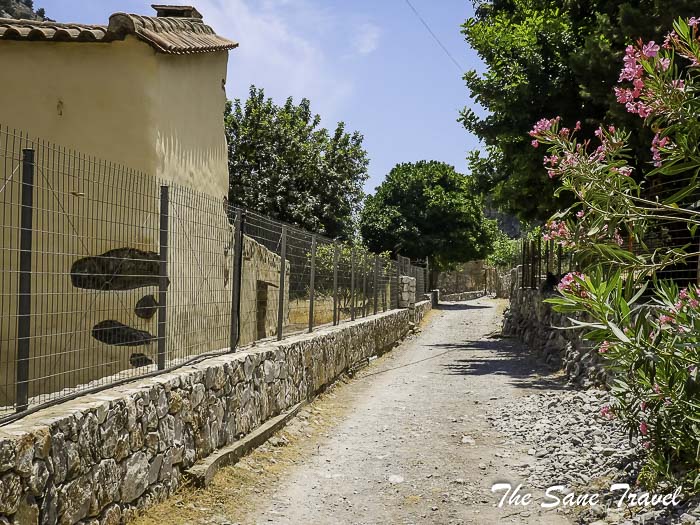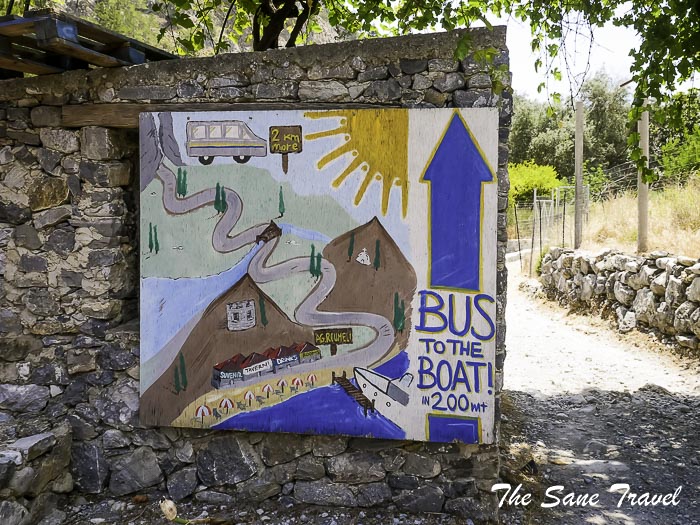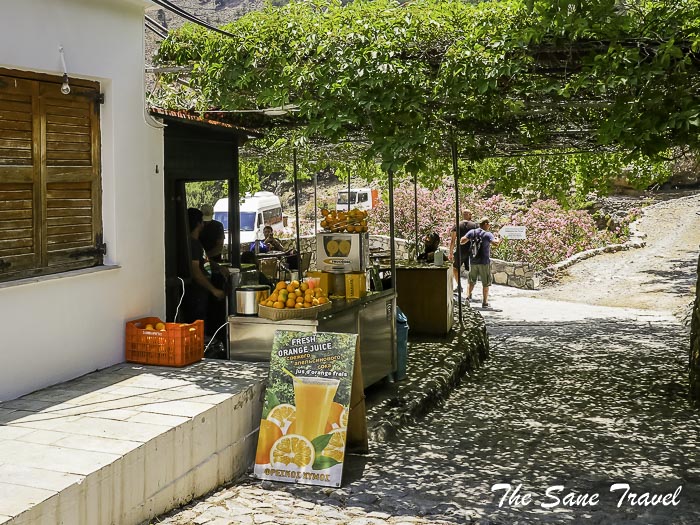 Agia Roumeli Village
Agia Roumeli village is where you can enjoy a swim in the Libyan Sea or have a meal in one of the many taverns. The village is remote and isolated; you can only reach it on foot or by boat, as there is no road from there to other places in Crete.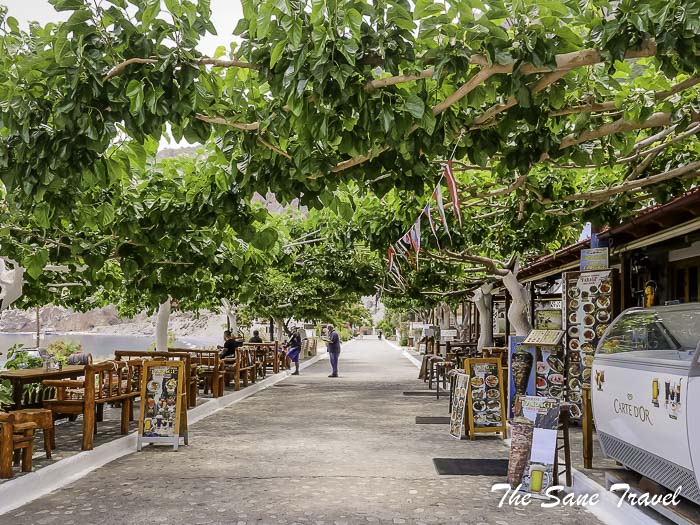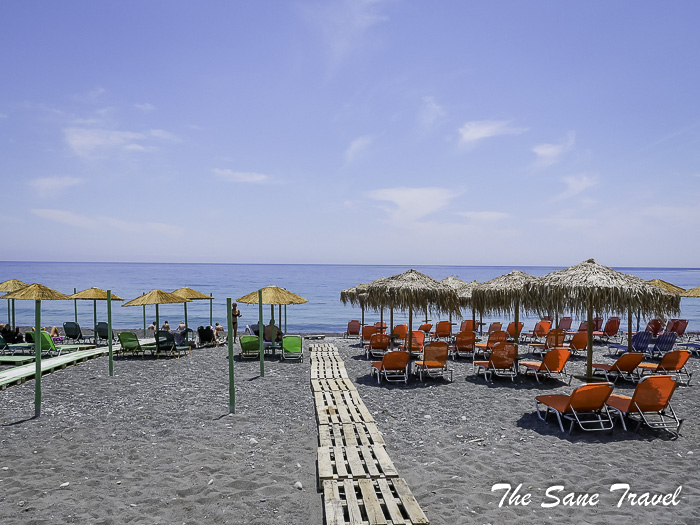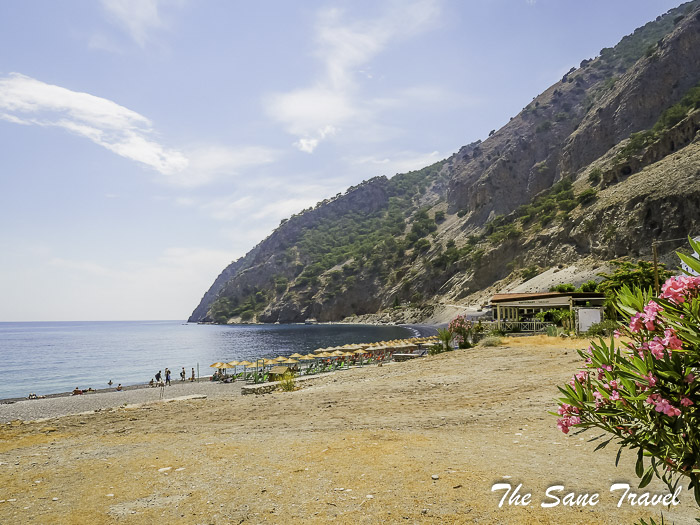 There is a ferry that will take you to Sougia Village where a coach will be waiting for you at the harbour.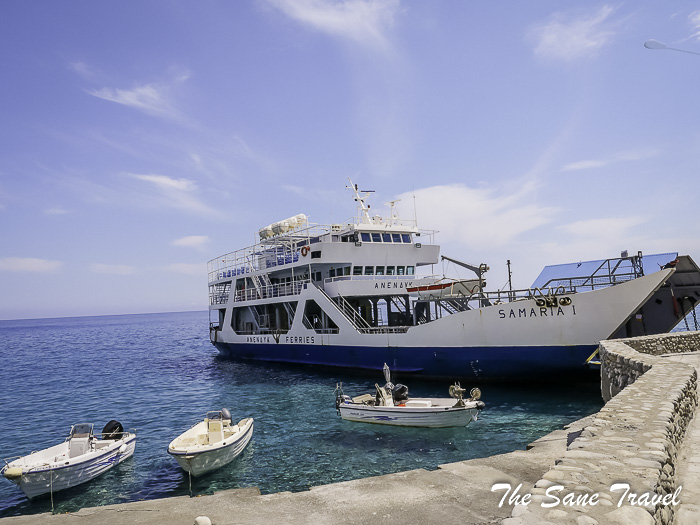 The coach will drive you back through the mountains to the north coast of Chania where I was picked up from the hotel. To my knowledge, there is just one ferry in the afternoon to Sougia at 5:30 p.m.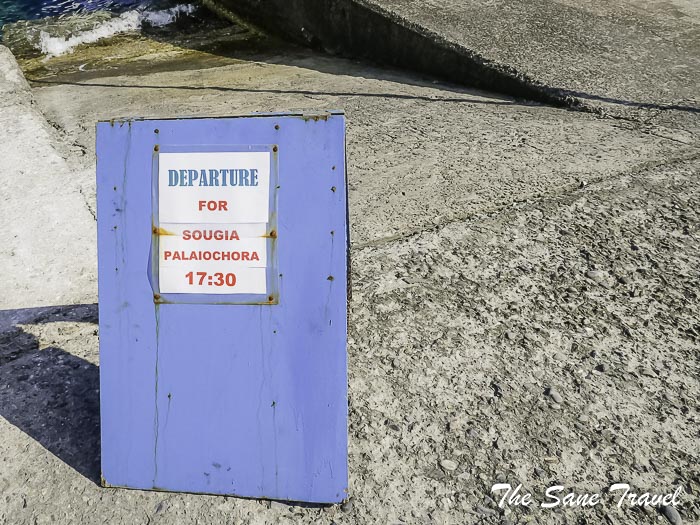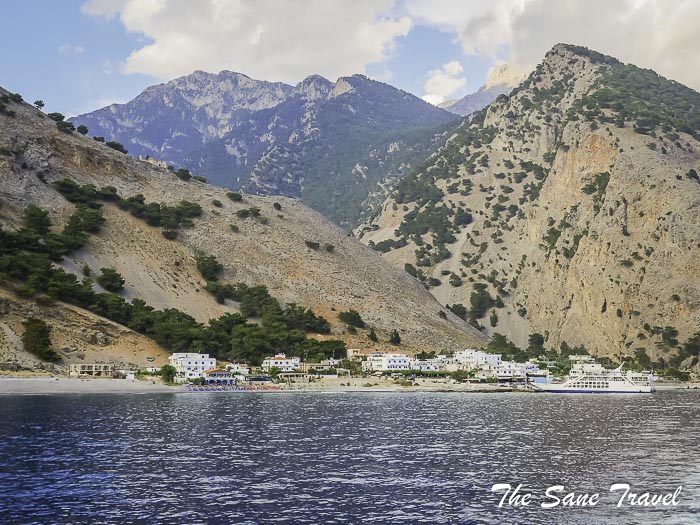 What to bring
No food is available in the Samaria Gorge, so bring your own snacks. You will need just a small bottle of water which can be refilled at all resting places. Walking boots or hiking shoes is a must. No sandals will do. Sunglasses, sunscreen, and a sun hat are also necessary. Should you rent trekking poles? Yes, you should! Even though I used them just in a few cases when crossing the river, I felt much safer having them by my side. If you are going for a swim in the sea, make sure you bring swimwear and slippers because the beach is covered with small black stones which become incredibly hot in the sun. So keep your feet safe and wear slippers.
Practical information
The Samaria Gorge is open to visitors from the 1st of May till the 15th of October.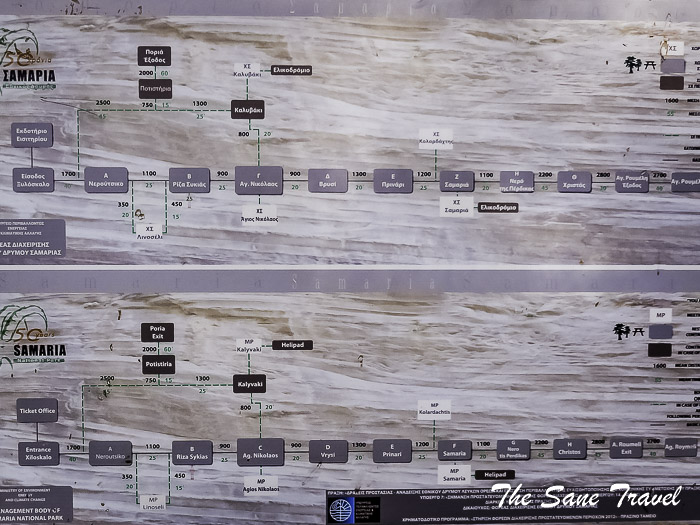 The hike is one way, so if you are not interested to make it twice, I advise you to join a tour that will take care of your transportation and give some useful instructions. The tour can cost from 30 euros, the park entrance ticket costs 5 euros, and a ferry ticket to the closest road costs 10 euros. The trail has several resting places with tables, benches, WC, and potable water available. Before you decide to go for a hike, evaluate your health condition. Even if it is not extremely long, and I did just the 14-kilometre main part, it took 6.5 hours for me with three short stops. I am sure that it is not for people with bad knees because my legs were sore for the next two days, despite me hiking regularly in my home country.
Love gorges of Greece? Why not try to visit the Vikos Gorge on the Greek mainland?
Disclaimer! I used the services of Elafonissos Travel and paid for everything by myself.
Like it? Pin it!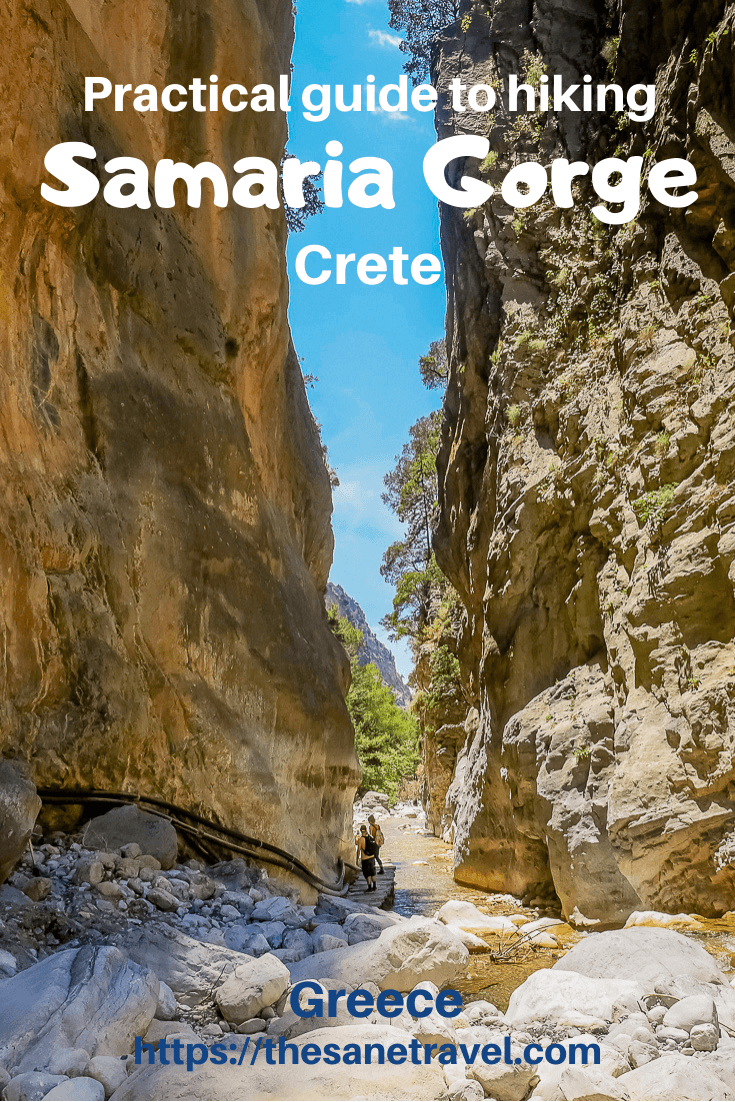 What did you think? Have you hiked Samaria gorge in Crete, Greece? I'd love to hear from you so please add your comments below.
Posted by Anita on June 25, 2021
Author: Anita Sāne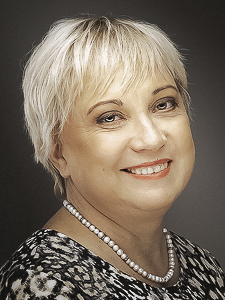 About the author
Anita is a part-time traveller, passionate photographer and a retired career woman from Latvia, travelling mostly solo for more than 15 years. She is a skilled travel planner who plans and executes her travels by herself. Anita wants to show you how to travel the world and open your mind to new experiences. Follow her on Facebook, Instagram, Pinterest, Twitter and Bloglovin.