Naked Bus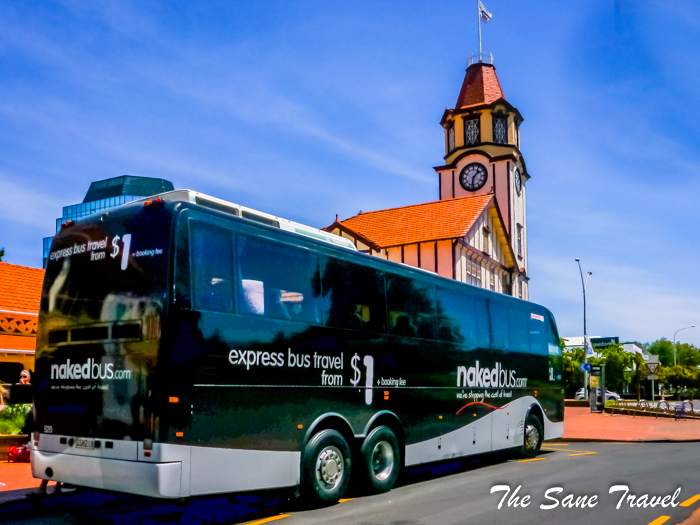 As I mostly travel solo, hiring a car is not the most cost efficient solution, so I use public transport. It is easy in some countries, more difficult in others, and almost impossible in the rest of them –like the US and also New Zealand, for example, or so I thought until recently… And then I discovered this very convenient New Zealand bus service called Naked Bus! I decided to try that to travel around the North Island in December 2014, and can now share the experience (you can see my full one week travel itinerary here).
I planned my trip in advance and booked all my bus tickets online, Auckland being both the starting and the finishing point of the trip. I can say the service was well-organized and easy to use, even when I had to change buses for my destination. The buses were always on time, too, except for one brief delay about which I was notified by SMS. I definitely recommend this option for traveling around New Zealand! The only drawback is that there are days when only just one or not enough buses leave for your destination, and you have to adjust your itinerary accordingly. Still I would say the adjustment is totally possible and was not a big problem for me. The total distance I traveled by Naked Buses adds up to about 850 kilometers around The North Island, which cost 68 New Zealand dollars. Sounds good, doesn't it?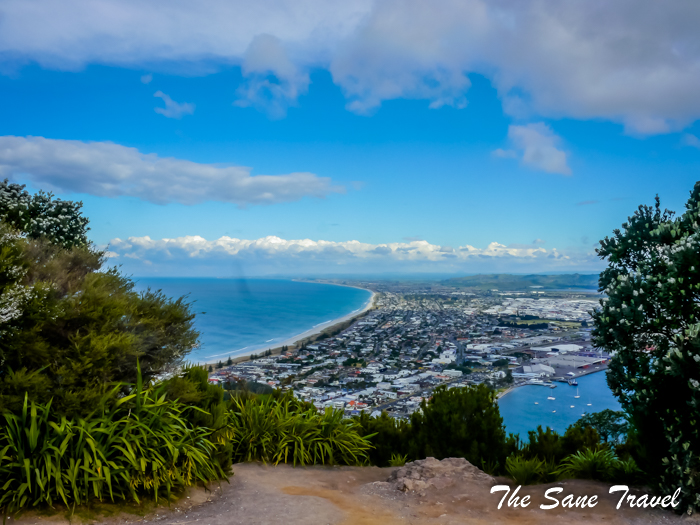 I got up early enough not to miss my very first Naked Bus ride and walked from the Celestion Waldorf Apartment Hotel to the bus stop next to the Britomart Travel Centre, very easy to find. The bus left at 7.40 a.m., with a change in Hamilton. It all went off without a hitch, and we arrived in Tauranga at 11.05 a.m. as planned.
After checking into the City Suites Tauranga (a15-minute walk from the bus stop) I had a light lunch and used public transport to get to Mount Maunganui. Tauranga is a charming town with an extraordinarily beautiful beach, I must tell you! At the summit of Mount Maunganui I was rewarded by the stunning views it offers and also by the unexpected parade of antique cars I saw later. Excellent weather and a very special day!
Day 2.Tauranga to Rotorua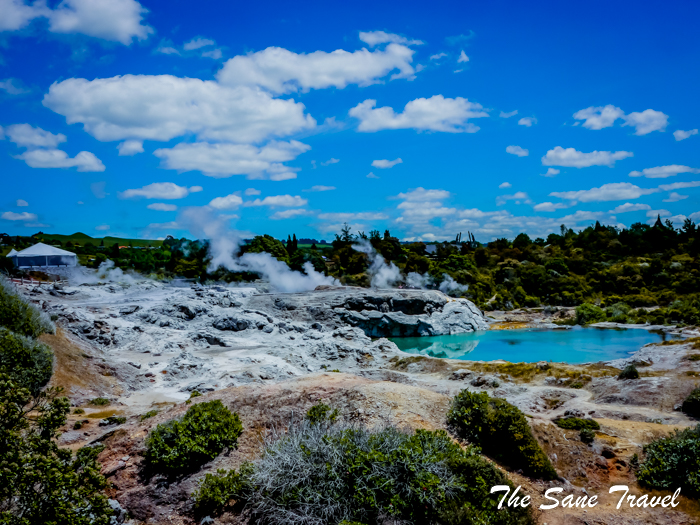 My bus left at 9.45 a.m., and the trip was only 65 kilometres long. Arriving in Rotorua at 11.15, I took a public bus to my Holiday Inn Hotel. The first thing I did then was visit Whakarewarewa Thermal Village located nearby. Later in the afternoon, I went on foot to the Redwoods which was a bit of a challenge because they were not so easy to find and far from the hotel. In the evening, I attended a Polynesian spa downtown to cleanse my skin with water from several healing hot springs of Rotorua. A great day with lots of walking, and I saw redwoods at last – a dream come true!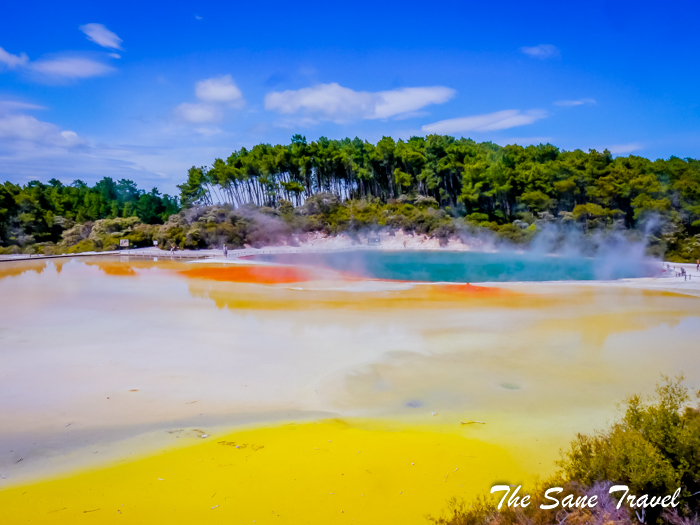 I booked a trip with HeadFirst Travel for 125 NZD, the entrance fee to both parks included. They picked me up at the hotel, and our first stop was the Lady Knox Geyser, then Wai-o-Tapu and Waimangu, all of which impressed me to no end… And there's no use trying to describe what my photos can show you better, so be sure to check them out! The unexpected bonus was driving through Rotorua and the Redwoods once again, and in the evening I came back to the Holiday Inn.
Day 4. Rotorua to Taupo. Huka Falls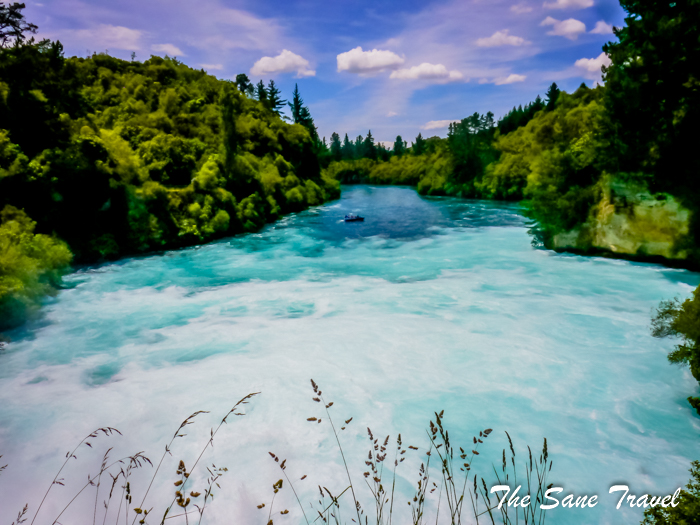 Next morning the hotel free shuttle took me to the station where I got on the bus at 11.20 and reached Taupo at half past noon. We stopped right next to the tourist information centre, and I learned there was a bus leaving for the Huka Falls in an hour. I checked into my Suncourt hotel and was back just in time for the short drive to the Falls. An astonishing sight! Then I found the hiking trail to descend and followed the Waikato River back to the town. The river's attractive peculiarity was a hot spring falling into it, and everyone just had to try the water – and so did I! My day ended with a gorgeous sunset over the lake and a delicious dinner at the local restaurant.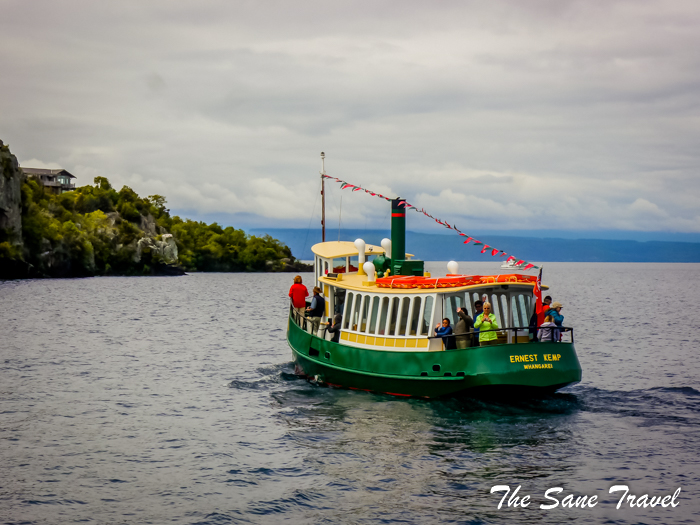 After all the sunny days we've had, next morning was foggy with some drizzle. My bus would be leaving at 1 p.m. so I had just enough time for a lake cruise with Chris Jolly Outdoors. Even though the weather was a little gloomy, it only added, if at all possible, to the magnificence of the great Lake Taupo. After the cruise I got my luggage from the storage next to the bus stop and boarded my next Naked Bus, reaching Whakapapa at a quarter before 3 p.m. I checked into the Skotel Alpine Resort and took a walk to the Taranaki Falls. It was drizzling again and the world was painted gray, but I still enjoyed my stroll through the spectacular landscapes of the region, so much different from everything I had seen so far.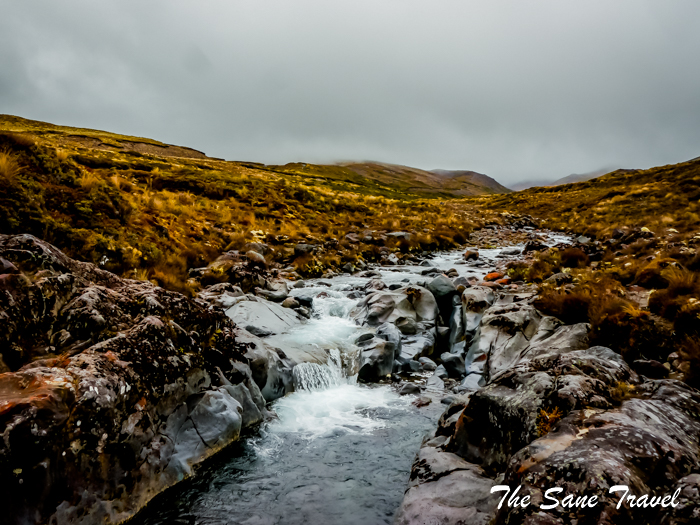 The adventure I had planned for the next morning was getting to the summit of Mount Ruapehu by a cable car. Unfortunately, it was rainy and foggy, which put cable cars out of service. So I just stopped by at Whakapapa Visitor Centre to find out more about Tongariro National Park, and after lunch at the Chateau Tongariro Hotel at 2 p.m. took a Naked Bus back to Auckland. That transit was the longest of all, with changing buses in Turangi. I arrived in Auckland a little before 9 p.m. and spent the night at the VR Queen Street.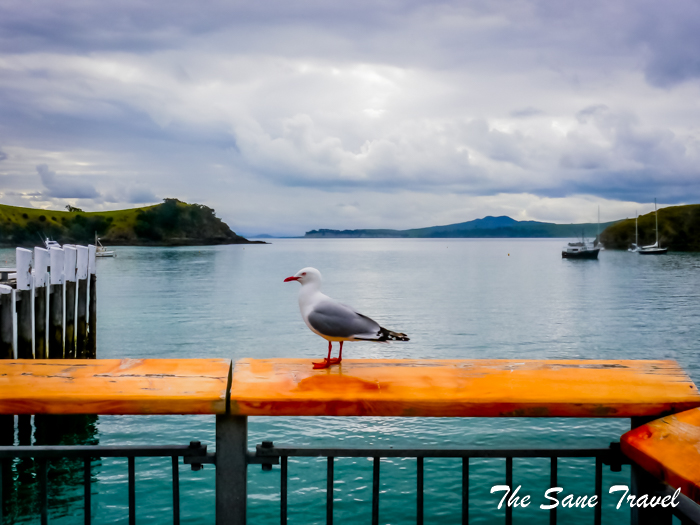 I did some shopping in the morning, which took a bit longer than expected, and boarded the boat for Waiheke Island only in the afternoon. Pressed for time, I was happy to take a taxi to the first stop of my wine trip – the Mudbrick Winery. The taxi driver told me that with the kind of drinks they offer, it could very well turn out to be the only winery I'd want to visit that day! It was doubtlessly a truly enjoyable place, but still, I did want to see the other two, so I went to the Cable Bay Winery on foot. This one was a completely different, contemporary looking building. The third one, the Stony Ridge Winery, was only to be reached by bus going to the other side of the island, so I got to admire the beauty of the place along the way.
Each winery let me taste some nice wines, and surprisingly enough, not only of their own production but also of many different brands from other wineries of New Zealand. An awesome island and great wineries all three of them, still the Mudbrick easily topped my list – the taxi driver got it right!
That was the day-by-day account of my second, this time a bit naked trip to New Zealand. One more set of fantastic memories, so will I return? What do YOU think? Want to visit more of New Zealand? Check this for your next New Zealand trip inspiration! Like it? Pin it!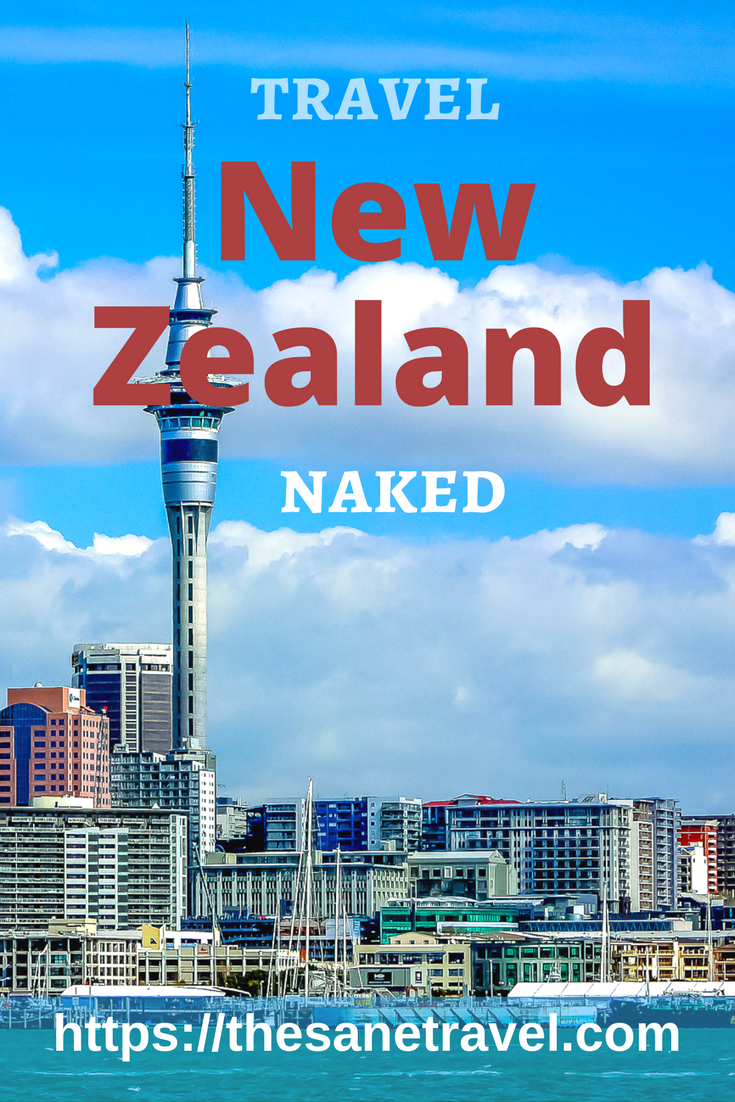 Published by Anita in January, 2015, edited October 2017
Author: Anita Sāne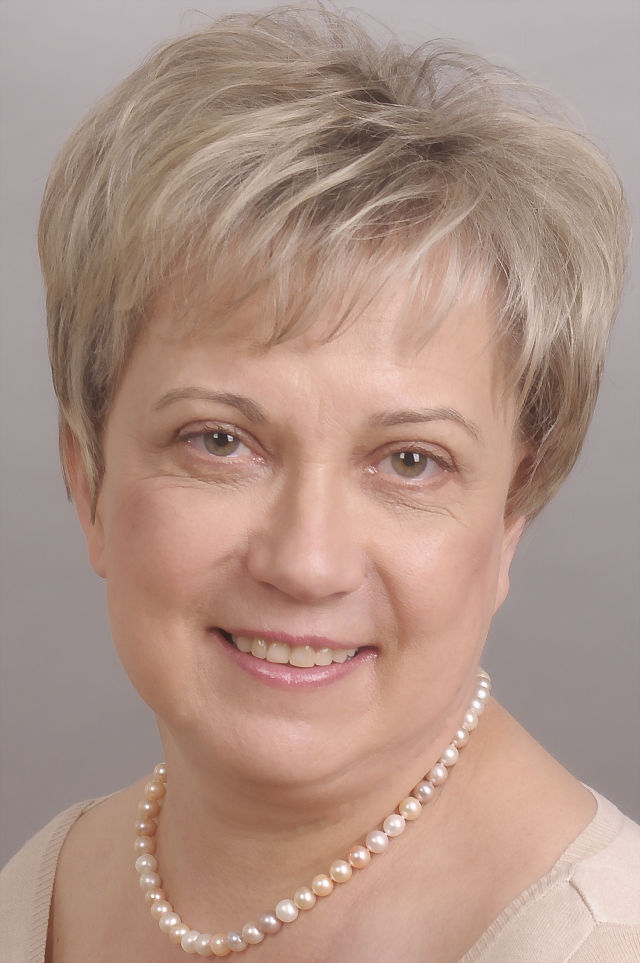 About the author
Anita is a part-time traveler, passionate photographer and a mature career woman from Latvia, traveling mostly solo for more than 10 years. She is a skilled travel planner planning and executing her travels by herself. Anita wants to show you how to travel the world and open your mind to new experiences. Follow her also on Facebook, Instagram, Pinterest, Twitter, and Bloglovin.