Lucerne in Switzerland is awesome by itself and because of its location, it's an excellent starting point for many trips around Switzerland, including Gotthard Panorama express. When talking about day trips from Lucerne, you can take a boat trip around Lucerne lake, visit mount Titlis with Titlis Rotair gondola, combine a boat trip with cogwheel train to get up to Mount Rigi, go to Mount Pilatus with an aerial cableway and a panoramic gondola ride. As my time was quite limited, I had to choose just one option and it was going to Stanserhorn Mountain reaching the 1900 metre summit by Cabrio cable car.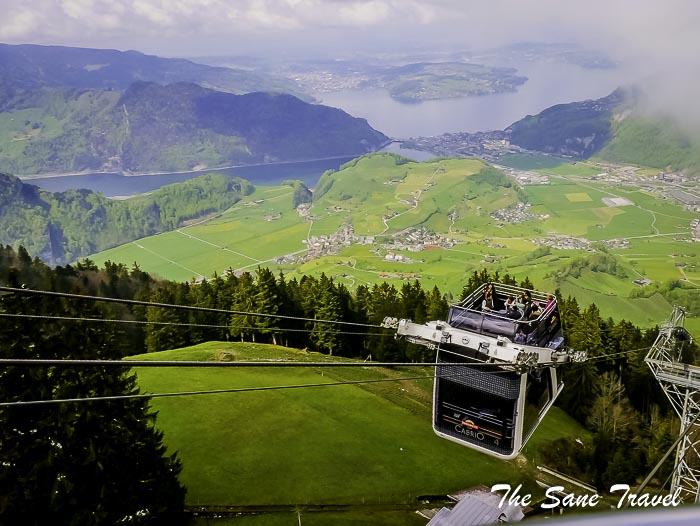 Why Cabrio cable car?
So why did I choose Stanserhorn and CabriO? The most important was the fact that CabriO cable car is the world's first cable car with a roofless and windowless upper deck. I am an avid photographer and I want to take every opportunity to take great pictures with no window between me and the object. For a cable car, it was my first opportunity like that. The lower level of the CabriO has space for 60 people. From there, an elegant staircase leads up to the upper deck, with a room for about 30 people and awesome photo opportunities with no windows between the stunning panoramic views and the photographer.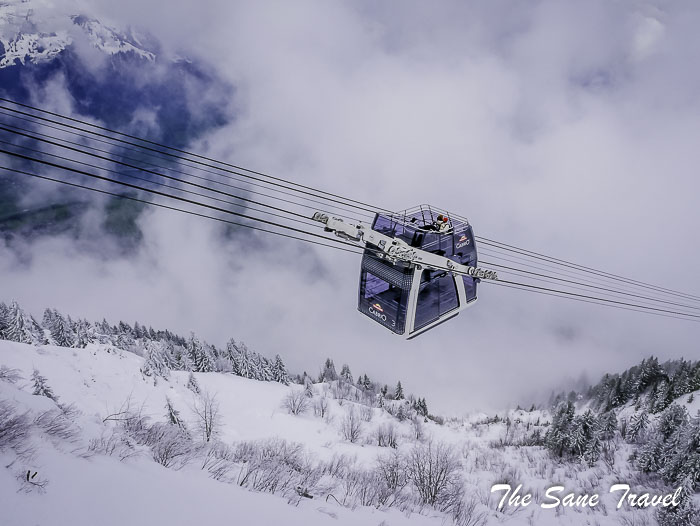 Riding Stanserhorn
The ride up to Stanserhorn is also a journey through local history. One witness is the old-time funicular from Stans to Kälti, opened in 1893. It's still the first part of your journey to the summit of Stanserhorn. At Kälti, a bit more than 700 metres above sea level, you change from the old funicular to one of the latest inventions in the cable car world, CabriO, to make the last part of your trip up to the mountain station almost 1900 metres above sea level. This trip will last a bit less than 7 minutes.
So how to do it by yourself?
The first part of your trip is going from Lucerne to Stans by train. From Lucerne central station, a train leaves every 15 minutes, with its journey taking 20 minutes.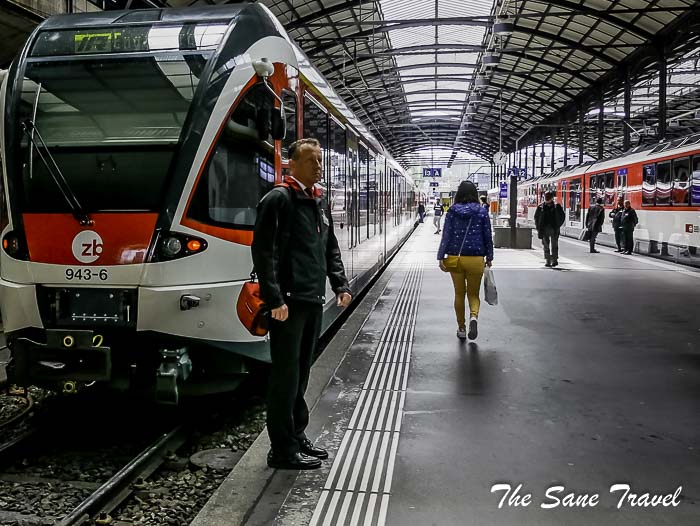 Then you have to take a short walk to Stanserhornbahn station and buy the ticket for your trip to Stanserhorn.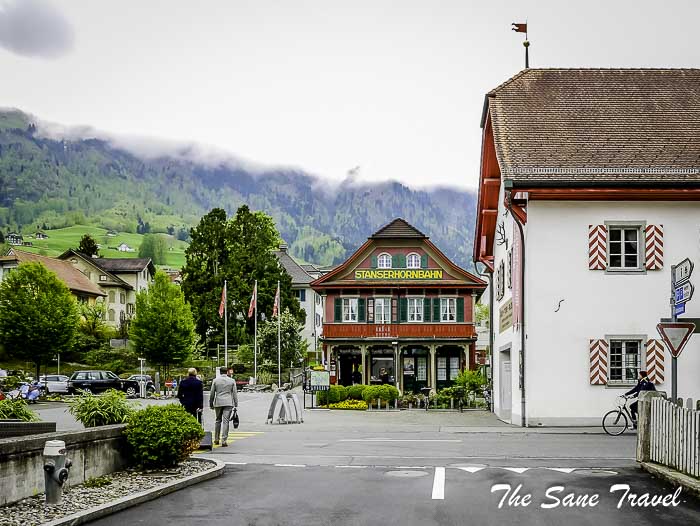 The first part of the trip feels a bit nostalgic, with a vintage funicular car ride up to Kälti station. The operating company has carefully restored the original wooden carriages to keep the feel of the old days.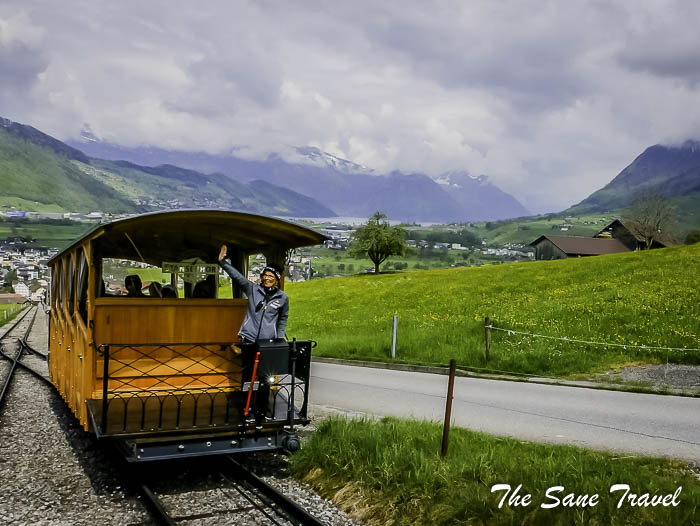 In Kälti, you change from the funicular for CabriO cable car, the only one of its kind.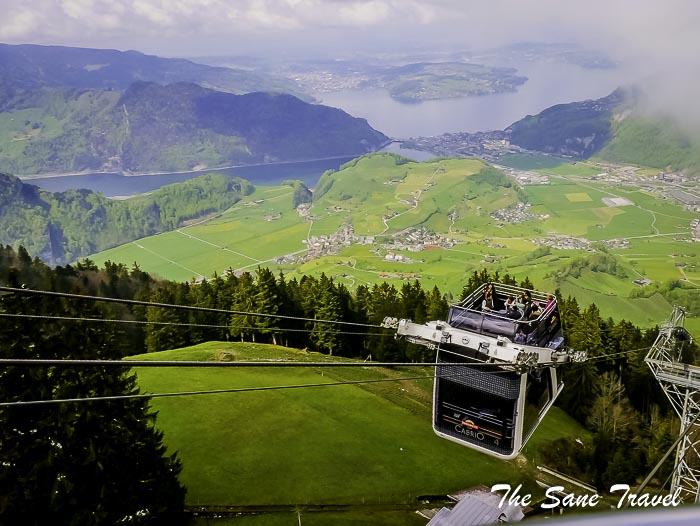 If you, like me, travel at the end of April, there could be awesome springtime at the bottom of the mountain and lots of snow at the top.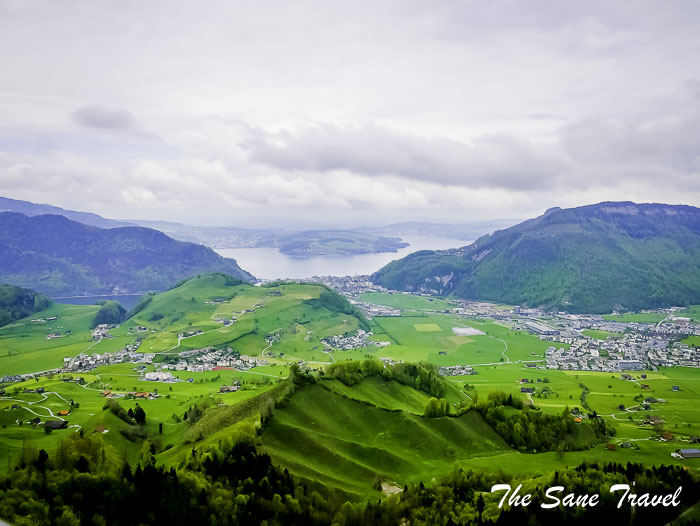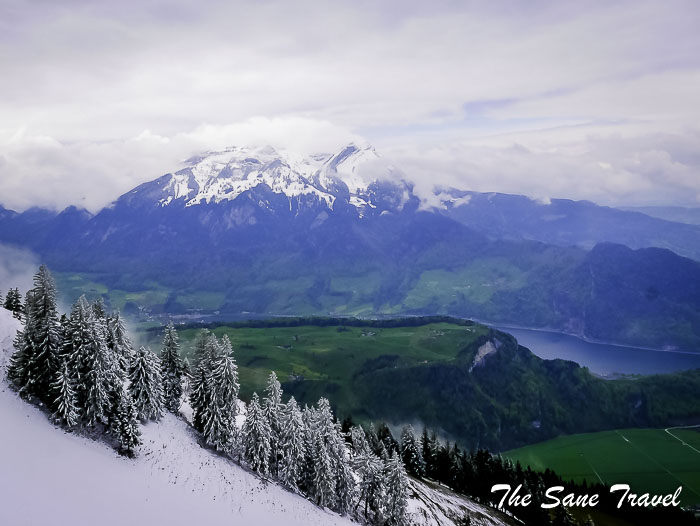 Those are impressive contrasts, and the stunning views from the top encompass 100 kilometres of Alpine peaks and ten Swiss lakes when the visibility is good.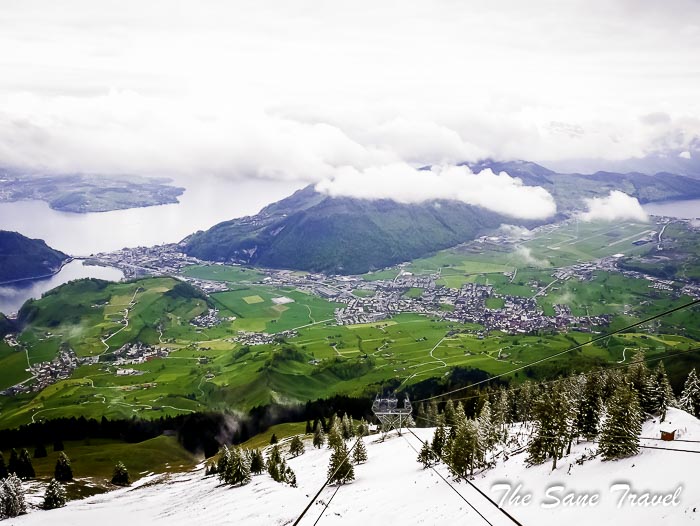 If you are luckier than me and there is no snow at the top, you'll have quite a large choice of hikes available, starting from a half an hour stroll around the peak to hikes of a day's length. There are trails down to the valley from three sides. On the day of my visit, everything was closed and I could just walk around the cable car station area.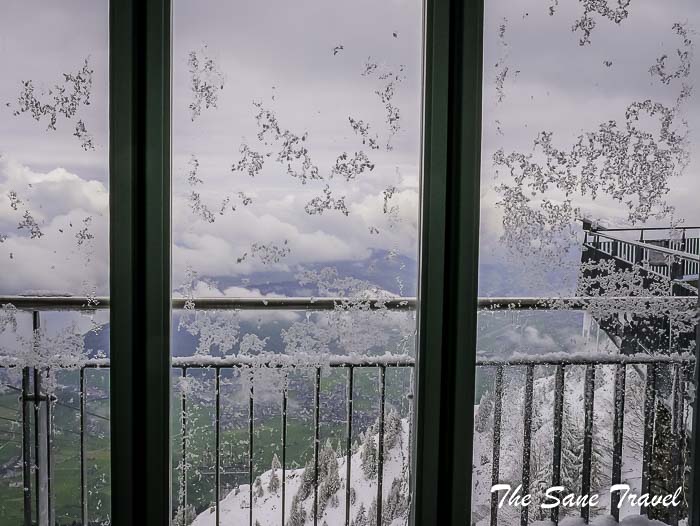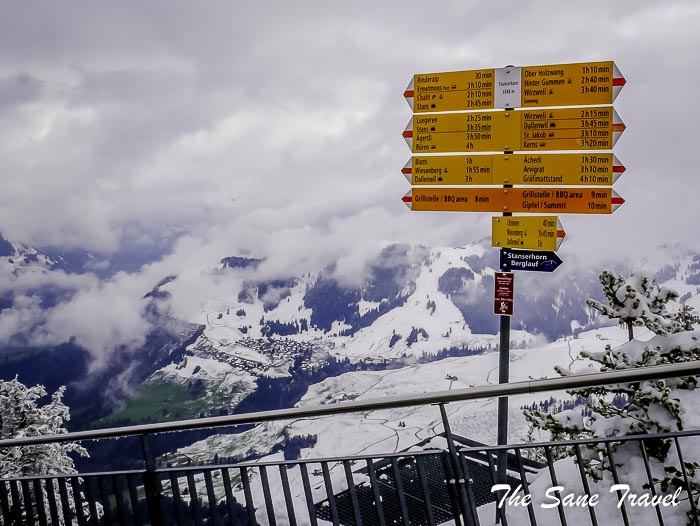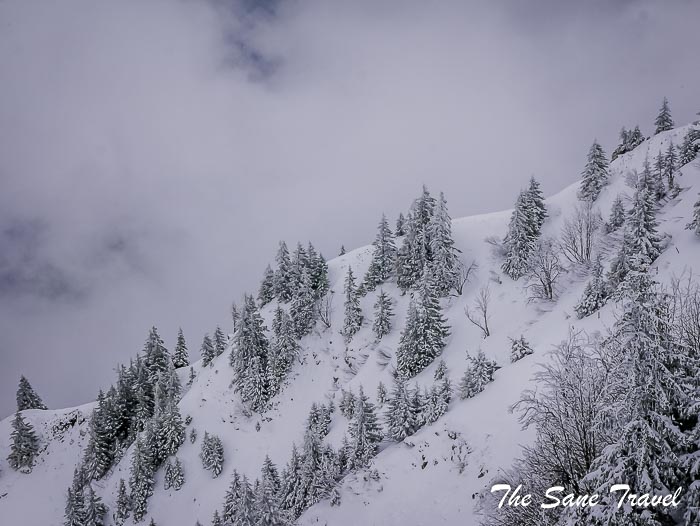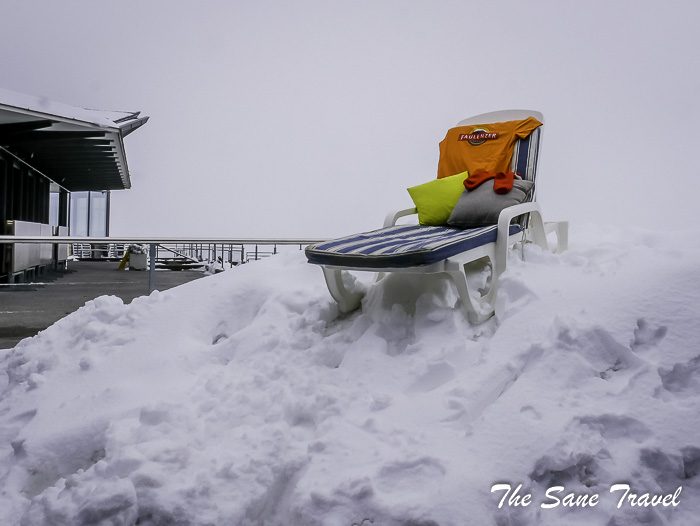 After the stunning sightseeing, I got back the same way to Stans.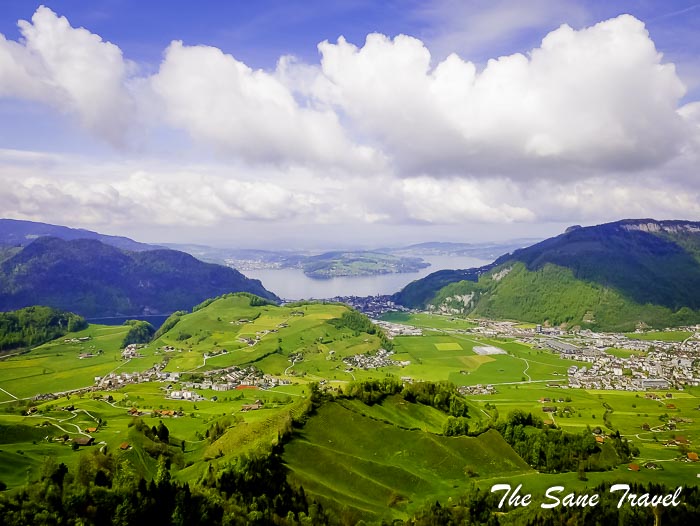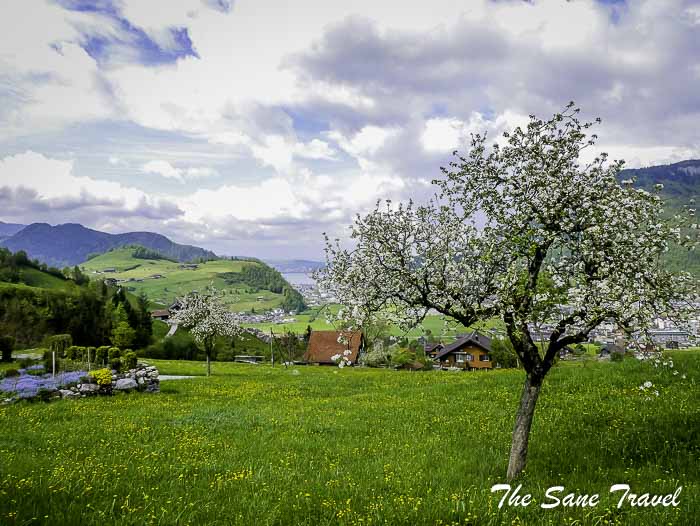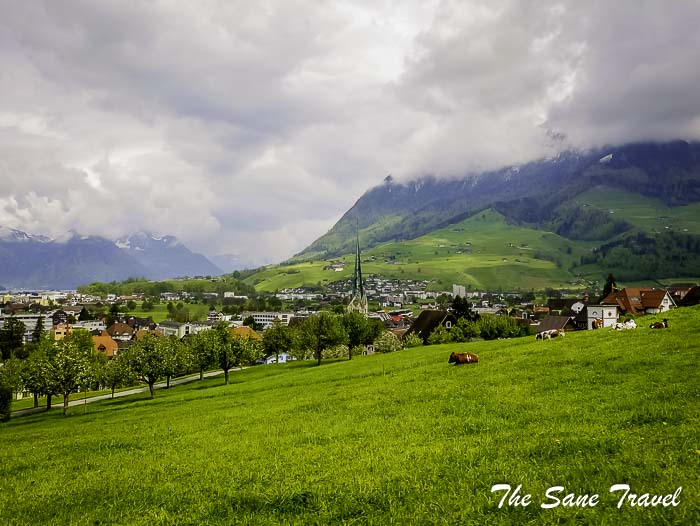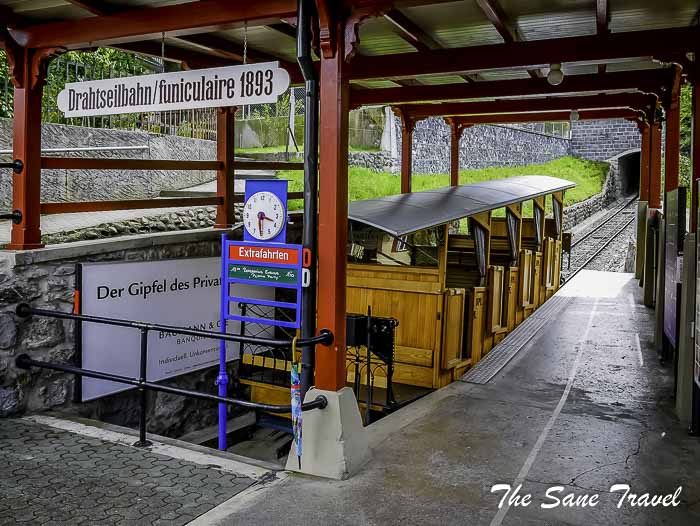 Spend some time in Stans
The small town of Stans is located 450 meters above sea level, with a population of about 8000 people occupying the awesome spot between Lake Lucerne and the mountains.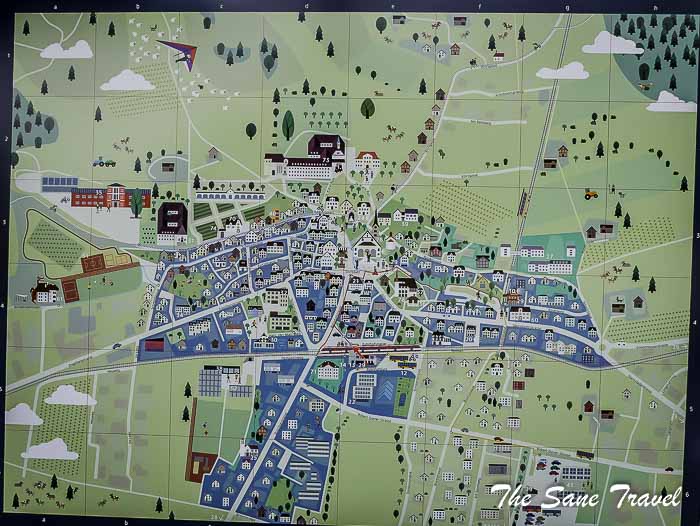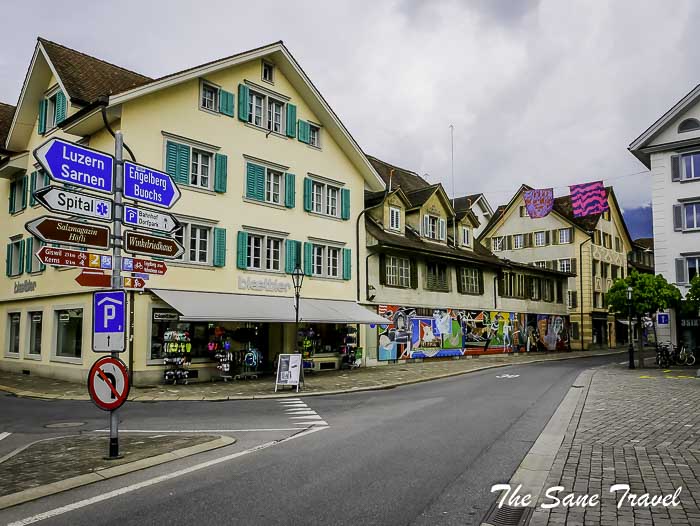 Stans has a pretty main square with several baroque buildings from the early 18th century.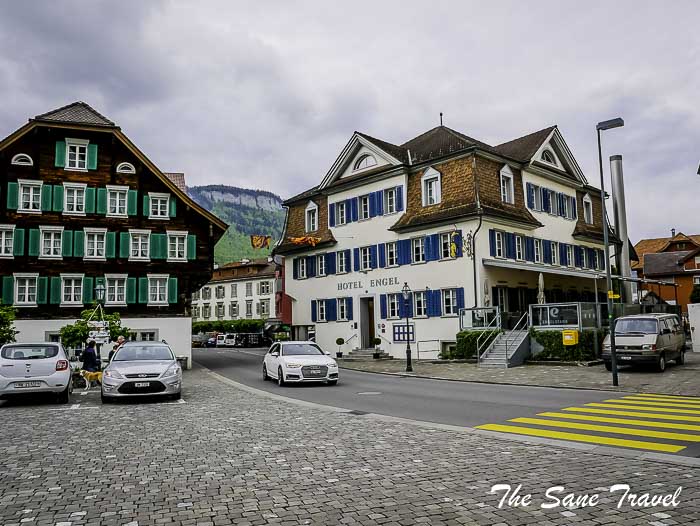 The St. Peter and Paul Church, built in the middle of the 17th century, with its older Roman bell tower, is well worth visiting.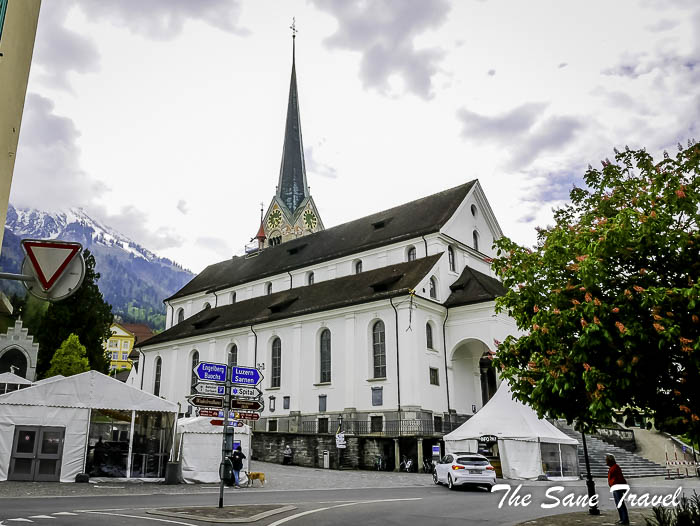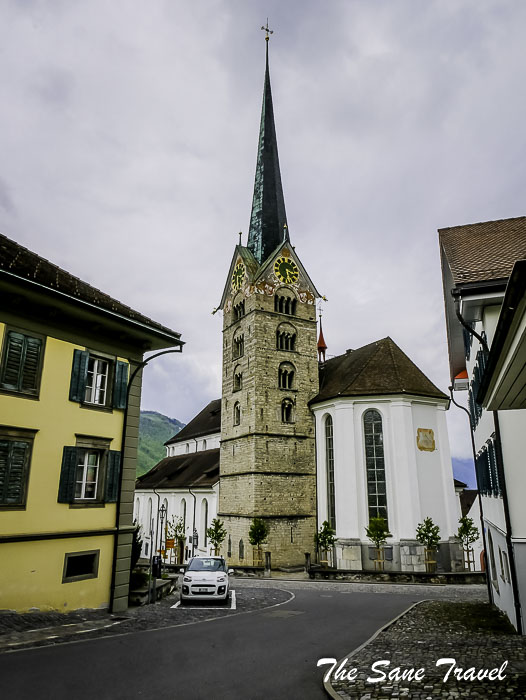 When walking around Stans, you will also notice Swiss style colourful houses and statues dedicated to local hero Arnold von Winkelried and Heinrich Pestalozzi.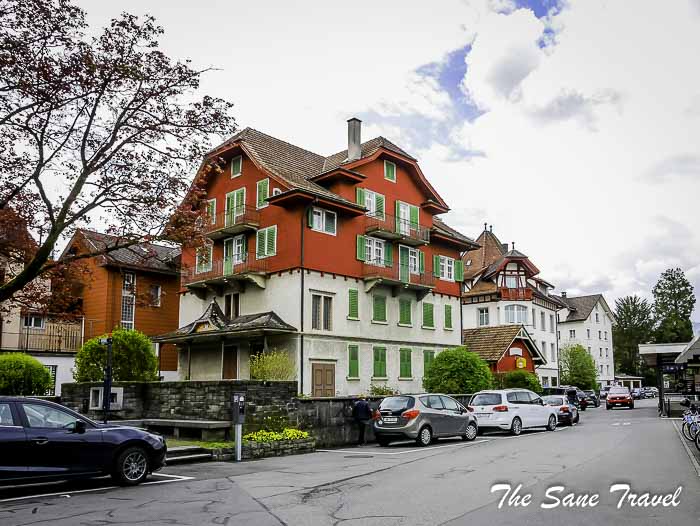 In the summertime, you can enjoy a free tour around the town. Pilatus Aircraft Company is located in Stans. Their company tours allow visitors to see how an aircraft is made are very popular and you have to apply for a visit long time in advance.
Practical tips for planning your Stanserhorn visit
CabriO cable car is in operation from mid April to the end of October. I would advise you to check a live camera of Stanserhorn before going. For such a trip, visibility is key. It's only worth going when the visibility is good enough. If you need assistance with finding live camera data, you can ask for help in Lucerne tourist information centre located at the main railway station. I was there at the very end of April and saw spring and winter on the same day when visiting Stanserhorn. If you want to take a walk at Stanserhorn, I would recommend doing this trip starting from mid May. Depending on the activities you would like to do, it could be half a day and also a full day trip.
How much does it cost to visit Stanserhorn?
When talking about travel in Switzerland, money is always an issue worth discussing. Talking specifically about this trip, if you know the date of your visit at least one month in advance, I would advise you to buy a Saver Day pass for that. I had it for another trip, not this one, and the price was 52 CHF for a day. It includes all the travel costs for this. A Swiss pass is also not bad but more expensive. As I was a bit light-minded about that and I did not plan well in advance, this is what I did: I was staying overnight in Lucerne and got a free transportation ticket for Lucerne because of that. With Lucerne visitor free transportation ticket, I bought a return train ticket from Lucerne to Stans for 7.40 CHF and had Stanserhorn Bahn ticket with 20% discount for 59.20 CHF. I paid a total of 66.60 CHF for this trip, meaning over 14 CHF more than if I had bought a Saver day pass for a day in advance. If you do not have a Lucerne visitor free transportation ticket, it will be even more expensive for you. So the cheaper option is to plan your trip in advance and buy a Saver Day Pass.
Like it? Pin it!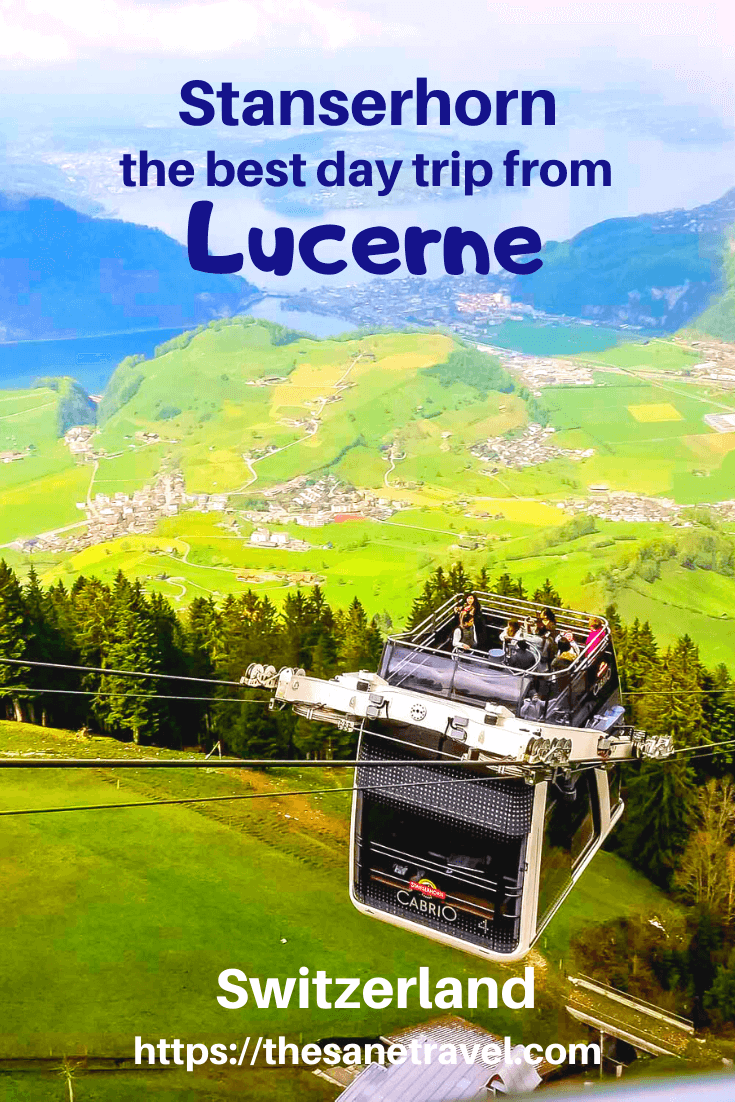 What did you think? Have you been to Stanserhorn Mountain? Or perhaps you're thinking of visiting in the near future? Either way, I'd love to hear from you so please add your comments below.
Published by Anita on February 8, 2020
Author: Anita Sane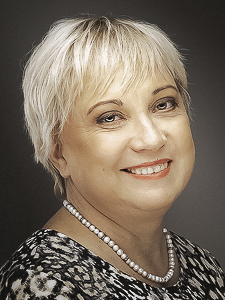 About the author
Anita is a part-time traveller, passionate photographer and a retired career woman from Latvia, travelling mostly solo for more than 15 years. She is a skilled travel planner who plans and executes her travels by herself. Anita wants to show you how to travel the world and open your mind to new experiences. Follow her on Facebook, Instagram, Pinterest, Twitter and Bloglovin.