Iceland is a country of exceptional beauty and the sharply increasing number of visitors proves that. One of the most memorable experiences of my Iceland visit was the glacier tour. You can do it in several places in Iceland and my choice was the Sólheimajökull glacier in South Iceland. This glacier is located about 160 kilometres and a two hour drive from Reykjavik. Experienced Icelandic Mountain Guides have been leading tours there since 1994. If you don't have a car, do walk as part of your South Coast and Glacier tour by Reykjavik Sightseeing and also visit other top sites on the South Coast.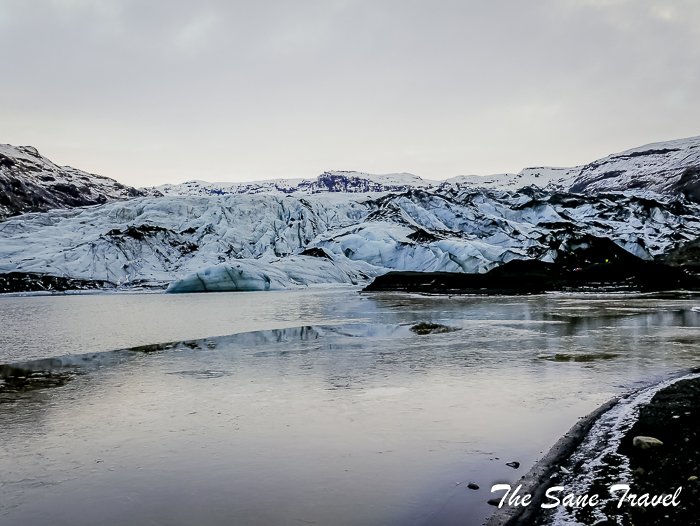 About the Sólheimajökull Glacier
Sólheimajökull is an outlet glacier that flows from main Mýrdalsjökull glacier where the mighty Katla Volcano rests. It last erupted in 1918, therefore, the glacier is partly covered by a volcanic ash. The glacier tongue boasts a surface area of about 8 km in length and 2 km in width. The spectacular surroundings are marked by rugged and majestic rock formations thoroughly shaped by the glacier.
Preparations for the walk
For a walk on the glacier, you will need special crampons on your shoes. They are provided by the Icelandic Mountain Guides. So the first part of the tour is fitting crampons on your shoes. When it's done, you are ready to go bring your crampons to the border of the glacier.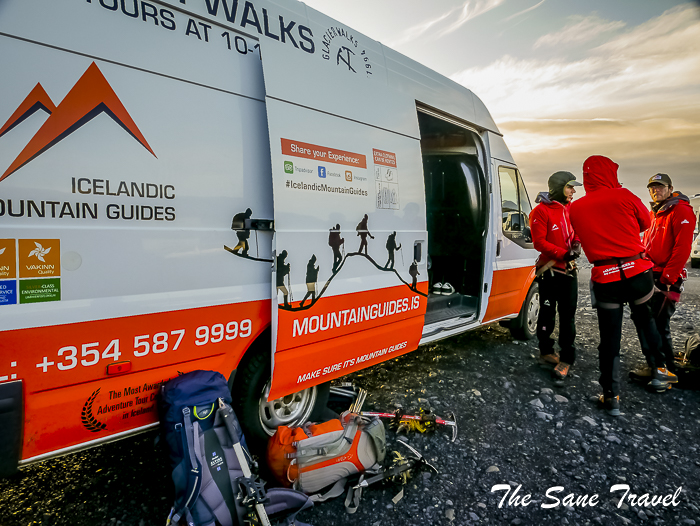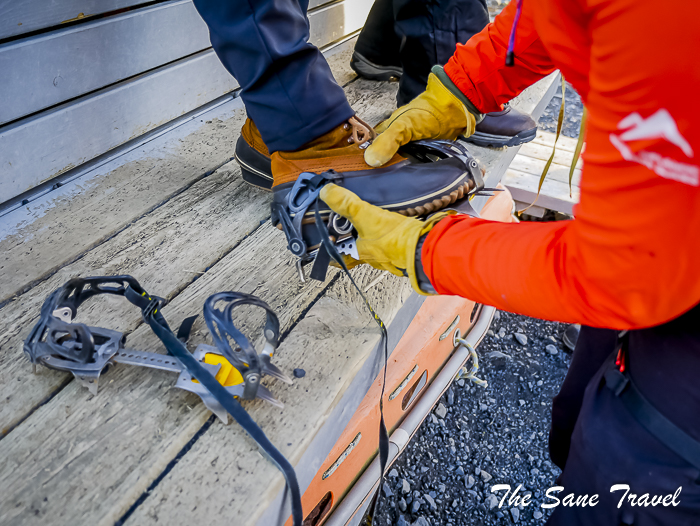 Walk
The first part of the walk is from a meeting point to the edge of the glacier.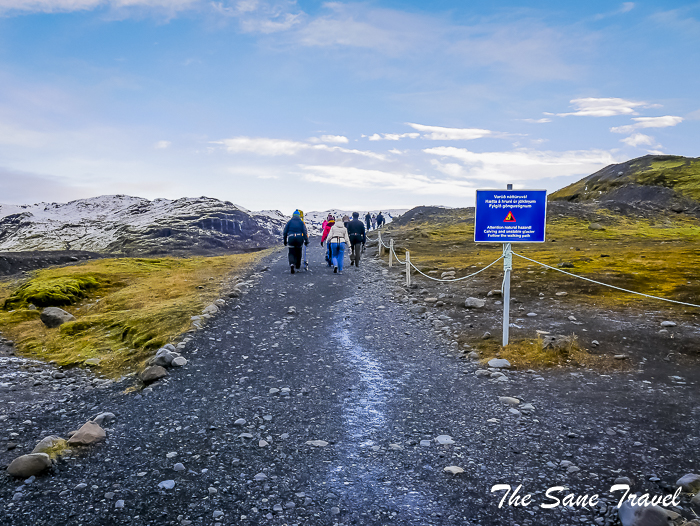 Not so long ago the glacier was located next to the Sólheimajökull Café parking area but as it is constantly melting and therefore getting smaller now you have to walk some 15 minutes to the edge of the glacier. Here is a sign made by local primary school children measuring by how many meters the glacier has stepped back each year.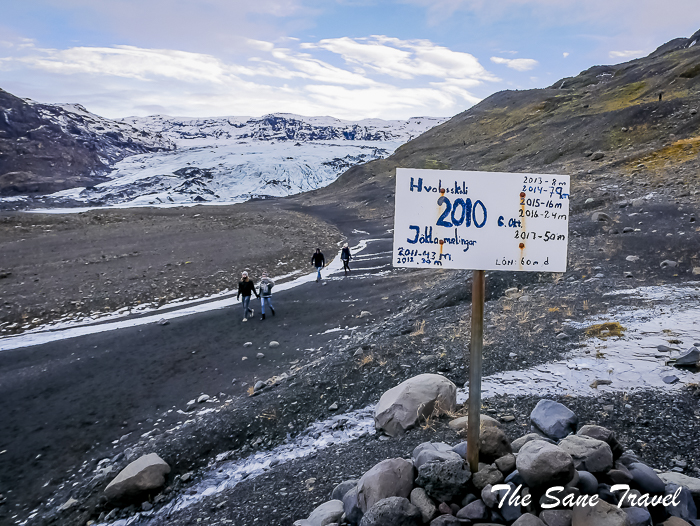 When you reach the edge of the glacier you have to put your crampons on your shoes, listen to the safety instructions by an experienced guide and the glacier walk can start.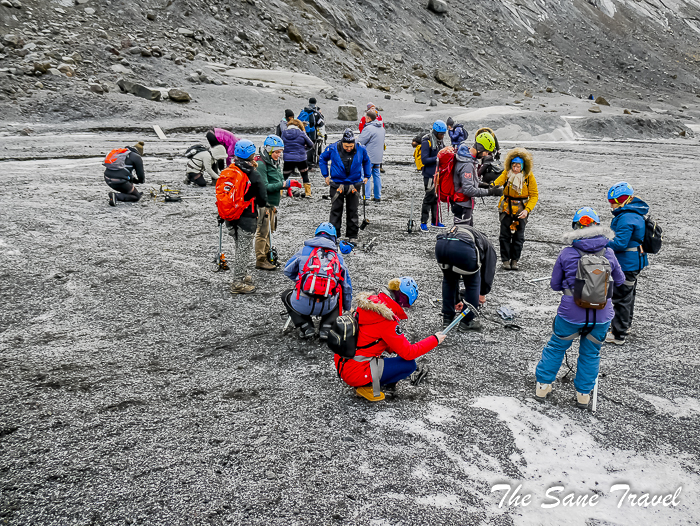 The first part of the actual glacier walk is uphill, sometimes using the ice stairs to get up. The ice is covered by almost a hundred years old volcanic ash in many places, therefore, it's black.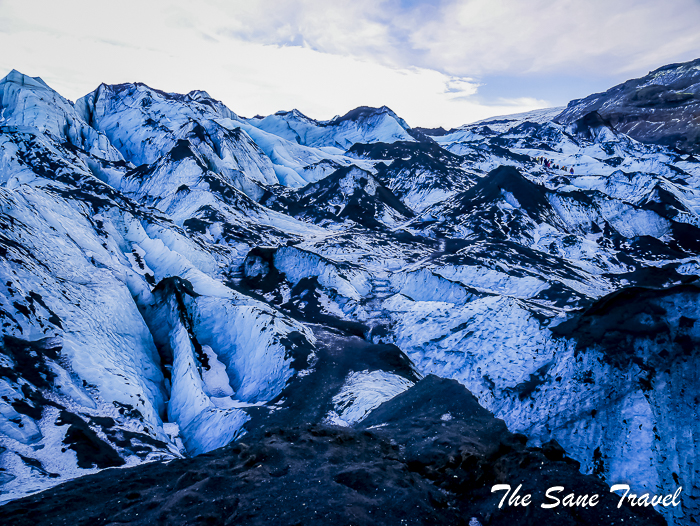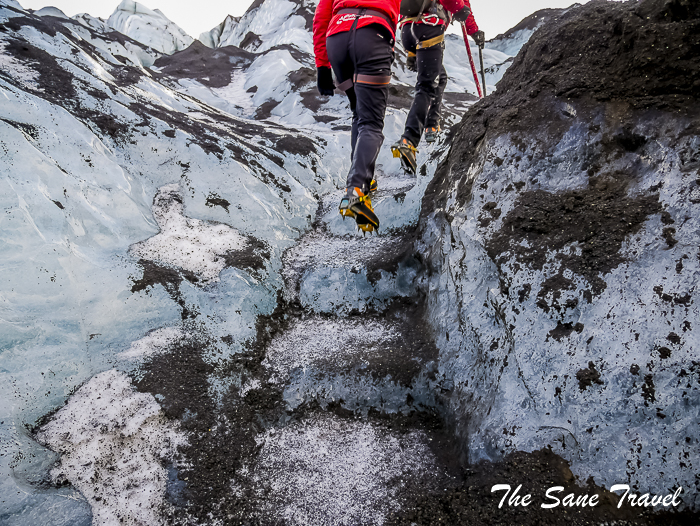 While enjoying all the features of the glacier and its spectacular surroundings, the guide tells more about the behaviour of glaciers and their impact on nature. The experience is definitely one of those that are unique to Iceland and we only had to hike for about 20 minutes to find ourselves standing on top of a few hundred meters of ice.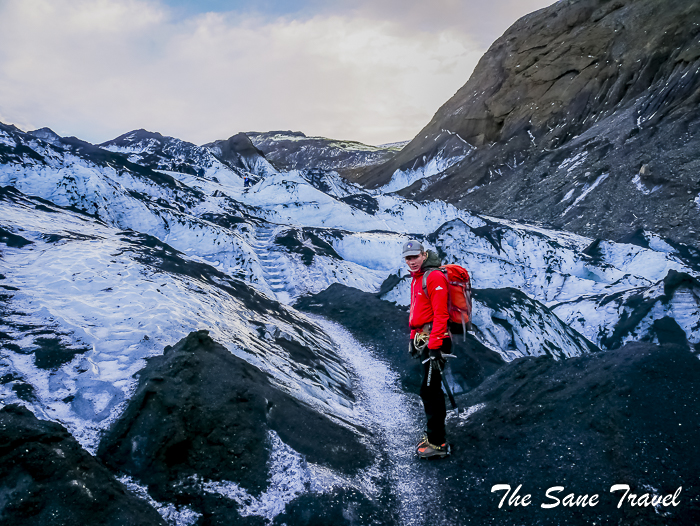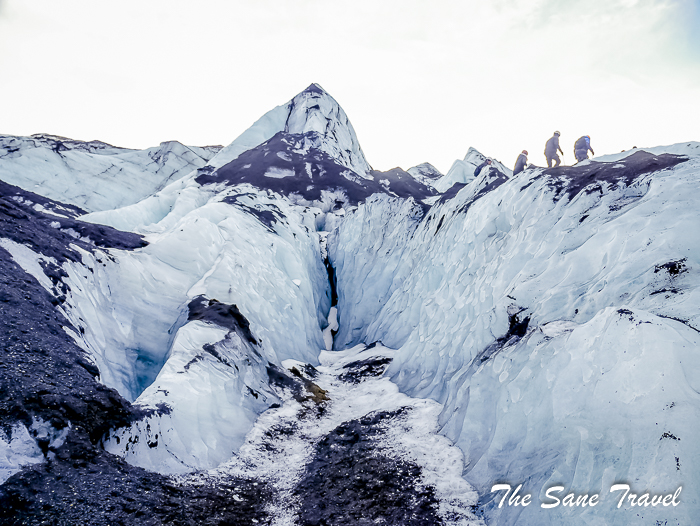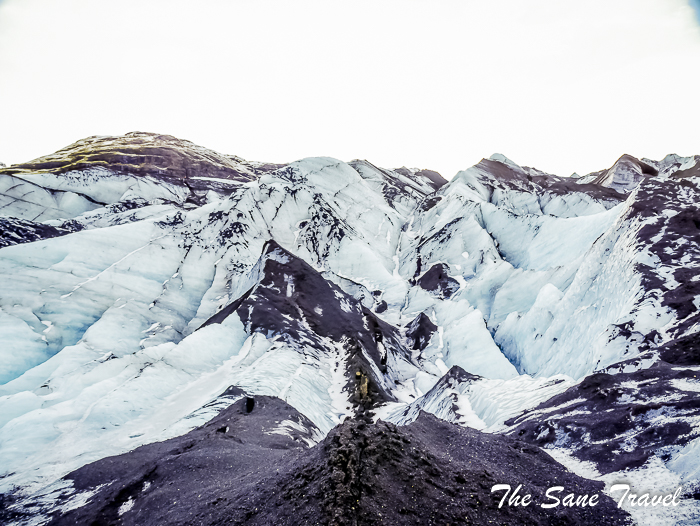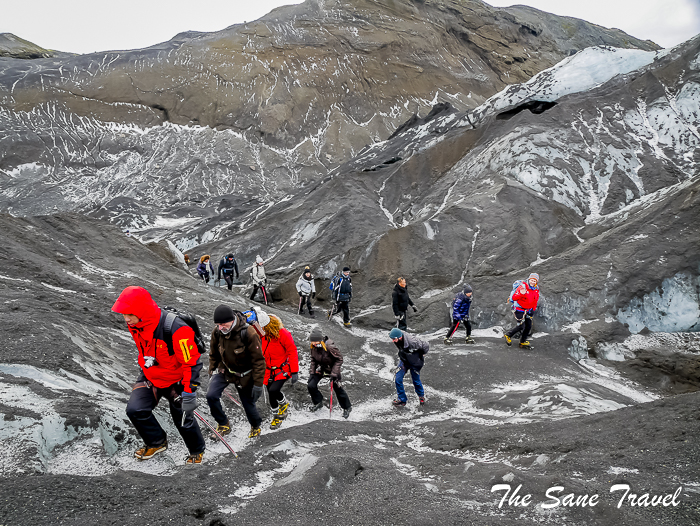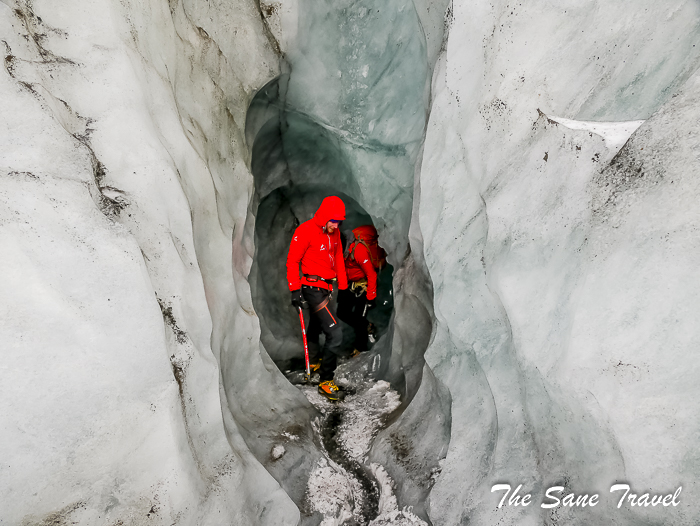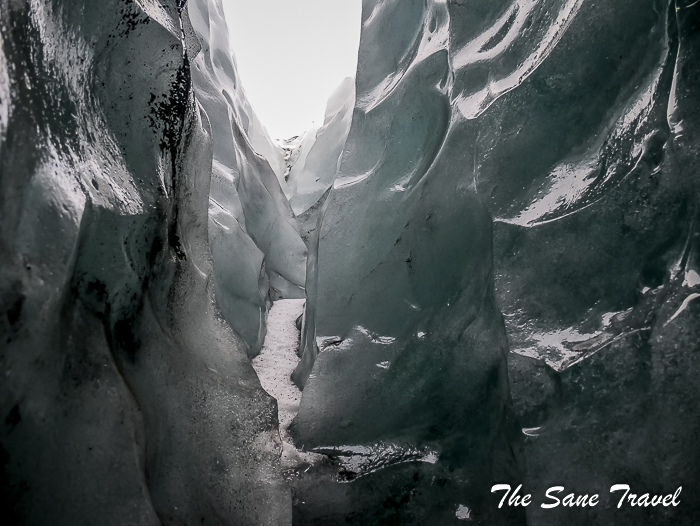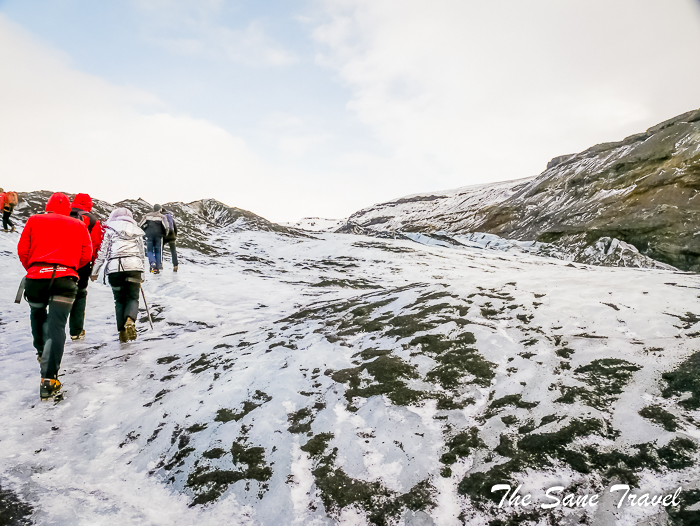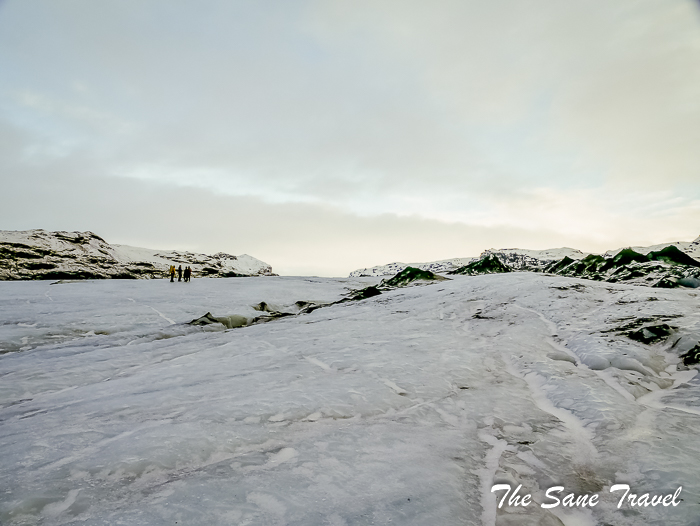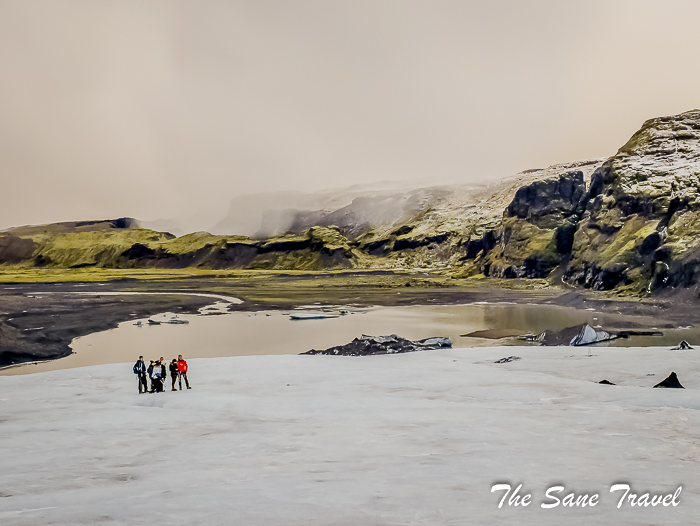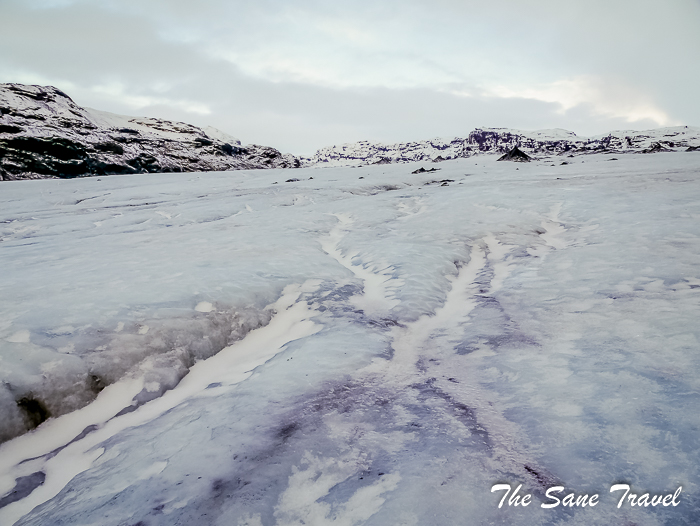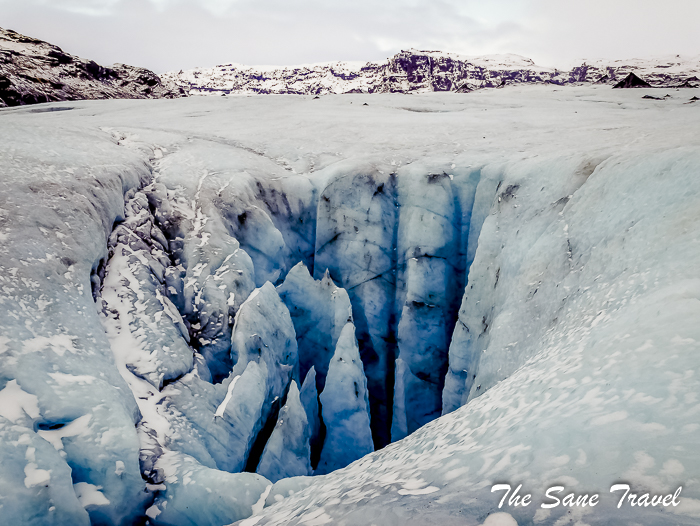 The sad thing about the glaciers is that they are melting fast in Iceland, for example this Sólheimajökull Glacier has lost about 9 meters from May to November 2017. It's about 150 metres thick in total, so it may disappear in some 10 years. Our guide shows how measurement of that has been done by drilling the ice and putting a cable inside the ice. Sometime later you can measure how long the part of the cable outside the ice is because the ice is melting.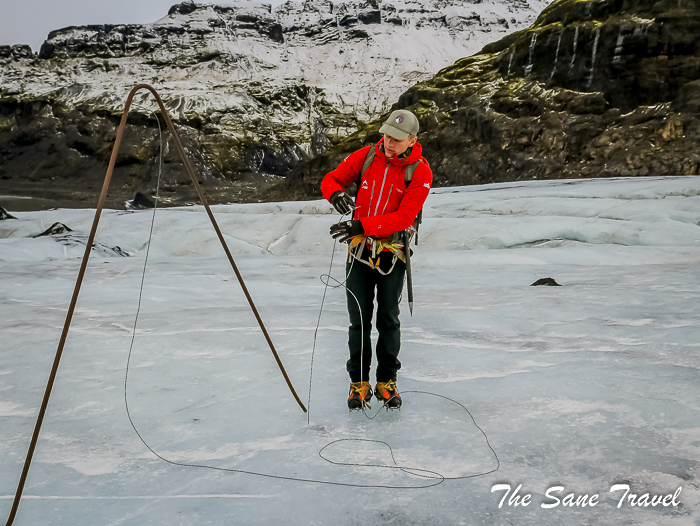 After exploring the glacier we got back to our starting point. I must admit that weather changed a few times from a clear sky to snowfall and back to a clear sky during the few hours of our walk. I very much enjoyed the tour and the stories told by our professional guide.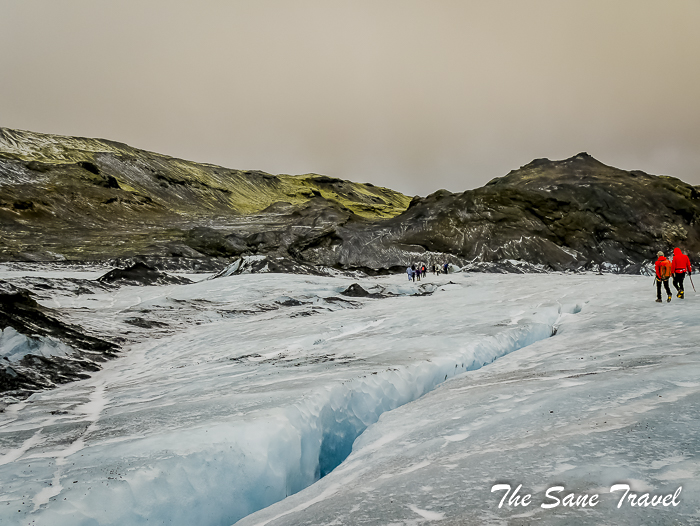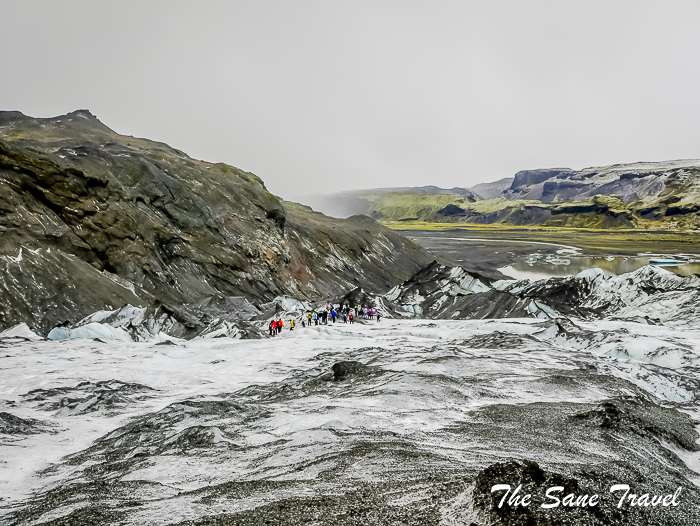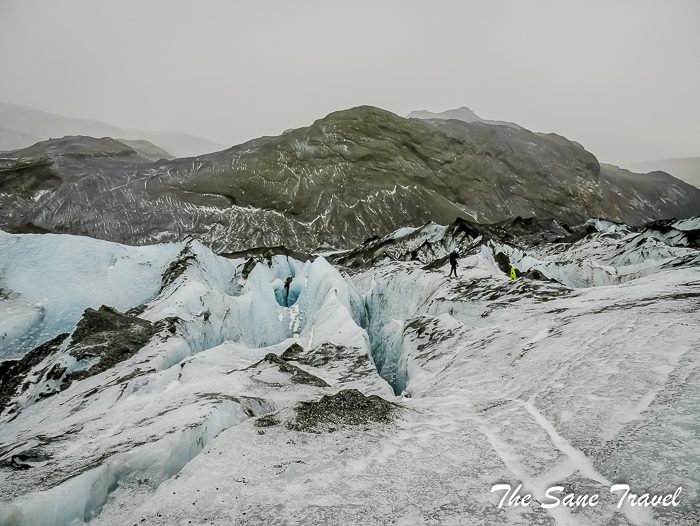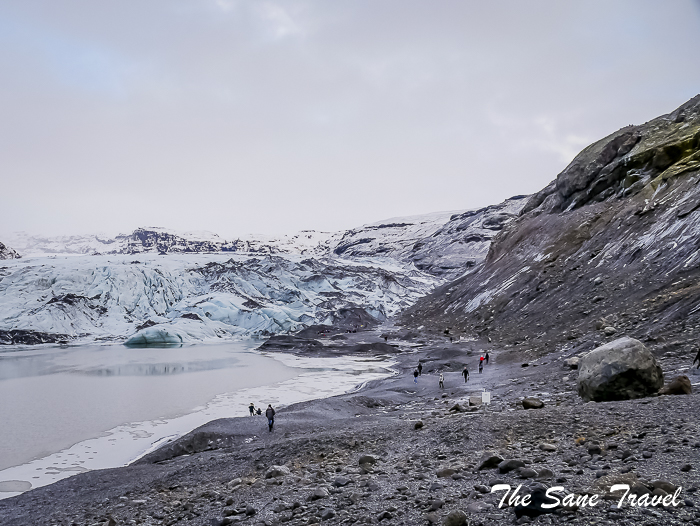 Tour duration: 3 - 3.5 hours in total, about 2 hours on the ice.
What are the requirements for the glacier walk?
The walk is easy to moderate level. There are no technical requirements for the tour as an experienced glacier guide will teach you how to use basic glacier equipment such as crampons and an ice axe that are provided. For crampons you need to have at least shoe size 35.
What to bring
This is an outdoor activity. In winter it's recommended to dress warm. In Iceland it is always smart to wear warm and waterproof clothes. Weather changes are swift so prepare to expect the unexpected. Bring a waterproof jacket and pants, headwear and gloves.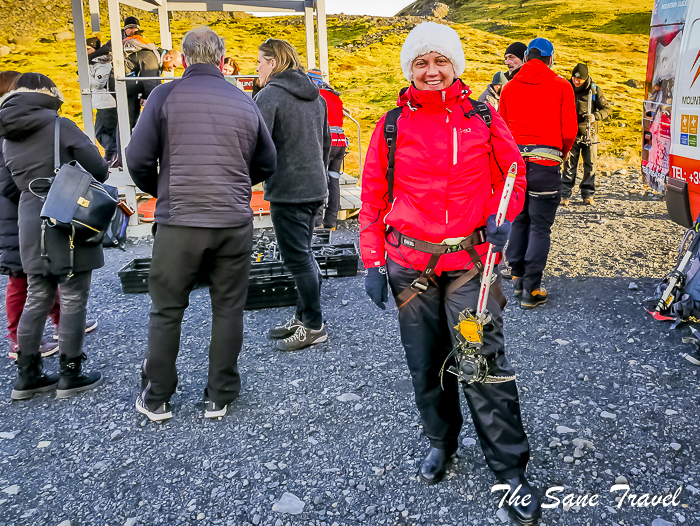 Hiking shoes are recommended but if you can't pack yours for some reason you can rent them from the guides (1500 ISK per person, advance booking recommended to assure availability). Raincoats can be rented as well. So better be prepared and bringing right clothes to wear in Iceland with you. No jeans and flip flops, please!
Departures: All year round, every day at 10:00, 12:00, and 14:00 (except December 24th and 25th)
Note: I was invited by Icelandic Mountain Guides and Reykjavik Sightseeing tours but all opinions are my own.
Have you been to Iceland? Share your favorite impressions in the comments section!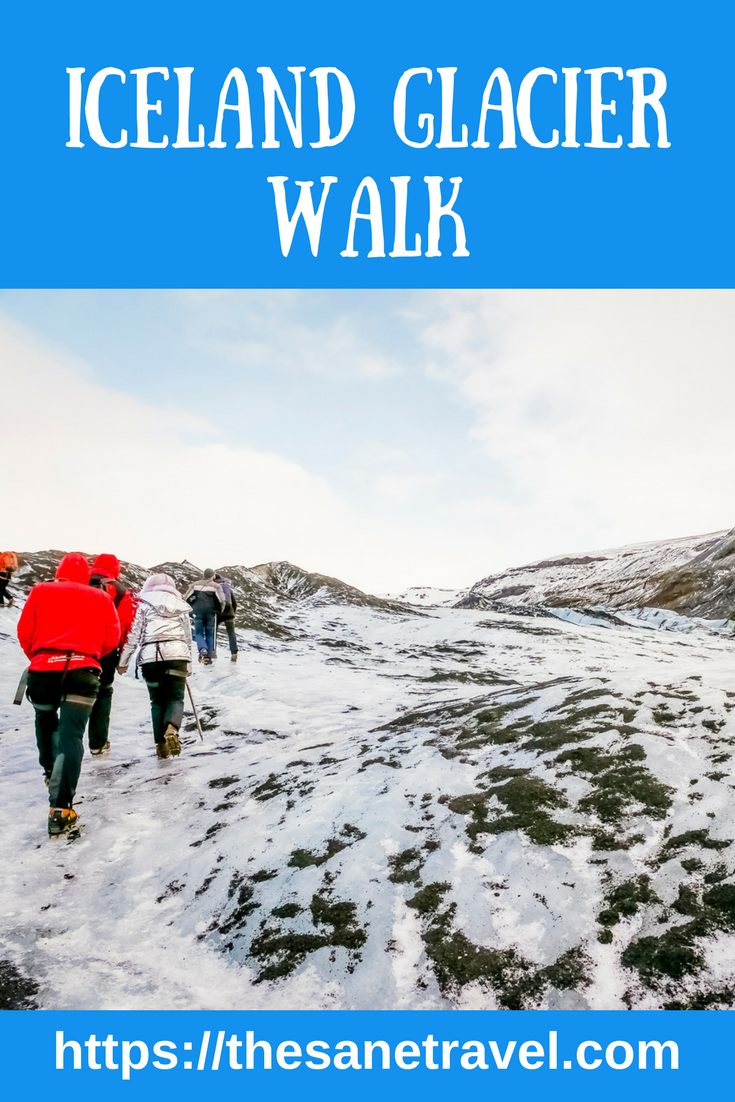 Published by Anita on 18 November, 2017
Author: Anita Sāne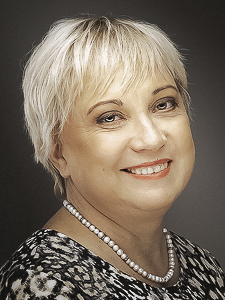 About the author
Anita is a part-time traveller, passionate photographer and a retired career woman from Latvia, travelling mostly solo for more than 15 years. She is a skilled travel planner who plans and executes her travels by herself. Anita wants to show you how to travel the world and open your mind to new experiences. Follow her on Facebook, Instagram, Pinterest, Twitter and Bloglovin.

{module Sign for my blog news! (2)}