Visiting Iceland, the first sightseeing thing that comes to my mind is seeing the extraordinary nature of the country. Even though the capital city Reykjavik doesn't have great historic examples of architecture, it is very much worth exploring. Vibrant and colourful Reykjavik founded in 1786 has a population of approximately 123 000, with almost 217 000 living in the Capital Region. Here is my selection of 12 quite different things to do in the city. All can be done on foot.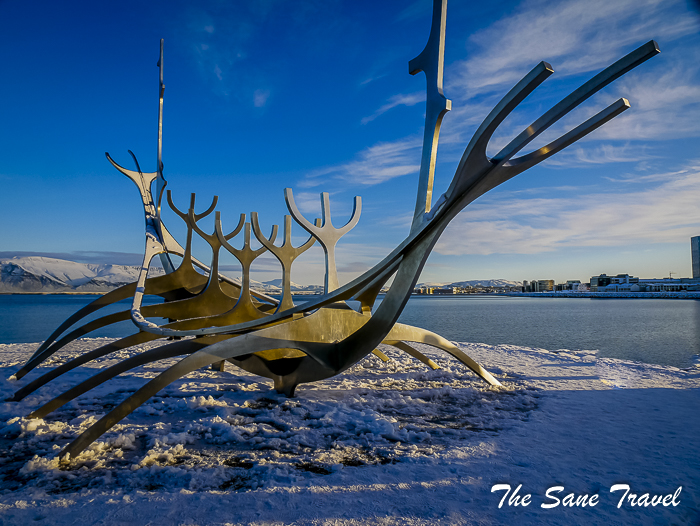 1) Visit the landmark of the city, Hallgrimskirkja
The Church of Hallgrimur is a national monument dedicated to the most renowned religious poet of Iceland, Hallgrímur Pétursson. Hallgrimskirkja towers over the centre of Reykjavik. Building work started in 1945, and the church was finally consecrated in 1986. State architect Guðjónn Samúelsson designed the church. Climb up its 73-meter high tower and enjoy the sights of Reykjavik and its surroundings.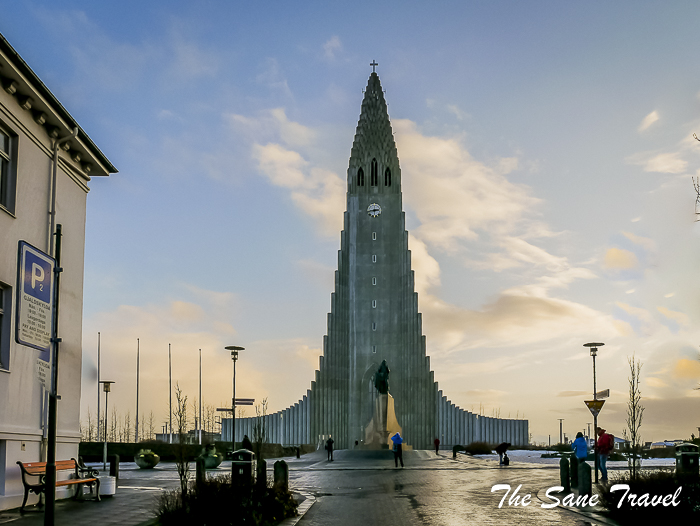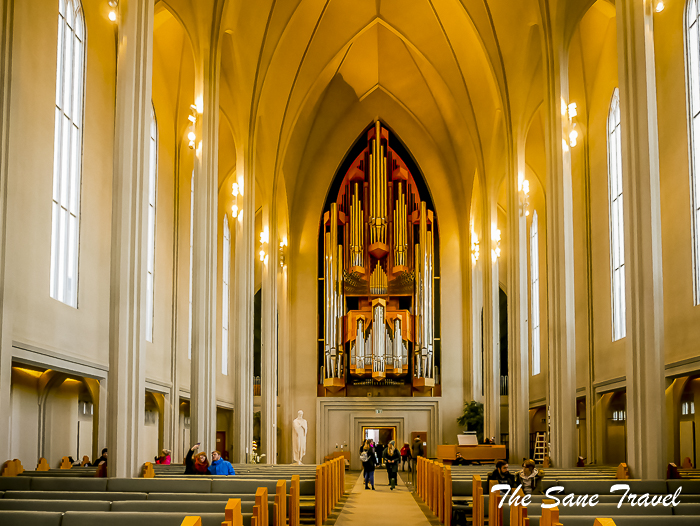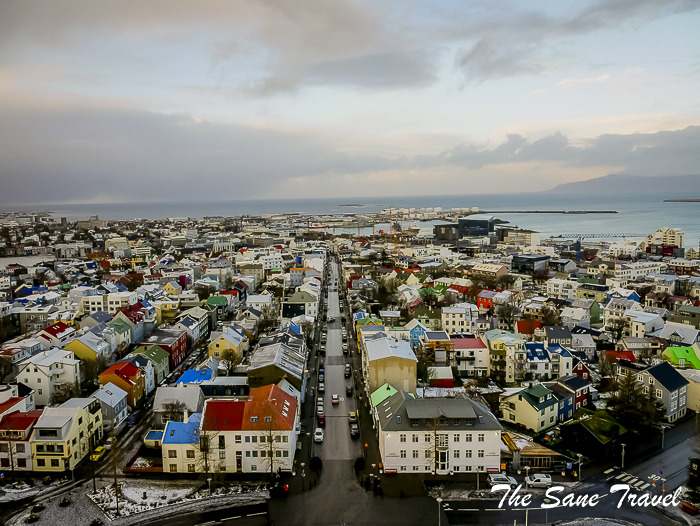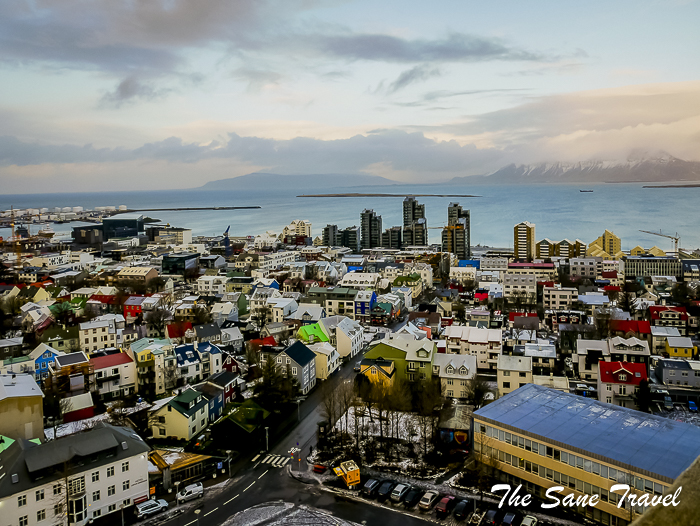 2) Explore Harpa Concert Hall
It is another one of Reykjavik's greatest and most distinguished landmarks. Harpa is a cultural and social centre of the city and features stunning views of the surrounding mountains and the North Atlantic Ocean. Its award-winning architecture has attracted 7 million guests since its opening in 2011. Take a guided tour, explore the building by yourself, attend a concert or have a meal at the restaurant.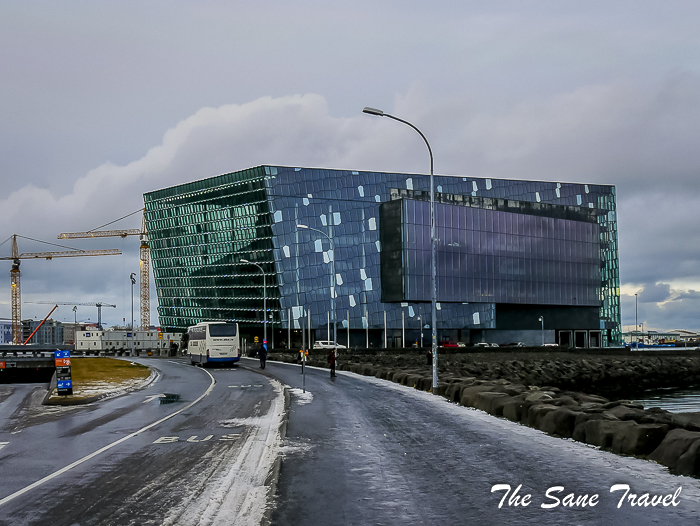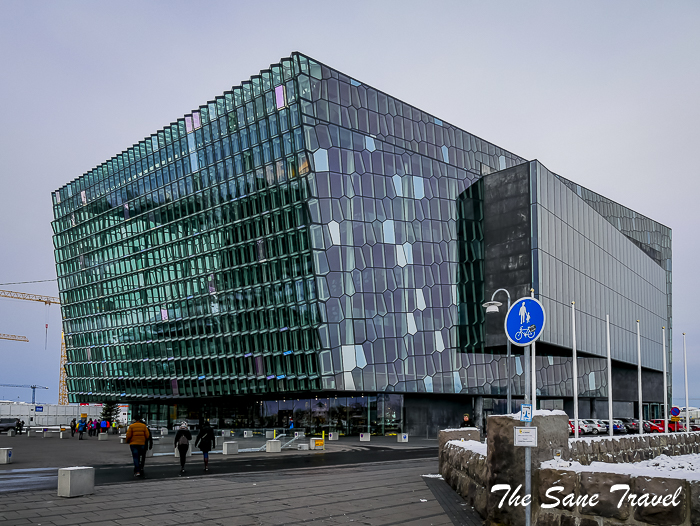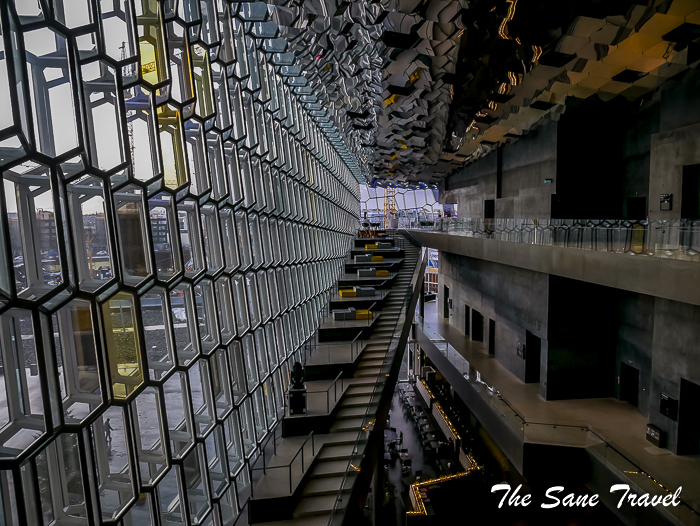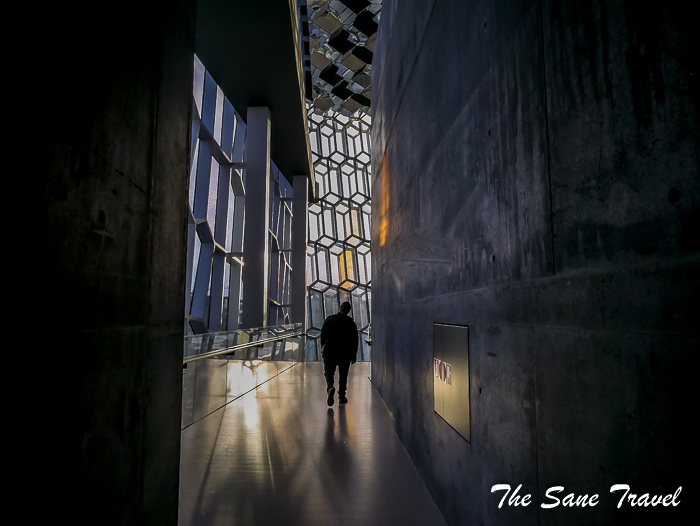 3) Enjoy the street art of the city
Reykjavík is home to a thriving and prevalent street art scene. One of the popular examples is this fully painted building Isey on Laugavegur that houses a cosy tourist shop. After admiring the painted house, use the opportunity to buy souvenirs, trinkets, clothing and the famous woolen sweaters. Want to explore other examples of the street art of Reykjavik? Learn more from reading my article here.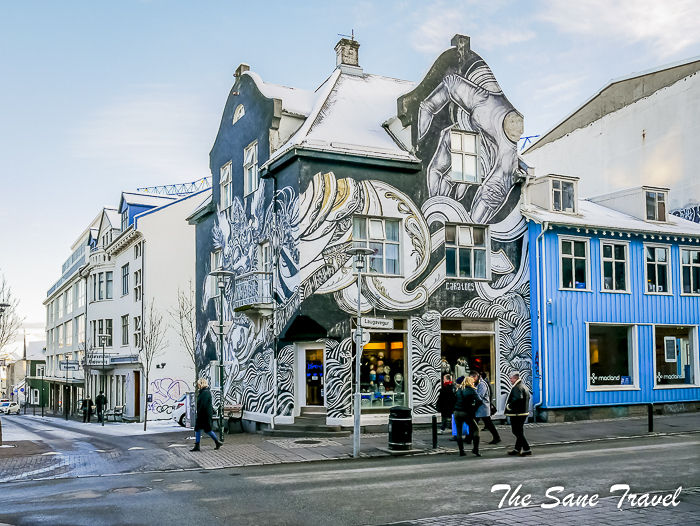 4) Feed birds at the Pond
Pond, locally known as Tjörnin, is one of Iceland's most beloved and iconic Reykjavik city features. Icelanders come here with their children to watch and feed the birds. You are welcome to join.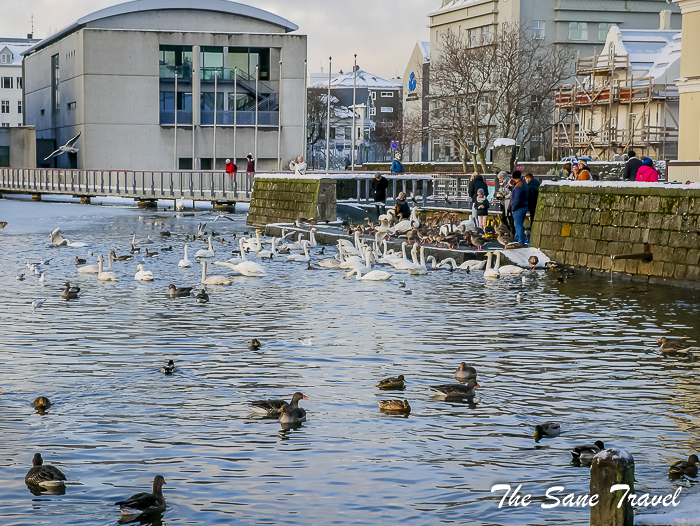 5) Try Icelandic hot dog at "Bæjarins beztu"
It's a popular hot dog stand in central Reykjavík. It has been open there since 1937. In 2006, British newspaper The Guardian named Bæjarins beztu the best hot dog stand in Europe. The majority of Icelanders have eaten at Bæjarins beztu. Among famous people who have eaten at Bæjarins beztu are Bill Clinton, former president of the United States, and James Hetfield, vocalist of the heavy metal band Metallica. Bæjarins bestu pulsur stands are located at 5 places in Reykjavik so you have a choice. Want to know more about food in Reykjavik? Read about a food walk in the city clicking this link.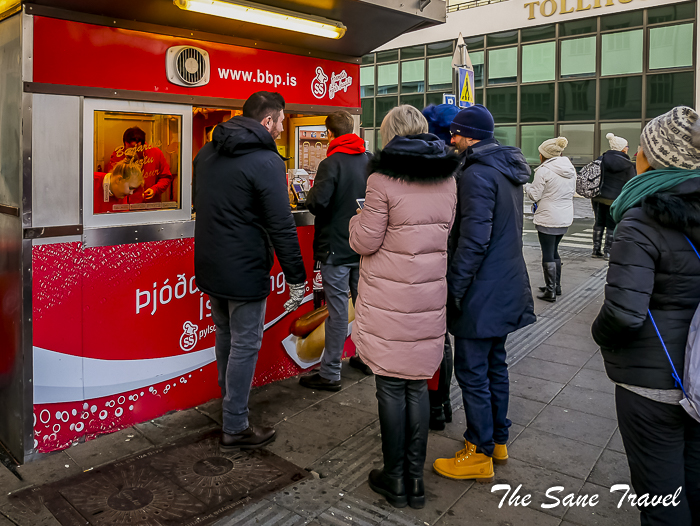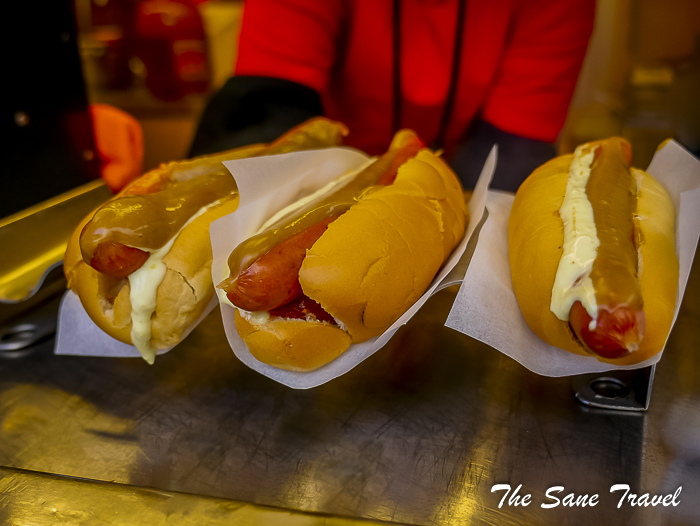 6) Buy souvenirs at the Kolaportid flea market
It is located in the old harbour area, a few minutes from the city centre. It is indoors and open every weekend. Stalls sell vintage clothing, used books, DVDs, Knick knacks and antiques, as well as toys, woollen goods, and more. Kolaportid is a great place to buy strange Icelandic delicacies such as dried fish and fermented shark, but also the freshest liquorice you have ever tasted and freshly baked "kleinur". Most vendors only accept cash so it is recommended to bring it with you.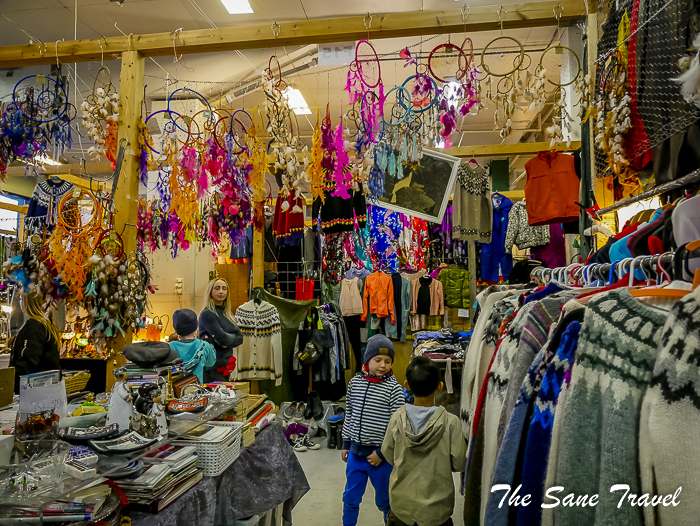 7) Book-shop like an Icelander
My choice was Eymundsson book shop at Laugavegur 65-77. Eymundsson is Iceland's oldest bookstore, established in 1872. It operates 15 locations around Iceland and offers a wide selection of books, magazines and various gift items. Many of their storefronts also include a coffeehouse. You can drink coffee or enjoy a light meal in a cosy environment while reading whatever you like from the store. Icelanders have a beautiful tradition of giving books to each other on Christmas Eve and then spending the night reading. This custom is the reason for the Jolabokaflod, or "Christmas Book Flood," when the majority of books in Iceland are sold between September and December in preparation for Christmas giving. In 2011, UNESCO designated Reykjavik a "City of Literature" to emphasize Icelanders' love of books. And don't forget to admire a cat!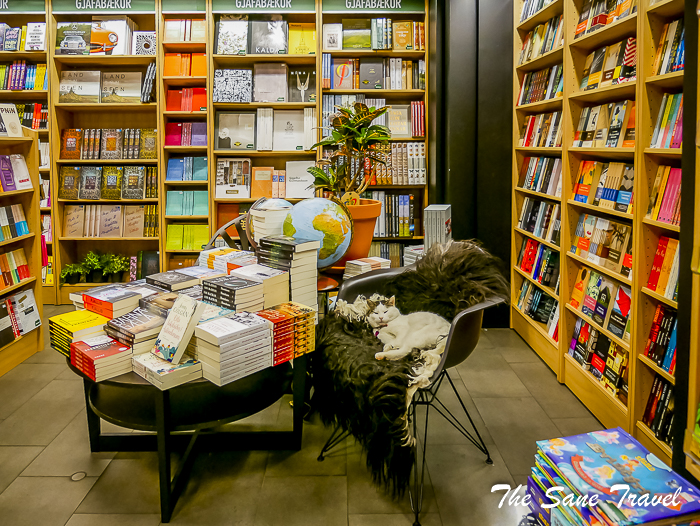 8) See the Sun Voyager when strolling Reykjavik's waterfront
Reykjavík is surrounded by the Atlantic Ocean with water-front paths stretching around the entire peninsula. When walking around, make a stop at the steel sculpture resembling a Viking longship. It's called the 'Solfar' or 'Sun Voyager.' This landmark was created by Icelandic sculptor Jon Gunnar Arnason. It was intended as a dreamboat and an ode to the sun. The epic view of Mount Esja also makes this a favourite destination for travellers and those who appreciate natural beauty.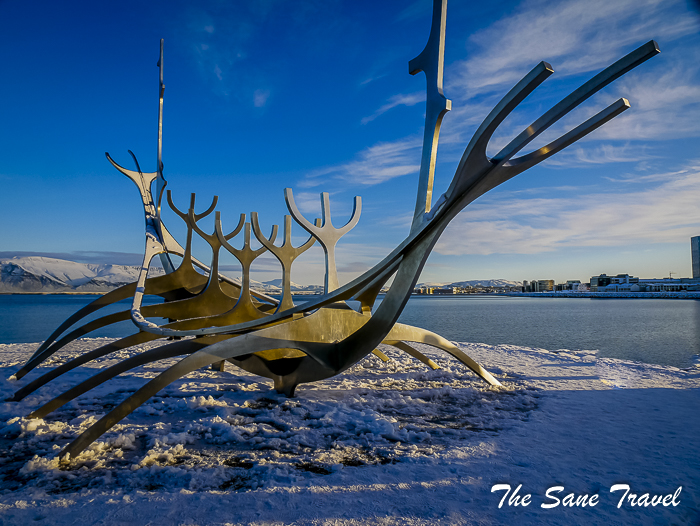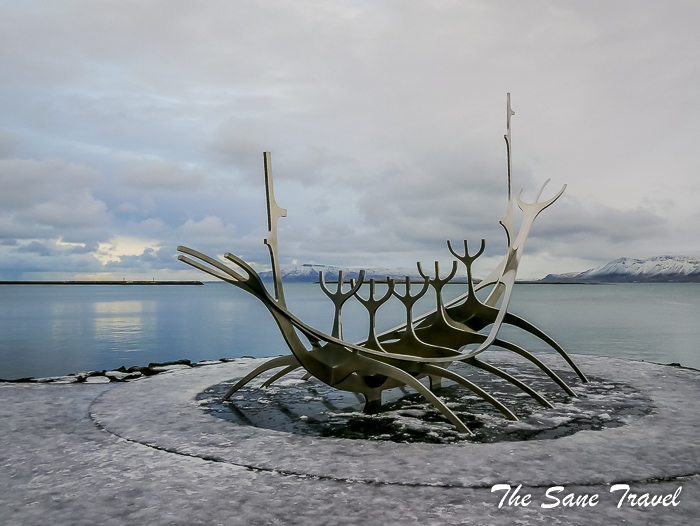 9) Visit Hofdi house
It's the place of the historic meeting of the US president Reagan and head of USSR Gorbachev in 1986 marking the end of the Cold War. The building from the beginning of 20th century was originally designated for the French Consulate and today is used for official city social functions. Although closed to the general public, it's worth seeing from outside.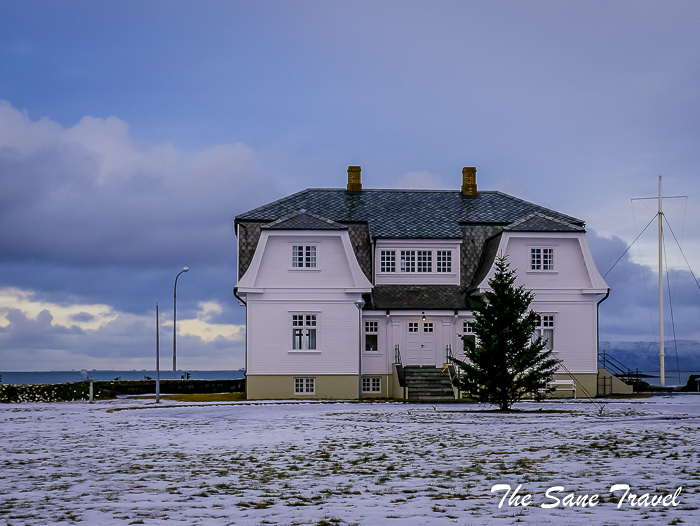 Also, explore the sculpture in front of the building portraying pillars from the chieftain's seat of the first Norwegian settler in Reykjavik.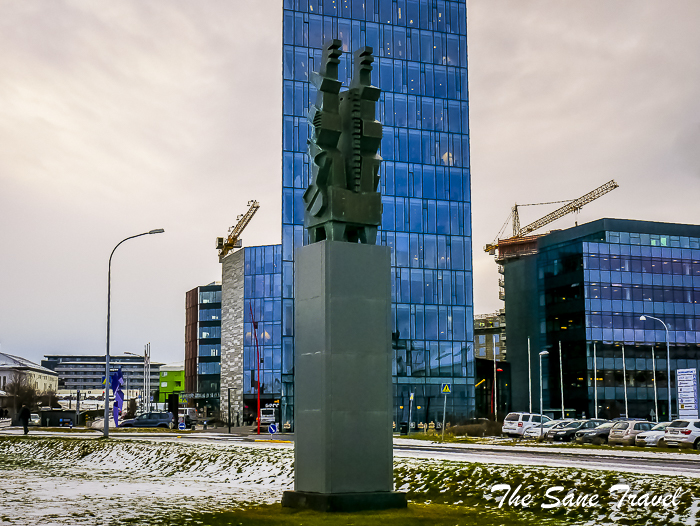 When visiting this area, remember to stop by abstract sculpture Obtusa at the nearby street corner. The brightly coloured abstract piece of art is located in the traffic circle at the intersection of Katrínartún and Borgartún. The sculpture was created by Venezuelan-American artist Rafael Barrios, well known for his optical illusion sculptures. People can walk around the sculpture and observe how the shapes of this 4 metre tall three-dimensional sculpture change from different viewpoints.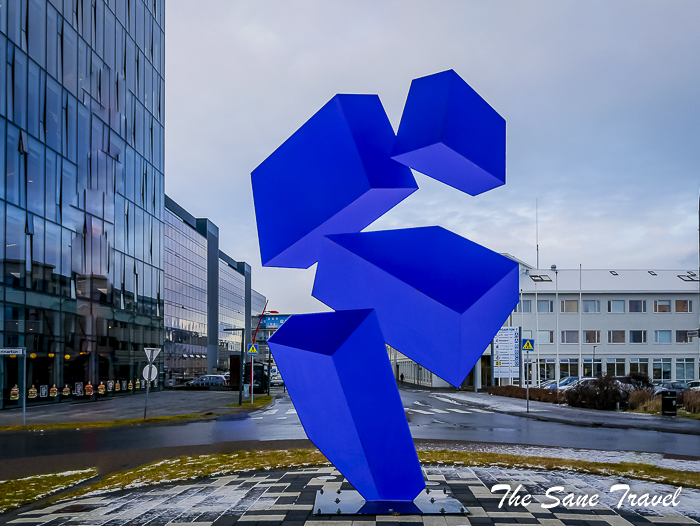 10) Visit Perlan Museum to walk ice caves within the city limits
The Glaciers and Ice Cave Exhibition is the first exhibition of the new Perlan Museum – Wonders of Iceland. The exhibition is built inside one of Perlan's six hot water tanks. It illustrates the glaciers and gives visitors an amazing opportunity to experience travelling through a real man-made Ice Cave. Icelanders have developed a method to accurately replicate an ice tunnel that is dug through a glacier. It is the first indoor ice cave in the world. The temperature inside the ice cave is -10C (14F). It takes about 10-15 minutes to walk through the ice cave.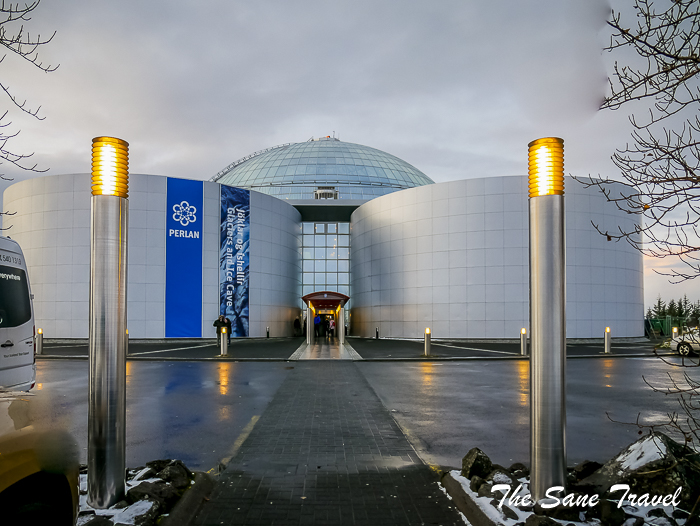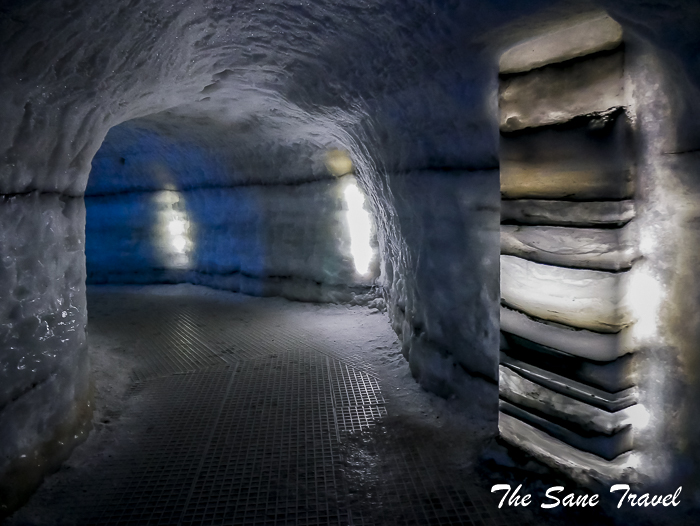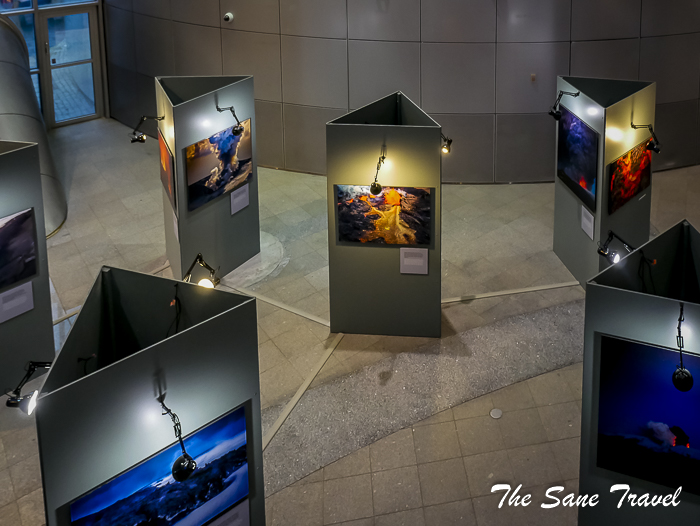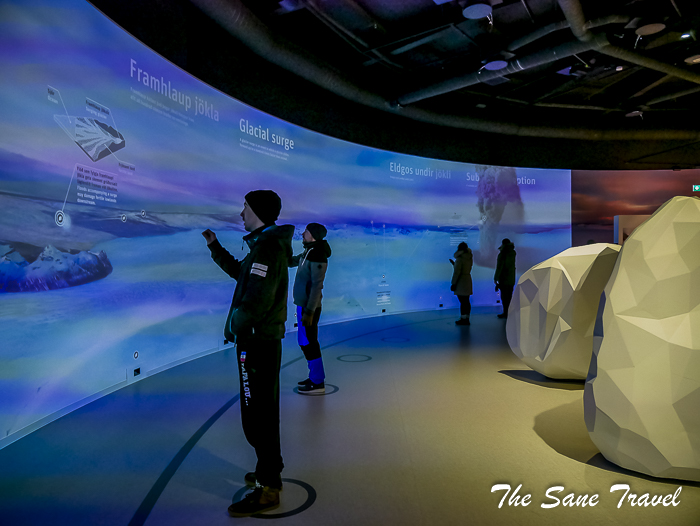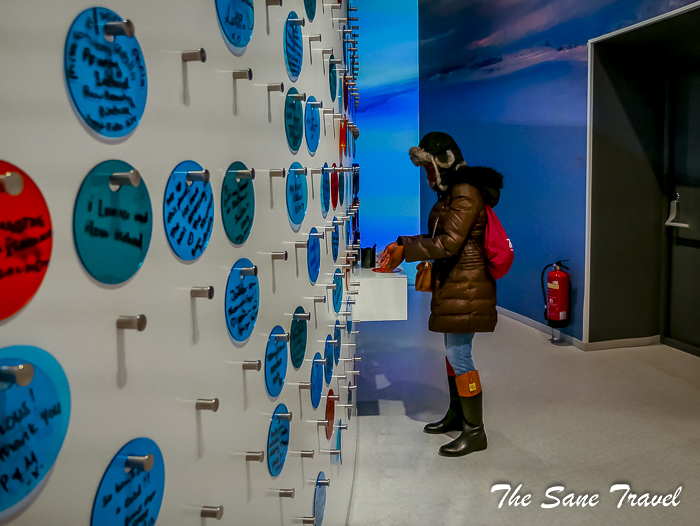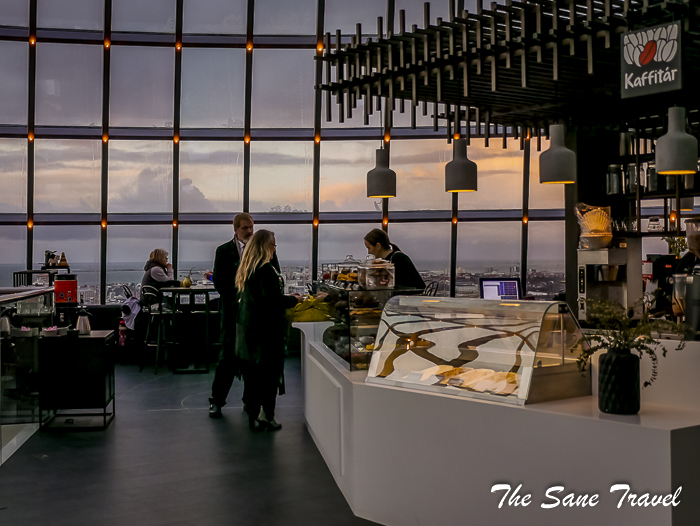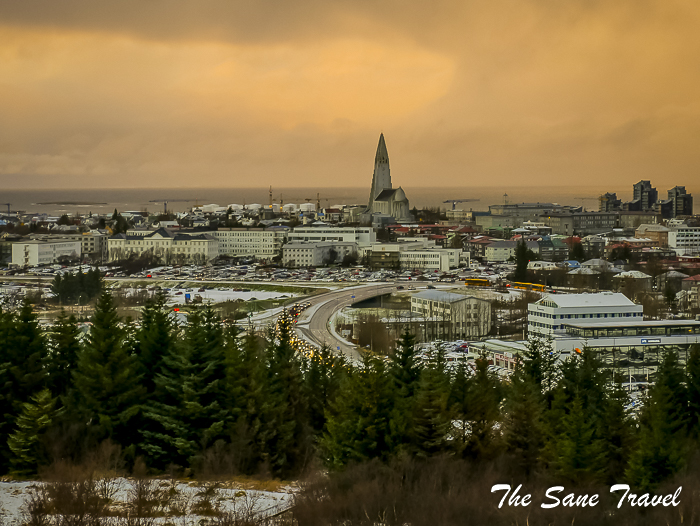 Perlan offers a free shuttle bus to Perlan from Harpa Concert Hall, every 30 minutes.
11) See something unique: the Icelandic Phallological Museum
It is probably the only museum in the world to contain a collection of phallic specimens belonging to all the various types of mammal found in a single country. You can explore a collection of more than two hundred penises and penile parts belonging to almost all the land and sea mammals that can be found in Iceland. Altogether the collection contains 282 specimens from 93 different species of animals. In addition to the biological section of the museum, visitors can view a collection of about 350 artistic oddments and practical utensils related to the museum ́s chosen theme. Pictured a museum shop.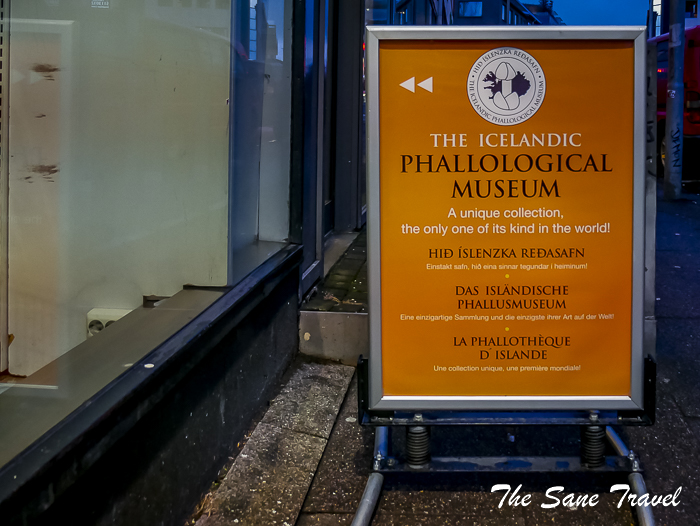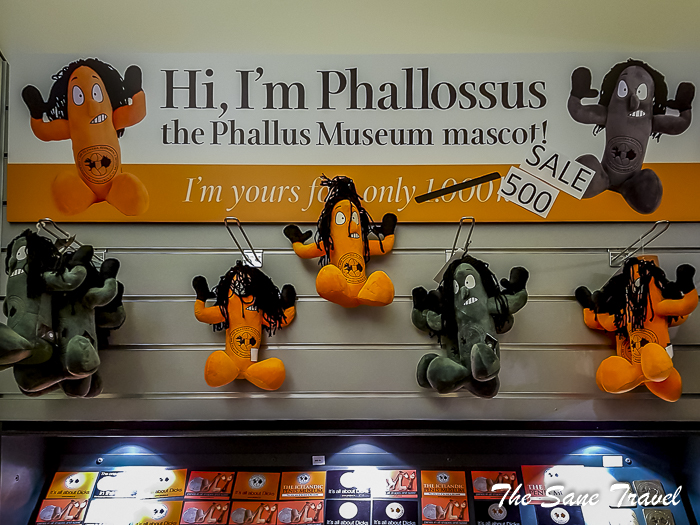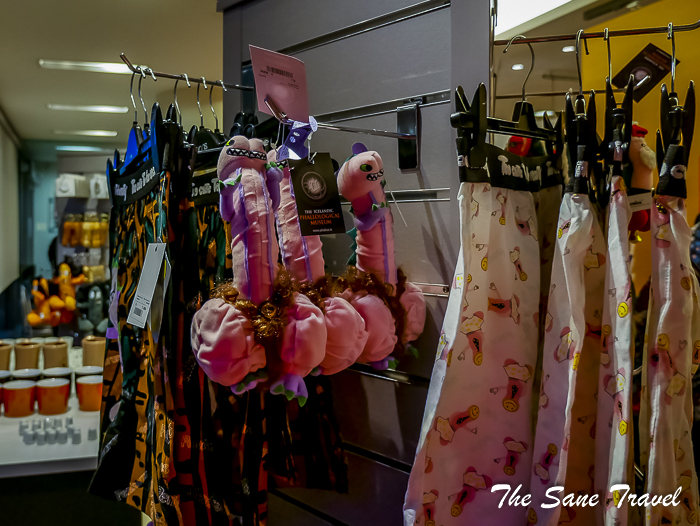 12) Swim in one of Reykjavik's seven geothermal swimming pools!
The pools attract nearly 2 million visitors and for a good reason! Imagine soaking in the warm water originating from a geothermal drill hole within the city limits. The clean natural geothermal water and regular inspection ensures the highest water quality possible. My choice was Laugardalslaug, the city's largest and most popular pool with extensive facilities, located in Laugardalur Valley. Facilities include the main pool with several 50 m lanes, an indoor pool for training and competition, a children's pool, 3 children's water slides, a wipe-out-style challenge, 7 hot tubs of various temperatures and a steam bath. It is important to shower naked and wash thoroughly before entering the pool for hygiene reasons. So obey the rules and enjoy!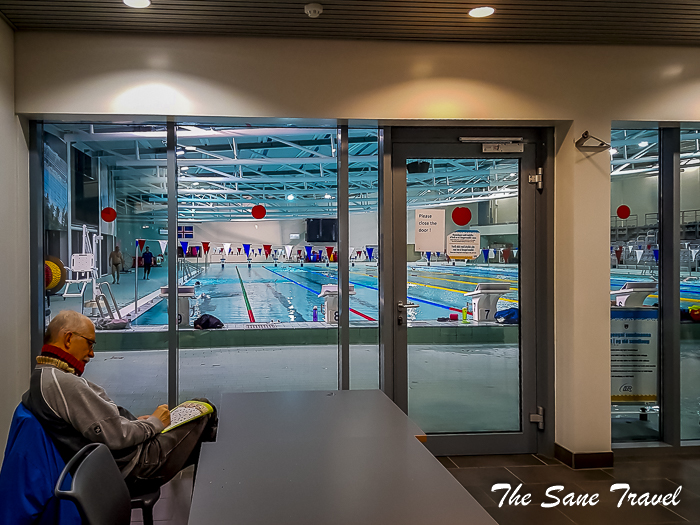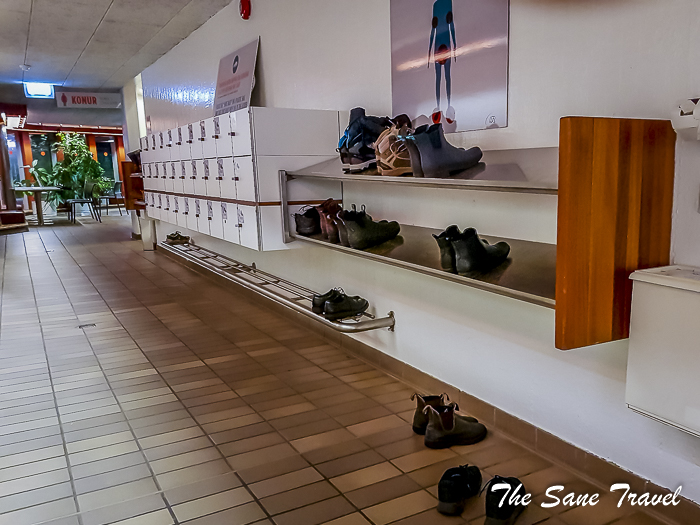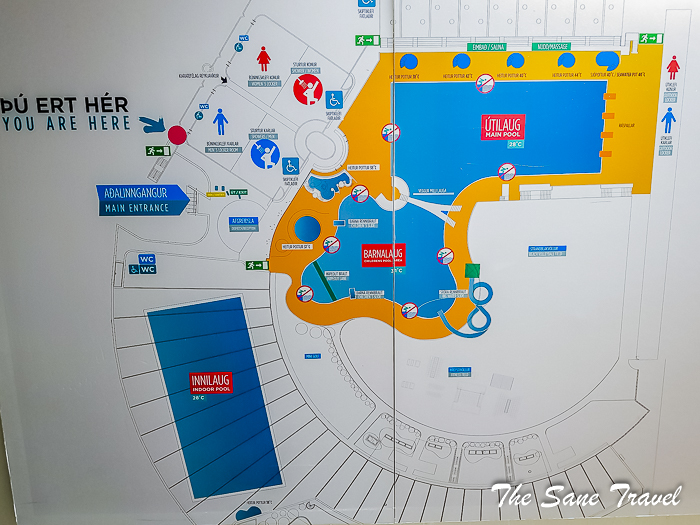 Read also about free things to do in Reykjavik. Want to be more prepared for your Iceland visit? These Iceland travel tips might be helpful. Here you can find out how much does it cost to travel to Iceland. Have you been to Reykjavik? What is your most favourite spot in the city? Share in the comments section!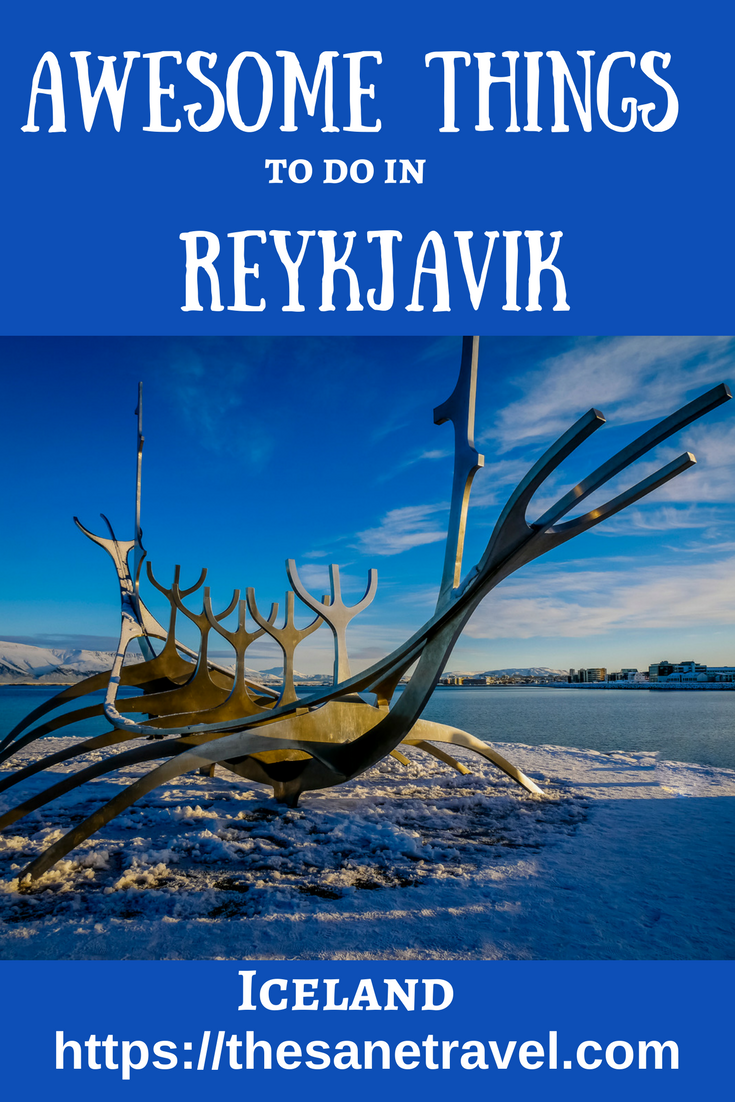 Published by Anita on December 30, 2017
Author: Anita Sāne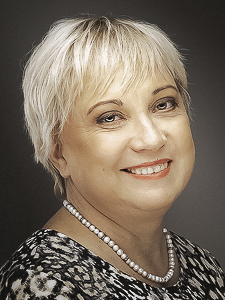 About the author
Anita is a part-time traveler, passionate photographer, and a retired career woman from Latvia, traveling mostly solo for more than 15 years. She is a skilled travel planner planning and executing her travels by herself. Anita wants to show you how to travel the world and open your mind to new experiences. Follow her also on Facebook, Instagram, Pinterest, Twitter, and Bloglovin.

{module Sign for my blog news! (2)}