I wouldn't call myself a foodie. But when I was offered an opportunity to do a food tour in Reykjavik, Iceland with The Reykjavik Food Walk, I couldn't say no! I must tell it was much more than just a food tour but let's start from the very beginning. We met our knowledgeable and inspirational guide Anna Sara at Harpa Concert Hall and our exciting journey could start. After a short walk and introduction to Reykjavik from the top of the Arnarholl hill and hearing about the excitement of Icelanders upon their football team's historic victory over England at Euro 2016, we got to our first food stop.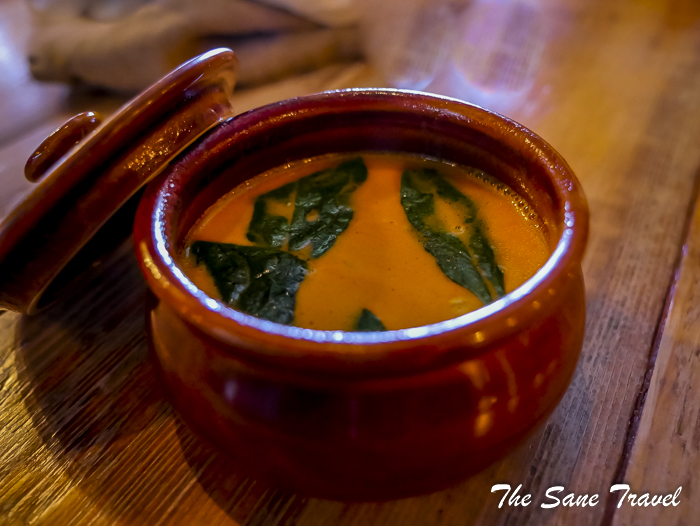 Islenski Barinn
The Icelandic meat soup
The bar has recently reopened in a new location and it wasn't long until locals started frequenting it. The Icelandic Bar is now a cosy place to meet up both for locals and visitors.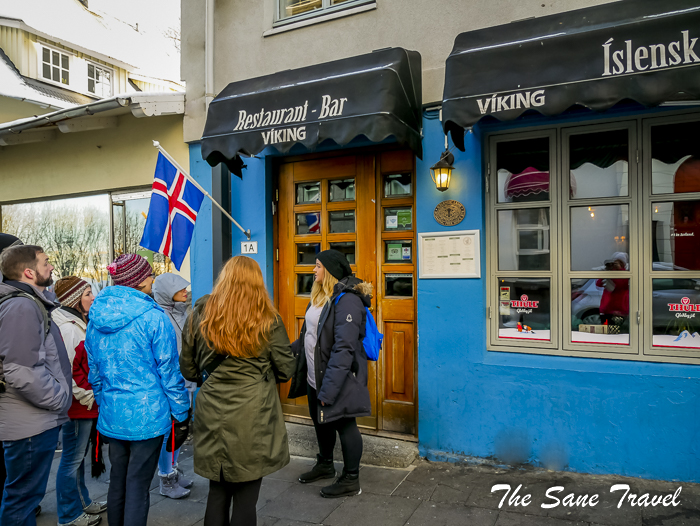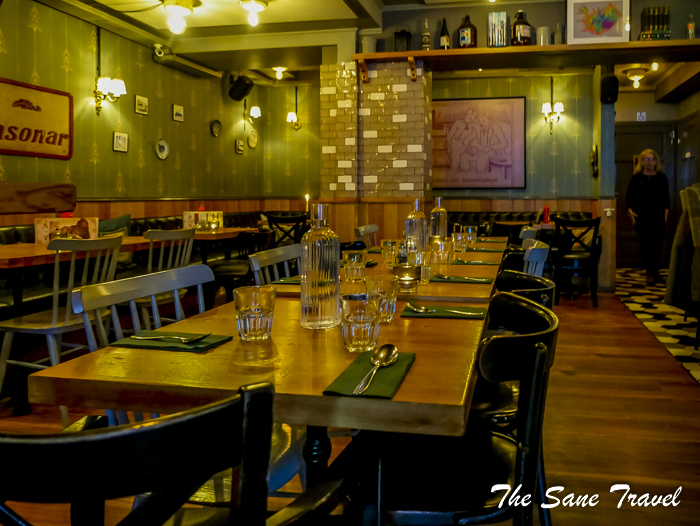 Traditional Icelandic meat soup is a popular meal, the perfect food for a cold winter's day. Each family in Iceland has its own variation of the recipe that includes mutton or lamb meat, potatoes, turnips, rice, as well as herbs for spice and added flavour. Besides the soup, we also had an opportunity to taste a local Christmas beer there.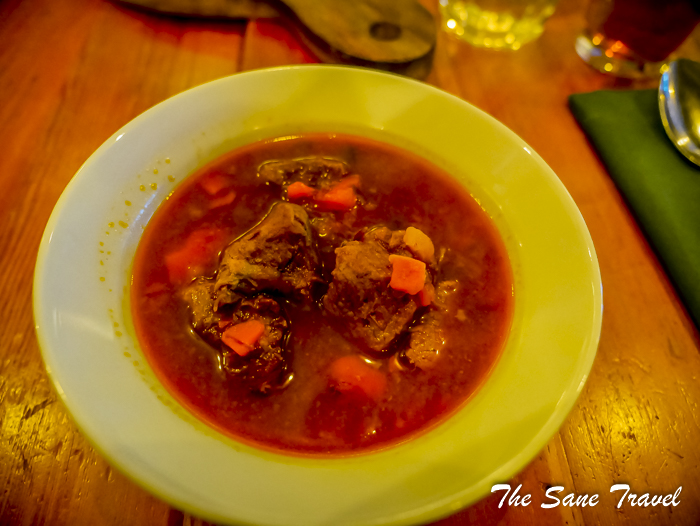 We continued our walk to the Cheese Shop or Ostabúðin, located on Skólavörðustígur - only a few steps off Laugavegur shopping street. I must admit that only with the help of Anna Sara we noticed a tiny elf on the top of the street sign. Do you see this awesome creature?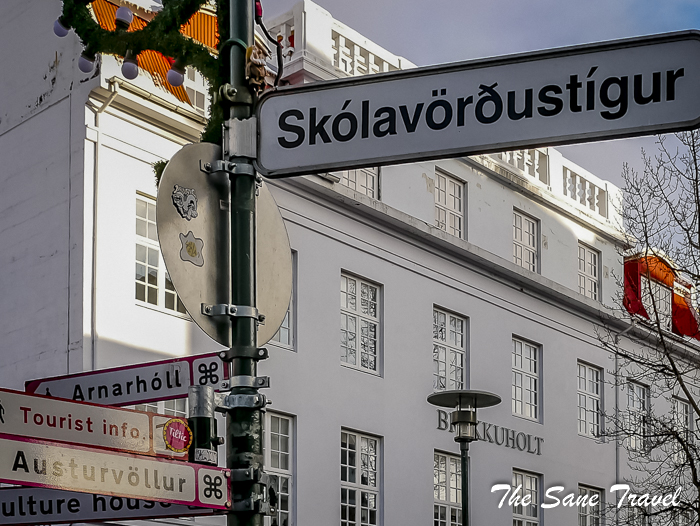 Ostabúðin, the cheese shop
The gourmet Cheese Shop offers a wide selection of cheeses but it is much more than that.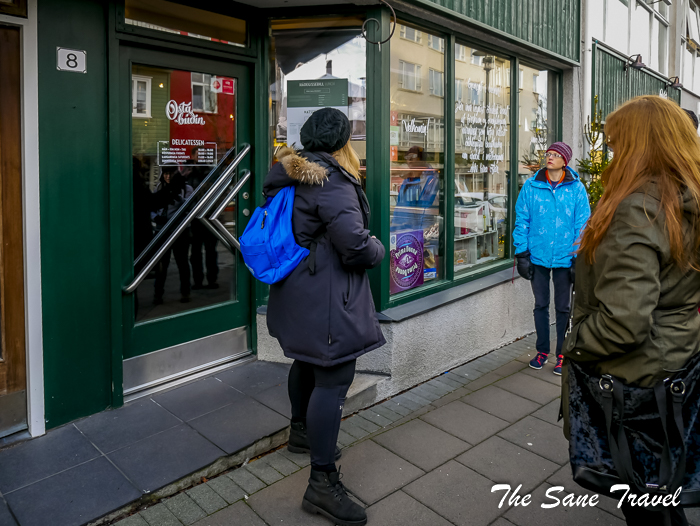 Besides the cheeses, you´ll find delicacies such as hot-smoked goose, cured lamb fillet, salmon tartar and goose liver pate.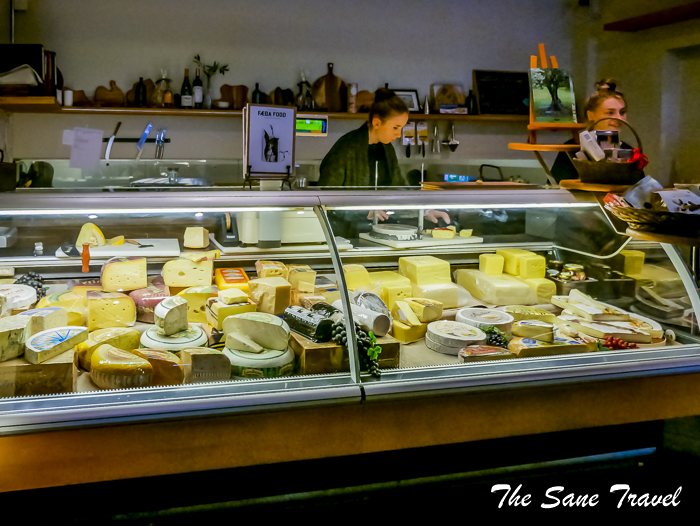 We had an opportunity to taste Black Gouda, Gull Ostur, and Blue Cheese and also smoked lamb, horse and goose.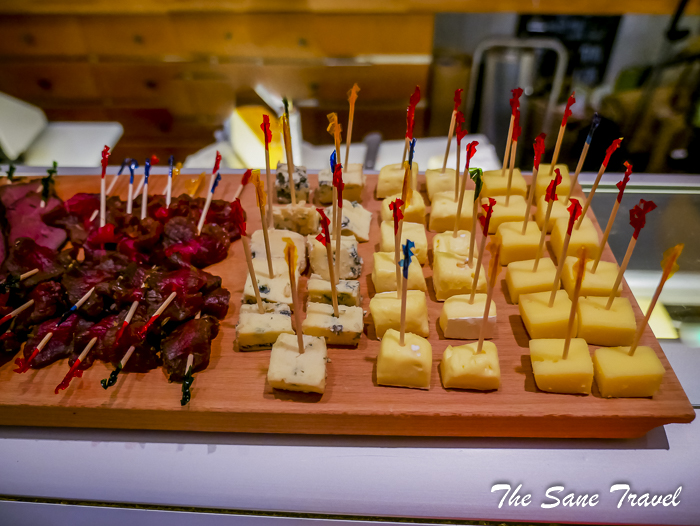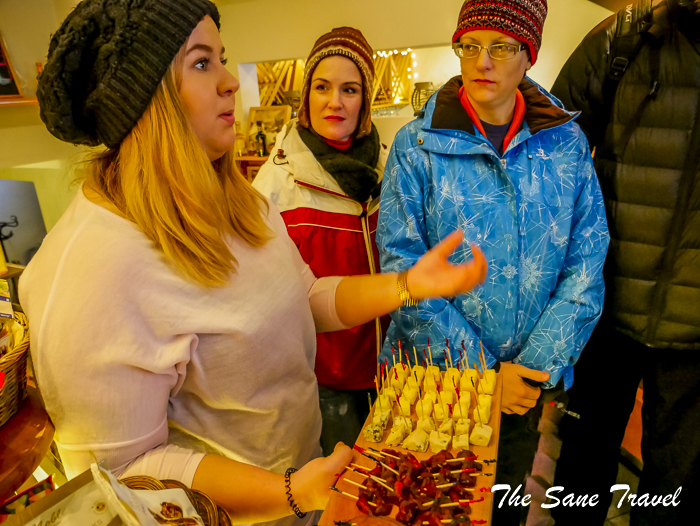 After that, our walk continued uphill towards a landmark of the city, Hallgrímskirkja church to Cafe Loki.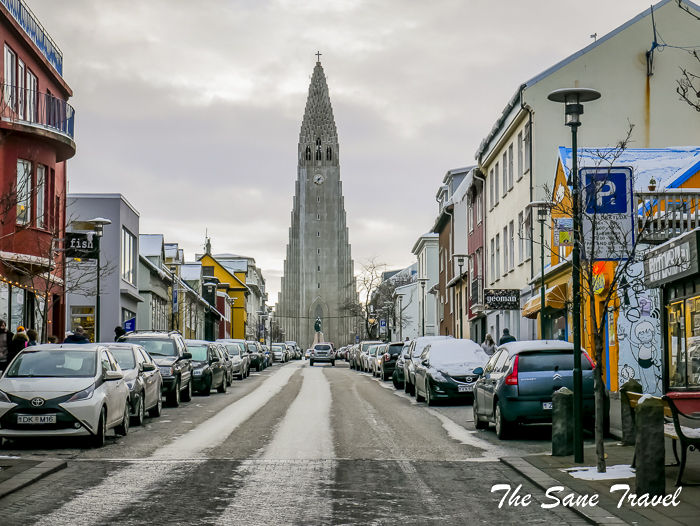 Café Loki
Rye bread ice cream
Cafe Loki is a hospitable restaurant that serves authentic Icelandic food, located across the street from famous Hallgrímskirkja in central Reykjavik.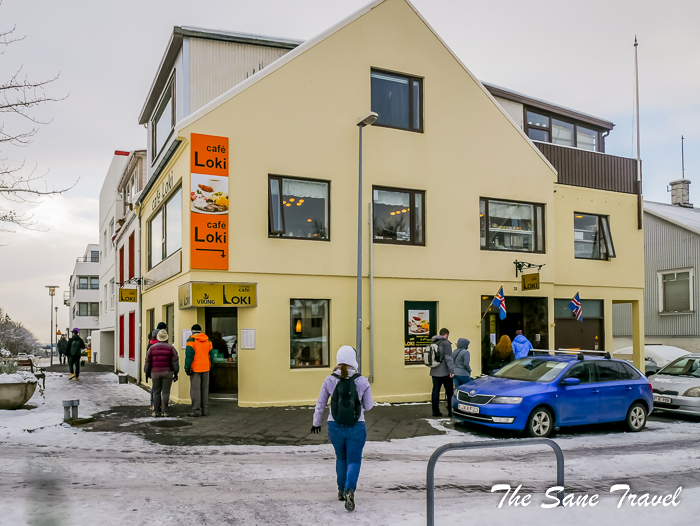 The environment is cosy and modern, and the food is rumored to be the most authentic traditional culinary experience in Reykjavik. You can enjoy traditional Icelandic homemade dishes such as Icelandic meat soup, Icelandic plate, homemade bread, and cakes. From the top floor, visitors can enjoy a beautiful view over Reykjavík, Hallgrímskirkja church and to Bláfjöll mountains. We tasted rye bread ice cream with whipped cream and honey. It was really delicious for my taste buds.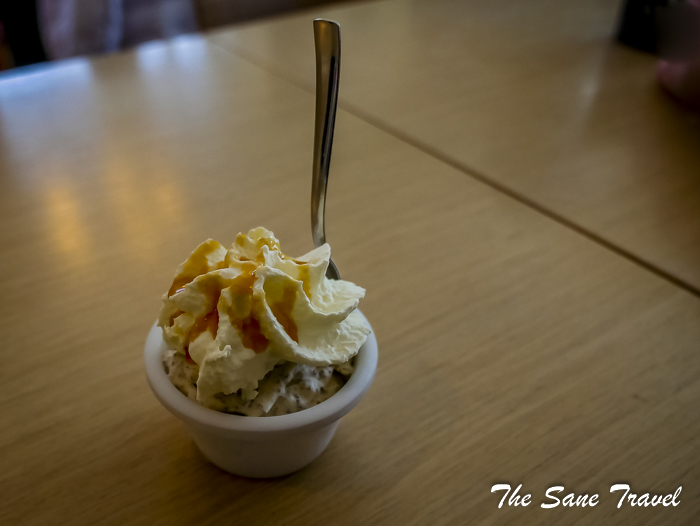 We also met some eaters outside the cafe at their apple tasting meal.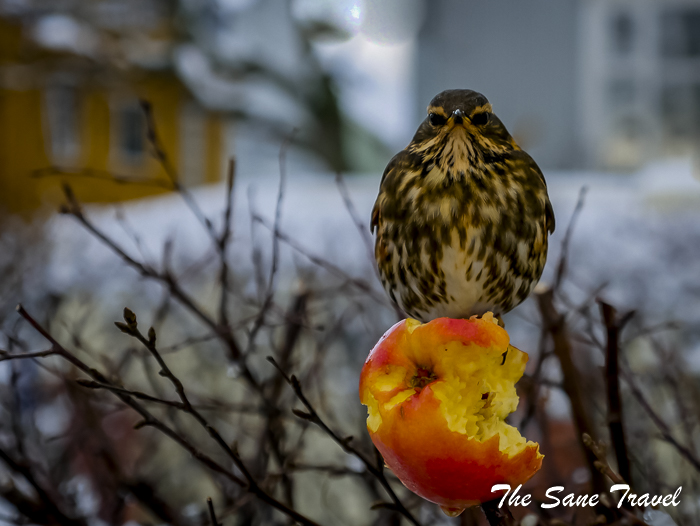 Then we continued our walk to the Pond, locally known as Tjörnin, one of Iceland's most beloved and iconic Reykjavik city features. Icelanders come here with their children to watch and feed the birds, so again we were not the only eaters there.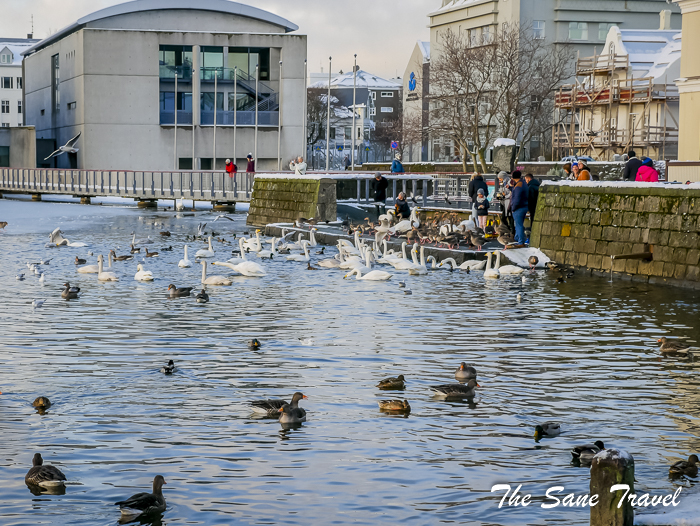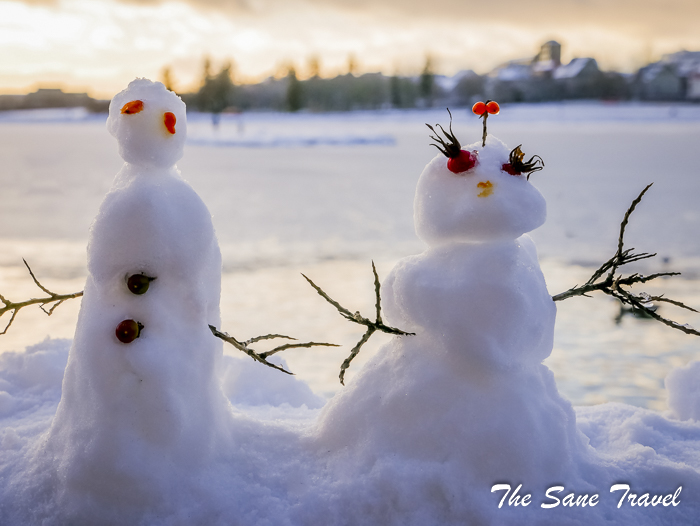 Quick Skyr stop at the Pond
Thick and full of protein, skyr has been made in Iceland for more than a thousand years. Skyr is a central part of the Icelandic diet. It was likely brought to Iceland by Scandinavian Norsemen who settled the land in the late ninth century. The traditional recipe for skyr involves taking milk and heating it with a bit of old skyr from the previous batch, as a starter. After curds form, the whey is drained slowly for many hours to create a thick, sour product. Icelanders say that skyr is not a yogurt at all, but rather a cheese. We had the blueberry variety of skyr. To me, skyr tasted more like a thick yogurt not cheese.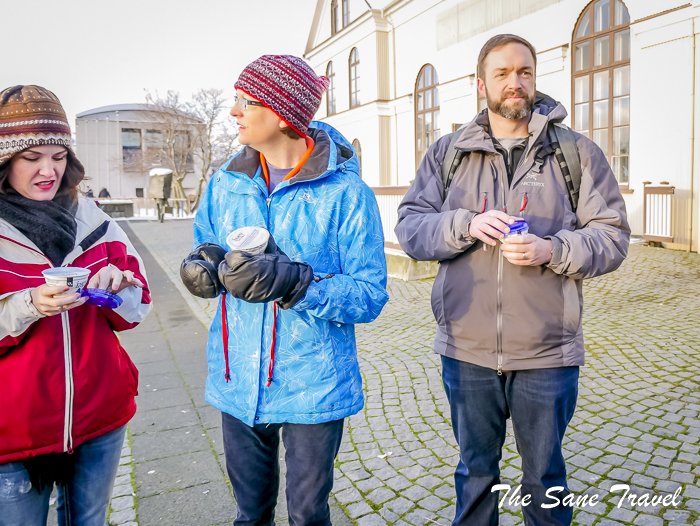 From there we continued our way to the iconic hot dog stand, making a short stop at the square in front of Iceland Parliament building.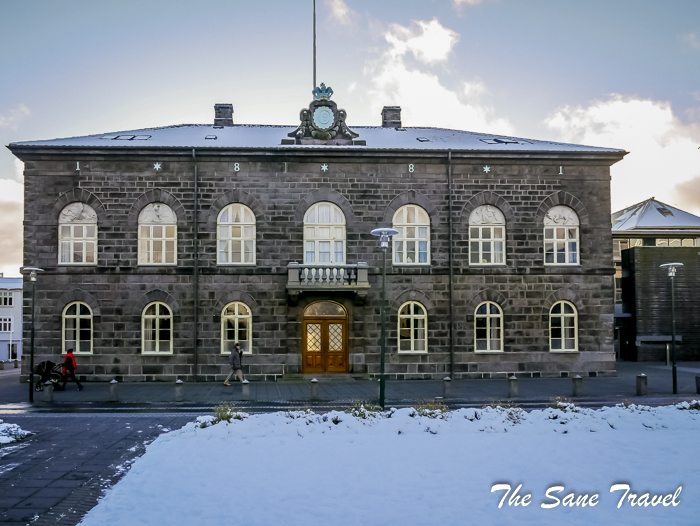 The hot dog stand Bæjarins bestu pulsur
The best hot dog in town, often shortened to simply "Bæjarins beztu", is a popular hot dog stand in central Reykjavík. It has been open there since 1937. In 2006, British newspaper The Guardian named Bæjarins beztu the best hot dog stand in Europe. The majority of Icelanders have eaten at Bæjarins beztu. Foreign visitors are often brought here to be introduced to "the Icelandic national food", namely hot dogs. Among famous people who have eaten at Bæjarins beztu are Bill Clinton, former president of the United States, and James Hetfield, vocalist of the heavy metal band Metallica. Bæjarins bestu pulsur stands are located at 5 places in Reykjavik so you have a choice.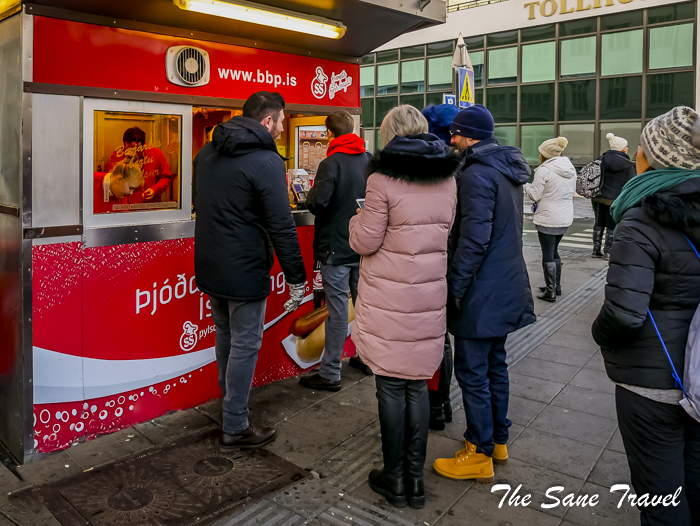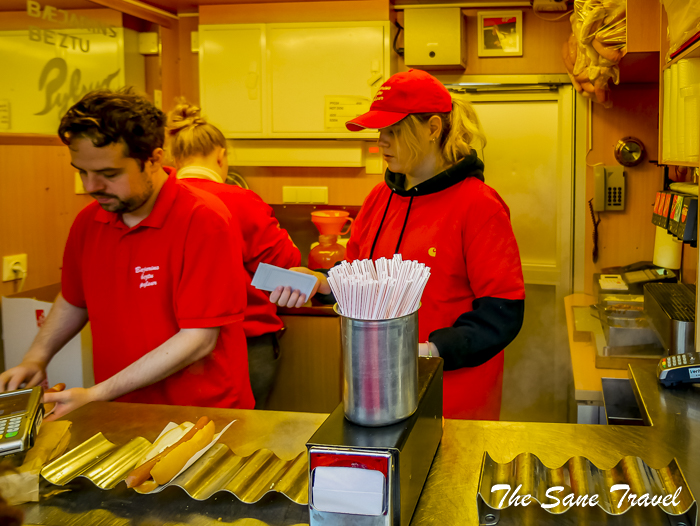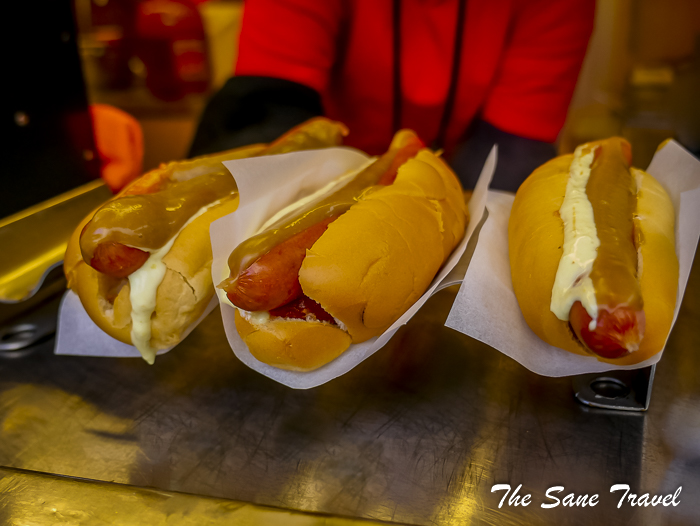 On our hot dog we had mustard, ketchup, remulaði (mayo based relish) and then regular onions and deep fried onions.
All in all, Reykjavík is a fishing village so visiting Old harbour was the essential part of our food tour.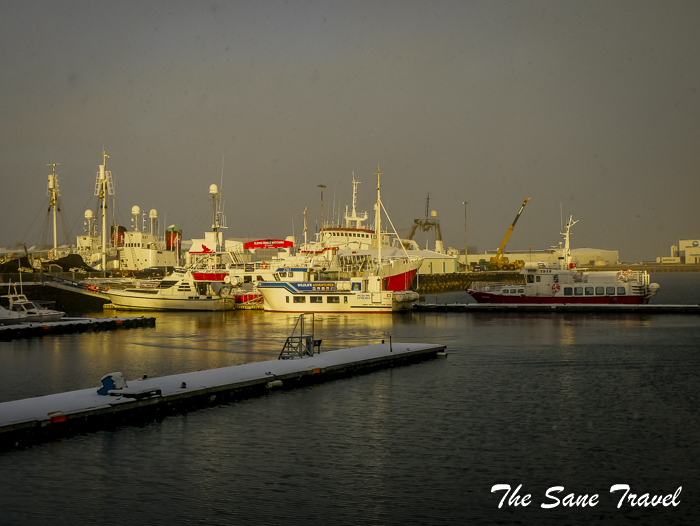 After a short stroll we arrived at Kopar restaurant.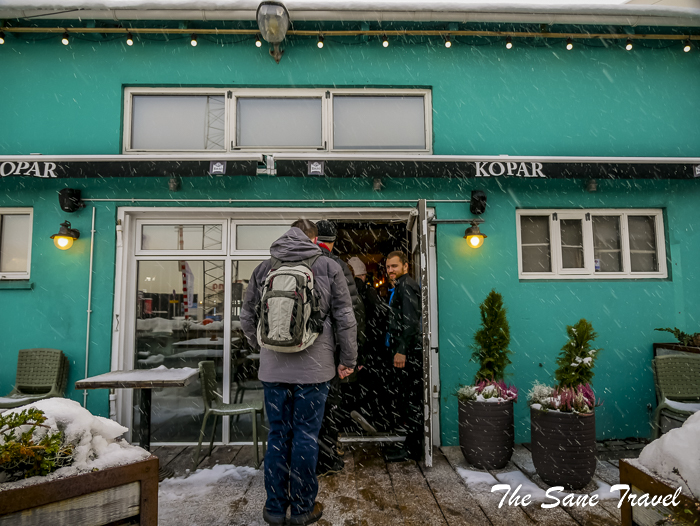 Kopar restaurant and bar
Rock crab soup
This restaurant is located at the Old harbour. As you stand on the pier of the old harbour, you can feel the history of Reykjavík and watch the harbour life, the fishermen, people walking and enjoying life. The old harbour, the ships, the vibrant city centre, old and new in a surprising mix, makes Kopar special. What makes the restaurant stand out is its variety of dishes. On the menu, new and old recipes meet, where traditional ingredients and surprising ones are combined.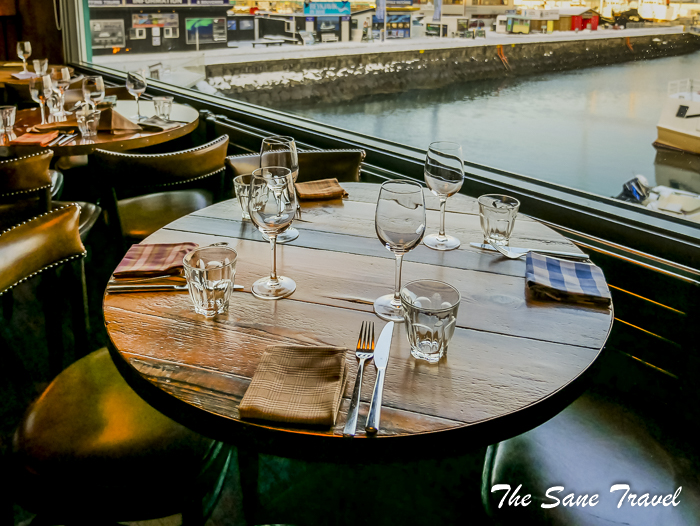 We ate a rock crab soup with shrimps, spinach and bean sprouts. It was very warming with a full rich taste.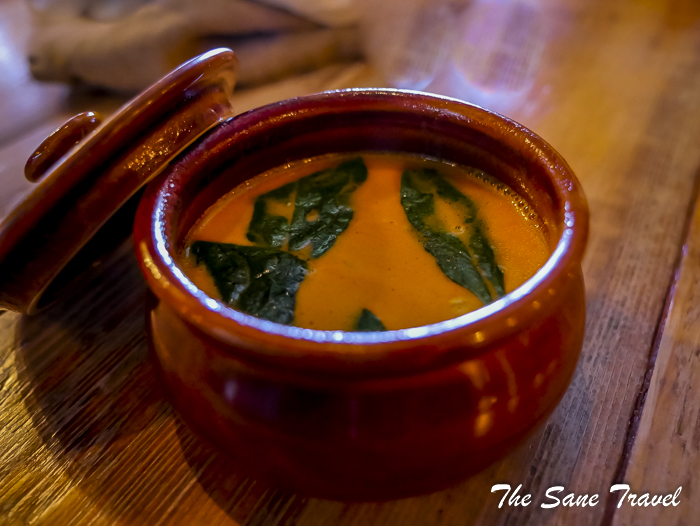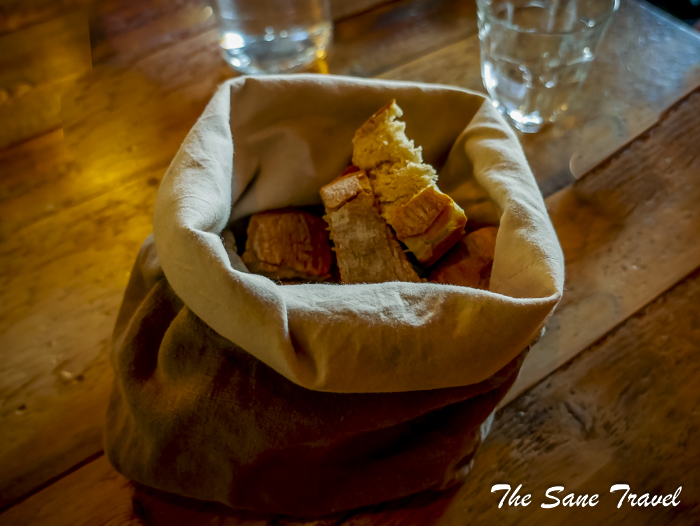 After a final stroll and introduction to some superb street art in the neighborhood by excellent Anna Sara, we got back to the central Reykjavik for our last stop Apotek.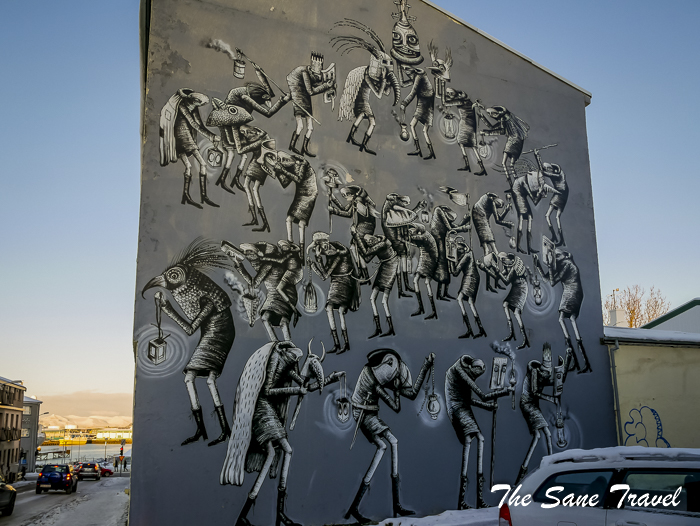 Apótek kitchen and bar
Apricot chocolate mousse and a sorbet
Our last stop Apotek is an exciting restaurant located in one of the first large concrete buildings in Iceland. The building is known as "Apotekið" or "the pharmacy" because it housed Reykjavíkurapotek from 1930 to 1999.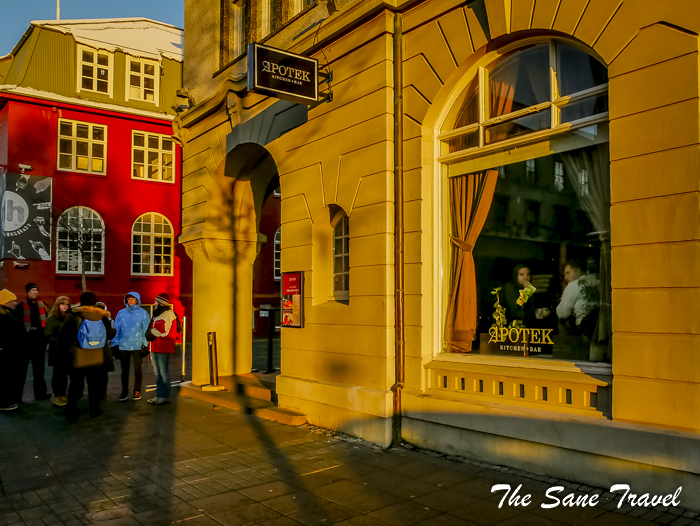 The restaurant is casual-smart, offering delicious food in the vibrant atmosphere and stylish surroundings.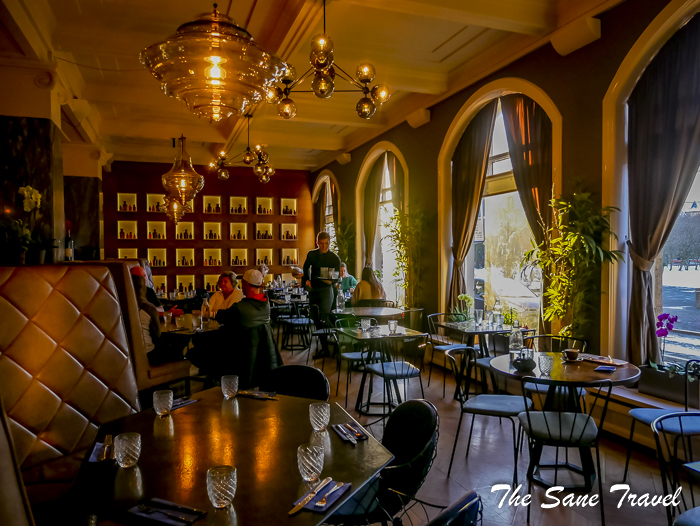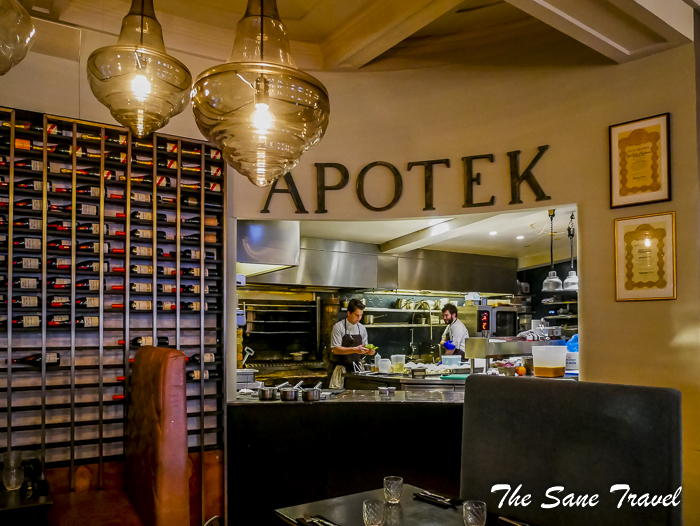 Their menu is a mix of Icelandic and European cuisine with hot Argentinian grills, also because the head chef Carlos Gimenez is from Argentina. Apricot chocolate mousse and a sorbet was an excellent ending to our amazing food walk with Anna Sara.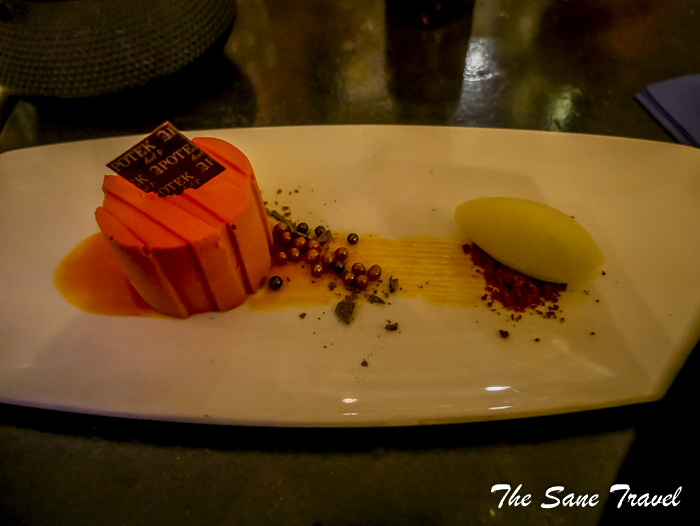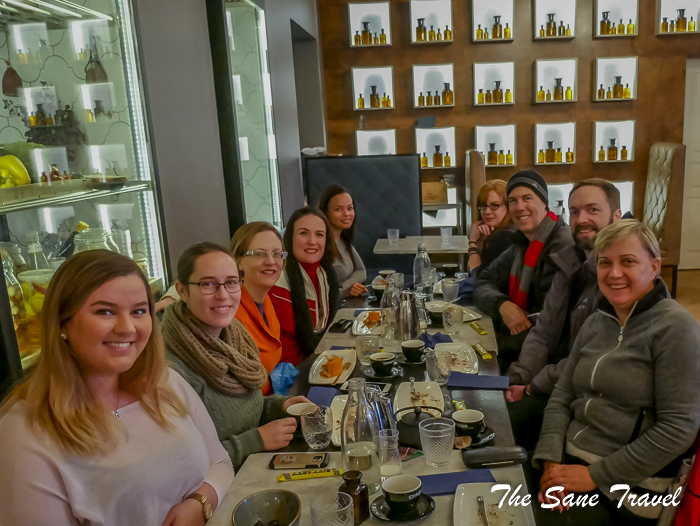 Conclusion: The Reykjavik Food Walk is definitely recommended for all visitors to the city. This tour gives participants an opportunity not just to try the excellent food but also to learn a lot about Reykjavik and Iceland.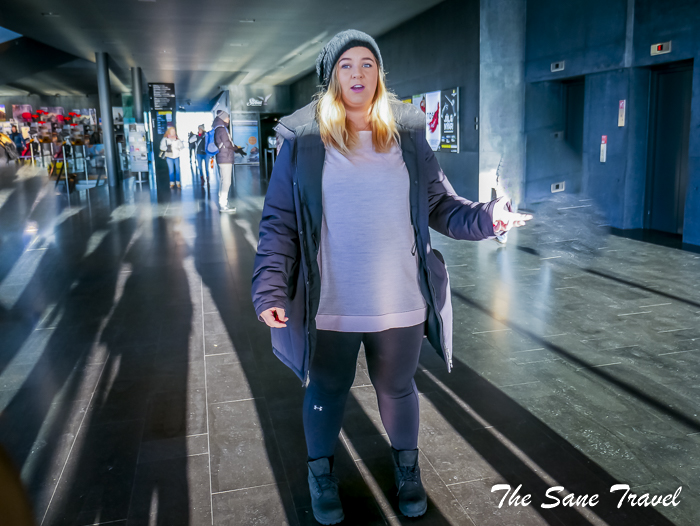 Want to discover more about the city? Take the Reykjavik free walking tour.
Have you been to Reykjavik? What are your most memorable impressions of the city? Share in the comments section!
Want to explore more of Iceland? Check out these stunning pictures for your inspiration.
Note: I was invited by the Reykjavik Food Walk but all opinions are my own.
Published by Anita on 09 December 2017
Author: Anita Sāne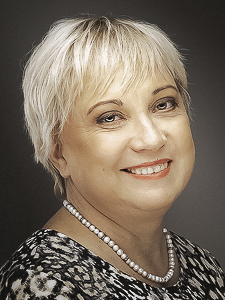 About the author
Anita is a part-time traveler, passionate photographer, and a retired career woman from Latvia, traveling mostly solo for more than 15 years. She is a skilled travel planner planning and executing her travels by herself. Anita wants to show you how to travel the world and open your mind to new experiences. Follow her also on Facebook, Instagram, Pinterest, Twitter, and Bloglovin.

{module Sign for my blog news! (2)}