If you think about places to visit in Kenya, make sure to include Tsavo West National park on your list. Tsavo West and Tsavo East National Parks together form one of the largest national parks in the world, covering 4% of Kenya's total land area. It's about the same size as Jamaica, Michigan, Wales or Israel. The park is named after the Tsavo River that flows from west to east. For administrative purposes, it has been divided into Tsavo East and West with a division line going by the Nairobi to Mombasa road. Tsavo West is 9000 km2 in size, characterized by a rugged arid landscape. It ranges from 200-1000 metres in altitude. This park is marked with a number of rocky outcrops and volcanic hills. It's lesser known due to its large size and a smaller concentration of wildlife compared with other parks. A great advantage of Tsavo West National Park is more than 2,000 kilometres of well-maintained roads.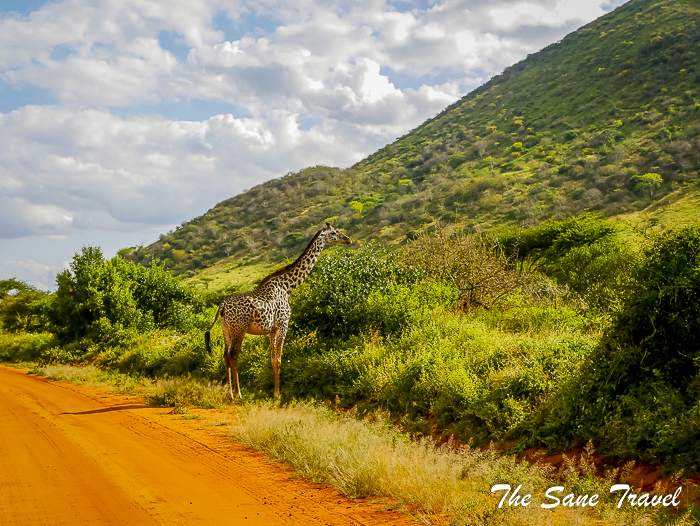 Good signposting leads the visitor from one natural wonder to another.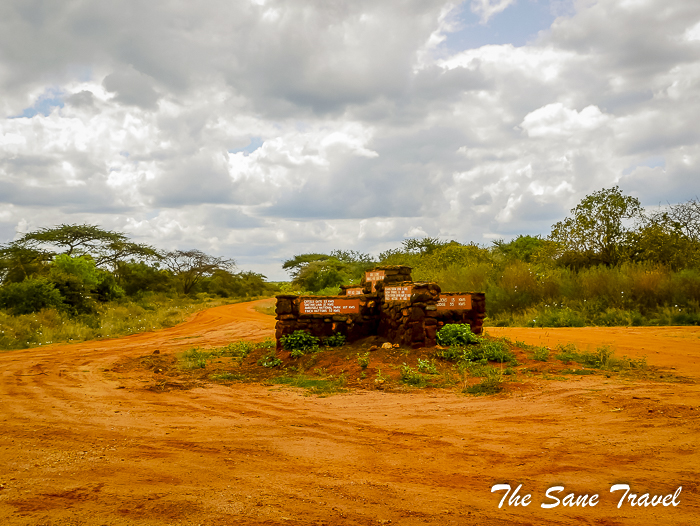 I find Tsavo West a great combination of seeing wildlife and admiring stunning landscapes. Tsavo West National Park is operated by the Kenya Wildlife Service. So here's what you can see in Tsavo West:
1) Beautiful scenery
Tsavo West is marked by a number of rocky outcrops and volcanic hills. Tsavo West National Park's landscape is dominated by giant baobabs reputed to live a thousand years. After the rain, Tsavo West National Park is showered with white and pink ipomea and acacia trees of white and pink blossom. The desert rose, somewhat like a miniature baobab, has pink flowers of striking beauty at almost any time of the year. On a clear day, the park offers lovely views of the snow-capped peaks of Mount Kilimanjaro.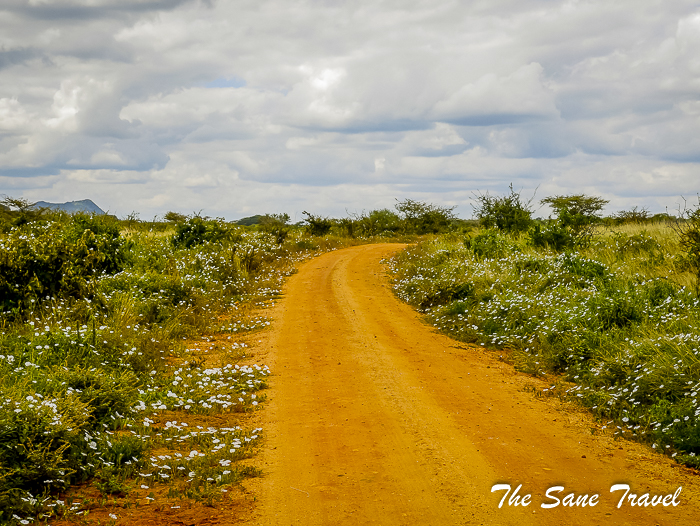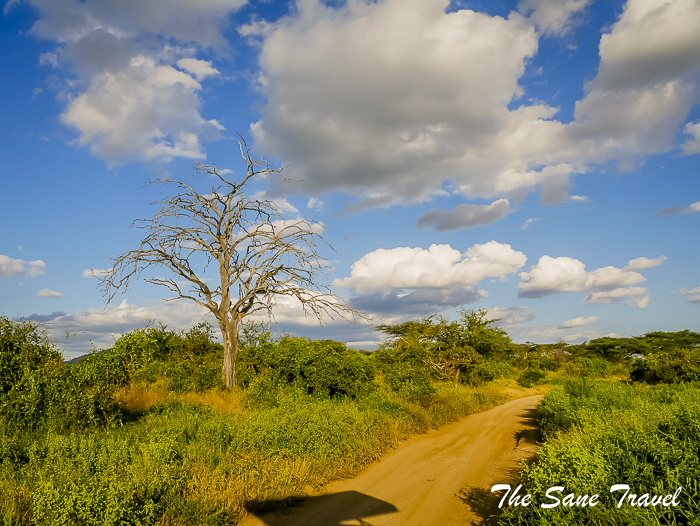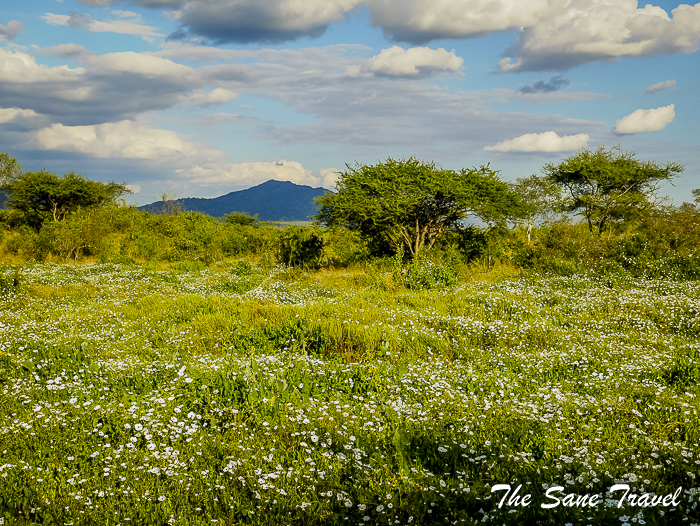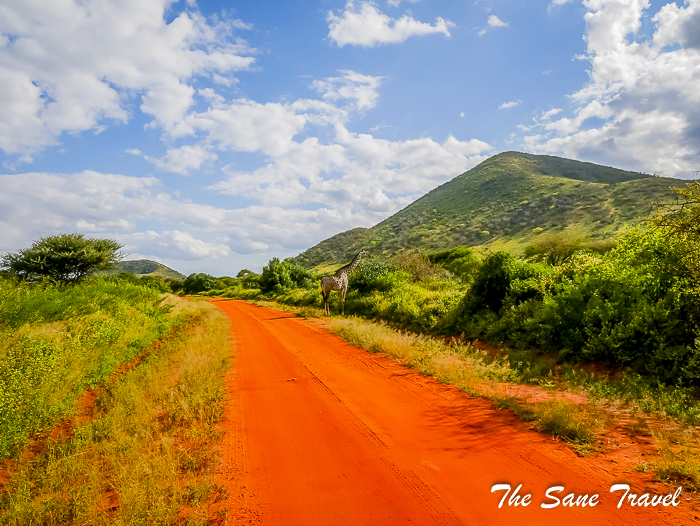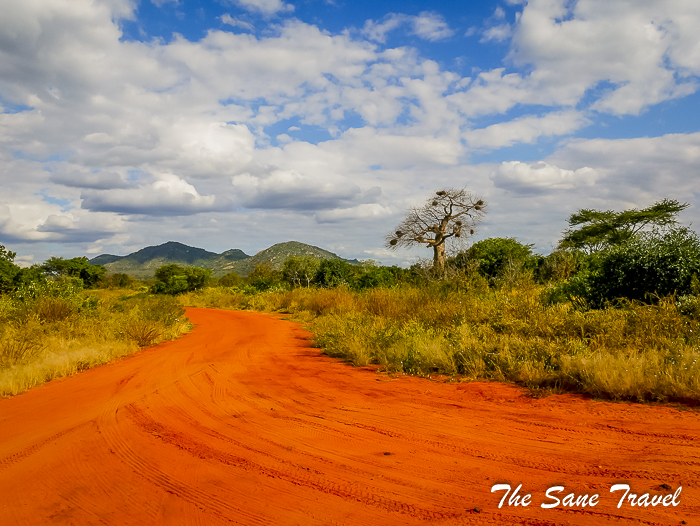 2) Shetani lava flow
When entering Tsavo West through Chyulu gate, one of the first things you see in the park is Shetani lava flow. Shetani means 'devil' in Kiswahili. When the locals first saw 'fire' erupting and 'flowing' on the ground some 500 years ago, they believed that it was the devil himself emerging from the earth. The Shetani black lava flow is 8 km long, 1.6 km wide and 5 meters deep. The sight is quite special and spectacular.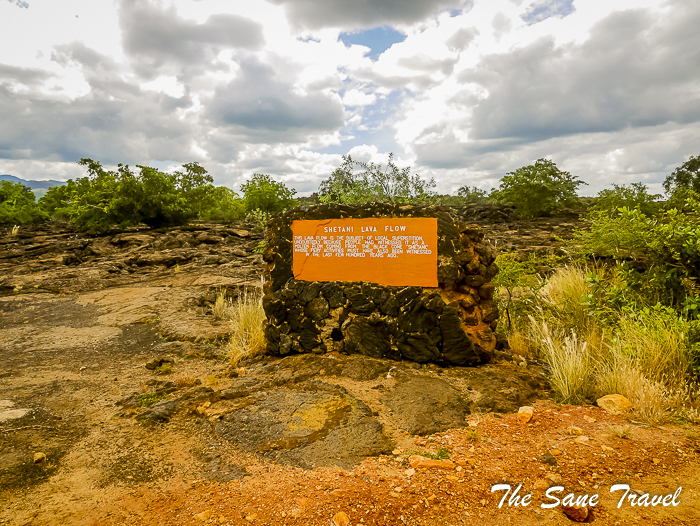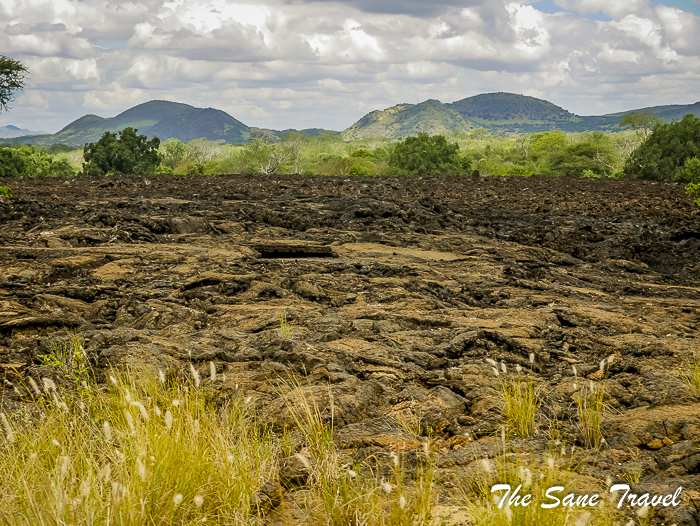 3) Chaimu volcanic crater and lava field
Notice how the road color changes from red to black as you get closer to Chaimu. Chaimu crater, or "the devil's crater" in Kamba tribe language, is a tall rising hill clad in the bright black colour of the lava stones. You can climb this recent volcano as there is a path leading to the top. Climbing the hill is not easy as it is not stable and can be slippery.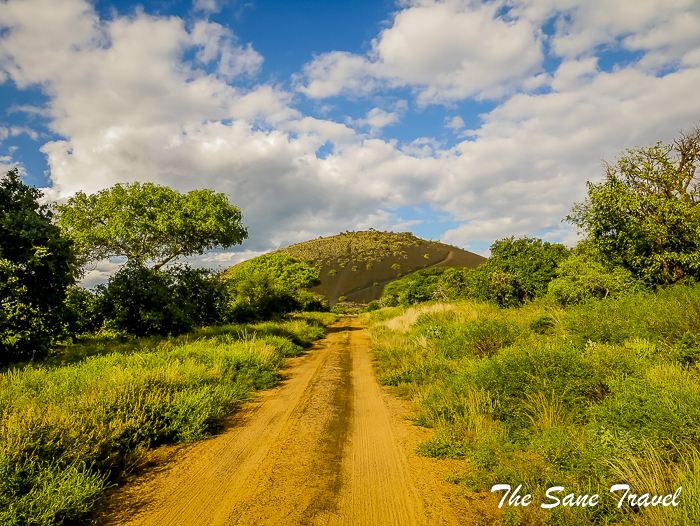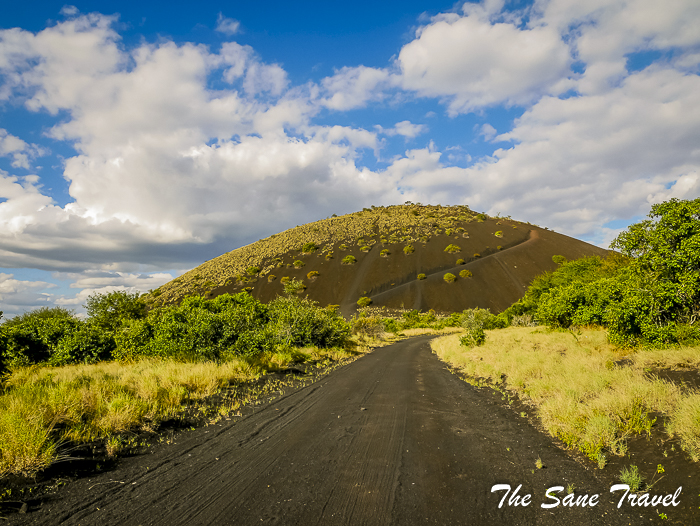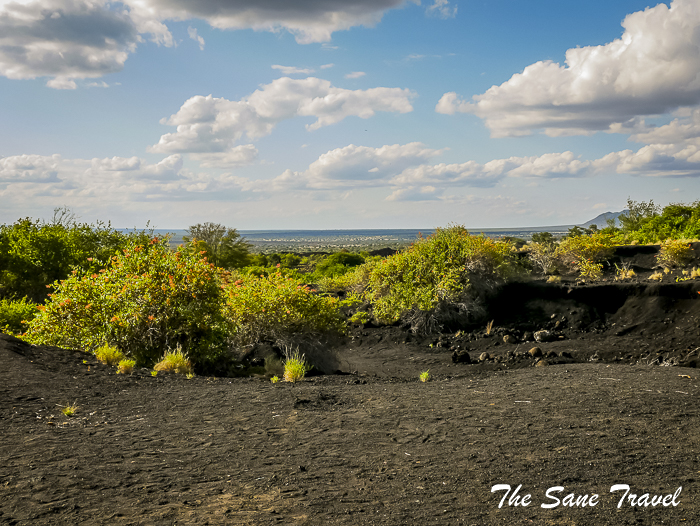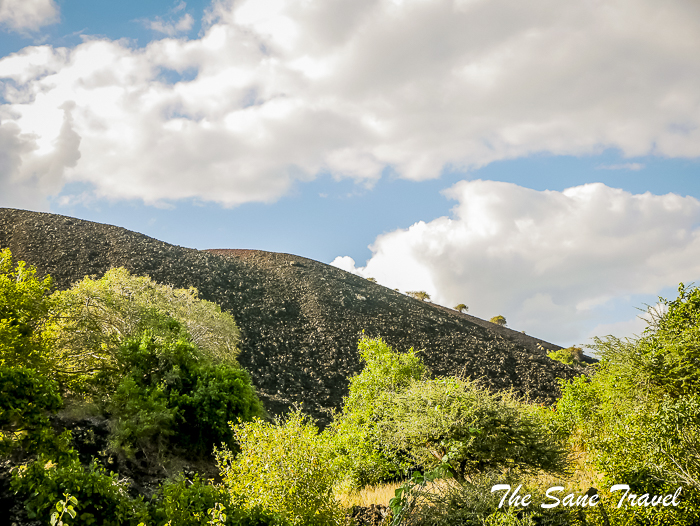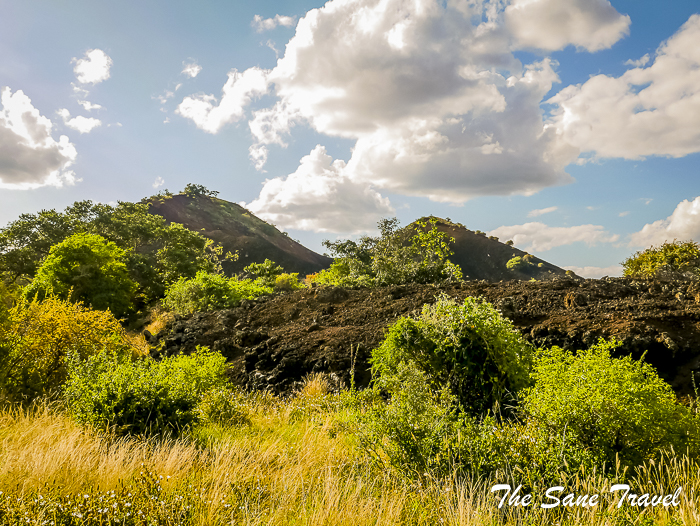 4) Five sister's hills
One more volcanic feature of Tsavo West is 'Five Sisters,' the five almost identical cone-shaped hills located in one area and resembling one another. The scenery is stunning – a low ridge of black lava outcrop, long luscious grass and conical hills that make the Five Sisters.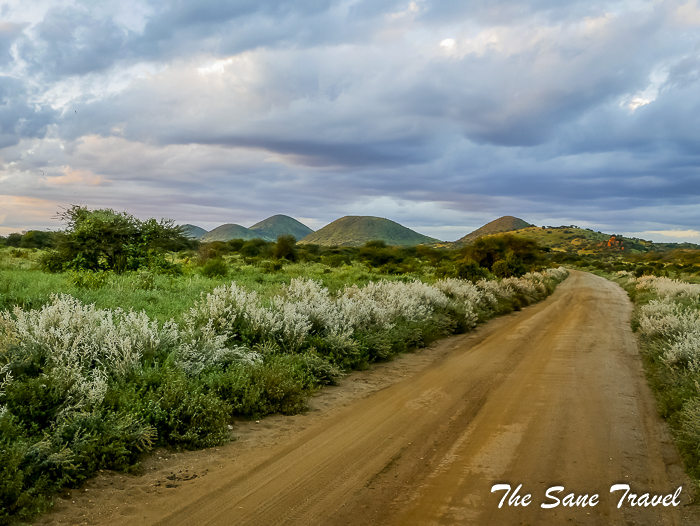 5) Mzima springs
Mzima Springs are replenished with two hundred and twenty million litres of crystal-clear water every day. It comes from the underground streams flowing from the nearby Chyulu Hills. Mzima in Swahili means 'Life'. It attracts rich wildlife including elephants, hippos, crocodiles, gazelles, zebras and giraffes wandering around the banks through the thick acacias and raffia palms together with a large number of monkeys and birds. Mzima is also the main source of Mombasa's city water supply. There are well-marked nature trails, an observation platform and an underwater glass tank. You can take a walk guided by a ranger there.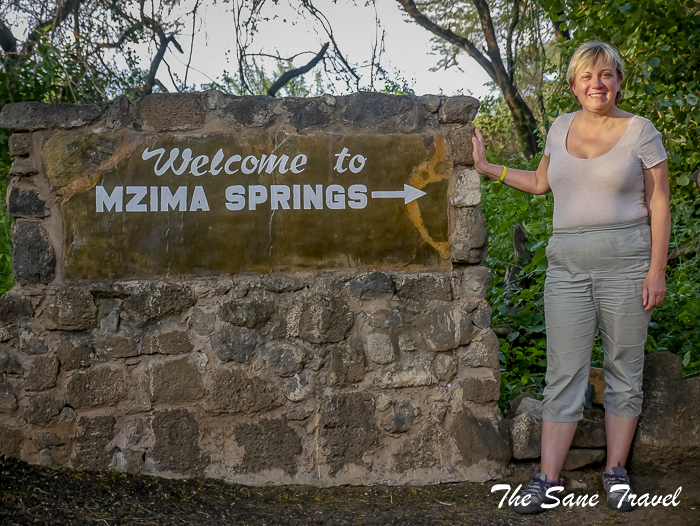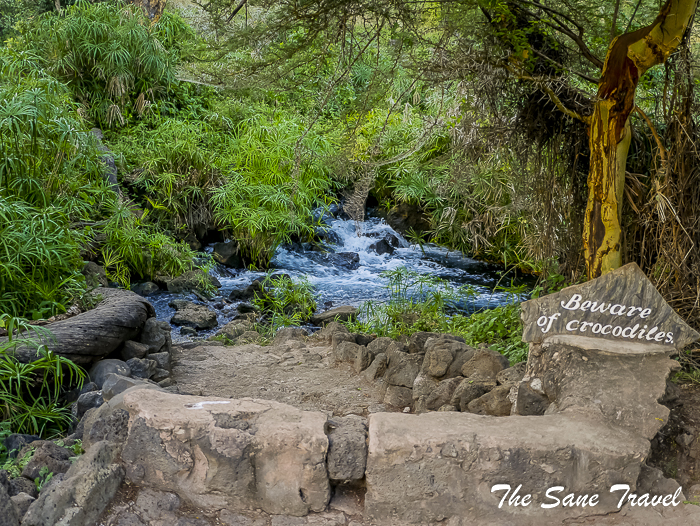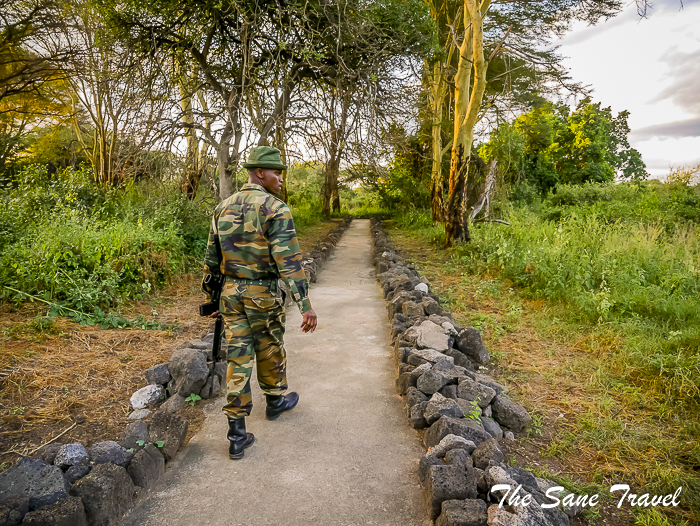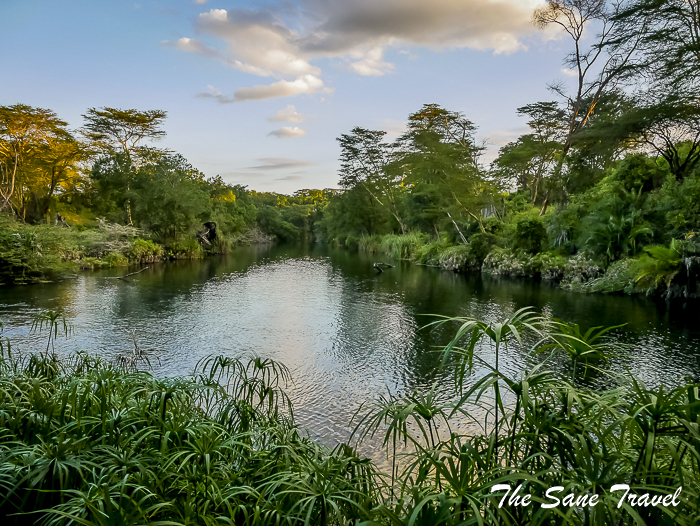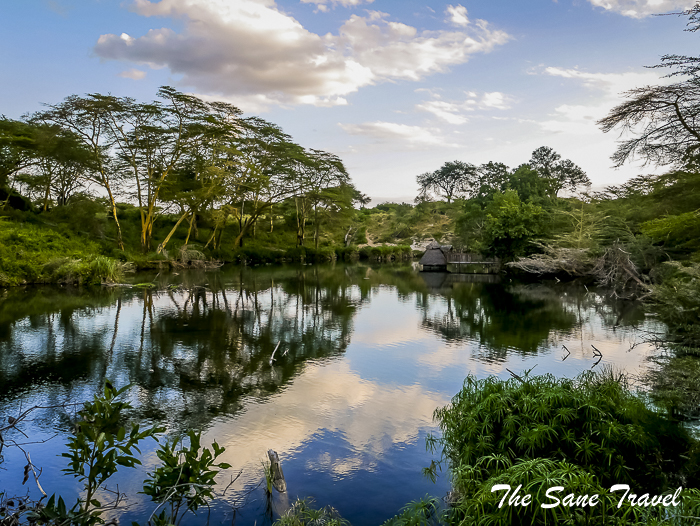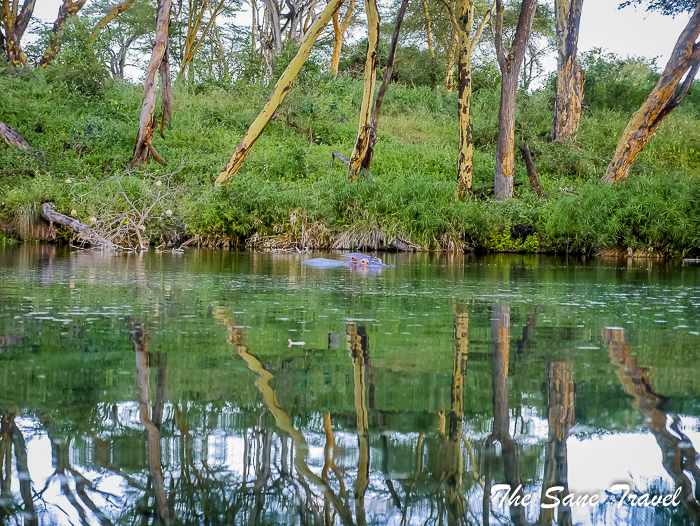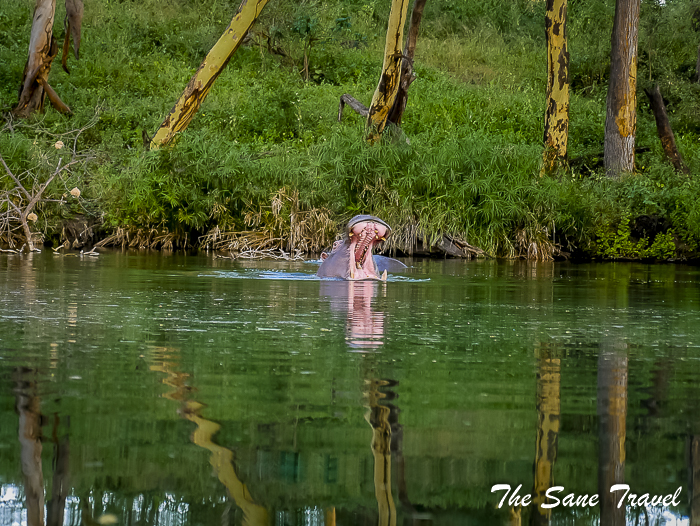 6) Animal viewing
Tsavo West offers magnificent game viewing. Thick vegetation makes it more difficult compared to more open parks, for example, the Masai Mara, but with some patience, visitors can see some of the big five along with a wide range of antelope species, hippos, and spectacular birdlife. Just make sure you have the best binoculars for your safari. The species I saw for the first time just in Tsavo after visiting Masai Mara and Amboseli were large African Eland antelopes, a family of the dick-dicks, the smallest antelopes in Africa and funny warthogs. Giraffes on the Tsavo hilly background looked especially attractive.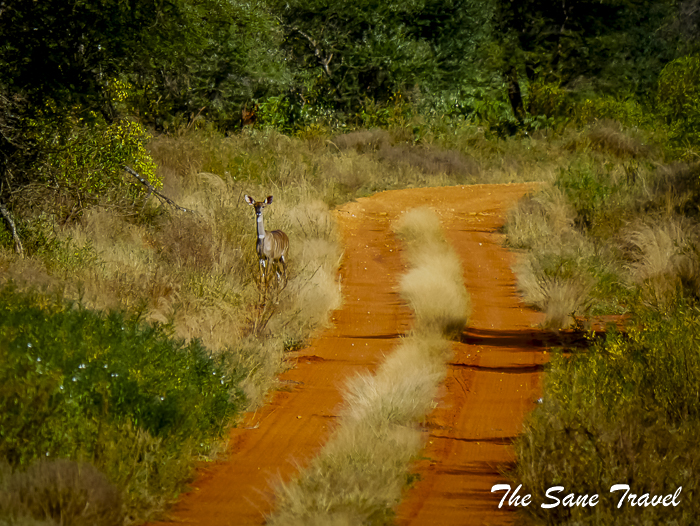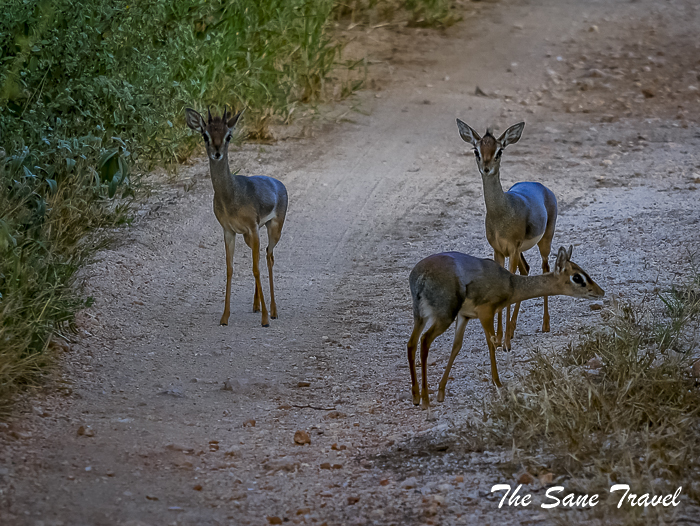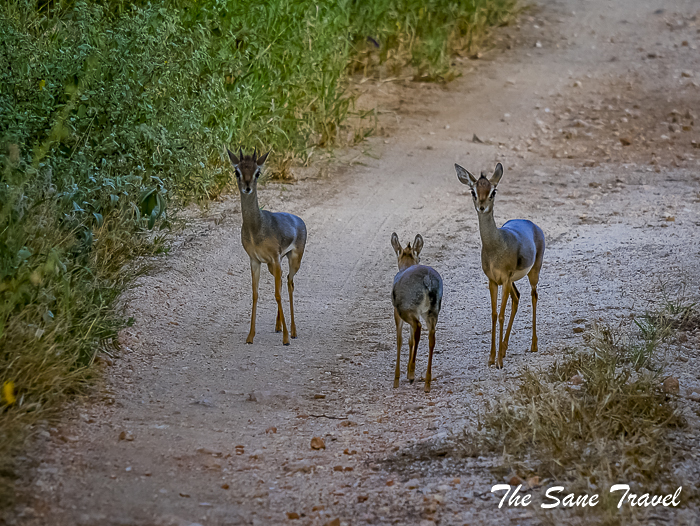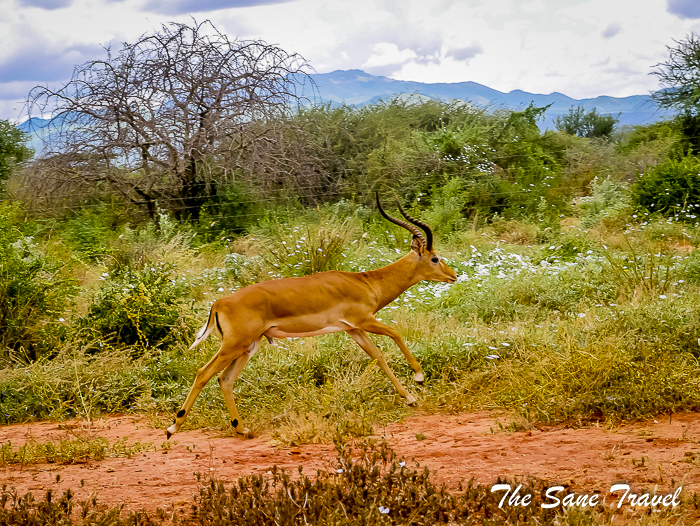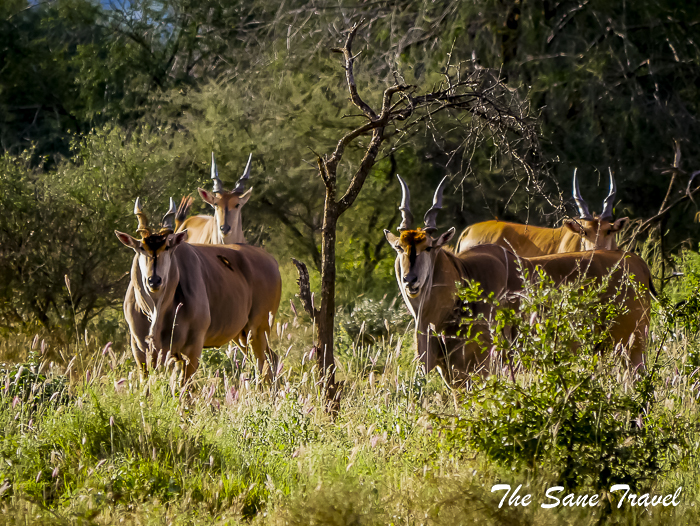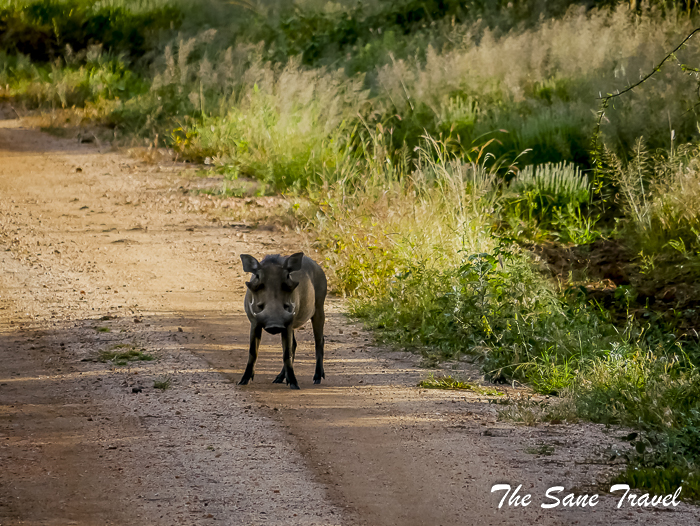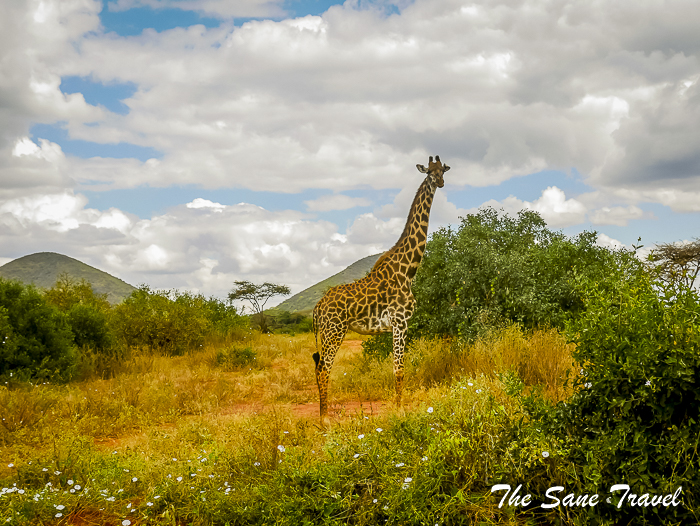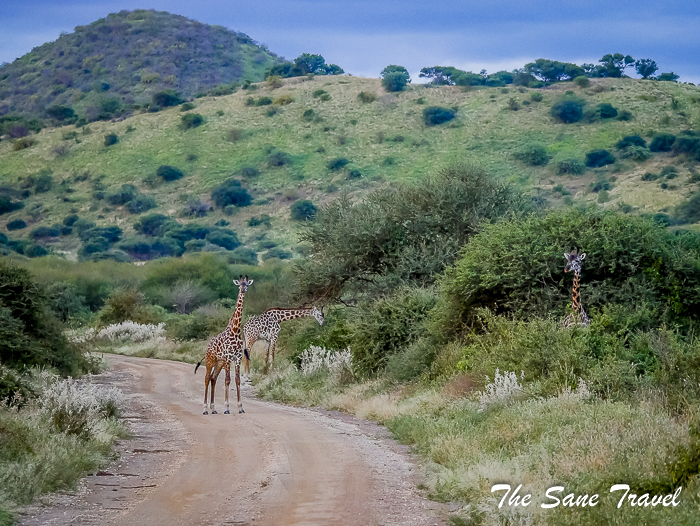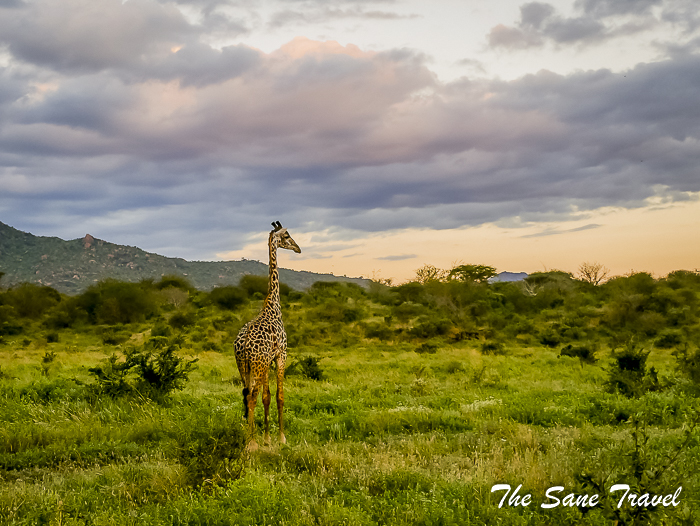 7) Serena Kilaguni lodge
If there is just one reason to go to Tsavo West, it's Serena Kilaguni lodge. Kilaguni was the first lodge inside Tsavo West National Park, opened by Britain's Duke of Gloucester in 1962. It is located at the centre of the park and has an excellent game viewing in all directions. The lodge and its waterhole have an almost permanent population of ground squirrels, warthogs, hyraxes, mongooses and other birds. The traditionally decorated dining room overlooks the Lodge's waterhole where herds of elephants, buffaloes and graceful antelopes collect to drink while guests enjoy dishes of ethnic cuisine, internationally-themed dishes, and traditional safari favourites.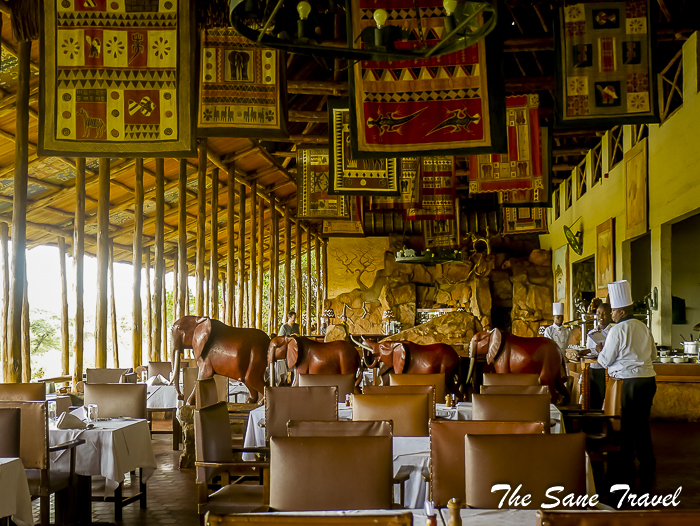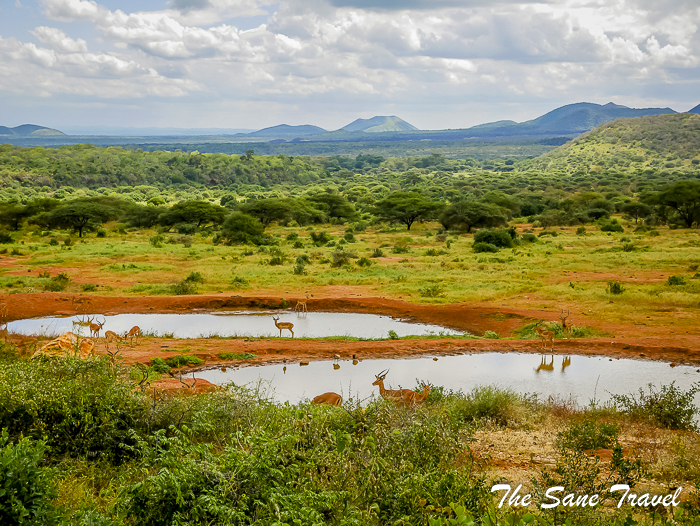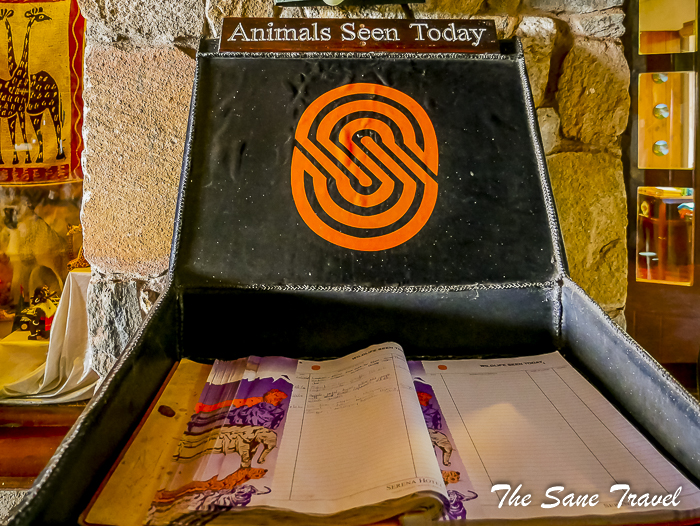 It seemed like a corner of paradise to me. I guess there are not so many places where you get a phone call from reception in the evening saying: "We were thinking you might want to see a leopard. It's currently at the waterhole. Be quick!" And I was running and managed to see it. It was just too dark for taking pictures.
Practical information
Distance: Mtito Andei gate is located 240 km from Nairobi and 250km from Mombasa.
Other gates: Tsavo, Lake Jipe, Chyulu, Maktau, and Ziwani.
Getting there by air: There are several good airstrips for chartered aircraft at Chyulu, Mtito Andei, Tsavo, Jipe, Maktau, Kasigau and Ziwani gates.
Roads: The main access routes are through Chyulu Gate from Amboseli and Mtito Andei Gate from Nairobi.
The best time to visit: it is usually from May to October when the humidity and temperatures are relatively low. This time is also the tourist peak season in Tsavo and is ideal for game viewing. I visited the place in June and it was great. Choose the best clothing for your safari.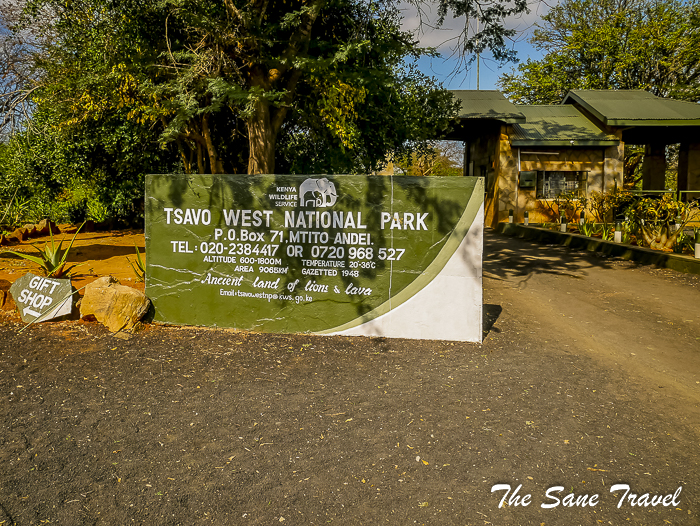 Like it? Pin it!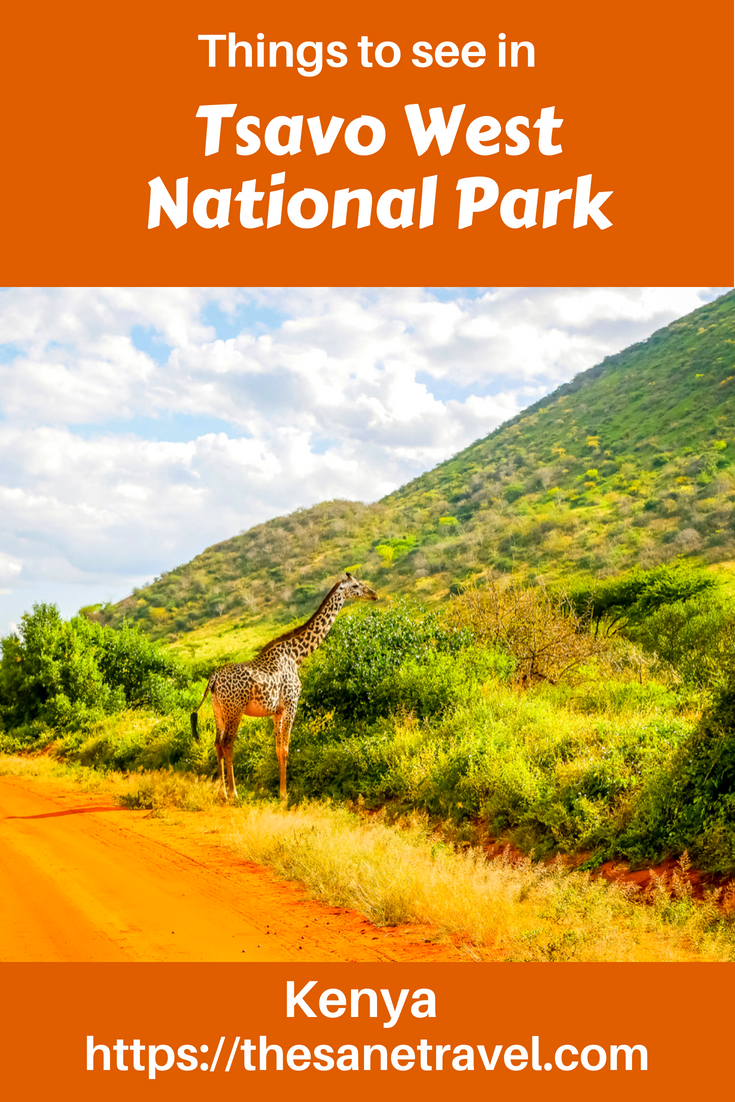 You may also enjoy 7 reasons to visit the Amboseli National Park.
What did you think? Have you been to Tsavo West National park? Or perhaps you're thinking of visiting there in the near future? Either way, I'd love to hear from you so please add your comments below.
Published by Anita on July 07, 2018
Author: Anita Sane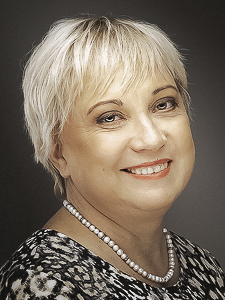 About the author
Anita is a part-time traveller, passionate photographer and a retired career woman from Latvia, travelling mostly solo for more than 15 years. She is a skilled travel planner who plans and executes her travels by herself. Anita wants to show you how to travel the world and open your mind to new experiences. Follow her on Facebook, Instagram, Pinterest, Twitter and Bloglovin.