I wanted to see the Norwegian town of Aalesund known for its beautiful Art Nouveau architecture, and here I was, working out the actual details of going there. I always check the climate and weather patterns of my destination to choose the best time for a visit, and in this case, I thought my surest bet would be the end of August. Which was right on the money – the weather during my stay was perfect! As for the transportation, I decided to fly with Wizz Air from Vilnius Airport. Since my dates would have to fall in with their direct flights' schedule, I took some time to decide if I'd be staying a week or just 4 days, finally making it a Friday through Monday deal. I also booked the hotels for my trip, a ticket for the Aalesund – Geiranger cruise, and a bus ticket back from Geiranger to Aalesund.
Day 1. Arrival and Aalesund
Landing at around 3 p.m, I was slightly confused by the small Vigra Airport with no tourist information available, but fortunately, it was not too hard to find the bus stop outside the terminal. The good news was I could use my credit card to pay for the bus because I had no Norwegian Krones, and all in all, I definitely prefer credit cards to cash. So it was a 30 minute ride through long tunnels, and I got off the bus at the tourist information centre to get a timetable of buses for the Baronen Hotel where I had booked my first overnight. That hotel was a forced choice since all those downtown had been booked for the end of August more than one month ahead! The Baronen Hotel is located in Spjelkavik, and it would take me about half an hour and 40 NOK to get there from the Aalesund bus station.
Supplied with enough information, the first thing I decided to do was get up to Aksla which offers a great panorama of the town and the surrounding islands. There are 418 steps to climb to get to the top, but it's not as exhausting as it sounds, not with all the astonishing views you get to admire!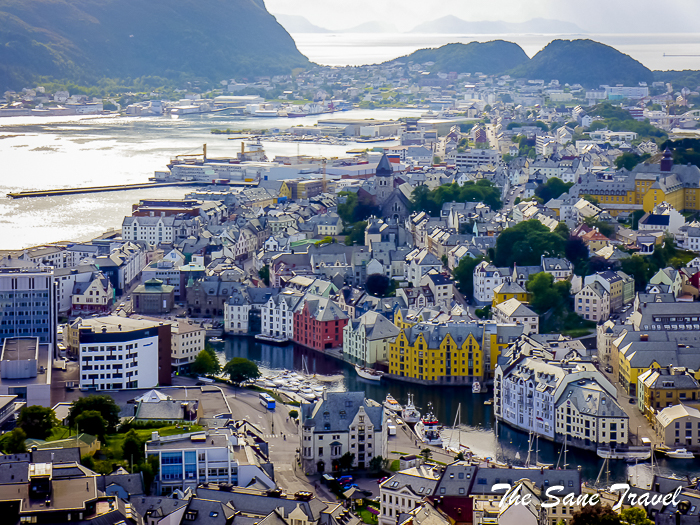 My other reward was ice cream from the café at the top: Norwegians adore ice cream, and so do I. Next, I headed back down to walk around Aalesund, admiring its graceful architecture and the sea. As Norway is an expensive country in terms of my budget, I also dropped into a supermarket to buy some food for a picnic.
Late in the afternoon, I got on the bus to the Baronen hotel. The bus stopped some 100 metres from it, and it took me a while to find the entrance because it was located at the backside of the building. The hotel's enjoyable peculiarity was giving everyone a chance to make their own pancakes in the lobby, and I was delighted to try it!
I had to wake up quite early to be on time for my ship's departure from Aalesund port, scheduled for 9.30 a.m. It was a lovely morning, and I seized the opportunity to take quality pictures before boarding the RICHARD WITH cruise ship.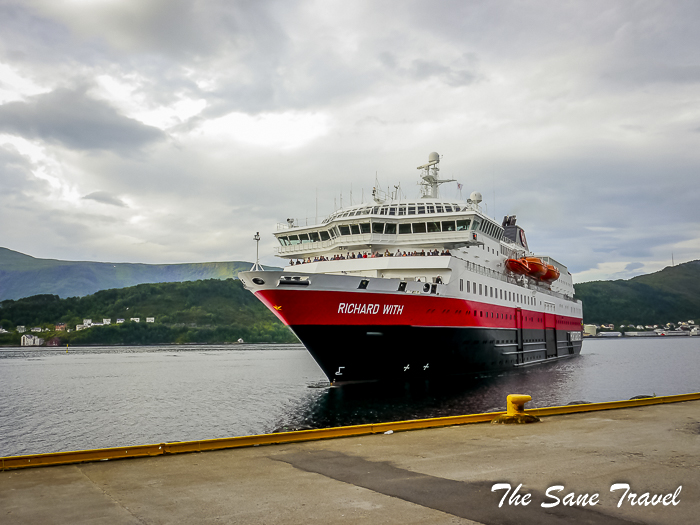 It was my first time on such a huge, seven-floored one; happy about the weather, I mostly stayed outside to take the photos you see here, of what is probably the most beautiful fjord in the world...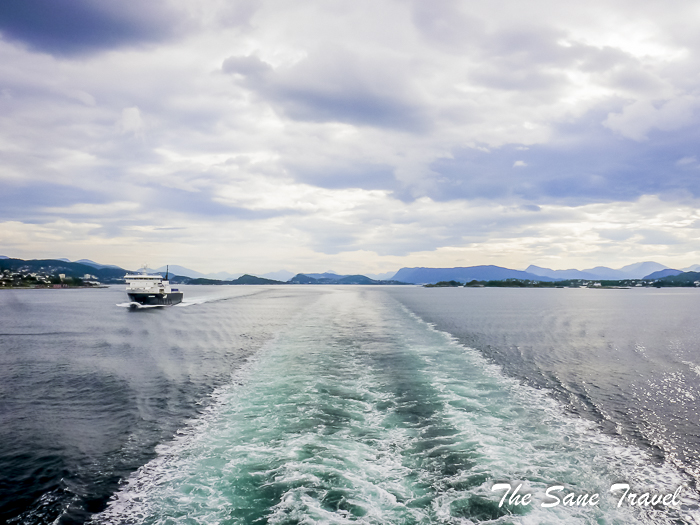 In about four hours we safely reached Geiranger, although there were a slight delay and a certain amount of confusion as we had to board a smaller ship at some point since the initial one was too big to fit into the Geiranger Port! The Geiranger Hotel was situated right next to the port, and I checked in straight away to get some rest in a room with a fantastic view over the fjord. Later I took a hiking map at the reception and went uphill to see the fjord from above.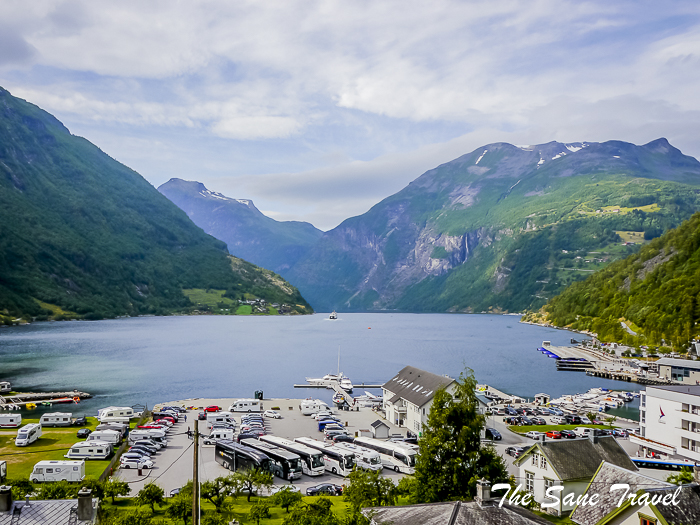 If you ever go there and get the same unreliable map I was given, remember that the turn from the main road to the hiking path is on the left hand side right after the Union Hotel, and not wherever the map says it is! The path was not well paved and not so easy to walk... initially, it ran through the woods, then through a pasture of sheep and goats (and a few lamas) as I was getting closer to Westerås farm. From the several path options out there, I chose the shortest cut and reached a great viewpoint, carefully making my way past another herd of goats.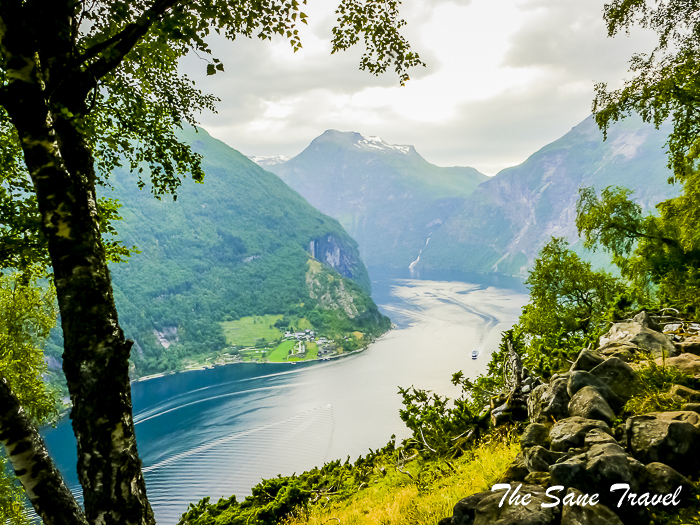 Before heading back, I had some soup at the Westerås farm terrace, and the perfect final accord of the day was the unforgettably beautiful sunset I watched from the hotel balcony in the evening.
<h2">Day 3. Dalsnibba and back to Aalesund.
The next morning I had a bus trip to Dalsnibba viewpoint located higher in the mountains. It was both a tourist and a regular bus with several stops to marvel at the views and a 15 minute stop at Dalsnibba itself, about 1500 meters above sea level. It was noticeably colder there, with some snow around and a varied mountainous landscape.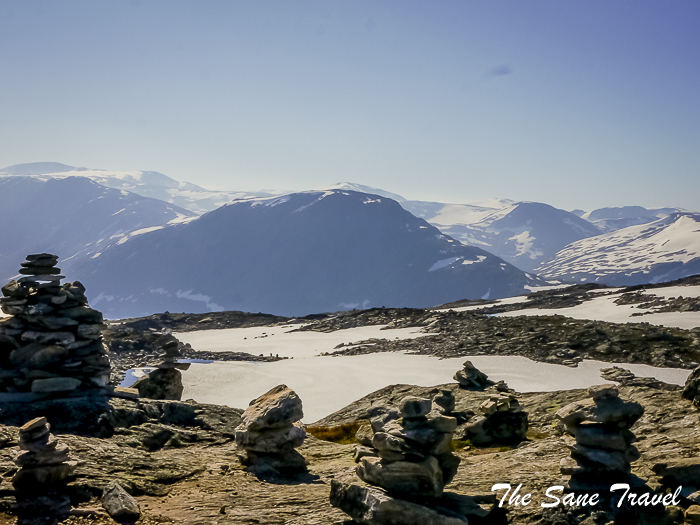 Back in Geiranger, I had time for a pleasant walk down the river, watching waterfalls flowing into the Geiranger fjord. In the afternoon I took a bus back to Aalesund, or two buses, to be precise, quite unexpectedly in fact, with ferry-crossing the fjord in between them. It was a longish trip with several stops in small towns, the most memorable being the very first one at Eagle viewpoint with its magnificent view over the Geiranger fjord. I arrived in Aalesund early enough to catch a glimpse of a glorious sunset over the sea, and quite enjoyed my overnight stay in the First Hotel Atlantica.
Day 4. Aalesund and back home.
After breakfast, I still had some time to walk around Aalesund.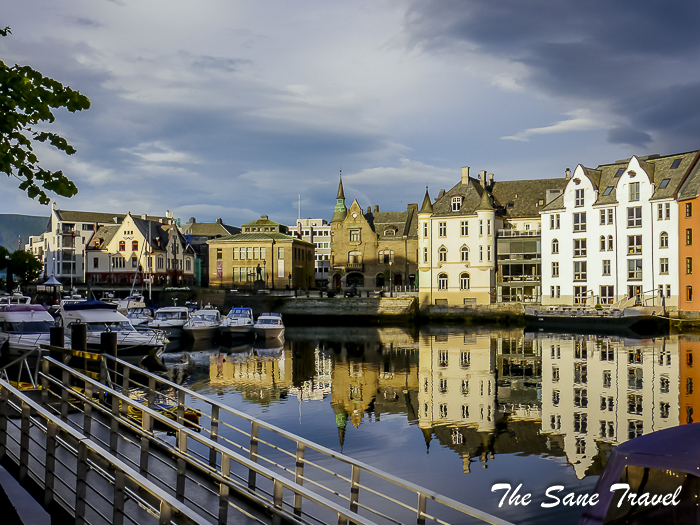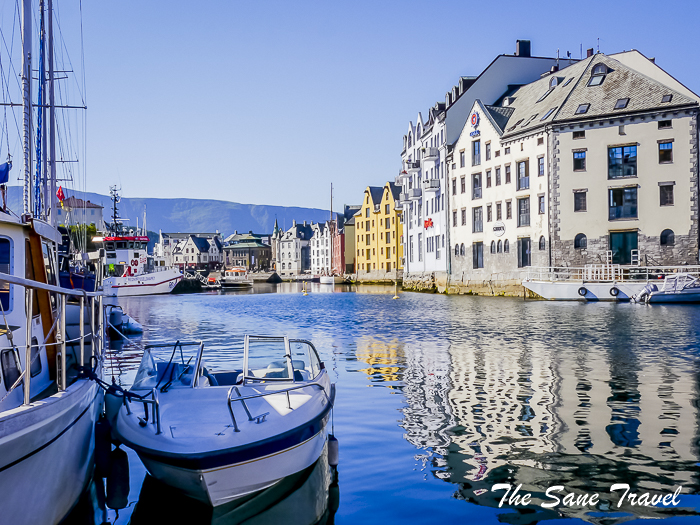 The town was charming with its carpets of flowers bathed in the dazzling sunshine! I got as far as the Aalesund church, which looked interesting from the outside, but was unfortunately closed. So I walked back to the city centre, had some more ice cream, and then … it was already time to head back home. I was bringing back a huge number of superb photos and memories to keep, and couldn't help but feel thankful for the gorgeous weather that had really played a great part in the equation.
Interested to learn more about Norway? Read about things to do in Oslo or the best places in Norway! Have you been to this beautiful country? Share your impressions in the comments section!
Like it? Pin it!
Published by Anita in August 2015 and updated in December 2017
Author: Anita Sāne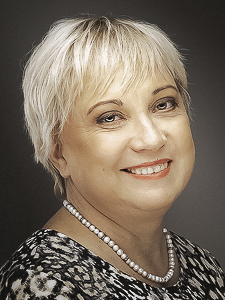 About the author
Anita is a part-time traveler, passionate photographer, and a retired career woman from Latvia, traveling mostly solo for more than 15 years. She is a skilled travel planner planning and executing her travels by herself. Anita wants to show you how to travel the world and open your mind to new experiences. Follow her also on Facebook, Instagram, Pinterest, Twitter, and Bloglovin.

{module Sign for my blog news! (2)}