If you have been to Norway, you know that this country is awesome. And Lofoten is a jewel in the crown of Norway awesomeness. Visiting the Lofoten Islands with their stunning mountain landscape is something you'll never forget.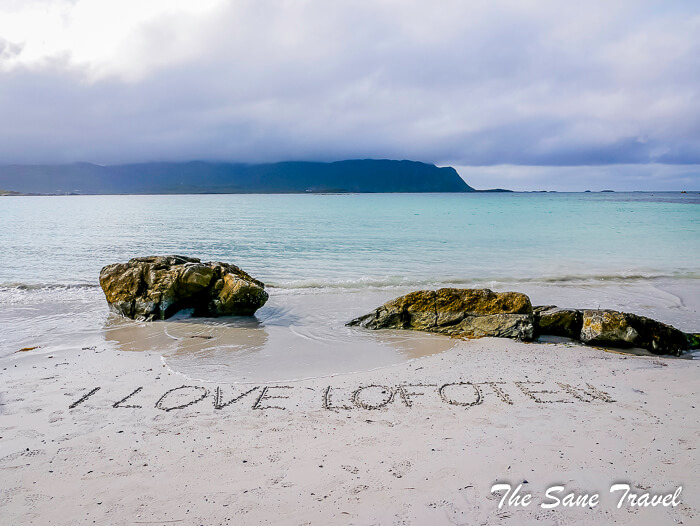 What is Lofoten?
The Lofoten Islands is an archipelago in Norway, 300 km to the north of the Arctic Circle. The archipelago extends from the 67th to the 69th parallels and is roughly 150 km long. It is made up of seven main islands. Five of them are connected to the mainland by bridges. Værøy and Røstland in the south can only be reached by ferry. The archipelago is separated from the Norwegian mainland by Vestfjord.
Despite being relatively close to the mainland, the archipelago has always been isolated from the rest of Norway due to its location in the extreme north of the country. King Olavs road (E10) has been the focus of a recent huge building project that has maintained the economic development of the islands. The National Scenic Route runs through some of the country's most dramatic landscapes and is exceptionally beautiful. Still, the best parts aren't actually along the main road, so take your time to explore side roads too. There are about 24 000 inhabitants living in Lofoten. The administrative capital is Svolvær, with almost 5000 people living there.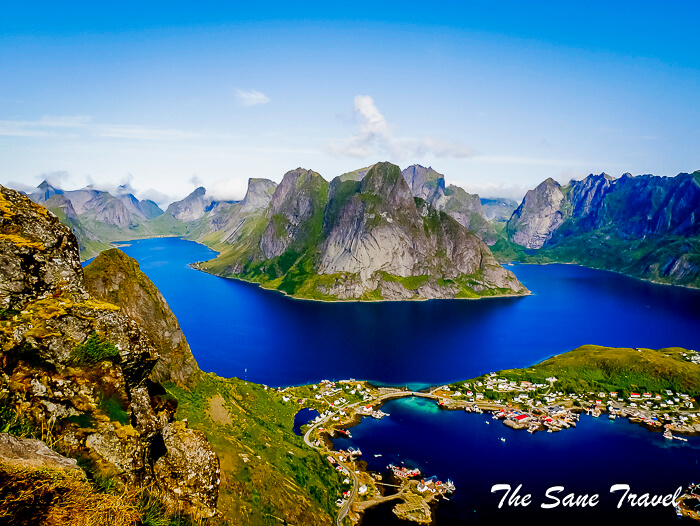 Climate and what to wear in Lofoten
The Lofoten Islands enjoy an exceptional climate. At this latitude, without the warm currents of the Gulf Stream, the islands would be covered with ice and no vegetation could grow. In fact, the archipelago has a mild oceanic climate with average temperatures in January of 1°C and cool summers with an average of 13°C in July. It is quite common to have fine days with temperatures of 25°C during the three summer months. But remember, you are in an arctic region near the North Pole and temperatures can drop suddenly, so you will need appropriate clothing. It is not unusual to go 10 days without rain in summer with the driest period in June, the hottest being July and August. But once again, you have to be prepared for the weather to change quickly. Also, it can be sunny on the east coast and raining on the west coast ten kilometres away, or the other way round! Therefore, rainproof clothing is vital in order to make the most of this wonderful place. Lofoten has stunning beaches but you have to be brave to swim there because the sea water temperature in summer does not get higher than 15°C/59°F.
When to visit Lofoten
Summer from June to August is a great time to visit Lofoten. During this period, the nights are short and the days are long. If you are interested in seeing the Midnight Sun, you should visit from the middle of May to July. In summer, you can indulge in a wide range of adventurous activities such as hiking, kayaking, biking, and fishing. You can visit the beaches and watch the midnight sun. To see Northern lights, you should visit Lofoten between September and March when the main aurora season is there.
Travel infrastructure and driving in Lofoten
Lofoten is small and crowded in the summertime. It has one main road, E10, and in some parts, it's quite narrow. Roads are going through tunnels quite often.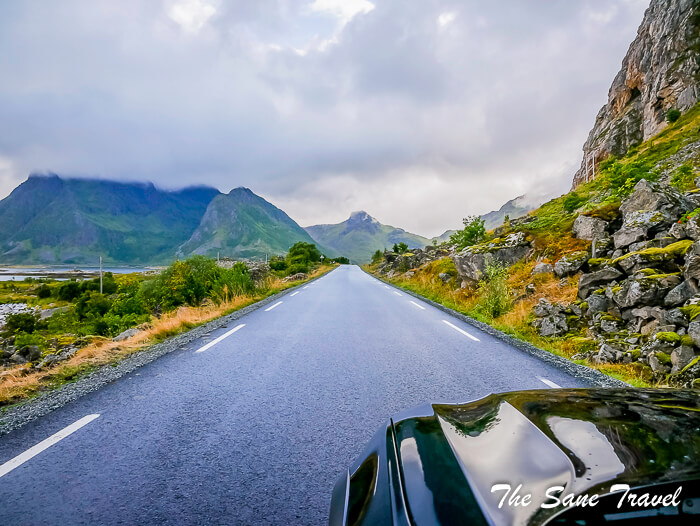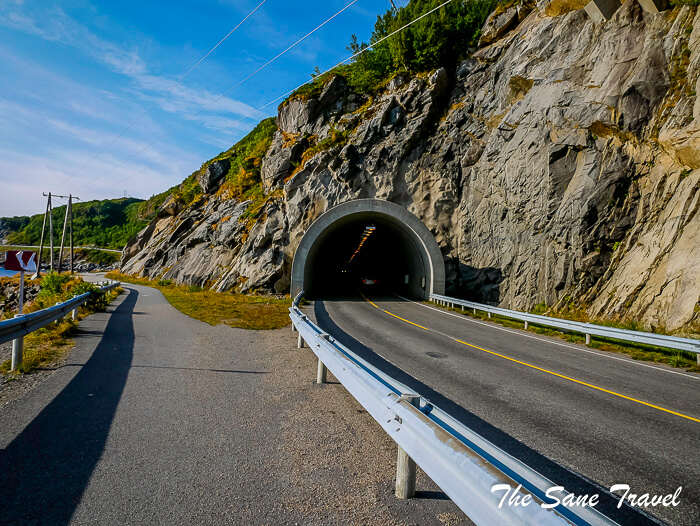 It was the first time when I saw the M road sign. It means passing place or "Møteplass" in Norwegian. It is used frequently in Lofoten on long stretches of single-track roads. If you drive slowly and want to allow cars to pass you or want to allow cars moving from the opposite direction to pass, it's a spot to use. Parking is forbidden there.
Before parking your car check if the parking place is for free or not. Even in quite remote places you will find paid parking sign.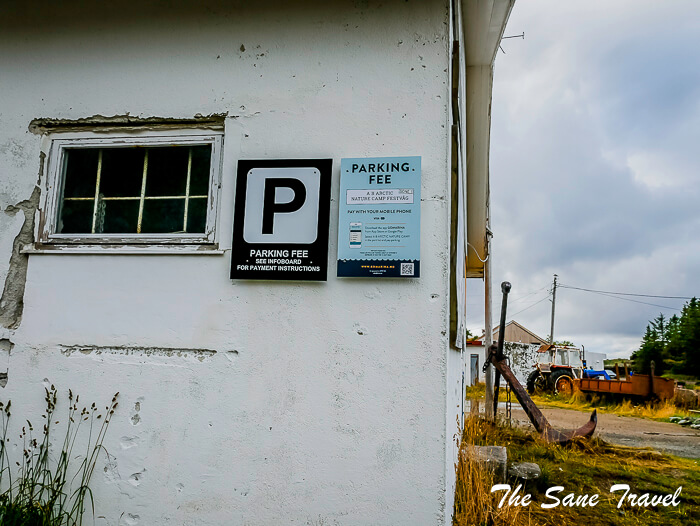 The accommodation is influenced by rorbu idea, so in many cases, lodging is quite simple and even doesn't have an ensuite bathroom. Accommodation prices are high even by Norway standards because of limited availability. Hiking trails mostly are not well marked in Lofoten and some of them are not in a great condition, so be prepared with good footwear and previous investigation about the paths.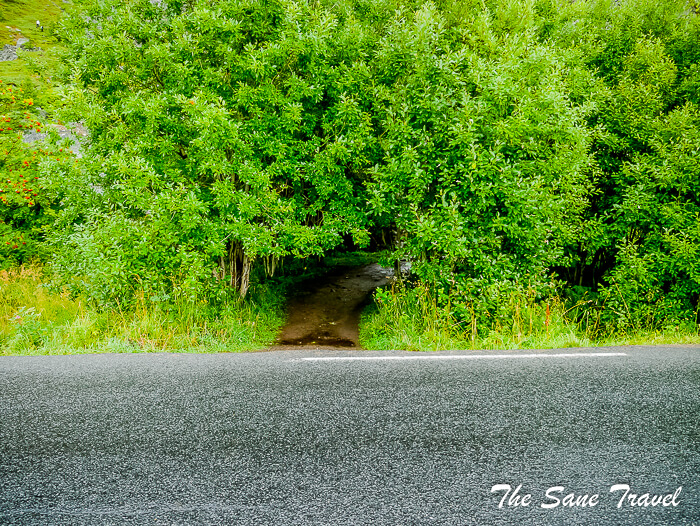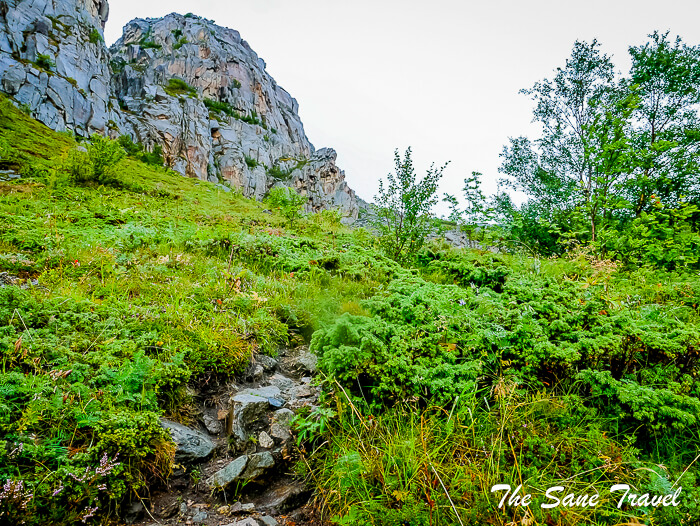 How to get to Lofoten
The cheapest way is going to Bodo or Evenes airports from Oslo.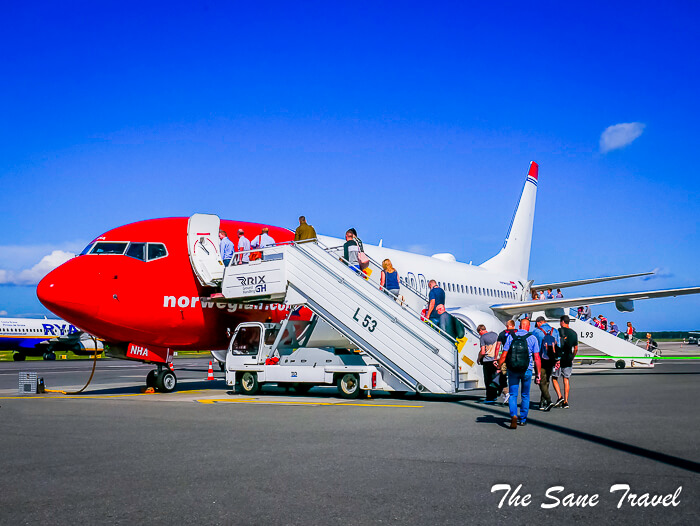 Even though they are not so close to Lofoten, there are more and cheaper flights to these airports than to smaller Svolvaer and Leknes airports located in Lofoten. From Bodo, you can take a 3,5 hour boat or ferry ride to Moskenes and start your Lofoten exploration from there. From Evenes, you can drive to Svolvaer and any other place in Lofoten by car.
Tips for renting a car in Lofoten
To explore Lofoten, you will definitely need a car to be able to stop at all the most stunning spots. Public transport is not very convenient and does not provide this opportunity. If you are happy to drive a car with a manual gearbox, you can have good deals from Rent a wreck at Evenes airport. If you want to have an automatic gearbox, better go to Harstad first and rent a car there, for example, from Hertz, otherwise you will have to pay a ridiculously high price at the airport. If you start your journey from Moskenes, there are rental car options there, but it seems those are not particularly cheap either. Some rental companies would want you to call them instead of contacting via email. I used Hertz car rental in Harstad, paying 2761 NOK for 5 days, or 552 NOK (55 euros or 62 USD) a day, for Volvo V90 with an automatic gearbox.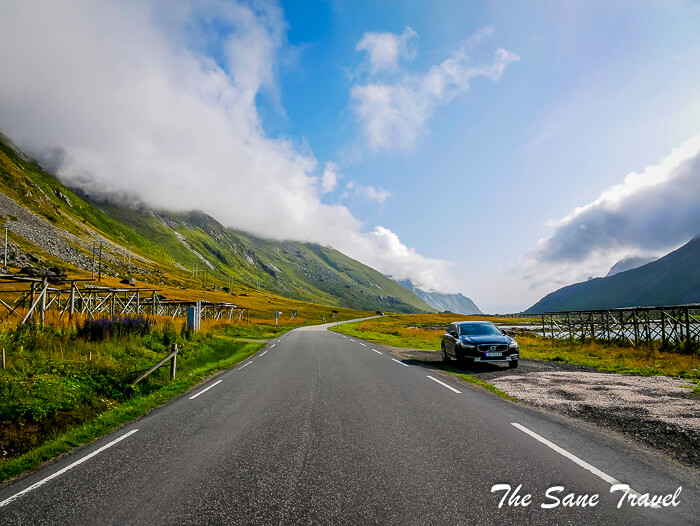 Rorbuers and where to stay
When in Lofoten or even before your visit, you will notice the word "rorbu". It comes from the Norwegian word "ro", which means to row (your boat), and "bu", meaning storage, or house. The first rorbu cabins in Lofoten were built by King Eystein (Øistein) in the 12th century as temporary accommodation for visiting fishermen during their Lofoten fishery. They were simple cabins built on stilts at the water's edge and usually consisted of 2 rooms: a workroom and a common room with bunk beds. Today red rorbu cabins serve mostly as accommodation for travellers. Red paint made from cod-liver oil was the cheapest and most commonly used, so most rorbus are red for this reason. The rorbu cabins, together with fish racks used to dry the catch, create a unique environment in the fishing villages of Lofoten.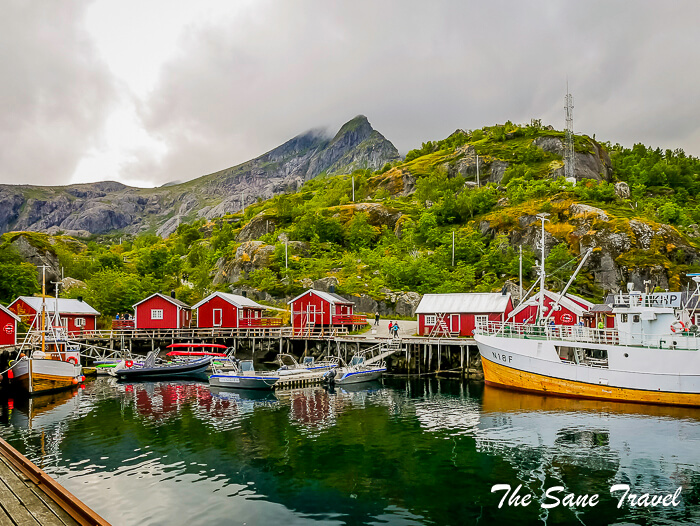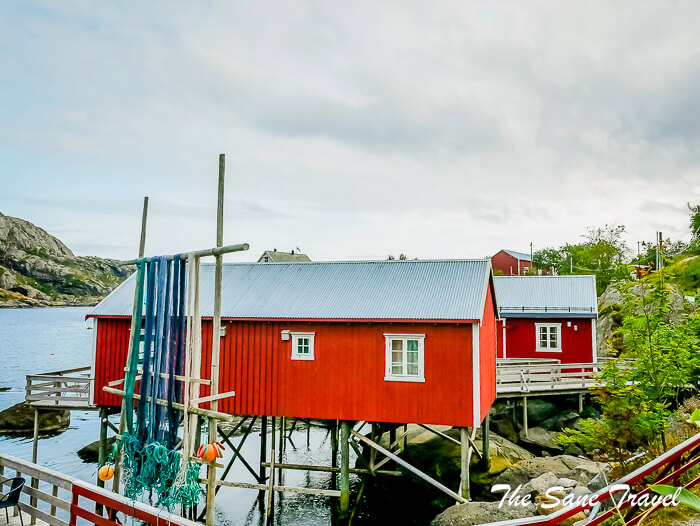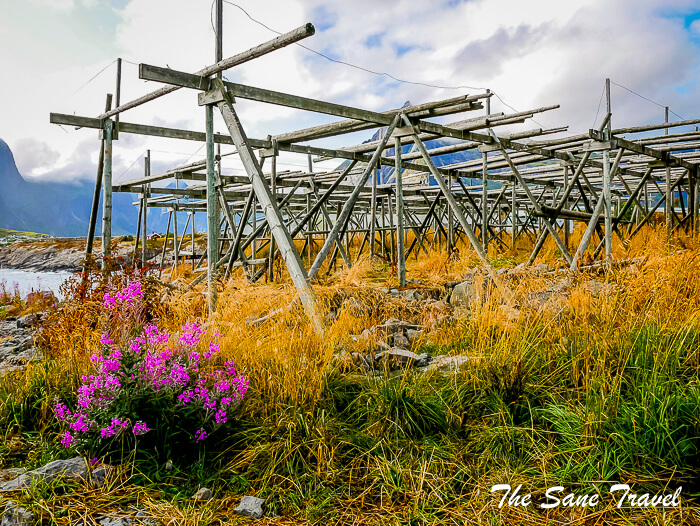 So try Rorbu at least once during your Lofoten trip. You should know that many tourists flock to the islands in summer. Hotels and other accommodation are filled up during this period. If you are visiting in summer, you should book well in advance, or else you may not find a suitable place to stay at the last minute.
Like it? Pin it!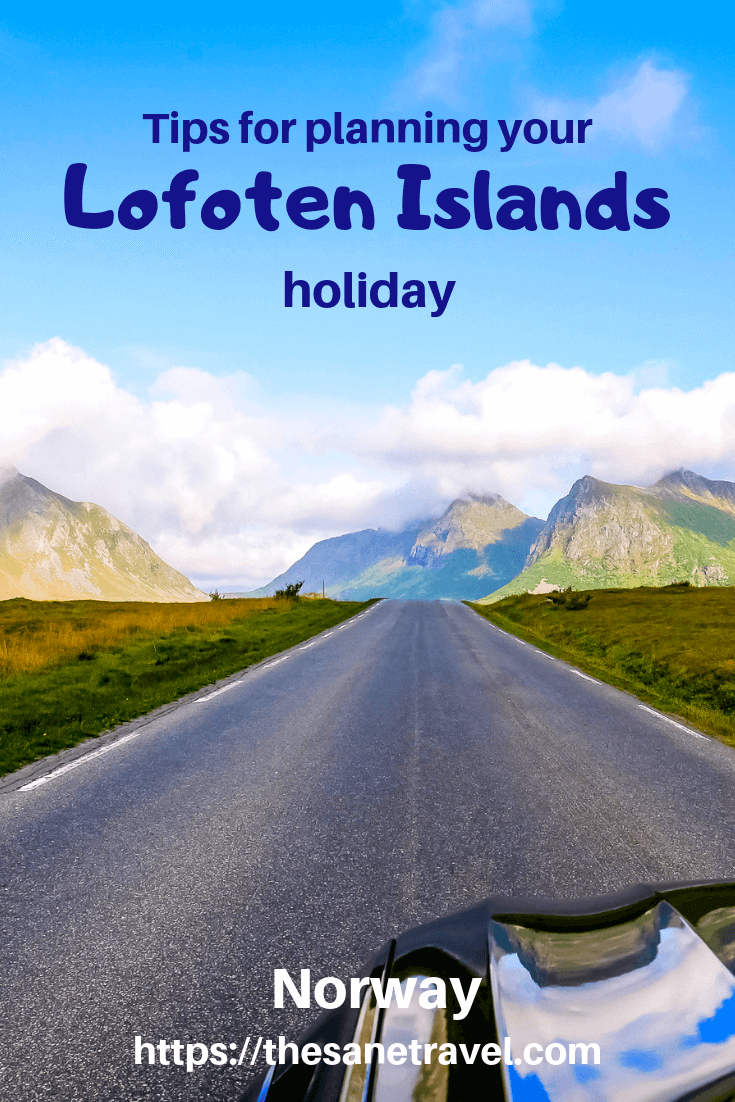 What did you think? Have you been to Lofoten Islands? Or perhaps you're thinking of visiting there in the near future? Either way, I'd love to hear from you so please add your comments below.
Published by Anita on September 6, 2019
Author: Anita Sane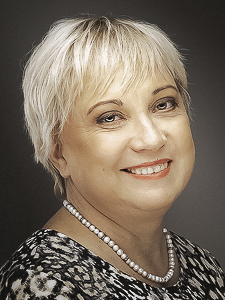 About the author
Anita is a part-time traveller, passionate photographer and a retired career woman from Latvia, travelling mostly solo for more than 15 years. She is a skilled travel planner who plans and executes her travels by herself. Anita wants to show you how to travel the world and open your mind to new experiences. Follow her on Facebook, Instagram, Pinterest, Twitter and Bloglovin.