Have you been to London many times? Looking for alternative things to do in London? Then this DIY London street art tour is for you. One of the districts where it all started in the late eighties was Shoreditch. Today this is a place where artworks are preserved and a space for new artists is provided. Take a look at how far the world of street art has come with this DIY tour of Shoreditch street art. In about 2 hours you will see lots of artwork from famous street artists. The works are constantly changing and you will definitely notice something I did not see. So here you go.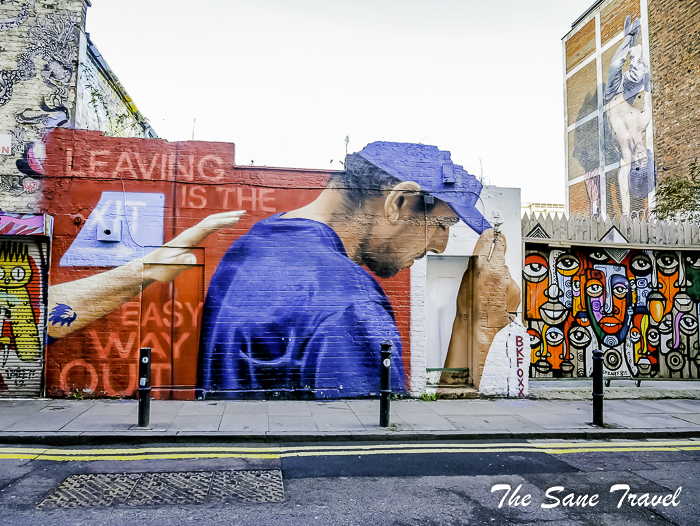 If you are using public transport, start your exploration from Aldgate East Tube station. After a short walk on Commercial Street, turn right to Fashion Street and here it is:
Fashion Street

The first thing you will see is artwork Afro Samurai made by street artists Shine, Quest and Ante. Shine and Quest started their street art paintings in mid-eighties. London based artist Ante has been painting since the mid '90s.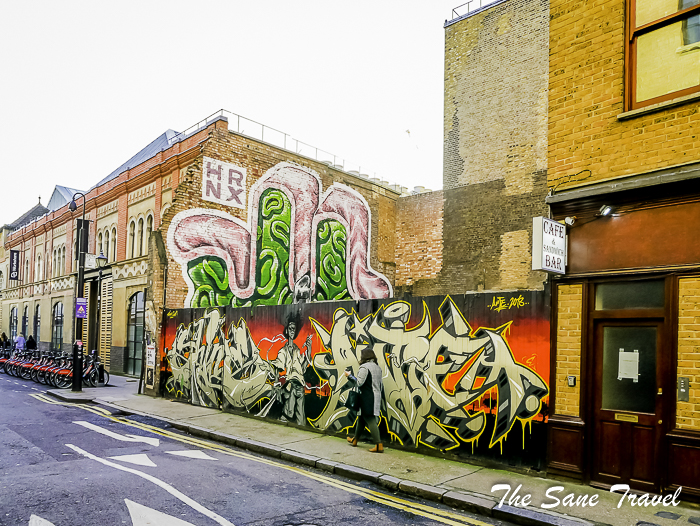 Keep walking until you see an expressive portrait of a woman. It is work by London based artist Dreph. Neequaye Dreph Dsane is a versatile visual artist working across a wide range of media. With a focus on portraiture, he is best known for his large-scale murals and oil paintings. His work in Fashion Street depicts Tracy Blackstock, Mother of Dreph's sons.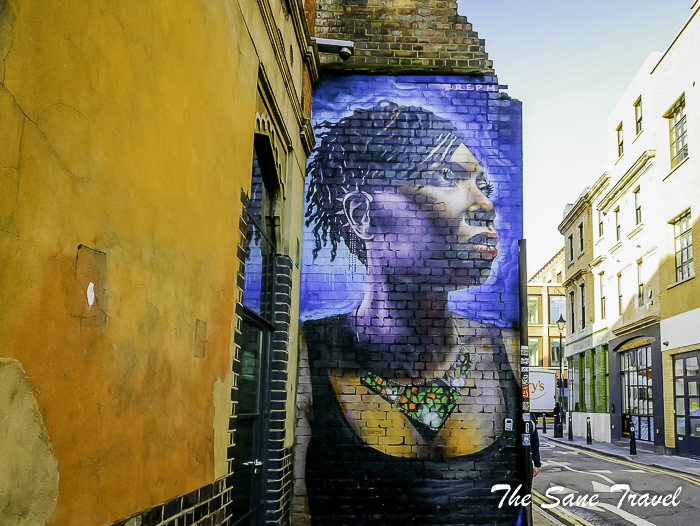 This man with four eyes is striking, isn't he? It is a work of Brooklyn based street artist Pyramid Oracle who made it during his short stay in London. Pyramid Oracle prefers to hand paint his works in the studio and then find a suitable location for them to reside. By the way, Brooklin is also the place of awesome Bushwick collective street art.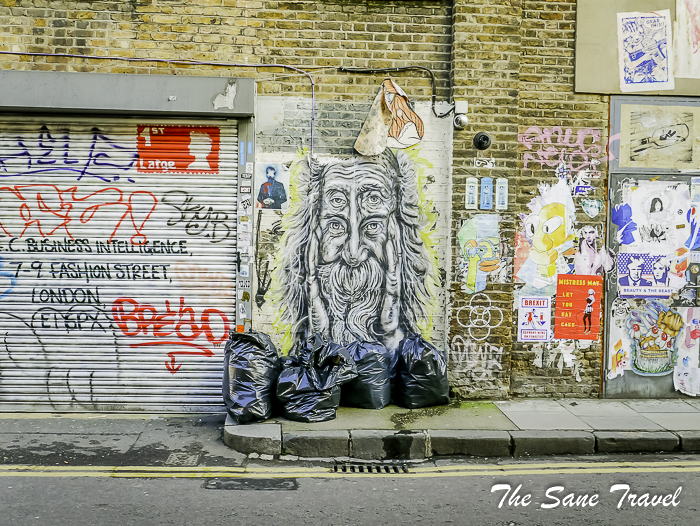 You will see quite a lot of artwork from Mr Cenz during this tour. So here is the first one: a female portrait. Mr Cenz is a London based graffiti artist who started street art painting in 1988. Since then he has become a professional graffiti artist with several solo shows and high profile commissions internationally. His work has been described as "surrealist graffiti art for the soul". Currently, Mr Cenz focuses on female faces, which he distorts in his trademark style.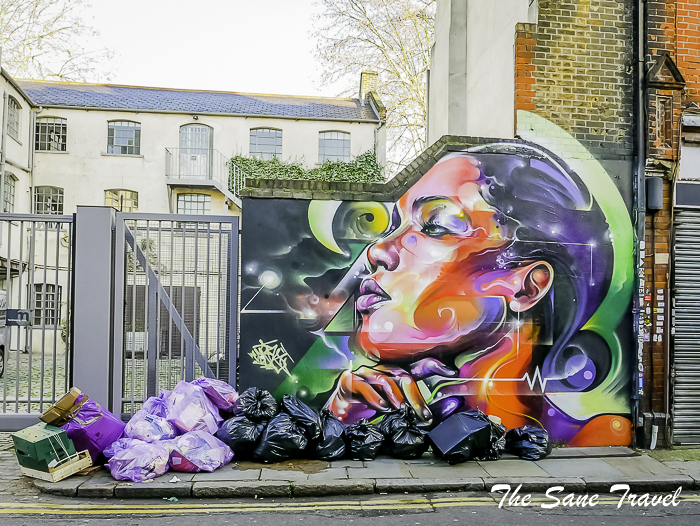 While walking Fashion Street, check also the elephant painting by Falko One from Cape Town, South Africa. He got his start in 1988. One of his favourite subjects is elephants, which take on psychedelic hues like purple, bronze, pink, and baby blue.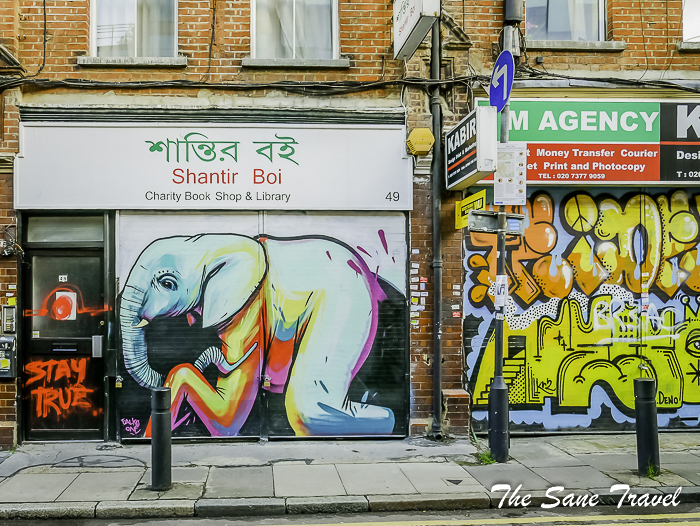 At Fashion Street 50 the painting of a man with a child by London based Australian street artist Jimmy C, aka James Cochran, will catch your eye.
Then Fashion street ends and you turn left to the
Brick Lane

One of the first things you will see is a painting of a cat on Kill the cat microbrewery at 43 Brick Lane. Why should you kill a cat, by the way?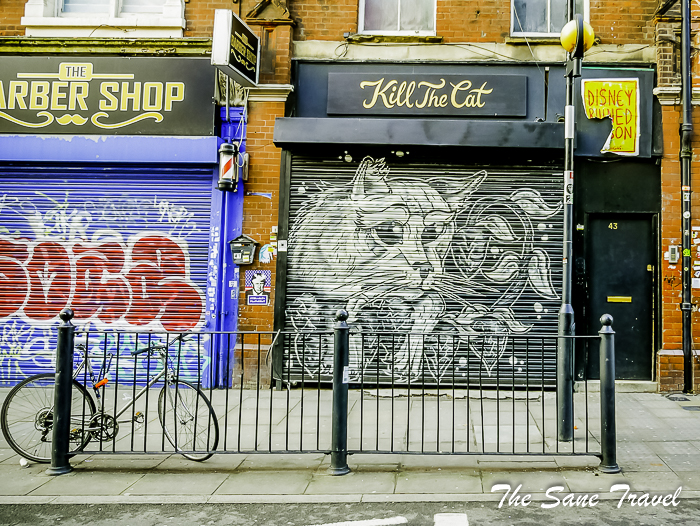 Notice the colourfully decorated building of (former?) Seven stars bar,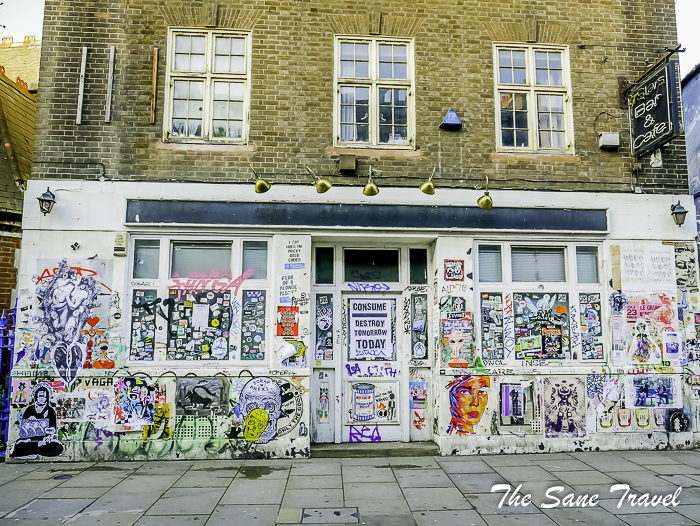 but most importantly walk into
Seven stars yard
to see several impressive artworks, including a girl with glasses by Carleen De Sözer. Carleen has been a well-known fixture to Portobello Market, switching constantly between fashion and art. She is widely regarded as one of London's most skilled and diverse aerosol and airbrush artists.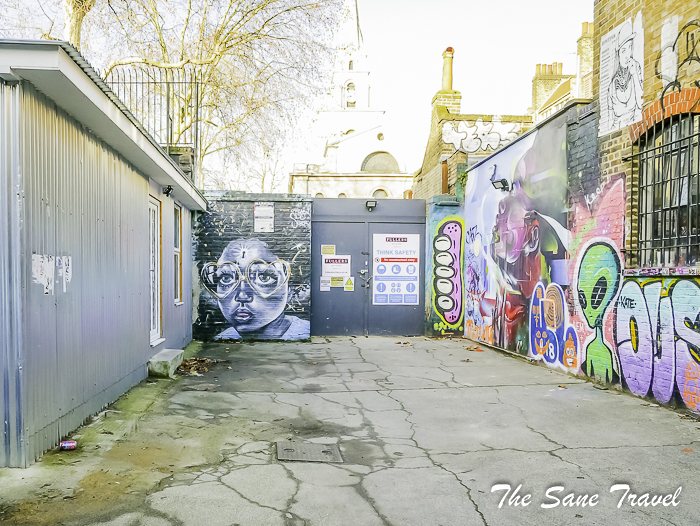 Also, there you can admire one more female portrait by Mr Cenz.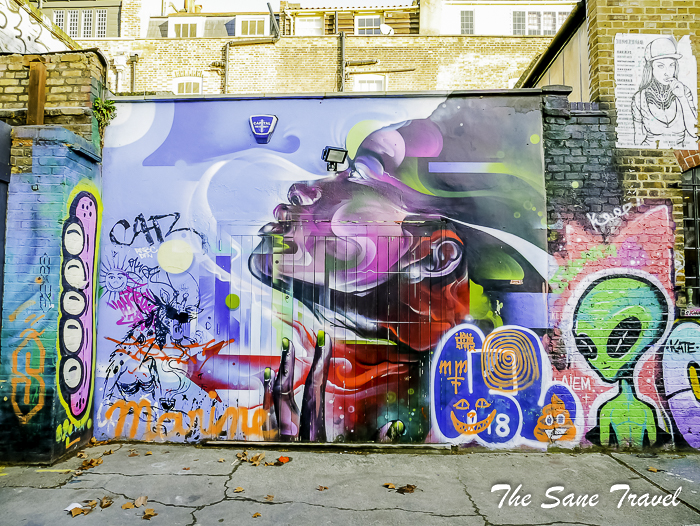 On the right, there is artwork by Ninjastah, digital artist and music composer and producer from London.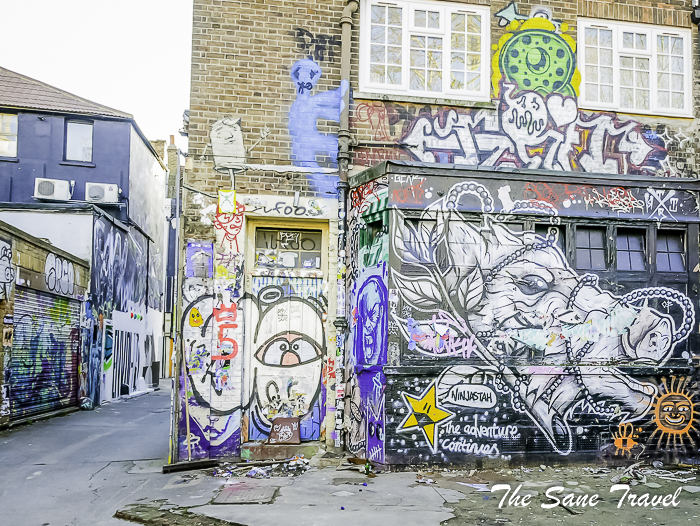 When you get back to Brick Lane, notice the street art decorating Thai&Chinese and Indian food eateries.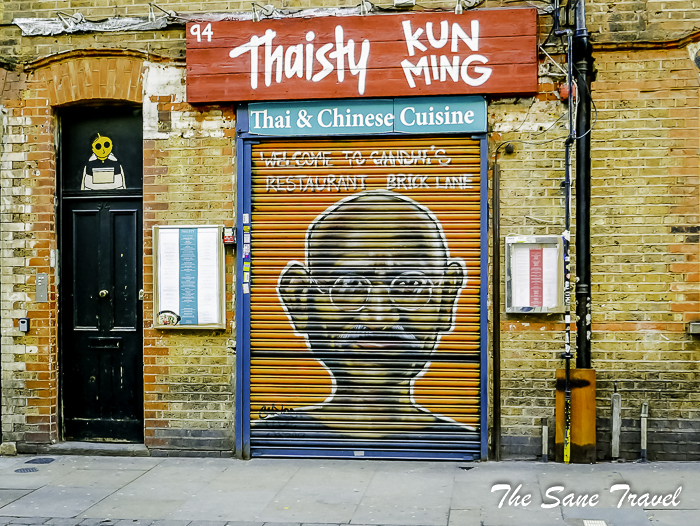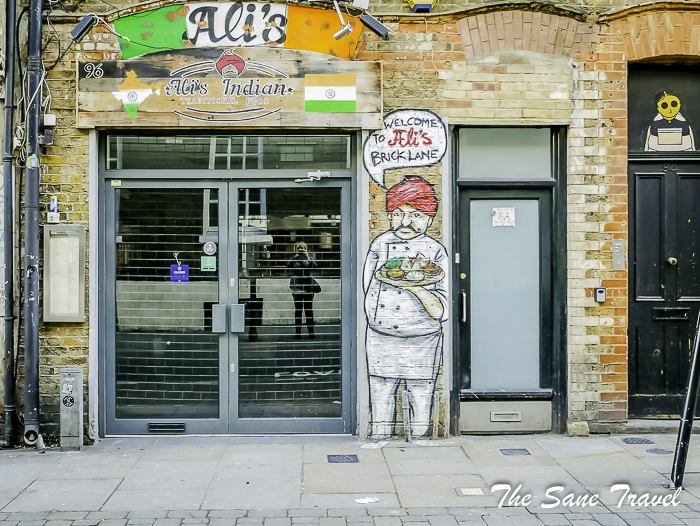 Now turn to
Princelet Street
Located in the middle of the Brick Lane graffiti show, there are some brilliant pieces on Princelet Street.
I find a man with a hat by BKFoxx very impressive. She is a public artist from New York painting photorealistic murals in spray paint only; no brushes, no projectors, no stencils.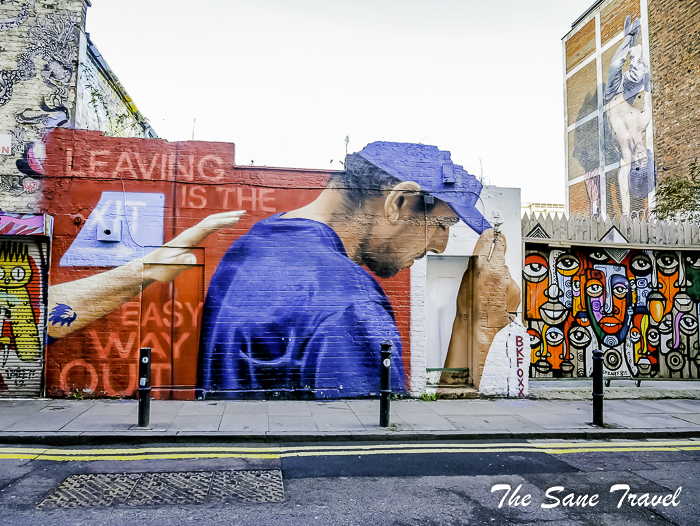 Next, you see the colourful artwork by SenzArt 911 (Senzo Nhlapo) from Soweto, South Africa. He celebrates South African cultural diversity with his colourful works and larger-than-life eyes and long noses usually seen on African masks.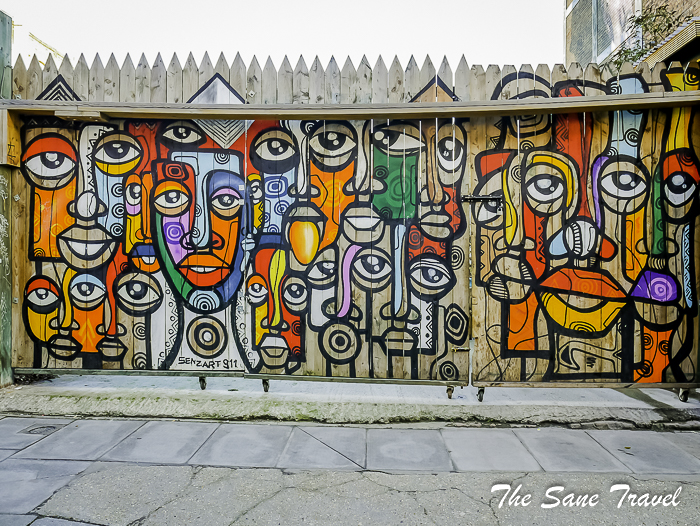 In this picture, you see many artworks in one shot, all located in a small area of Princelet Street.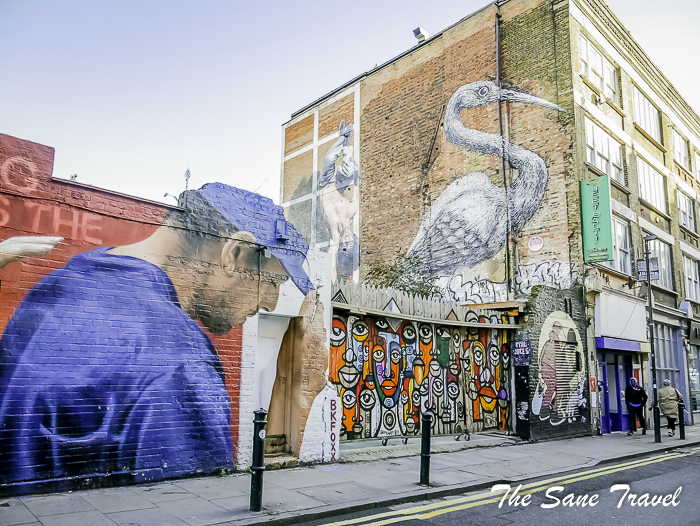 Then you should turn into Hanbury Street to see yet another piece from Mr Cenz ever-impressive female portraits.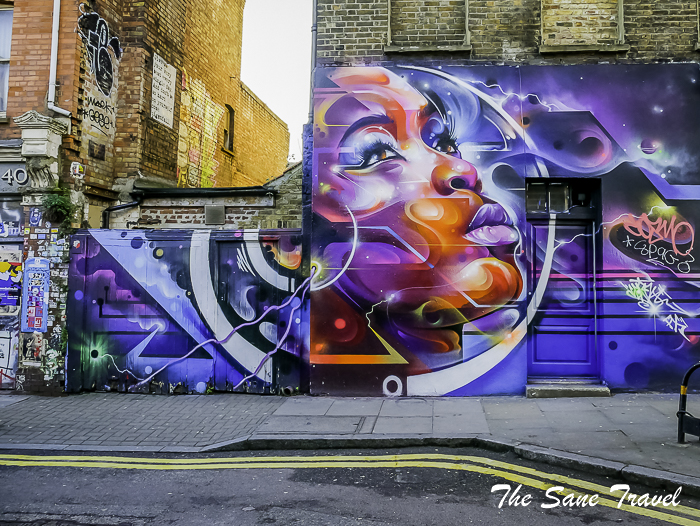 One more female portrait by Dan Kitchener, also known as DANK. He is a Professional muralist and street artist, Illustrator and Art Director. He creates fine works of art on canvas, interiors and exterior spaces, available worldwide.
Pedley Street
One more turn from Brick Lane to the much quieter Pedley Street. Brace yourself for a blast of bold art walls – the names and the pieces might change but the overall effect is the same.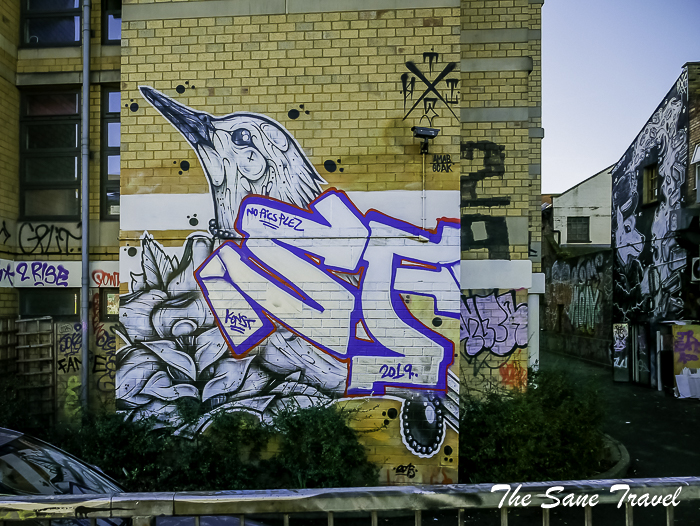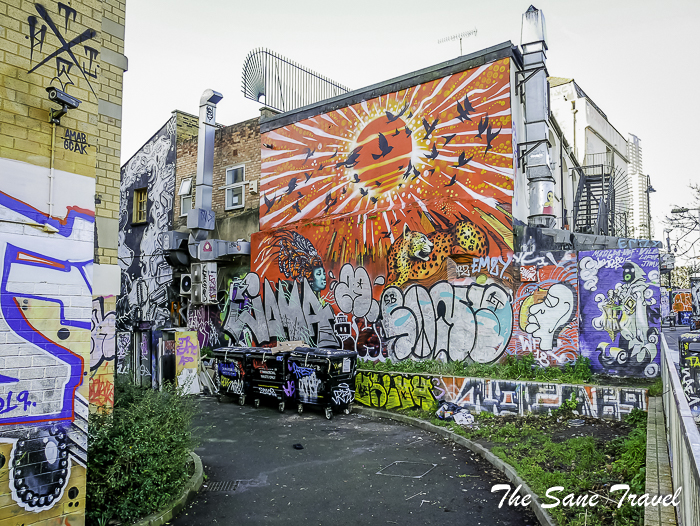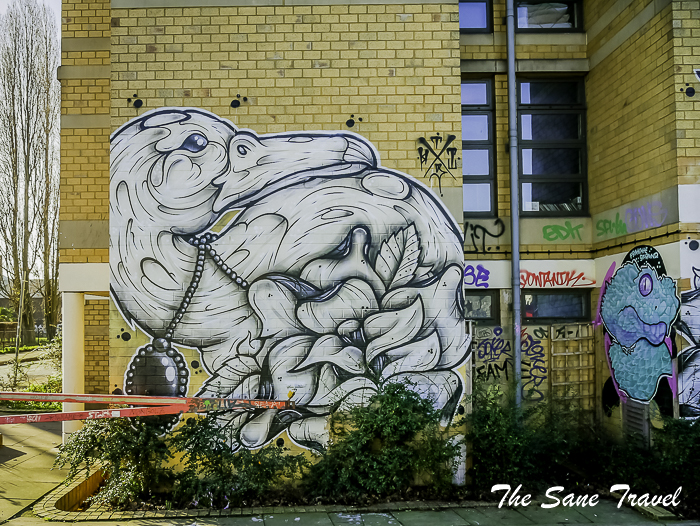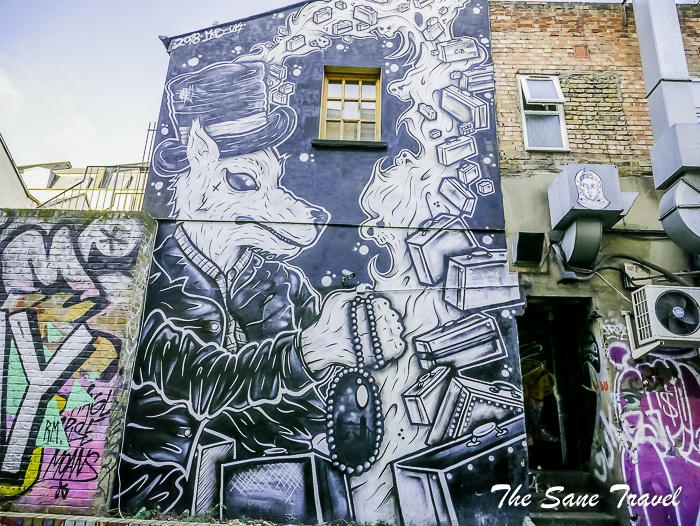 Mural in honour of American singer Charles Bradley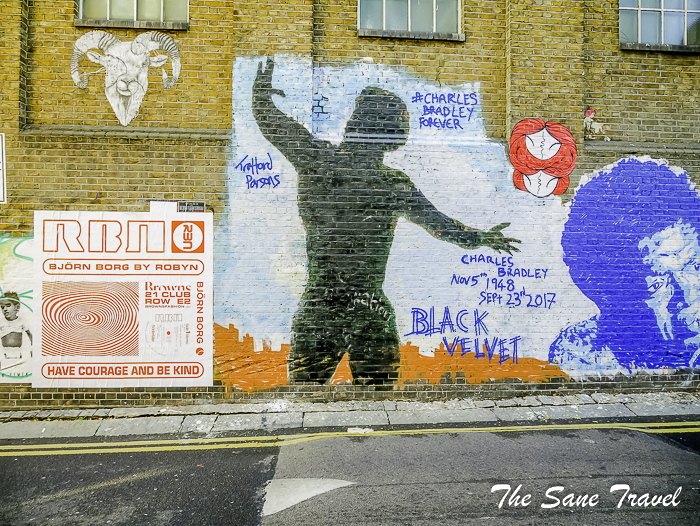 OK, now it's time to move away from Brick Lane. Turn left to the Quaker Street and move in direction back to Commercial Street, making a stop on your way to stare at some interesting pieces at crossroads with Wheler Street.
Notice colourful work by Shucks One, a professional Artist working in various capacities. For many years Shucks has also been a radio DJ, a youth worker and an experienced freelance and staff journalist, specialising in hip-hop music and culture.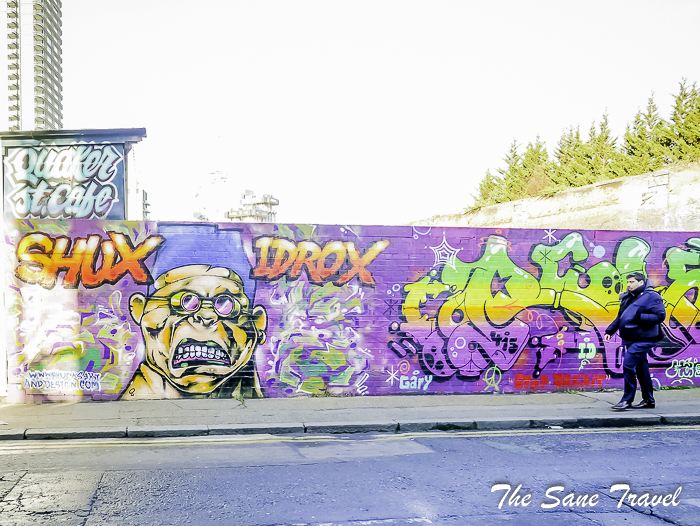 Even cars are a part of street art in this area.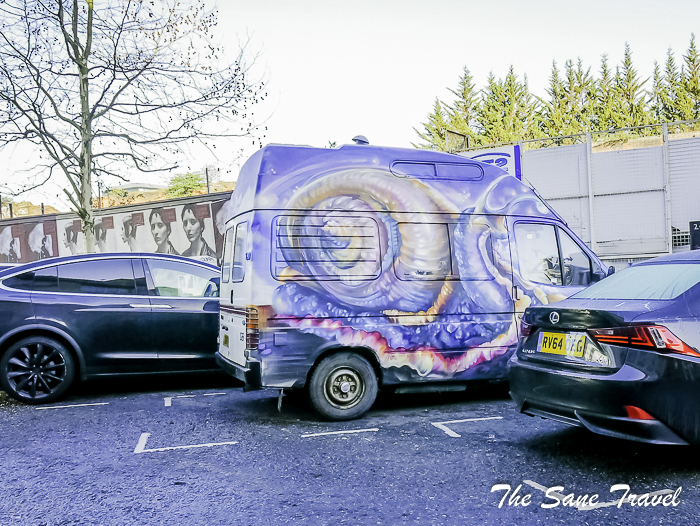 A fellow on the wall makes an interesting composition with vehicles on the street. Don't you think?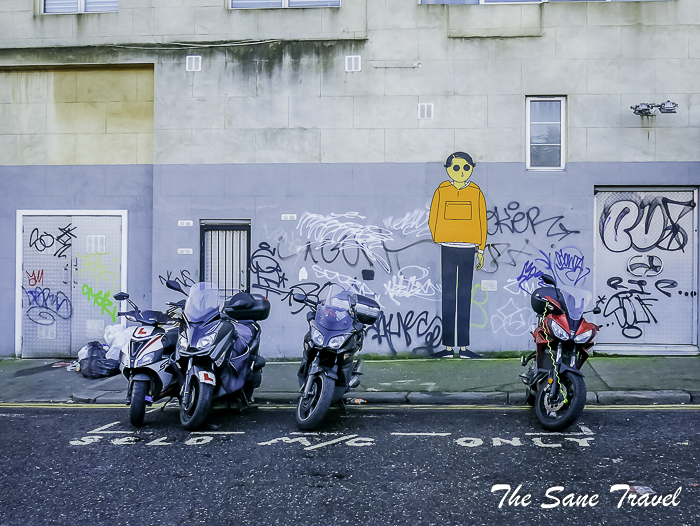 What is he waiting for? What is behind that door?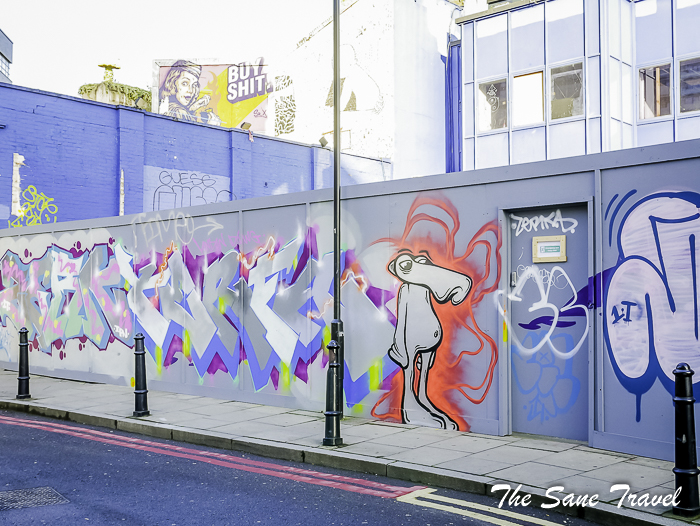 OK, now you are on Great Eastern Street
Great Eastern Street is home to two graffiti covered tube trains located on containers on top of a building, captioned: 'Let's Adore And Endure Each Other.' You can also find a lovely tribute to the late actor Bob Hoskins; this piece refers to his lead in the 1986 neo-noir film Mona Lisa.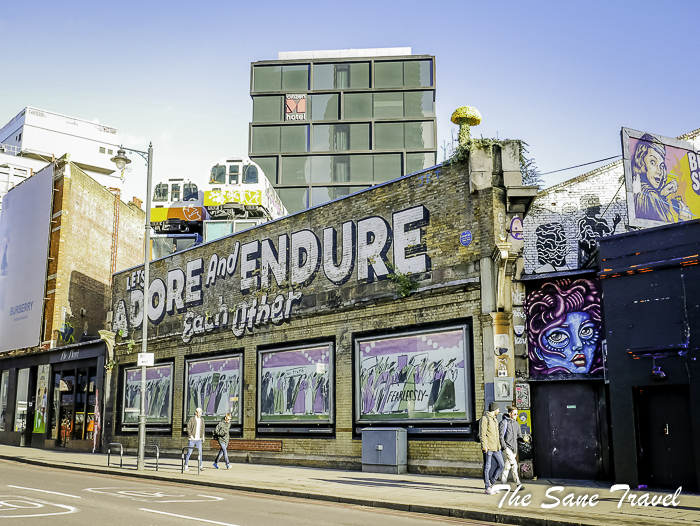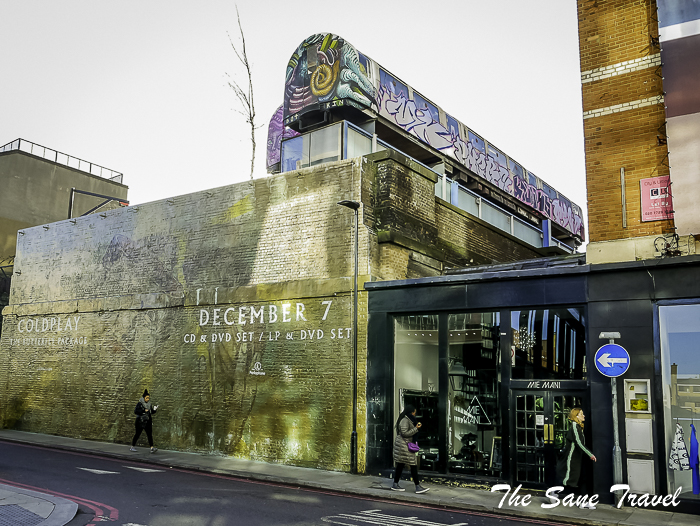 One more fellow watching you.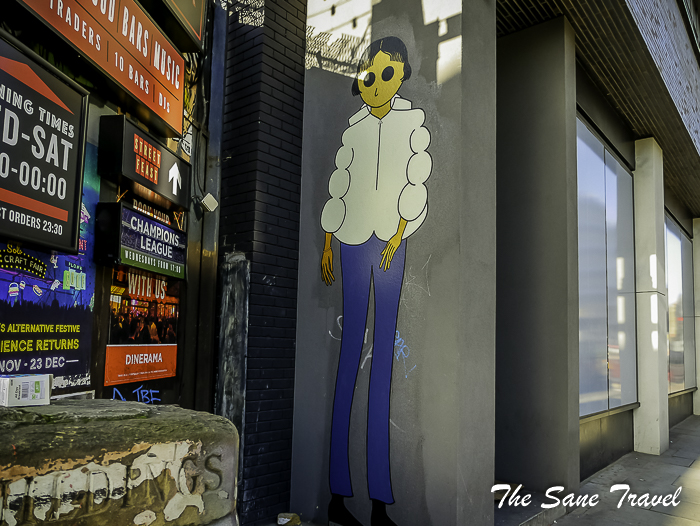 King John Court
The small triangle formed by New Inn Yard, King John Court and Holywell Lane is packed, absolutely packed with some of Shoreditch's most creative street art murals.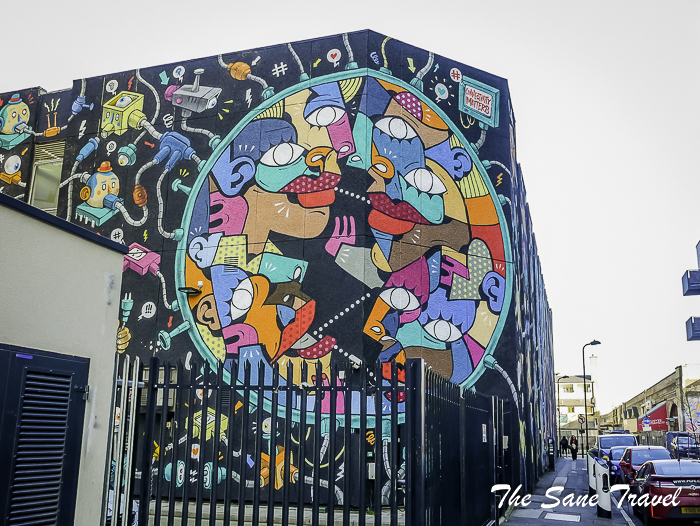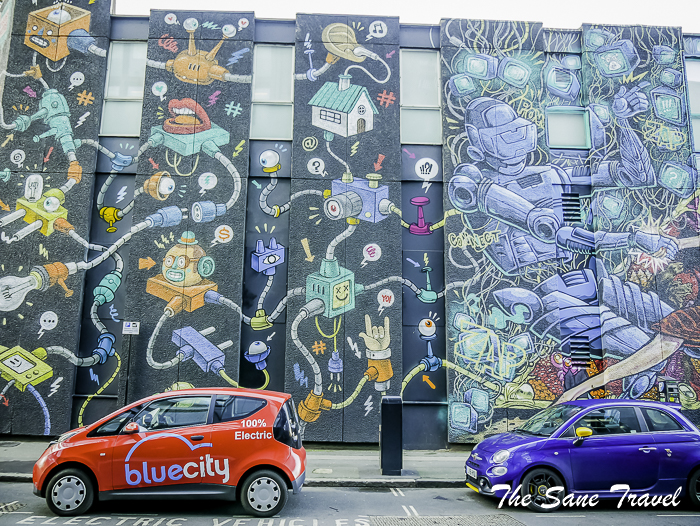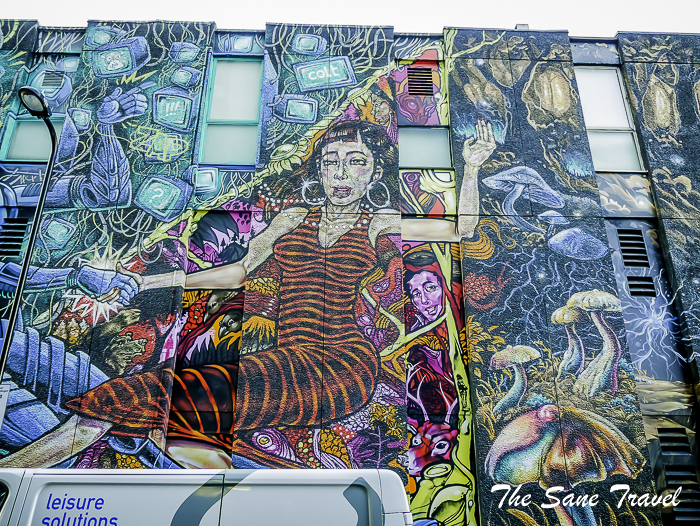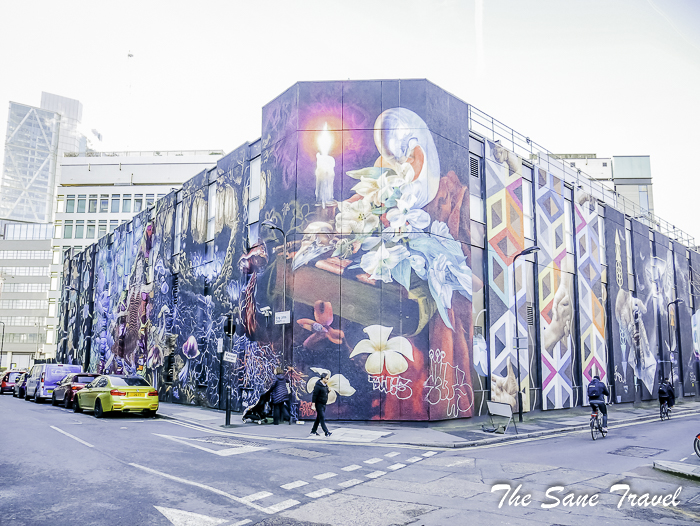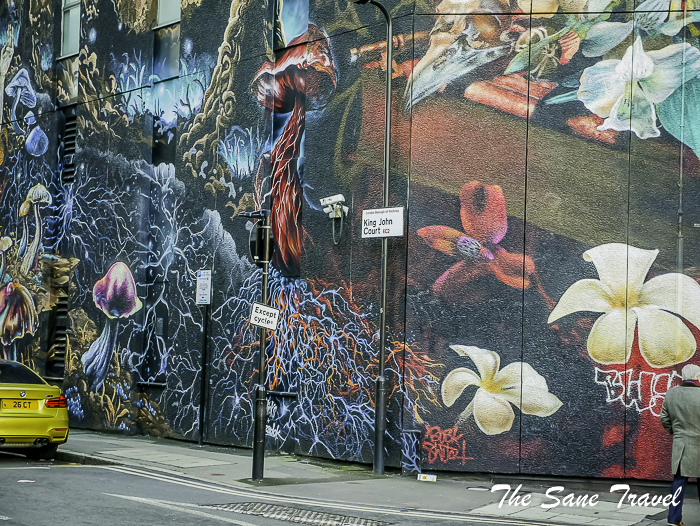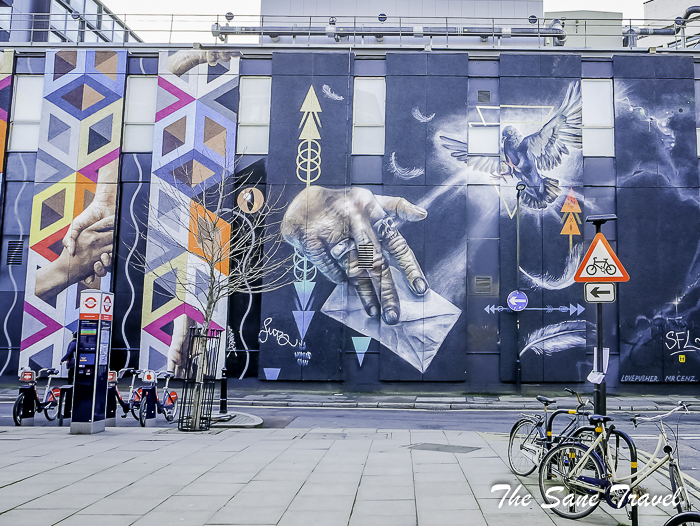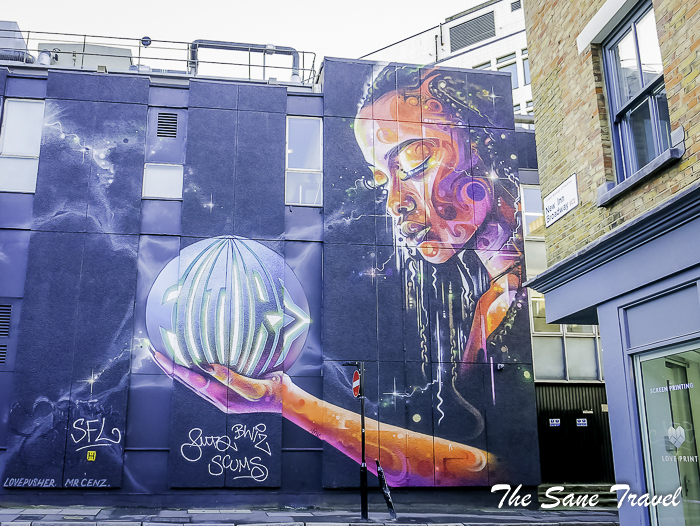 If there is one most impressive thing of street art in London, this is it: Colt communications company building on the corner of King John's Court, painted in summer of 2018. This huge mural is made up of hundreds of different images and artistic styles, with each section being a unique interpretation of a single theme: connectivity. Lovepusher and Mr Cenz's "Future" is nothing less than stunning. The other artists represented here are Ninth Seal, Best Ever Busk, Mr Switch, Ed Hicks, Dr Zodak, Captain Kris and two Italian artists Tizer Hunto & Mr Toms. Just some stats about it: the mural is about 115m along its base and 13m tall, making its surface area almost 1500 square metres; 250 litres of the black emulsion was applied as background and over 500 cans of spray paint went into the painting.
Have a look around and you will see the modern site of the Theatre in Shoreditch, featuring street art paying homage to Romeo and Juliet.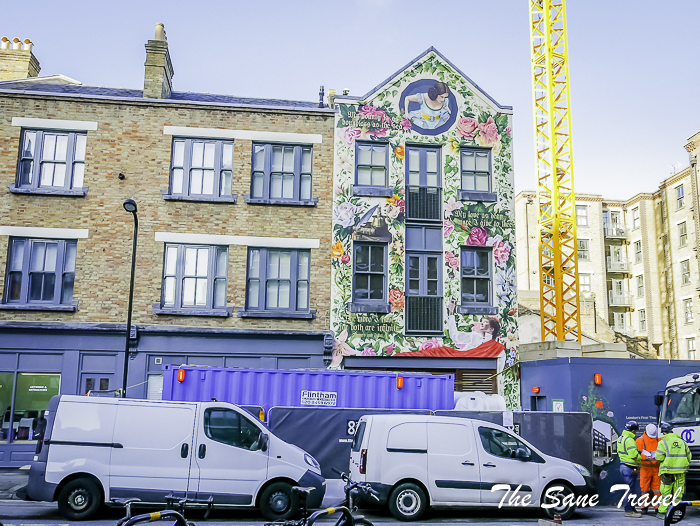 Notice two colourful faces by Prozak7 on New Inn Yard.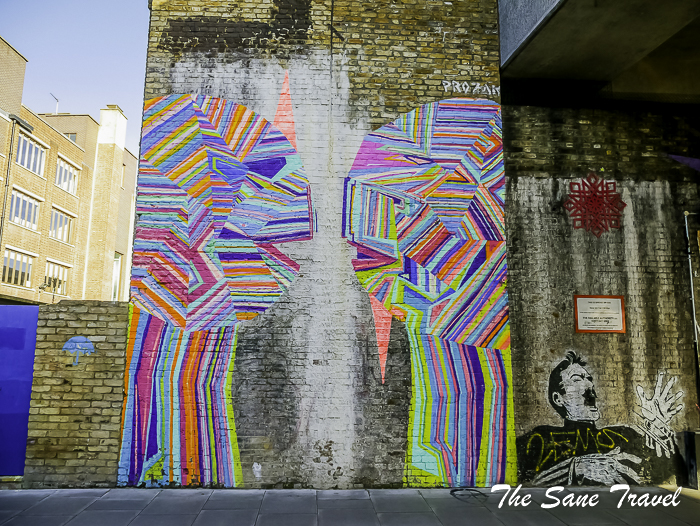 OK, let's move on by Great Eastern street until the corner of Rivington Street. The exterior of the former Red Gallery is a collection of some of the world's hottest urban artists. The current work on the gallery's facade, 'Saoirse 68' by Anne McCloy is one of the largest pieces of street art in London.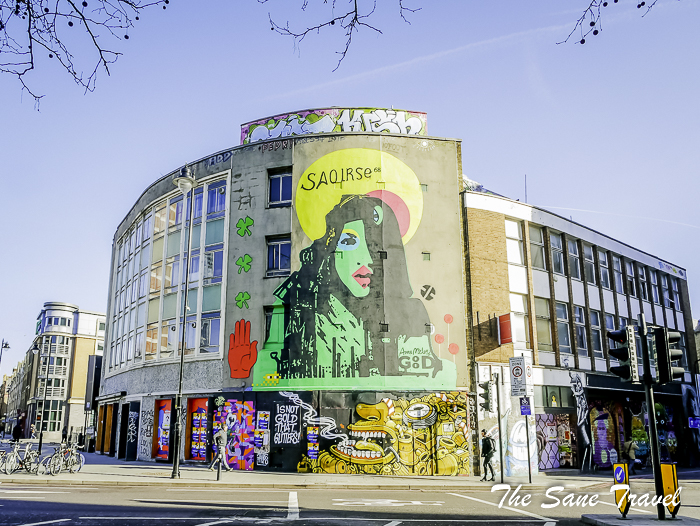 Lower down on the walls of the former Red Gallery, you will find pieces by Georgian artist Tamoonz, Spanish artists El Rughi and Jose Mendez as well as British Sam King.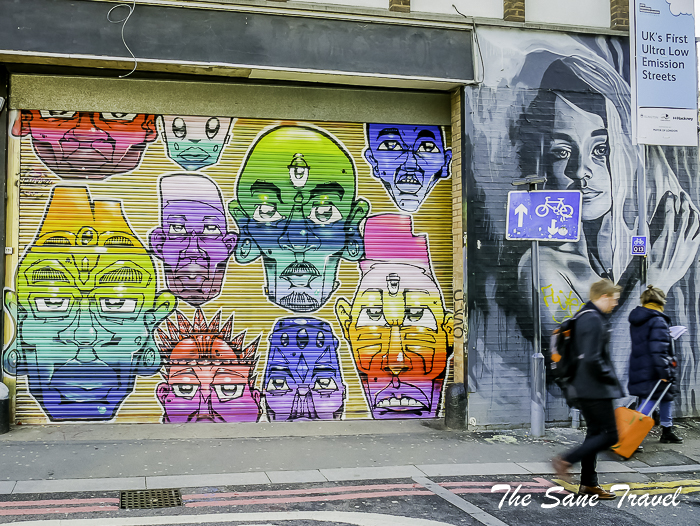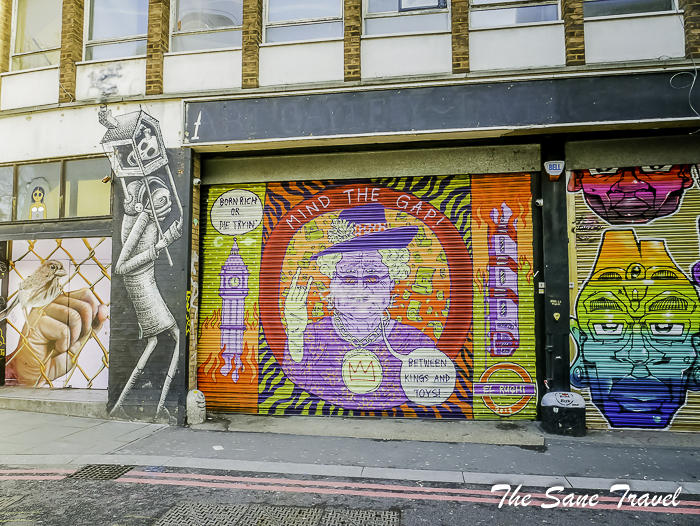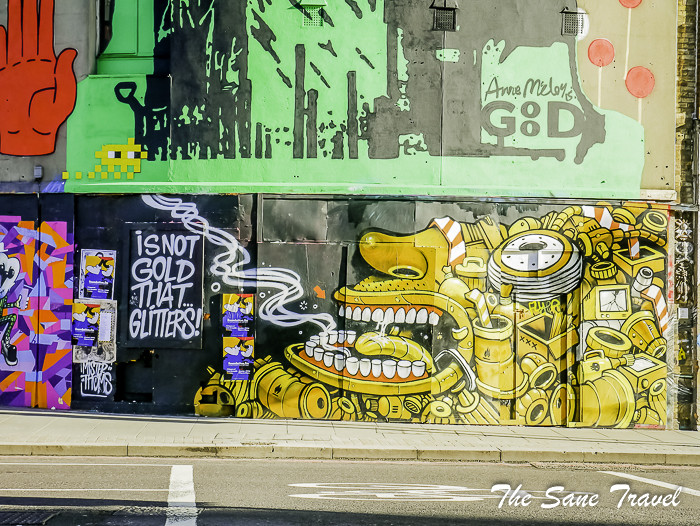 For me, it was interesting to see there a little artwork of Phlegm from Sheffield pictured in the middle.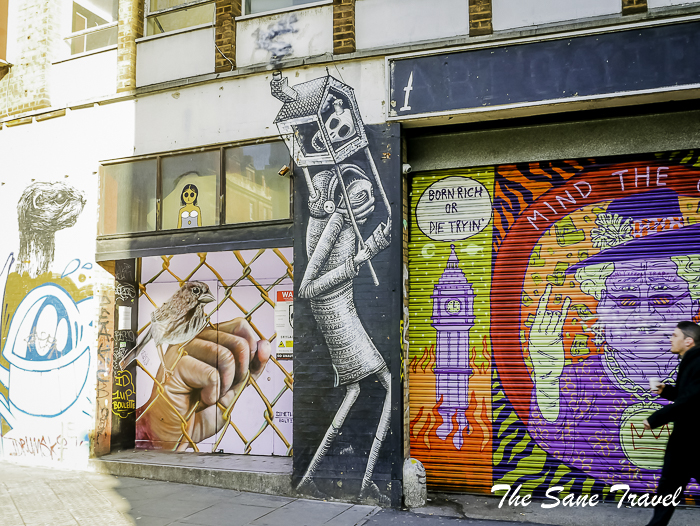 He is a world-known cartoonist and illustrator. He is also well known for his self-published comics and highly creative street art. Phlegm's work is distinctively detailed odd figures and a narrative structure. Phlegm prefers to paint his comic work with black Indian ink and a dip pen. He uses colour only for painting large murals and other objects. Check his big artwork in Reykjavik in my Reykjavik street art article.
Now we are close to finishing our tour. Let's walk Old street and see one more fully painted building on Singer street corner. Taking up the whole facade, Camille Wallala's Dream Come True is a colourful amalgamation of dots, lines and blocks to make this powerful visual statement. The use of bright and bold colours looks very lively.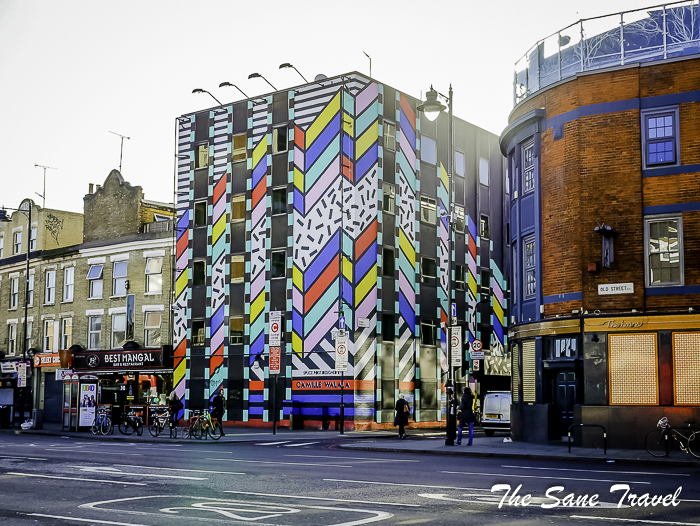 Let's finish our DIY Shoreditch street art tour by stopping at the artwork of Australian freelance artist Steen Jones. He is also a Director of Few and Far Collective & Few and Far Studio. He has worked in locations from Portugal to Scotland, China to New Zealand, the USA and beyond.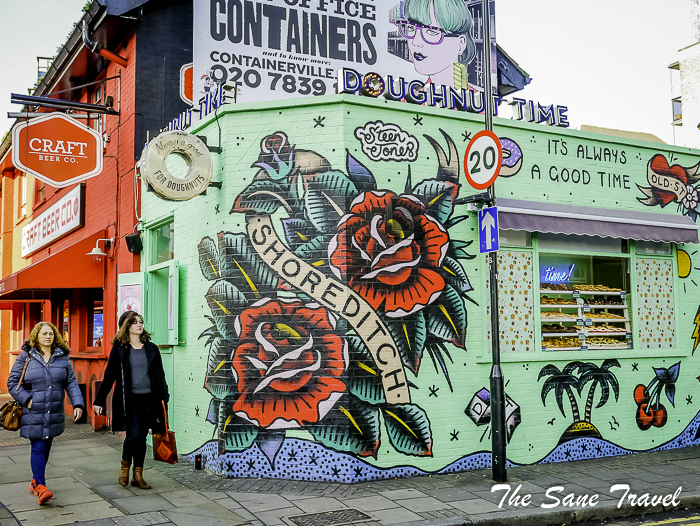 So how was the tour? If you like street art, check my articles of Bushwick collective and Minsk street art.
Ready to move on? Just hop on the train at nearby Old Street Tube station. Some London tips can be useful for further exploration. Or maybe you are looking for the best areas to stay in London?
Like it? Pin it!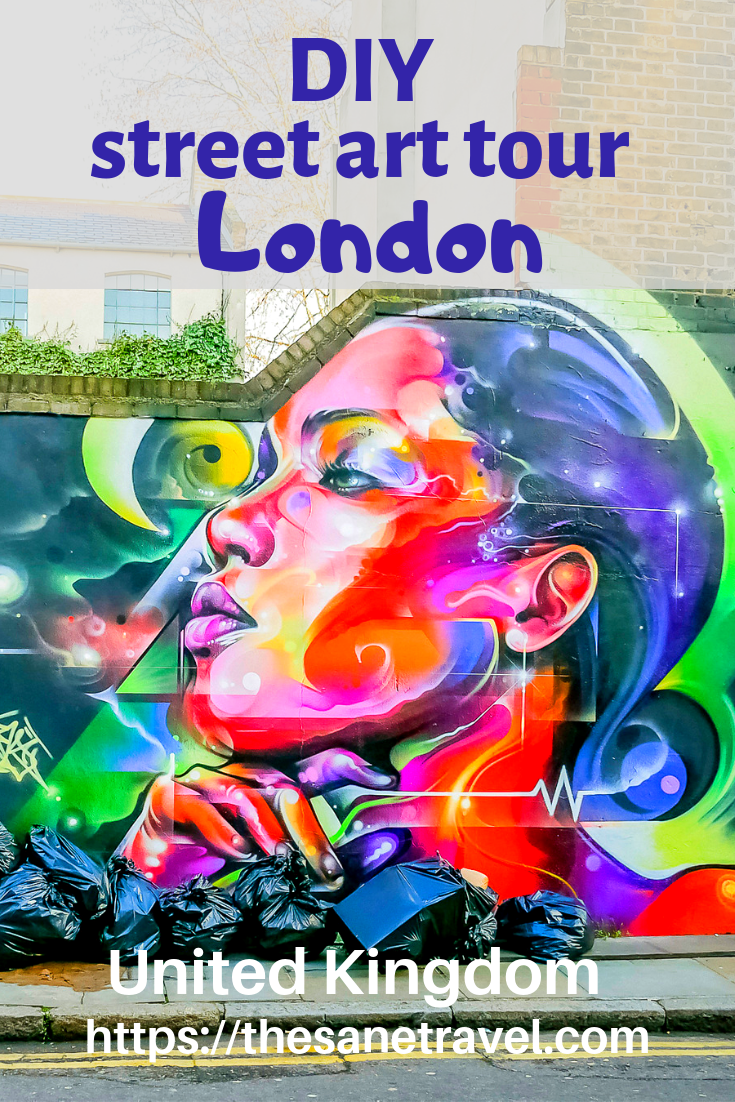 What did you think? What is your favourite city for street art? I'd love to hear from you so please add your comments below.
Published by Anita on March 08, 2019
Author: Anita Sāne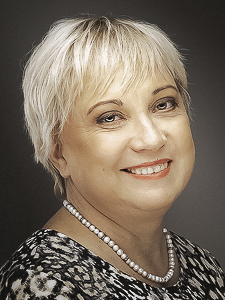 About the author
Anita is a part-time traveller, passionate photographer and a retired career woman from Latvia, travelling mostly solo for more than 15 years. She is a skilled travel planner who plans and executes her travels by herself. Anita wants to show you how to travel the world and open your mind to new experiences. Follow her on Facebook, Instagram, Pinterest, Twitter and Bloglovin.