As I very much wanted to explore the Vietnamese countryside and daily life, I searched for a bike tour option in Hoi An. The travel advisor of the Vinh Hung Riverside Resort & Spa Hotel where I was staying recommended the Heaven and Earth Bicycle Tours Company so I booked a half-day bike tour from my hotel. Next morning I headed to the company office located 5 minutes away. We were a group of ten, as the organisers had promised; we got the bikes and were introduced to the guide and her assistant. The tour started with a short ride to a boat station where we boarded a boat to get to an island nearby.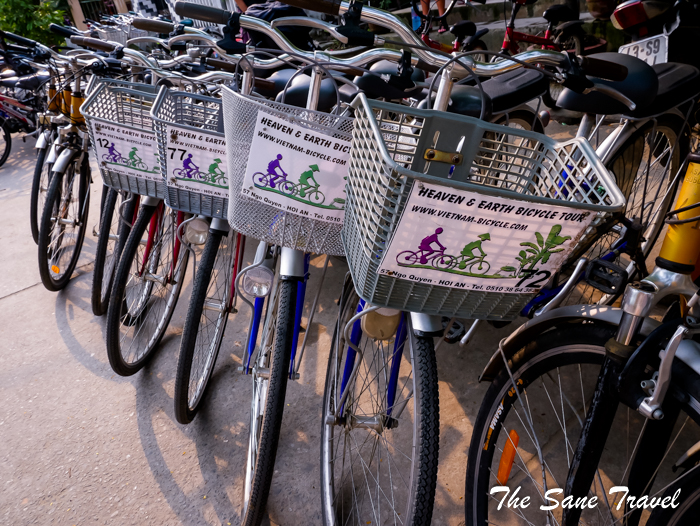 Once we got there, our first stop was a traditional wooden boat building workshop at Kim Bong Village. Our guide explained that the wood for building boats was imported from Laos. She also showed us each boat had eyes and invited us to guess why. The answer: for protection from evil water spirits.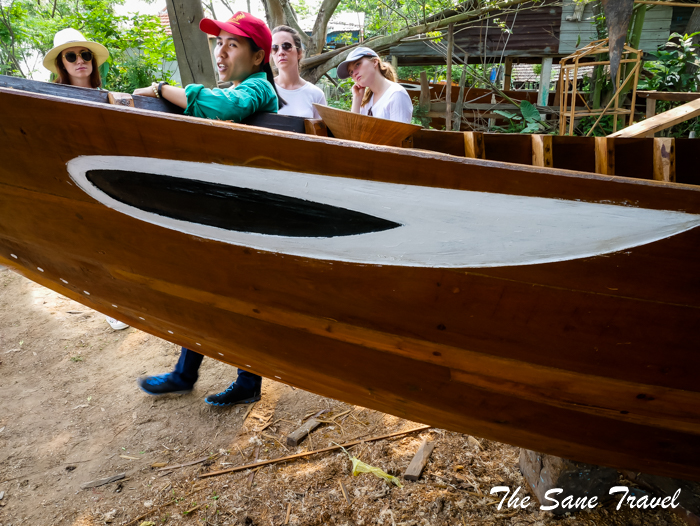 Then we were biking again and in a few minutes arrived to our next stop: the workshop of an artist who makes pictures, furniture decorations and souvenirs from shells. First the material is collected, divided into pieces and flattened out in a press. Then the artist makes a drawing on the shell and saws the contour with a special saw.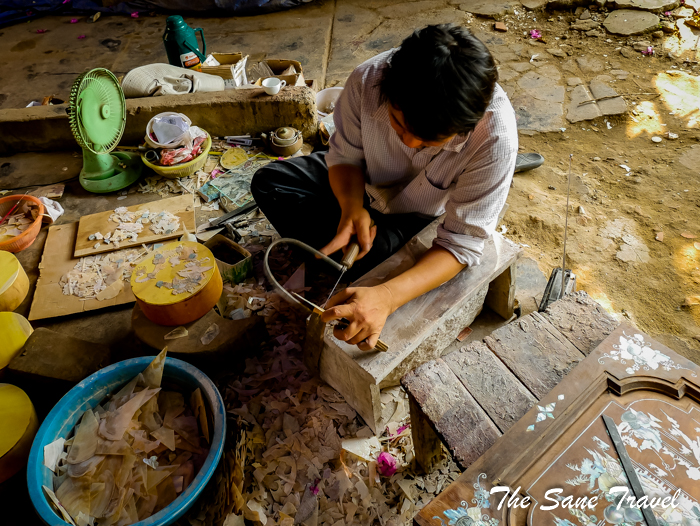 Next the decoration is glued to the surface and later cleaned – a precise job that takes lots of patience and imagination. They also have a shop there, selling ready artwork.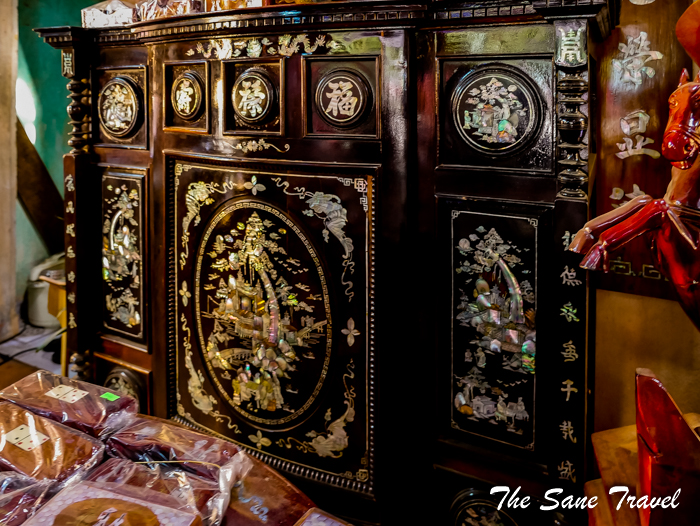 The guide showed us flood water level marks of different years on the wall of the building. The marks went up to 2 meters from the ground! Most Vietnamese children don't learn to swim because of superstitions about water in Vietnam so the risks of drowning are high.
At the next stop our guide showed us a field where plants for weaving sleeping mats grow. We learned how raw material is processed and dyed before weaving.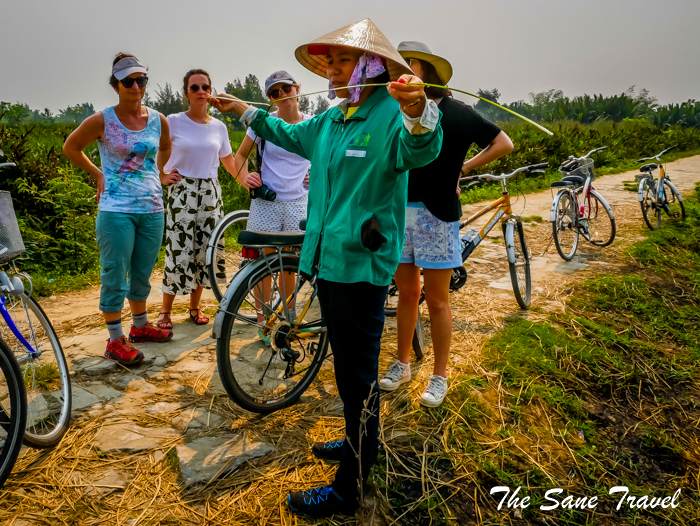 After that we stopped at a Vietnamese family meeting house where families gather several times a year to pray for their ancestors.
Next we visited a house where small, light round basket boats are produced. A bit later we had the opportunity to ride such a boat under the supervision of a local lady. It was the first time I tried to row a basket boat – I managed quite well!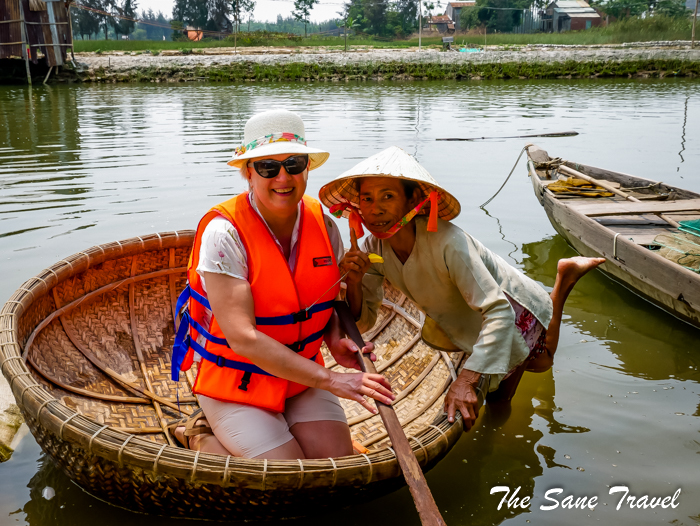 On our way we stopped at a rice field to take photos.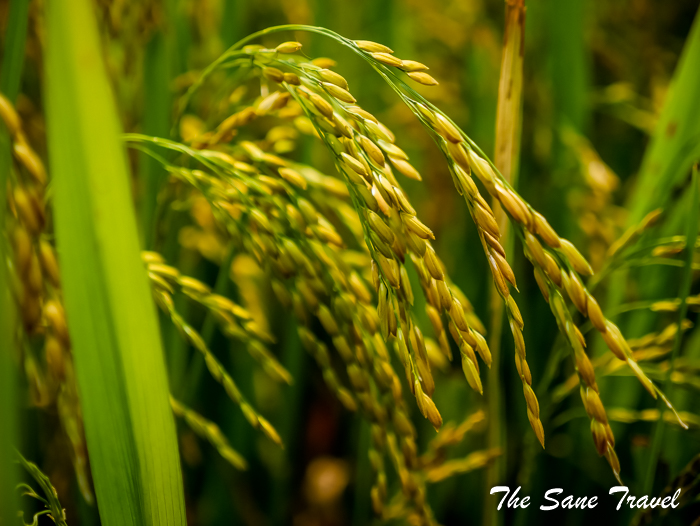 Our next visit was to the home of a local rice wine producer where we got acquainted with all the stages of their work including pig breeding. Pigs consume by-products of the process and their manure is used to produce methane gas for rice wine distillation. We also had the chance to taste the ready product.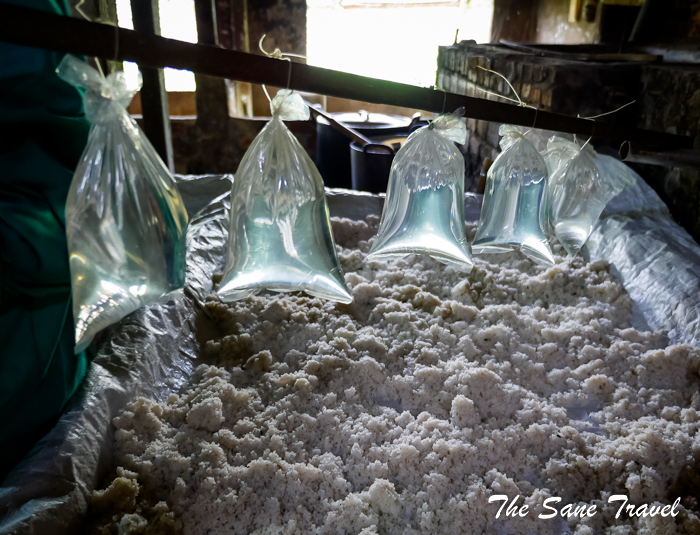 Then we reached the lunch stop at a traditional Vietnamese house. After lunch we watched two ladies weave a sleeping mat using the same kind of material we saw growing in fields earlier. One mat takes four hours to produce.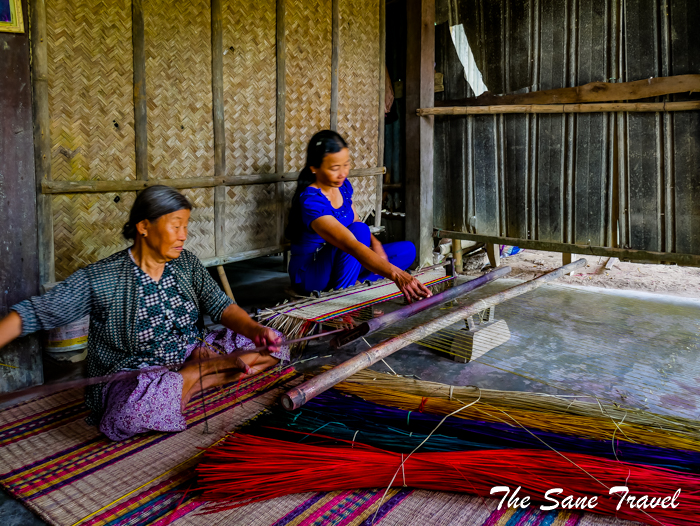 Afterwards we took a boat back to the tour starting point. On the way we saw yellow fishing nets on the river waiting for night fishing with lamps. This tour was a great opportunity to see many aspects of the local Vietnamese life in a short period of time.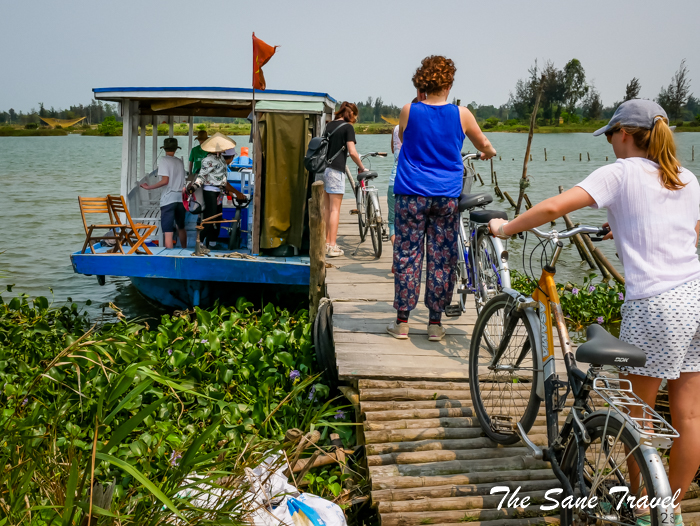 Are you interested in learning more about the real everyday life in Vietnam? Then it's a tour for you.
Practical information: Tour duration: 8.30 am – 3 pm. Distance: 9 kilometres by bicycle. Difficulty: easy. Price Adult: 24 USD.
Staying in Hoi An overnight? Choose from best hotels in Hoi An!
Author: Anita Sāne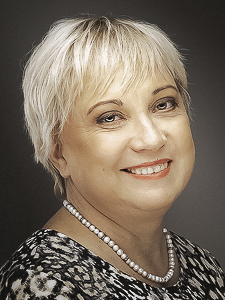 About the author
Anita is a part-time traveler, passionate photographer, and a retired career woman from Latvia, traveling mostly solo for more than 15 years. She is a skilled travel planner planning and executing her travels by herself. Anita wants to show you how to travel the world and open your mind to new experiences. Follow her also on Facebook, Instagram, Pinterest, Twitter, and Bloglovin.