Hue is considered to be the intellectual and spiritual center of Vietnam. Established in 1687 along the Perfume River, it was the imperial city of Vietnam under 13 kings of the Nguyen Dynasty from 1802 to 1945. During these years, architectural works of a high cultural and historic value were built: the Citadel, especially the Imperial City, 7 Royal tombs of 9 kings, the Esplanade of Nam Giao, the Ho Quyen arena and the Hon Chen Temple. Part of the Citadel was bombed in 1968 at the time of fierce fighting for Hue by communist soldiers of North Vietnam against troops of South Vietnam, sided by the United States military. Over the years, Hue has been the source of much of Vietnam's literature, music, medicine, and astronomy, as well as 1,700 of the 3,000 dishes that make up Vietnamese cuisine.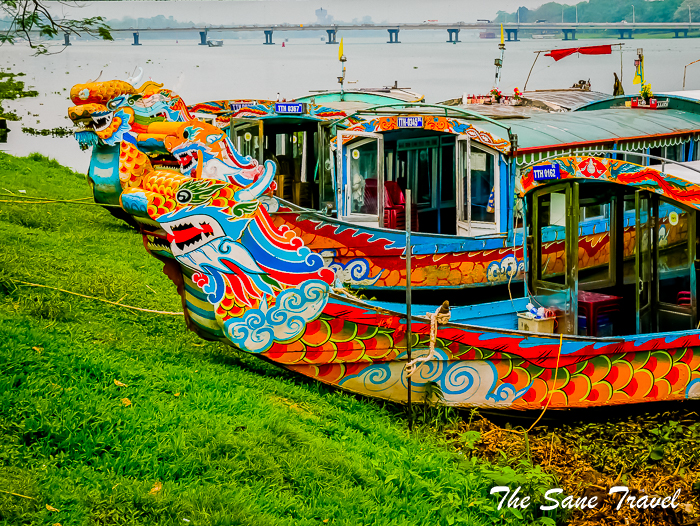 In 1995, Hue was designated a UNESCO world heritage site. A year later, the Vietnamese government approved a $70 million, 15-year plan to repair the main structures, refurbish royal tombs and restore the city's original Feng Shui positions.

Today Hue City is home to more than 340,000 people. Hue is a quiet, meditative place where one can relax. The name of the city means "Harmony" in Vietnamese. Hue is one of the hottest and rainiest places in Vietnam, with temperatures often topping 40 degrees Celsius.
In recent years, the old city has become popular with tourists. I highly recommend it for history and architecture lovers. In this list, I've picked eight sites for your attention. You can easily reach the first 4 of them on foot from the city center. To visit the other four, you would need transportation.
1) The Huong (Perfume) River
In the autumn, flowers from orchards upriver from Huế fall into the water, giving the river a perfume-like aroma, hence the name. The Huong River is 100 kilometres long. Originating in the Truong Son Mountain, two springs meet and create the Huong River. The river is beautiful from its source. It runs among mountains, forest trees, plants, bringing with it fragrances of tropical flora. It winds its way through Hue, giving this unique feudal capital a setting of natural beauty. There are gorgeous views on both sides of the river to the citadel, the town, gardens, pagodas, towers and temples, topped by their reflections in the water.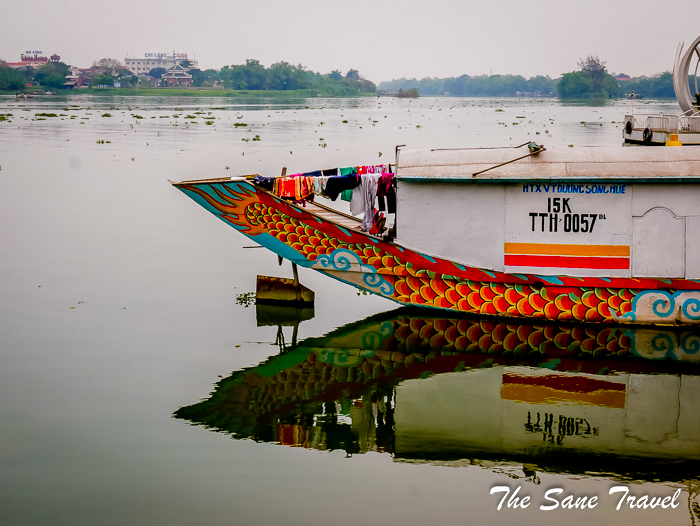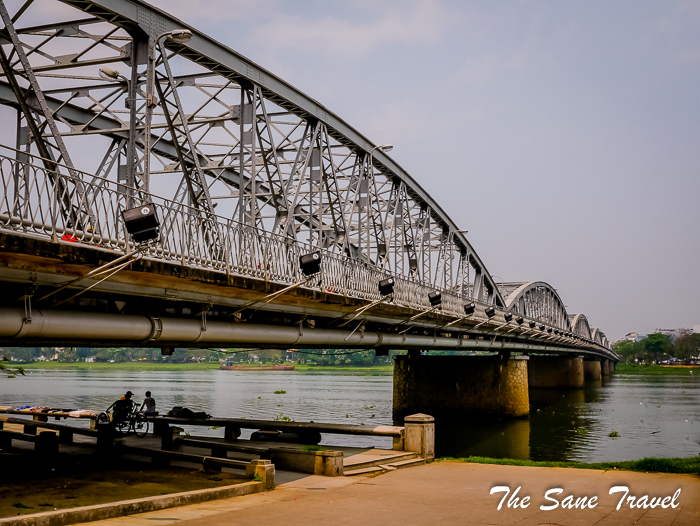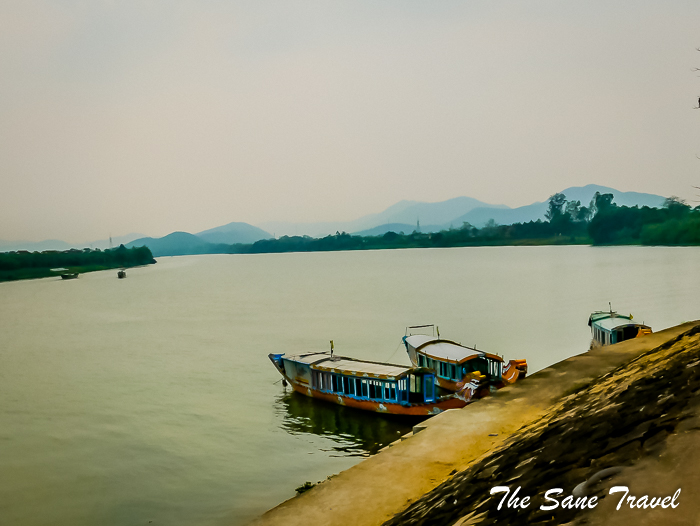 2) The Citadel
Like many of Hue's historic sites, the Citadel is hardly ancient. Its construction first began in 1805, under the rule of Gia Long, the first of the Nguyen Dynasty rulers. It was completed in 1832.
Four citadels or defended enclosures made up the city: Capital City, for official administrative buildings; Imperial City for Royal palaces and shrines; Forbidden Purple City for royal residences; and Tran Binh Dai, an additional defensive work designed to control the movement on the river. A fifth fortress, Coastal Bastion, was constructed a little later to protect the capital against any assaults from the sea.
In early years of communist rule after the American War, the Citadel was neglected and seen as an embarrassing vestige of the imperial rule. But over the last 20 years, the Vietnamese government has realised the old city is a lure for tourists and has been slowly fixing it up. There is contradictory information on the Internet about the state of the Citadel and the value of visiting it. I guess the negative reviews are older. There is still lot of work to do to restore its beauty but in my opinion, in the last years a lot was done to make this place well worth visiting.
Licensed guides can be booked in advance through tour booking offices. Seven-seater electric cars are available for hire. If it's a really hot or wet day and you can get a few others on board to split the costs, it's not a bad way to go, although you'll see more by walking. If you decide not to follow the guide's route, the Citadel is still a pretty, peaceful place with interesting buildings worth exploring on a lazy day.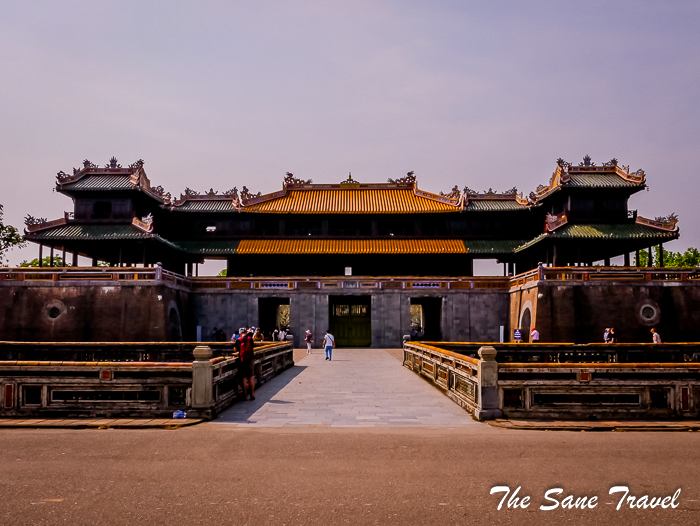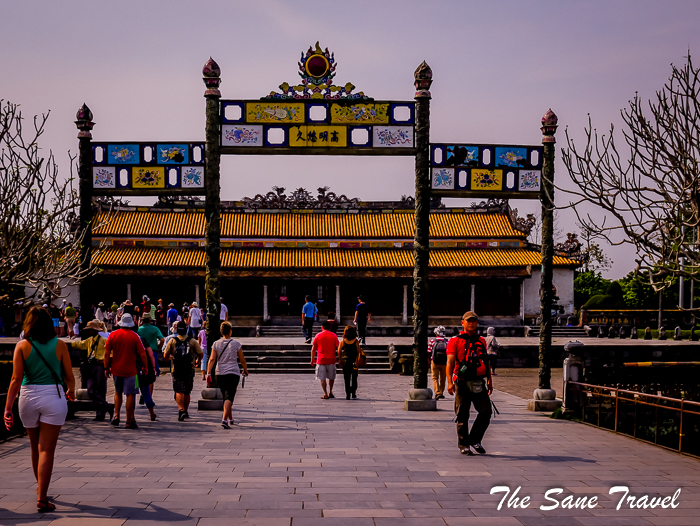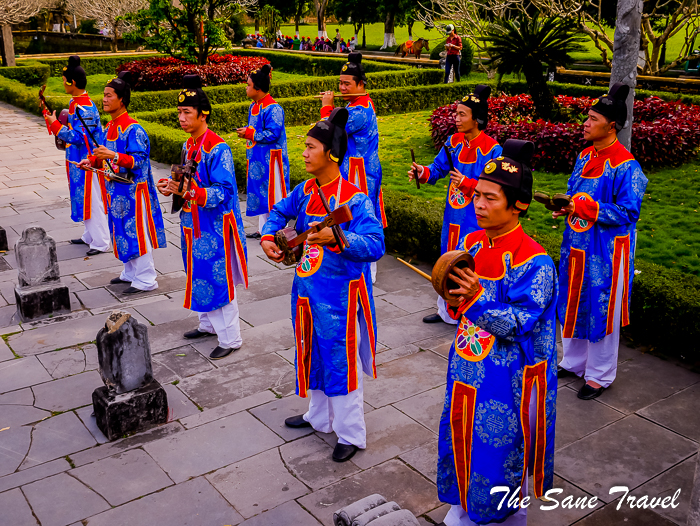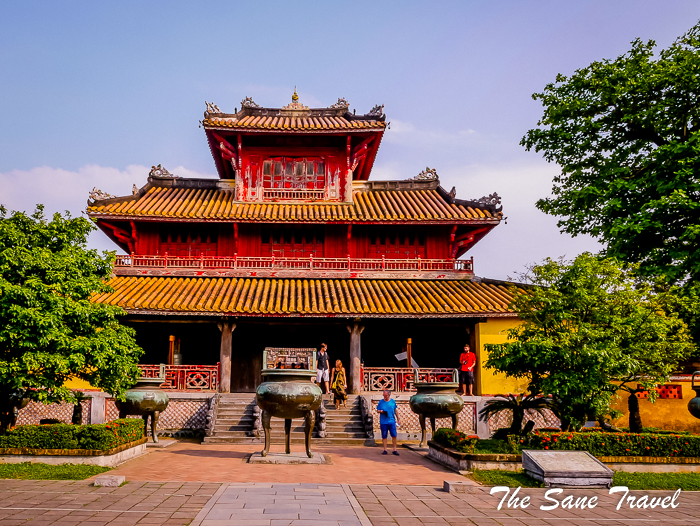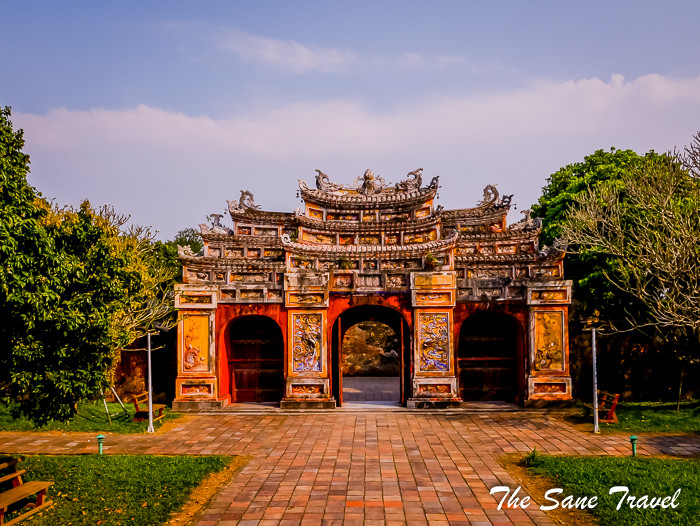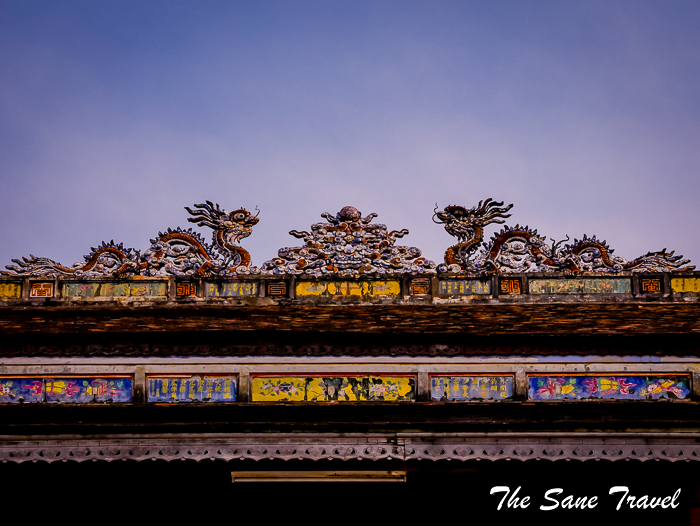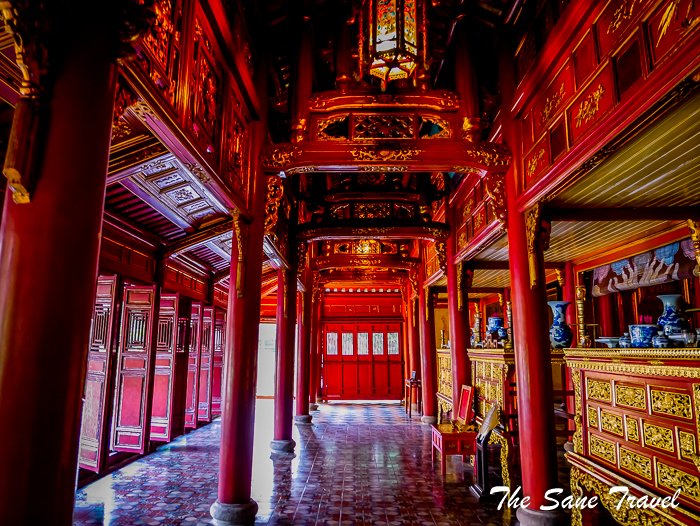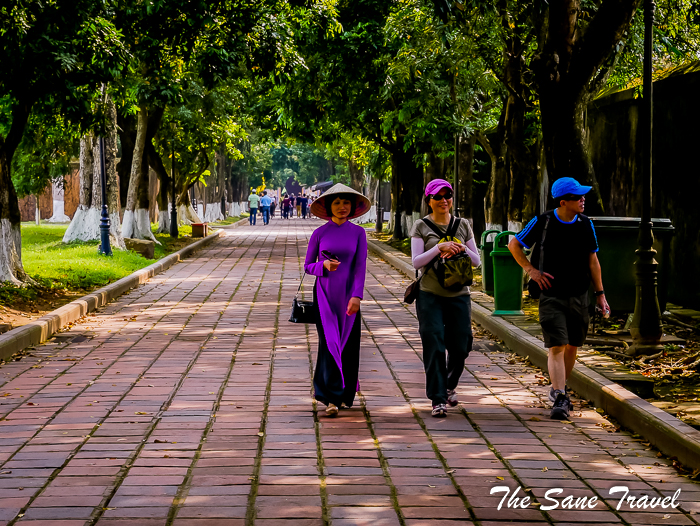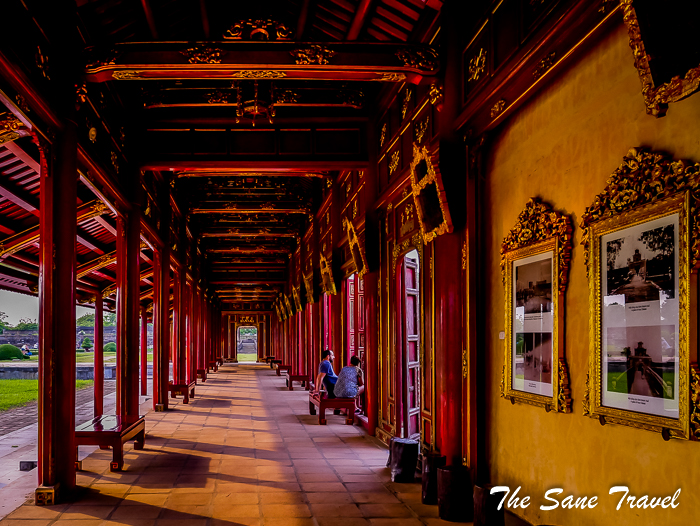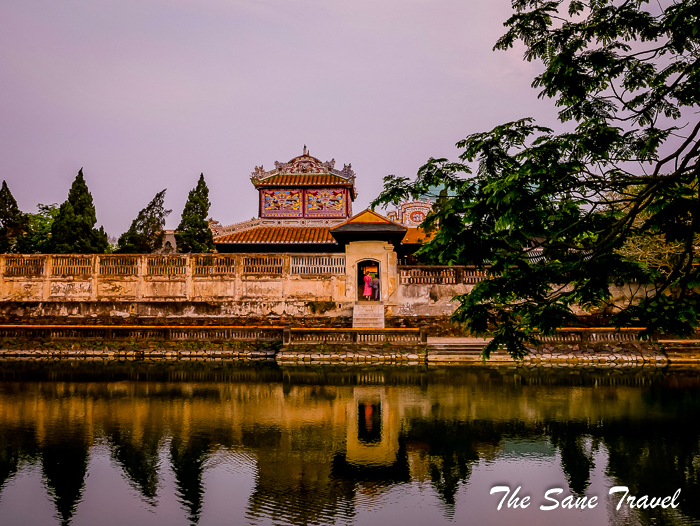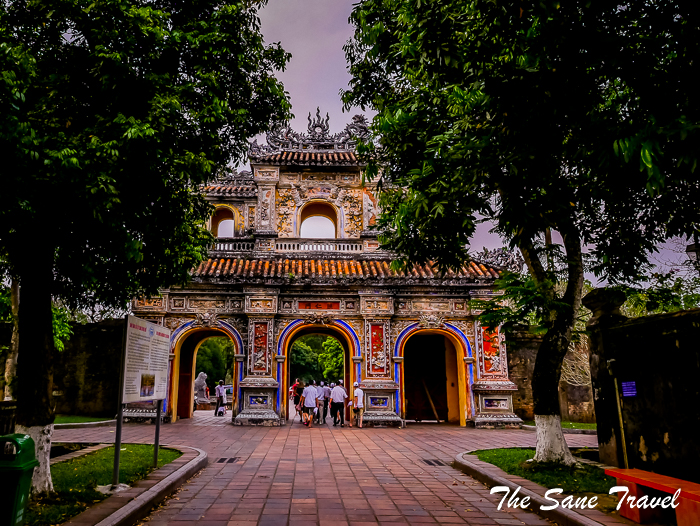 3) Flag Tower
A focal point of Hue City, it looks like a simple flagpole from a distance but viewed from the Imperial City, it is really a huge structure of three flat-top pyramids, one lying on top of another. The Flag Tower was built in 1807. It's more than 17 meters high and consists of three terraces. The higher the terrace is, the smaller its surface is. On the third terrace, there are 8 little buildings housing one canon each, and two sentry-boxes at opposite ends. More than 29 meters high, the flag-staff was originally made of wood. In 1948, a concrete flag staff was erected. Today this flag tower is the tallest in Vietnam.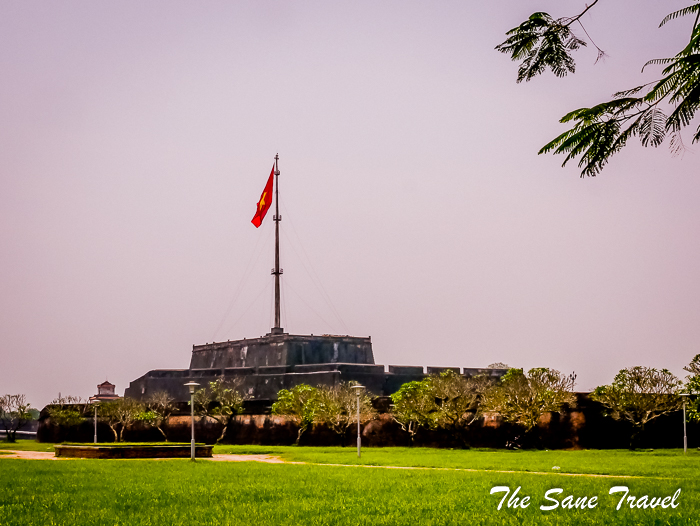 4) Museum of Royal Antiquities
In 1923 King Khai Dinh (1916-1925) issued a decree on establishing the Khai Dinh Museum, the forerunner of the present-day Hue Royal Antiquities Museum. The purpose of setting up the museum was the desire to showcase the talents of the nation through fine arts works. The museum is located in Long An Palace near Citadel. The Palace was built under the time of King Thieu Tri (1841-1847). It has an area of 6,330m²; its main showroom is 1,200m². The items are displayed inside and outside the Palace, and include many of Vietnam's precious handicraft fine arts objects like Hue enameled bronze wares, sets of gold tree branches and jade leaves, sets of wooden articles inlaid with mother-of-pearl and trimmed with gold, and copper antiquities made by Hue artisans. The museum has been recently renovated.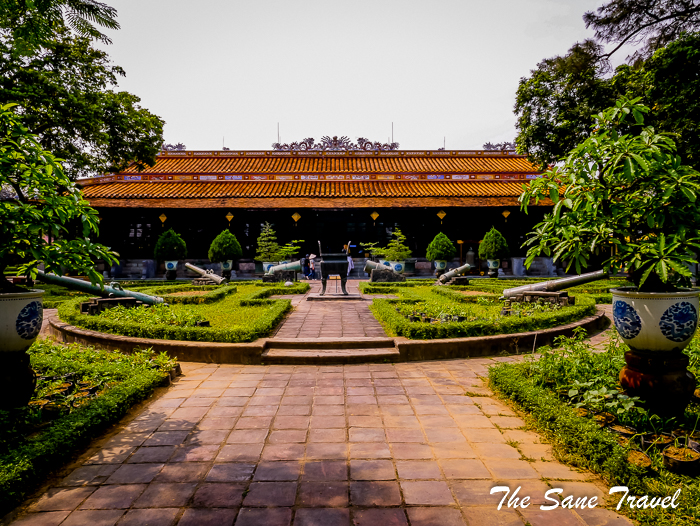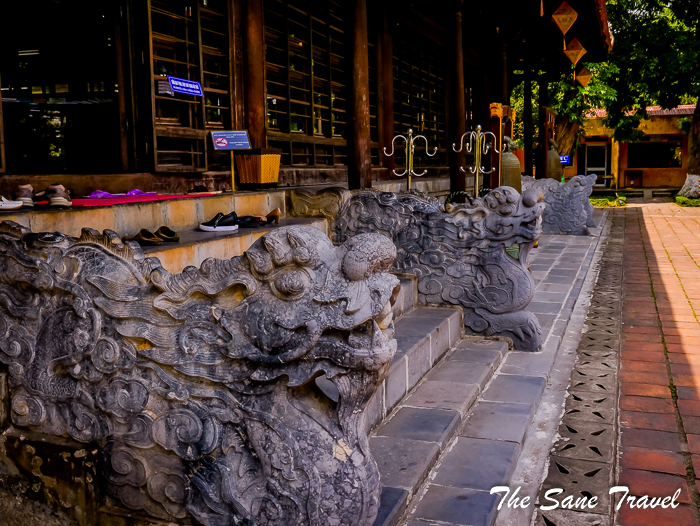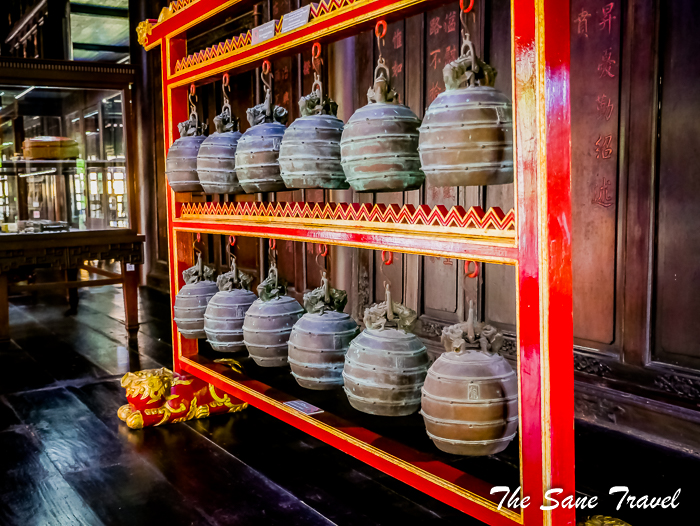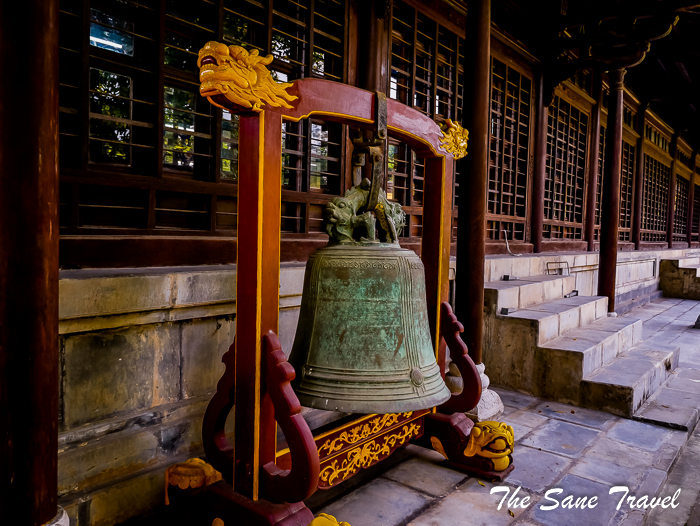 5) An Dinh palace
The palace was built in 1917-1918 by King Khai Dinh, before he was enthroned. Khai Dinh's son, Bao Dai, the last king of Vietnam, lived here from 1922. Bao Dai was enthroned in 1926. On August 30 in 1945, witnessed by some 60,000 locals in the Hue Royal Palace, King Bao Dai, the 13th and last king of the Nguyen Dynasty, surrendered and gave up his power unconditionally to revolutionary troops. After several more political activities, he started living in exile in France until passing away in Paris in 1997. Afterwards, in 1945 An Dinh palace became the home of King Bao Dai's mother and Bao Dai's family. In 1954 the palace was confiscated. In 1975 the revolutionary authorities gave the palace back to Bao Dai's mother, but she donated the palace to the government. The palace was restored in 2007-2008.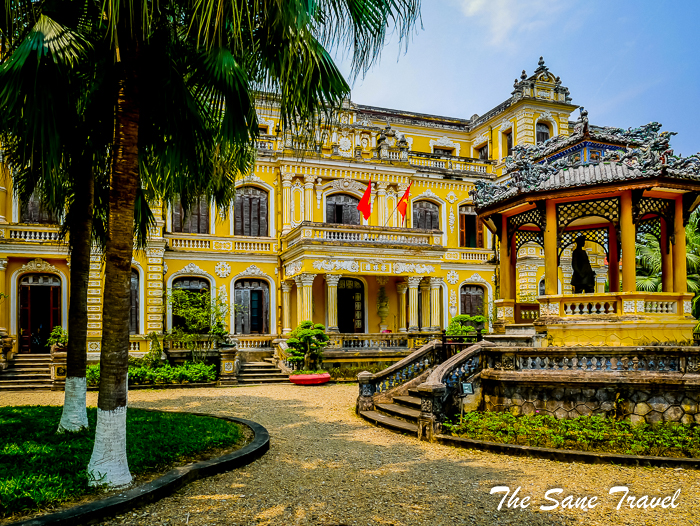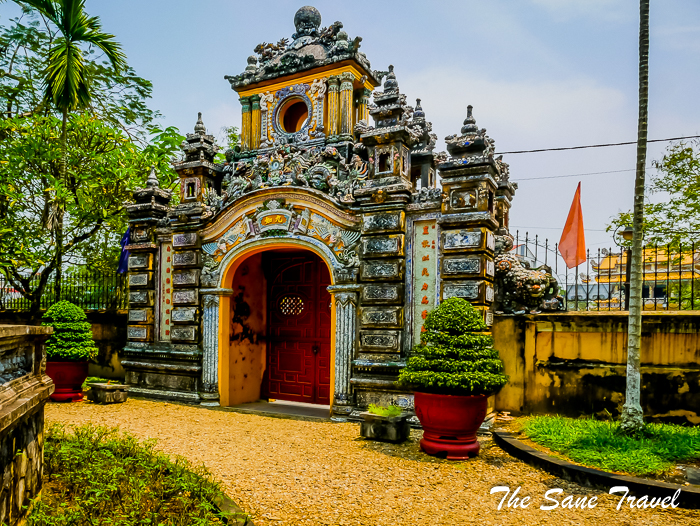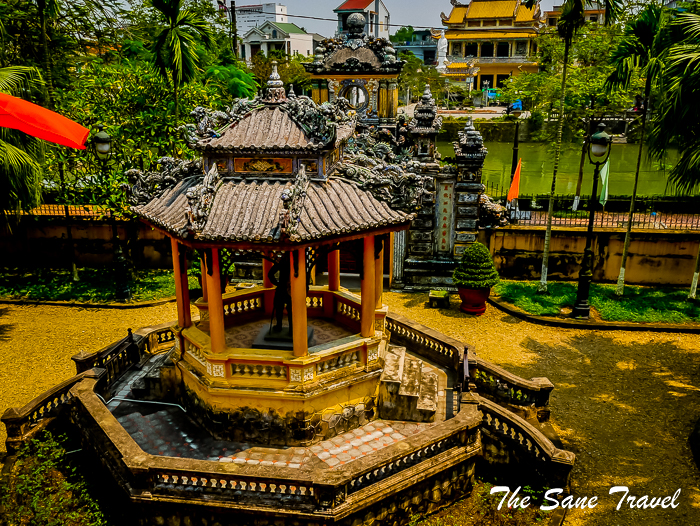 6) An Hien garden house
Heading to Thien Mu pagoda, stop at one of Hue's most beautiful old garden houses, An Hien, to have a refreshing change. The garden houses in Hue stand on both banks of the Perfume River. These houses are surrounded by lush, well-trimmed gardens. An Hien ('the House of Peace') is the best known garden house in Hue. Built in 1885, it was originally the residence of the 18th daughter of Duc Duc Emperor. The last owner of this house was Mr. Nguyen Dinh Chi, a province chief. He moved into the residence in 1938. When he died, his wife, Mrs. Dao Thi Yen, continued to live in the house. Nestled in a 5,000 m2 garden, An Hien garden house is designed in line with the standard structure of Hue's garden house architecture, influenced by the Feng Shui. Many trees from different parts of the country have been brought to be planted here. You can find mangos teen, durian, dragon fruit of the South Vietnam; apricot fruit, persimmon, a lagoon of the North Vietnam; and mulberry, the green tea of the Central Vietnam.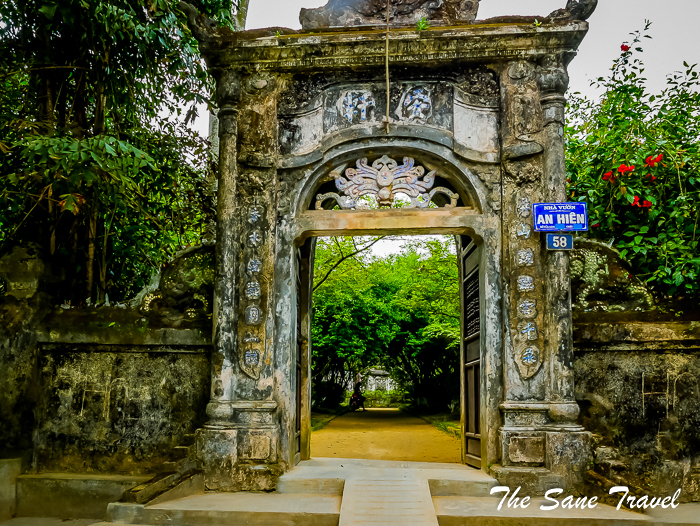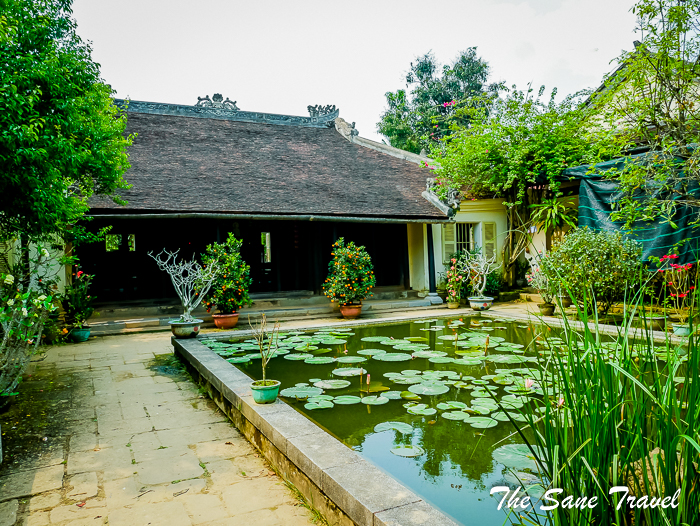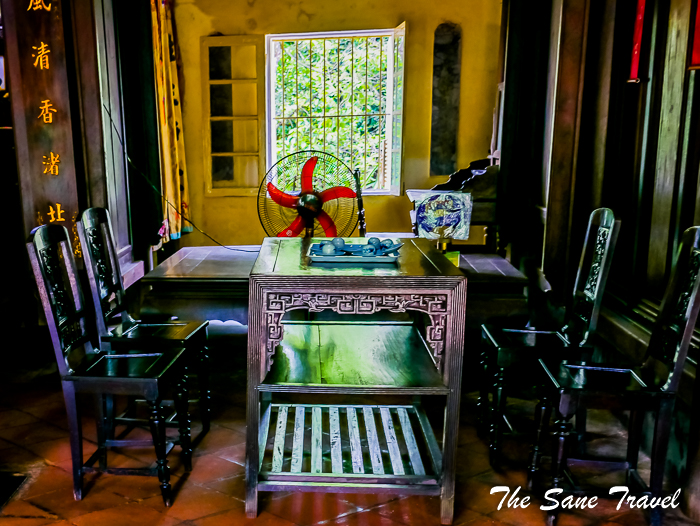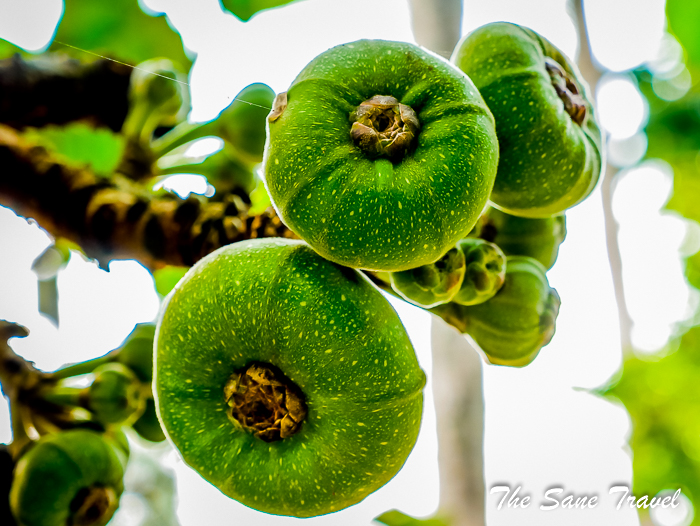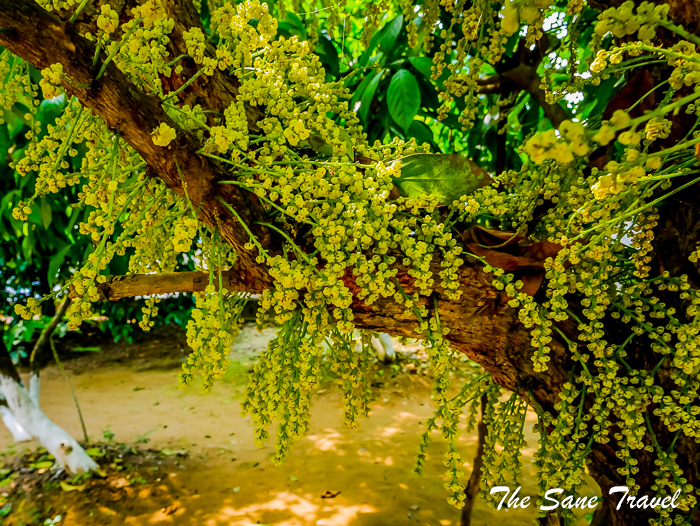 7) Thien Mu Pagoda
If you're only going to see one pagoda, make it Thien Mu. It's situated in a beautiful spot overlooking the Perfume River, on the river road that runs along the north bank about three kilometres from Hue. Built in 1844 by Emperor Thieu Tri, it features some golden Buddha images at the base, along with a big bell cast in 1710, and a stone turtle holding a marble stele inscribed in the 17th century. The pagoda still functions as a monastery. In 1963, a Buddhist monk named Thich Quang Duc, who hailed from this pagoda, shocked the world by travelling to Saigon, pouring a can of gas over his head, and lighting himself on fire. It was a protest against the American interference in South Vietnam's self-determination. Pictured a car he used for his last travel.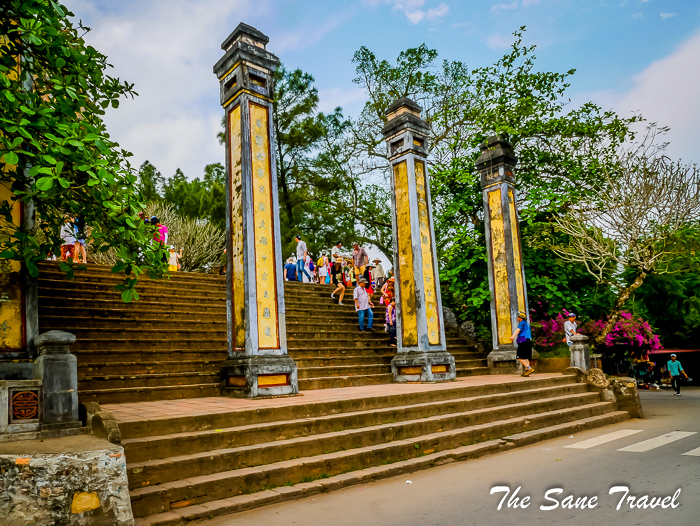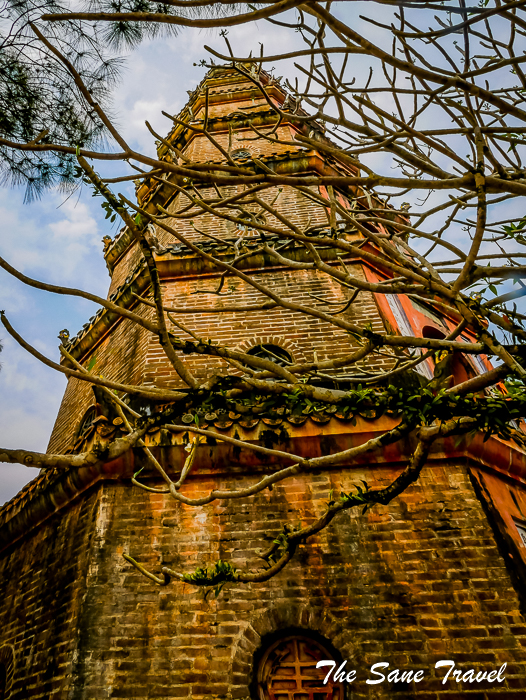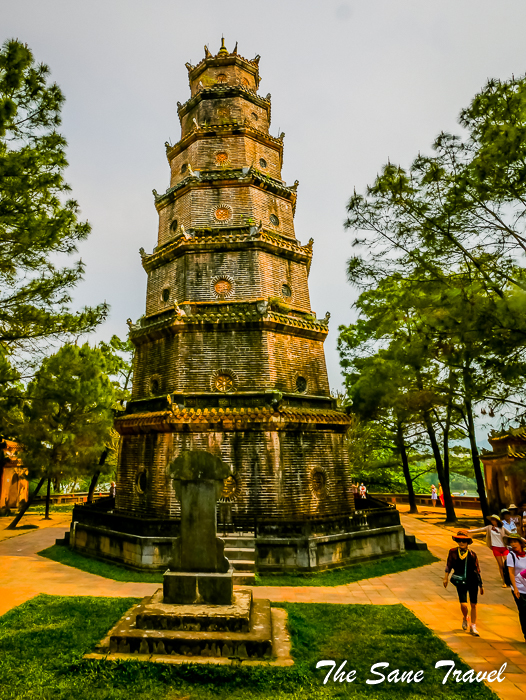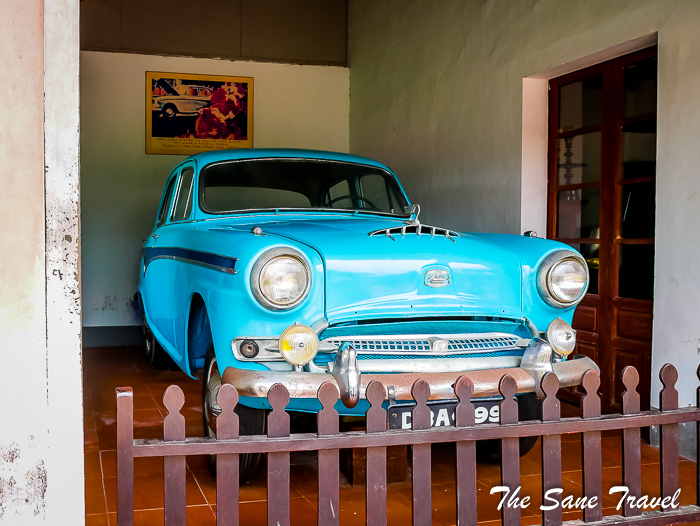 8) Imperial Tombs
I didn't visit these, but you should. Imperial tombs are located outside of Hue and you need a tour or transportation to see them. What I didn't know before is that Vietnamese emperors cared very much about their burial places. They believed that the location and decoration of their tombs is very important for the state prosperity and well being in the future. The location of tombs was selected according to the Feng Shui principles. Suitable places in most cases were found at some distance from the capital city Hue. They were lavishly decorated and in many cases the emperors were not actually buried there for fear of robbery. There are seven imperial tombs near Hue. Three of them are definitely worth visiting:
Tomb of Emperor Minh Mang. Years of construction: 1840-1843. Distance from Hue: 12 km.
Tomb of Emperor Tu Duc. Years of construction: 1864-1867. Distance from Hue: 6 km.
Tomb of Emperor Khai Dinh. Years of construction: 1920-1931. Distance from Hue: 9 km.
Getting to Hue
Transportation by train, road and air routes is very convenient. Hue is located 650 kilometres from Hanoi, 1050 kilometres from Ho Chi Minh City, 85 kilometres from Danang. There are buses to many places. The Thong Nhat Express trains from Hanoi to Ho Chi Minh stop at Hue Railway station. The local trains come from some other provinces. Phu Bai Airport serves flights between Hue and Hanoi and Ho Chi Minh City. Flights from Hanoi: Hue, 20 flights a week, Vietnam Airlines. Flights from Ho Chi Minh City: 25 flights a week, Vietnam Airlines. I took the Sinh Tourist bus from Hoi An.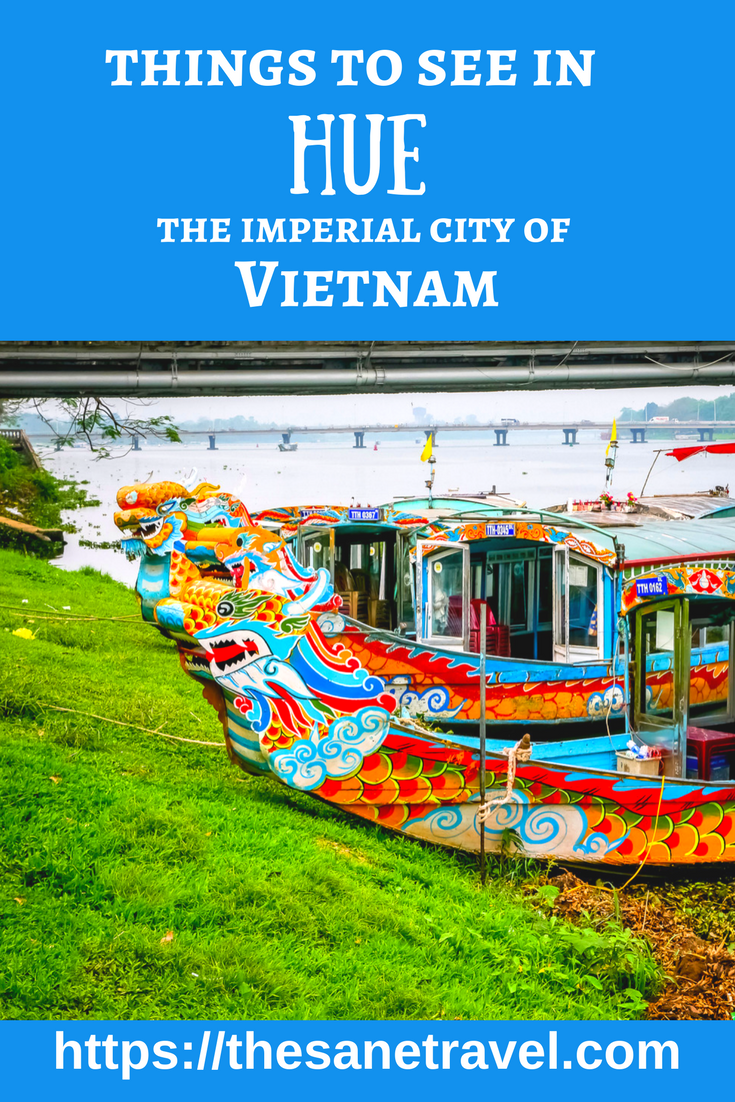 Have you been to Vietnam? Share your impressions in the comments section!
Published by Anita on January 21, 2017
Traveled April 2016
Author:
Author: Anita Sāne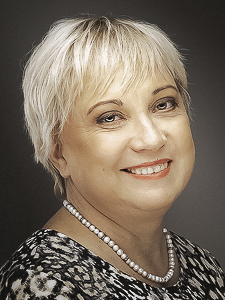 About the author
Anita is a part-time traveller, passionate photographer and a retired career woman from Latvia, travelling mostly solo for more than 15 years. She is a skilled travel planner who plans and executes her travels by herself. Anita wants to show you how to travel the world and open your mind to new experiences. Follow her on Facebook, Instagram, Pinterest, Twitter and Bloglovin.