Vietnamese water puppetry is a unique folk art practiced since the 11th century. Villagers in the delta of the Red River and in other rice-growing regions of Northern Vietnam staged water puppet performances at religious and end-of-harvest festivals, and on other important occasions.
Water is both the stage and a symbolic link to the rice harvest at water puppetry shows. It also conceals puppet strings and puppeteer movements, improves musical and vocal acoustics, and provides a shimmering lighting effect.
Each water puppet is hand-carved and given five layers of lacquer paint to make it waterproof and add vibrant colours to the performance.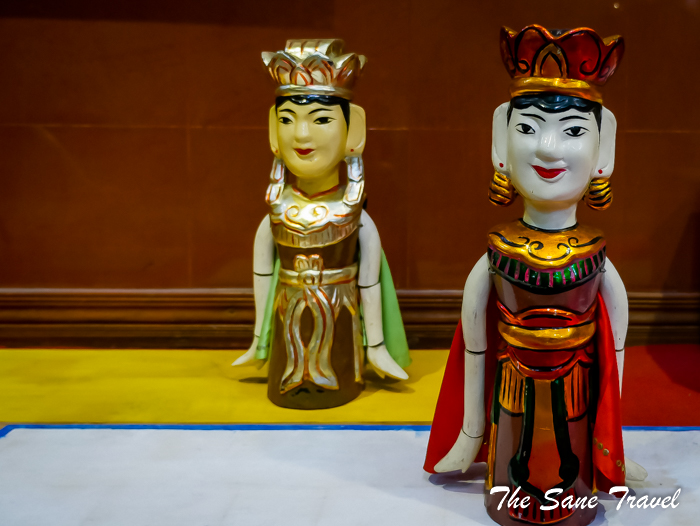 While puppets move around, directed by puppeteers standing waist-deep in the water behind the stage, singers tell their stories in songs. A water puppet show typically depicts Vietnamese day-to-day rural life along with important historical events and ancient legends.
Water puppetry is a popular form of entertainment nowadays too, especially for local children and foreigners discovering Vietnamese folk culture.
The world-famous Thang Long Water Puppet Theatre
I had an opportunity to watch a show at the Thang Long Water Puppet Theatre in Hanoi.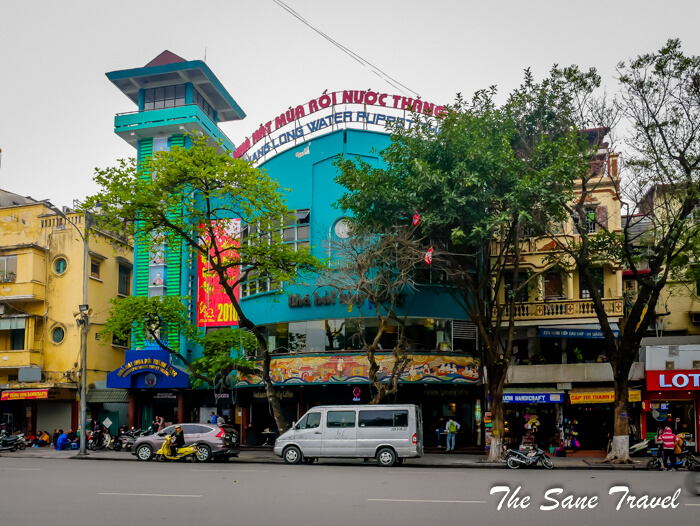 I went to buy a ticket first thing in the morning on the day of the show. When it was my turn in the short line at the ticket office, I was told they only had a few tickets left for the last performance of the day, at 8 p.m. I still happily bought it as it was my only chance to watch such a performance on that trip. The ticket cost 100 000 dongs, about 5 USD.
The audience comprised mostly adult foreign tourists, but some children too.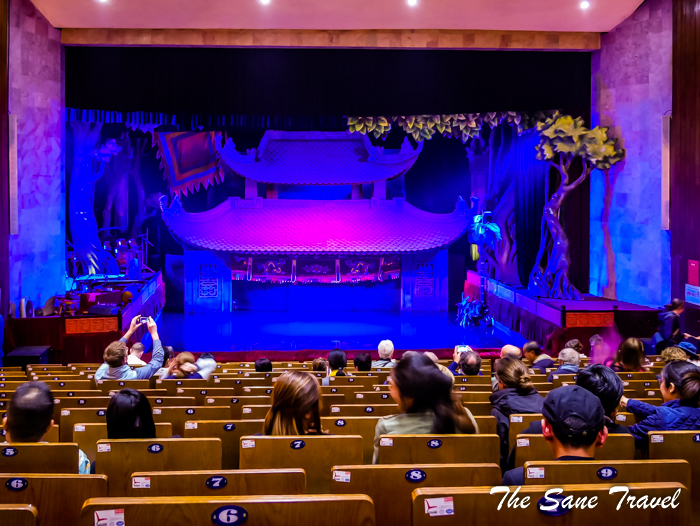 The show started with a folk music composition played by a Vietnamese orchestra on traditional music instruments: drums, wooden bells, horns, bamboo flutes, and cymbals.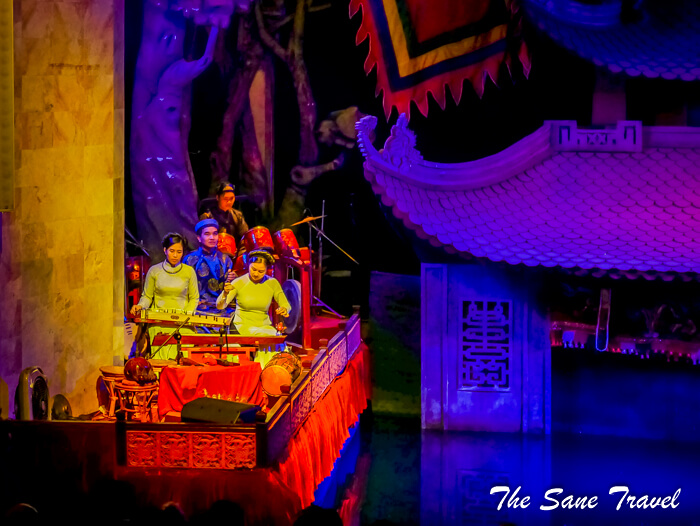 There were fourteen sketches, all in all, portraying agricultural work, catching frogs, chasing a duck-hunting fox, and fishing, among others.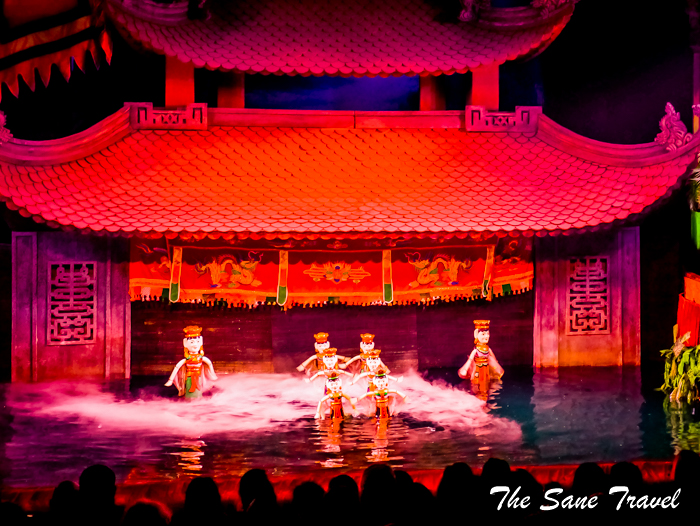 There was also the traditional sketch of Le Loi returning the sword, Le Loi being a national hero and the leader of the resistance against foreign invasion in the 15th century. As legend has it, he was granted a sword by deities to win the war. After the victory, the Golden Tortoise God appeared to claim the sword back when Le Roi was boating on a lake in Hanoi. Hence the name of the lake – "The Returned Sword". It's Hoan Kiem Lake in the centre of Hanoi, with the Turtle Tower on the island.
The performance was concluded by dances of four animals sacred in Vietnam: a dragon, a unicorn, a tortoise, and a phoenix.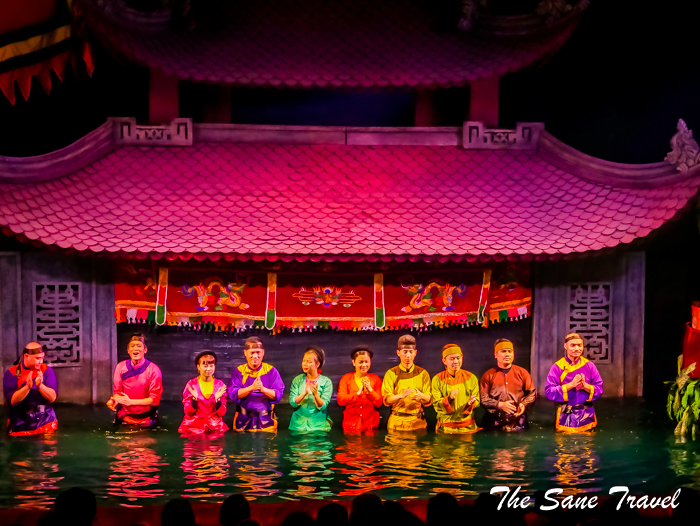 The show was about one hour long and left a distinctive and lasting impression.
Water puppetry in the Museum of Ethnology
Later on the same trip, I was in the Vietnam Museum of Ethnology and learned that in November 2015 a new open air pavilion for water puppet performances had been opened there. The pavilion was built in a traditional style similar to that of the Thay Pagoda pavilion dating several hundred years back.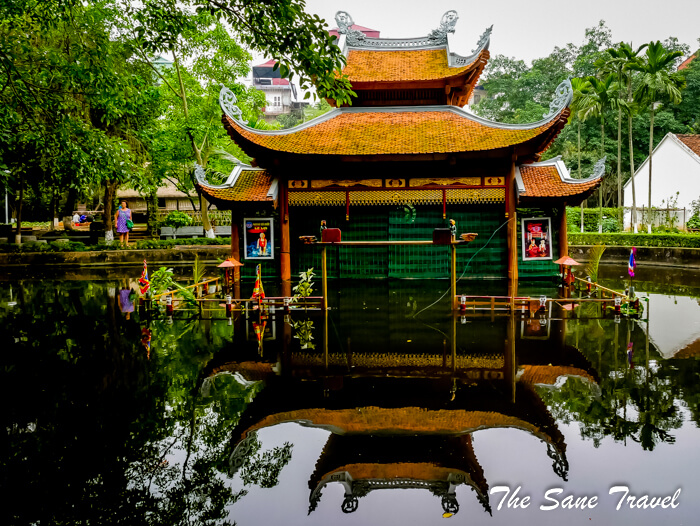 One of 16 Vietnamese folk water puppetry troupes performs there every Saturday and Sunday, four times a day. There is also a small exhibition of water puppets in the building nearby.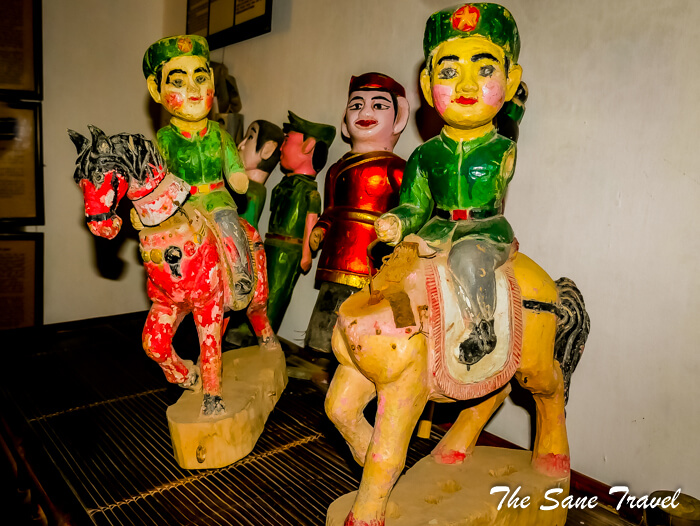 No trip to Vietnam is complete without a water puppets show, it's an experience not to be missed. Have you seen it? Share your impressions in the comments below!
Some venues for watching a water puppetry show
Hanoi
Thang Long Water Puppet Theatre
Address: 57B Dinh Tien Hoang Street, Hanoi
Hanoi Museum of Ethnology
Shows only on weekends
Address: Nguyen Van Huyen, Hanoi
Lotus water puppet
Address: 16 Le Thai To Street, Hanoi
Venues in the other cities of Vietnam
The Golden Dragon Water Puppet Theater
Address: 55B Nguyen Thi Minh Khai Street, Ho Chi Minh City
Hoi An Theatre - Water Puppets
Address: 548 Hai Bà Trưng, tp. Hội An
Co Do Hue Water Puppet Theatre
Address: 2 Phan Boi Chau, Hue
Check out even more things to do in Hanoi.
Published by Anita on April 2016

Visited April 2016
Author: Anita Sāne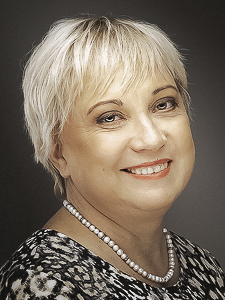 About the author
Anita is a part-time traveller, passionate photographer and a retired career woman from Latvia, travelling mostly solo for more than 15 years. She is a skilled travel planner who plans and executes her travels by herself. Anita wants to show you how to travel the world and open your mind to new experiences. Follow her on Facebook, Instagram, Pinterest, Twitter and Bloglovin.