If there is just one reason for visiting Riga, the capital of Latvia, it is the fact that the city has the finest and largest collection of Art Nouveau buildings in the world, with over 800 houses built in this style. More than 438 hectares of the historical Centre of Riga are inscribed onto the UNESCO World Heritage List, recognizing its great collection of outstanding Art Nouveau (Jugendstil) architecture. Janis Krastins, a professor of architecture, said: "In Brussels, you pass one or two Art Nouveau buildings when you walk down the street, but here, Art Nouveau is everywhere you look." I am Latvian and sometimes I have a feeling that Latvians are too self critical and reluctant to praise their own country. With this photo essay, I would like to make my contribution to advocating the beauty of my beloved Riga.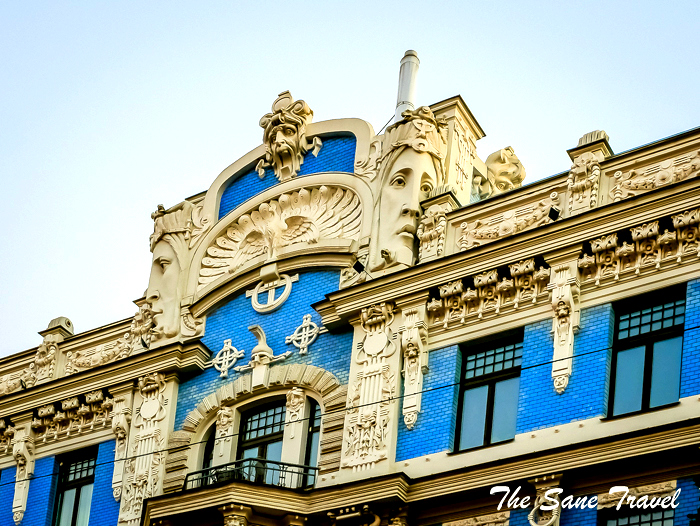 How it all started
The Art Nouveau golden age coincided with the city's rapid economic growth in early 20 century. It was more than 10 years before the disastrous First World War. Being one of the five biggest cities of Russian empire at the time, Riga celebrated its 700th anniversary in 1901 with an industrial and handicraft exhibition, where examples of Art Nouveau style architecture were represented. Soon after that, Art Nouveau had almost become the only style of construction in Riga. Construction was a big industry of that time because the number of inhabitants of Riga almost doubled in 20 years before the First World War, reaching 530 000. Because of the population boom, building plans were approved quickly, with structures typically taking no more than a year to complete. In that period, more than 100 houses were often built in Riga each year. As a result, about 40% of Riga city centre buildings were built in Art Nouveau style.
What is Art Nouveau by the way?
As a movement, Art Nouveau embraced architecture, design, and visual arts. It was fashionable in Europe between 1890 and 1910, particularly in France, Belgium, Germany, and Austria. Today, travelers are likely to see its influence across Europe and in parts of the US. Art Nouveau architects attempted to find what was sometimes called a modern style, using natural, organic forms and decorative motifs rather than historically derived elements. Art Nouveau, especially the decorative type, is characterized by ornaments, plants and fantastic animals, geometrical and curved shapes, round windows. This style has different names in different countries: Jugendstil in Germany, art nouveau in France, modernismo in Spain, Sezessionsstil in Austria, Stile Liberty or Stile Floreale in Italy, Młoda Polska in Poland. The most famous Art Nouveau architects of Riga are Mikhail Eisenstein, Konstantin Peksen, Eizen Laube, and Reinhold Smeling.
The most impressive Art Nouveau buildings in Riga
They are literally everywhere in the centre of Riga, although there is one district in particular that contains some of the most elaborate and beautifully restored examples of Art Nouveau, among the finest anywhere. To have a quick look at the most impressive Art Nouveau buildings in Riga, let's take a ten minute walk from the old town to the corner of Strelnieku and Elizabetes street. Let's first explore house on
Strelnieku iela 4a
It was built in 1905 as a private school. In late 20th century it has undergone a complete facelift and is now home to the Riga campus of the Stockholm School of Economics. Architect Mikhail Eisenstein's full focus was on the outside of buildings – his imagination was flying wild and here you can see a great example of this.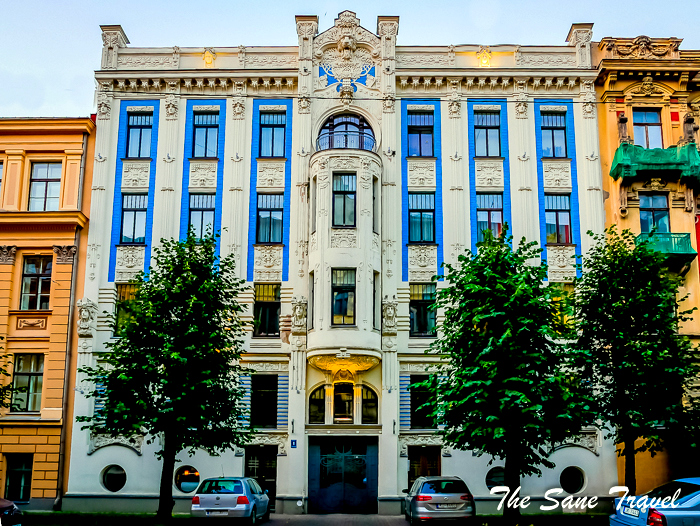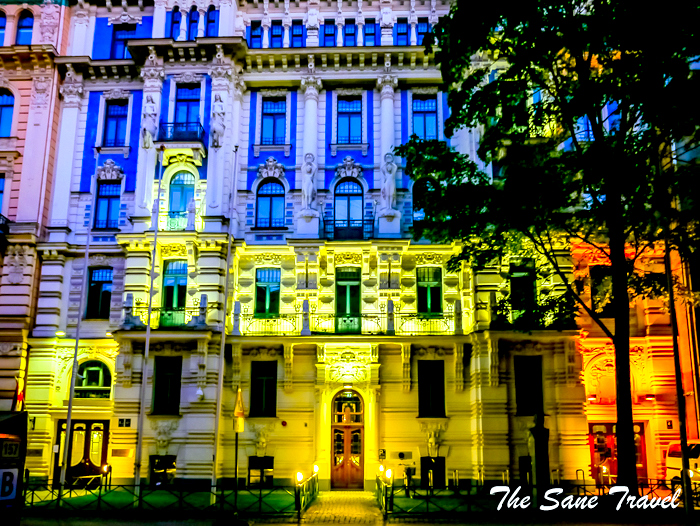 Then turn right to Alberta Street, a real Art Nouveau gem. Each of the houses on these few hundred meters is a unique 20th century construction achievement and was built in quite a short period of time - from 1901 to 1908. Eight of the houses on Alberta Street are recognized as National Architectural monuments.
Alberta iela 13
Next to the house at Strelnieku 4a is the Alberta Street 13 building (1905), also a creation of Mikhail Eisenstein. This dwelling house was built by State Counsellor A.Lebedinsky. The facade of the building is a real masterpiece of art nouveau sculptural ornaments. The architect's creative imagination had no limit.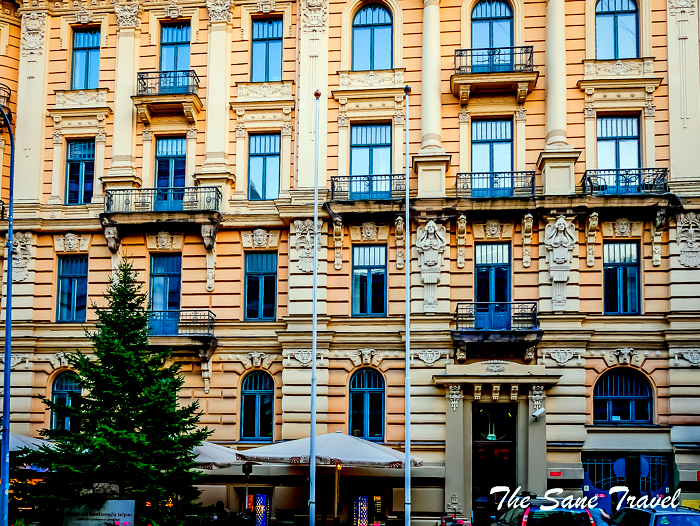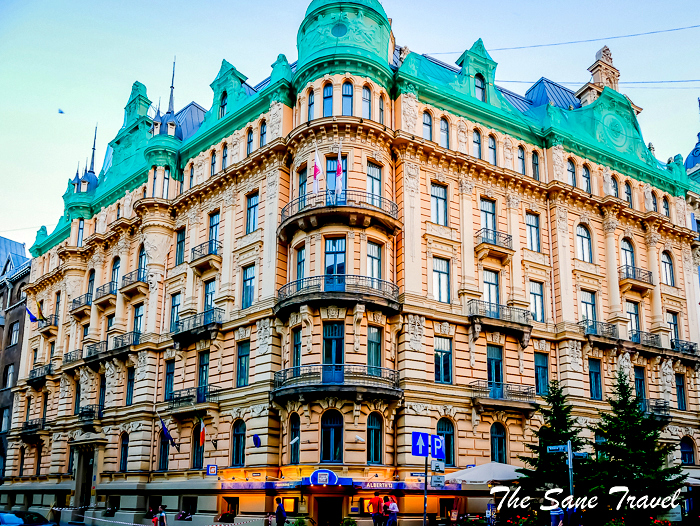 Alberta iela 2a
The building at Alberta Street 2a was built in 1906 for Rotmistr V.Boguslovsky, designed by Mikhail Eisenstein. The façade of the building is richly decorated and even has an extra decorative top floor. You can watch the sky through its glassless windows.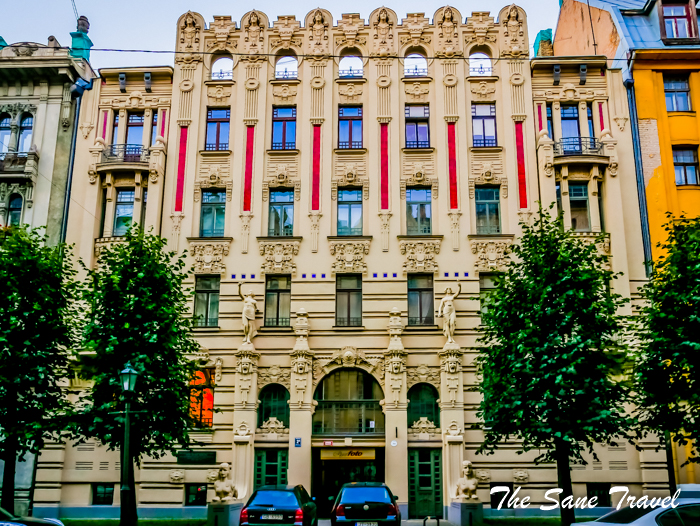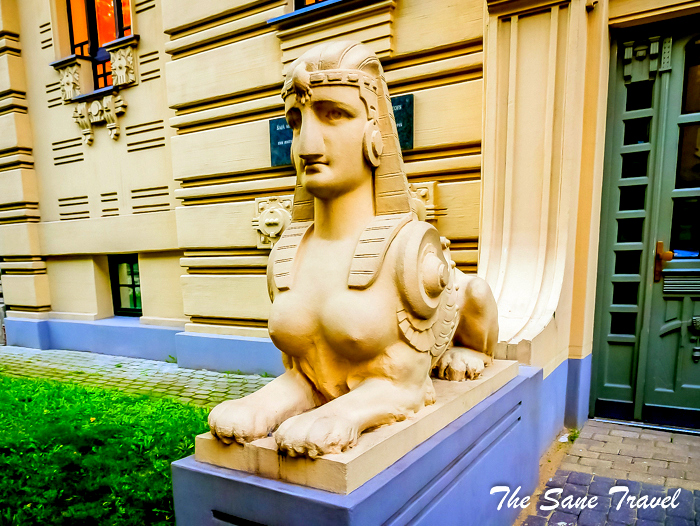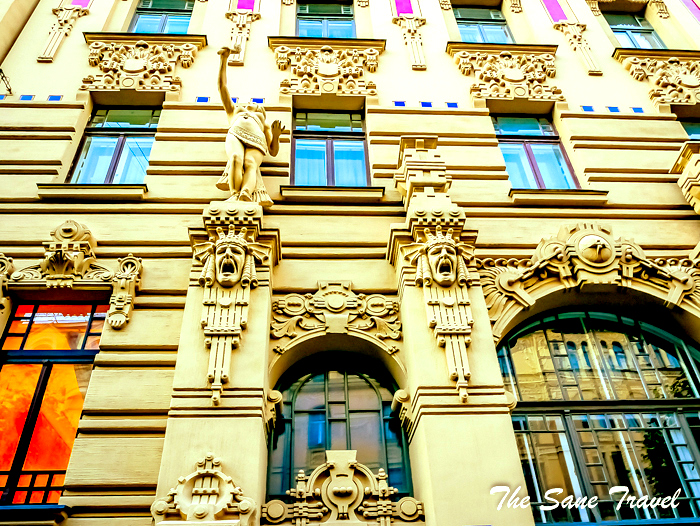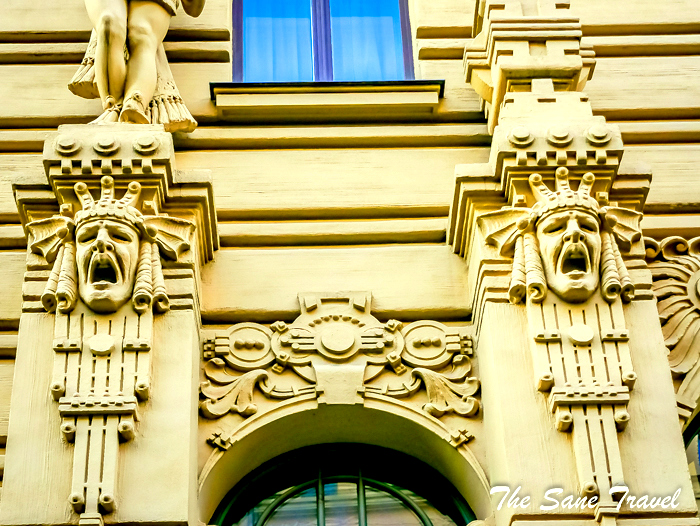 Alberta iela 4
This building of 1904 is another one built for State Counsellor A.Lebedinsky and designed by Mikhail Eisenstein. The design recreates the style of tenements in Germany where representative premises are located on the street side but bedrooms and servants' apartments are located on the yard side.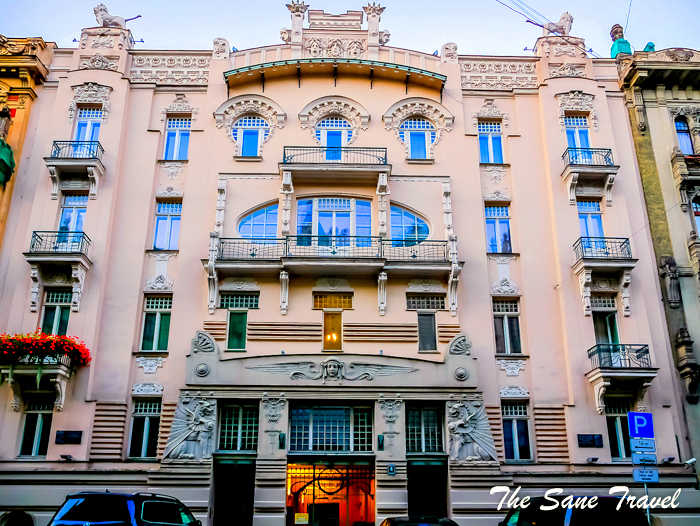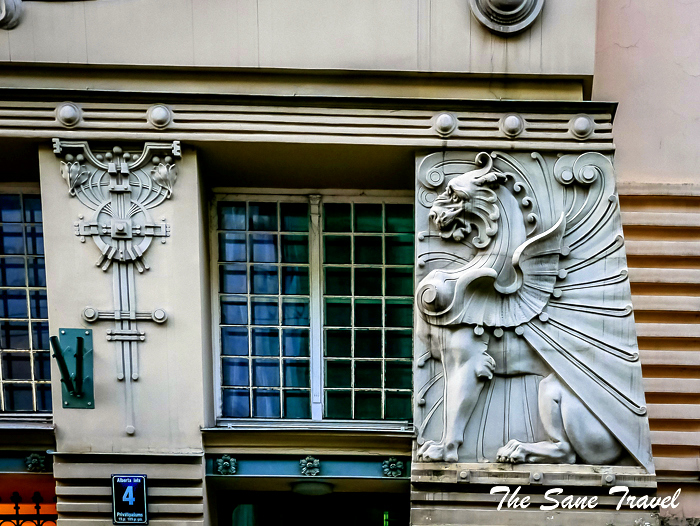 Antonijas iela 8
Alberta street ends facing Antonijas street where you notice a building designed in 1903 by yet another great architect of the period, Konstantins Peksens (Konstantīns Pēkšēns). The accent of the elegant facade is the entrance decorated with figures of winged dragons. I liked them so much that I bought two small copies of them in the Art Noveau shop on Strelnieku street nearby and placed them at the entrance of my apartment. There is a belief that they guard the owner and bring wealth to him or her.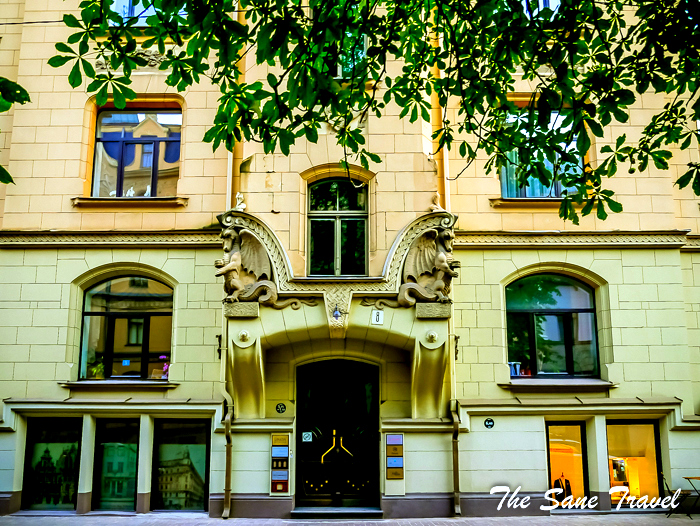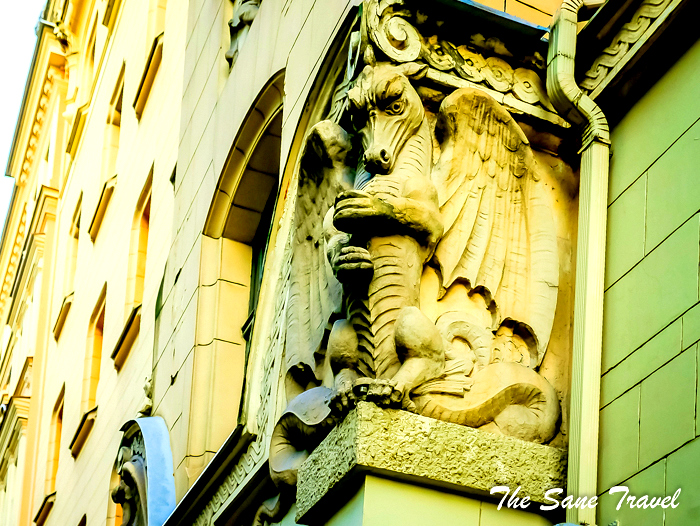 Elizabetes iela 10b
Perhaps the city's most popular single Art Nouveau building stands at number 10b Elizabetes iela. The six-story house has been fully restored, boasting bright colors and its original ornaments. Designed by Mikhail Eisenstein and built in 1903, the Amphora building on Elizabetes iela is a fine example of art nouveau with floral motifs, stained glass, sky-blue tiles, sculpted knockers, peacocks, and stern female faces peering out of the top floor.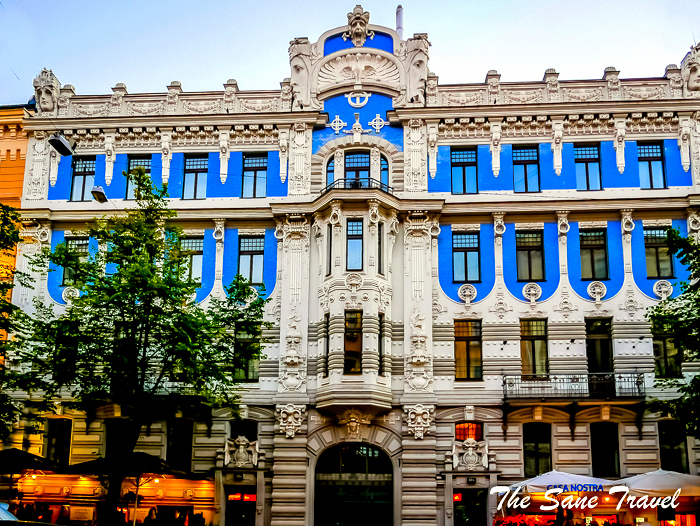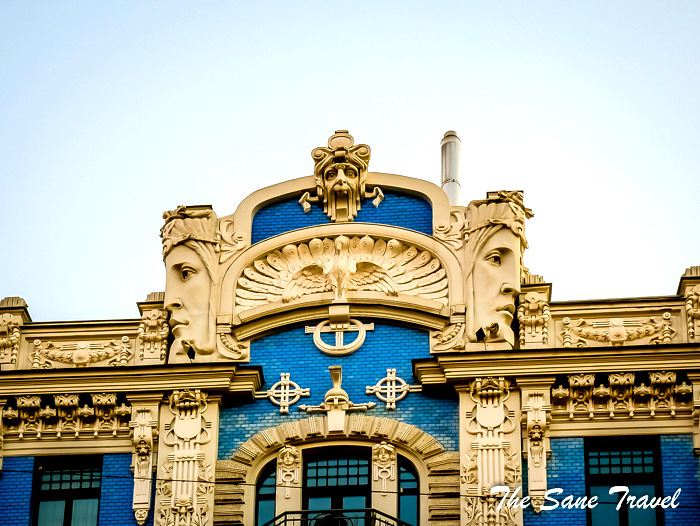 Elizabetes iela 33
This building (1901), with its richly decorated façade and a recognizable from far away form, is the first attempt of Mikhail Eizenstein to use Art Nouveau motives.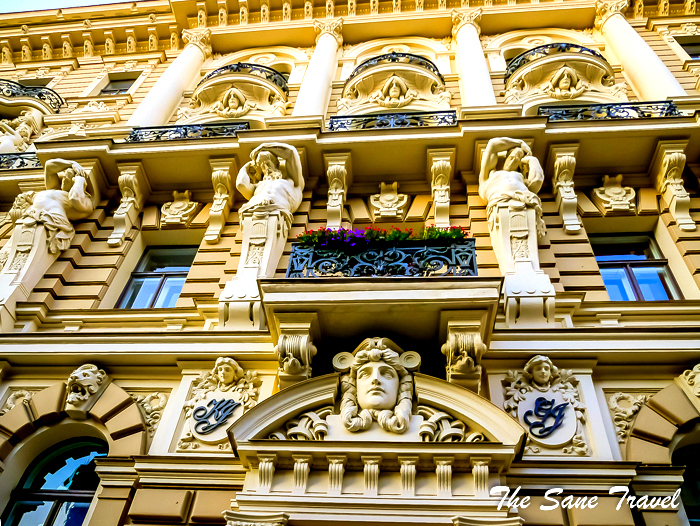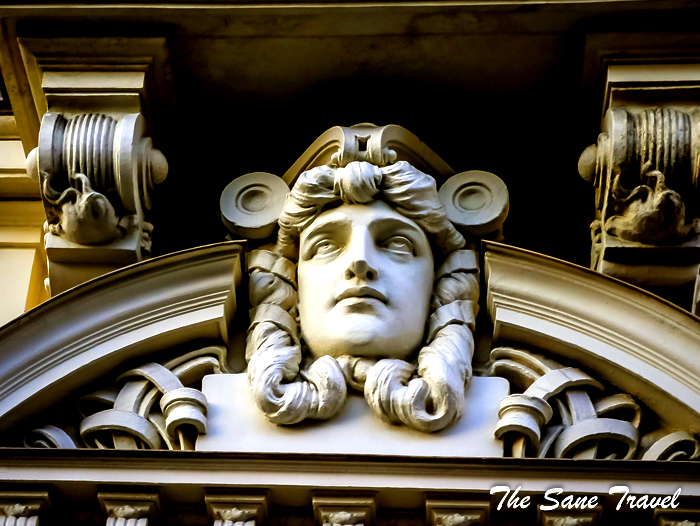 Elizabetes iela 23
This house was built in 1903 by architect Herman Hilbig. The elegant façade design was made according to the sketches of Berlin architect Albert Giseke. The details of the entrance decoration are well preserved. The building was reconstructed for the needs of Aizkraukle bank in 2004.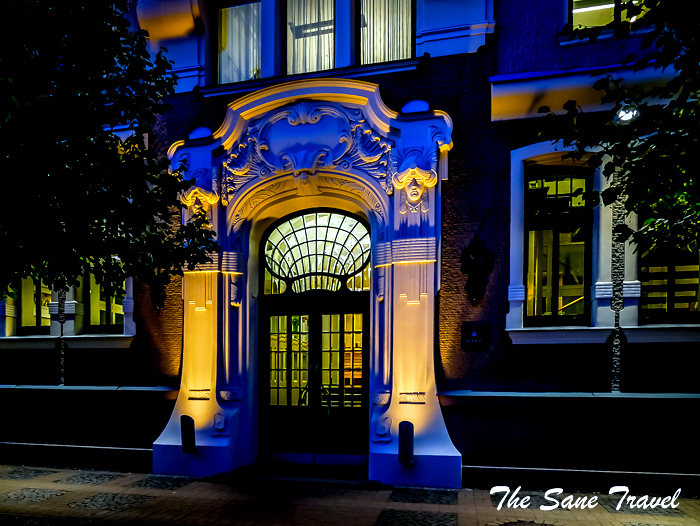 OK, we are back at the starting point of our walk and it took about half an hour. I hope you now feel you're an expert of Latvian Art Nouveau style. Are you? What's your favorite Art Nouveau style building anywhere? Share your thoughts in the comments section.
Like it? Pin it!
Published by Anita on September 24, 2016
Author: Anita Sane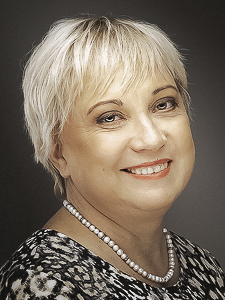 About the author
Anita is a part-time traveller, passionate photographer and a retired career woman from Latvia, travelling mostly solo for more than 15 years. She is a skilled travel planner who plans and executes her travels by herself. Anita wants to show you how to travel the world and open your mind to new experiences. Follow her on Facebook, Instagram, Pinterest, Twitter and Bloglovin.