Visiting Yellowstone National Park in the US was on my bucket list for quite a long time. It is the world's first national park established in 1872. It is one of the biggest parks in the US, covering almost 9000 square kilometres of land (almost 3,500 square miles). It's home to the largest population of wild bison in the world. Half of the world's hydrothermal features are found at Yellowstone. In addition to its size, Yellowstone has a canyon, a lake, and a series of limestone terraces as well as an abundance of roaming wildlife. The park averages over 3 million visitors per year. Its highest point is Eagle Peak more than 3,400 metres (11,300 feet). The park sits on top of an active volcano. There are 1K to 3K earthquakes annually in Yellowstone. It has more than 500 active geysers, which comprise more than half of the world's geysers, and about 290 waterfalls. Here are the highlights of my visit to this stunning park.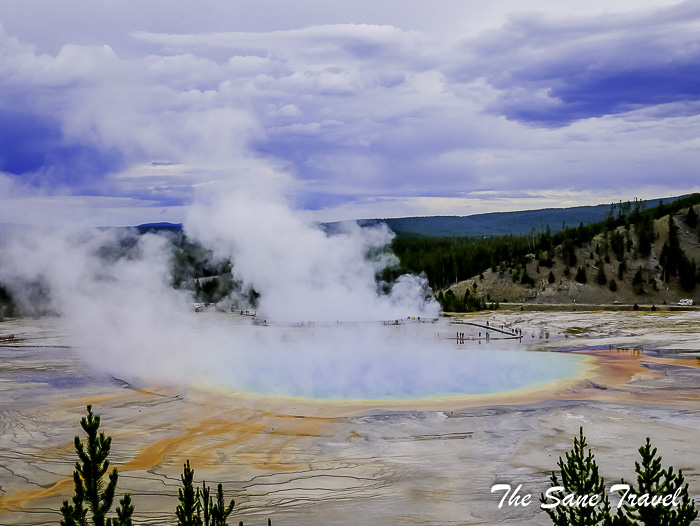 Yellowstone Lake
The lake is located almost 2400 meters above sea level (7,700 feet). It has more than 340 km2 of surface area (almost 132 square miles). On a sunny day, the reflection of the sky in the clear water of the lake is awesome. The Lake hotel on the shores of the lake is the oldest accommodation in Yellowstone, opened in 1891 and later enlarged by architect Robert C.Reamer. The latest renovation was completed in 2014. Now the hotel has almost 200 guest rooms and 110 cottages.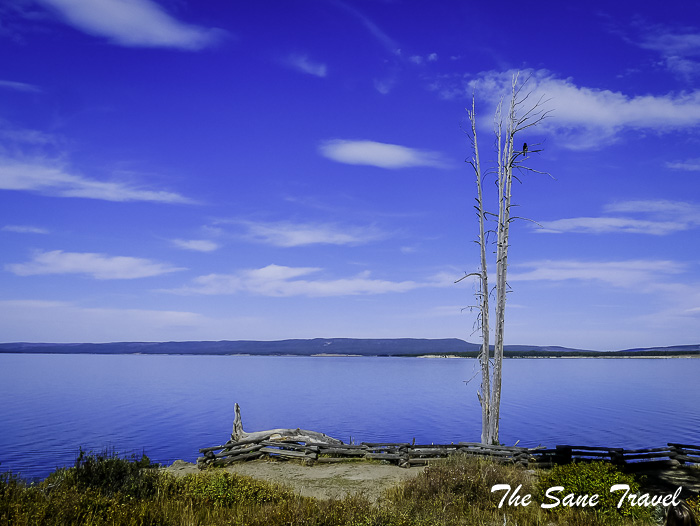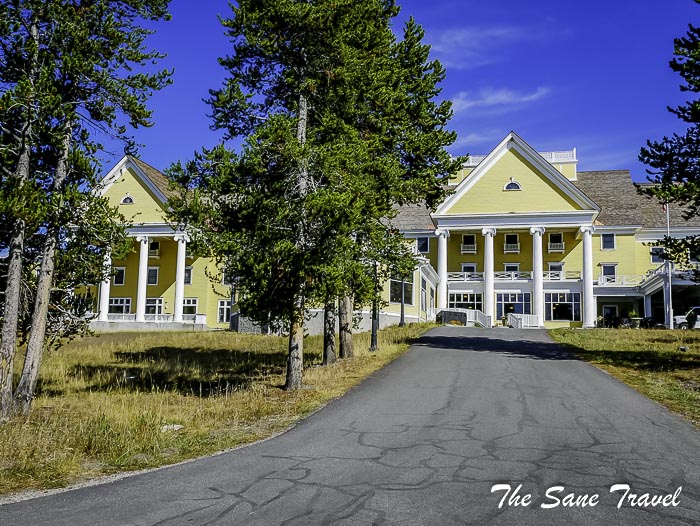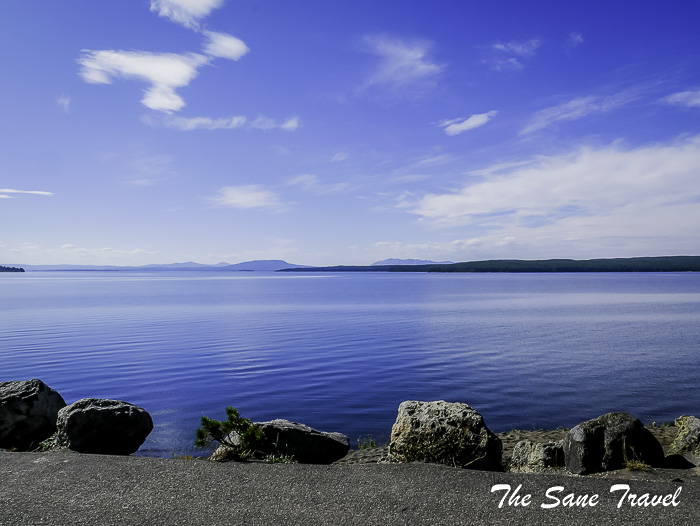 Old Faithful
Old Faithful is the most famous of the 500 geysers in Yellowstone. It was named in 1870 by the Washburn-Langford-Doane Expedition. During their stay in the area, the members of the expedition noticed that Old Faithful erupted at regular intervals, thus leading to its name. Old Faithful erupts every 90 minutes today. Eruptions can last up to 5 minutes. Eruptions can shoot up to 32 000 litres (8,400 gallons) of boiling water to a height to 56 metres (185 feet). With special care of Austin Adventures, we were allowed to see the Old Faithful and its surroundings from the rooftop of the Old Faithful Inn. I really appreciated this opportunity for magnificent views.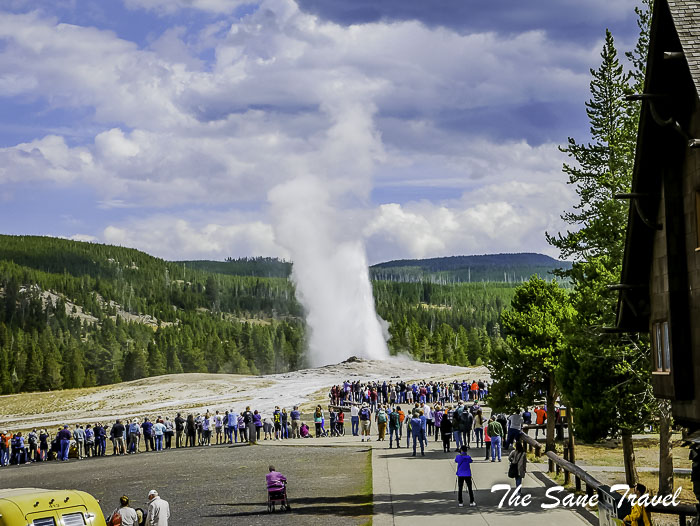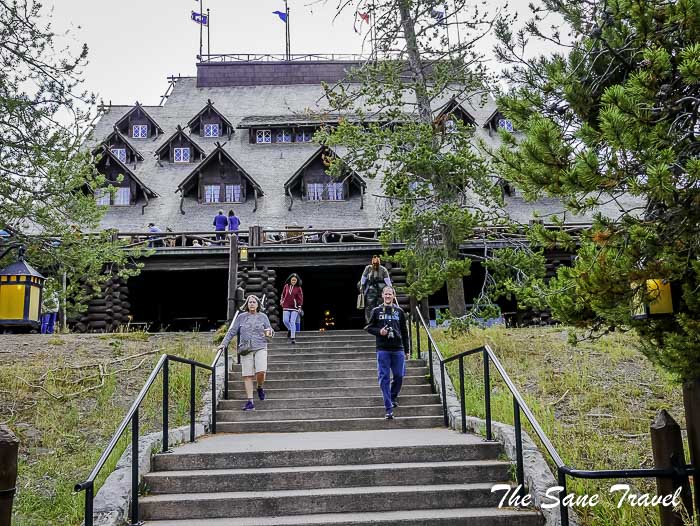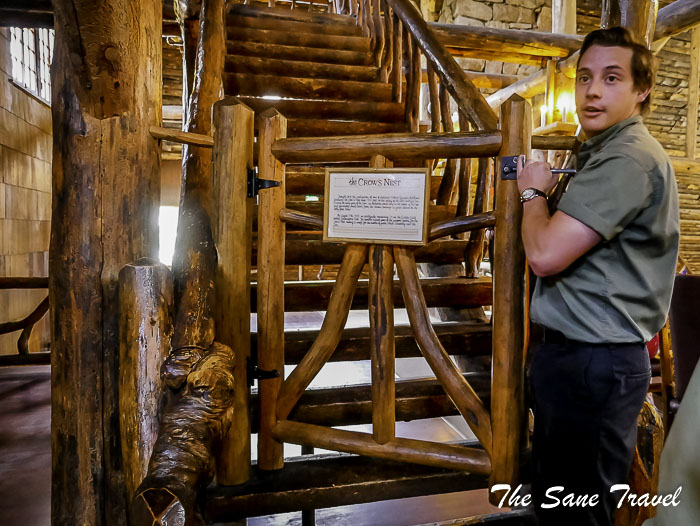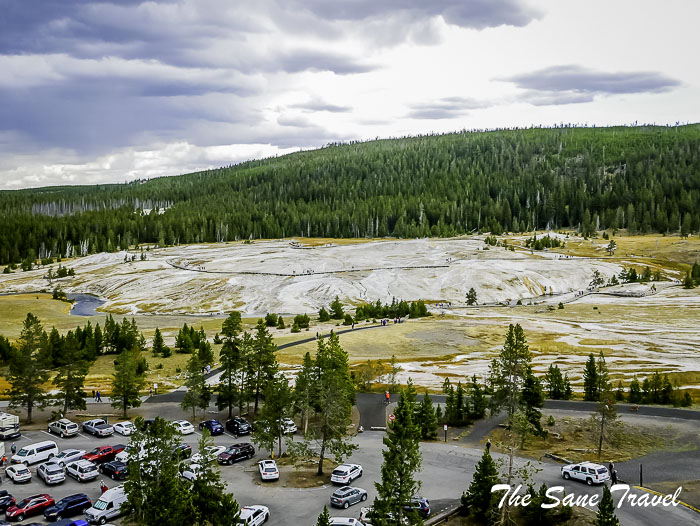 Biscuit Basin
Biscuit Basin is a thermal group containing a small collection of thermal features, encrusted pools and geysers, including Silver Globe Spring, Sapphire, and Black Opal pools, Jewel, Cauliflower, and Black Pearl geysers. Cauliflower Geyser is the main feature of this group, and it is identified by the cauliflower or biscuit-like sinter masses surrounding the crater. Sapphire Pool dominates the main group west of the river. The water of this pool, or spring, is crystal clear with an Oriental blue sapphire tint. Other important features include Shell Geyser, which has a golden-lined crater, and Jewel Geyser, known for the shiny, beaded sinter around its vent.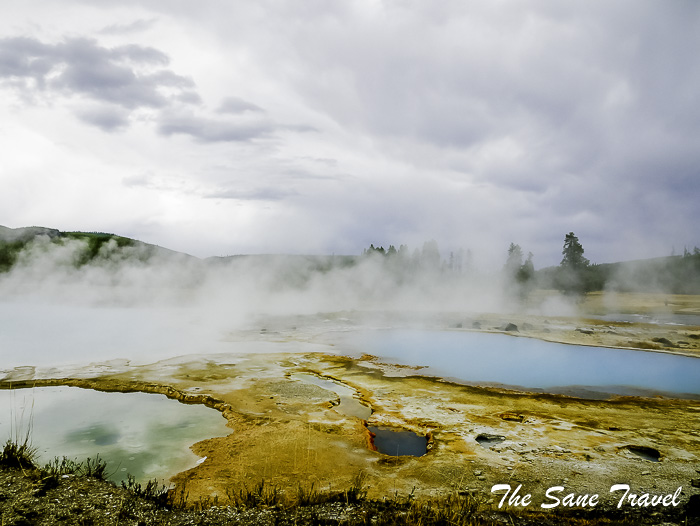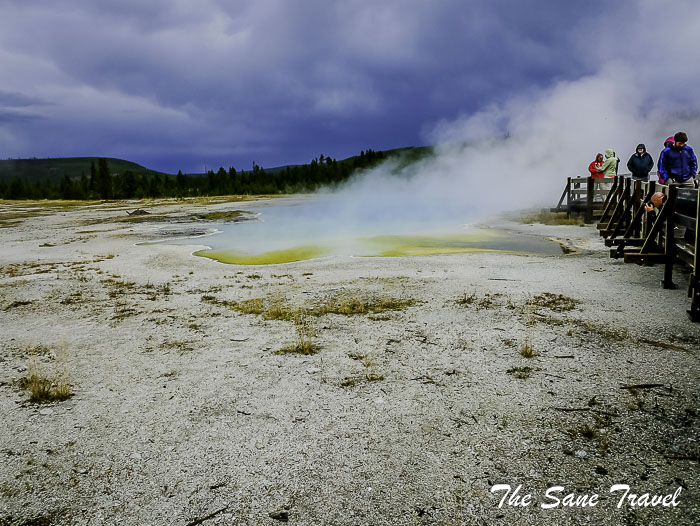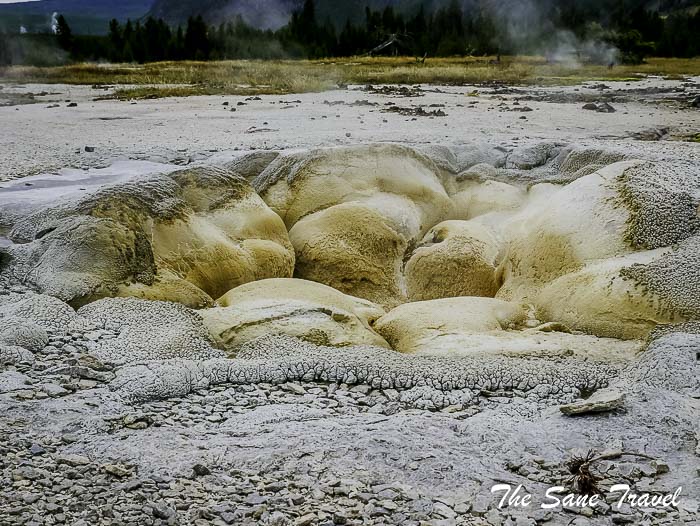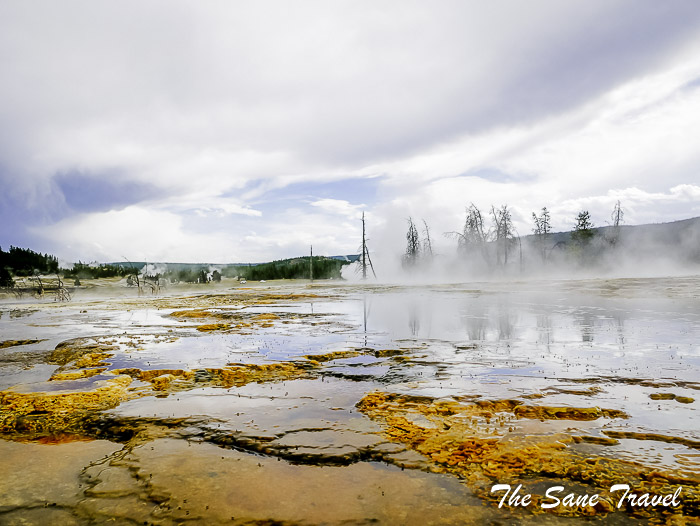 Grand Canyon of Yellowstone
The canyon is about 1,2 kilometres (4000 feet) wide and up to 365 metres (1200 feet) deep in some places. It is more than 30 kilometres (20 miles) of the most breathtaking and beautiful views in Yellowstone and features three waterfalls. Artist point is considered the most scenic area of the park. This cliff of the Grand Canyon is lit with awesome yellow, ochre, sienna, red, green, blue and turquoise colours. If you want to see more of the Canyon, take a walk next to it, just remember to do it in groups to keep safe from the bears roaming in the woods.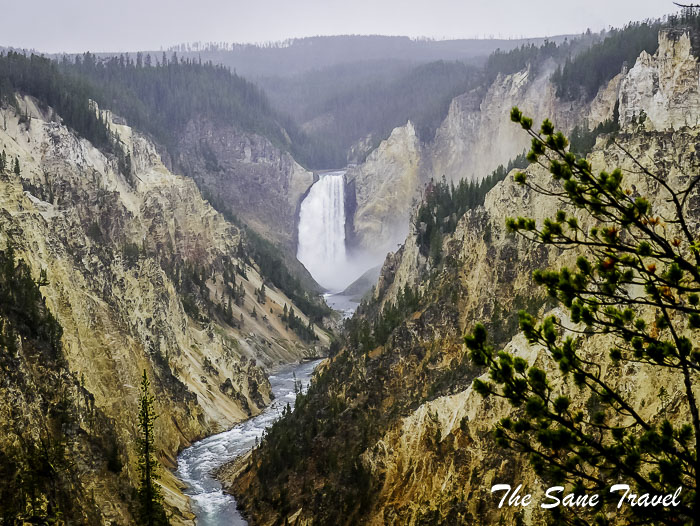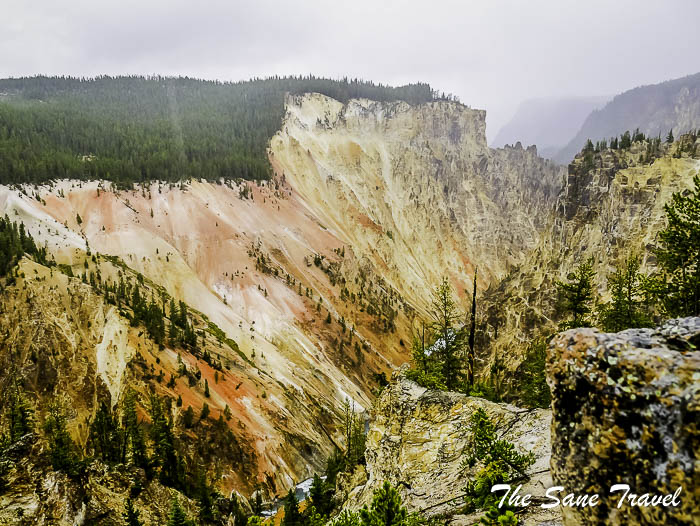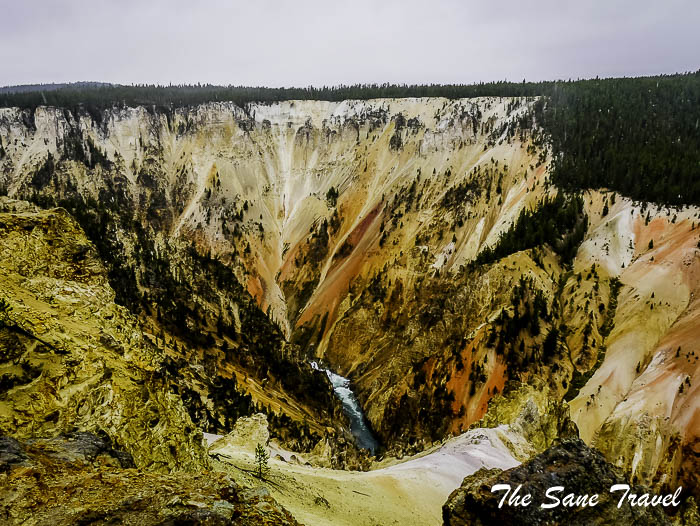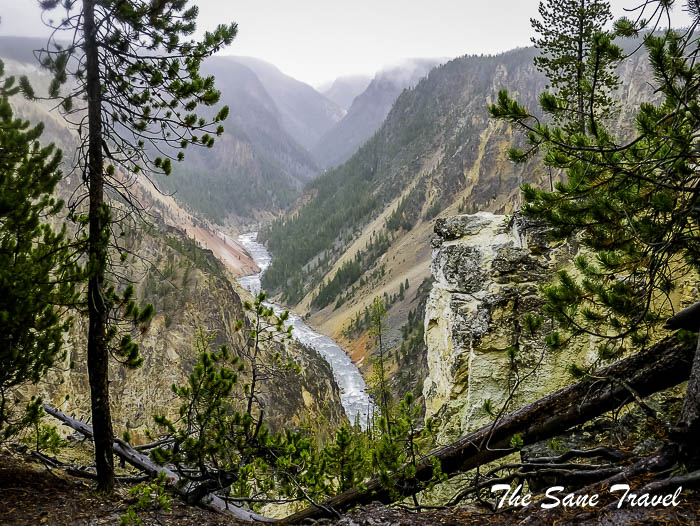 Grand Prismatic spring
This spring is the largest natural hot spring in the US: more than 90 metres (300 feet) in diameter with about 70 degrees Celsius (160 degrees Fahrenheit) water. It is located in the Midway Geyser Basin with a dazzling azure blue centre contrasting with the colourful outer edges. It is best seen from the walking trail above it. It's one of my favourite sights in the park.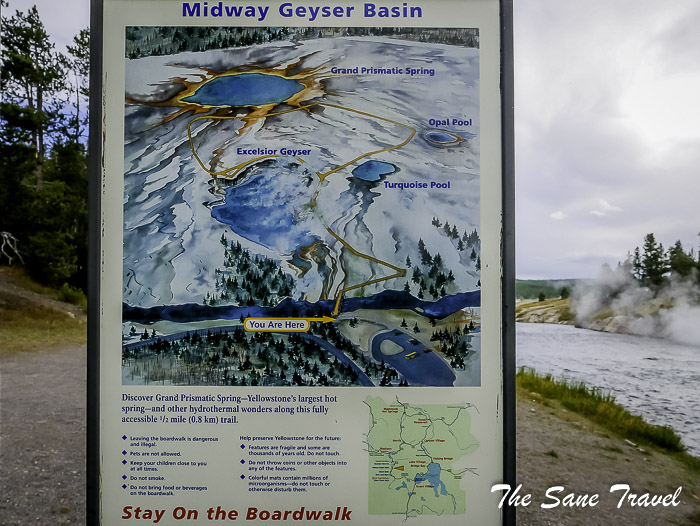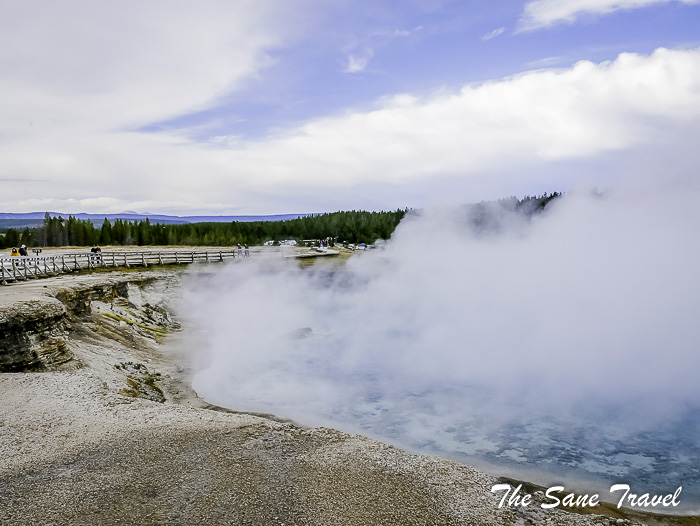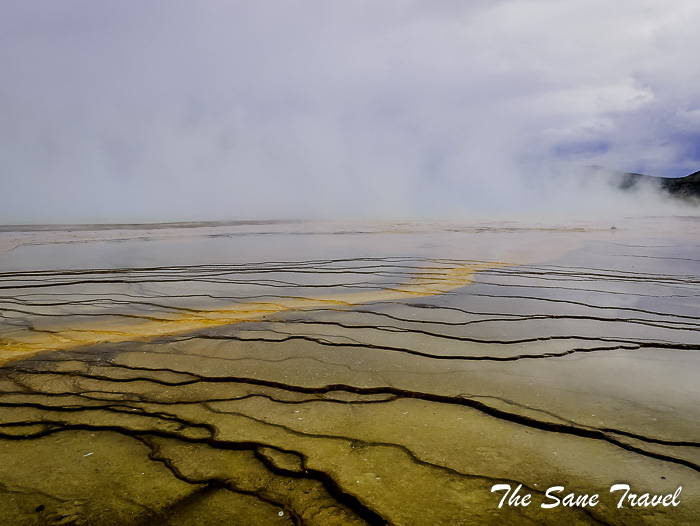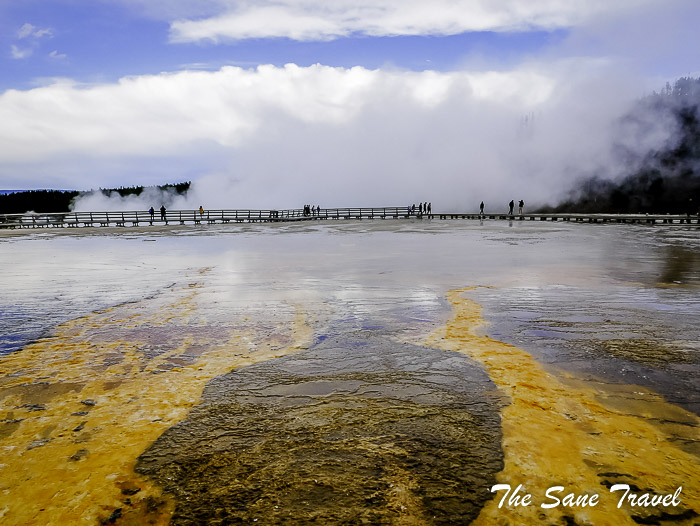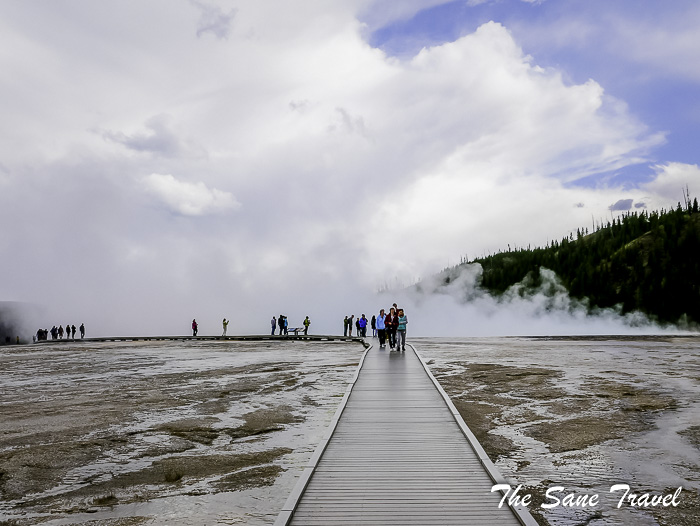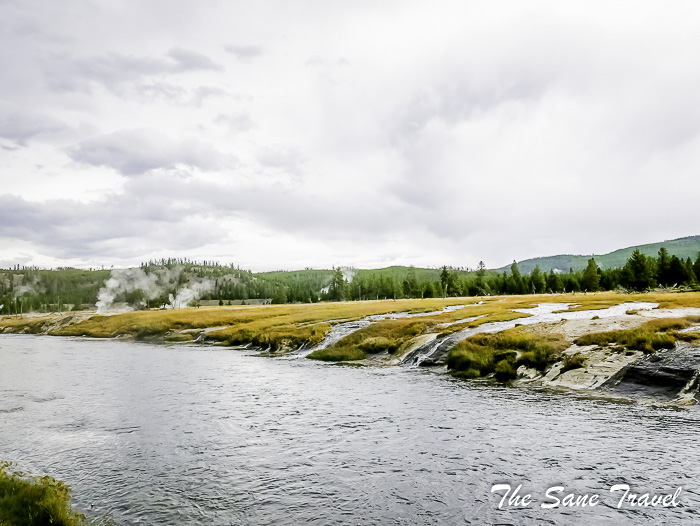 The Lamar Valley
Located in the northeastern part of the park, the Lamar Valley is often called America's Serengeti for its large population of large animals. Among its most famous inhabitants are wolf packs; wolf enthusiasts gather with spotting scopes hoping to see these impressive canines in action. I was happy to see a herd of wolves myself. For this, I had to get up early and be at the viewpoint around 7 am, still I was happy to see a free wolf pack for the first time. In addition to wolves, other animals roaming the Lamar include large herds of bison, grizzly bears, bald eagles, osprey, deer, coyotes and others. Many pullouts line the road, so keep your eyes peeled and park in the nearest one if you see any active wildlife or people looking for something.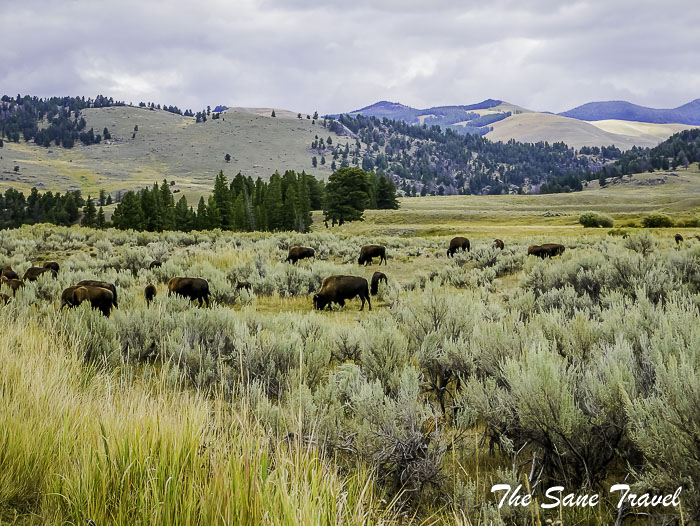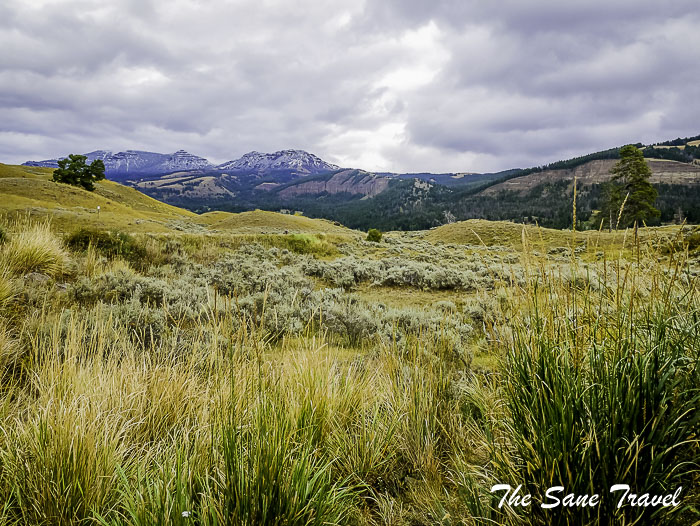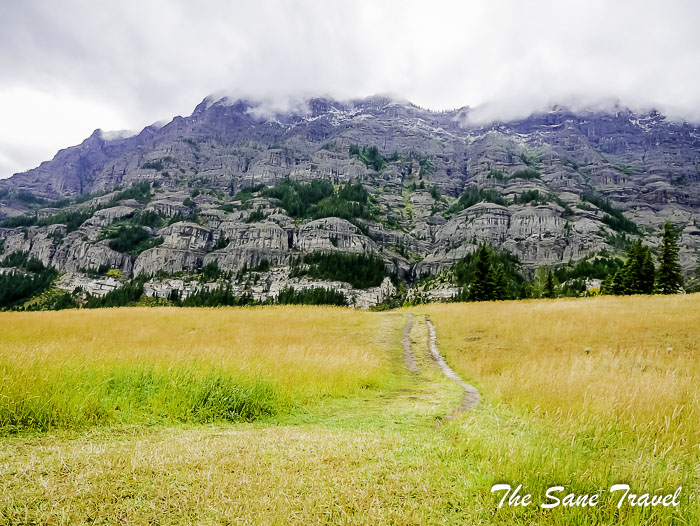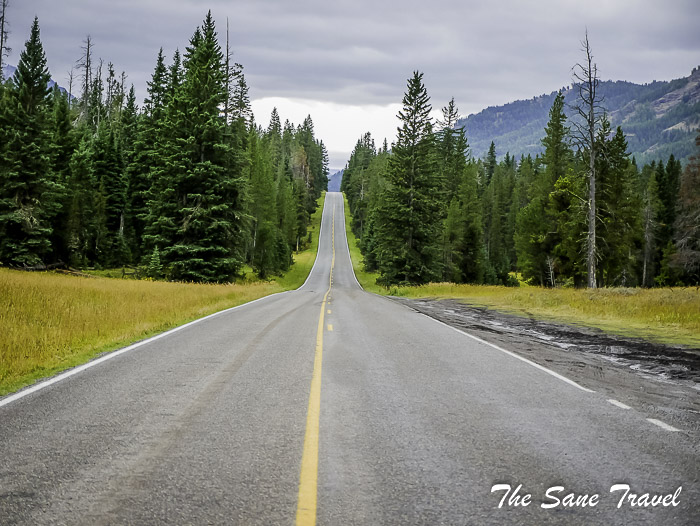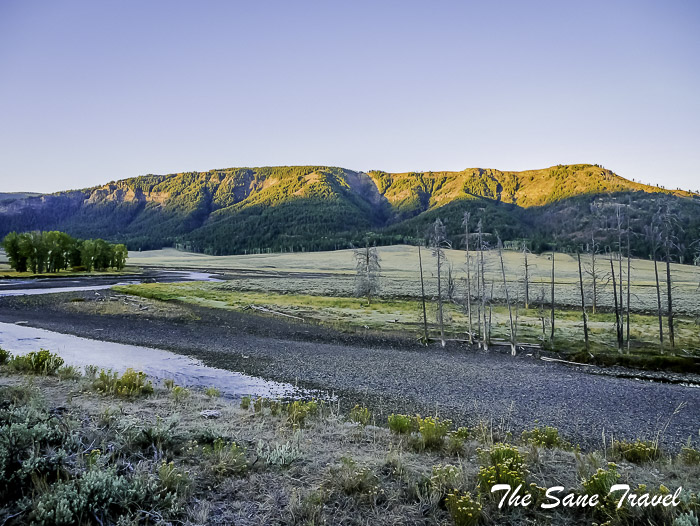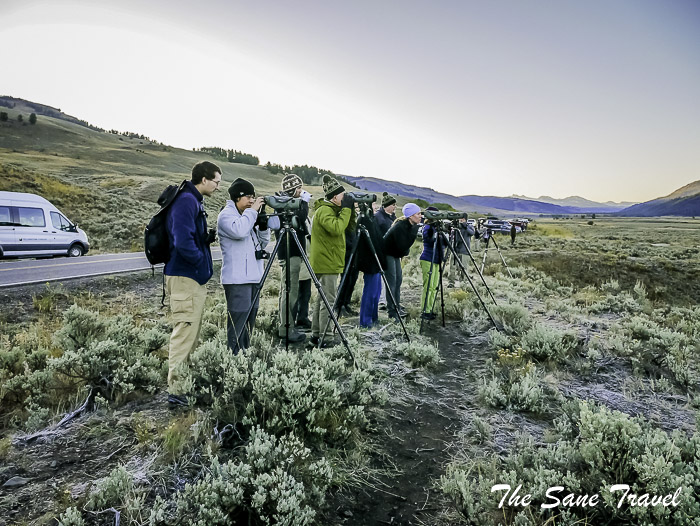 Mammoth Hot Springs
Mammoth Hot Springs is located in the northern region of Yellowstone, about five miles from the North Entrance and the town of Gardiner, Montana. It features ever-changing travertine terraces and the historic fort Yellowstone. It is one of the world's best protected examples of travertine-depositing hot springs. The maximum water temperature there is 73 degrees Celsius (163 F). Heat loving microorganisms known as thermophiles create tapestries of colour where hot water flows among terraces. Colourless and yellow thermophiles grow in the hottest water. Orange, brown and green thermophiles live in cooler waters. Mammoth Hot Springs features lower and upper terraces with total length of almost 6, 5 kilometres (4miles) boardwalks so take your time to soak in the stunning scenery.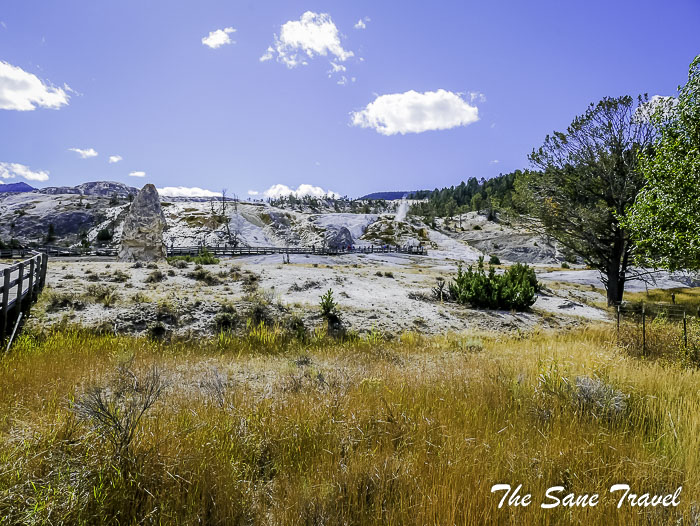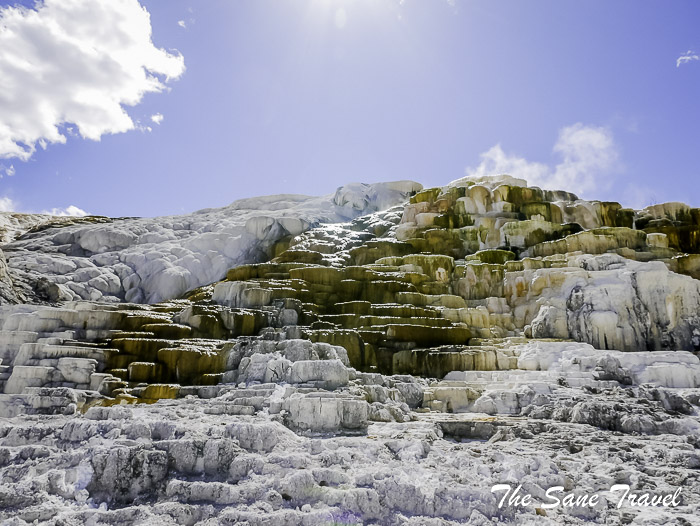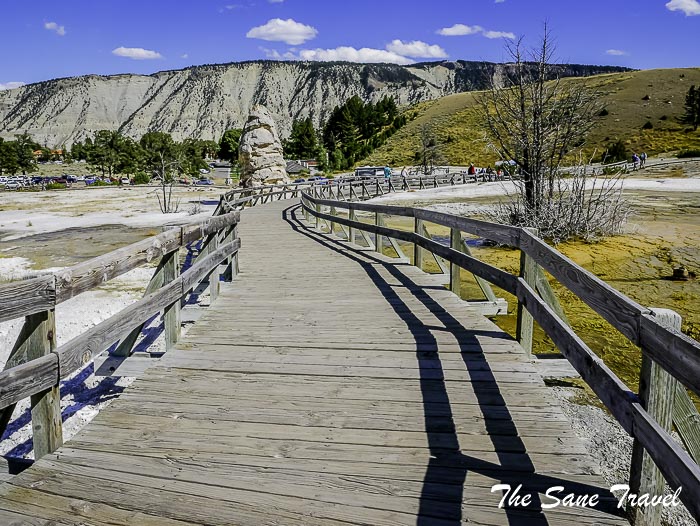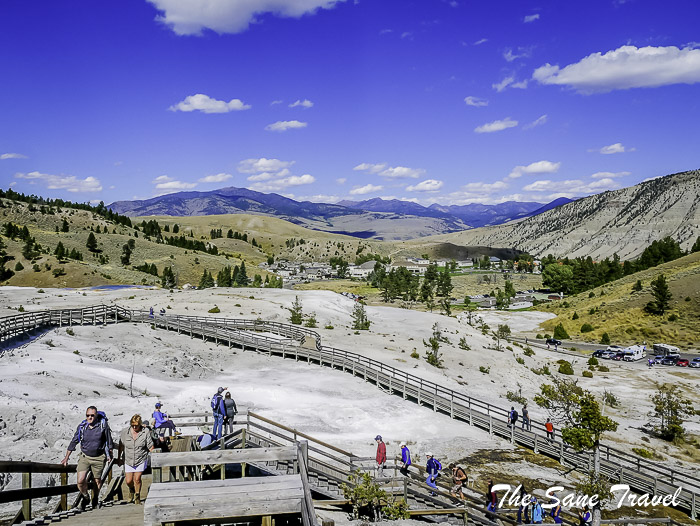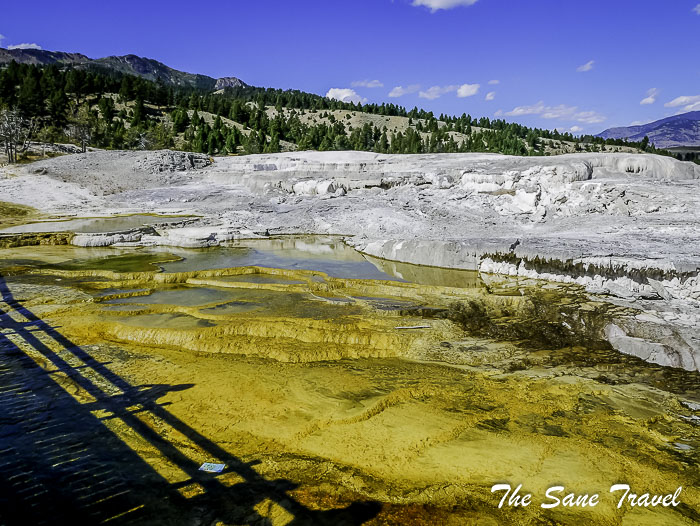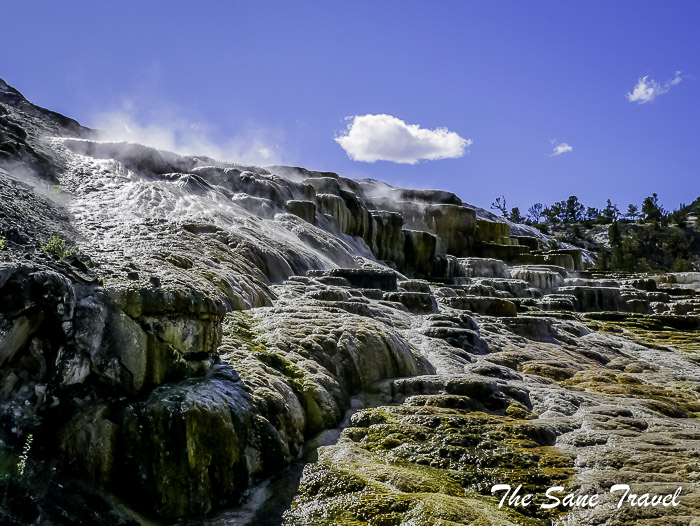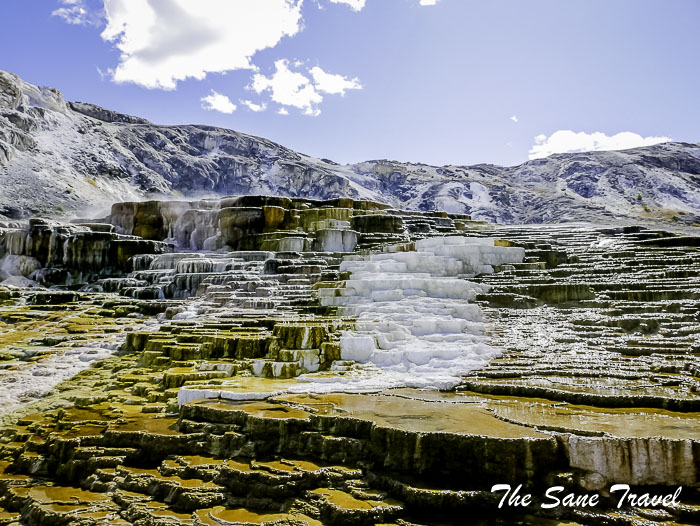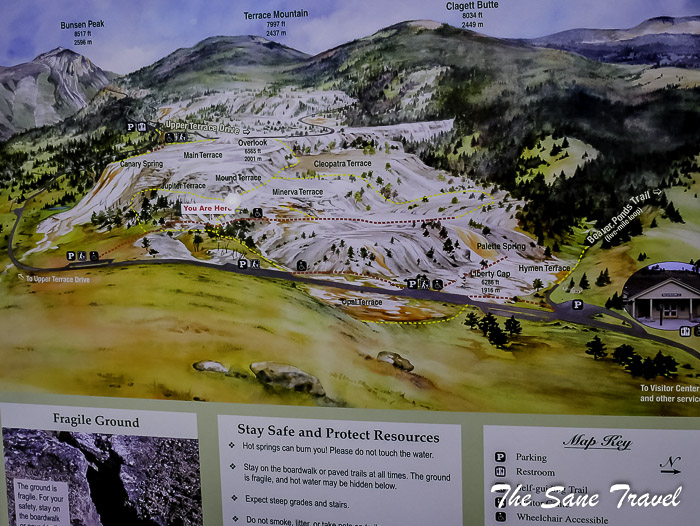 Visitor Centres
Ten visitor centres and information stations are found throughout the park. Each facility presents educational exhibits that focus on their region of the park. I was impressed by the Grand Canyon centre I visited. While at the centres, check for the ranger programs.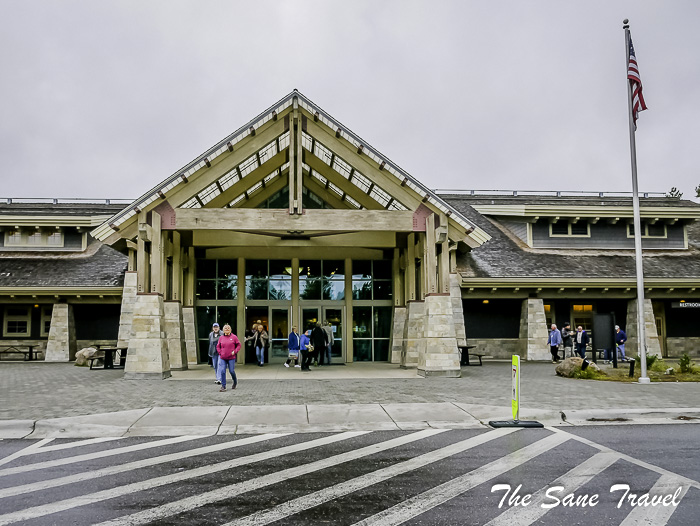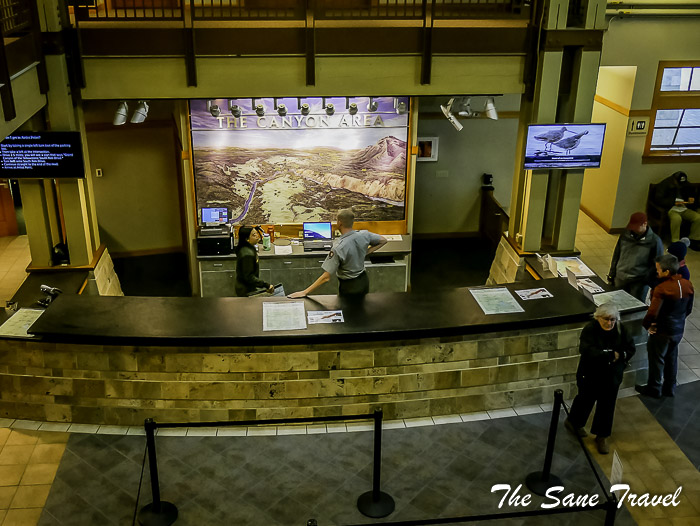 Where to stay
Just 1% of Yellowstone National park visitors stay inside the park. If you want to be among them, Canyon Lodge and Cabins is a good option. It is located less than 1 kilometre (half-mile) from the famous Grand Canyon of the Yellowstone and its Lower Falls. This is a perfect place to stay if you want to be close to all the excitement the Canyon Village has to offer. Charming, rustic cabins loop around the wooded property. There are hotel-style units inside the lodges or individual cabins available, all complete with private bathrooms. These newly constructed standard rooms have comfy beds and are equipped with a table and chairs, a phone and a bathroom with a shower. Sorry, no air conditioning or TV's available in the standard lodge rooms. The prices are starting at 145 USD per room per night.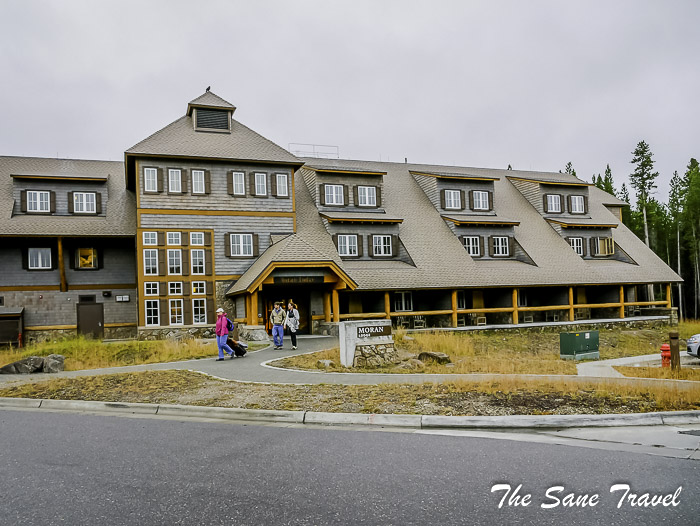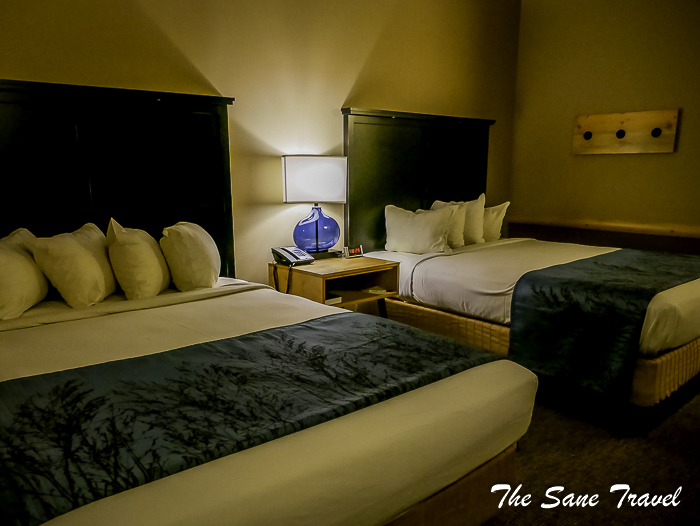 When to visit
When you are planning your Yellowstone trip, keep in mind that most of the Yellowstone area is over 2000 metres (more than 6500 feet) above sea level. This means that many areas are covered in snow until June or even mid July. The park is no stranger to the cold. Temperatures have been known to drop below zero degrees Celsius (30 F) even in the summer. So keep this in mind when you are packing. The best times to visit Yellowstone National Park are from April to May and between September and October. These shoulder months offer mild weather and fewer crowds. July and August are the most popular months to visit: kids are out of school, and the weather is warm enough to sleep outside. Just be prepared for crowds and traffic jams of a different kind, including bear jams, bison jams and alike.
How to get there
There are several airports near Yellowstone. Bozeman Yellowstone International Airport, Belgrade, Montana operates daily flights year-round. The airport is located about 145 kilometres (90 miles) from the north and west entrance of Yellowstone National Park. Bozeman Yellowstone is the busiest airport in Montana, serving as a final destination for major airlines, including Delta Air Lines, United Airlines, Alaska Airlines, Frontier Airlines and Allegiant Air.
Yellowstone Airport is the closest option for air travel near Yellowstone National Park, located just a few miles from the western entrance to the park. The airport's commercial flights are carried solely by Delta Air Lines, with daily connections to and from Salt Lake City, Utah. The airport operates flights only from late May through the end of September.
Jackson Hole Airport, Jackson Hole, Wyoming is located approximately 70 kilometres (45 miles) south of Yellowstone National Park. The airport offers flights to and from all over the US, including Los Angeles, Atlanta and New York City. Located in Grand Teton National Park, the Teton mountain range is the dramatic, rocky backdrop for the airport.
What to bring
Even in summer, low temperatures at night can hover near freezing and daytime highs shoot into the 25 degrees Celsius (80 F) so pack layers. Most important are comfortable sneakers, hiking shoes or lightweight boots with good traction. With changing weather, it's good to have a pair of loose pants made of a material that dries quickly, like nylon, nylon & cotton blend or light wool. A long sleeved polyester shirt and polyester & fleece vest or a wool sweater is good for layering. A waterproof and windproof shell with a hood is essential in case of windy, cold or wet weather. Also, bring a rain suit and a warm hat to keep your head dry. Bring plenty of water, odourless snacks, insect repellents, sunscreen, sunglasses and a first aid kit. For wildlife watching, bring powerful binoculars or monocular or a camera with a big big zoom. Some animals are quite far away from the viewers so it's the only chance to see them sometimes.
Austin Adventures
If you want to be pampered and carefree during your Yellowstone trip, do it with Austin Adventures. In 2019, Austin Adventures was voted one of the top three Adventure Travel Companies in the world by the readers of USA Today. Family owned, Austin Adventures provides active travel in small groups for families and adult travellers. Red carpet, great surprises, wow moments, like a guide appearing trailside with white wine and a cheese platter is what you can expect from a trip with Austin Adventures so I highly recommend them.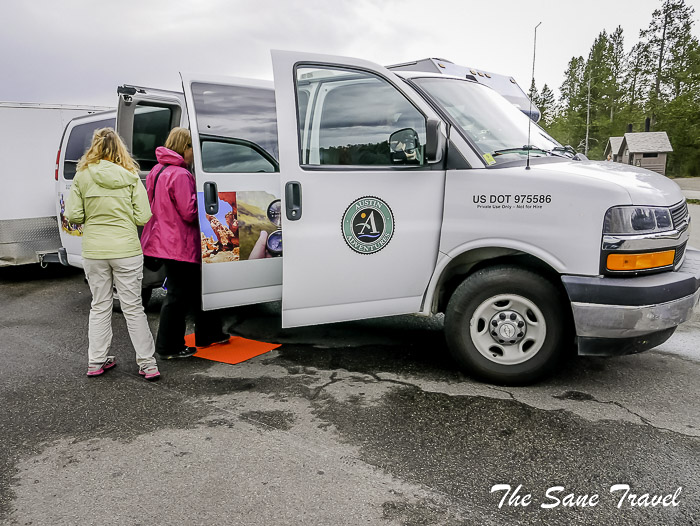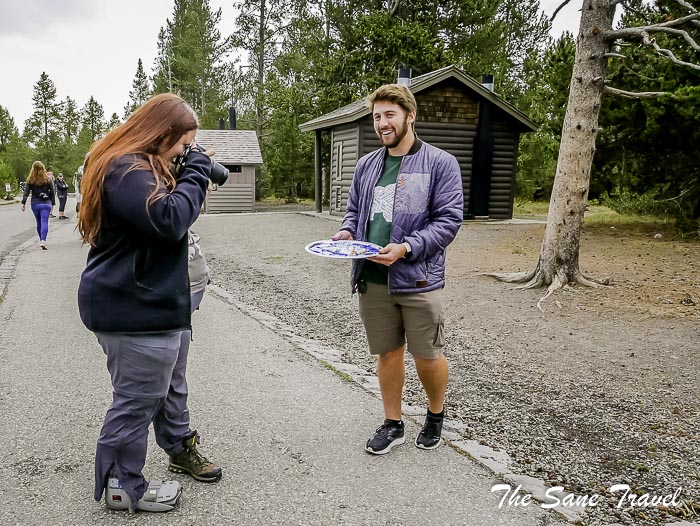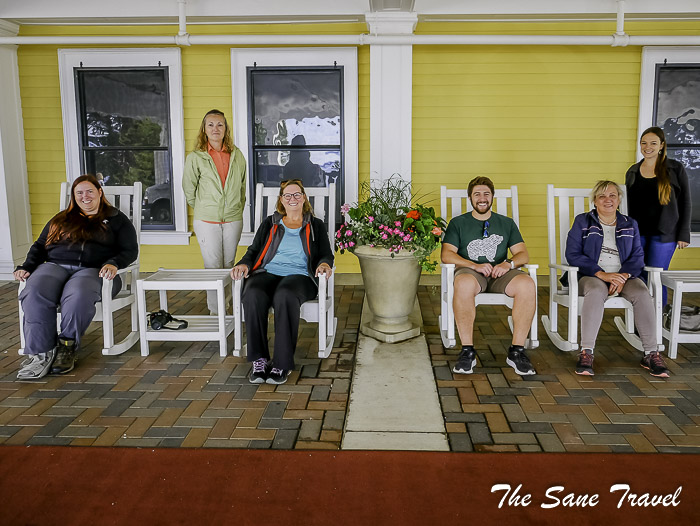 Disclaimer: I was kindly invited as a guest by Austin Adventures. As always all opinions and thoughts are my own. I had a great time and I wish you the same! Happy travels!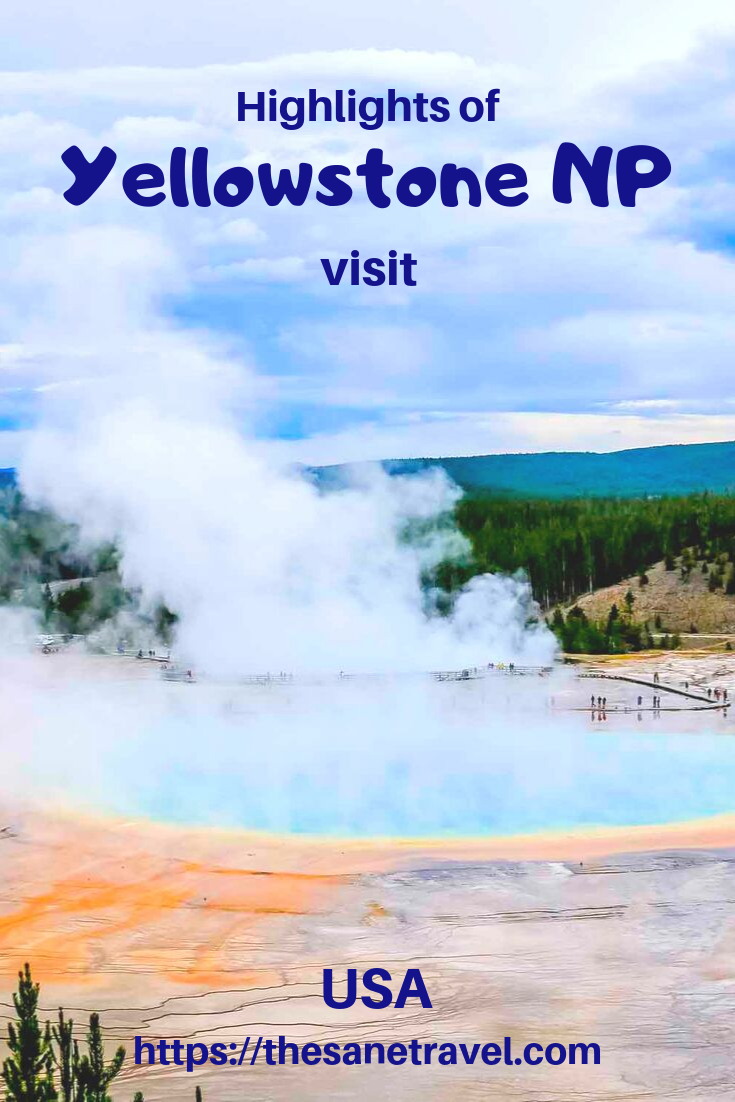 What did you think? Have you been to Yellowstone National Park? Or perhaps you're thinking of visiting there in the near future? Either way, I'd love to hear from you so please add your comments below.
Published by Anita on September 28, 2019
Author: Anita Sane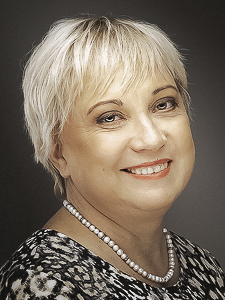 About the author
Anita is a part-time traveller, passionate photographer and a retired career woman from Latvia, travelling mostly solo for more than 15 years. She is a skilled travel planner who plans and executes her travels by herself. Anita wants to show you how to travel the world and open your mind to new experiences. Follow her on Facebook, Instagram, Pinterest, Twitter and Bloglovin.