Belarus Key Facts
Population: 9.5 million.
Area: 207.6 thousand km2. The country is about the same size as the UK but the UK has 64 million inhabitants (about 7 times more!).
Capital: Minsk – 2 million inhabitants.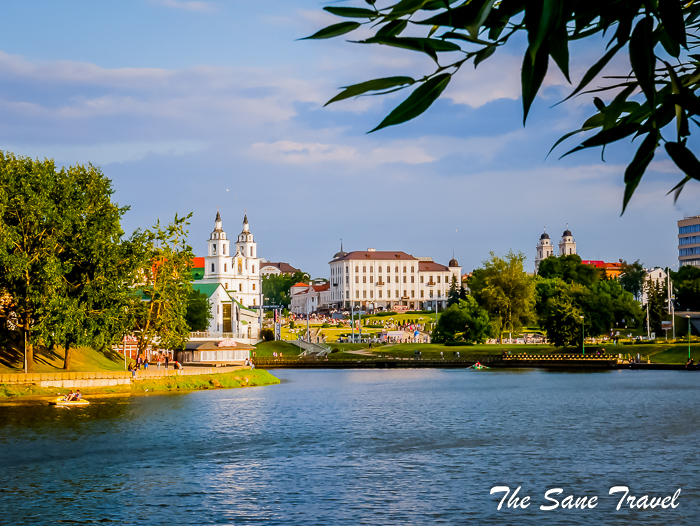 Currency: Belarusian rouble (BYN). To give you a rough estimate, 2 BYN equal approximately 1 USD. Payments with Visa and Mastercard/Eurocard credit cards are accepted in almost all restaurants, big shops, and hotels in different cities of Belarus. Don't expect to use credit cards to settle your bills in small towns and villages though.
Languages
The official languages are Belarusian and Russian. English is not widely spoken in Belarus. If you can't speak or read Russian, I would suggest doing your homework and preparing some written cards with Russian addresses of the places you want to go. Show them to taxi drivers or passersby when you're asking for directions. A map of Minsk and Belarus in Russian could also be helpful for the same purpose.
Safety
In my opinion, Belarus is a very safe country for everyone, including female solo travelers. But of course, as always you have to follow regular safety tips applicable anywhere else.
You can spend 5 days in Belarus without a visa
From February 12, 2017, citizens of 80 countries can get 5 days of a visa free stay in Belarus – if and only if they come and go via Minsk international airport. The list of countries has the entire European Union on it, then Brazil, Indonesia, the USA, Japan, and many other states. For a full list click here.
NB! The visa-free regime does not apply to people who arrive in Belarus on planes from Russia or plan landing at a Russian airport (these are internal flights with no border control).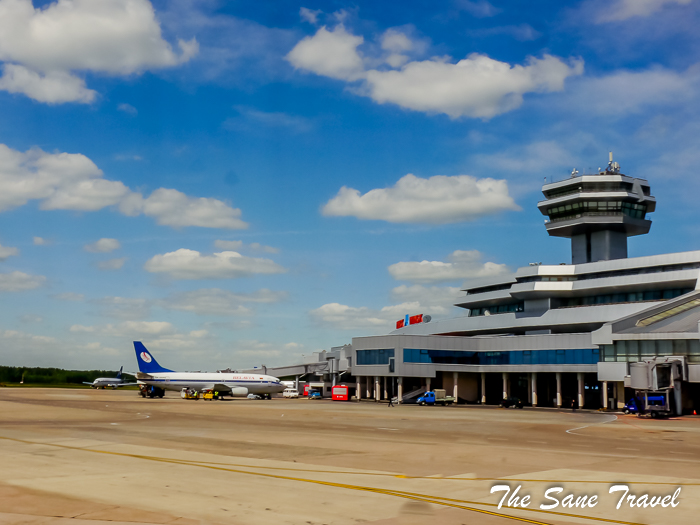 What do you need to enter?
1) Papers: a valid passport;
2) Money: an equivalent of 25 Euros for each day of your stay;
3) Health insurance: good to cover expenses up to 10 000 Euros and valid throughout the stay. Belarus has very specific regulations about health insurance and not all forms may suit the law, so it's easier to buy the insurance from an agent on arrival, right before the passport control. It costs 1$ per 2 days of stay.
Essentials before you leave the airport
Money
As it's not so easy to obtain Belarusian currency abroad, you can do it on arrival: use the ATM machines or go up the left wing of departures to find an exchange office. Foreign currencies acceptable for exchange are USD, EUR, RUB, SEK, CHF, PLN, UAH, CNY, and GBP. Office hours: 24/7 with short breaks.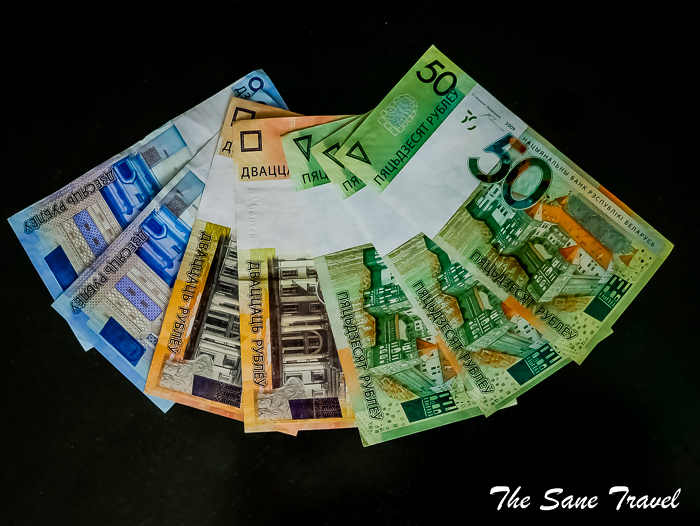 Wi-Fi Cards & Mobile Internet
To make sure you stay connected, it's a good idea to buy a Wi-Fi access card on arrival. The price of a 5 day access card is 4.4 BYN. Wi-Fi cards are sold in the airport cafés, shops, the newsstands called "Belsouzpechat", and the "Beltelecom" office. The card contains a login and a password nearly a dozen symbols each. You have to enter them in a browser: try loading any link when you're in the "Wi-Fi Zone" (look for blue signs in most public places), and you'll be taken to the log in page.
If you'd like to spend more money but less effort and be connected on the go, you can buy a SIM card from any of the local operators like MTS, Velcom, and life:). They all have their stands at the airport and the young people working there speak decent English as a rule. You can get some info on available tariffs from their English websites as well: MTS here, Velcom here, life:) here. The gist of it is you can have around 1GB of Internet at around 10 BYN (5 dollars) from MTS or Velcom, and even cheaper from life:) but bear in mind it's the youngest and arguably the least reliable of the three in terms of coverage and speed.
Getting to the city centre
Minsk airport is located some 50 km (30 miles) from Minsk. Average travel time is from 40 minutes to 1 hour, it depends on what kind of transportation you choose. To get to the city from the airport, you basically have three options: take a bus (~€1), take a taxi (~€20) or rent a car. Buses depart every hour from 7 am to 10.30 pm. The bus stop is located some 50 meters away from the airport exit to the left. You can buy a ticket from the driver. Buses arrive in Minsk at the Central Bus Terminal next to the Central Rail Terminal.
Car rental offices of Avis&Budget and Sixt are there. I don't recommend using cabs run by illegal taxi drivers who offer their services in arrival halls and at the doors. It's best to order a taxi in advance. You can book a taxi by clicking this link or using service points on arrival located at the ground floor. You would need to present your boarding pass to do that.
Traveling around
If you rent a car, you are covered. Driving in Minsk and Belarus is not difficult. The streets of Minsk are wide and traffic jams are very rare. The quality of roads is good enough throughout the country. Fuel is comparatively cheap: unleaded petrol is 0.577 €/liter, diesel 0.597 €/liter.
If you are not planning to go anywhere outside Minsk, you probably won't need a car. The public transport is cheap and convenient. You can buy a ticket from the driver for 0.6 BYN. Remember to stamp the ticket after the purchase. To enter the underground, you have to purchase a token at the cash desk at the entrance.
To travel between cities, you can buy a bus ticket on the Internet. The ticketbus.by website is in Russian only but browser translatable of course. You can also travel to many places in Belarus by train, including all regional cities: Brest, Gomel, Grodno, Vitebsk, and Mogilev. The train ticket purchasing website is available in English here.
Direct minibuses are very convenient, much faster than buses or trains, and not expensive at all. Most of them depart from Kirava street, the one between the two towers opposite the Central Railway Station. Tickets can be bought on the spot but on weekends especially, most minibuses are fully booked. People book tickets on the Internet using a mobile phone number and then pay in cash when they board the bus. So if you really want to visit a regional city and you have purchased a local SIM card as described above, you can try this: 1) google the minibus you need in Russian. To do this, look up the Russian name of your destination, and add it to this line «маршрутка минск ...» (which means "minibus minsk ...") 2) click one of the first few links to get to their website; 3) translate the page in your browser and book a place in advance!
Distances and approximate travel time by car from Minsk to some places of interest:
Vitebsk – 300 km, 3.5h; Brest – 350 km, 4h; Grodno – 280 km, 3.5h; Gomel – 310 km, 3.5h; Polotsk –230 km, 3h; Nesvizh castle complex – 120 km, 1.5h; Mir castle – 100 km, 1.1h.
Choosing your accommodation
I prefer good quality hotels. There is quite a large choice of them in Minsk. I would recommend Park Hotel Zamkovyj in Gomel, Hermitage hotel in Brest and Kronon Park hotel in Grodno. Booking.com has a good choice of Belarusian hotels. Pictured Park Hotel Zamkovyj in Gomel.
What to buy
I love linen products of Belarus very much, and also the handmade dolls. One place to look for them is the Central Department Store called "GUM". It's quite an exotic shopping place totally worth a visit, at Nezavisimosti street 21. Another place to buy Belarusian arts and crafts is the gallery at concert hall "Minsk", Oktjabrskaja street 5.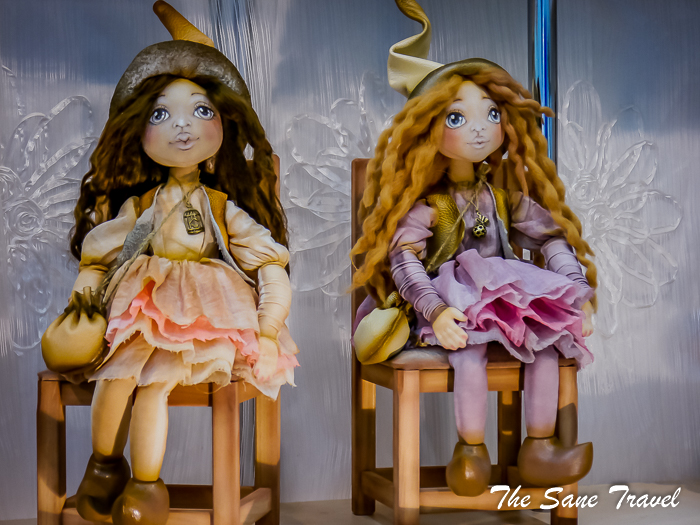 What to see
There is a lot to see in Minsk. You can read more about the sights for your first visit here.
Brest is also a very interesting city. Read more about one unusual thing to do in Brest here.
UNESCO World Heritage Sites: Architectural, Residential and Cultural Complex of the Radziwill Family in Nesvizh (2005) and Mir Castle Complex (2000).
More information about castles and mansions of Belarus is available here.
So will you come to Belarus anytime soon? It's surely a place off the beaten path, and a 5 day visa free stay is a great chance to see this nice country. Happy travels!
Published by Anita on January 28, 2017
Author: Anita Sāne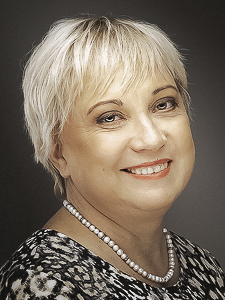 About the author
Anita is a part-time traveller, passionate photographer and a retired career woman from Latvia, travelling mostly solo for more than 15 years. She is a skilled travel planner who plans and executes her travels by herself. Anita wants to show you how to travel the world and open your mind to new experiences. Follow her on Facebook, Instagram, Pinterest, Twitter and Bloglovin.