Introduction
Most of the travel resources, independently of each other, just give one answer to the question of how to get to one of the most beautiful places in France, Mont Saint Michel: go by car. If you travel solo, it could be expensive and tiring because Mont Saint Michel is more than 350 kilometres away from Paris. But it's doable by public transport and I will show you how. But let's start from the very beginning.
The Mont-Saint-Michel is one of Europe's most unforgettable sights. The Mont-Saint-Michel and the Bay of the Mont-Saint-Michel with a total area of more than 6500 hectares have been included in UNESCO World Heritage list in 1979. It receives over 3 million tourists every year, making it one of the most popular sites in France.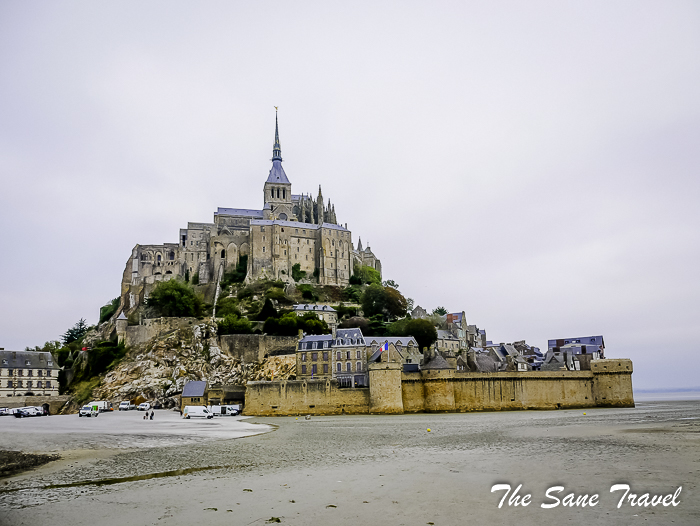 Set in the bay where Normandy and Brittany merge, the island draws attention from a large distance. Aubert, bishop of the nearby town of Avranches, early in the 8th century claimed that Archangel Michael himself told him to build a church on top of the island. Magnificent monastic buildings were added in medieval times. The abbey was closed in the 17th century and used as a prison until 1863. Finally, in 1874, the mount was declared a historic monument.
How to plan your trip
When planning your trip to Mont Saint Michel, the first thing to consider is the calendar of tides. The calendar of tides? Yes. It will influence what views you will have and also, in extreme high tide, access to the place can be limited for a few hours. When it is low tide, you will hardly see any water around Mont Saint Michel. During the high tide, it's a real island. Each has its appeal for the visitor. It's good to know that Mont Saint Michel is a place with one of the highest tides in Europe, with a difference of up to 15 metres between low and high water. During the top of the spring tides, the sea goes out 15 kilometres from the coast and comes in again very quickly. The highest tides tend to be after the full and new moons, so if you want to experience them, plan your visit accordingly. The second thing is to check whether the abbey will be open. There are not so many days in the year when it's closed but anyway, better check to avoid disappointment.
As Mont Saint Michel is a small place, it can get very busy, so try to choose the time of your visit accordingly. If you are not a big fan of crowds, better avoid the summer months. Winter can be very chilly so choose something in between those two. Staying for one night on the island will allow you to experience the atmosphere of the village in the evening when most shops are closed and the narrow streets are almost empty. One of the best rated charming hotels there is Auberge Saint Pierre. I stayed in their La Vielle Auberge hotel.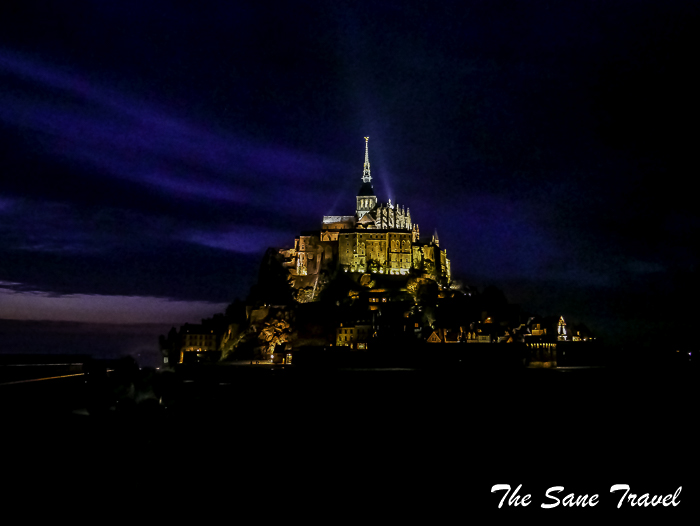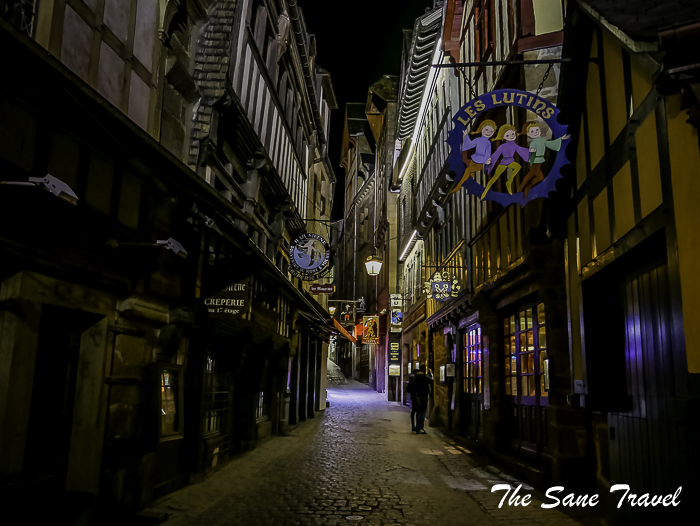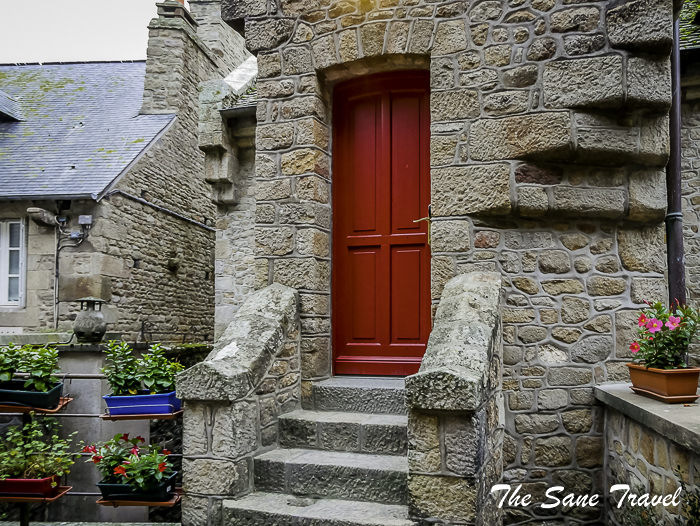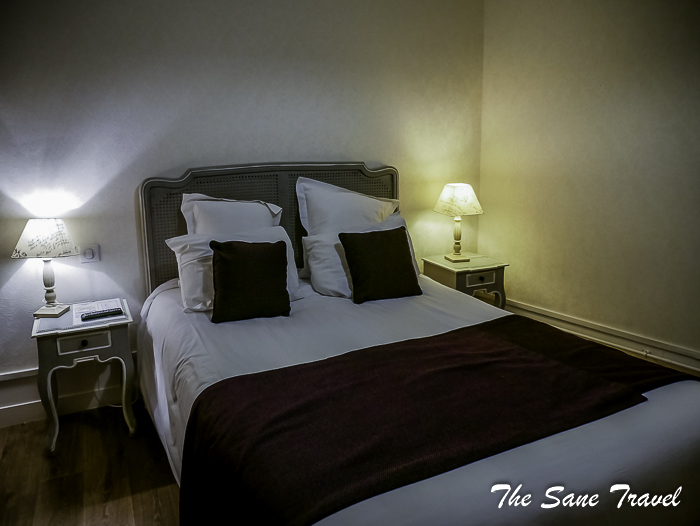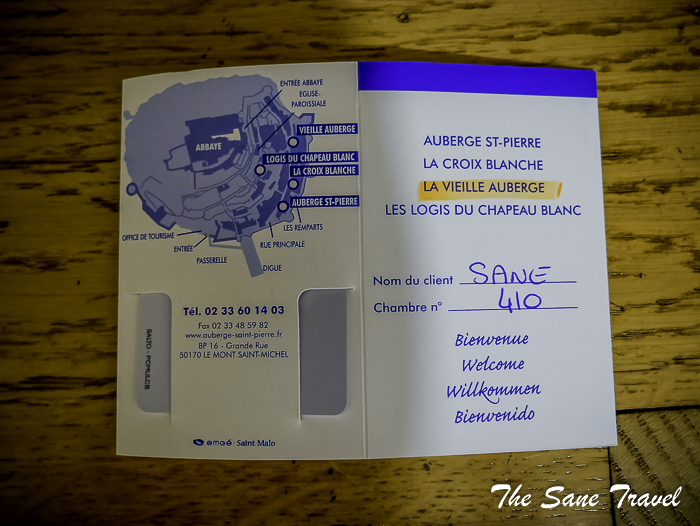 I believe a cheaper option is to stay at nearby La Caserne or if you arrive by train, in Pontorson, 10 kilometres away, and then catch the first bus to Mont Saint Michel at about 7.30 am.
How to get to Mont Saint Michel by public transport
Be aware that there is no train station at Mont Saint Michel, so the last part of your trip to this place will be by bus in any case. Buses from the nearest train station Pontorson go directly to Mont Saint Michel. If you come by bus from Rennes or Dol de Bretagne, you will arrive at the bus stop near the parking lot of Mont Saint Michel located about 2,5 kilometres (1,5 miles) from your destination.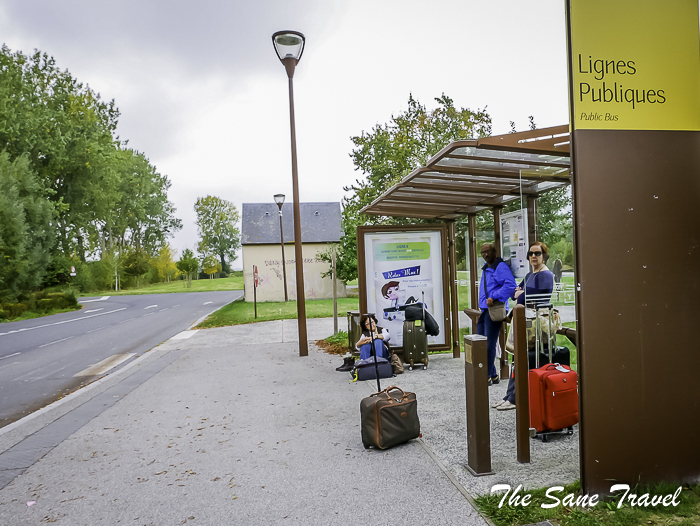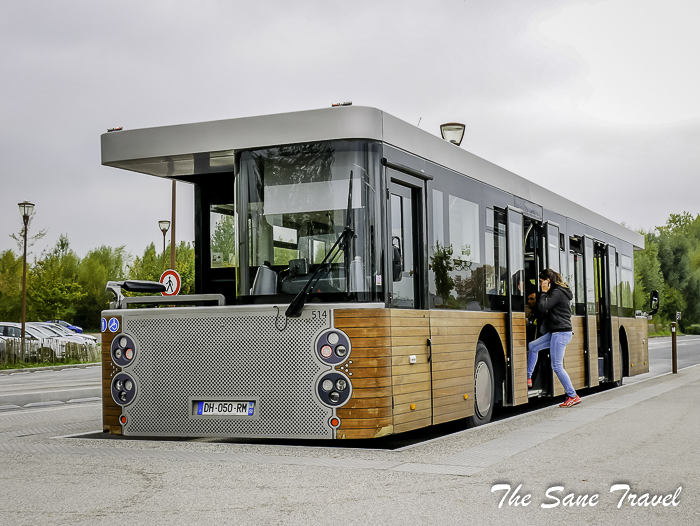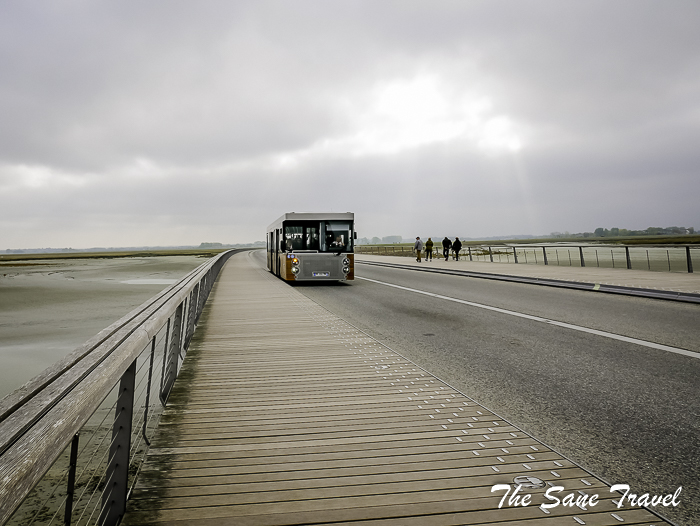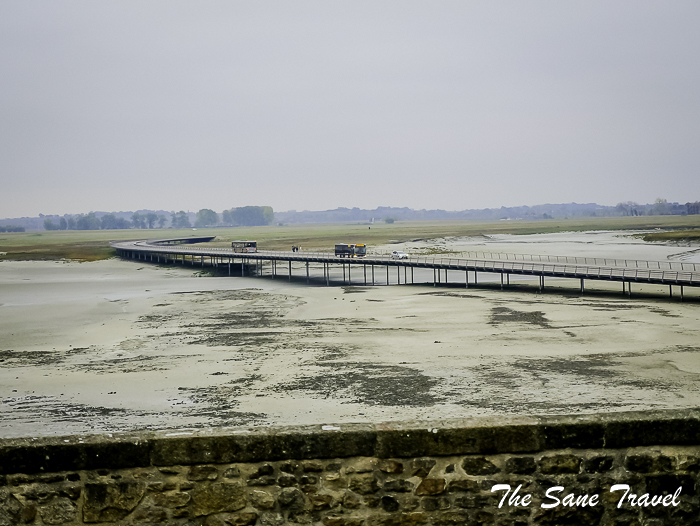 Then you should go about 100 metres to Place des Navettes by the same road where you got off the bus, where specially devised, ultra-modern free of charge shuttle buses called Passeurs will take you to the mount itself. These Passeurs operate from 7.30am to midnight. Note that the Passeurs stop 450m away from the island itself. It's interesting that Passeurs do not need to turn around as they have drivers cabins at both ends of the bus. Knowing all that now, let me show how you can get to Mont Saint Michel by public transport from Paris, Rennes, and Saint-Malo.
Traveling from Paris and Rennes
When traveling from Paris by public transport, you will very likely go to Rennes first. There are trains going to Rennes 22 times per day, so you have a lot to choose from. Getting to Rennes takes a bit more than one and a half hour from Paris. Be aware that Rennes is worth visiting so plan your time accordingly to visit the beautiful city of Rennes too. My advice is to choose the low-cost high-speed Ouigo train from Gare Montparnasse in the morning, like the one at 7.05, and arrive at Rennes two hours later. This trip would cost you less than 20 euros. The ticket price for most other high-speed trains could be 70 euros or more one way. After sightseeing in Rennes, catch the last bus to Mont Saint Michel at 16.45. The bus arrives at the parking lot area of Mont Saint Michel and then you go to your hotel booked in advance, either in La Caserne village near the bus stop or maybe the more pricey but much more atmospheric accommodation at Mont Saint Michel. This way, you are settled for sunset and sunrise views at Mont Saint Michel and can avoid the crowds visiting the Abbey first thing in the morning. To go to Saint Michel, catch a shuttle bus some hundred meters from your Rennes bus arrival stop.
All in all, from Rennes to Mont Saint Michel, there are four buses and one train and bus connection a day. Check the timetable here.
Traveling from Saint-Malo
Even though the distance is not so big, just about 60 kilometres, St Malo is in Bretagne and Mont Saint Michel is in Normandy, and maybe it's the reason why public transport is not very good between those two. You can take a train to Dol De Bretagne and take a bus to Mont Saint Michel from there after 10 am in the morning. The trip takes a bit more than an hour. Or go to Pontorson, changing the trains Dol De Bretagne, and then take a bus to Mont Saint Michel directly.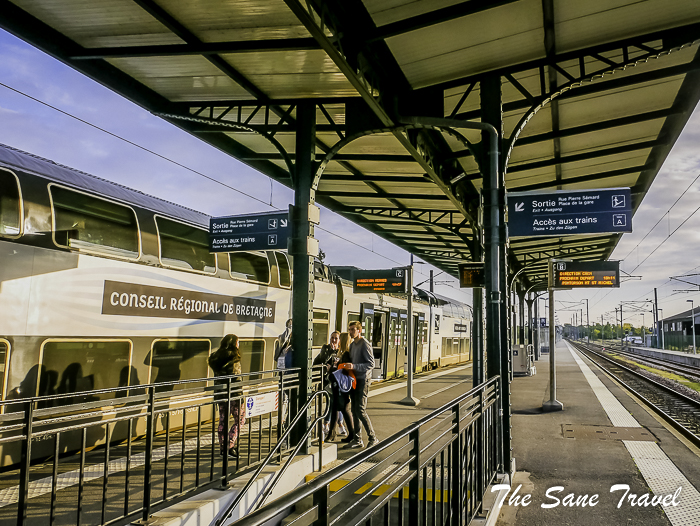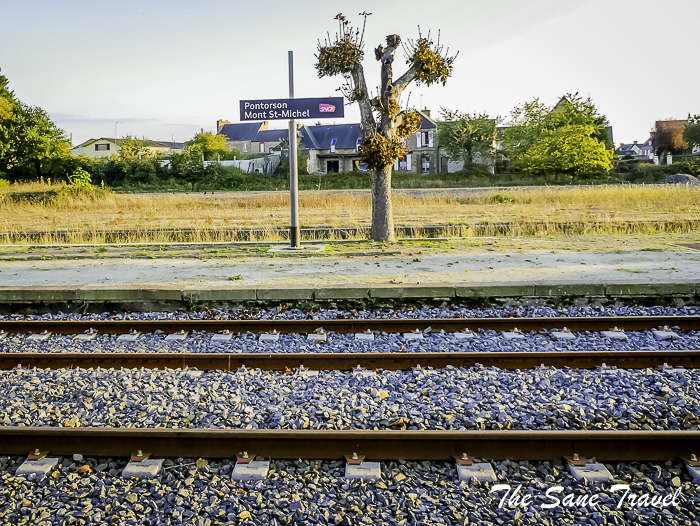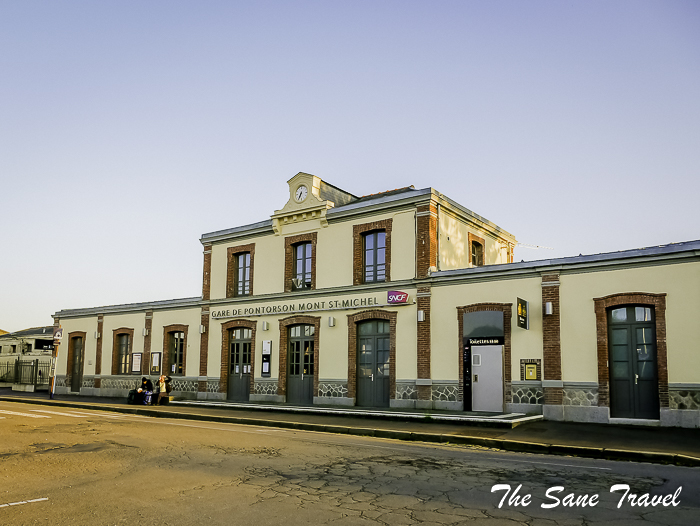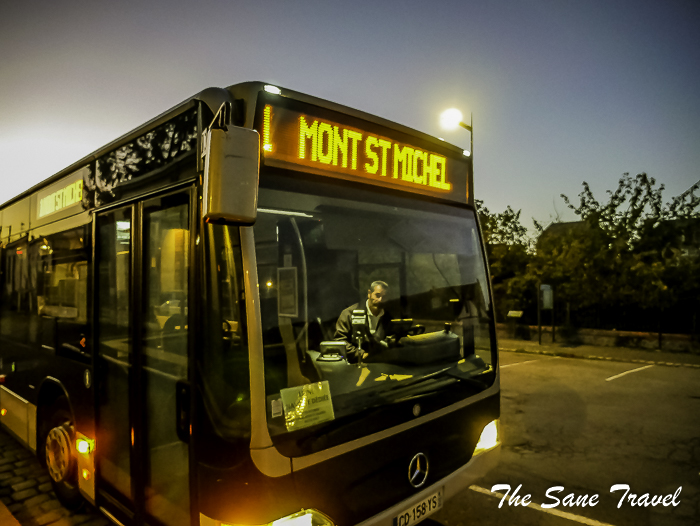 Just be aware that this connection is only possible three times a day, the two more convenient ones being in the morning after 8 am and in the afternoon before 6 pm. You may also need to wait for your bus at Pontorson train station so check all the schedules in advance to make this trip work.
What to do in Mont Saint Michel
The first thing is to look at Mont Saint Michel from a distance, walking a bridge at sunset, night, and sunrise and during the day.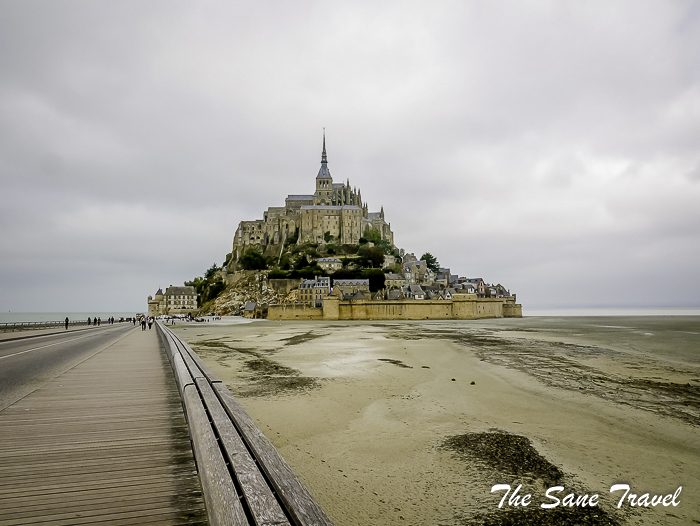 As you have checked the tide calendar, you could watch the tide coming up if you are there at that time. I advise visiting the Abbey first thing in the morning to avoid lines and crowds and then take your time to leisurely walk downhill. I was there in the middle of October and it worked fine for me. No lines and no crowds directly after the opening.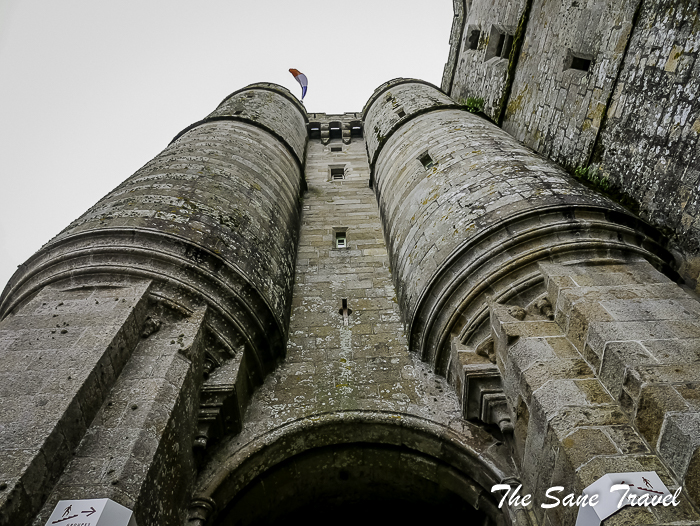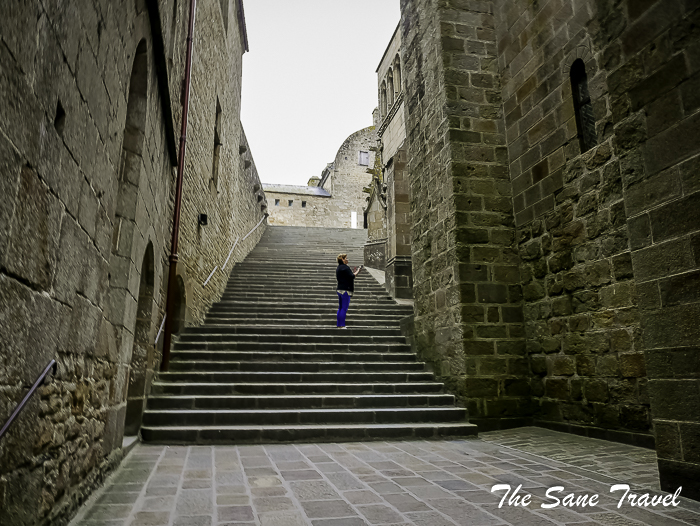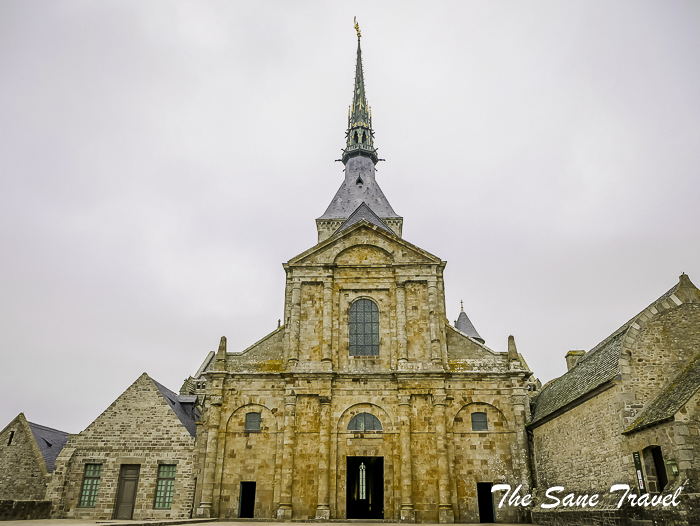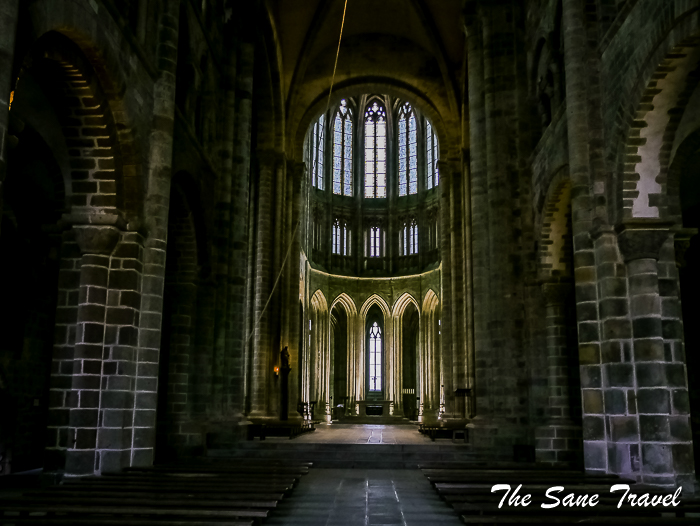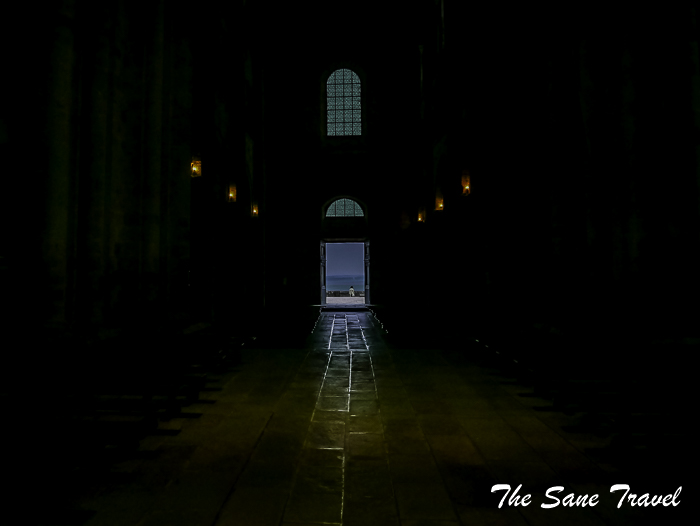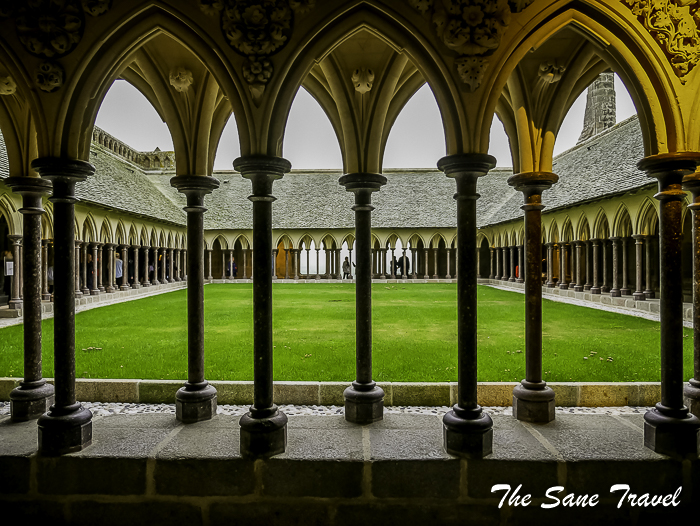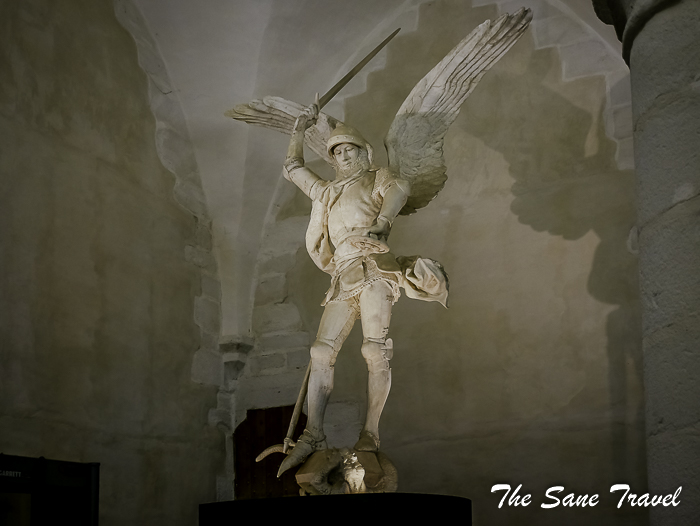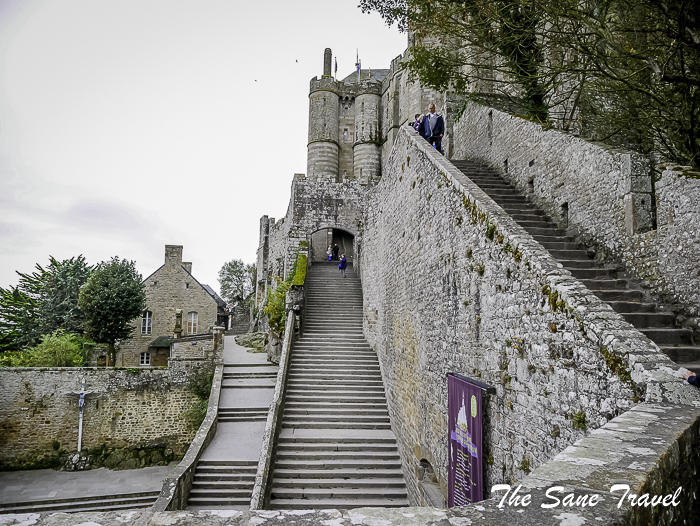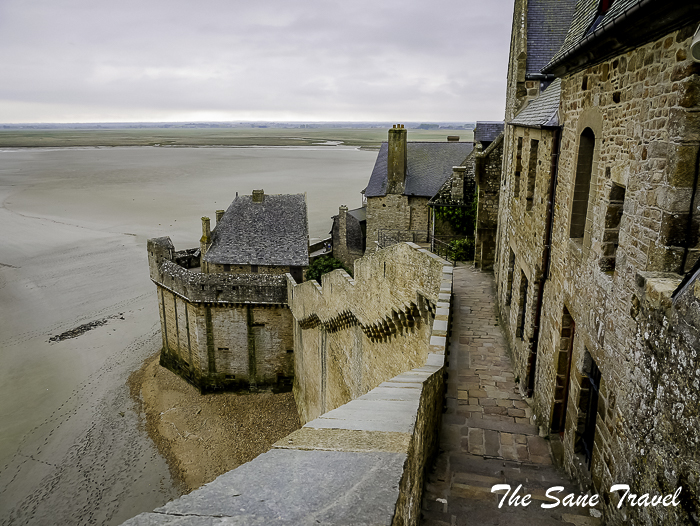 What to eat in Mont Saint Michel
Maybe it is a tourist trap and for sure it is not cheap but when visiting there, you should try the historic puffy omelette at La Mère Poulard, a Michelin restaurant, to at least have your own opinion about it. Address: Grande Rue.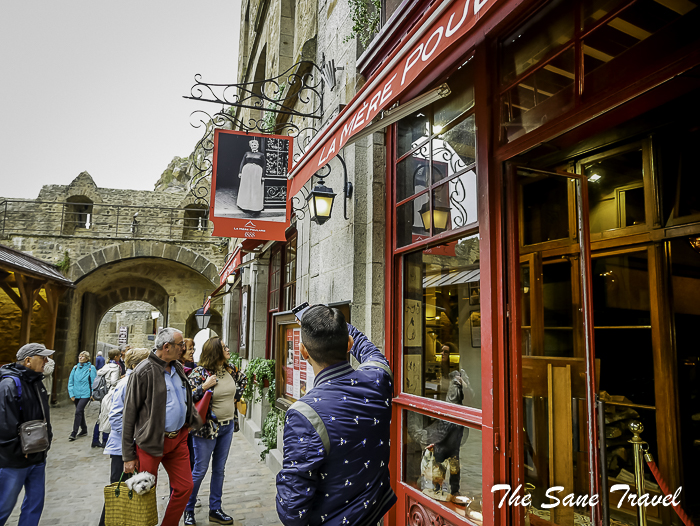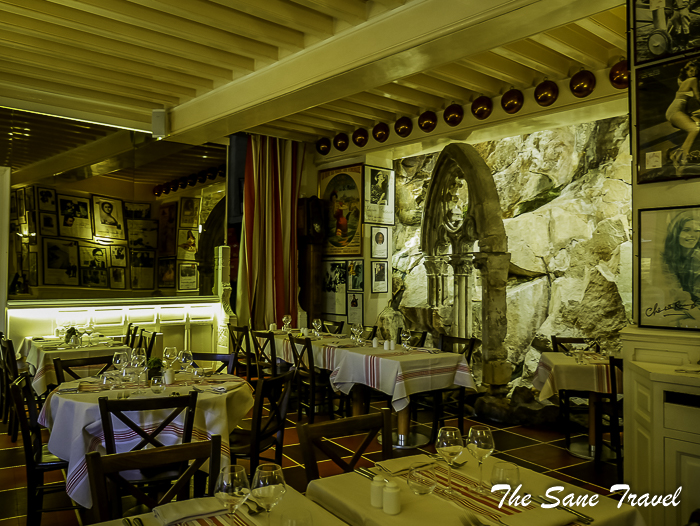 If you love the history of the 20th century, you may extend your Normandy trip to the D day beaches of Normandy.
Have you been to Mont Saint Michel? What kind of transport did you use? Please share your experience in the comments section. Like it? Pin it?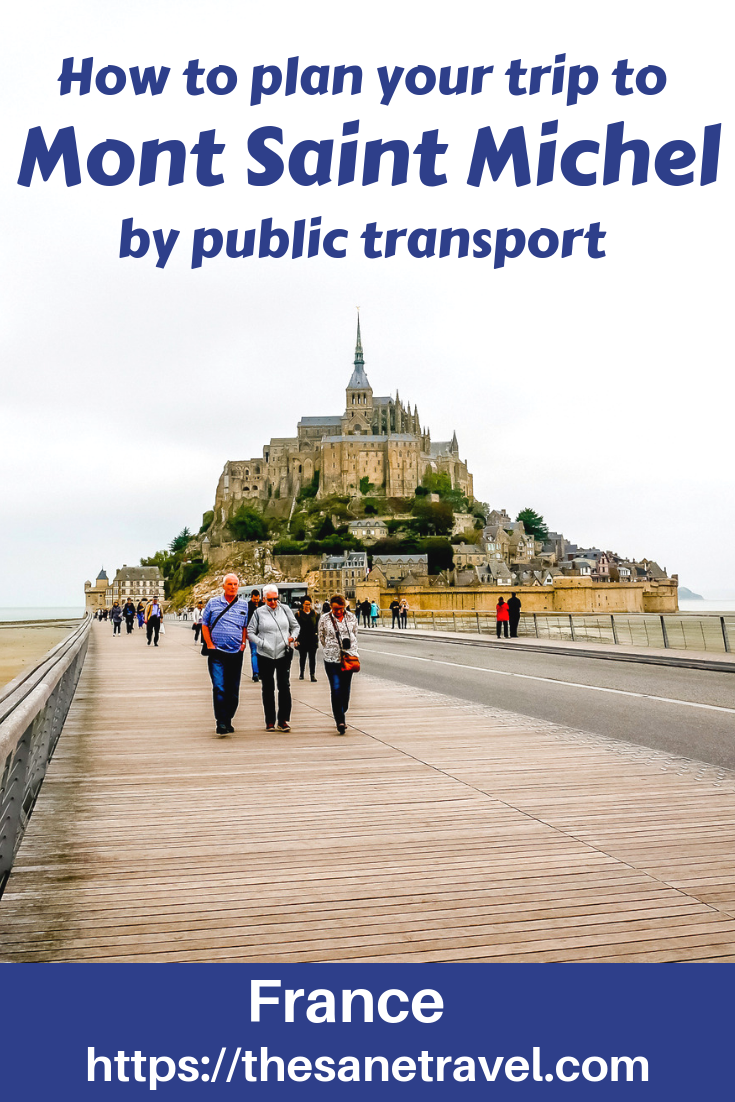 Published by Anita on November 16, 2018
Author: Anita Sāne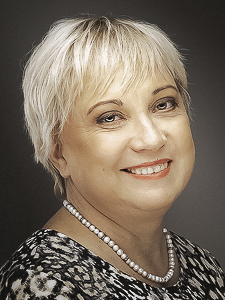 About the author
Anita is a part-time traveller, passionate photographer and a retired career woman from Latvia, travelling mostly solo for more than 15 years. She is a skilled travel planner who plans and executes her travels by herself. Anita wants to show you how to travel the world and open your mind to new experiences. Follow her on Facebook, Instagram, Pinterest, Twitter and Bloglovin.