I usually travel with only carry-on luggage, so in most cases, I do not buy books while I travel, even though there are some exceptions. Still, I love to visit admirable bookshops with beautiful architecture and special features. In this article, you will find information about various bookshops: aesthetically pleasing Daunt Books in London, a bookshop with a cat in Reykjavik, Sweet Books, a paradise of book lovers in Girona, a bookshop located in the former bank building Carturesti Carousel in Bucharest, the Acqua Alta bookshop in Venice, and Abacus Books and Coffee which is recognised as one of the best coffeehouses in Cartagena, Colombia. You will also learn disappointing news that J.K. Rowling has never visited the Lello & Irmão bookshop in Porto, among many other things. So here are 7 great bookshops for your future travel inspiration!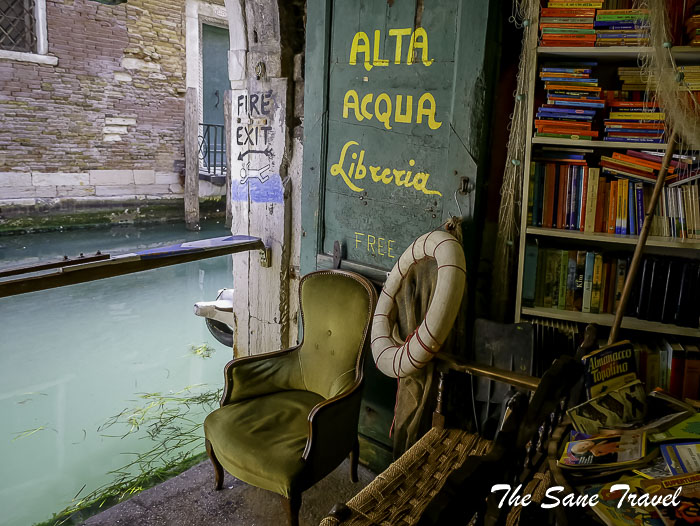 1. The Acqua Alta Bookshop, Venice, Italy
The Acqua Alta bookshop in Venice is considered by many as the most beautiful bookshop in the world. The legendary bookshop, whose name in English means "high water", is celebrated for keeping and protecting its books by storing them in baths, floating tubs, and notably a full-size gondola. The shop offers not only books but also pictures, drawings, postcards and much more. At first glance, everything seems completely confused and chaotic. Most books are not on shelves but are simply lying around.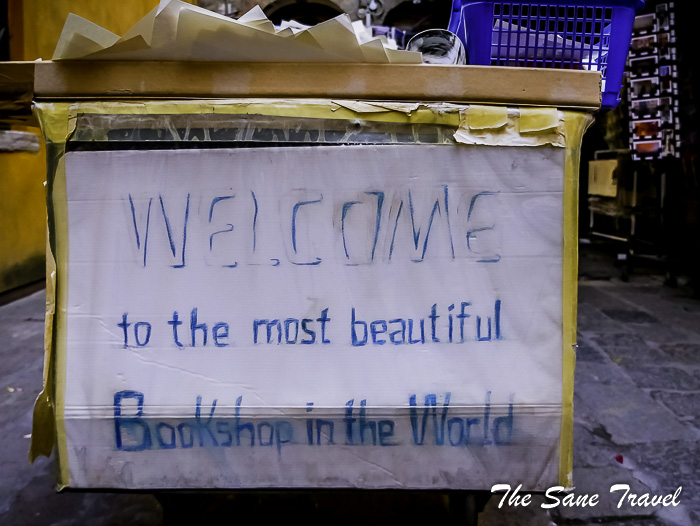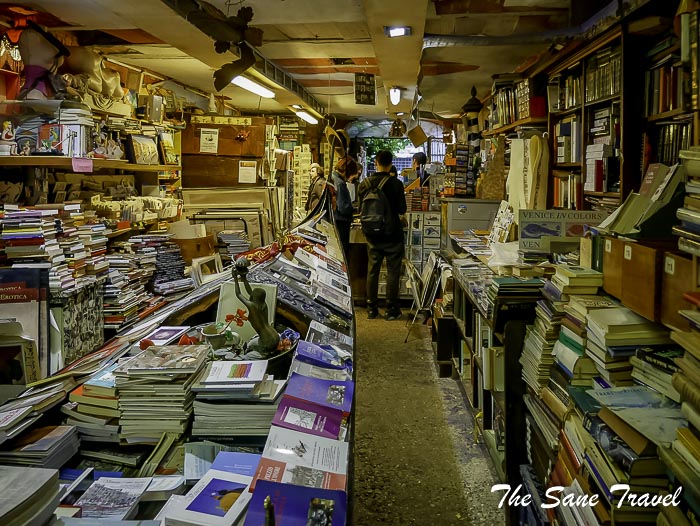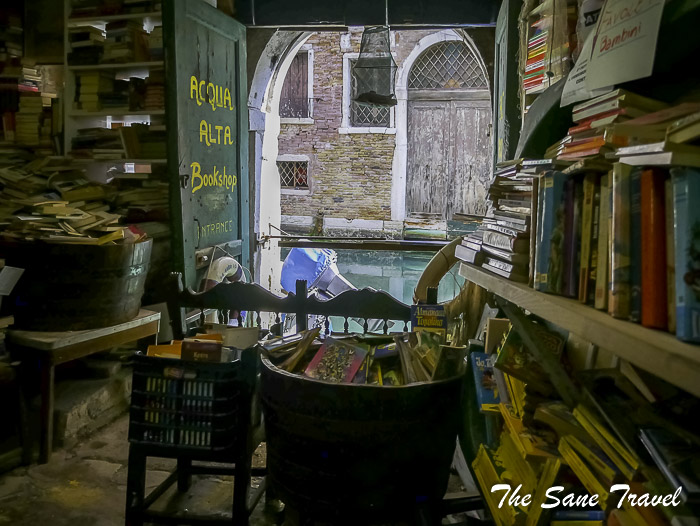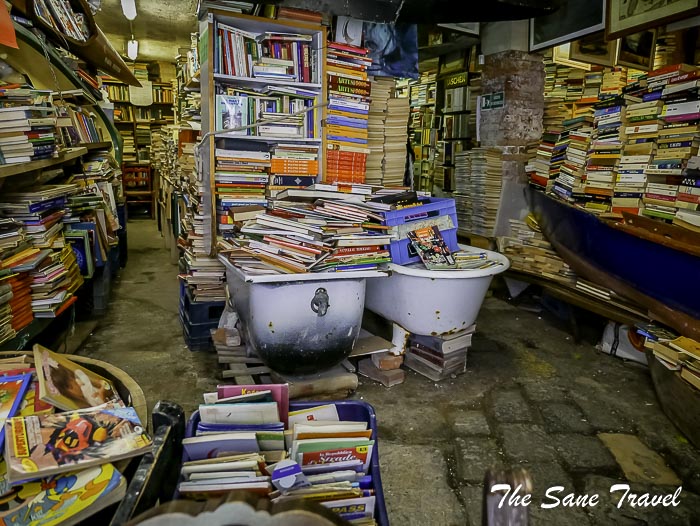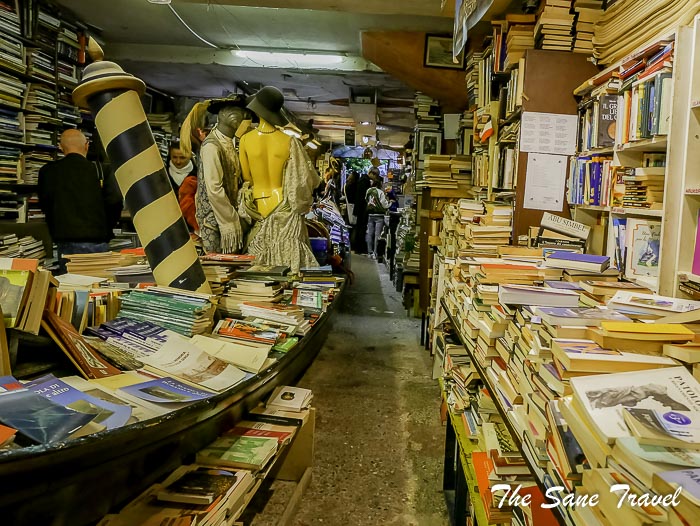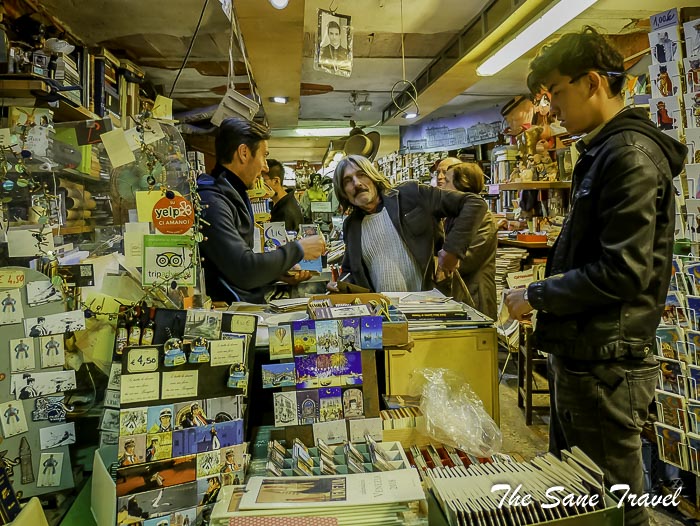 You will find numerous books in English, including for children. The ambience of the place is quite special and friendly. Moreover, Acqua Alta is treated with a lot of humour. A rare thing for a bookshop: if you have a boat, you can access Acqua Alta from the canal!
Address: Calle Longa Santa Maria Formosa (Corte Senza Nome), Venice.
2. The Lello & Irmão Bookshop, Porto, Portugal
Lonely Planet considered the Lello & Irmão bookshop in Porto as the third most beautiful library in the world. Built at the beginning of the 20th century, the shop has an excellent neo-gothic façade where you can see the two figures representing science and art.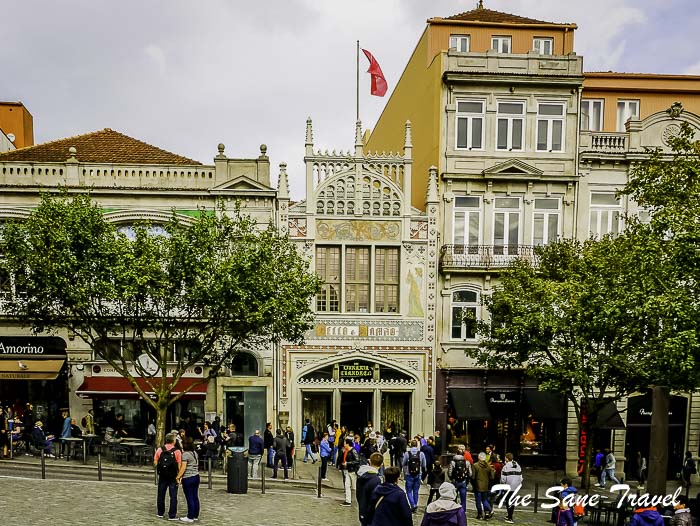 As you walk through the doors, you'll notice a marvellous stairway and exquisite wooden walls.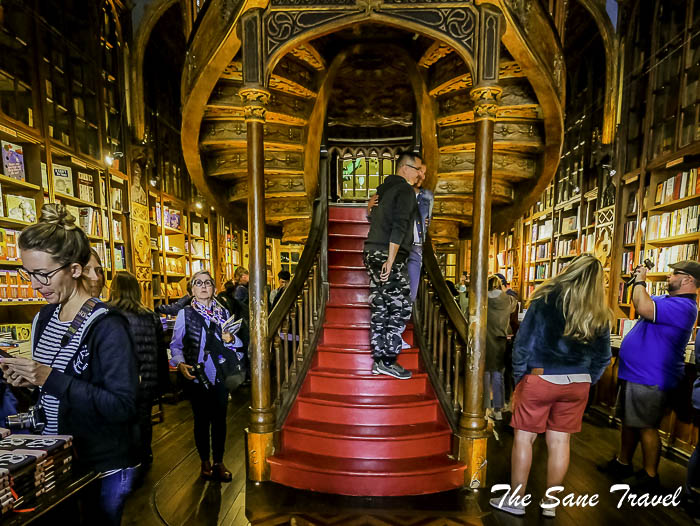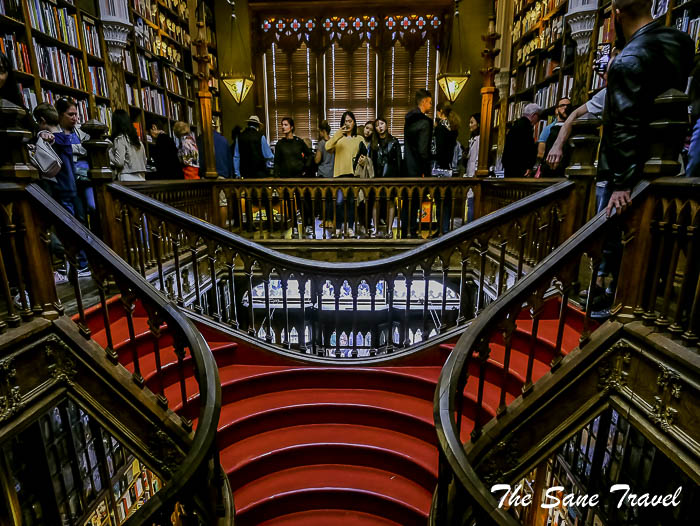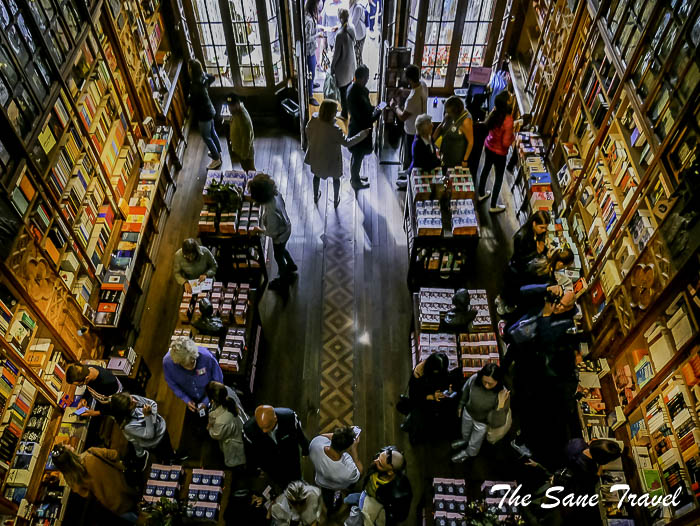 Arches are supported by pillars where the busts of some of the greatest Portuguese writers were sculpted, such as Eca de Queiros, Antero de Quental, and Camilo. Its wonderful ceiling has a magical element every visitor will notice: the stained glass. Made of 55 panels, the size of this artwork is 8 x 3.5 meters (26×11 feet). It was made by the Dutch architect Gerardus Samuel van Krieken.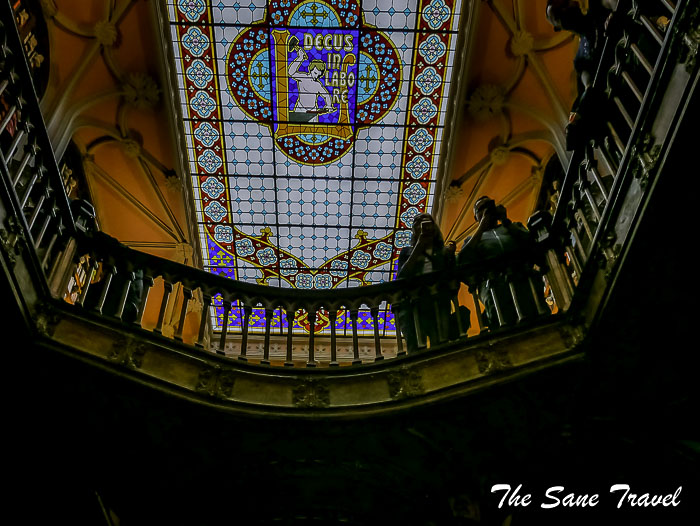 Rumour has it that J.K. Rowling's inspiration to write Harry Potter began in Porto, particularly at this bookshop. To Harry Potter lovers' disappointment, J.K. Rowling has stated that: "... I never visited this bookshop in Oporto. Never even knew of its existence! It's beautiful and I wish I *had* visited it, but it has nothing to do with Hogwarts!" The well-known writer lived in Porto working as an English teacher in the early 1990s.
The library charges an entrance fee of 5 euros and you can buy it online. It is actually a book voucher and you can use it for buying a book there, but not souvenirs.
Address: R. das Carmelitas 144, Porto.
3. The Eymundsson Bookshop, Reykjavik, Iceland
Icelanders have a beautiful tradition of giving books to each other on Christmas Eve and then spending the night reading. This custom is so deeply ingrained in the culture that it is the reason for the Jolabokaflod, or "Christmas Book Flood," when the majority of books in Iceland are sold between September and December in preparation for Christmas giving. In 2011, UNESCO designated Reykjavik a "City of Literature" to emphasise Icelanders' love of books. Eymundsson is Iceland's oldest bookshop, established in 1872. It operates at 15 locations around Iceland and offers a wide selection of books, magazines, and various gift items. Many of their storefronts also include a coffeehouse. You can drink coffee or enjoy a light meal in a cosy environment while reading whatever you like from the shop. And do not forget to pet a cat while visiting the shop!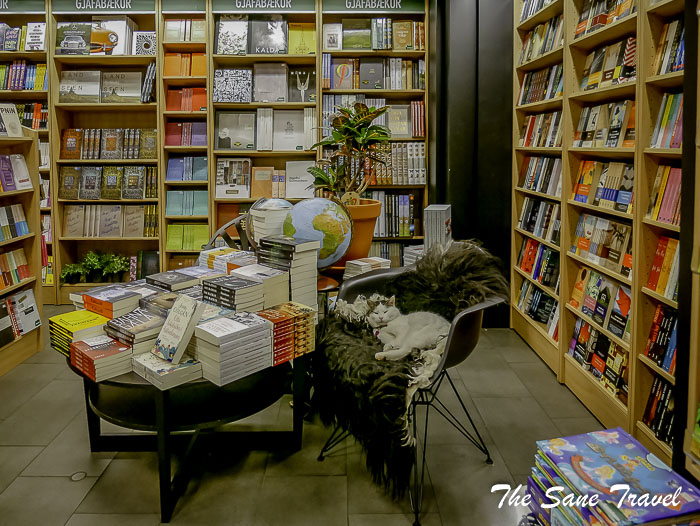 Address: Laugavegur 65-77, Reykjavik.
4. Carturesti Carousel, Bucharest, Romania
Built in the mid-19th century in the neoclassical style, the building was bought by the Chrissoveloni bankers in 1903, and it served as a bank. It was confiscated in the Communist era and turned into a general store called Familia, the Romanian word for family. After the fall of communism, the Chrissoveloni family reclaimed the building. Now it houses one of the most beautiful bookshops in Romania.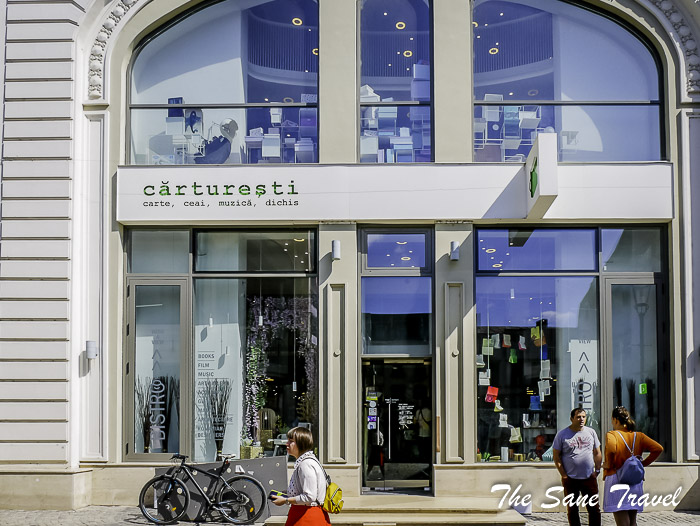 A bookshop is more than space where books are sold. When it looks like 'Carousel of Light', the act of reading becomes a wonderful, unique experience. According to the owner, the Carturesti bookshop located in a 6-storey building represents an experiment of 'cultural habitation' in the old centre of Bucharest. The bookshop provides a space for reading, socialising, and artistic explorations of the city.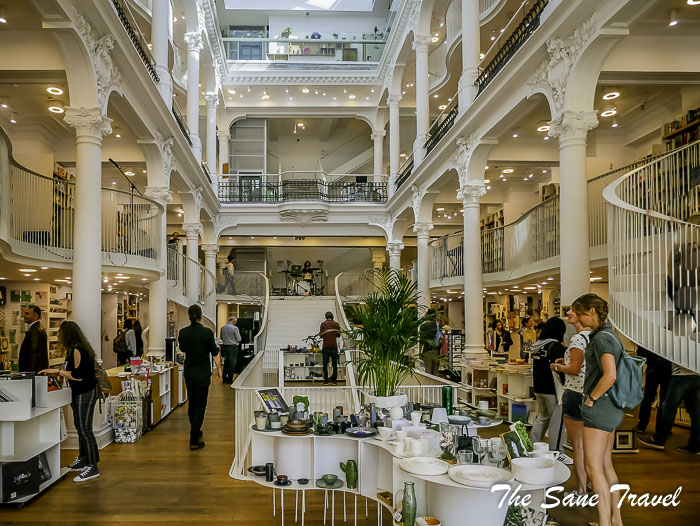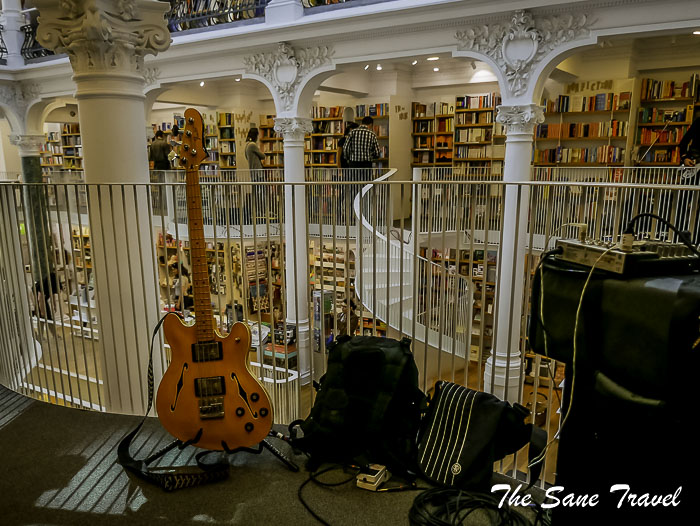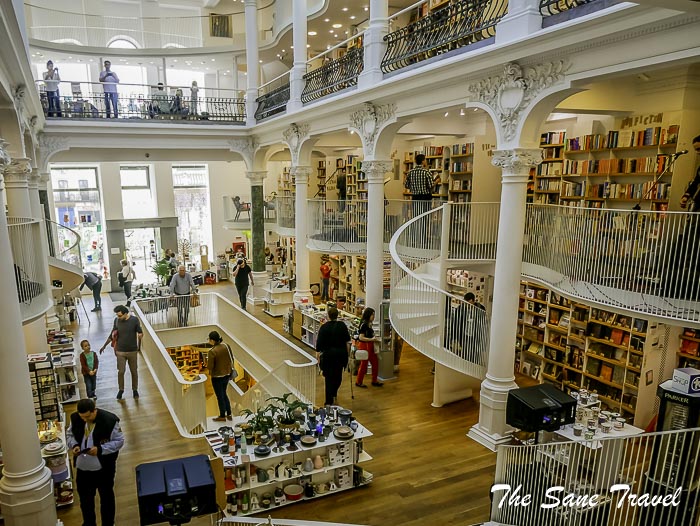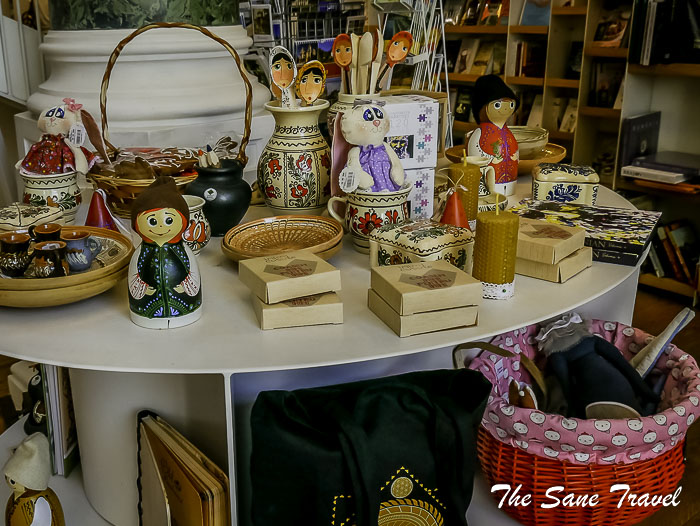 Moreover, the place offers many other activities: a bistro, a media centre in the basement, and an art gallery dedicated to contemporary exhibitions on the first floor. Every year more than 300 cultural events are held at the bookshop. It has a wide assortment of books as well as custom made stationery. There is a teahouse in the same building where you can enjoy browsing through the books as you drink your tea, accompanied by music in the background.
Address: Lipscani Street 55, Bucharest.
5. Sweet Books, Girona, Catalonia
I love to visit unique bookshops when I travel and Sweet Books in Girona, Catalonia is definitely one of those. The owners combine the love for books as beautiful objects in their own right, with love that is even sweeter because at the bookshop you can also buy sweets. Sweet Books is a paradise for book lovers, a venue of only twenty square meters that makes the most of its dimensions. Here you will find a large number of out-of-print and second-hand books, a feature that makes the experience of visiting Sweet Books even more special. Sweet Books was opened in 2013 by Ernest Riera and Olga Vila.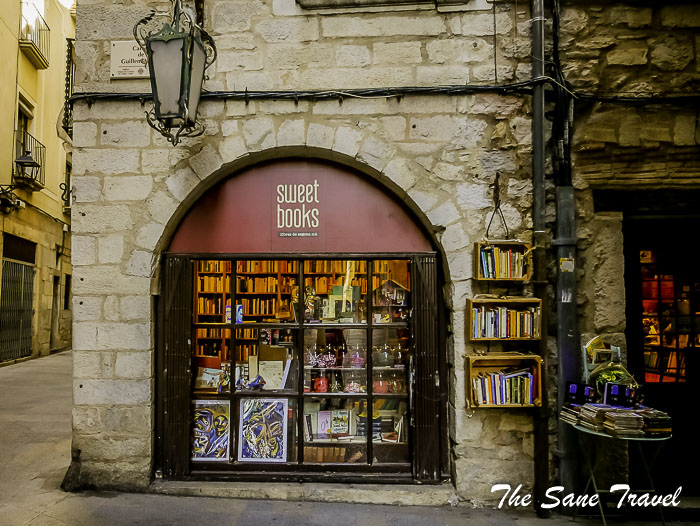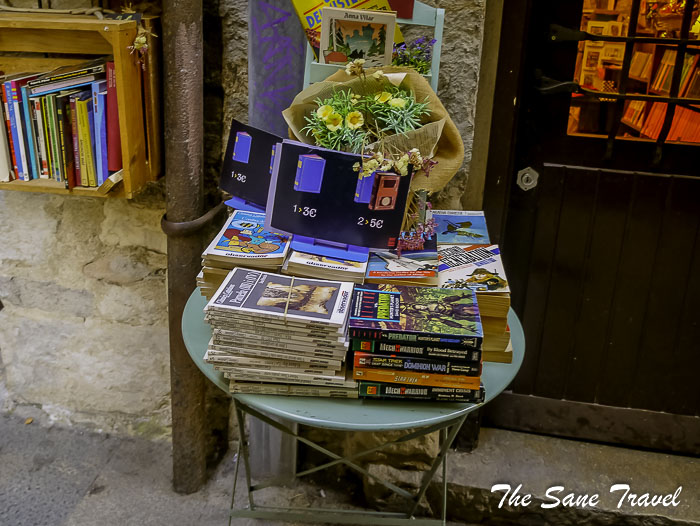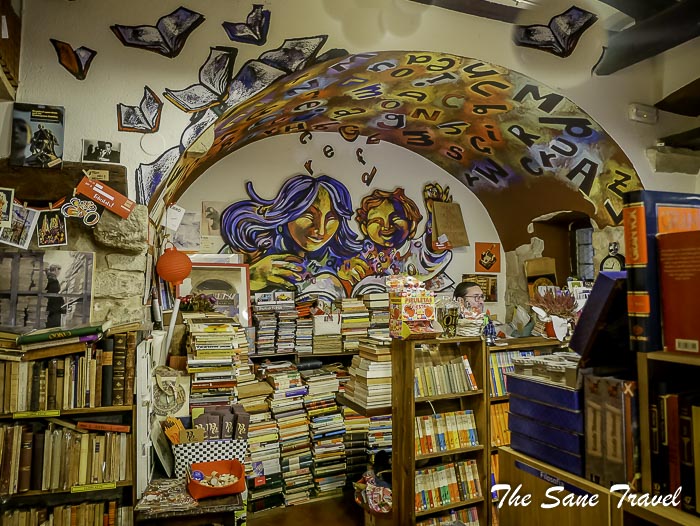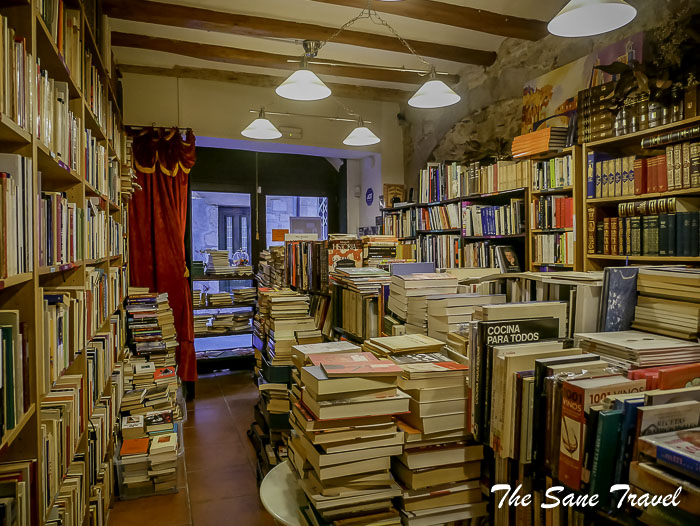 The bookshop is decorated with a mural painted by Girona artist Pau Morales.
Address: Carrer de les Ferreries Velles 14.6, Girona.
6. Daunt Books, Marylebone, London
If bookshops were judged on their aesthetics alone, there is no doubt that Daunt Marylebone shop would triumph in London. The historic look drives tourists mad and why it shouldn't, it's beautiful. Daunt Books in Marylebone is an original Edwardian bookshop.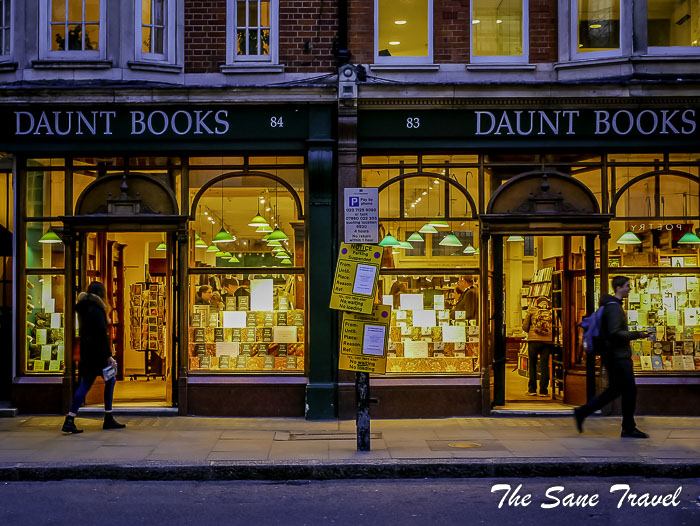 The arched window and skylight flood the shop with natural light, while books are arranged on long oak galleries. There is a huge stained glass window at the end of the room and this, teamed with the oak balcony and William Morris prints, give Daunt Books a real sense of grandeur.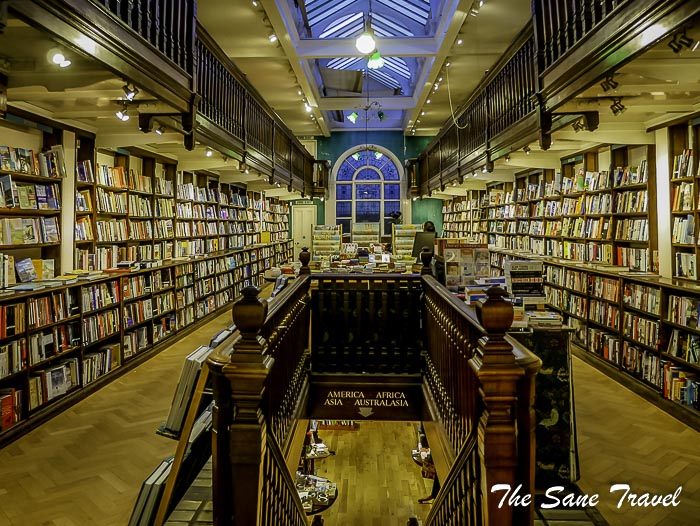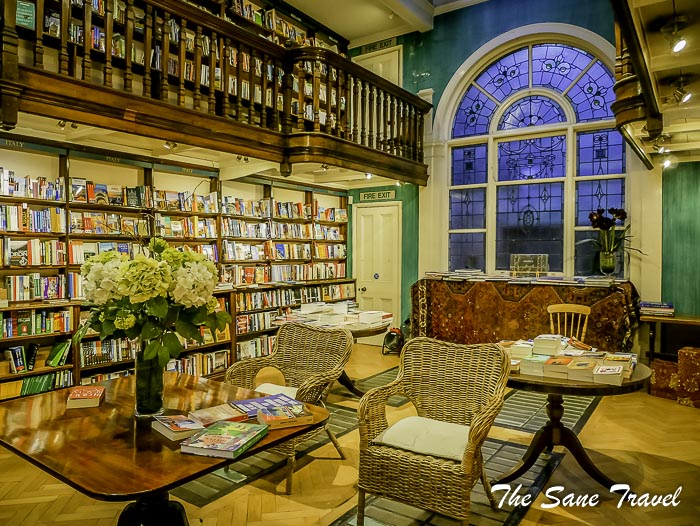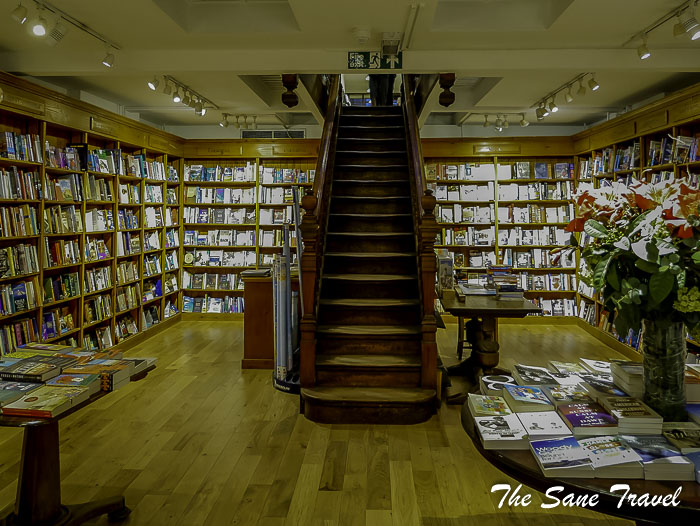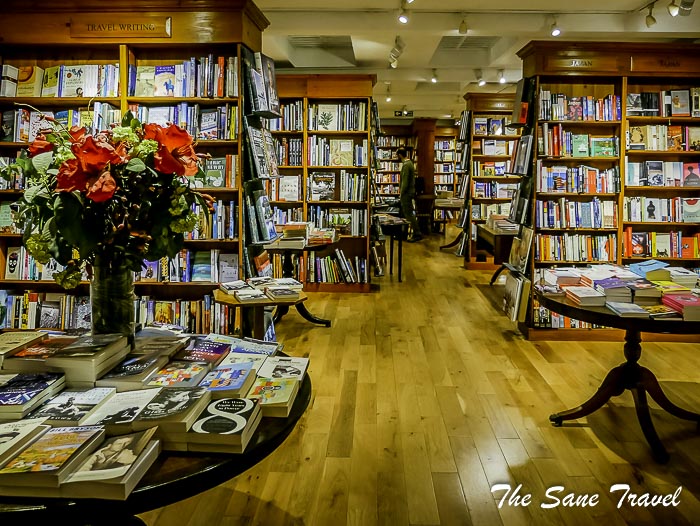 The building was bought by James Daunt in 1990 and originally specialised in travel books and literature. Spread over three floors, this stunning oak bookshop is arranging all books by country; book lovers are given a unique browsing experience. As the shop has expanded, they have encompassed fact, fiction, guides, and cookbooks also. Feel free to spend Sunday flicking through their travel photography books and enjoying the peace of this old bookshop and do not forget to pick up a famous Daunt Books canvas tote bag.
Address: 84 Marylebone High St, Marylebone, London.
7. Abacus Books and Coffee, Cartagena, Colombia
Could you find a good coffee, nice music, and a wonderful book selection in one place? Of course, you can! It happens at the magical corner of the streets of Mantilla and Iglesia located in the walled centre of Cartagena de India's, where the lyrics melt into vibrant chords to the rhythm of jazz, while the aroma of ground coffee transports you to the coffee landscapes of Colombia.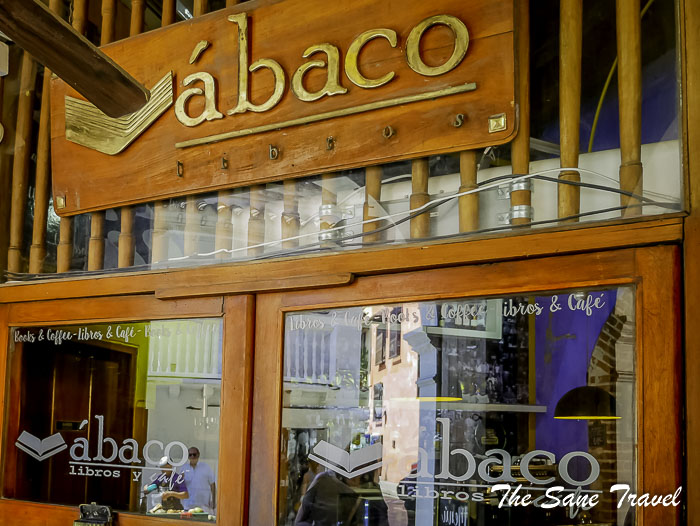 Abacus Books and Coffee is the perfect place to take a break from the tour of the walled city and a perfect meeting point for the informal gathering of the city's intellectuals and visitors. You can select books of your choice while sipping drinks in this atmospheric bookshop.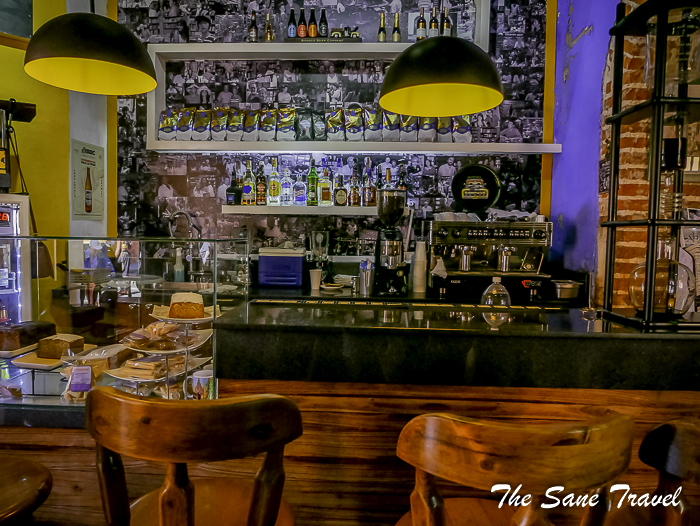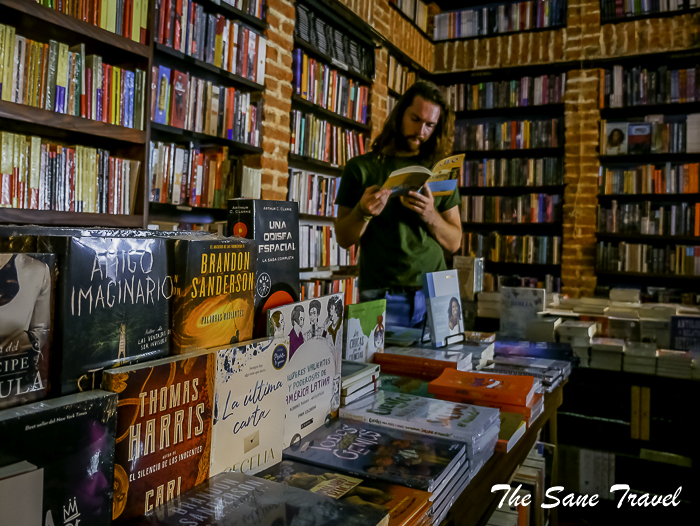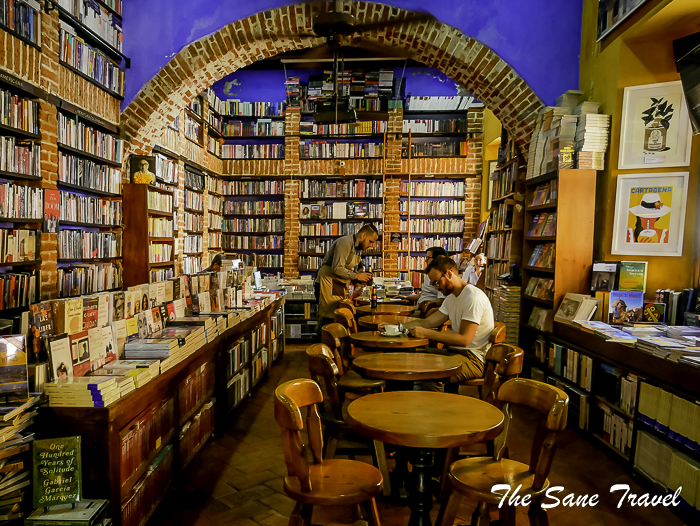 Perfectly cooked banana cakes, brownies, and orange cakes are the best dishes. A lot of visitors order delicious wine, beer, or Daiquiris. Try excellent iced coffee, lemonade, or ice tea.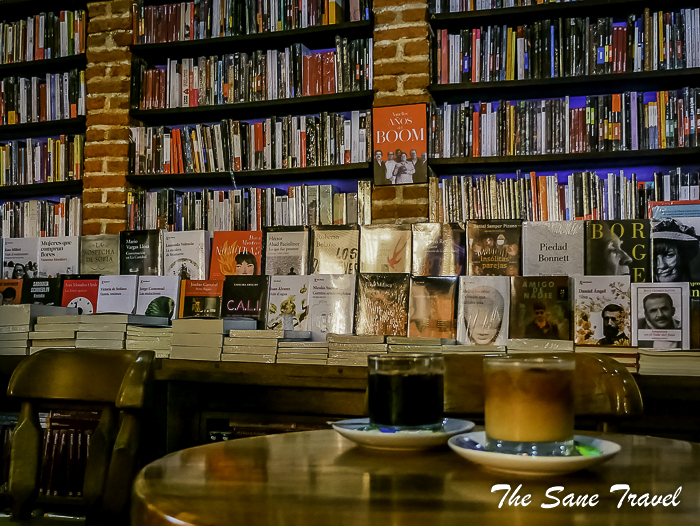 By the way, Abacus Books and Coffee is rated among the best coffeehouses in Cartagena.
Address: Cl. 36 ##3-86, Cartagena.
Like it? Pin it!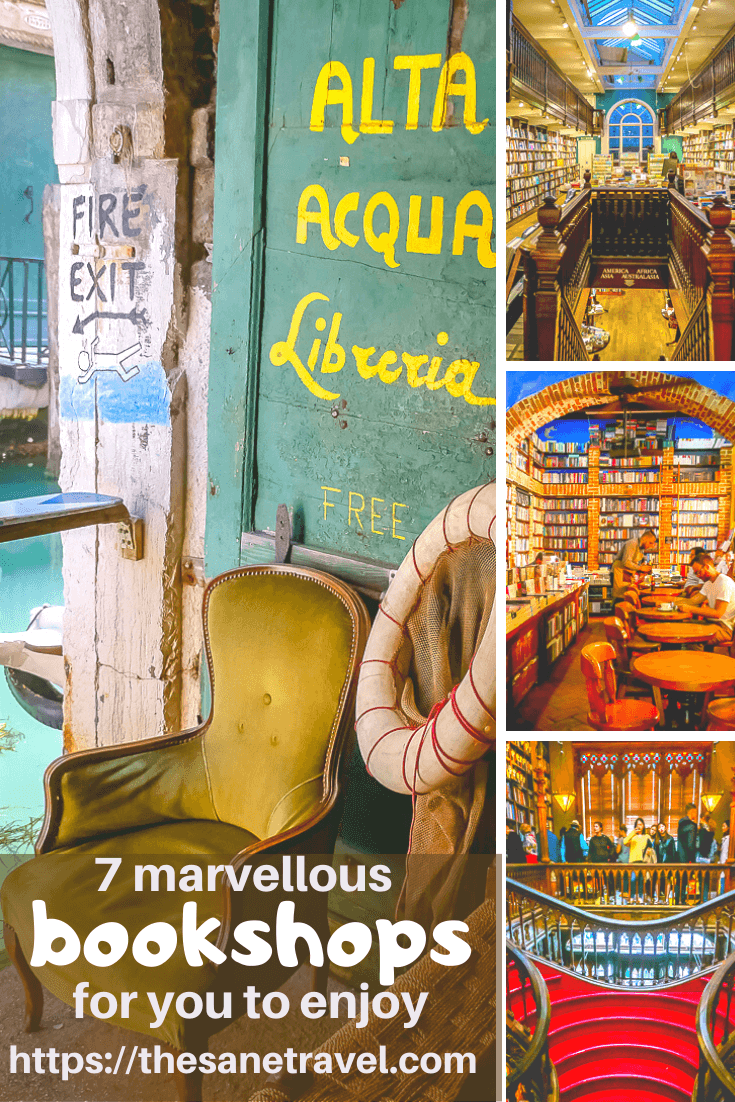 What did you think? What is the most beautiful bookshop you have visited so far? I'd love to hear from you so please add your comments below.
Posted by Anita on December 11, 2020
Author: Anita Sane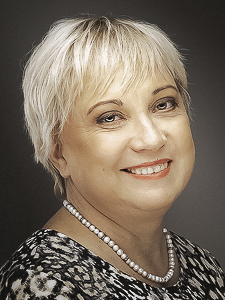 About the author
Anita is a part-time traveler, passionate photographer, and a retired career woman from Latvia, traveling mostly solo for more than 15 years. She is a skilled travel planner planning and executing her travels by herself. Anita wants to show you how to travel the world and open your mind to new experiences. Follow her also on Facebook, Instagram, Pinterest, Twitter, and Bloglovin.