How do you make your decisions about your future travel destinations? Mine in many cases are based on pictures of places I have seen on the Internet or specifically on Instagram. Many times those were pictures of nature spots of exceptional beauty, but there were also a few buildings that I put on my travel wish list after seeing a picture of them. Here is a collection of Instagram pictures of the places I visited because I liked their pictures so much. I hope this will ignite some serious travel inspiration in you and make you add those places to your bucket list.
1) Cinque Terre, Italy
What attracted me: colourful houses in the dramatic Ligurian coastline. I wanted to have my own pictures of those places.
What it is about: Cinque Terre is a set of five former fishing villages on Liguria sea cost in Italy famous for colourful houses and stunning scenery. Cinque Terre is in inscribed in UNESCO World Heritage list.
How to get there: as the use of cars is very limited, trains and boats are the best options.
Pictured: Vernazza, Cinque Terre. Vernazza has a long history as a fishing village. Highlights include the 16th century Belfort Tower, Doria Castle and Santa Margherita d'Antiochia church. Visitors admire it for its beauty.
Cinque Terre in Italy has become an extremely popular travel destination. To get the most of your time and avoid disappointments, read my tips for planning your visit to Cinque Terre.
2) Bastei Bridge and Bastei rocks, Germany
What attracted me: Impressive rock formations in Saxon NP, Germany.
What it is about: The Bastei rocks are the biggest attraction of NP Saxon, Germany. They are a rock formation almost 200 metres high, situated above the Elbe River. In the first half of the 19th century, a wooden bridge was built between the rocks so that visitors can enjoy a spectacular view. 30 years later, the locals decided to make a sandstone bridge that remained intact since then. Bastei & Bastei Bridge, the highlights of Saxon Switzerland in Germany are free of charge!! There are no opening or closing times. You can visit the famous Bastei rock formations at any time of the year. The area is ideal for hiking and also for a relaxed day out. For those who like nature, it is surely the most beautiful landscape in Saxony.
How to get there: Take a train from Dresden and cross the Elbe River by ferry. You can also go by car.
3) Eltz castle, Germany
What attracted me: The unusual shape and location of the castle untouched by invaders and wars.
What is about: Eltz castle has been in the ownership of one family for 33 generations. Also, it has never been destroyed.
How to get there: Very much recommended as a half day trip from Koblenz, Germany. If you travel by public transport, go on a weekend. Then first take a train from Koblenz to Hatzenport followed by a short ride by Burgenbus (Castle Bus) to Eltz Castle Car Park. It's a half an hour ride by car from Koblenz.
4) Meteora, Greece
What attracted me: Meteora and its monasteries in Greece were on my bucket list for a few years after seeing incredible pictures of the place on the internet. It attracted me for its fantastic natural beauty and human created monasteries on top of rocks.
What it is about: The gigantic rocks of Meteora are perched above the town of Kalambaka, at a height up to 400 metres (1200 ft.).Meteora in Greece is very touristic but mostly catering for tourists arriving in big tourist buses, so if you have a choice, better visit monasteries first thing in the morning before their arrival or later in the afternoon after their departure. Be prepared to take some steps. As monasteries are located on top of cliffs, you have to climb up to visit them.
How to get there: you can go by car or use a public bus and a train from Athens, Thessaloniki and Ioannina.
5) Mont Saint Michel, France
What attracted me: Striking architecture in combination with incredible rock and sacredness of the place.
What it is about: The Mont-Saint-Michel in France is one of Europe's most unforgettable sights. The Mont-Saint-Michel and the Bay of the Mont-Saint-Michel with a total area of more than 6500 hectares have been included into UNESCO World Heritage list in 1979.
How to get there: Even though many people visit this place by car or organised tour groups, it's also possible to reach it by public transport. Read more about visiting Mont Saint Michel by public transport in my blog post.
6) Hunedoara Castle, Romania
What attracted me: To be honest, I knew very little about Romania as a travel destination some time ago but then I started seeing pictures of its castles, Hunyadi being one of the most impressive.
What it is about: Corvin Castle, also known as Hunyadi Castle, or Hunedoara Castle, in Hunedoara. This most spectacular Gothic-style castle in Romania was built by the Anjou family on the site of a former Roman camp. The castle served as a fortress until the mid-14th century when it became the residence of Transylvania's voivode, Iancu de Hunedoara.
How to get there: Hunedoara is about 400 kilometres and 6 hours by car from Bucharest. Include visiting it into your Romania Road trip itinerary among other spectacular towns and castles.
7) Cappadocia, Turkey
What attracted me: when seeing pictures of Cappadocia on the Internet, I was captivated by its unique scenery and especially by "fairy chimneys", or hoodoos, which are formations of soft rock at the base, topped off with a harder stone.
What it is about: Cappadocia is a miraculous nature wonder unique in the world. It is a common name of the area in Aksaray, Nevsehir, Nigde, Kayseri and Kirsehir in the Central Anatolian region.
How to get there: If you travel from Istanbul, I would recommend flying to Kayseri first and starting your exploration from there. Do not forget to book your stay at a cave hotel and fly with a hot air balloon to see all the fantastic sights from above.
8) Bahai gardens, Israel
What attracted me: I was fascinated by the incredible beauty of the pictures of Haifa gardens. To me, they looked out of this world.
What it is about: Israel's third largest city Haifa is home to the world-famous Baha'i Gardens – and is often described as a model of coexistence among residents from different religious communities. Just 400-meters long, the Louis Promenade is one of the most picturesque city walkways, stretching from Hotel Nof to the upper entrance of the Baha'i Gardens, offering great vistas to the city from above.
How to get there: If you travel by public transport, the train connection to Haifa is good. Then take a public bus to the gardens. Be warned: the gates for going down Bahai garden stairs are not open for individual visitors, even during garden opening hours, so you have to book a guided tour to walk the stairs to Haifa garden.
9) Rainbow Mountains, China
What attracted me: The picture of fantastic coloured mountains in Forbes magazine, too colourful to be true. Wanting to see the Rainbow Mountains was my main reason for visiting China for the fourth time. Even though I didn't see such bright colours as shown, for example, in Forbes magazine, the colours of Danxia Mountains were impressive enough to justify my expectations of the trip.
What it is about: Zhangye Danxia in China is known for the unusual colours of the rocks, which are smooth, sharp and several hundred meters tall. They are the result of deposits of sandstone and other minerals that occurred over 24 million years. The Zhangye Danxia National Park is located in the Gansu province in China's northwest, covering 200 square miles. The site was named a UNESCO World Heritage Site in 2009 and is the destination for many Chinese and some international tourists. Danxia landform Red is the main colour of Colourful Hills in the Zhangye Danxia landform area in China. Some of the hills feature rock stripes in different colours, looking like bright ribbons fluttering in the desert. However, the scenes are totally different in other places. The colours turn into yellow and grey, resembling crystal shells in the sun.
How to get there: The Danxia national park is located close to the city of Zhangye, about 30 minutes west by car, in northwestern China's Gansu Province. Zhangye is a small city in the Gansu corridor, passage to the remote west of China. The best way to travel to Zhangye is to go to Lanzhou first and then travel to Zhangye from Lanzhou, capital of Gansu Province by air or train. I took a two hour flight from Beijing to Lanzhou first and then had a three-hour high speed train ride to Zhangye.
10) Avatar Mountains, China
What attracted me: Incredible pictures of a tower like mountains and the opportunity to see the places where the Avatar movie was filmed.
What it is about: Zhangjiajie National Forest Park is famous for its 3,000 vertical pillars, each hundreds of feet tall and covered in dense green foliage. These pillars were formed by erosion and attract about 30 million tourists every year. On posters I have seen, Zhangjiajie or Avatar mountains in China were mostly pictured in fog, which gives a mysterious feel to the scenery.
How to get there: The best place to start exploring Zhangjiajie National Forest Park, in my opinion, is Wulingyuan town next to the main park entrance. The town is located about 70 kilometres from Zhangjiajie airport. Also, be informed that there is one more entrance to the park, some 15 minutes bus ride from Wulingyuan bus station. It's much less crowded and offers excellent views from 3,8 kilometres long Huangshi village scenic walk. There is a cable car to reach the Huangshi summit.
11) Uluru, Australia
What attracted me: I found pictures of Uluru, or Ayers Rock, incredible. Uluru is one of the symbols of Australia.
What it is about: Uluru, or Ayers Rock, is a massive sandstone monolith in the heart of the Northern Territory's arid "Red Centre". Uluru is sacred to indigenous Australians and is thought to have started forming around 550 million years ago. Elevation: 863 metres.
How to get there: Best of all is to take a flight to Ayers Rock airport first and then rent a car or join a local tour.
12) Bryce Canyon, Utah, USA
What attracted me: First and foremost, incredible colours and the shape of rock formations of Bryce Canyon, as seen in the pictures.
What it is about: At Bryce Canyon National Park, erosion has shaped colourful Claron limestones, sandstones, and mudstones into thousands of spires, fins, pinnacles, and mazes. Collectively called "hoodoos", these colourful and whimsical formations stand in horseshoe-shaped amphitheatres along the eastern edge of the Paunsaugunt Plateau in Southern Utah. Hoodoos formed over thousands of years by the same processes that form the features of the surrounding parks. Water, ice and gravity are the forces that have formed Bryce Canyon.
How to get there: Include it into your Utah &Arizona road trip.
Like it? Pin it!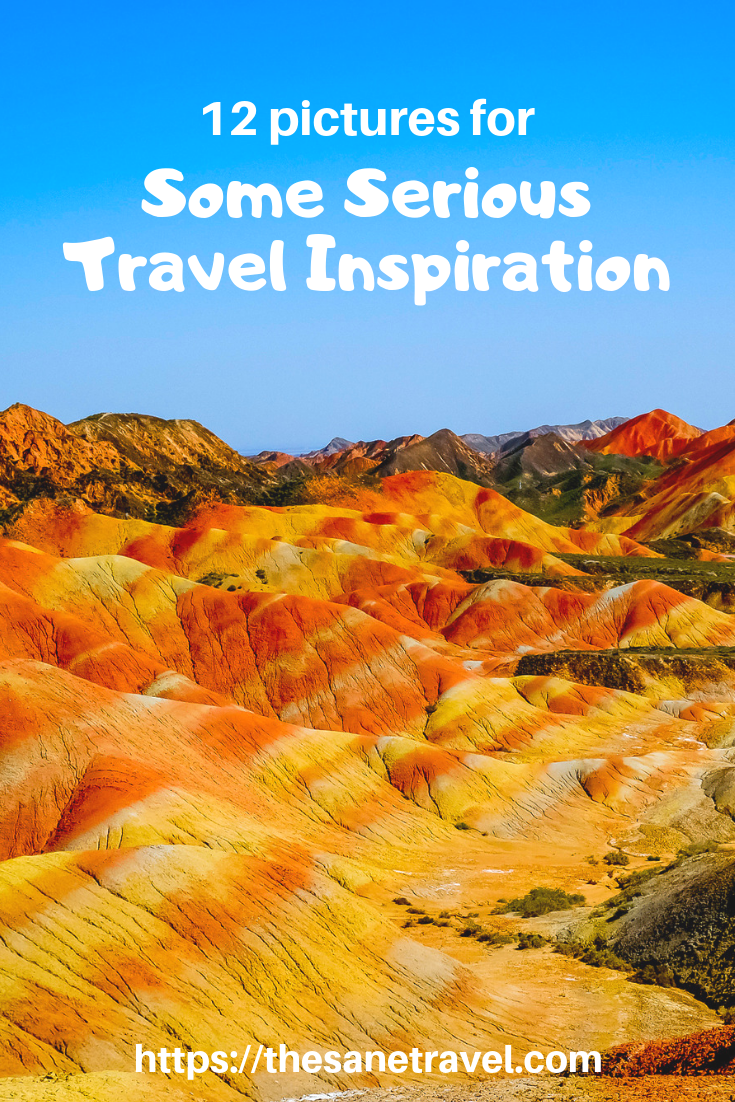 What do you think? How do you choose your next travel destination? Share in the comments section! Follow me on Instagram to get even more inspiration from my best travel pictures!
Published by Anita on March 29, 2019
Author: Anita Sane